After the success of our zucchini brownies and cauliflower brownies, we decided to make another healthy variation of this beloved chocolaty treat. So here are our high-protein hemp brownies, deliciously fudgy and packed with plant-based goodness.
In our recipe, we made the brownie dough with blended dates and black beans. Then, we added peanut butter, "chia egg", cocoa, oat milk and finished it off with hemp seeds and melted dark chocolate. The result is moist and gooey brownies, sure to become your new favourites! They're vegan, gluten-free, and sugar-free, bursting with lots of plant-based proteins.
To make our brownies healthy, allergy-free, and vegan-friendly, we started from the classic recipe and made a few changes. Moreover, we designed this recipe to be as high in proteins as possible without using protein powders, but only wholesome ingredients. Here's what we used:
Black Beans - we swapped flour and melted butter with blended black beans, which also add lots of proteins.

Dates - we used soaked and blended dates to replace white sugar and add bulk to the brownie dough.

Chia seeds - we soaked them in water to make a vegan "chia egg".

Peanut butter - we used it to help bind the ingredients and add proteins too.

Hemp seeds - we added shelled hemp seeds for a boost of complete plant-based proteins.

Dark Chocolate 85% - we replaced 50% chocolate with a darker chocolate variety to keep the sugars as low as possible.
Each brownie has only 140 calories, and a serving of two squares has half the fats, three times more proteins, and 12 times more fibres than a classic brownie. The fibres and proteins in these brownies will keep you full for longer and control the stream of energy released from absorbed sugars — perfect for gym-goers and those on a weight-loss diet!
Ingredients
| | |
| --- | --- |
| Pitted Dates | 250 g |
| Chia Seeds | 2 tbsp |
| Water | 70 mL |
| Dark Chocolate 85% | 50 g |
| Canned Black Beans | 480 g |
| Oat Milk (or hemp, soy, almond) | 120 mL |
| Vanilla Extract | 2 tsp |
| Peanut Butter | 45 g |
| Cocoa | 50 g |
| Baking Powder | 11/2 tsp |
| Shelled Hemp Seeds | 45 g |
Step 1
Start by soaking the pitted dates in a bowl of hot water for 15 minutes (1). Then, drain them well.
In another bowl, combine chia seeds with the given water and let them soak for 10 minutes in the fridge (2). As the seeds absorb water, they'll form a thick, gel-like mixture.
Meanwhile, melt the chocolate over a double boiler or in the microwave. Check our tips below for more info on how to do it.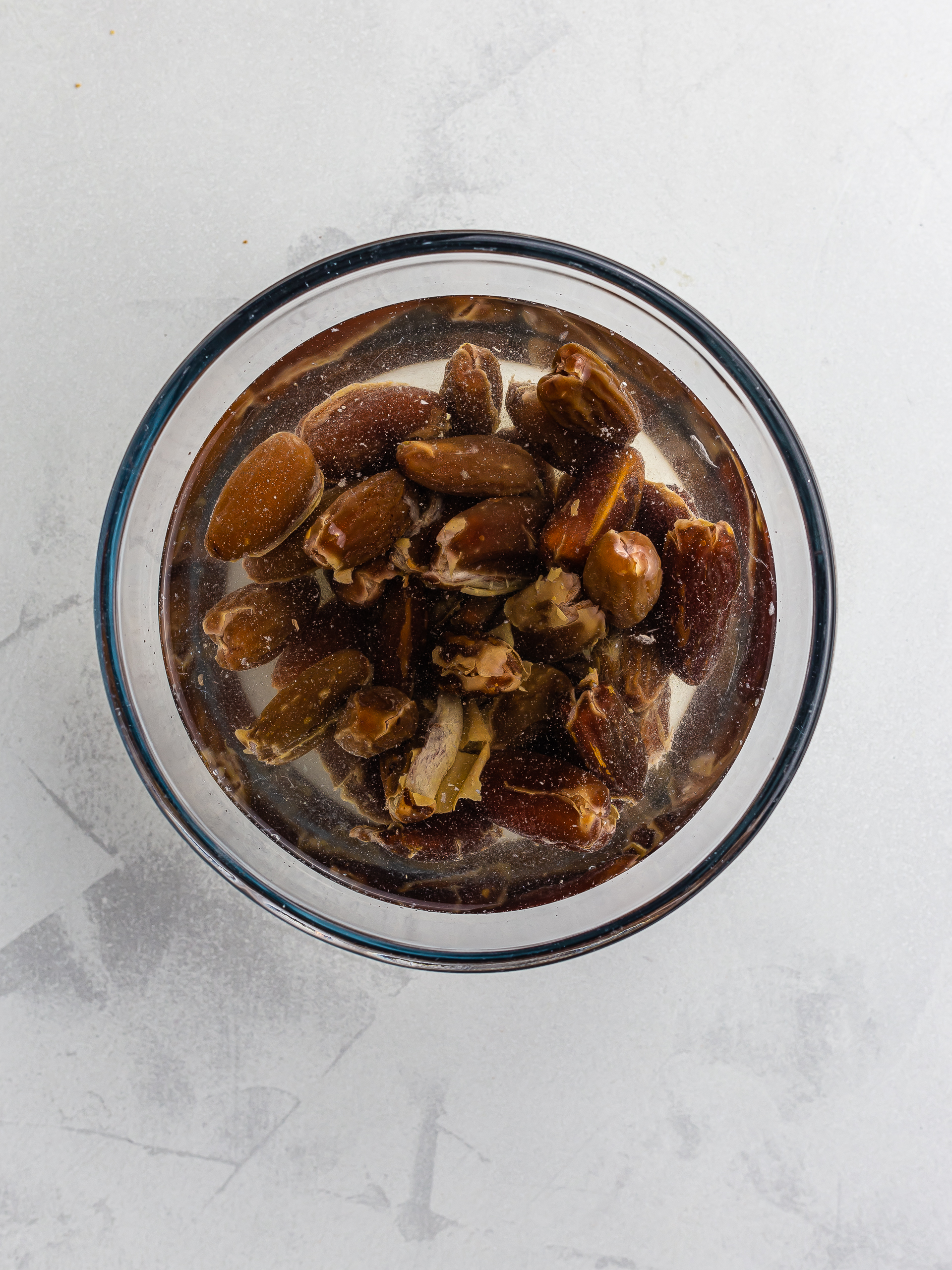 1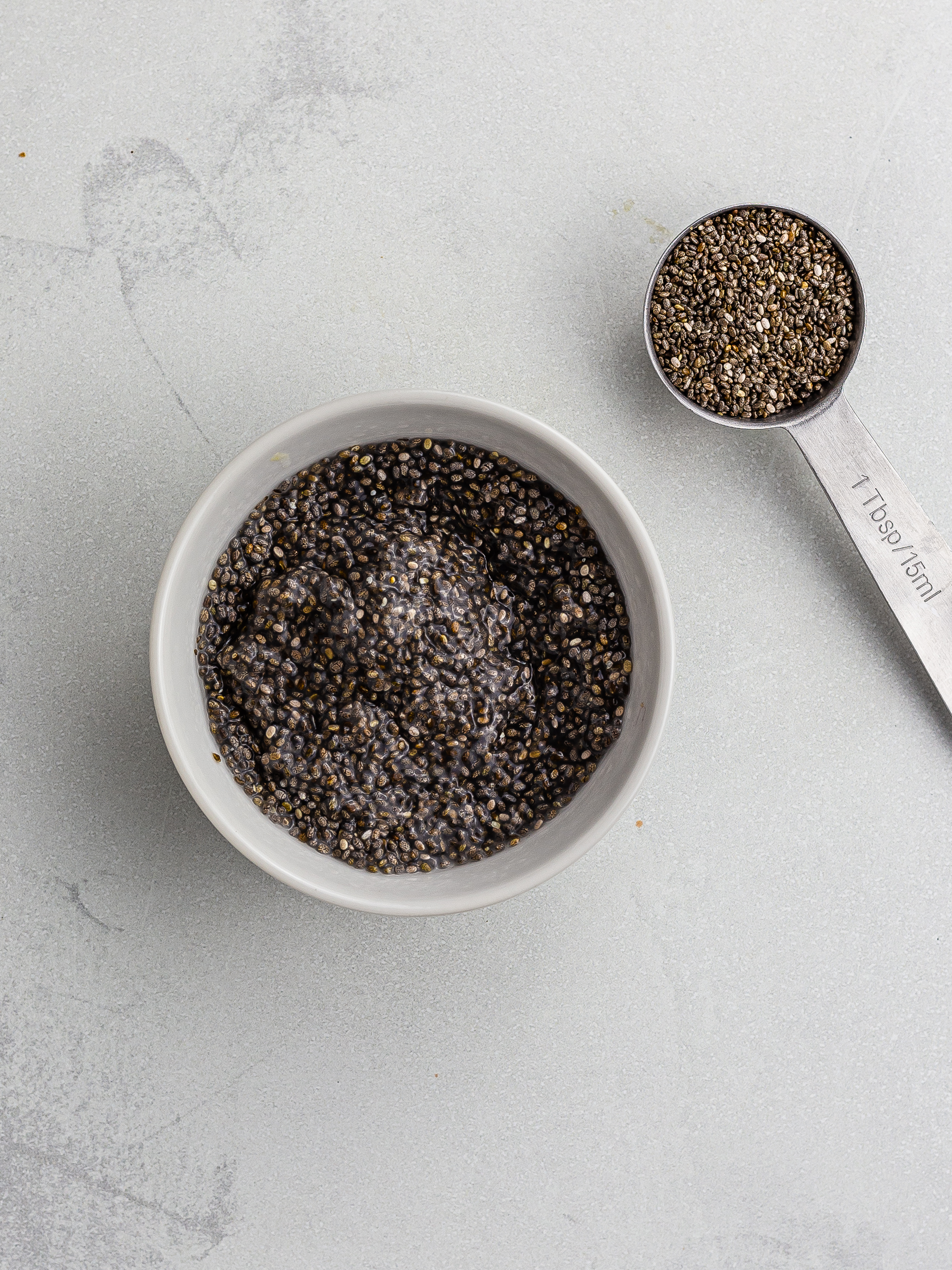 2
Step 2
Now, drain and rinse the black beans, and add them to a food processor.
Tip in the softened dates, oat milk, and vanilla extract.
Blitz all until you have a creamy, moist, and slightly compact dough.
Don't worry if the mixture looks chunky at first; just keep blending it for a few minutes, scraping down the edges in between pulses, and it will become smoother.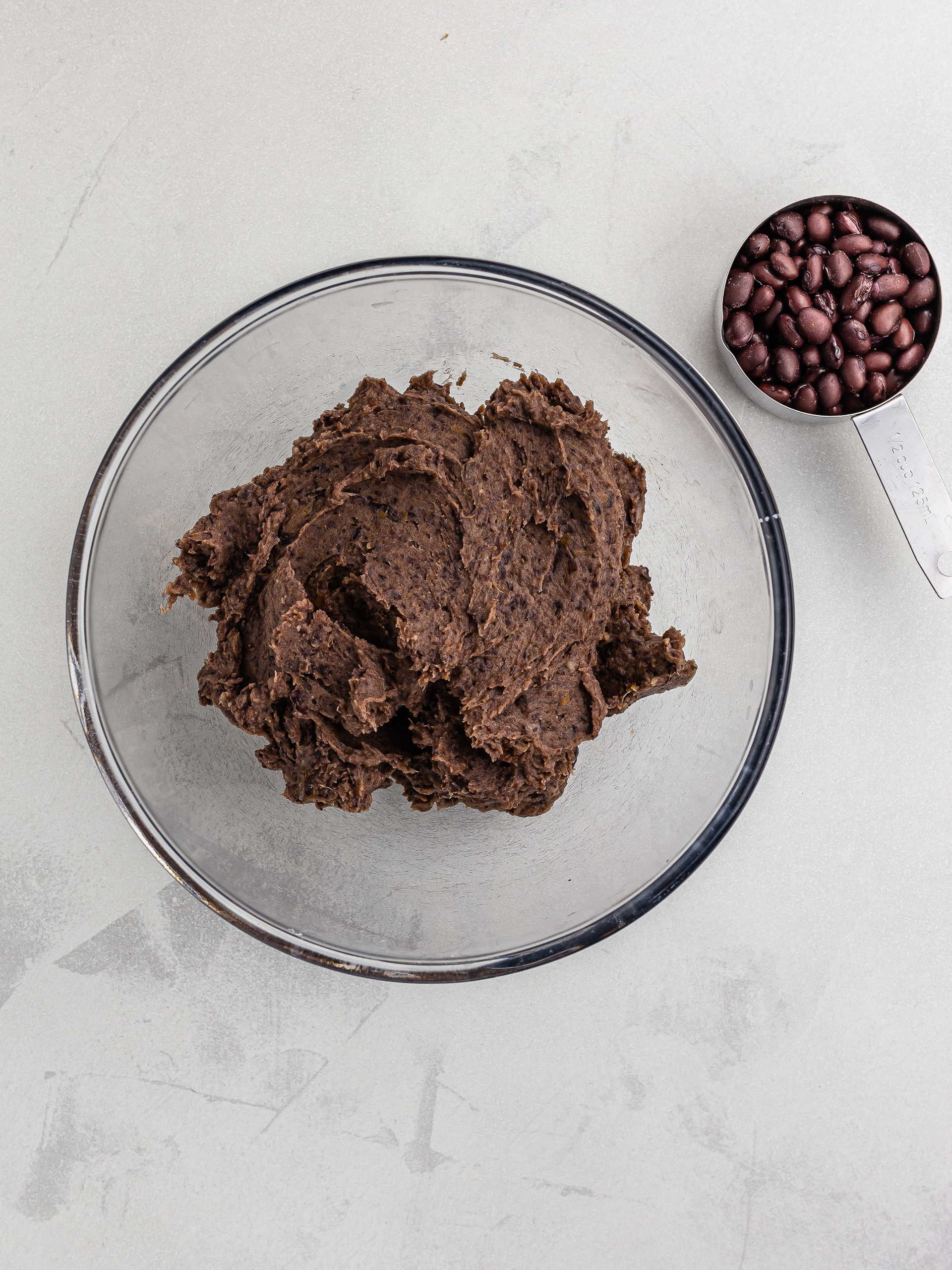 Step 3
Next, transfer the black bean dough into a bowl and add the chia seeds, peanut butter, sifted cocoa powder, baking powder, and a pinch of salt (1).
Mix thoroughly until the ingredients are well incorporated.
Now, stir in the melted dark chocolate and the hemp seeds (2).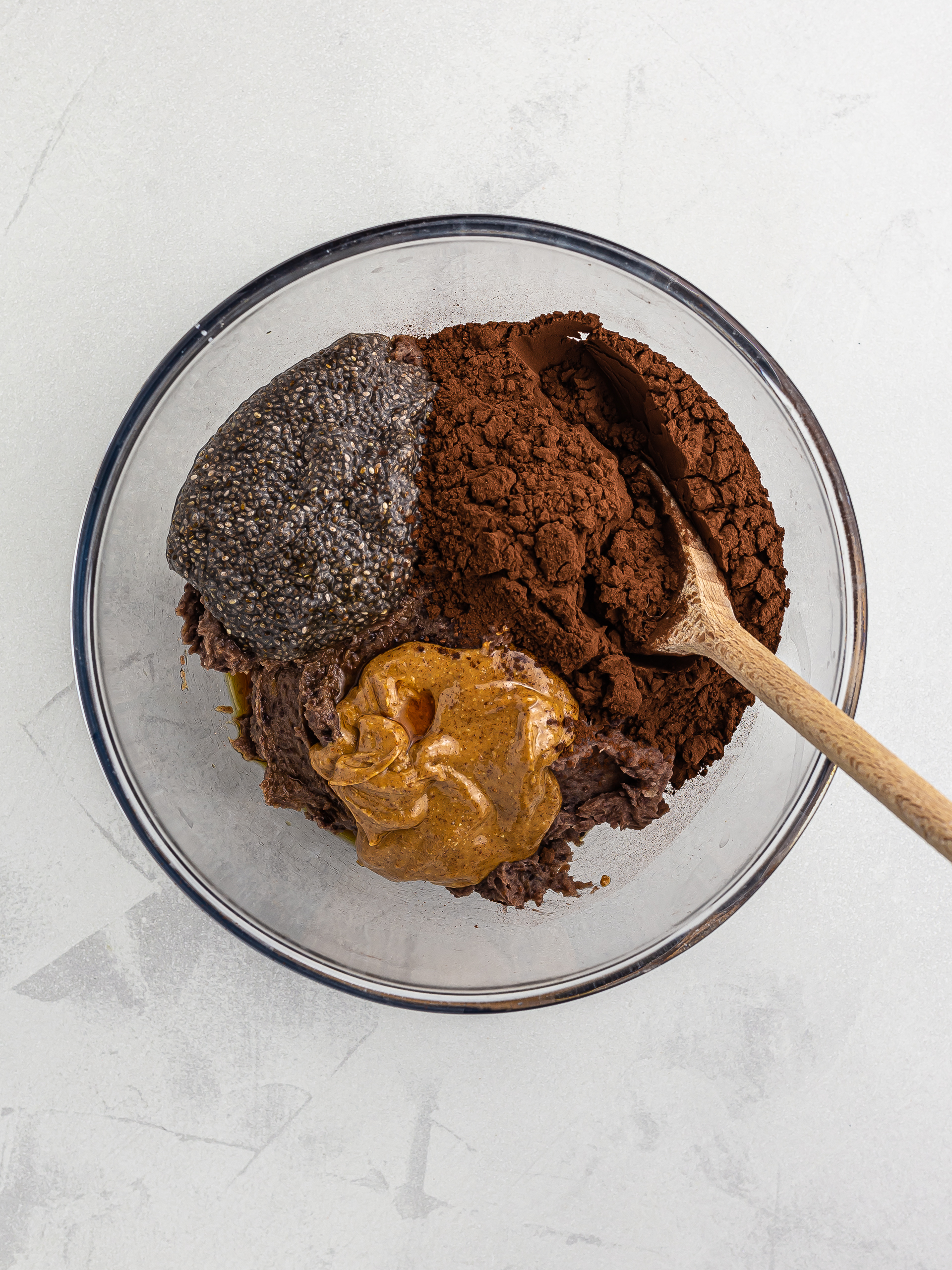 1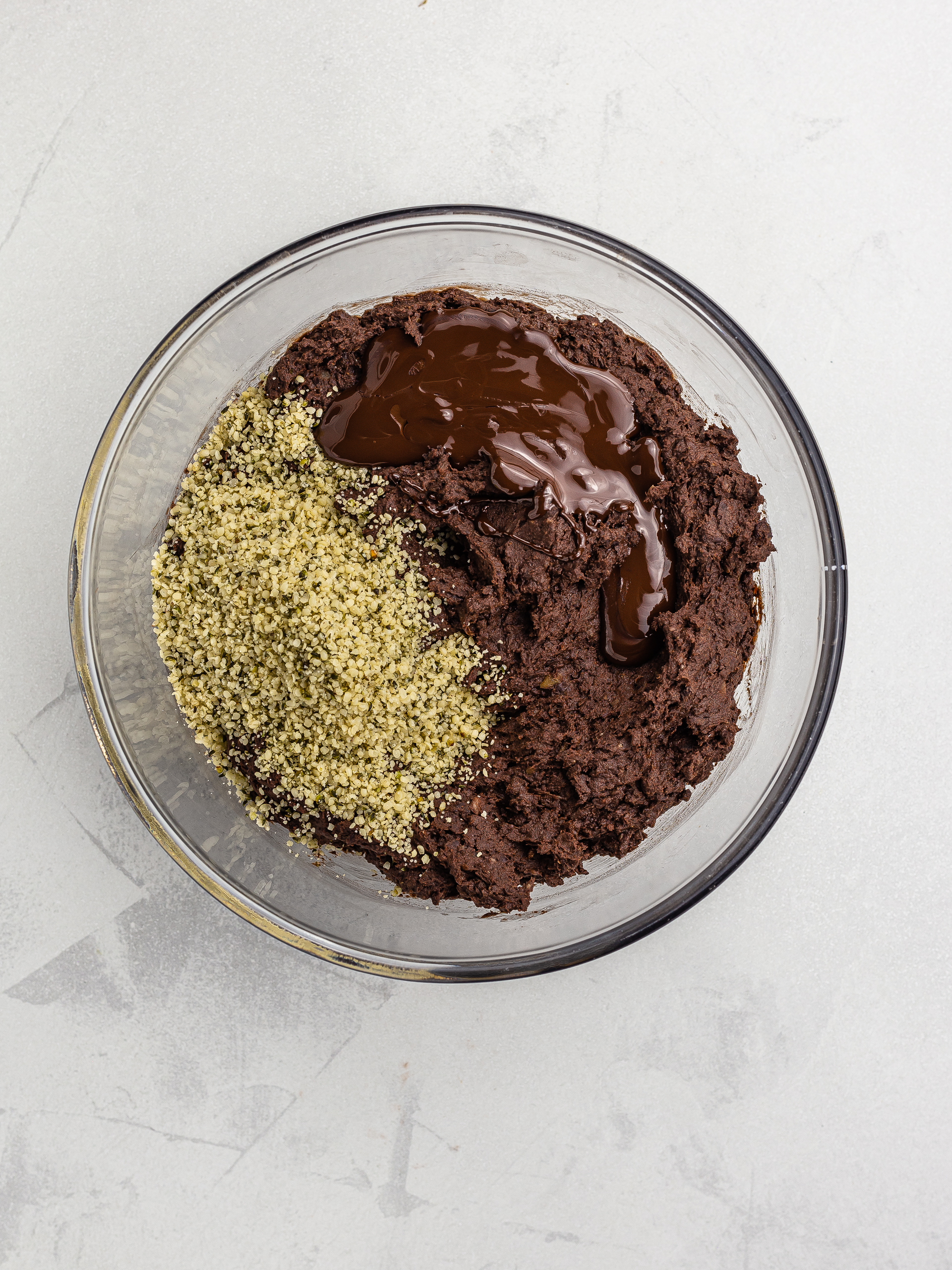 2
Step 4
Transfer the brownie dough into a 20 cm (8 inches) square baking tin lined with parchment paper.
Flatten and level the mixture with a spatula or the back of a spoon.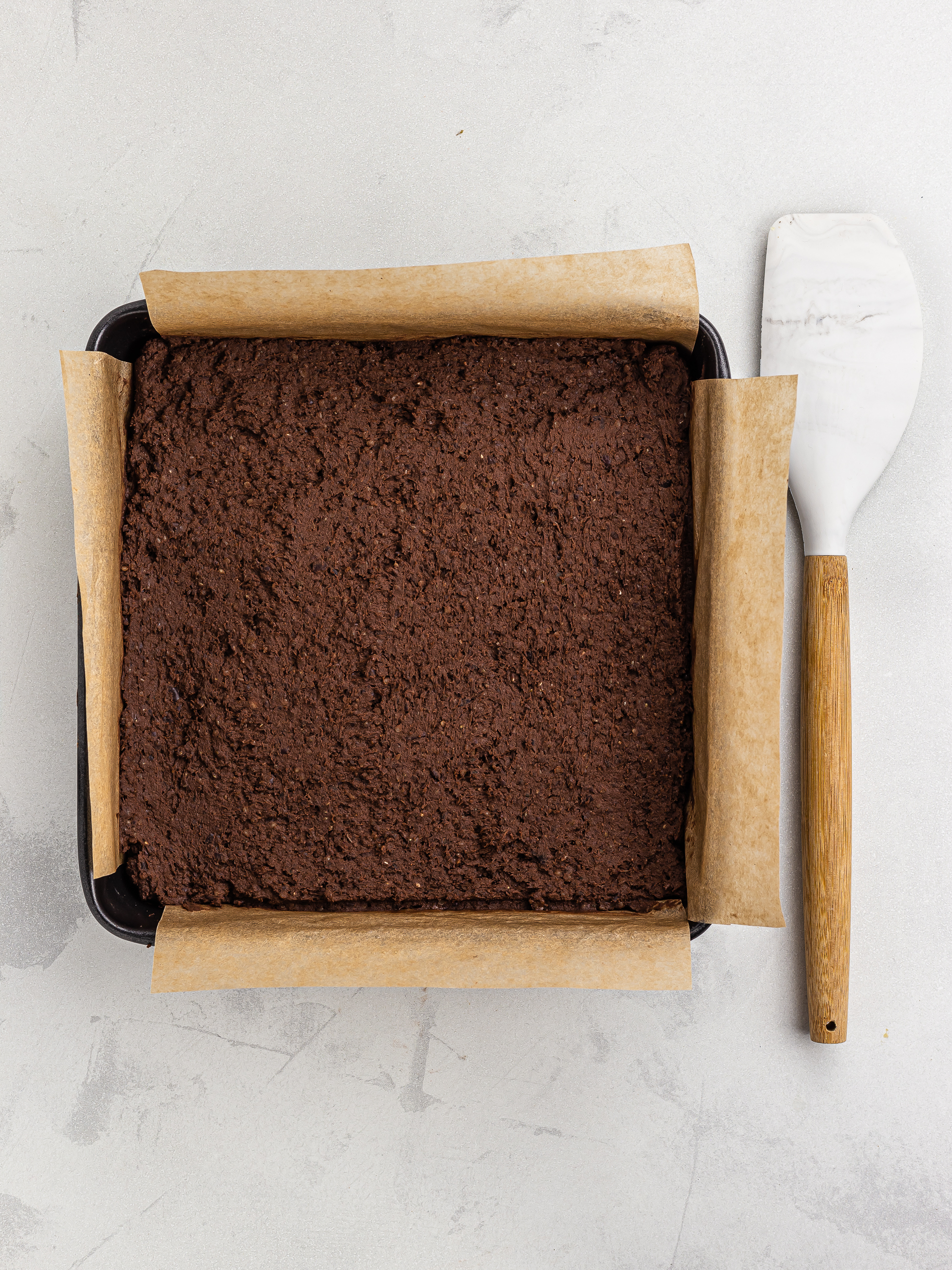 Step 5
Bake for 35 minutes at 200°C (390°F) in static mode.
Once ready, transfer the brownie slab onto a wire rack and let it cool down completely in the fridge before cutting it into squares.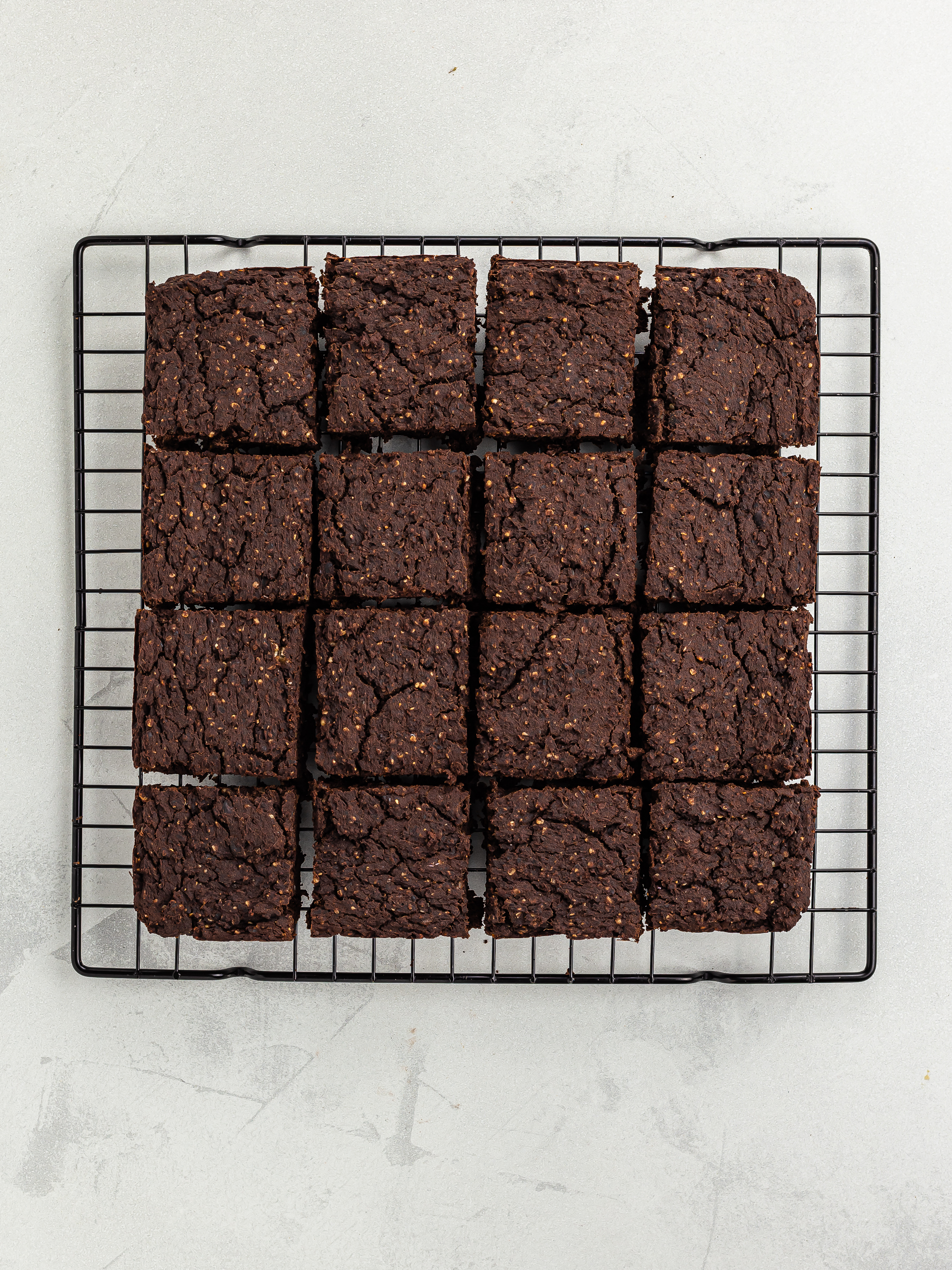 Tips
You can sprinkle the baked brownies with hemp seeds, dust them with cocoa powder, or drizzle them with our sugar-free icing.

To melt the chocolate, break the bar into chunks and add them to a heat-proof bowl. Place it in the microwave for 20 seconds at high power, then stir the chocolate, put it back, ad repeat this process until it's completely melted. Alternatively, sit the bowl over a pan with simmering water (bain-marie) and allow the chocolate to melt, stirring occasionally.

Store these hemp brownies in the fridge in an air-tight container for a week. Alternatively, you can freeze them for 3 months.