If you love baking with sourdough but often find yourself with lots of discards in between feedings, this zero-waste sourdough crackers recipe is perfect for you.
That's right, instead of throwing away excess sourdough starter, you can upcycle it into super tasty bread thins. This naturally fermented dough gives the crackers a distinctive, slightly tangy taste you won't find in the commercial ones.
We made these crispbreads even more flavourful by adding a blend of Italian-inspired spices. Oregano, fennel seeds, and cracked black pepper enrich the dough with an aromatic, earthy zing.
These homemade crackers are not just extra tasty but also much healthier than store-bought ones. We used extra virgin olive oil and whole wheat flour to keep the saturated fats low and increase the fibre content.
Olive oil is a minimally processed fat and preserves all the goodness of the fruit. Plus, it's a staple in the Italian diet, making the perfect addition to these Mediterranean crackers. Whole wheat has 30% fewer carbs and three times more fibres than plain white flour, meaning you'll automatically consume fewer calories and feel full for longer.
So, bake a big a batch of these super crunchy fennel crackers, and you'll have a tasty, wholesome snack always at hand. Plus, you won't have to toss away your beloved sourdough starter anymore!
Ingredients
| | |
| --- | --- |
| Wholemeal Flour | 120 g |
| Fine Semolina | 30 g |
| Salt | 1/2 tsp |
| Oregano | 1/2 tbsp |
| Fennel Seeds | 1 tbsp |
| Cracked Black Pepper | 1 tsp |
| Extra Virgin Olive Oil | 50 mL |
| Sourdough Starter (Discard) | 230 g |
Step 1
Add whole wheat flour, fine semolina, salt, oregano, half of the fennel seeds and black pepper to a bowl.
Then, mix well to ensure the salt is evenly distributed.
You can swap semolina with fine cornmeal or wholemeal bread flour.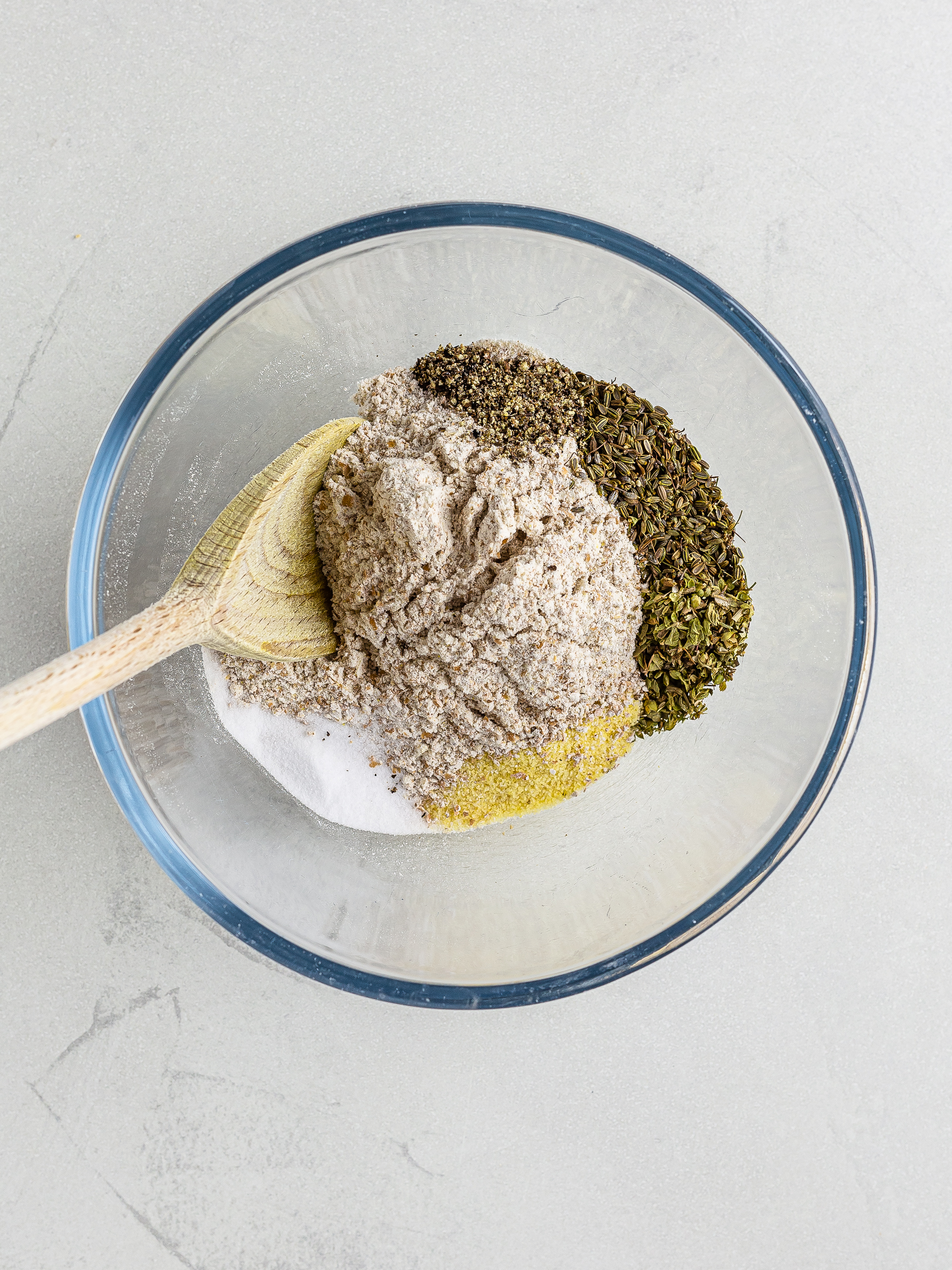 Step 2
Next, pour in the extra virgin olive oil and sourdough starter.
We fed our starter with equal parts of water and flour the night before. Then, we left it to bubble overnight (for about 10-12 hours) at room temperature and used it the next morning.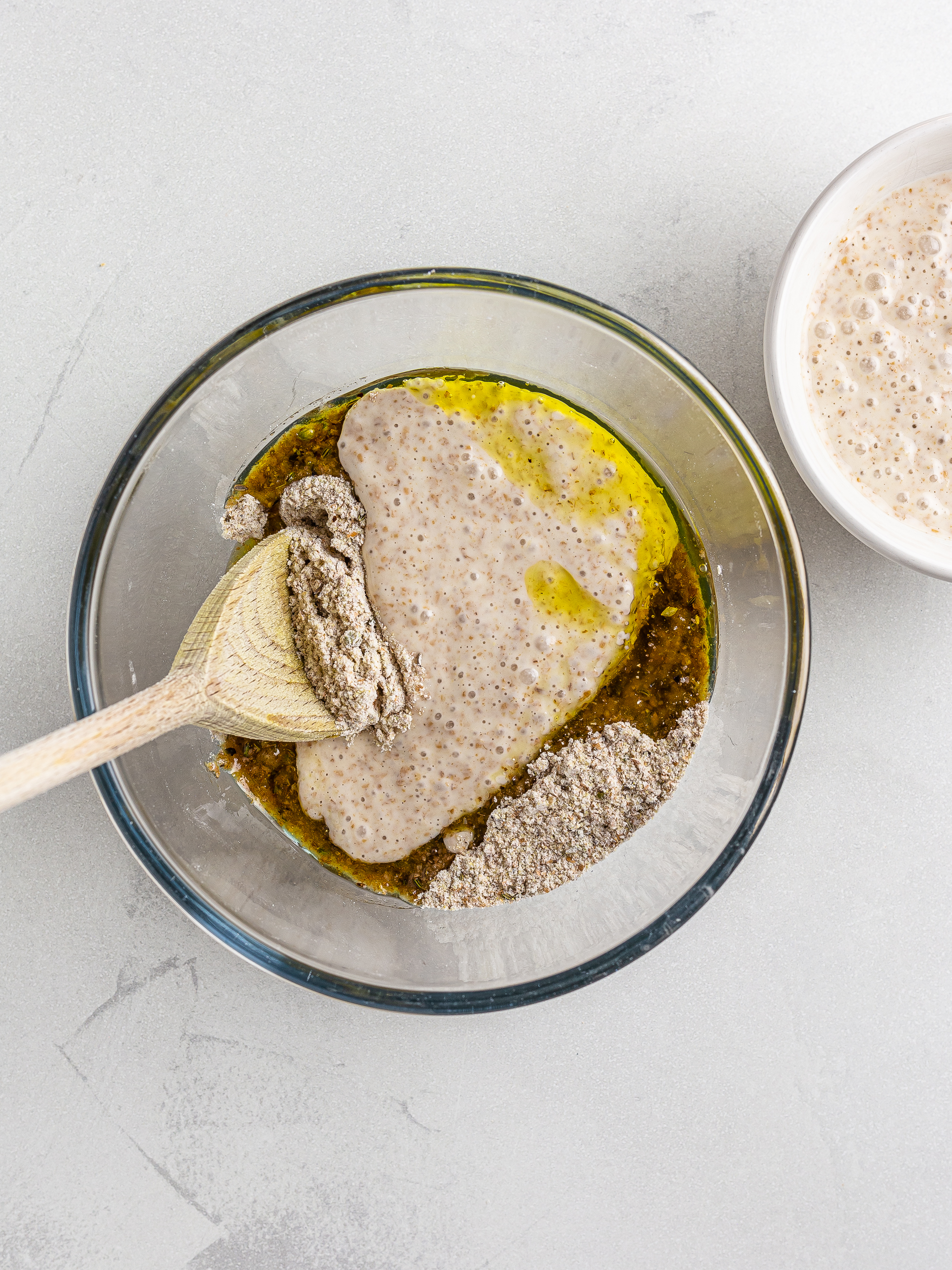 Step 3
Briefly mix the ingredients with a spoon until they come together and then transfer the mixture on a lightly floured surface.
Work the dough by pressing it down and forward with the heel of your hand and then folding it back. Knead it this way for 5 minutes until you have a smooth, elastic, and slightly sticky dough.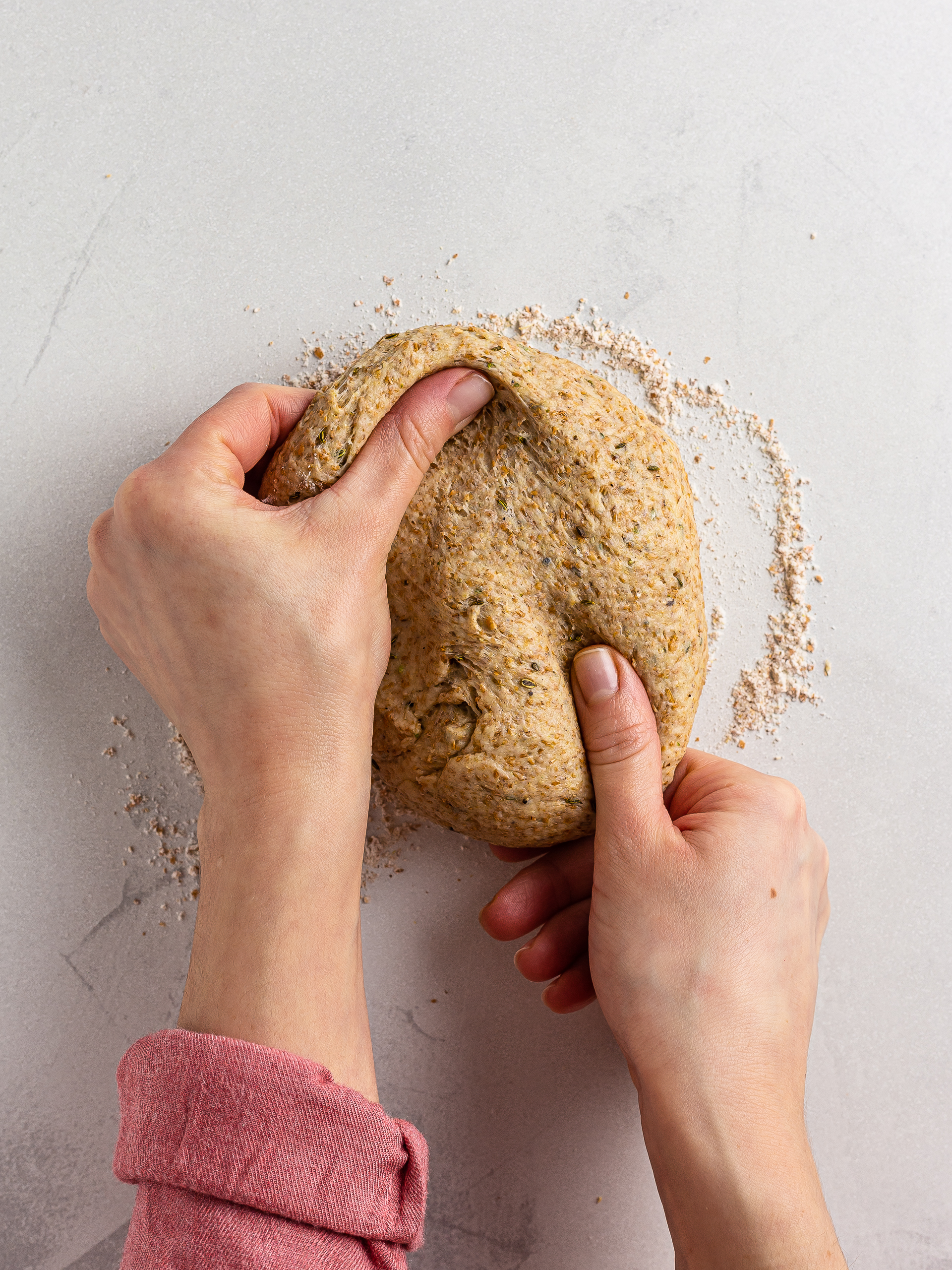 Step 4
Now, roll out the sourdough between two sheets of parchment paper into a rectangle (1).
Make sure the dough slab is no more than 2-3 mm thick (2). The thinner you can roll it out, the crispier the crackers will be.
We find it easier to divide the dough in two and then roll out each half separately. This way, we can get a really thin slab with less effort.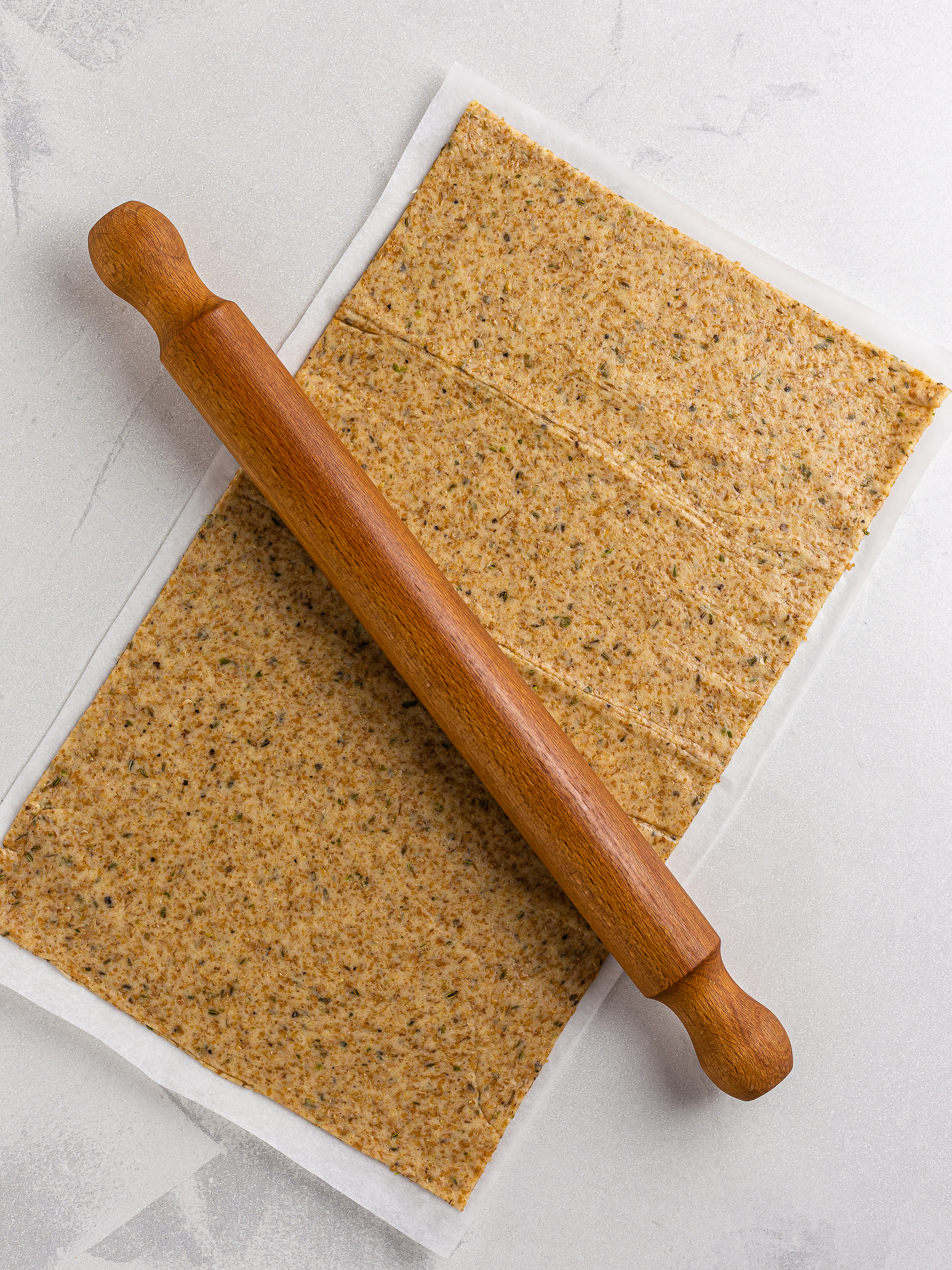 1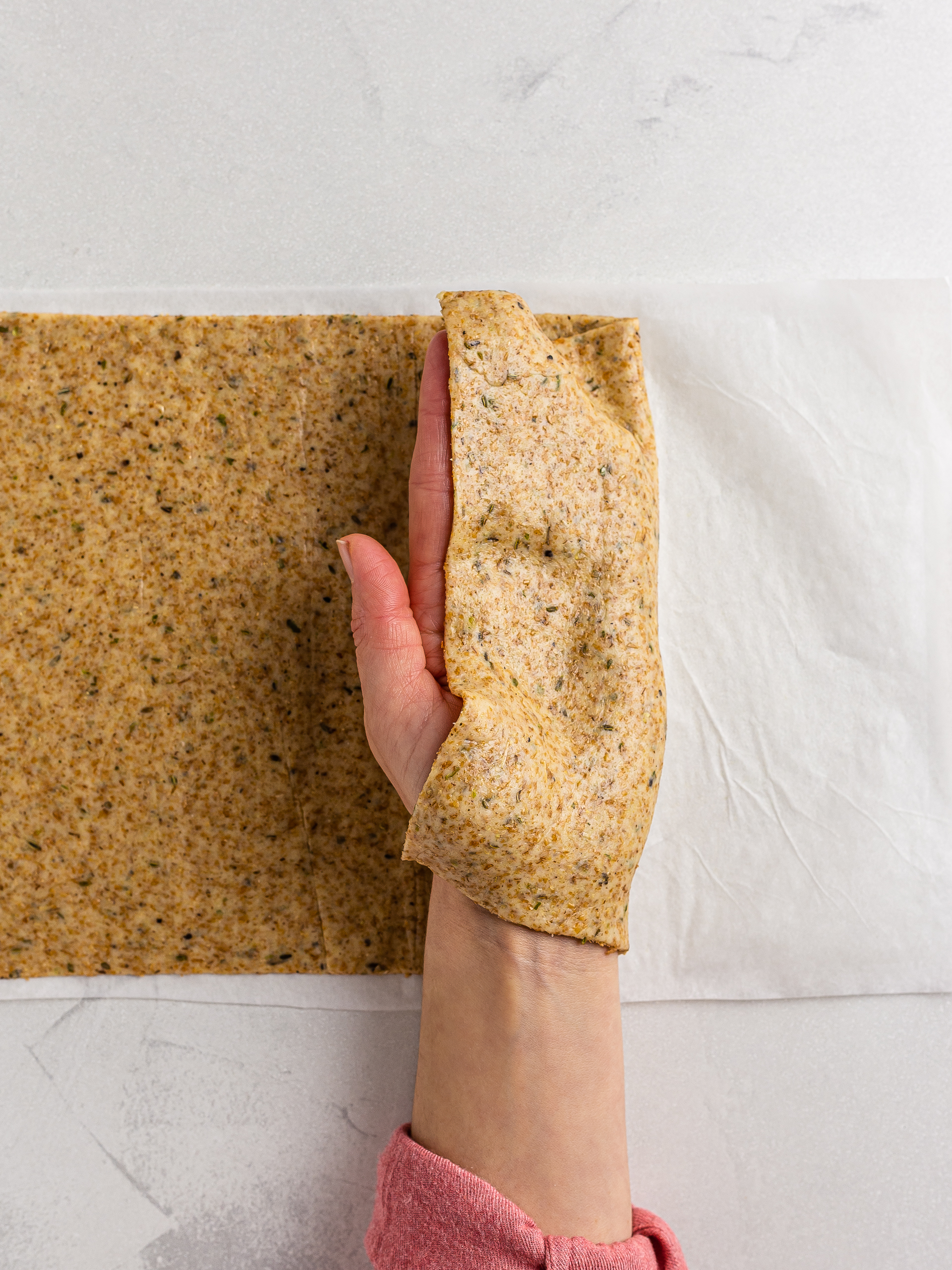 2
Step 5
Next, brush the surface with cold water and sprinkle the remaining half of fennel seeds and black pepper over it.
Wetting the dough will both help the seasoning stick and make the crackers crispier.
Then, roll over the seeds with a rolling pin, pressing down to secure them into the dough.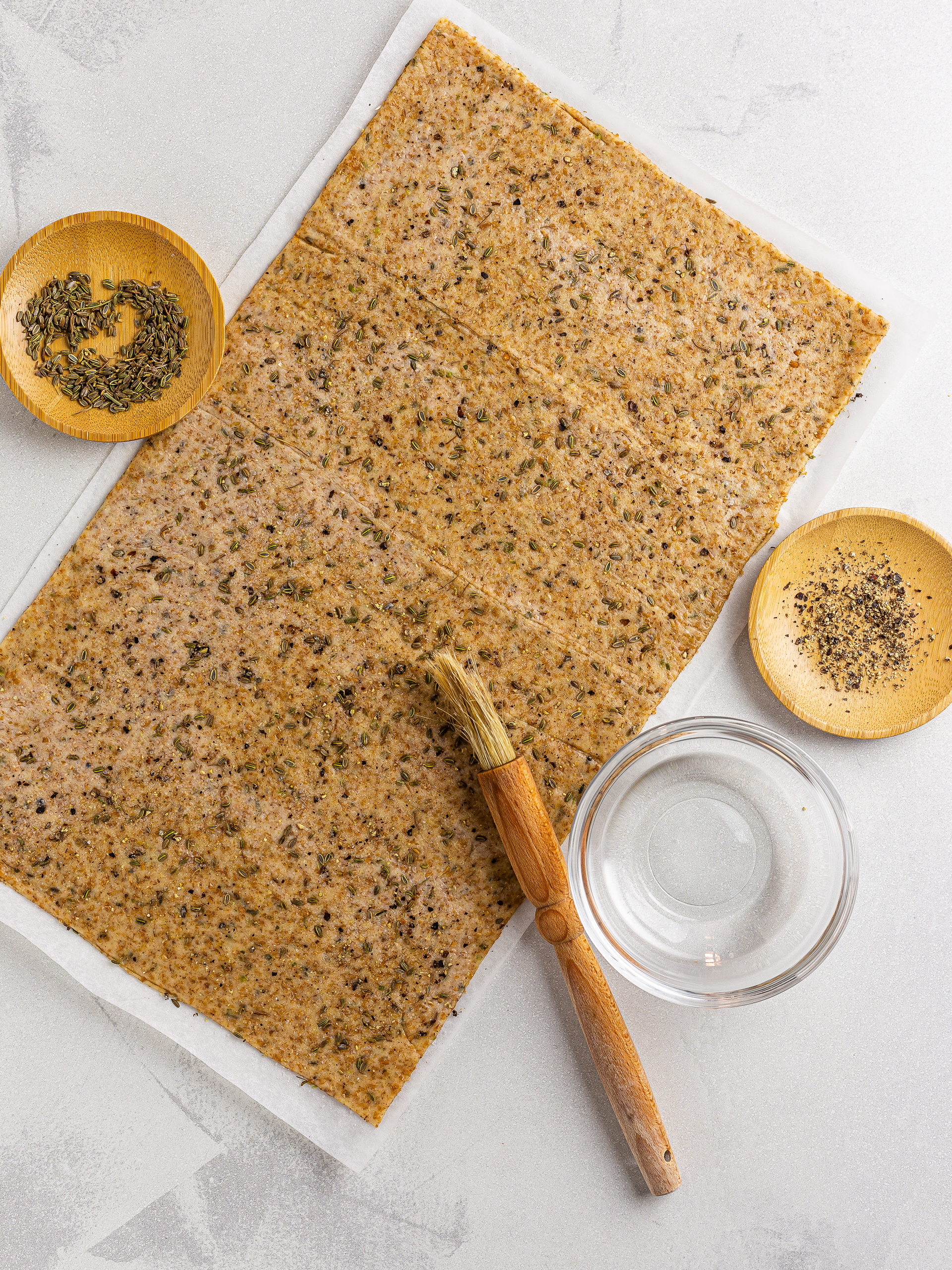 Step 6
Use a wheel cutter or long knife to cut 6 cm x 6 cm (2.5 in x 2.5 in) dough squares. Then, prick them with the tines of a fork.
We made our crackers squared, but you can also make them rectangular or diamond-shaped.
Bake them for 50 minutes at 160 °C (320 °F) for static ovens or at 140 °C (285 °F) for fan ovens.
We recommend checking the crackers after the first 30 minutes of baking time and removing those that look golden and crispy.
If you're cooking them on two trays, rotate the trays top to bottom and front to back halfway through baking time to get evenly browned crackers.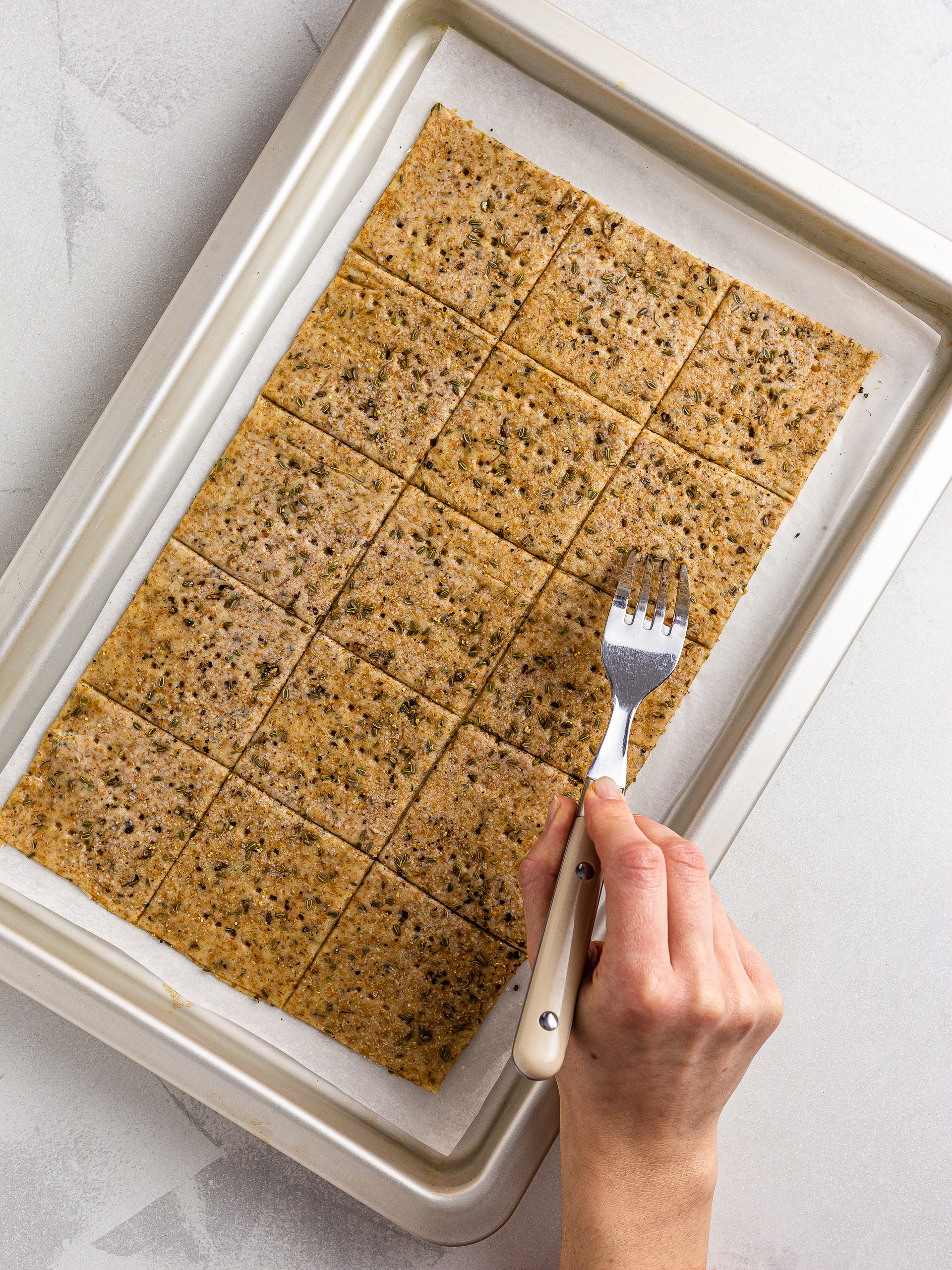 Step 7
Finally, transfer the baked crackers onto a wire rack and leave them to cool down completely.
They will crisp up and harden as they cool down, so it's important to keep them on a wire rack to allow even airflow.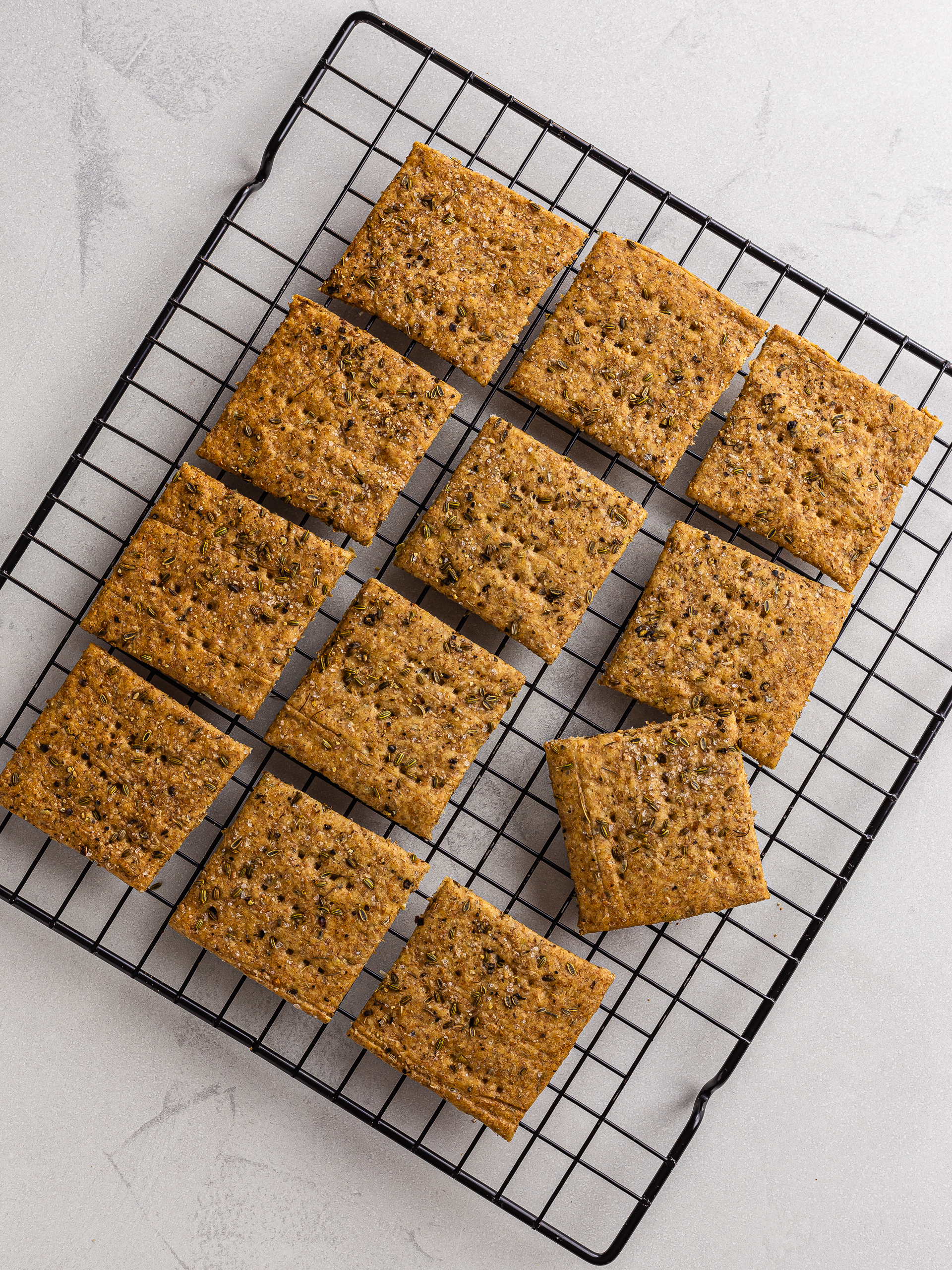 Tips
You can swap fennel seeds with other Italian herbs like dried thyme or rosemary.

To keep these sourdough crackers crispy for longer, we recommend storing them away as soon as they have cooled down. Transfer them into an airtight container or zip-lock bags and keep them for up to 6 days.