If you're looking for a satisfying snack or healthy appetizer, these mustard crackers are the perfect recipe for you.
These crunchy crackers are prepared with wholemeal flour, ground flaxseeds, and wholegrain mustard. These wholesome ingredients make the recipe much healthier compared to store-bought crackers, usually made with white flour and margarine.
Using wholewheat flour and flaxseeds boosts these crispy snacks with precious fibres and essential omega-3. A serving of two crackers packs almost 20% of your recommended daily intake for fibres, a precious nutrient that makes you feel full for longer and keeps your gut healthy.
To make them slightly lower in carbs, we replaced part of the flour with flaxseeds, so that each cracker has only 8 gram of carbs. These mighty seeds are also an excellent plant-based source of omega-3 fatty acids, a heart-healthy and weight-loss-friendly nutrient.
Thanks to wholegrain mustard and mustard seeds, these crackers bursts with a rich, spicy flavour for a twist on the same old snack. Great on their own, they're also excellent served with cheeseboard platters, dipped in guacamole, or coated with chutney.
Now, we'll show you how to make them from scratch with our easy, step-by-step recipe.
Frequently Asked Questions
How can I make these crackers gluten-free or keto?

In this recipe, we have swapped refined white flour with wholewheat flour and ground flaxseeds. However, if you suffer from gluten sensitivity, you're celiac, or following a ketogenic diet, then we can recommend some great alternatives to wheat below.

You can use buckwheat, oat, or rice flour, but also almond, coconut or quinoa flour to prepare the crackers. We even experimented with bean flour like in these black bean tortilla chips.

The soaked flaxseeds we used this recipe form a dense, viscous gel that acts as a binder, helping keep the dough together.

However, if you're substituting wheat with gluten-free or keto flours, we recommend you either increase the amount of flaxseeds or add an extra binder such as arrowroot or potato starch.
What else can I add to these wholegrain crackers?

To keep this recipe as simple as possible yet tasty, we have used mustard and mustard seeds but you can definitely other ingredients to spice things up.

For example, you could top the cracker slab not only with mustard seeds but also sesame seeds, sunflower seeds, or poppy seeds for a crunchier finish.

To boost the biscuits with more proteins try adding chia seeds or hemp seeds to the cracker dough. You can also replace half or all of the flaxseeds with chia seeds as they have the same binding properties when soaked in water.

For an even tastier option, try tahini paste, nut butter, or grated cheese like cheddar or parmesan. You can use them instead of olive oil and then adjust the dough consistency as required.
Which type of mustard should I use?

To keep this recipe as wholesome as possible, we have used whole-grain mustard. This type of mustard is prepared with yellow and black seeds ground just enough to form a paste, then mixed with vinegar and seasonings.

If you don't have this variety at hand, then you can opt for Dijon or English mustard.
How to store and keep these crackers fresh?

You must store these mustard crackers appropriately, or they will turn stale and lose their crunch.

If you plan on eating them right away, for example serving them as an appetiser, then you won't have to worry much as they will stay crisp for up to half a day once baked.

If instead, you prepared a big batch to keep at hand as a healthy snack, then here we have some tips for you on how to keep them fresh for up to a week.

Store at room temperature in a dry and dark place, like a cupboard.

Don't freeze or refrigerate the crackers, or they will turn soggy due to the moisture.

Leave them to cool completely before storing them away to prevent steam from building up and moistening them.

Use a zip-lock bags, tight seal containers, foil, or tin boxes to keep them fresh.
Are these crackers healthy?

As we wanted these crackers to be as healthy as possible, we made a few changes from the original recipe. We swapped processed white flour with its wholemeal counterpart for a boost of fibres and a lower glycemic load (GL). Wholewheat flour has six times more fibres and its GL score is 30% lower than the white's one [1], [2].

Then, we replaced part of the flour with ground flaxseeds to lower the carb content of these crackers. These mighty seeds are also on the best plant-based source of omega-3. Imagine that a single spoonful of flax provides three times the recommended amount for these essential fatty acids [3].

Finally, instead of using heavily processed margarine, we have opted for extra virgin olive oil which is rich in healthy unsaturated fats.

These amazing ingredients make these crackers a healthy snack or appetiser. With just 79 calories, 8 grams of carbs, and 2.2 grams of fibres per serving, they will keep you full for longer, boost your diet with healthy fats, and they won't raise sugar levels as much as white crackers.
What to serve with these crackers?

Flavoured with wholegrain mustard and mustard seeds, these crunchy crackers are delicious on their own as a healthy snack at home or on-the-go.

Also, you can enjoy them with tasty toppings like avocado, nut butter, hummus, olive spread, or chutneys. If you aren't vegan, try them with sliced halloumi, pesto, or smoked salmon.

Moreover, these crackers are the perfect addition to any cheeseboard platter, and guacamole or salsa dips too.

We especially recommend them with our beetroot hummus and carrot chutney.
Ingredients
| | |
| --- | --- |
| Ground Flaxseeds | 35 g |
| Water | 130 g |
| Wholemeal Flour | 200 g |
| Salt | 1/2 tsp |
| Extra Virgin Olive Oil | 30 g |
| Wholegrain Mustard | 1 tbsp |
| Yellow Mustard Seeds | to taste |
Step 1
In a bowl, combine the ground flaxseeds with water, stir well, and leave to soak for 10 minutes.
By absorbing water, the seeds will form a thick gel-like mixture that will better hold the dough together.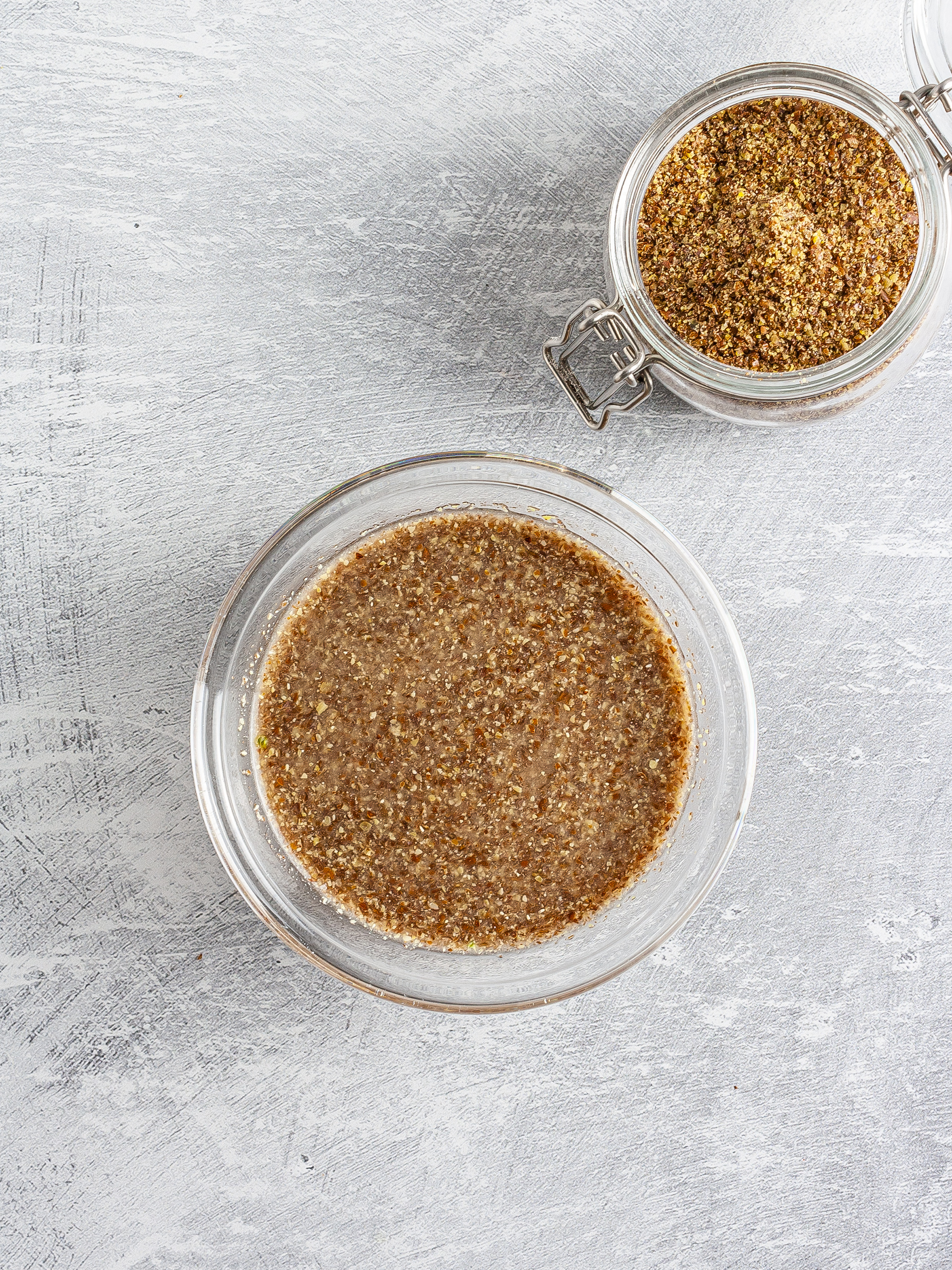 Step 2
Meanwhile, add wholemeal flour to a mixing bowl along with salt, extra virgin olive oil, and whole-grain mustard.
Then, incorporate the prepared flaxseeds mixture and work the ingredients into a smooth dough for 5 minutes.
The cracker dough should feel elastic when kneaded, and just slightly sticky, similar to a pizza or bread dough. If needed, add more flour or water to reach the right consistency.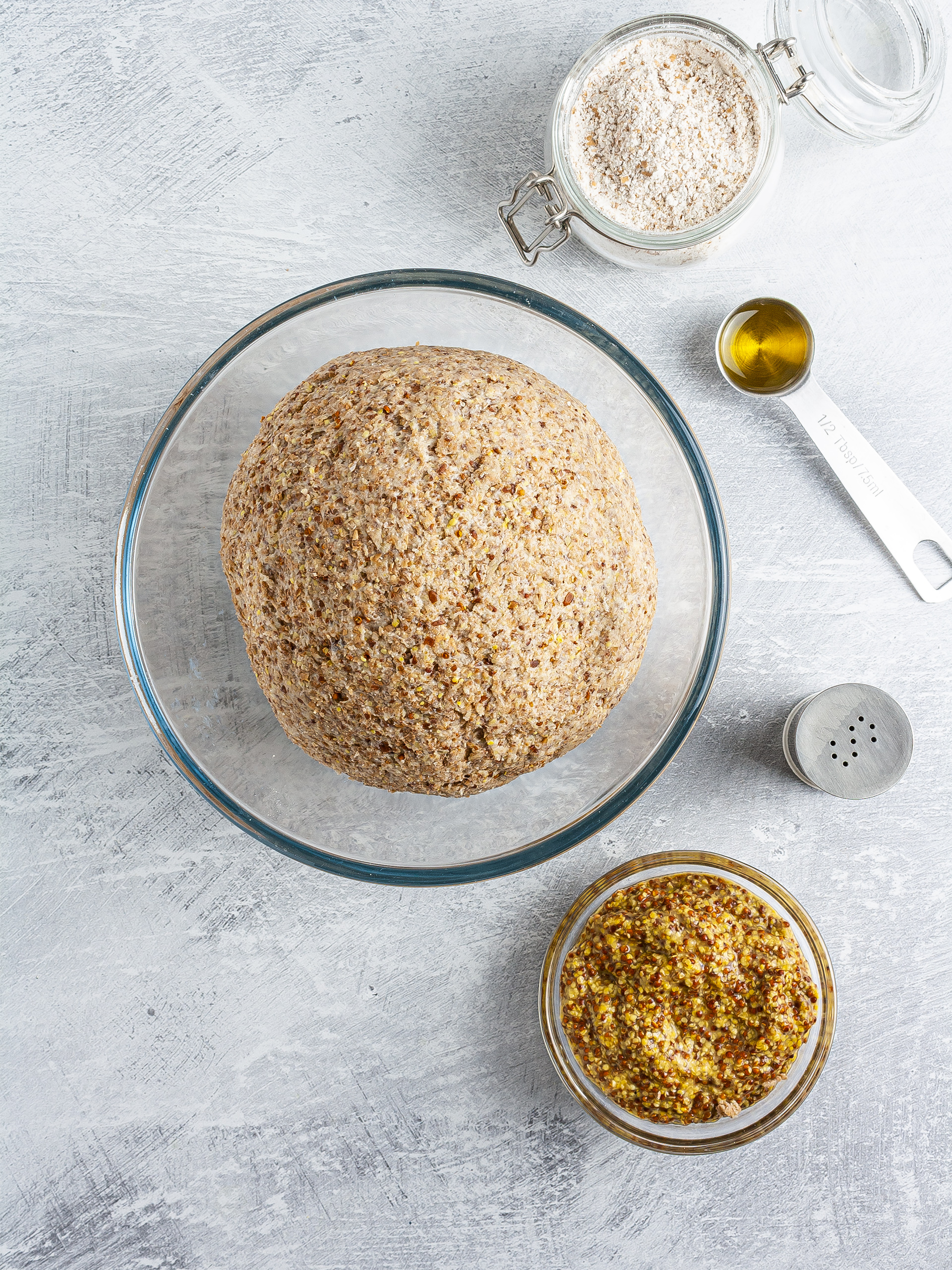 Step 3
Transfer the mix to a sheet of parchment paper and then cover with a second sheet.
Use a rolling pin to flatten the dough to a 3 mm (1/8 of an inch) thick rectangular shape, about the size of your baking tray.
The thinner the flaxseed slab is, the crispier the crackers will be.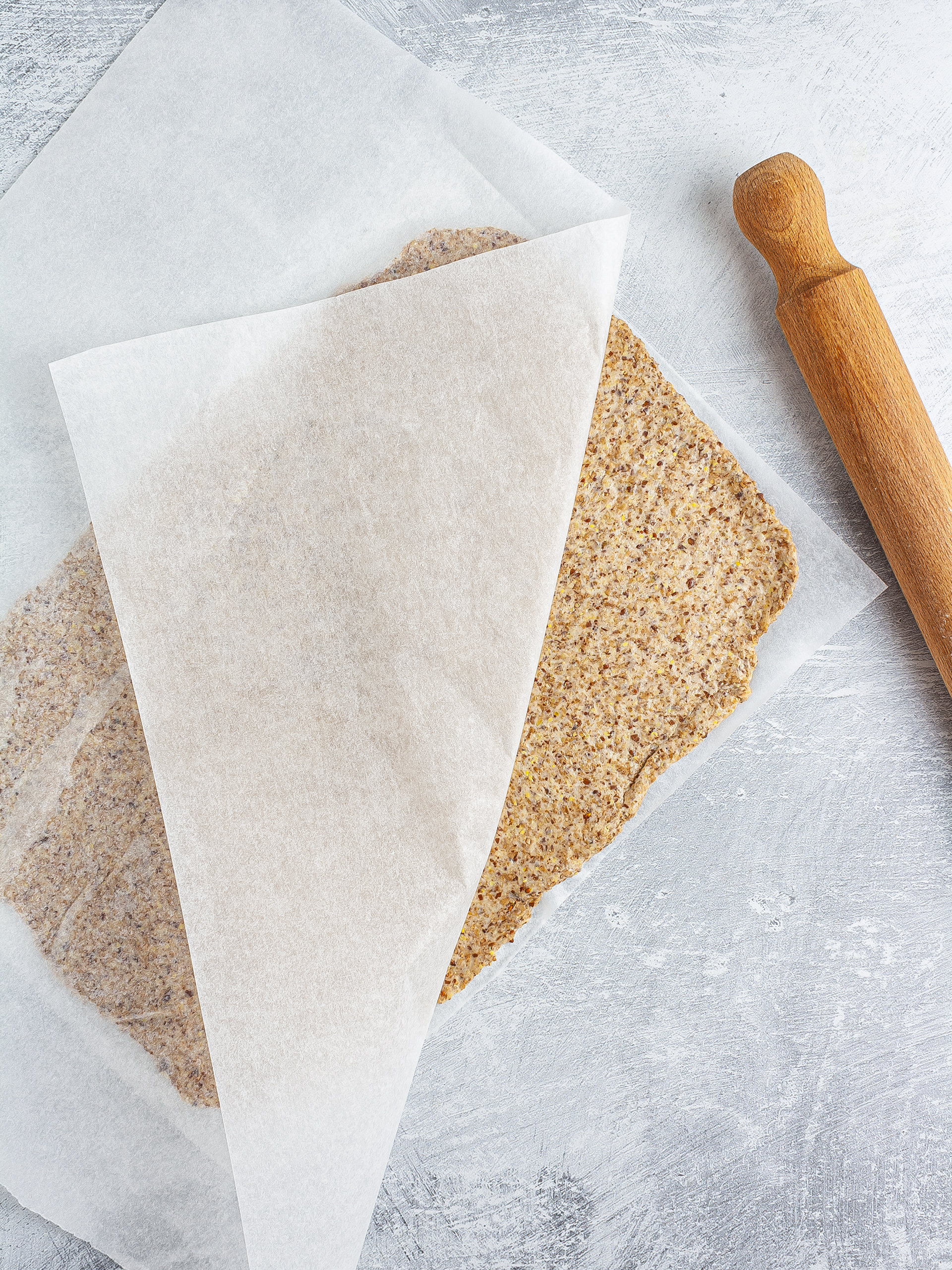 Step 4
Remove the top parchment paper and sprinkle the cracker plate with mustard seeds, pressing them down with your fingertips or rolling pin.
Then, use a knife to mark the outline of the crackers, both vertically and horizontally. In this recipe, we made rectangular of 8 x 6cm (3 x 2 inches) crackers, but you can make them larger, smaller, or even squared if preferred.
By making these incisions, it will be easier to break the cooked slab into single crackers.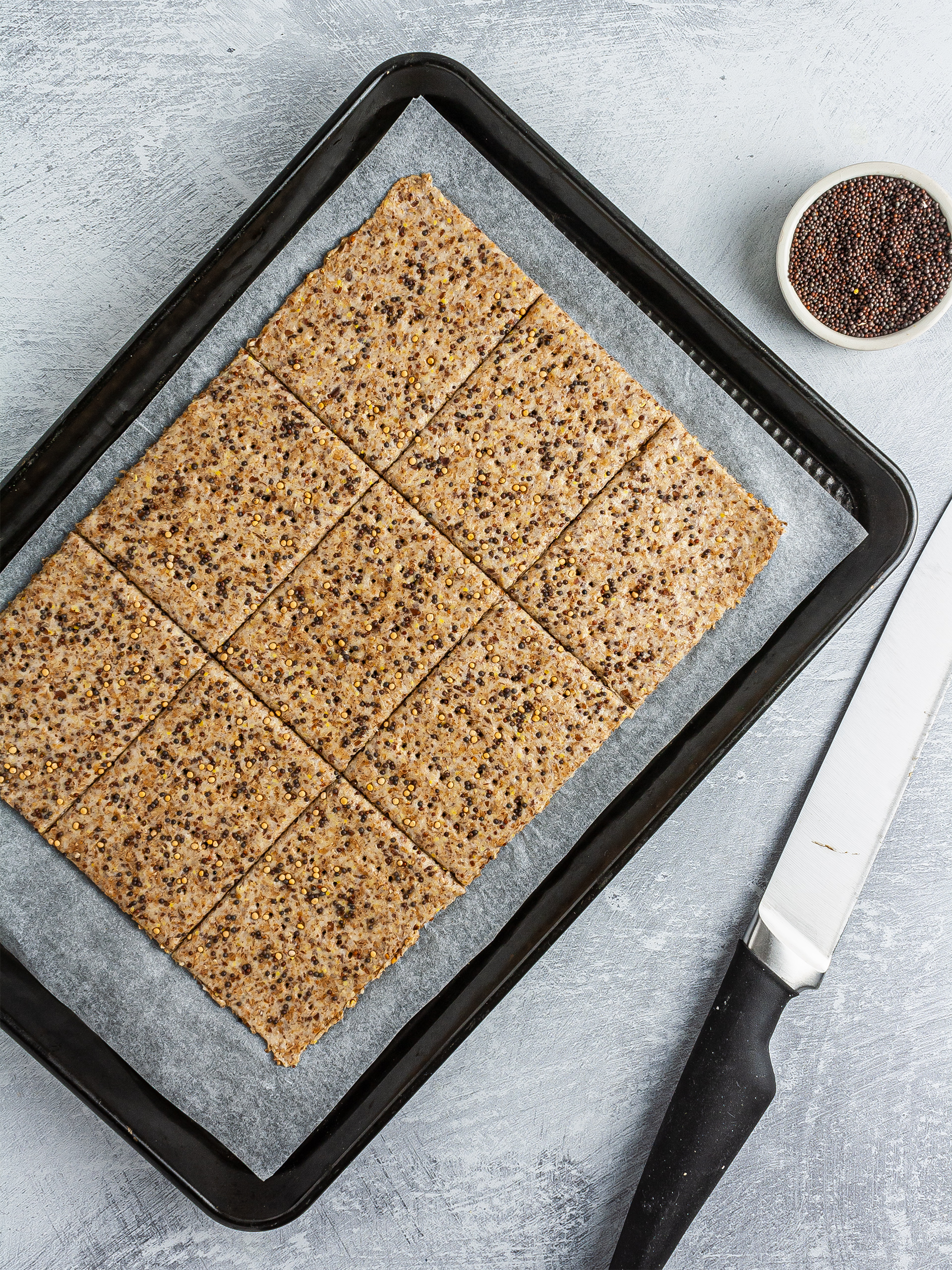 Step 5
Bake the flaxseed slab for 60-70 minutes at 160°C (320°F) for static ovens or at 140°C (285°F) for fan ovens.
The crackers are ready when the top is firm and lightly browned. They will crisp up a bit more after cooling down, but try to make them as crispy as possible in the oven, without burning the slab edges.
Finally, transfer the cooked cracker plate to a wire rack and leave to cool down completely before craking it into rectangles along the marks.
Sprinkle with a bit of salt and enjoy.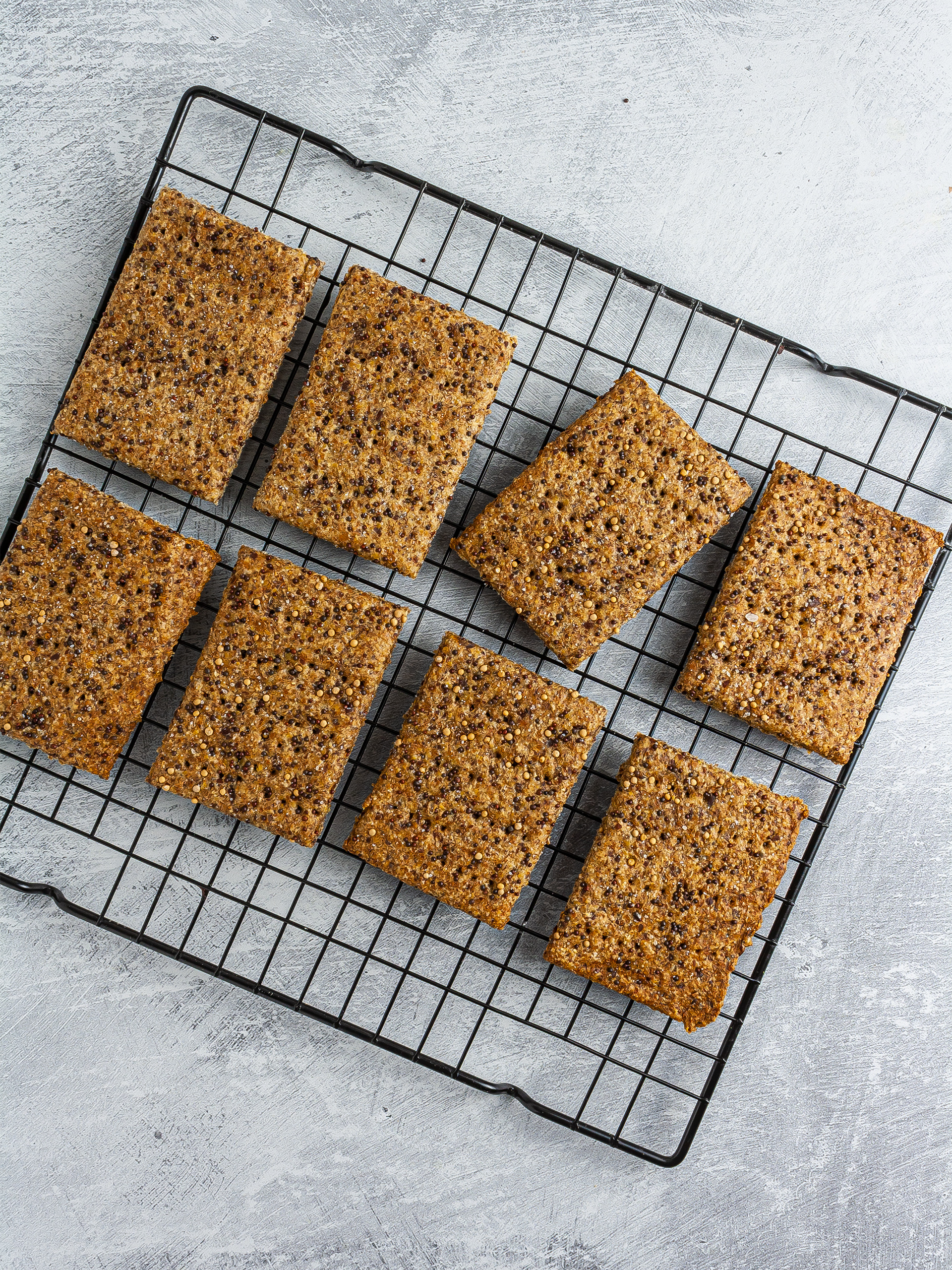 Tips
Poke the cracker dough with a fork to make little holes before baking it in the oven. This way, excess moisture can escape leaving your crackers even crispier.

Brush the slab with little olive oil for a more flavourful, crunchier finish.