If you love Indian naan and Greek pita, it's time to try another delicious flatbread: lavash wrap, a thin leavened bread from Armenia. We'll show you how to make it from scratch and stuff it with tasty Mediterranean fillings. You'll love it!
Traditionally, lavash consists of flour, yeast, sugar, water and salt, all mixed into a dough. After proving, the dough is rolled out into a thin flatbread, finally cooked on the hot walls of a clay tandoor oven (tonir). Lavash can have either a round or rectangular shape, and it's usually very big, a few times the size of a regular tortilla.
Unlike other flatbreads, lavash is more pliable and much thinner, just a few millimetres thick. It's usually served with dips or used to wrap kebab meat, herbs, and cheese. But it can even be left to dry out, cracked into bits, and added to stews. Using lavash for sandwiches is a brilliant idea as you can wrap it multiple times around the fillings into a cute roll-up.
In our recipe, we made a few changes to the basic lavash recipe. First, we replaced some of the white flour with wholemeal flour to add more fibres and reduce the calories. We also swapped white sugar with a dash of maple syrup. Then, we shaped the flatbread into smaller rounds but big enough to fit our biggest pan. Finally, we cooked the lavash in a hot skillet to mimic the environment of the tori oven.
Some recipes also include poppy and sesame seeds, so we decided to sprinkle them on the bread before cooking it. They add a lovely crunch and extra flavour but you can also omit them. When cooking the lavash, make sure you don't let it brown and crust too much, or it will crack when folded.
Of course, you could also skip the bread-making part and use store-bought lavash. After all, the best part of a wrap is the fillings! Here, we chose hummus, roasted aubergines, and sumac. But it's equally delicious with baba ganoush, falafels, or vegan mushroom shawarma filling. Yummy!
Ingredients
Fillings
Hummus

recipe

270 g

Baby Spinach

120 g

Large Tomatoes

3

Large Aubergine

1

Sumac (optional)

to taste

Lavash Bread
White Flour

200 g

Wholemeal Flour

160 g

Salt

1/2 tsp

Instant Dry Yeast

1 tsp

Warm Water

230 mL

Maple Syrup (or Brown Sugar)

1/2 tsp

Poppy Seeds (optional)

1 tbsp

Sesame Seeds (optional)

1 tbsp
Step 1
In a bowl, combine plain flour with wholemeal flour, salt, and yeast.
Then, add lukewarm water and maple syrup.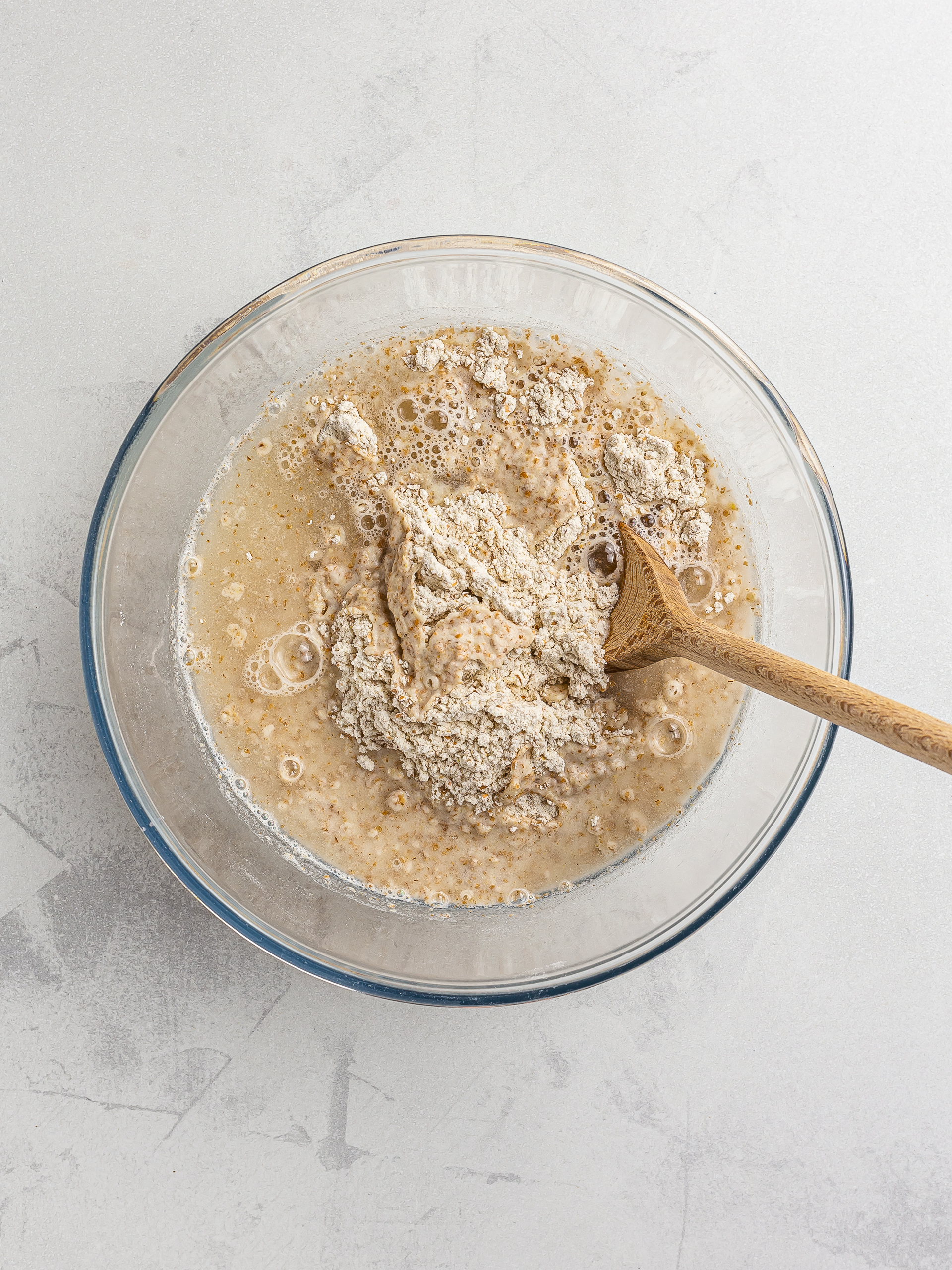 Step 2
Mix the ingredients with a spoon until they come together, and then transfer the dough onto a floured surface.
Knead it for 5 minutes until you have a smooth and elastic dough; it should spring back when poked.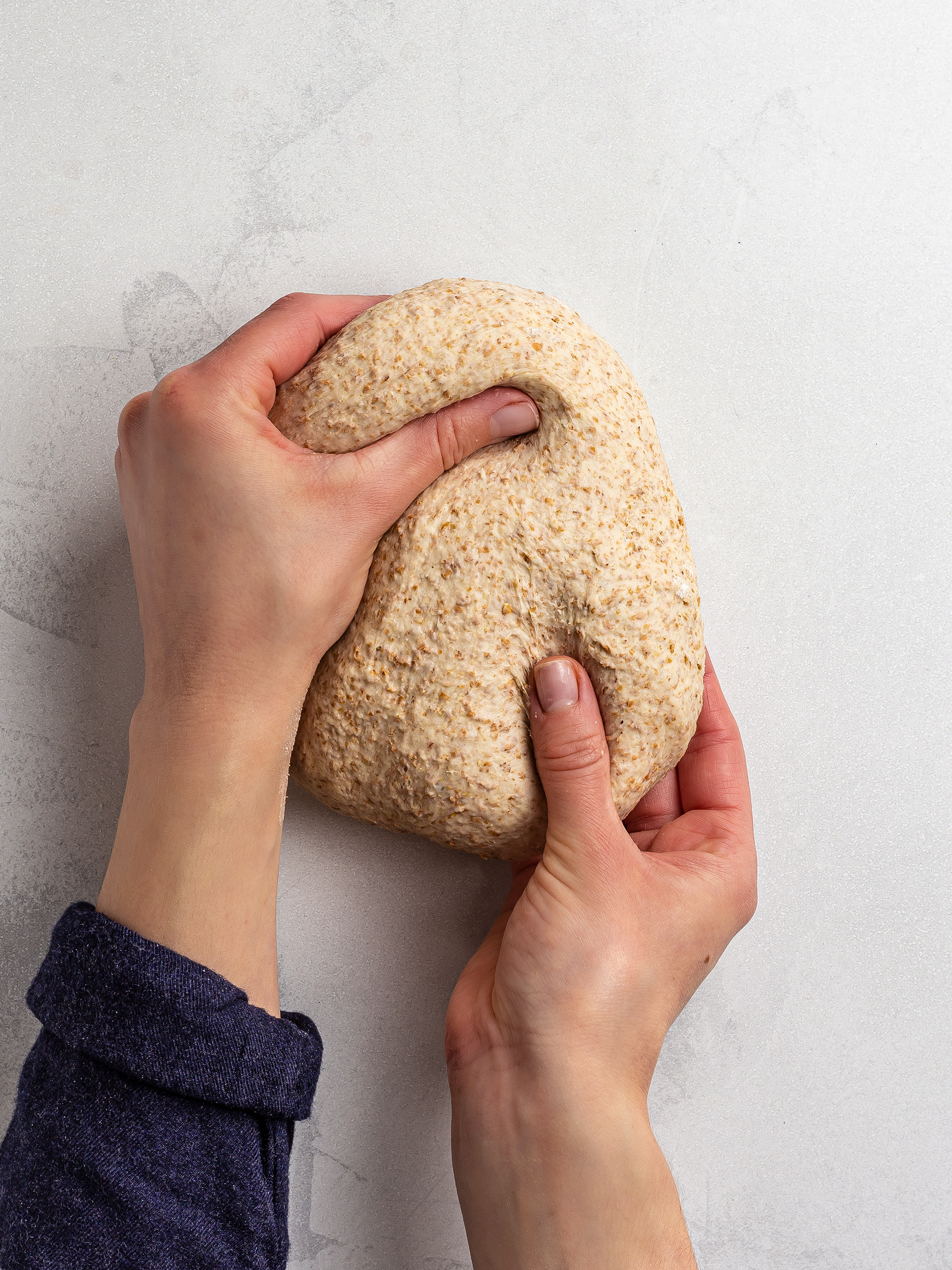 Step 3
Roll the lavash dough into a ball and place it into a greased bowl.
Cover it with cling film and let it prove for 40 minutes in a warm place until doubled in volume.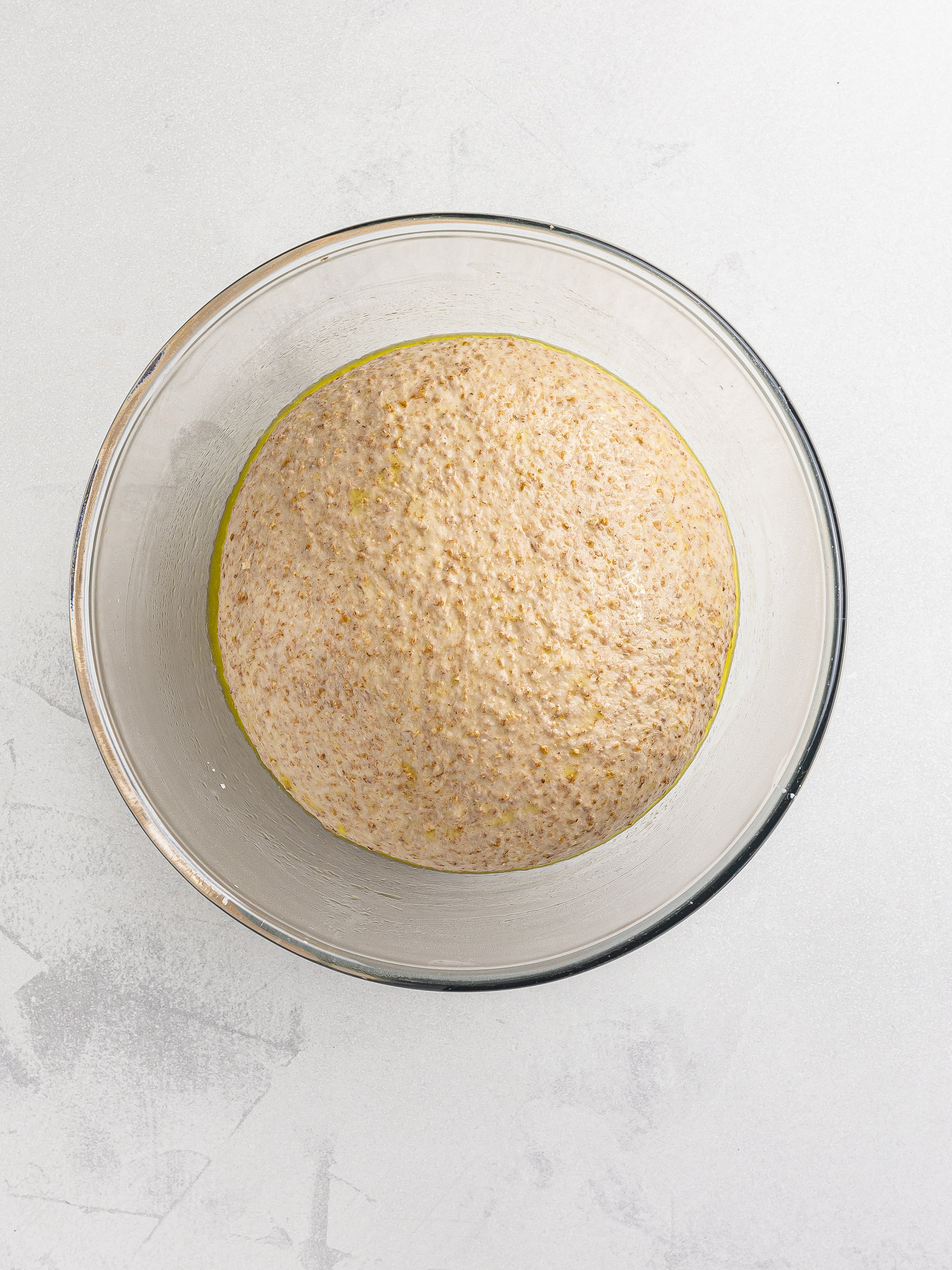 Step 4
Now, divide the dough into as many pieces as the number of servings (6 for the default ingredients).
For each piece, stretch the edges of the dough and tuck them underneath to form a ball.
Then, roll the ball under your palm until smooth and round.
Repeat for the other pieces.
Step 5
Transfer the dough balls onto a tray lined with parchment paper and dusted with flour.
Then, grease them with a little oil and cover them with cling film.
Let them prove for 30 minutes in a warm place until puffed.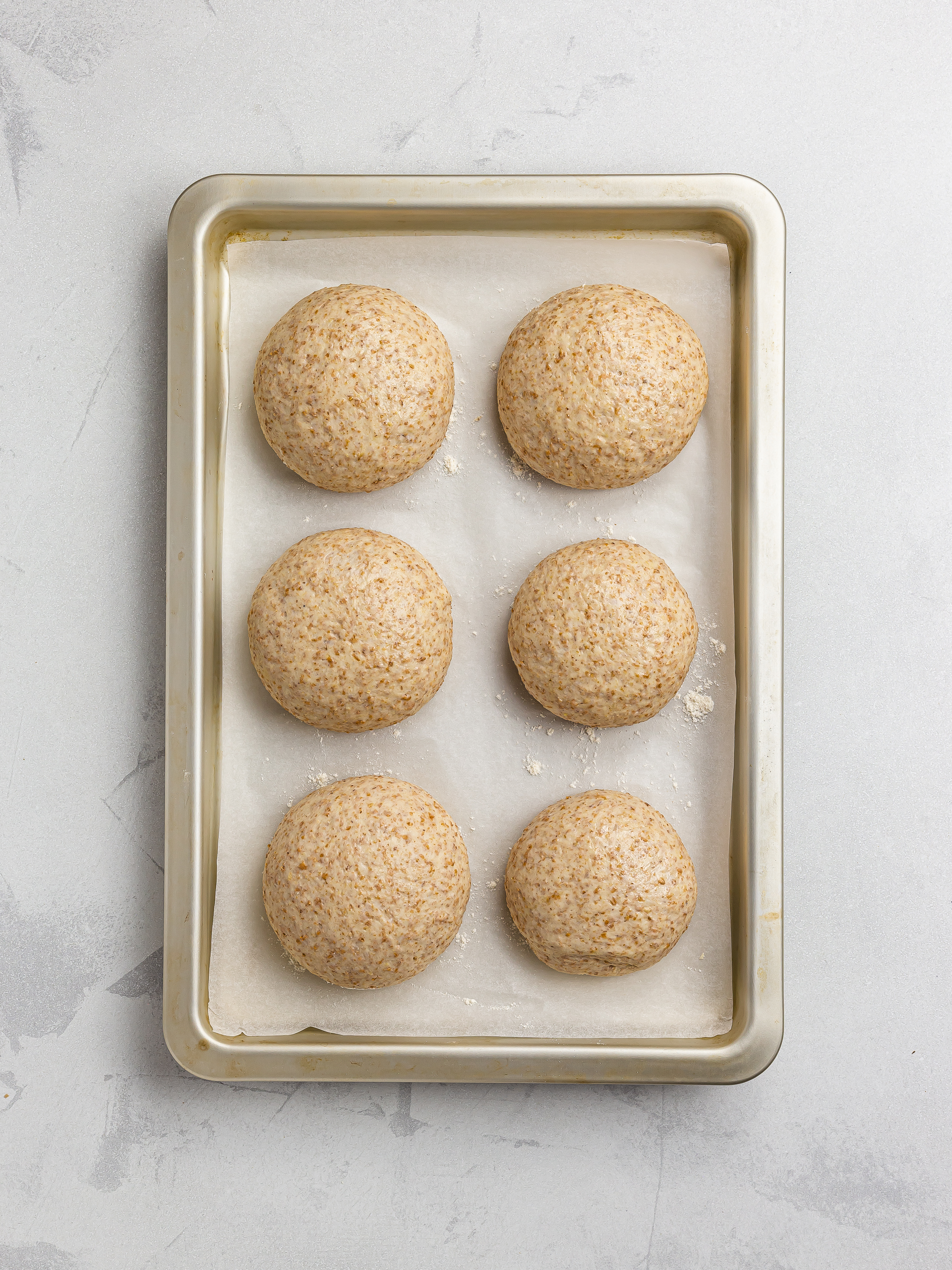 Step 6
To shape each lavash bread, roll out one dough ball into a round flatbread as thin as possible (1).
Make it roughly the size of your largest skillet; ours was 22-24 cm (9-10 inches) in diameter.
You can also shape the lavash into an oval or rectangle.
Next, brush the flatbread with water and sprinkle it with poppy and sesame seeds, but this is optional (2).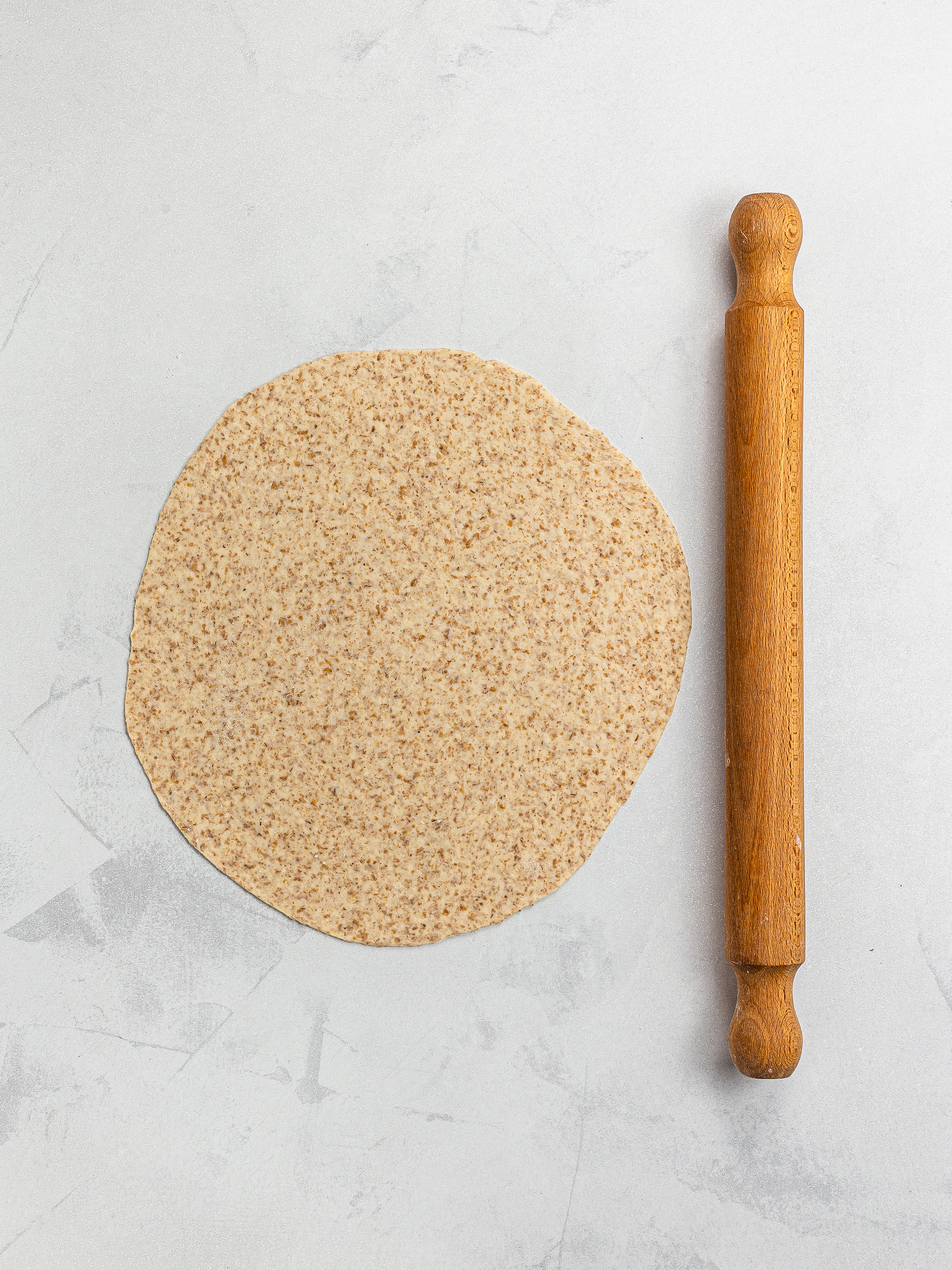 1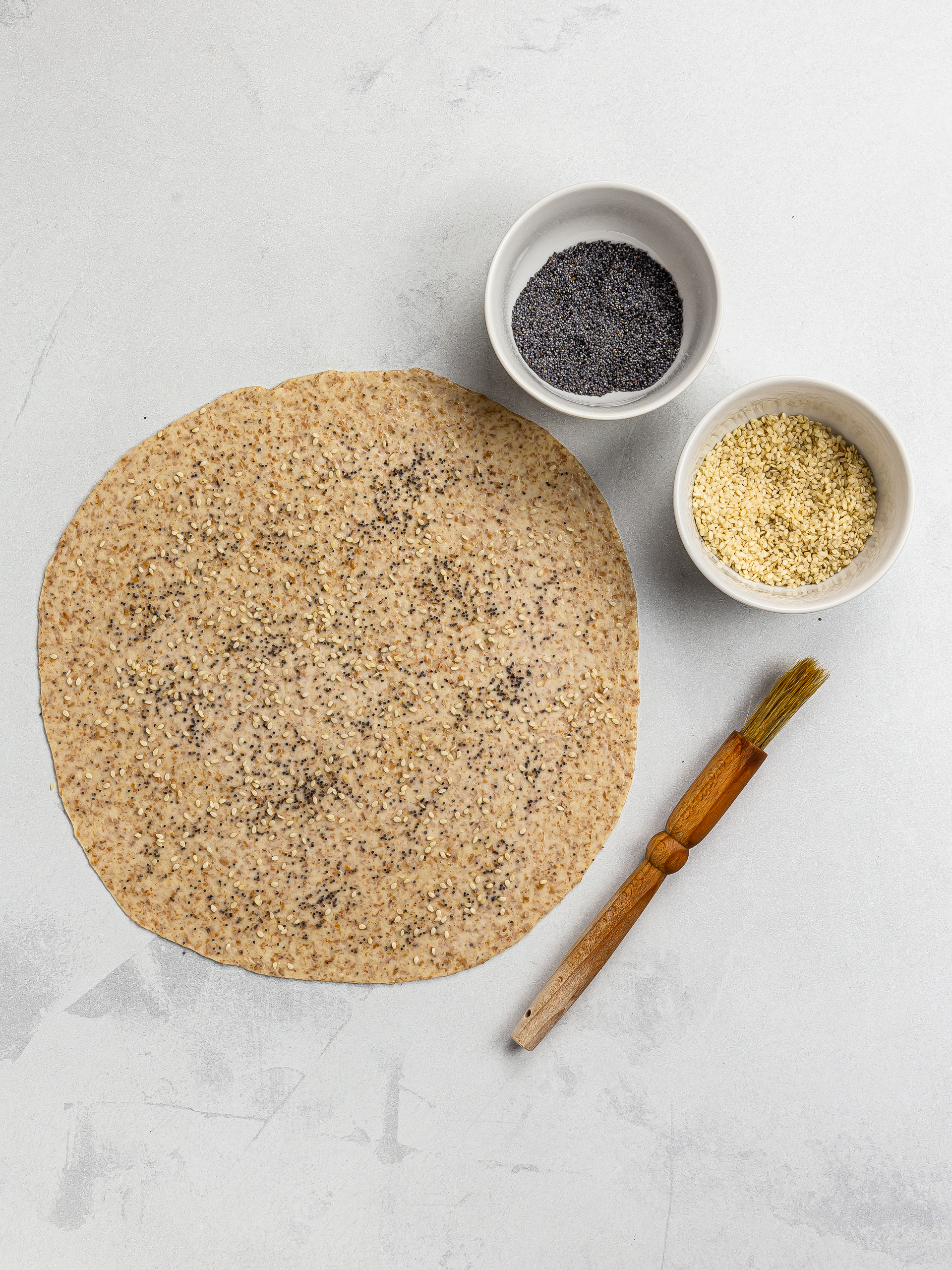 2
Step 7
Heat a large non-stick skillet over high heat and add in one lavash.
Cook it for 45 seconds to 1 minute on each side.
It should be lightly browned but still pliable.
Keep the cooked flatbreads warm under a bowl or place them in the oven at the lowest temperature.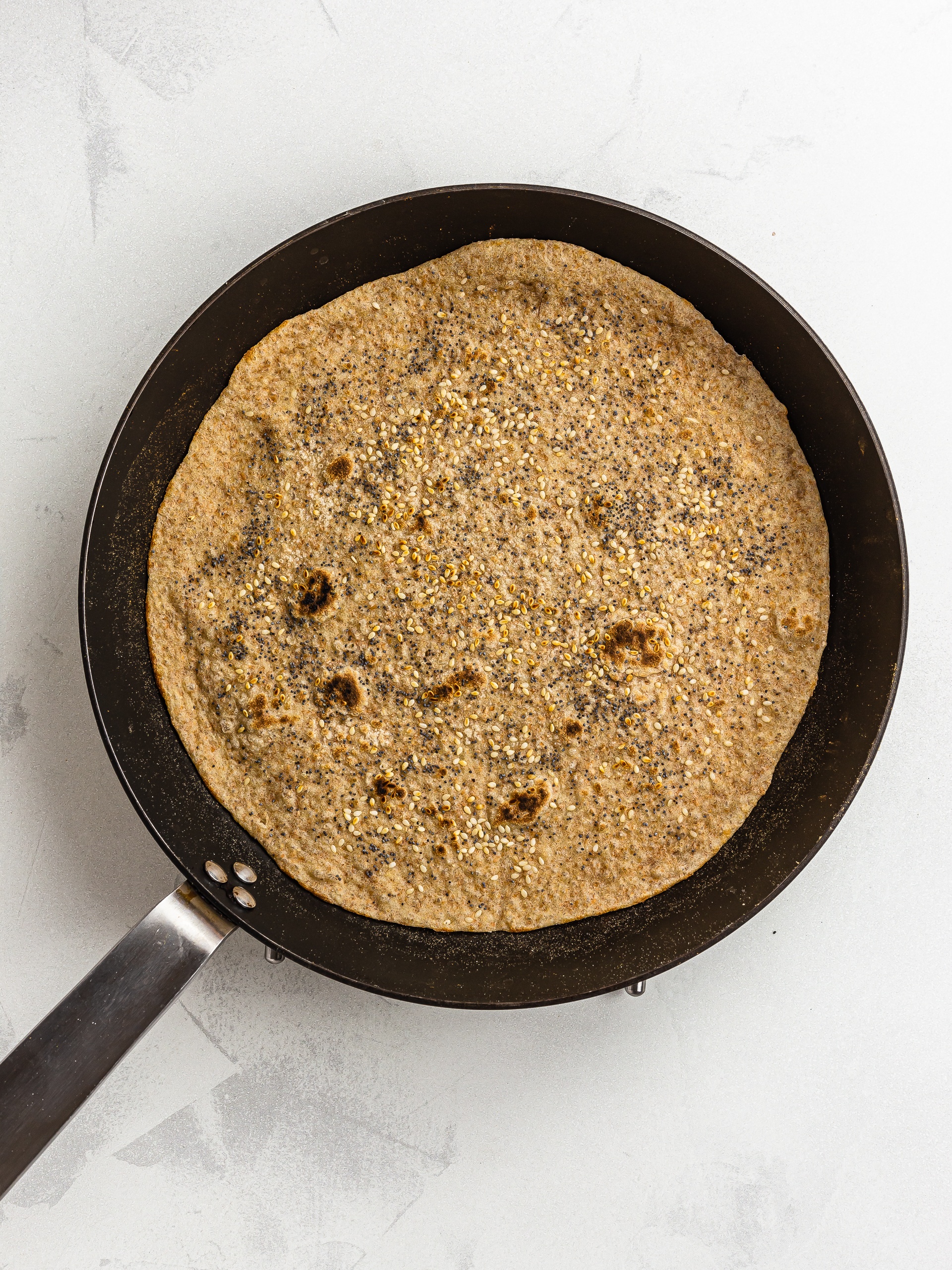 Step 8
For the fillings, slice the aubergines lengthwise and season them with salt and pepper. Then, grill them in the oven or over a griddle pan.
Spread the hummus over the bottom half of the lavash flatbread, and then top it with baby spinach, sliced tomatoes, aubergines, and sumac (1).
Roll the wrap tightly and serve sliced (2).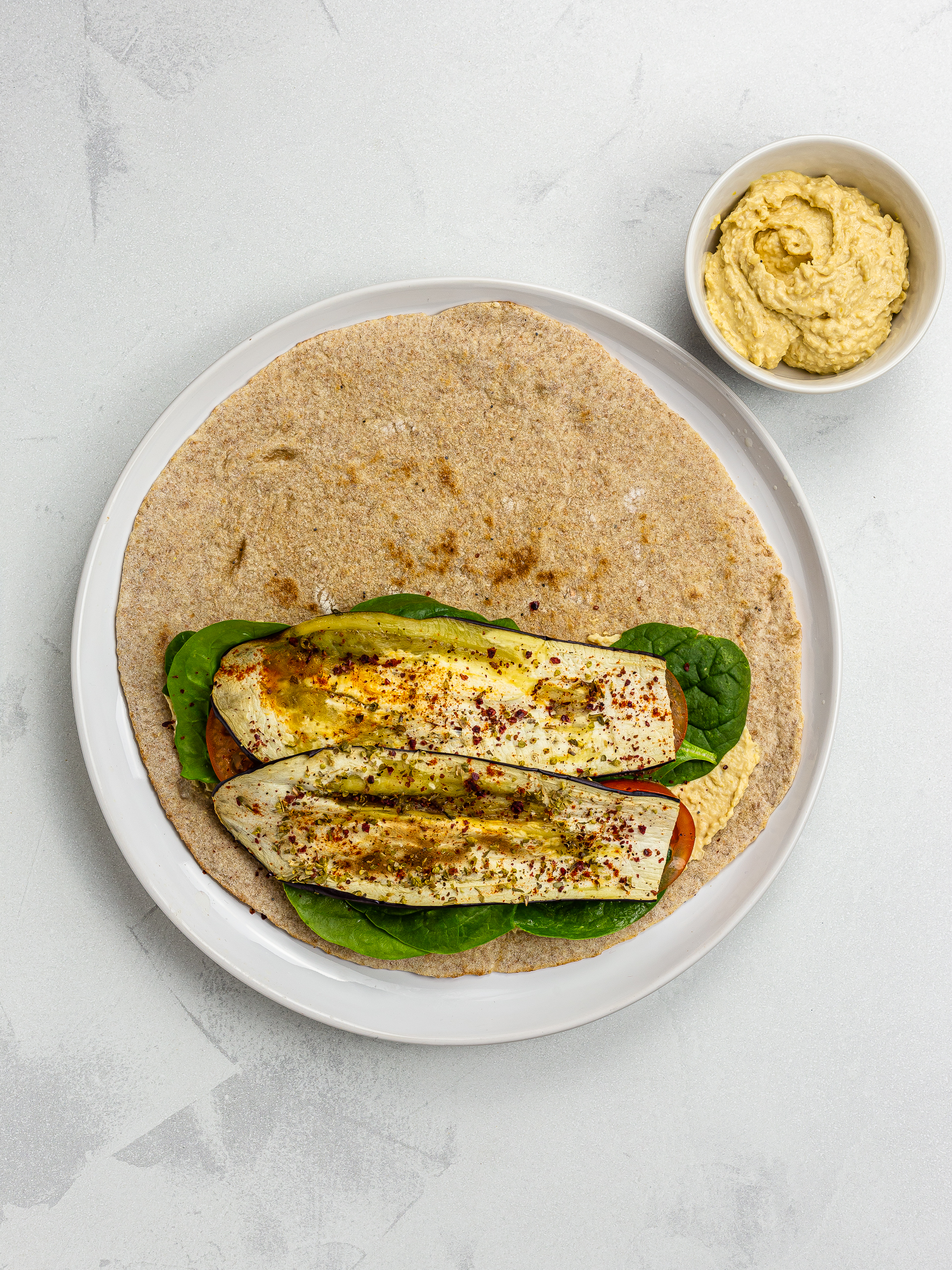 1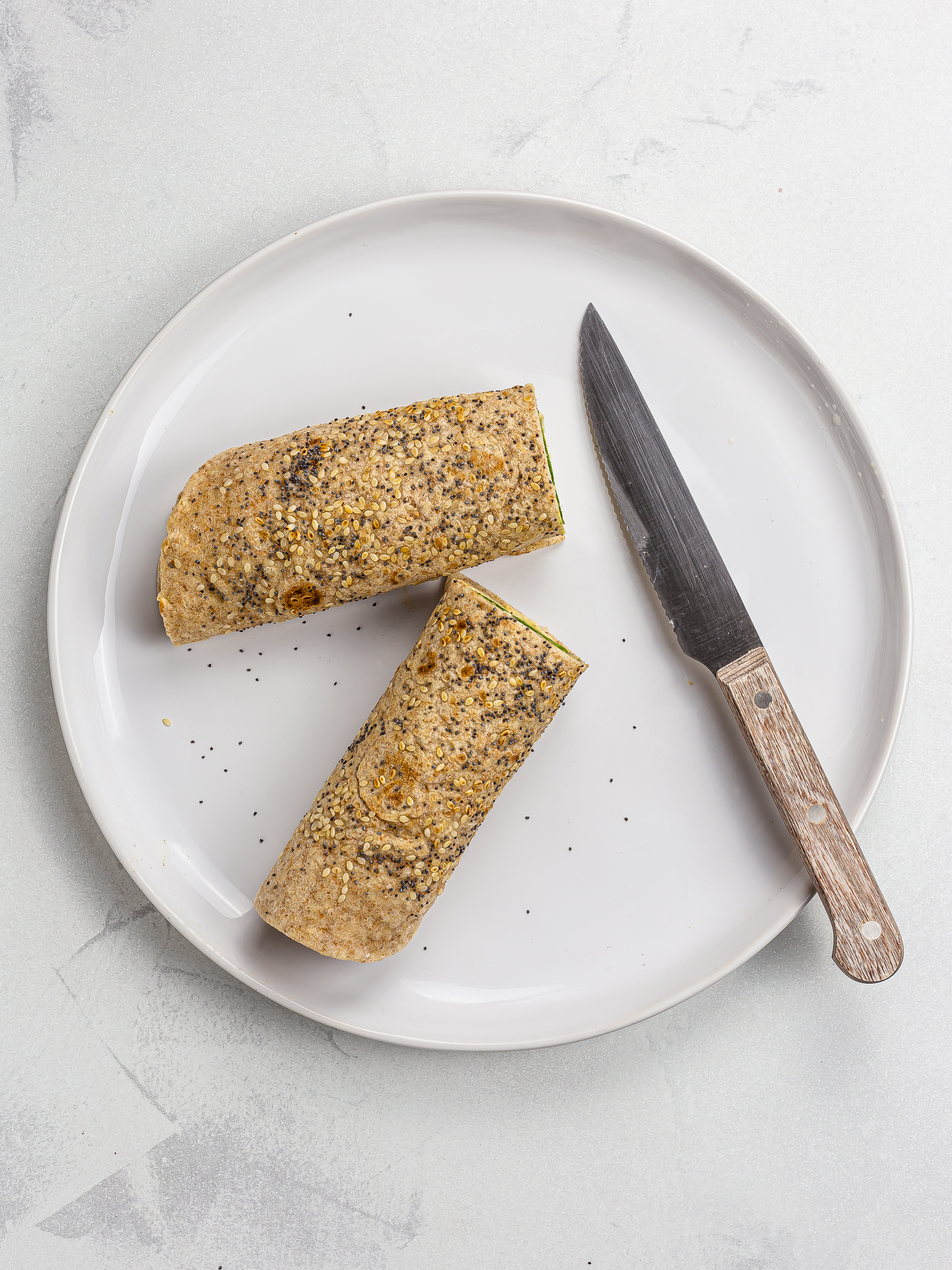 2
Tips
To make the dough with only white flour, reduce the water to 190ml (6.5 oz).

Enjoy these wraps right away, or keep them in an airtight container for up to 5 days. Before stuffing them, you can warm them up in the microwave or oven to soften them.