We recently experimented with lemons and rosemary in this bake, and boy oh boy, did we like the outcome! Today, we will show you how to make a healthy cake made with olive oil instead of butter, which bursts with lemon and rosemary flavour.
Did we say it was healthy? We meant super-healthy. This lemon, rosemary and olive oil cake is both vegan, sugar-free, and gluten-free! Virtually everyone can enjoy it - even folks suffering from diabetes or on a low-sugar diet. Keep reading to learn about the wholesome ingredients we selected, or dive right into the instructions below!
To make this bake vegan, we replaced all traditional ingredients with plant-based ones. So this lemon cake is made without butter, milk, or eggs. We used flax-eggs for binding, almond milk as a liquid, and olive oil instead of butter.
The dough is also gluten-free, as we replaced wheat products with oatmeal, almond flour, and potato starch. These ingredients together are an abundant source of fibres, vitamins, and healthy fats. The starch helps countereffect the lack of gluten, giving us a soft, spongy bake.
Finally, we made our recipe without any refined sugars. All sweetness comes from mashed bananas alone! If you want to glaze the cake with our vegan lemon curd, which is optional, you'll also get added sweetness from organic maple syrup. We also have a zero-sugar glazing as an alternative.
Compared to the classic recipe, a slice of this moist lemon cake is lower in calories and has 5 times fewer saturated fats and six times fewer sugars and gives you 20% of your recommended daily intake for fibres.
Wish all cakes could be this healthy? Check other wholesome bakes here. But for now, have fun baking this, and enjoy it while it lasts!
Frequently Asked Questions
Are there other ways to make a vegan lemon cake?

Swap eggs with flaxseed, avocado, yogurt, tofu

To make our lemon, rosemary, and olive oil cake we have used the following vegan ingredients:

flax-egg as an egg replacement

almond milk as a milk replacement

olive oil as a butter replacement

Eggs, milk, and butter: these are the three parts that vegan recipes have to substitute when making dough for cookies, muffins, or cakes.

Let's take a look at some vegan ingredients you can use to make vegan bakes.

Vegan egg replacements:

Chia-eggs (water + chia seeds)

Flax-eggs (water + flaxseeds)

Blended Silken tofu

Mashed bananas

Milk Replacement:

Almond milk

Coconut milk

Oat milk

Hazelnut milk

Orange juice (if you want to add orange flavour to your recipe)

Butter replacement

Applesauce (also an excellent sugar replacement)

Mashed Pumpkin

Vegetable oils, like olive, coconut, canola, or avocado oil

Soy/Coconut Yogurt

Margarine (wouldn't recommend, as it's highly processed)
Can I turn this recipe into muffins?

Yes, you can! And you can also use other baking moulds, like loaf tins, bunt-cake tins, etc.

One little tip for you though: adjust the cooking time relative to the mould you use.

A muffin case, for example, contains less dough than a loaf tin. Therefore, you should bake muffins for less, or they will get overcooked and lose their softness.

We have a lemon and rosemary muffin recipe, so you can refer to the instructions therein if you want to make muffins!
Can I use lemon essence?

To make this lemon and rosemary cake, you can use either fresh lemons or lemon essence.

We have used the juice from 1 lemon. You can replace this with 2 tsp (around 10 ml) of lemon essence. So you can replace each lemon you use with 10 ml of lemon essence.
What kind of oil should I use?

We used extra virgin olive oil in this recipe, as it pairs well with the Mediterranean flavours given by the lemon and rosemary. If you would like to use another vegetable oil, we suggest canola (rapeseed) oil.
Which lemons should I use?

If you decide to use fresh lemons, as we did, instead of lemon essence, you must buy unwaxed lemons.

Some lemons get waxed to make them look better and to protect them during transit. It may be ok to buy waxed lemons if you only care about the juice. But if you need to use lemon zest, as in this recipe, then you don't want to be grating wax over your food!
Ingredients
Ground Flaxseeds

6 tbsp

Water

150 mL

Oats

140 g

Bananas

3

Almond Flour

130 g

Potato Starch

140 g

Baking Powder

20 g

Extra Virgin Olive Oil

90 mL

Almond Milk

80 mL

Large Lemon

1

Dried Rosemary

2 tbsp

Vegan Lemon Curd

recipe

180 g
Step 1
Let's start by preparing the vegan "flax-egg".
In a bowl, combine the ground flaxseeds with water and leave them to soak for 10 minutes in the fridge. They will form a dense gel-like mixture.
Meanwhile, blitz the oats in a food processor until they're finely ground into flour.
Then, blend or mash the bananas until creamy.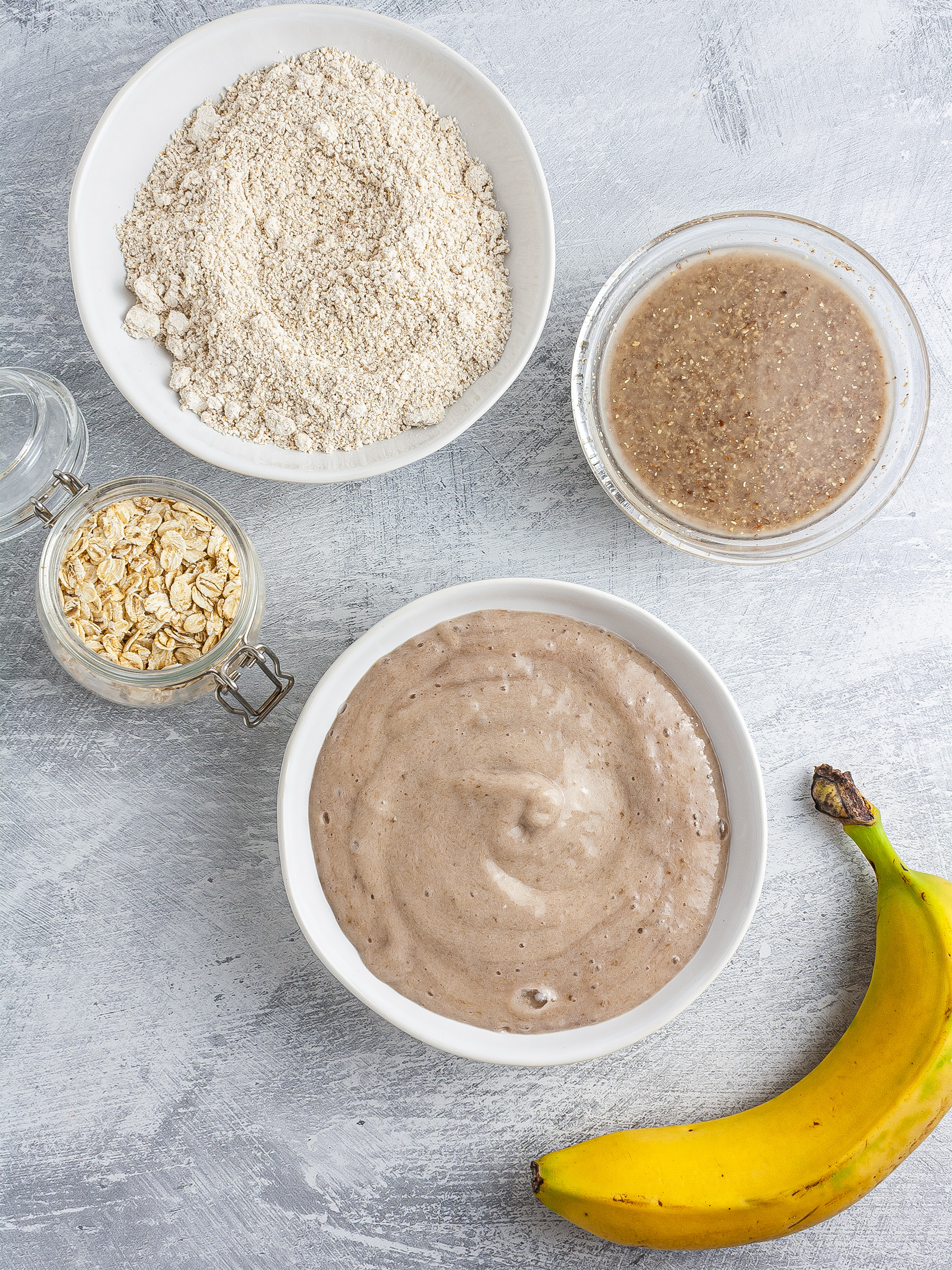 Step 2
In a mixing bowl, combine the prepared oat flour with almond meal, sifted potato starch, and baking powder and add a pinch of salt.
Give it all a quick stir to distribute the baking powder evenly to avoid getting a domed cake when baking it in the oven.
Next, incorporate the "flax-egg", mashed bananas, olive oil, and almond milk. Then, add the zest and juice of the lemon and dried rosemary.
Mix the ingredients with a hand whisker or a spatula until they are well incorporated, and you have a creamy and smooth cake batter.
Add a splash of milk if the mixture feels too dry or a few tablespoons of oat flour if it's too runny.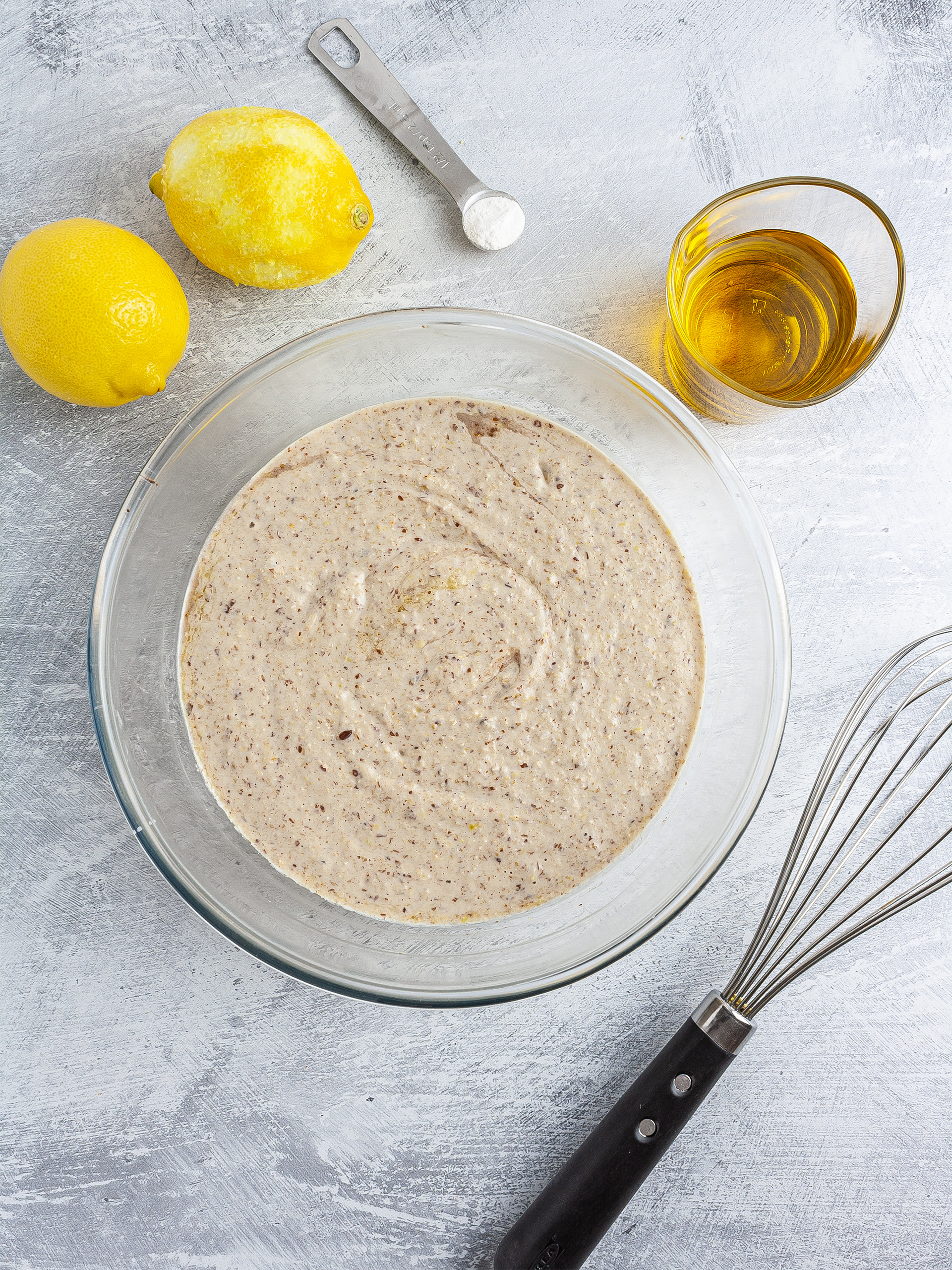 Step 3
Transfer the lemon batter into a 20cm (8 inches) cake tin greased and floured or lined with parchment paper.
Bake the rosemary cake for 55 minutes at 150°C (300°F) for static ovens or at 130°C (265°F) for fan ovens.
The cake is ready when a skewer inserted in the centre comes out clean.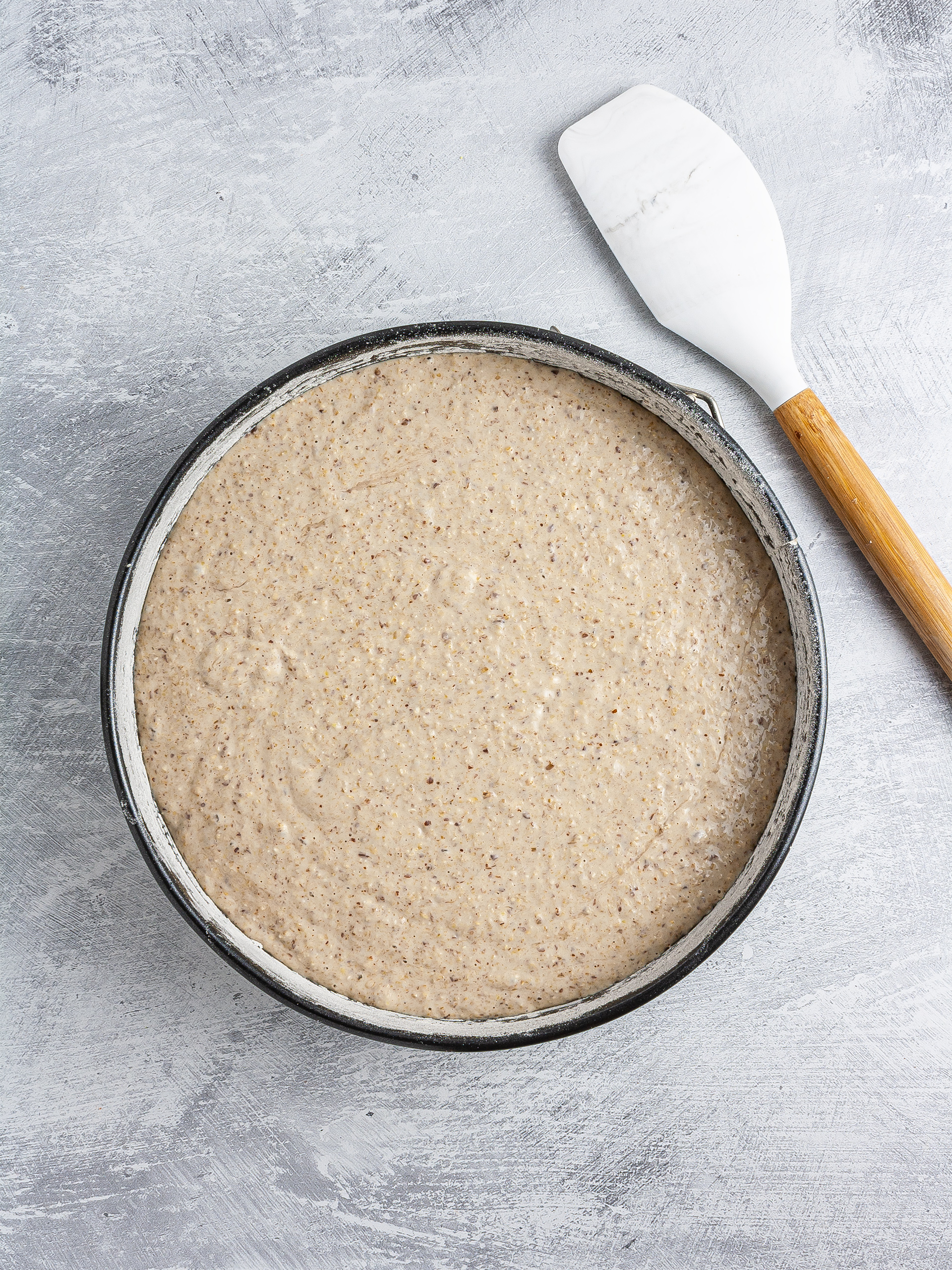 Step 4
Transfer the cake to a wire rack and leave it to cool down.
Then, top the cake with lemon curd spreading it with a spatula or a spoon.
You can easily prepare lemon curd at home with our vegan, refined sugar-free recipe here.
Finally, garnish with some fresh rosemary sprigs and extra lemon zest.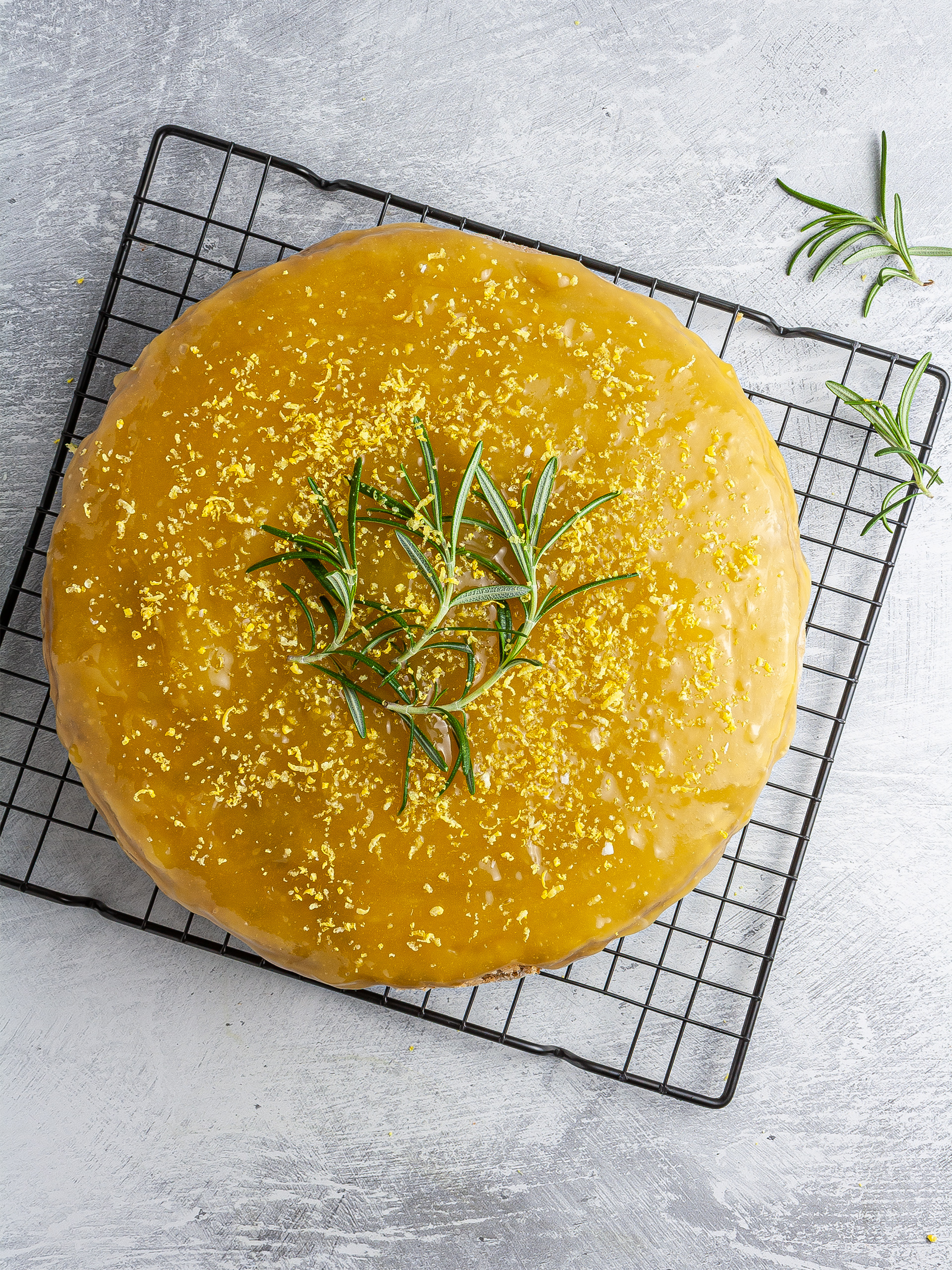 Tips
Leave the baked cake in the turned-off oven for 10 minutes to cool down gradually. This way, you'll prevent it from collapsing due to a sudden change of temperature.

Sprinkle the cake with dried coconut flakes or grated vegan white chocolate for extra flavour.