Having pancakes for breakfast makes you happy. But as you crave healthy food, you're out there looking for a wholesome pancake recipe. We got you! Below we'll show you how to make vegan, gluten-free, and protein-rich pancakes using red lentils.
Baking with lentils is awesome. By using them instead of wheat flour, we can turn classic recipes gluten-free, and give them a big boost of proteins. After our gluten-free red lentil pasta recipe, we were excited to use them again, and here we are!
To make this recipe vegan, we got rid of milk and eggs. Instead, we used a combination of oat flour, almond milk, red lentils puree, and vinegar. A little vinegar reacts with the baking soda and helps to make the batter super frothy. Don't worry; you won't taste it at all.
As a sweetener we used a few dates instead of white sugars, making these pancakes sugar-free too. You can top them with something sweet, like the classic maple syrup, or with low-carb ingredients like yogurt and fruit, as we did.
So, do you need proteins for breakfast? These pancakes have your back. Stack 3 or 4 of them up and you'll get 17% RDI of proteins. Our recipe is also low-fat, with one pancake having only 1.6% RDI of fats — three times less than a classic pancake.
The recipe is simple and straightforward. The only thing to keep in mind is that you'll have to soak the red lentils first unless you are using canned ones. All the instructions and tips are below, so just follow along and have fun!
NOTE: The default ingredients yield 12 pancakes and one serving consists of 3 pancakes.
Frequently Asked Questions
Are these lentil pancakes sweet or savoury?

These vegan pancakes have a slightly earthy and nutty flavour thanks to the lentils and almond milk. Oats and dates, instead, add a lightly sweet note to the overall flavour.

Same as with classic pancakes, these lentil pancakes aren't sweet or savoury per se. The final flavour rather depends on the ingredients you choose to top your pancakes with.

Maple syrup is the most classic topping, but we also love garnishing our pancake stack with soy yogurt, nuts, and fruit for extra flavour and nutrition. Our lentil pancakes taste great with savoury toppings too.
Are pancakes gluten-free?

The classic pancakes include white flour, and therefore, they are not suitable for those who suffer from gluten sensitivity.

As here at Foodaciously, we want everyone to enjoy the food they love without compromise, we experimented with alternative ways of preparing this American breakfast favourite.

In our previous recipe here, we made the pancake batter with a combo of oats and buckwheat. Today, instead, we opted for a mix of red lentils and oat flour.

Red lentils are often used in gluten-free products like wraps and pasta, and they're great in this recipe too. We soaked red split lentils in water and then blended them into a smooth and frothy paste.
Can pancakes be made without eggs?

Eggs are a staple in pancakes, so making them without this crucial ingredient seems daunting. However, there're many ways of preparing egg-free pancakes. You can use mashed bananas, "flax-egg", silken tofu, or applesauce.

As whipped eggs provide structure and fluffiness to the classic pancakes, make sure to add baking powder, baking soda, and vinegar to your vegan batter to get the best results.
Ingredients
| | |
| --- | --- |
| Dried Red Lentils | 120 g |
| Pitted Dates | 2 |
| Almond Milk | 320 mL |
| Oat Flour | 160 g |
| Baking Powder | 2 tsp |
| Apple Cider Vinegar | 1/2 tsp |
| Baking Soda | 1/2 tsp |
Step 1
Add the dried red lentils and pitted dates to a bowl, cover them with water, and allow to soak for at least 2 hours at room temperature.
You can also leave the lentils to soak overnight and have them ready first thing in the morning.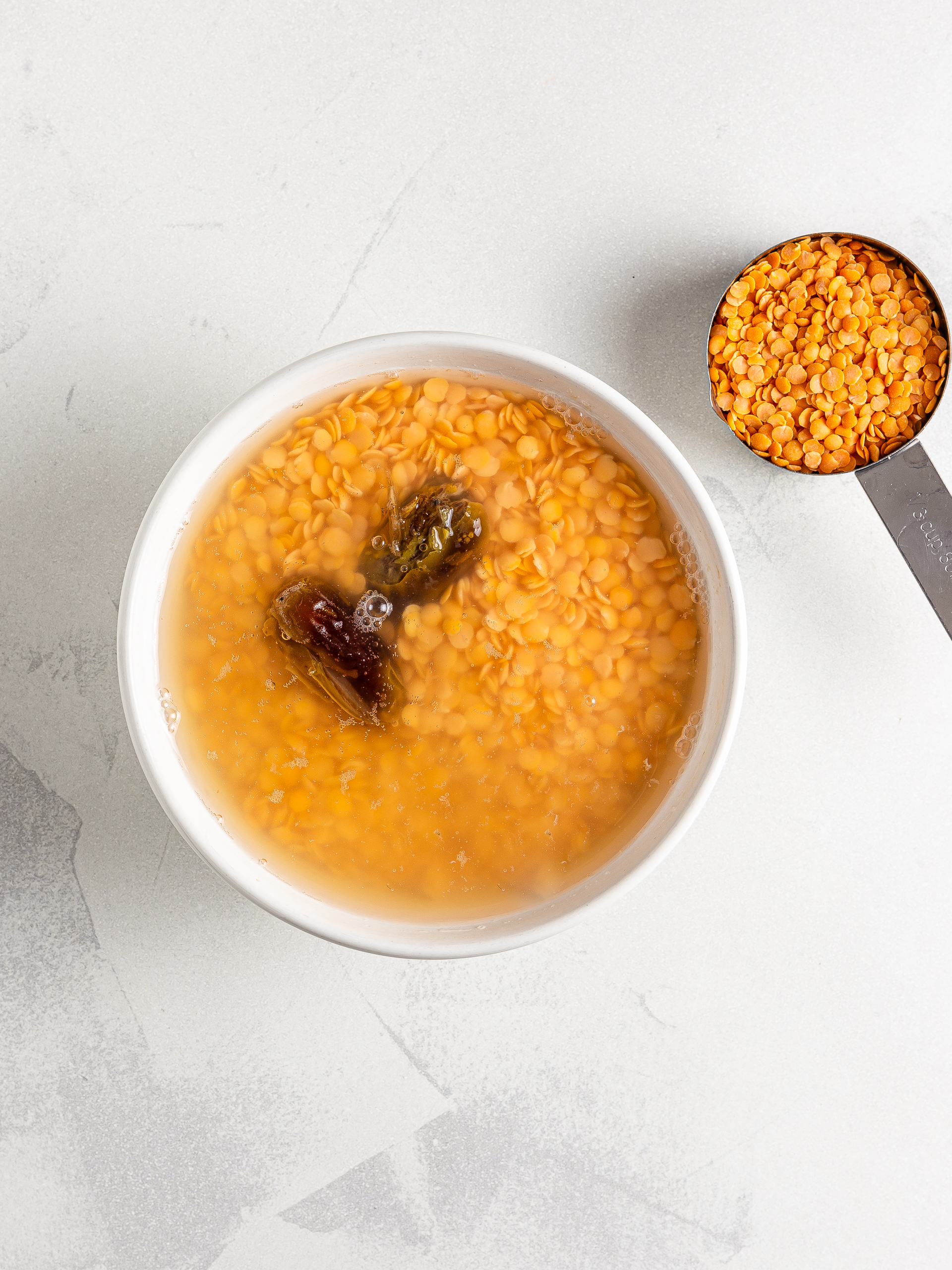 Step 2
Next, drain and rinse the lentils and dates and transfer them to a food processor.
Pour the almond milk and blitz the ingredients until you have a smooth, bubbly, and slightly thick batter.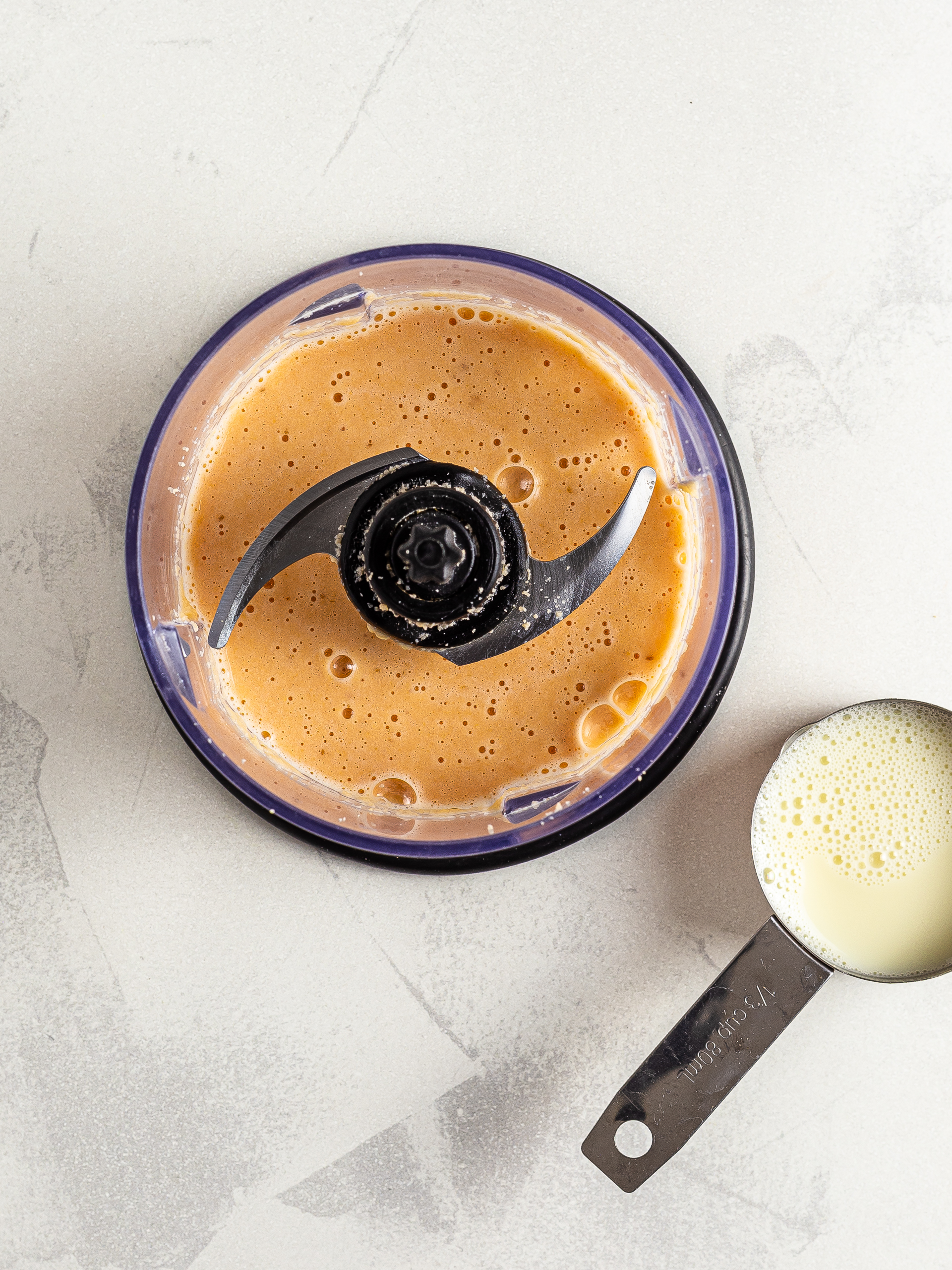 Step 3
Now, pour the lentil mixture in a bowl and add oat flour, baking powder, apple cider vinegar, and baking soda.
You can make oat flour yourself by pulsing oat flakes in your food processor until it's finely ground.
Use a whisk to work the ingredients into a creamy pancake batter.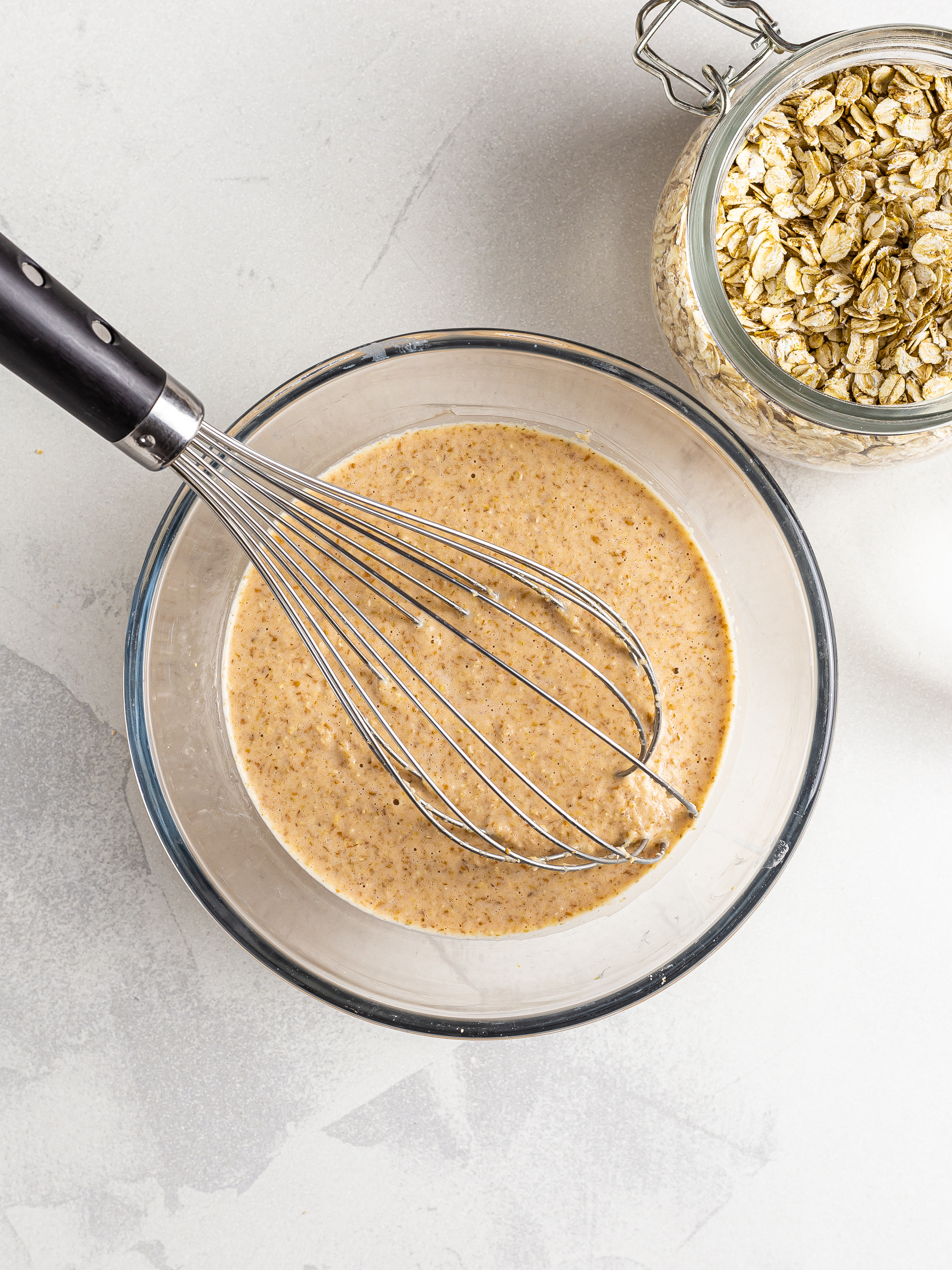 Step 4
Heat a dash of vegetable oil in a non-stick skillet and then pour half a ladle of lentil batter in the centre.
Gently swirl the pan around to spread the pancake and then cook it for about 2-3 minutes over medium heat or until you see bubbles forming on the surface.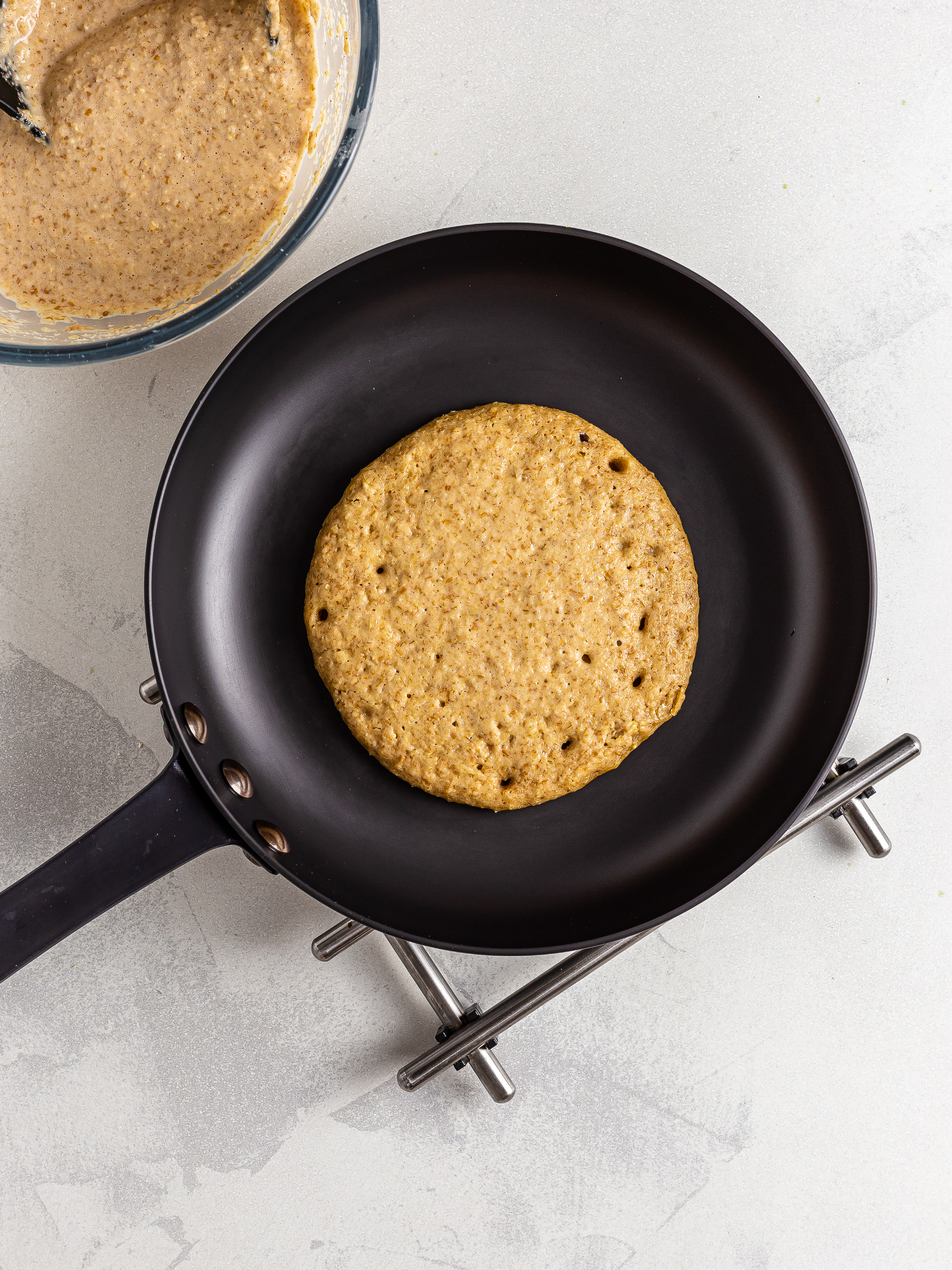 Step 5
Finally, lift the edges of the pancake with a spatula, flip it, and cook it for another 2-3 minutes or until golden.
Repeat step 4 and 5 until you have used all the red lentil batter, but there's no need to add more oil every time.
Serve these delicious pancakes with a drizzle of maple or golden syrup and top them with soy yogurt and any fruit you like.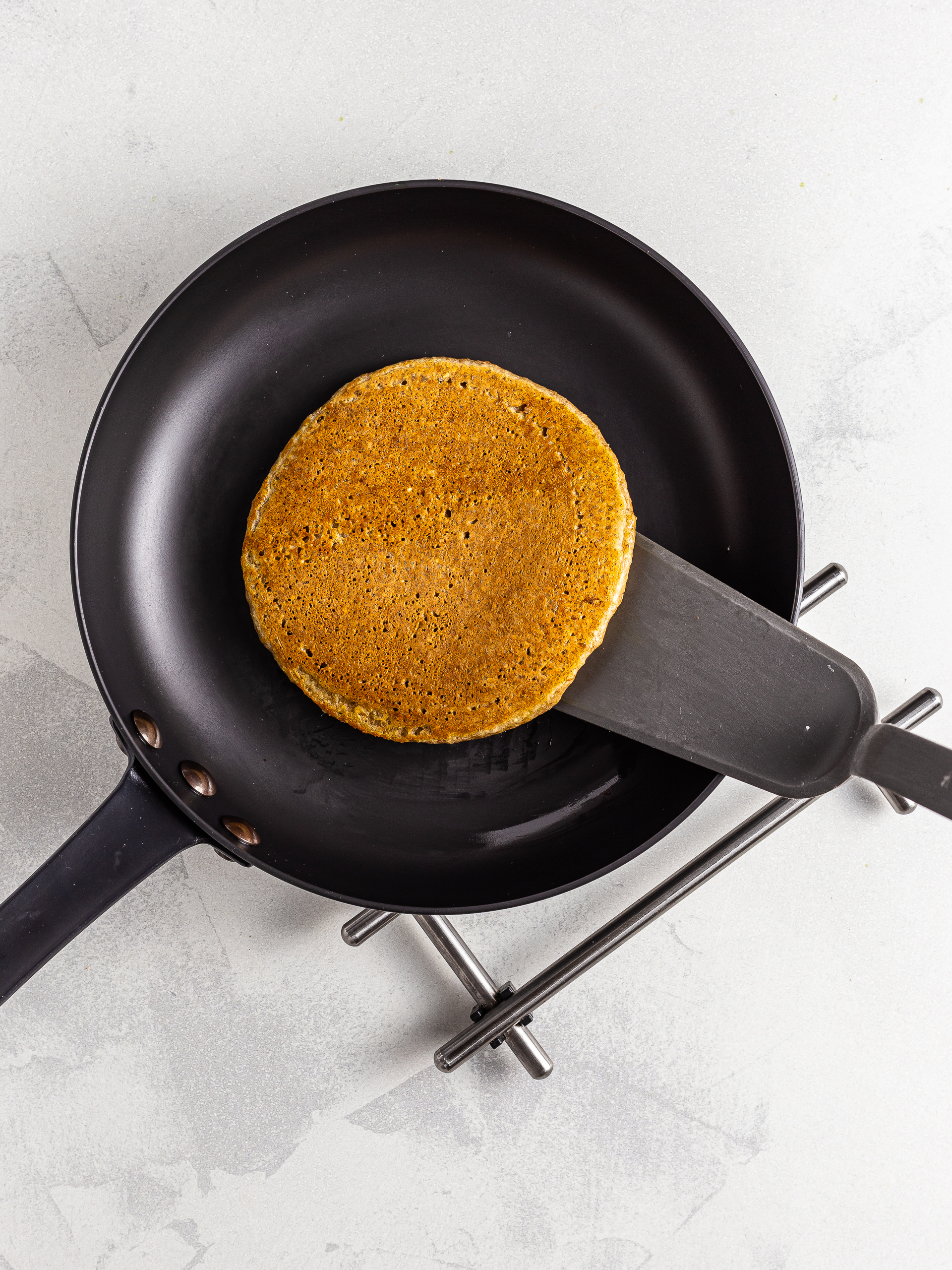 Tips
Spice up these vegan pancakes with 1 tsp of ground cinnamon, 1/4 tsp of turmeric, and 1/4 tsp of ginger.