Were you looking for wholesome vegan cookies bursting with tropical flavour? Stick around and make some mango and coconut cookies! We designed this recipe with three goals in mind: maximum health, diet-friendliness, rich tropical flavour. Let us tell you how we have done this and then we'll take you straight to the recipe!
We have selected a mix of ingredients that is both flavourful and wholesome. These ingredients make the recipe not just vegan, but also gluten-free, sugar-free, and oil-free.
To make these tropical cookies gluten-free, we replaced plain wheat flour with a blend of coconut and oat flour. Using this mix has the added benefit of enriching the recipe with fibres and healthy fats. Fibres are essential for losing weight, while healthy fats increase the good cholesterol and lower the bad one, which is good for your heart.
We also removed all refined added sugars and instead used a selection of ripe bananas, mangos and apples - fruit rich with healthy fructose. Did you ever think you could have one of your five portions of fruit by eating cookies? Amazing! Bananas and mangos are also rich sources of potassium, manganese and vitamins A, B, E, and C in particular. A cup of mangos gives you almost 70% of your RDI for vitamin C.
As this recipe is vegan, we got rid of all animal products, like butter, eggs, and milk. But instead of replacing them with oils, we chose a fruit-based, oil-free alternative: applesauce. Applesauce is a marvel ingredient that can act both as a natural sweetener and as a fat replacement in baked products. We used it in our applesauce cookies and digestive biscuits as well, and we got fantastic results.
Finally, we added nutty flavour and extra nutrients by incorporating chopped brazil into the cookie dough.
Brazil nuts are an excellent source of healthy fats and selenium. Imagine that a single brazil nut gives you almost 200% of your RDI for this mineral! Have two per day, and you'll never suffer from selenium deficiency. Scientific studies have found selenium to be essential for a healthy thyroid and to be capable of reducing the risk of cancer, strengthening the immune system and improving our mood [1].
In conclusion, our coconut and mango cookies are about as healthy as eating a handful of nuts, seeds, and fruit. They are suitable for vegans, people with diabetes, celiacs, and anyone who values foods with no added sugars and lots of heart-healthy fats. Follow our easy recipe below, and you'll be nibbling on these tropical treats in around 30 minutes!
NOTE: The default ingredients yield 12 cookies, and one serving consists of two biscuits.
Frequently Asked Questions
Can I make these vegan mango cookies using fresh mango?

We used dried mango chunks in our recipe to emulate the feeling you get chewing into thick chocolate chunks. Dried mango is soft, sweet and feels like biting into candy.

If you don't have dried mango at hand, there are two ways you can make this recipe work:

Make dried mango yourself

Use fresh mango cut into tiny cubes

Making dried mango is easy and won't require much effort. Start by cutting the fruit into cubes, around 1.5 cm (1/2 inch) on each side. Then set the oven to 90°C (185°F) and slow-roast the mango over 2-3 hours. Flip the cubes on a different face every 30 minutes. Once done, wait for the dry mango chunks to cool down before using.

You can also use fresh mango as is. Just cut into 1 cm (1/3 inch) cubes for big chunks of fruit sticking out of the cookies. Allow the mango bits to release excess juice by letting them rest on a sieve for a few minutes. Doing so prevents the dough from getting overly moist. Now use the fresh mango cubes as indicated by our recipe above.
How long can I keep these cookies?

One of the many perks of eating plant-based is getting a longer shelf-life out of your bakes. Plants last longer than animal products once cooked, both in and out of the fridge.

To preserve these cookies to their original fragrance and flavour, you should still take precautions. Here are a few tips on how to store these vegan coconut mango cookies:

As soon as baked, place the cookies on a cooling rack to avoid soggy bottoms.

If you know you won't finish the cookies in a day, store them in a suitable container as soon as cold to the touch.

Use a zip-lock plastic bag, or tight-seal food-grade boxes to keep the air out and keep the cookies fresh.

Use one container per portion to minimize airflow. Once you open the box, finish the cookies right away if possible: they will taste as good as new.

Store them at room temperature for up to 5 days. Alternatively, keep the cookies refrigerated for up to 2 weeks, or freeze them to extend their lifetime to 3 months or more.

These vegan and coconut mango biscuits are well suited to be frozen, thanks to their high amount of healthy fats. Fatty foods freeze better than those with high water content, as they take less to thaw and don't stick together as much.
How to make vegan and gluten-free cookies chewy using only natural ingredients?

If you ever tried baking biscuits that are both vegan and gluten-free, then you know it can be challenging without the right direction. Gluten-rich flours are what makes the dough stretchy and compact; butter makes dough chewy, and eggs help keep everything together without any effort.

A little challenge can give big rewards, though, and when it comes to eating, baking healthier sweets means we can eat more without putting on weight or hurting our bodies.

We share many tips in this area throughout our many vegan and gluten-free recipes; check them out here. Here are some quick tips on how to make chewy cookies that are both vegan and gluten-free:

Replace eggs with chia-eggs or flax-eggs. You won't get the golden colour of eggs, but these seeds can bind ingredients just well when soaked in water for ten minutes. The ratio of flax or chia seeds to water is 1:3. So you would use 1 tbsp of seeds in 3 tbsp of water for every egg used in a non-vegan recipe.

Substitute the fats from cow milk and butter with fatty plant-based alternatives. Fats are essentials to get chewy cookies. But instead of eating unhealthy saturated fats from animal products, you can get wholesome heart-healthy fats from plants. Nuts-based milk and flours are a healthy and suitable replacement. We suggest using coconut or almond milk, and coconut and almond flour mixed with oatmeal. Check out the ratios we have used in our recipe above to get an idea.

Cook the cookies a bit less and at a lower temperature than indicated by a traditional cookie recipe. There's a tiny threshold between crisp and chewy cookies when using gluten-free and vegan recipes. To get chewy cookies, you want to keep a bit of the moisture in the dough. Check the cooking time in our recipe above for guidance.
Ingredients
Sugar-Free Applesauce

recipe

100 g

Dried Mango

60 g

Brazil Nuts

60 g

Ripe Peeled Banana

50 g

Coconut Flour

70 g

Jumbo Oats

100 g

Baking Powder

1 tsp

Salt

1 pinch

Almond Milk

80 mL
Step 1
You can use store-bought applesauce or easily make it yourself with our easy recipe here. This way, you'll avoid nasty preservatives and sugars which are often added to canned applesauce.
If you'll make applesauce yourself, leave it to cool down while you prepare the cookie dough ingredients.
Start by chopping the dried mango and brazil nuts into small chunks.
Then mash the peeled banana into a paste with the help of a fork or potato masher. The banana will add natural sweetness to the cookies without the need for refined sugars.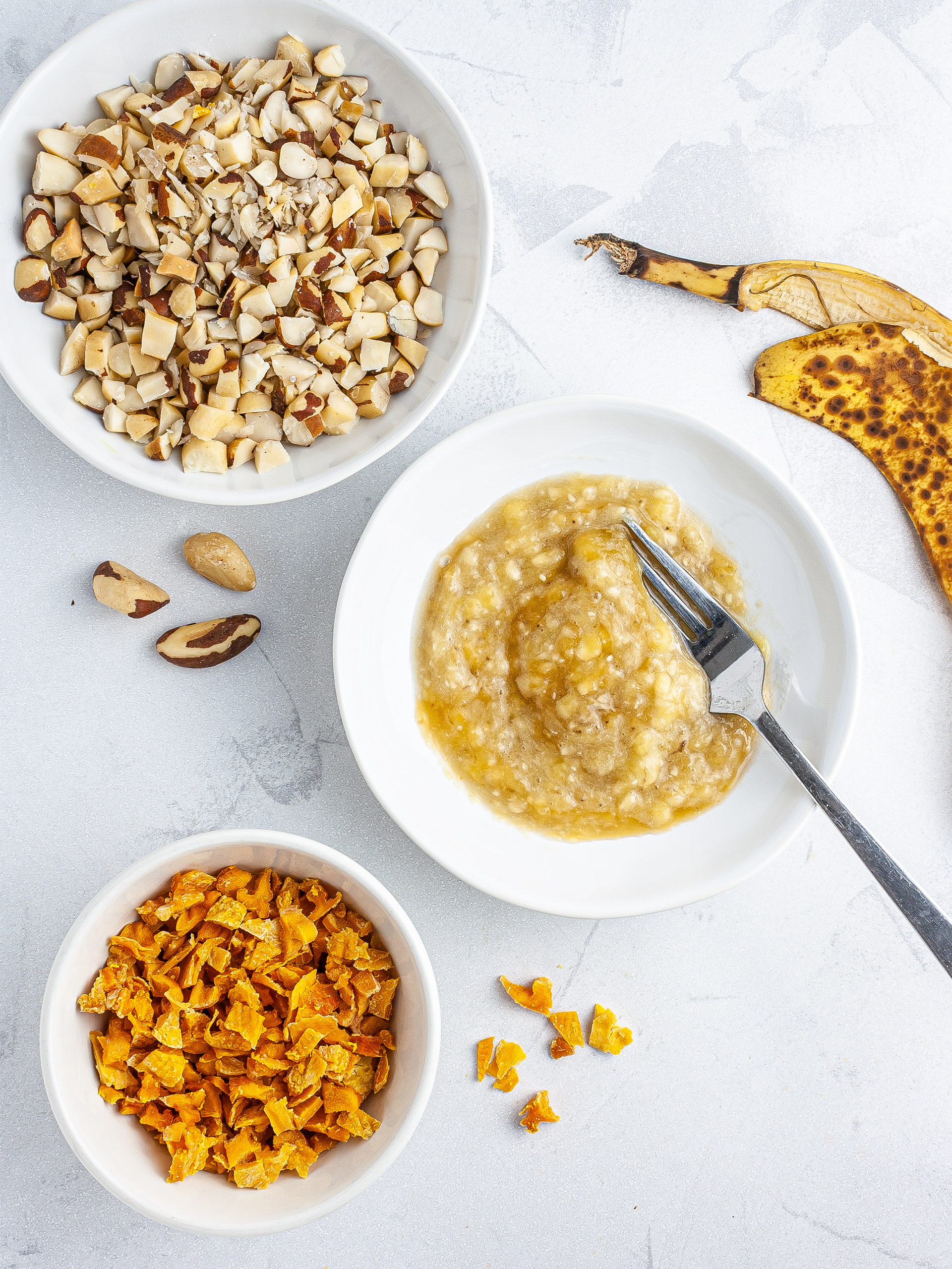 Step 2
Blitz half of the oats into a fine flour with the help of a food processor.
Then, combine the ground oats, oat flakes, coconut flour, baking powder and salt in a mixing bowl. Stir well to ensure the baking powder is evenly distributed and your biscuits will rise evenly.
Now, incorporate the applesauce, mango chunks, nuts, and mashed banana. Start to work the mixture while pouring almond milk a bit at a time. The ingredients should come together into a soft but compact cookie dough.
If the batter is too crumbly, pour more milk. If it's too wet, add more flour until you reach the right consistency.
Leave the dough to set in the fridge for 10 minutes as it will be easier to work and shape into cookies.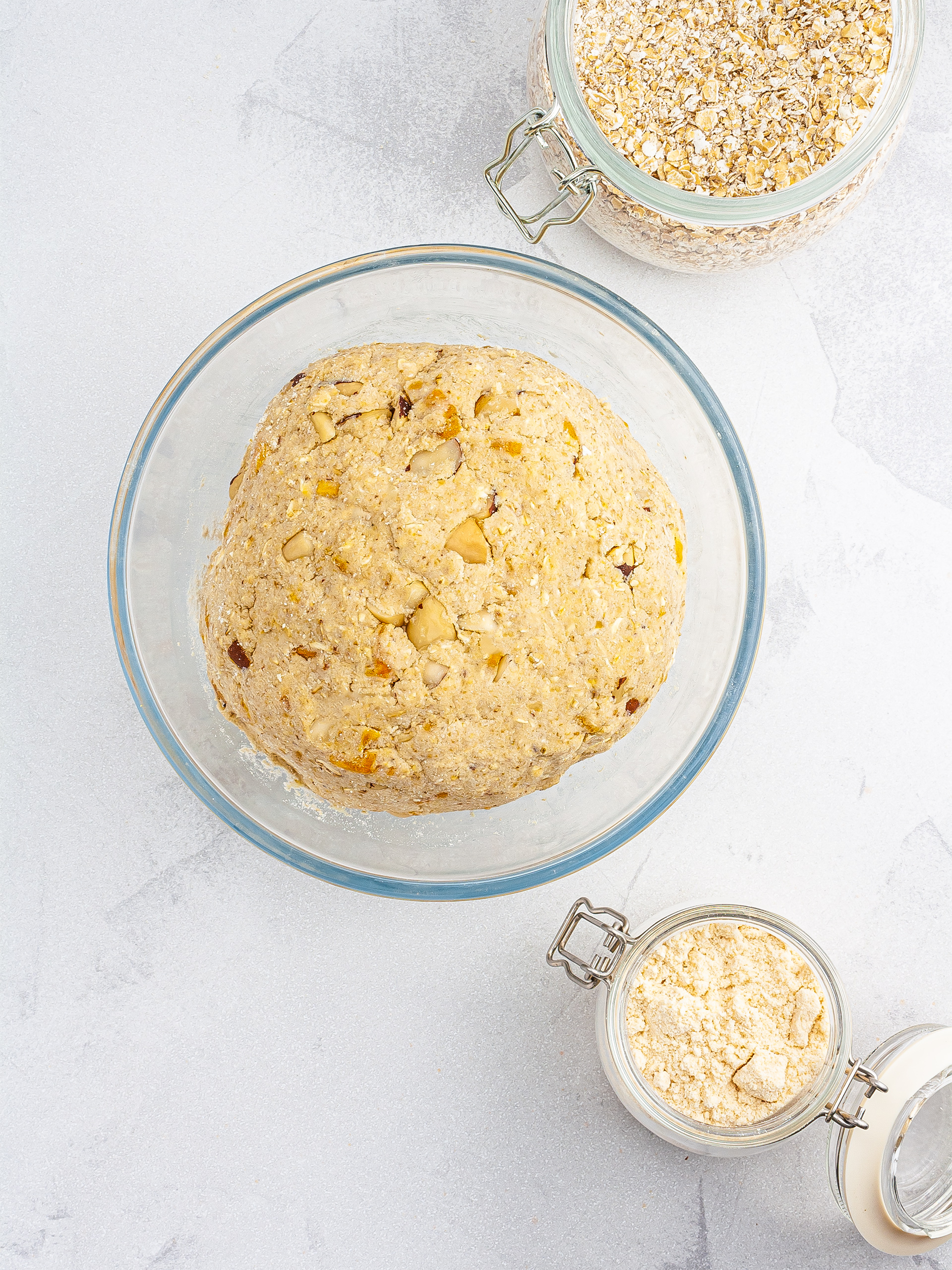 Step 3
Pinch off a bit of coconut dough the size of a walnut, roll it in the palm of your hands and then flatten it down with your fingertips to give it the classic cookie shape.
Repeat until you have used all the batter.
Now, transfer the cookies to a baking tray lined with parchment paper.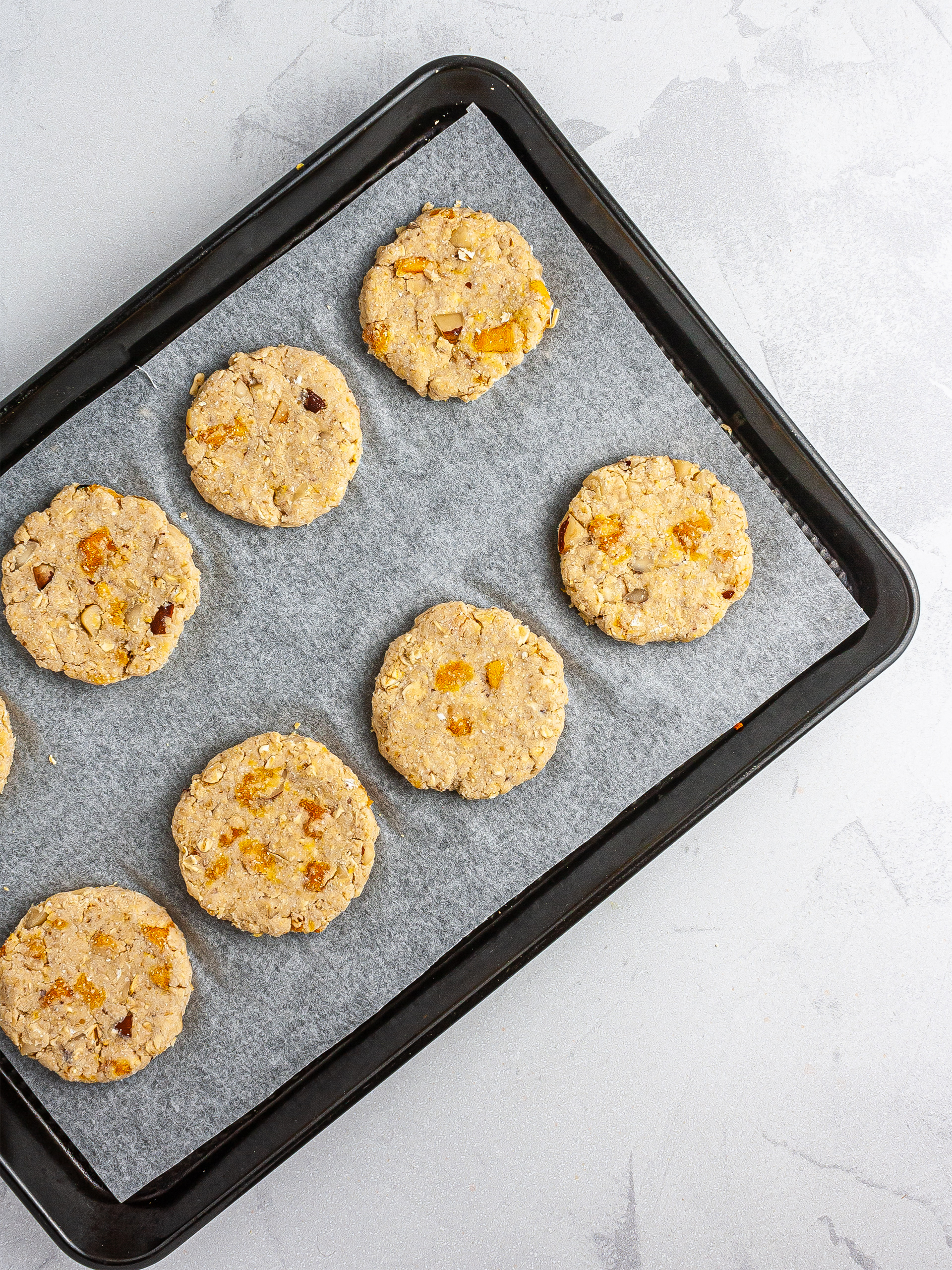 Step 4
Bake the cookies for 12 minutes at 200°C (390°F) for static ovens or at 180°C (355°F) for fan ovens.
You might need to bake the mango biscuits in more batches. Alternatively, you can use the fan option in your oven and cook them on multiple trays at the same time.
When they are lightly golden, remove the vegan cookies from the oven and leave them to cool on a wire rack. This way, they will crisp up nicely.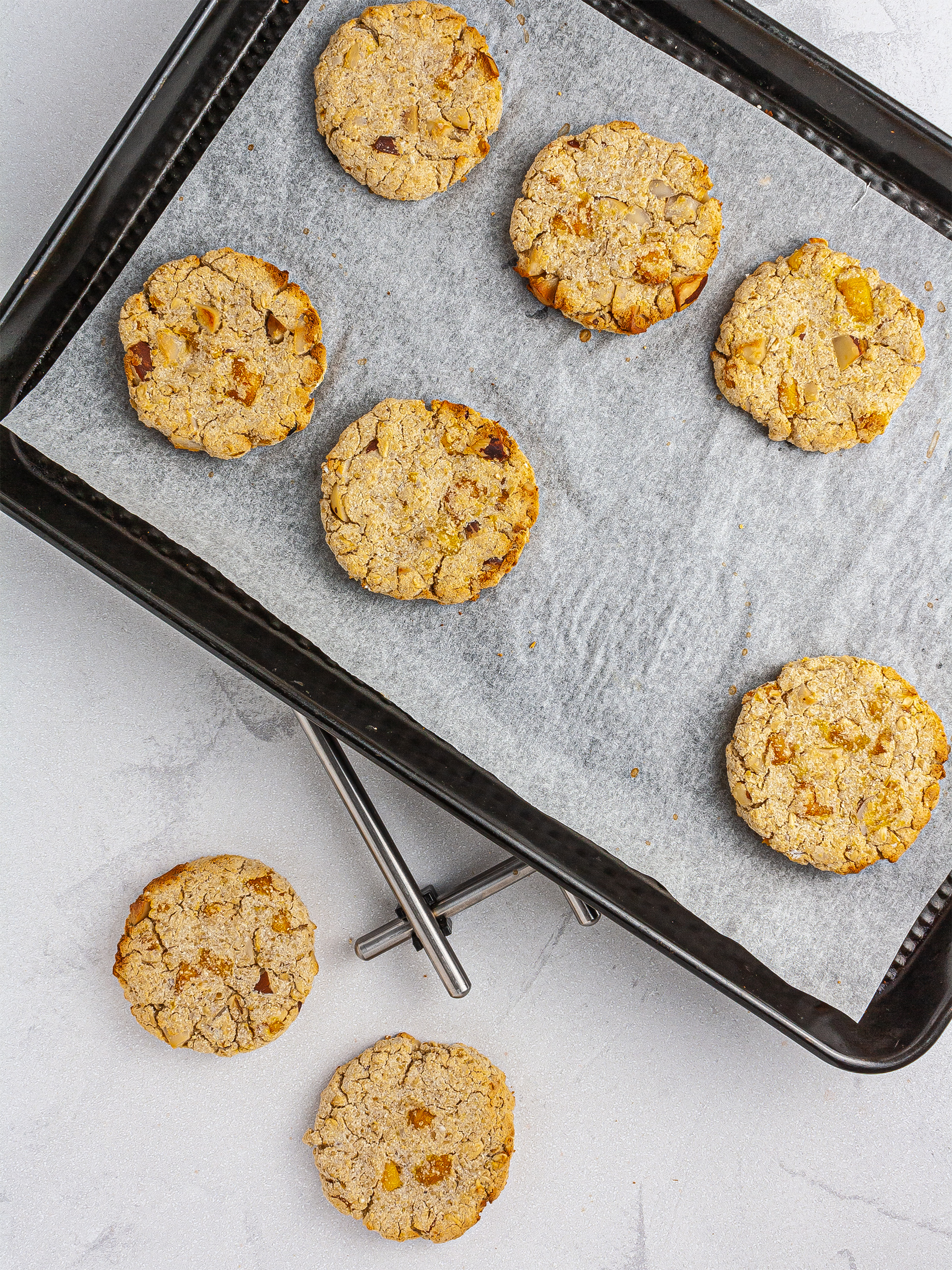 Tips
Instead of brazil nuts, you can use macadamia nuts or cashew nuts. They pair perfectly with the mango flavour of these tropical cookies.