Give your breakfast an Indian makeover with this delicious mango lassi overnight oats recipe. You can put it together in just a few minutes the night before and have it ready for the next day, perfect for those busy mornings. Tasty and nutritious, it's a must-try for all oatmeal lovers!
This mango oatmeal is a fun combo of two recipes: Indian mango lassi and overnight oats. Lassi is a yogurt-based Indian beverage that can be salty or sweet and come in all kinds of flavours. Savoury lassi, called namkeen, is prepared with just yogurt (dahi), salt, and water. Sweet lassi, instead, is similar to milkshakes or smoothies and can include fruit, fruit juices, and spices. Classic flavours include saffron, strawberry, and mango.
Mango lassi is made by blending mango pulp with yogurt, sugar, and cardamom and then diluting it with water or milk to make a sweet and refreshing beverage. In our recipe, we skipped the sugar and milk, and used soy yogurt instead of milk-based yogurt. The result is a thicker lassi, more similar to a smoothie, and it's also sugar-free, dairy-free, and high in proteins.
To make our lassi ever healthier, we added oats and blended all together until smooth. You can enjoy it right away or store it in the fridge overnight. This way, the oat will absorb the liquid and soften up, giving you a thick and creamy texture. Making overnight oats is a fantastic way of eating oats without cooking them, contrary to classic oatmeal. It saves you time and effort and yet lets you enjoy all the benefits of this nutritious food.
We recommend using old-fashioned oats, also known as rolled oats, but you can also opt for instant oats. They're both healthy and nutritious; the difference is that instant oats are steamed for longer and flattened more thinly than rolled oats, and can sometimes be ground into small bits. You can opt for blitzing the oats with mango or just stirring them into the lassi for a chunkier texture.
We love this recipe because we can pack a delightful, healthy breakfast in a small jar and enjoy it on the go if we're in a hurry. With each serving, we get all the fibres, proteins, and slow-releasing carbs we need to stay energetic and satiated all morning long. Plus, we're simply addicted to the sweet, tropical flavour of mango and can't get enough of it!
Ingredients
| | |
| --- | --- |
| Ripe Peeled Mango | 200 g |
| Oats | 70 g |
| Soy Yogurt | 240 g |
| Ground Cardamom | 2 pinch |
| Ground Turmeric (optional) | 1/2 tsp |
| Almonds | 20 g |
Step 1
Make sure you're using very ripe mangoes, as they will be tastier and sweeter. You know they're ripe and ready if they feel very soft to the touch.
Blitz chopped mango with oats, soy yogurt, cardamon, and turmeric if you're using it.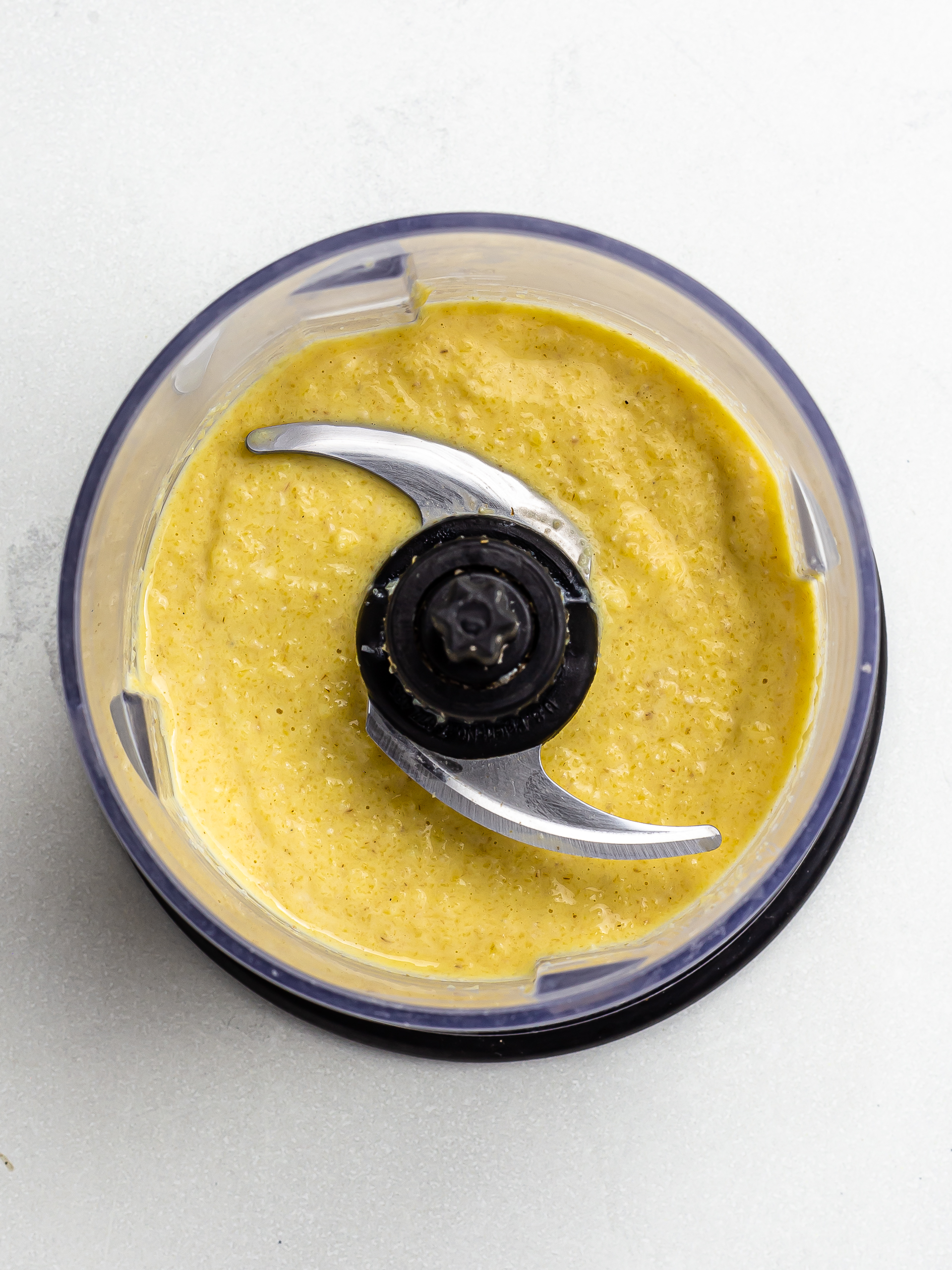 Step 2
Next, divide the mango lassi among single-serving jars, close the lid, and let the oats soak overnight in the fridge.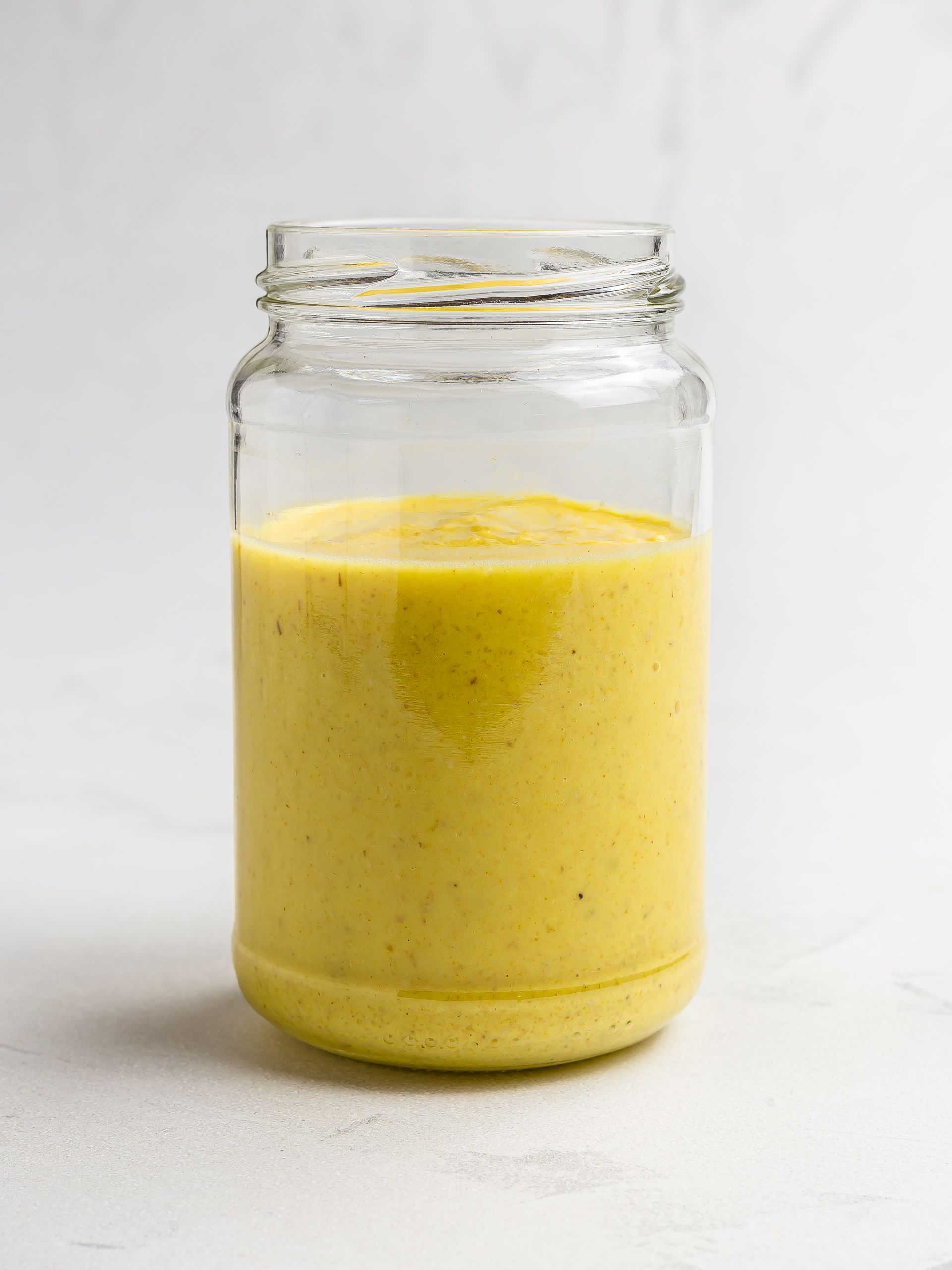 Step 3
The following morning, top the mango oats with chopped almonds and more soy yogurt if you like.
Enjoy!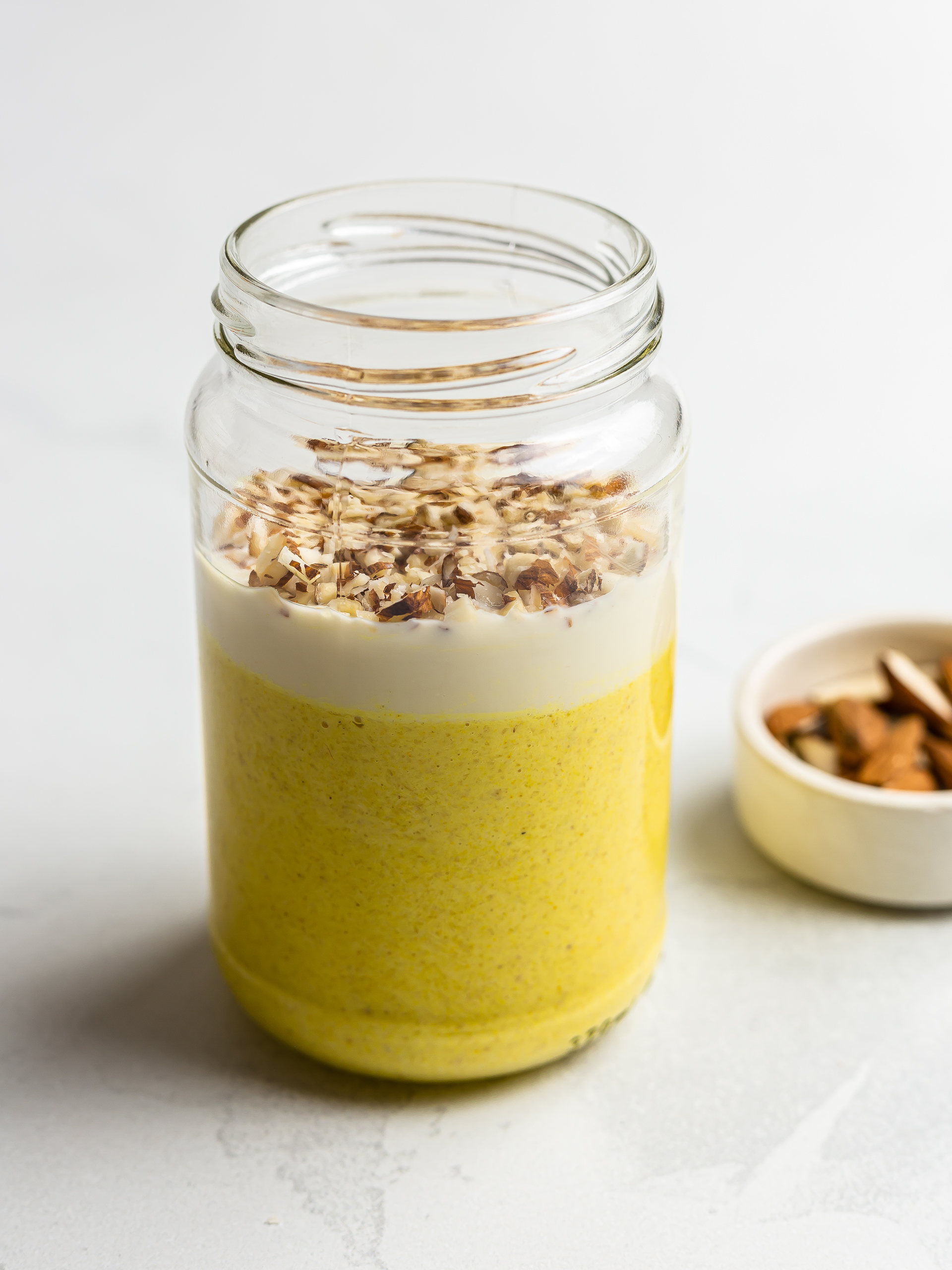 Tips
If you're using turmeric, remember to add a pinch of black pepper to improve the absorption of curcumin, turmeric's active compound.