Love chia pudding? Then, jazz up your next pudding pot with aromatic chai milk tea for a fun and delicious breakfast. Here's how to do it!
This chai chia pudding starts from the classic pudding recipe made with chia seeds and milk and uses Indian masala chai tea to infuse the milk with warmth, aroma, and colour.
Masala chai is one of India's most popular teas. It consists of Assam black tea and a mix of warming spices, including cinnamon, ginger, cardamom, and black pepper.
You can find masala chai as convenient tea bags, which you can steep in hot oat milk to make a vegan chai milk tea base for the chia pudding.
Once that's sorted, leave the chia seeds to work their magic and turn your pudding thick and jelly-like!
The fibres in chia seeds have the power to absorb liquids (in this case, our fragrant chai-spiced milk) and trap them into a mesh, creating that creamy pudding we all love.
And those very fibres are also amazing for your health. They fill you up for longer, prevent cravings, and keep your cholesterol in check!
On top of that, chia seeds provide plant-based proteins, omega-3, iron, and calcium, while masala chai spices have powerful anti-inflammatory, blood-sugar-regulating, and metabolism-boosting properties.
Simply put, this chai tea chai pudding is as good for you as it's tasty. And if you like, you can round it up with our healthy topping ideas for a full breakfast or power snack.
Ok, time to jump right into it! And if you liked the recipe, try out this blue chia pudding, blueberry walnut pudding, or strawberry tofu pudding next!
Ingredients
Pudding
Oat Milk

80 mL

Chai Tea Bags

1

Chia Seeds

1 tbsp

Toppings
Soy Yogurt

100 g

Peanut Butter

1 tbsp
Step 1
Start by preparing the chai tea-flavoured milk.
Heat the milk with the chai tea bag in a pot.
As soon as the milk boils, turn off the heat, and leave the tea bag to steep for 5 minutes.
The tea will infuse the milk with a fragrant chai aroma and a caramel-like hue.
To get even more colour and flavour, stir and squeeze the tea bag in the milk a few times.
Then, remove the tea bag and leave the chai milk tea to cool down for 5 more minutes.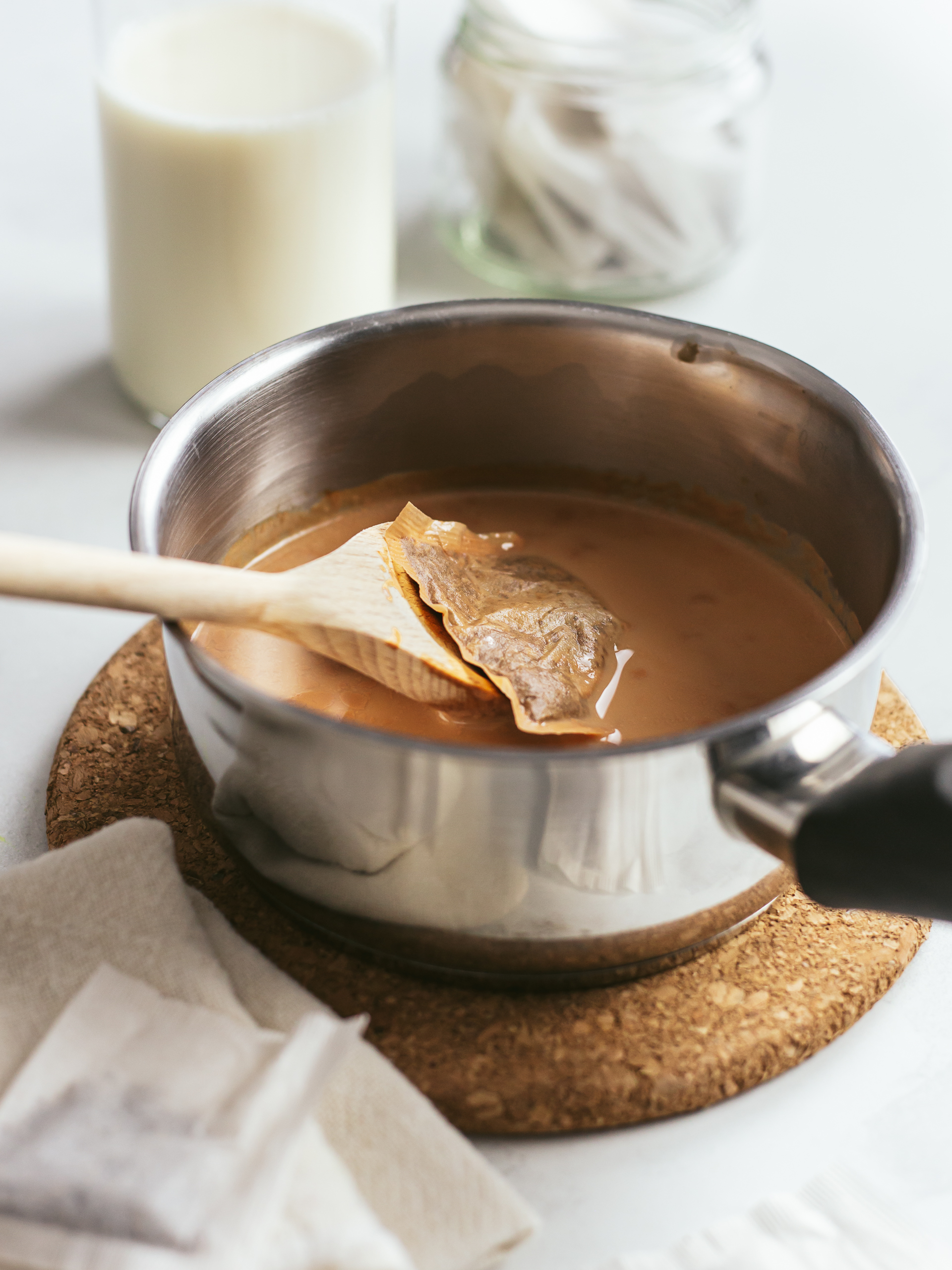 Step 2
Now, stir the chia seeds into the prepared chai milk (1).
Transfer the mix to a cup, jar, or container, cover or seal, and transfer the chai chia pudding to the fridge (2).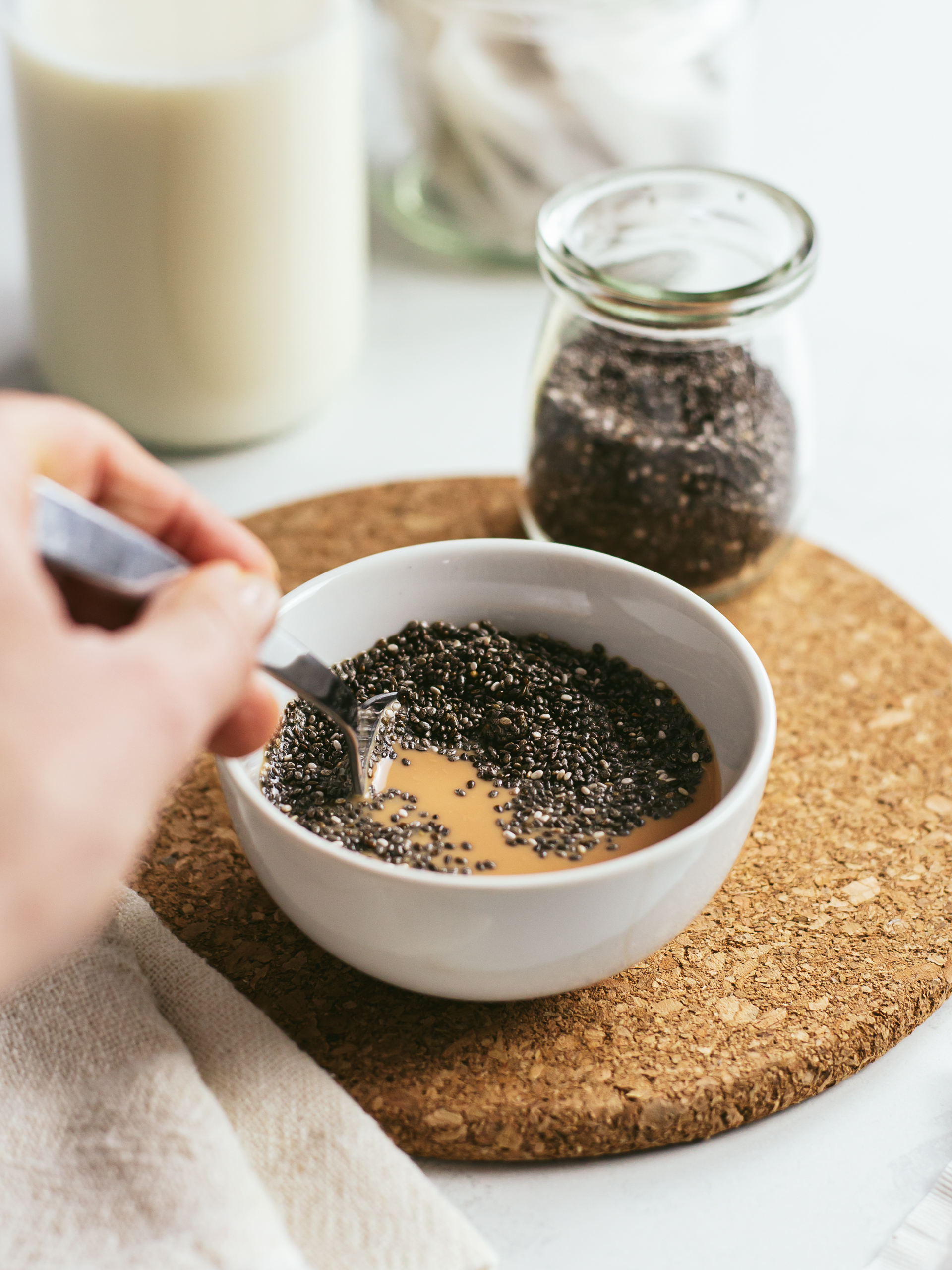 1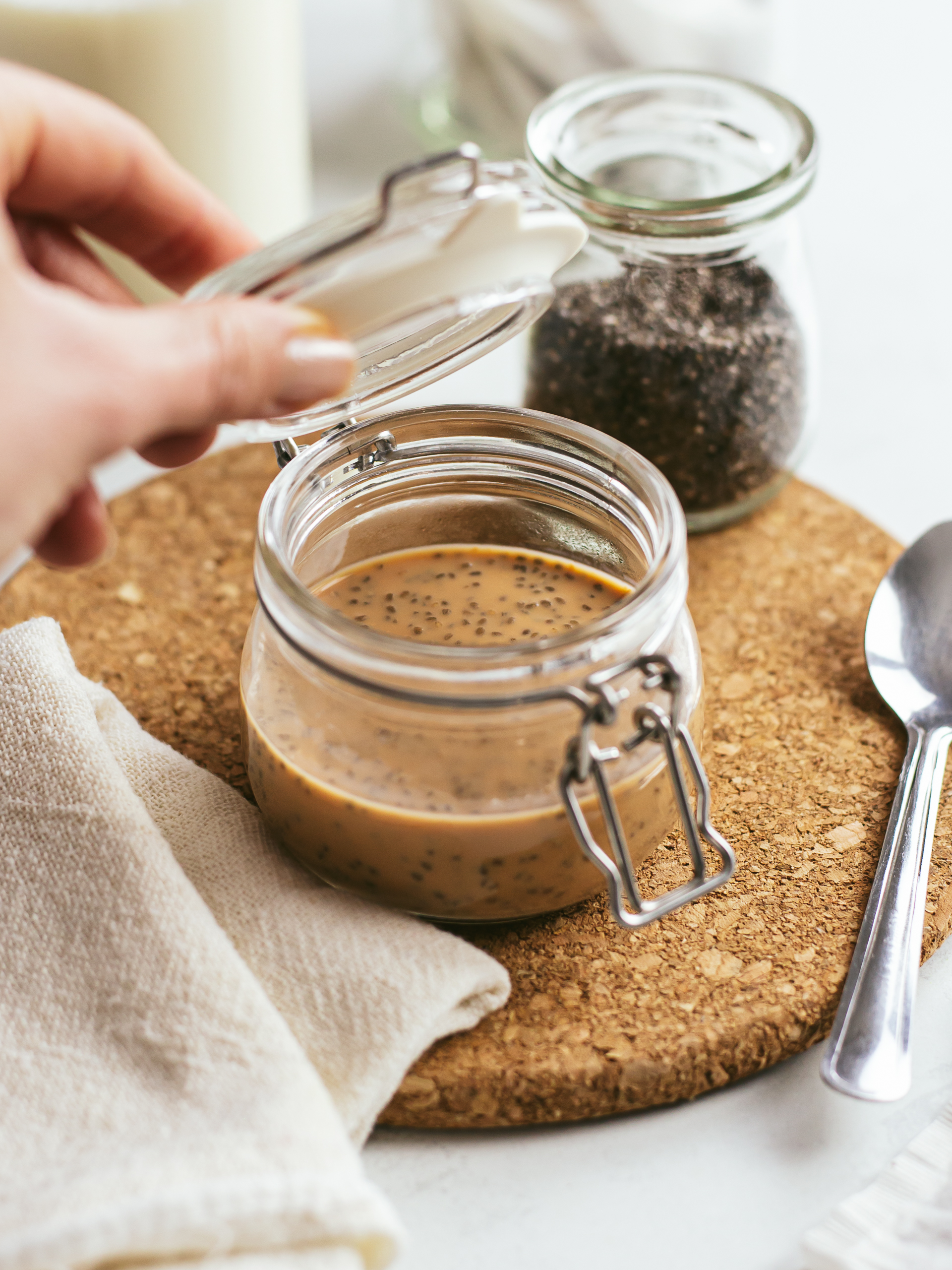 2
Step 3
Let the chia seeds soak in the chai-spiced milk for at least 20-30 minutes to form a jelly-like pudding.
The longer you let the chia seeds soak, the thicker and more scoopable the chia pudding will be.
We found that 1 hour of soaking time gives the best pudding consistency.
You can also prepare the chia pudding the day before and leave it to soak overnight.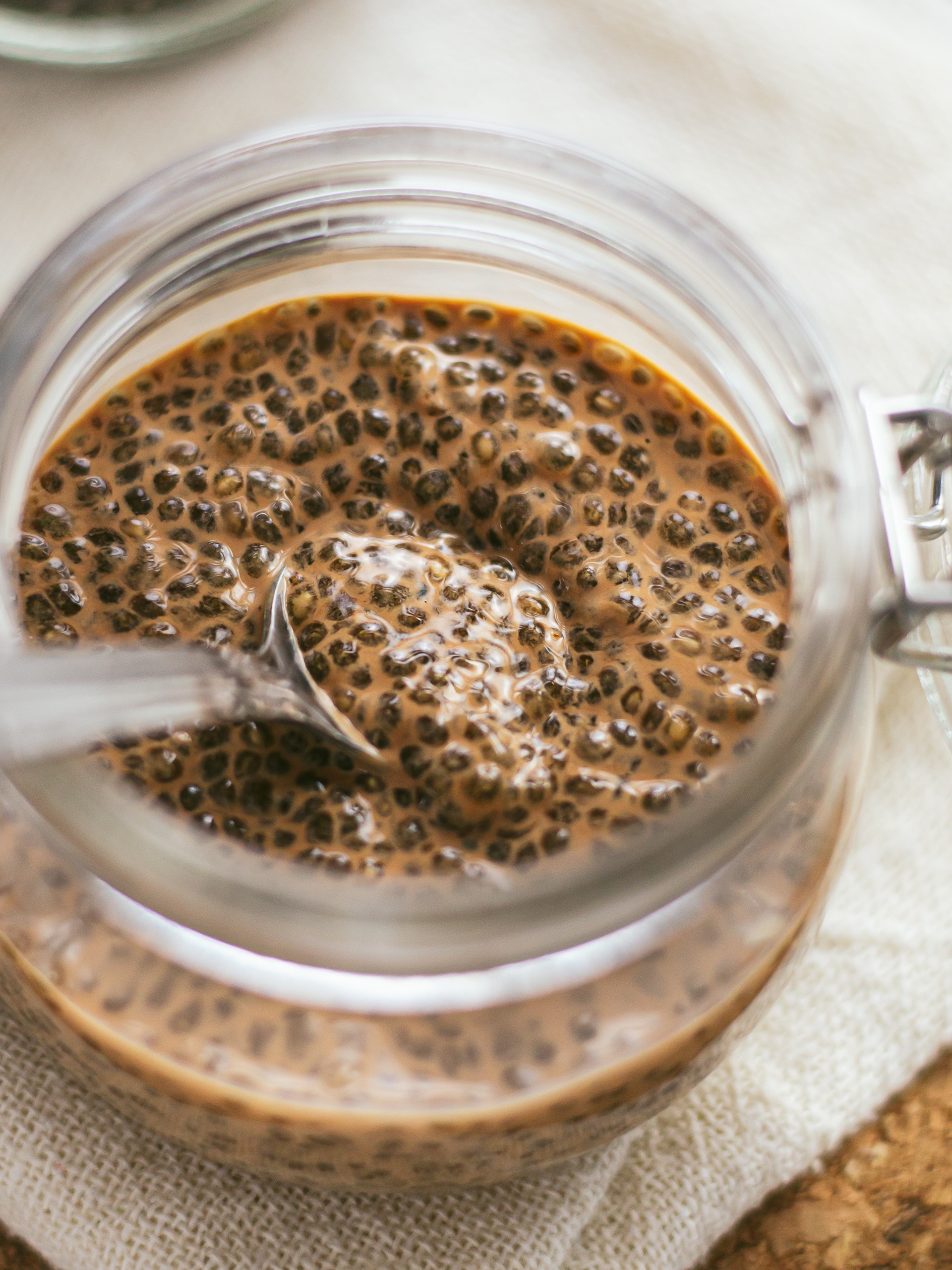 Step 4
Once the pudding is ready, add yogurt and peanut butter, layering them over the pudding (1) or stirring them in (2).
Your healthy chai milk chia pudding is ready — enjoy!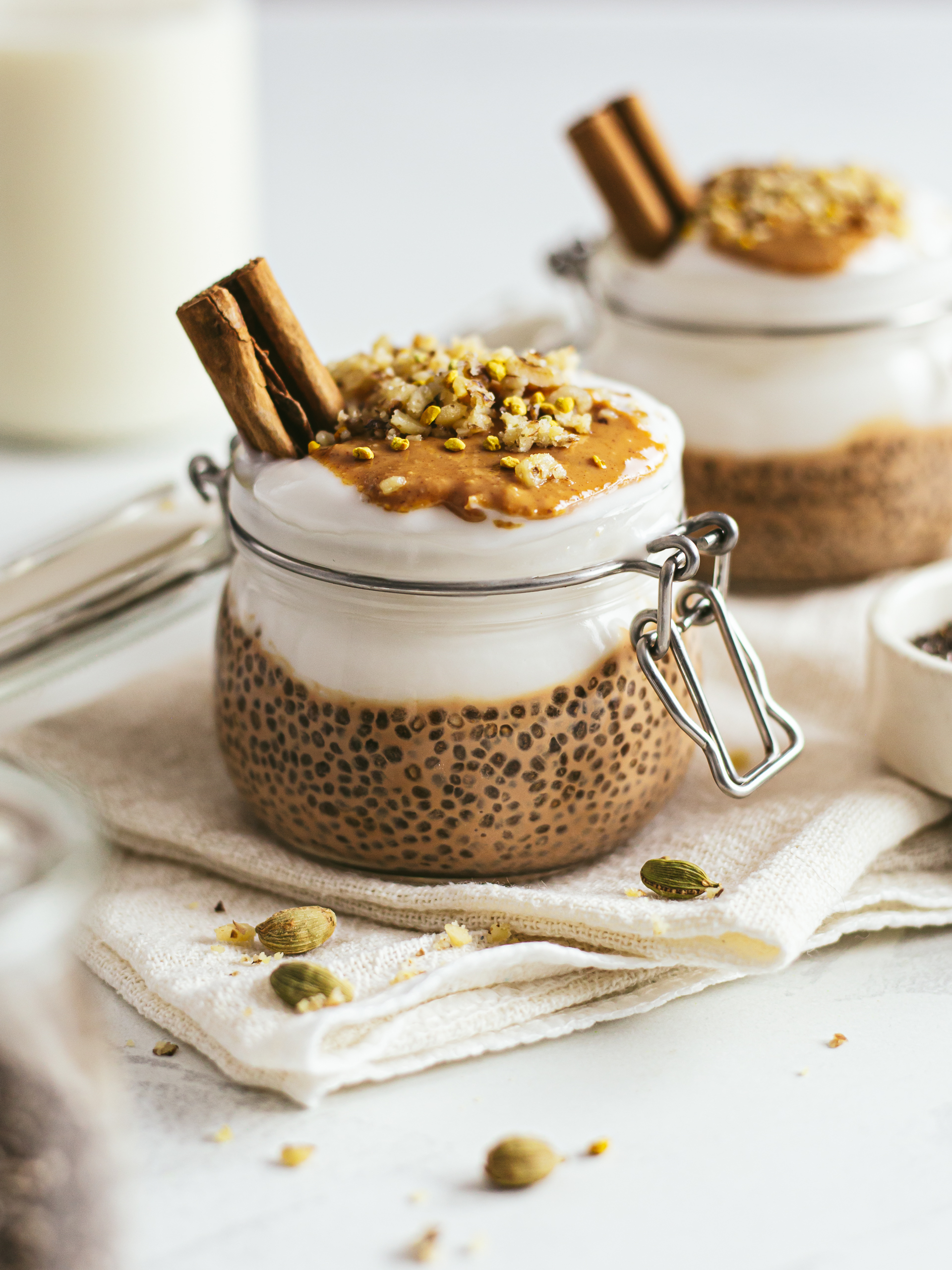 1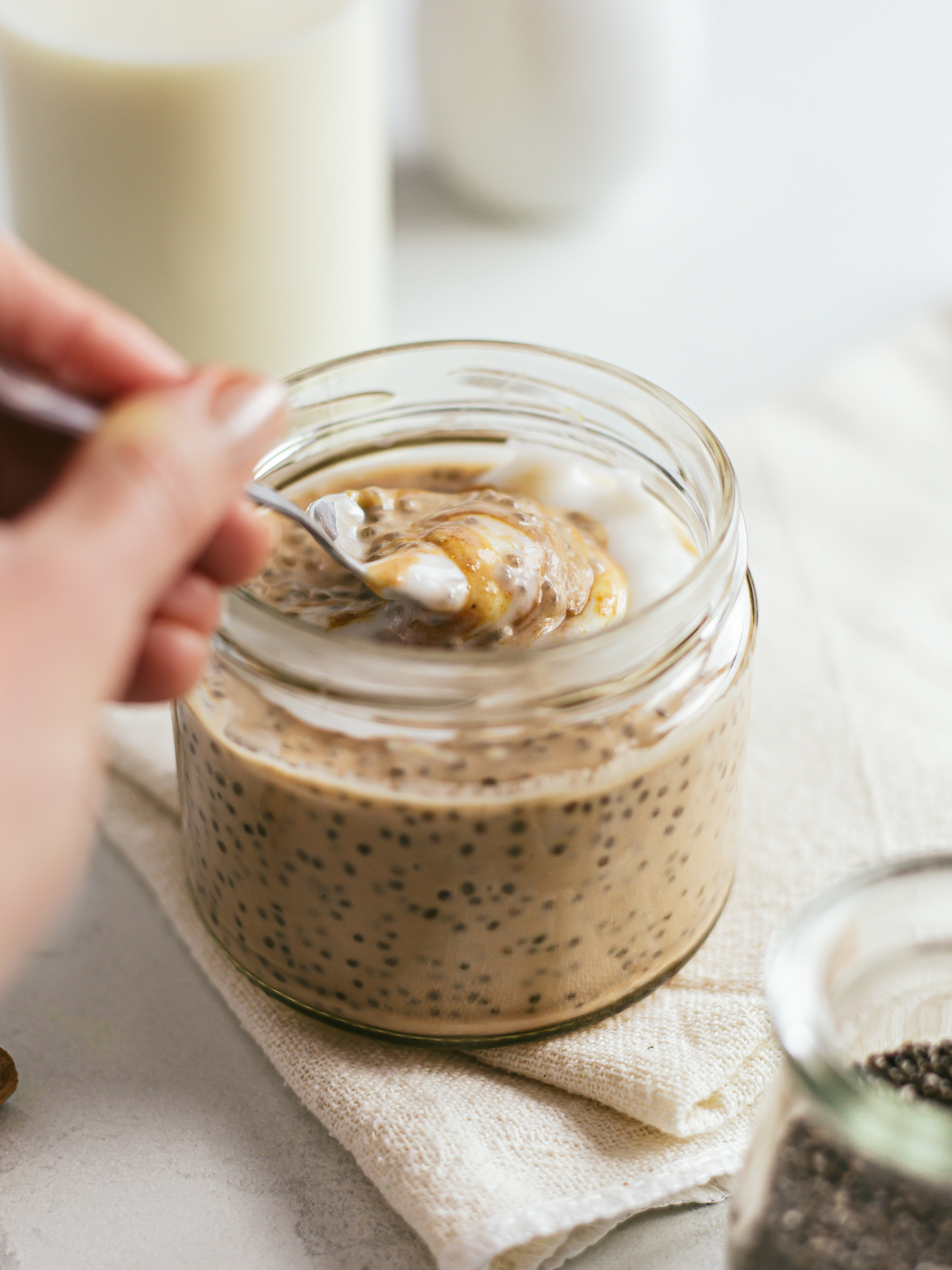 2
Tips
Chai Tea: this black tea is flavoured with classic masala chai spices, including cinnamon, ginger, cardamom, and cloves. You can find it in convenient tea bags in your supermarket's speciality tea/coffee section.

Caffeine-free alternative: if you can't find chai tea bags or want a caffeine-free option, simply add the individual chai spices to the milk and simmer them for 2-3 minutes. Find out which spices and how much you need in our chai-spiced hot chocolate and chai matcha latte recipes.

Milk: the best vegan milk for chai-spiced milk tea is either oat or coconut milk, as they're a little sweet and creamy. You can also use soy or almond milk, which are lower in calories.

Yoghurt: we used coconut-flavoured soy yoghurt, but you can also use other plant-based yoghurt alternatives or opt for Greek-style yoghurt for extra proteins.

Toppings: you can round off the pudding with some chopped fruit (like dates or bananas) or muesli for a good dose of complex carbs.

Prepare 3-4 individual pots/jars of this chai chia pudding (toppings included) and keep them sealed in the fridge. You'll have all your breakfasts (or snacks!) ready for half of the week!