Practical, healthy, and versatile, overnight oats are a lifesaver for breakfast. And if you're looking for a new flavour idea, here's what you can try next: multiseed matcha oats with kiwi and blueberries. Yum!
So, what makes this recipe so special? Simply put, it packs some of the healthiest breakfast foods ever, and it requires no cooking!
Each pot has a balanced mix of fibre-rich oats, high-protein yoghurt and seeds, and low-sugar fruits — plus superfood matcha, a mighty health booster!
Matcha is ground from high-quality unoxidised green tea leaves and is traditionally used as Japanese ceremonial tea.
Matcha powder is not just great for a pop of colour and a boost of energy but also concentrates tons of antioxidants. And antioxidants are your body's best defence against free radicals, diseases, and ageing!
And that's not all: green tea powder is also an amazing fat burner and mental focus booster. You can get all of this with just a teaspoon of matcha in your oatmeal!
The recipe takes only a few minutes as you don't have to cook the oats to make overnight oats. Instead, they'll get soft just by leaving them to soak in milk overnight.
The next morning, you'll have a ready-to-eat jar of green tea oatmeal: no extra work required! You'll love it.
And for more breakfast ideas with matcha, try these matcha granola bars or wholemeal matcha yoghurt muffins — both perfect with a glass of green tea kiwi smoothie or matcha chai latte!
Ingredients
| | |
| --- | --- |
| Rolled Oats (jumbo or porridge oats) | 45 g |
| Matcha Powder | 1 tsp |
| Plant-Based Milk (oat, soy, almond milk) | 120 mL |
| Plain Soy Yogurt | 250 g |
| Cinnamon (optional) | 2 pinch |
| Blueberries (fresh or frozen) | 60 g |
| Kiwi Fruit | 1 |
| Seed Mix (pumpkin, flax, chia or hemp seeds) | 2 tsp |
Step 1
Add oats, sifted matcha, plant-based milk, and a spoonful of soy yoghurt to a bowl.
Stir well until the green tea powder is fully incorporated into the oatmeal.
At this point, you can optionally tip in a few pinches of ground cinnamon for extra flavour.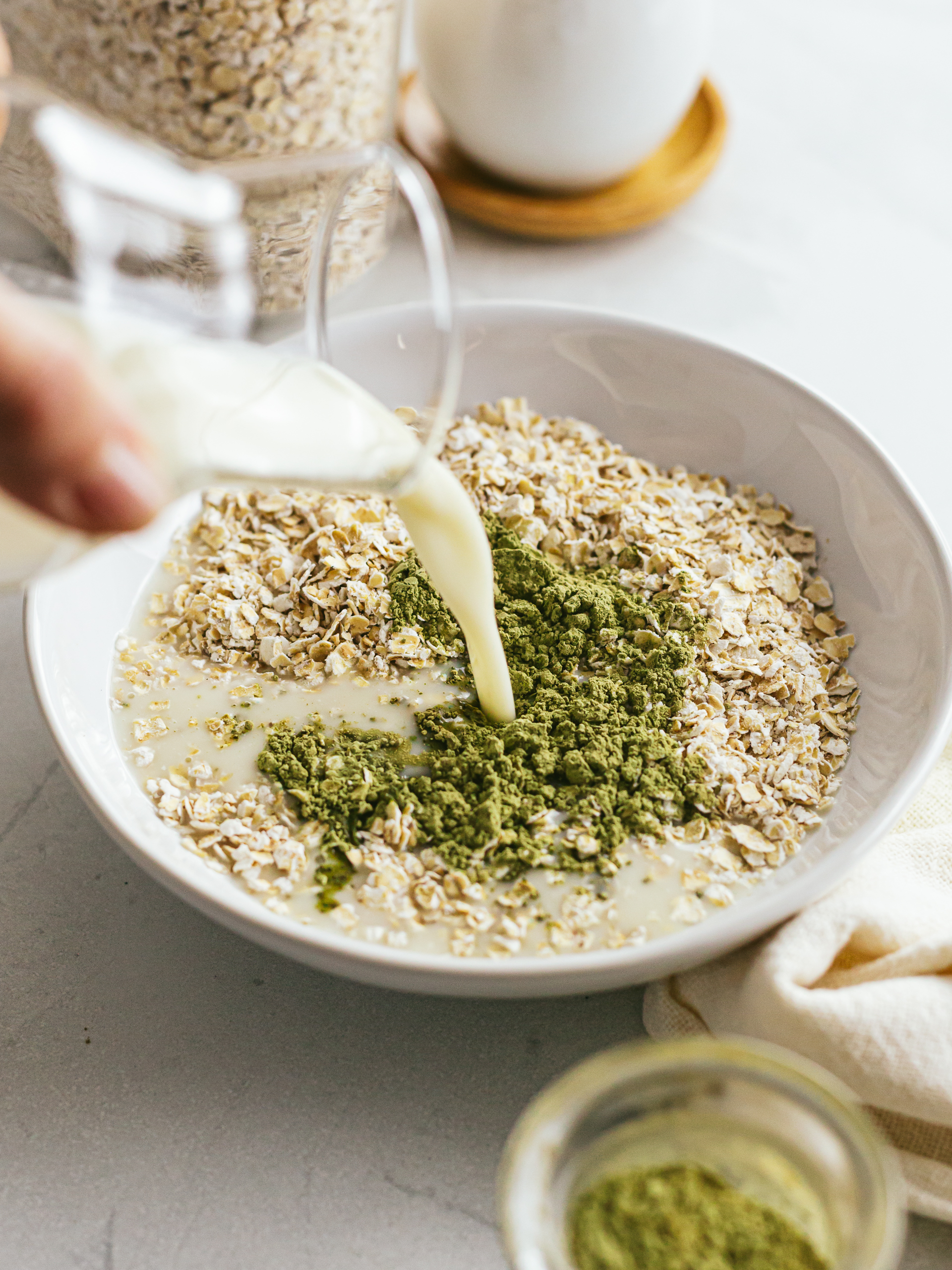 Step 2
Next, transfer the matcha oatmeal mix to a jar or container.
Layer in the blueberries, the remaining soy yoghurt, and chopped kiwi fruit.
Top with the seed mix and seal.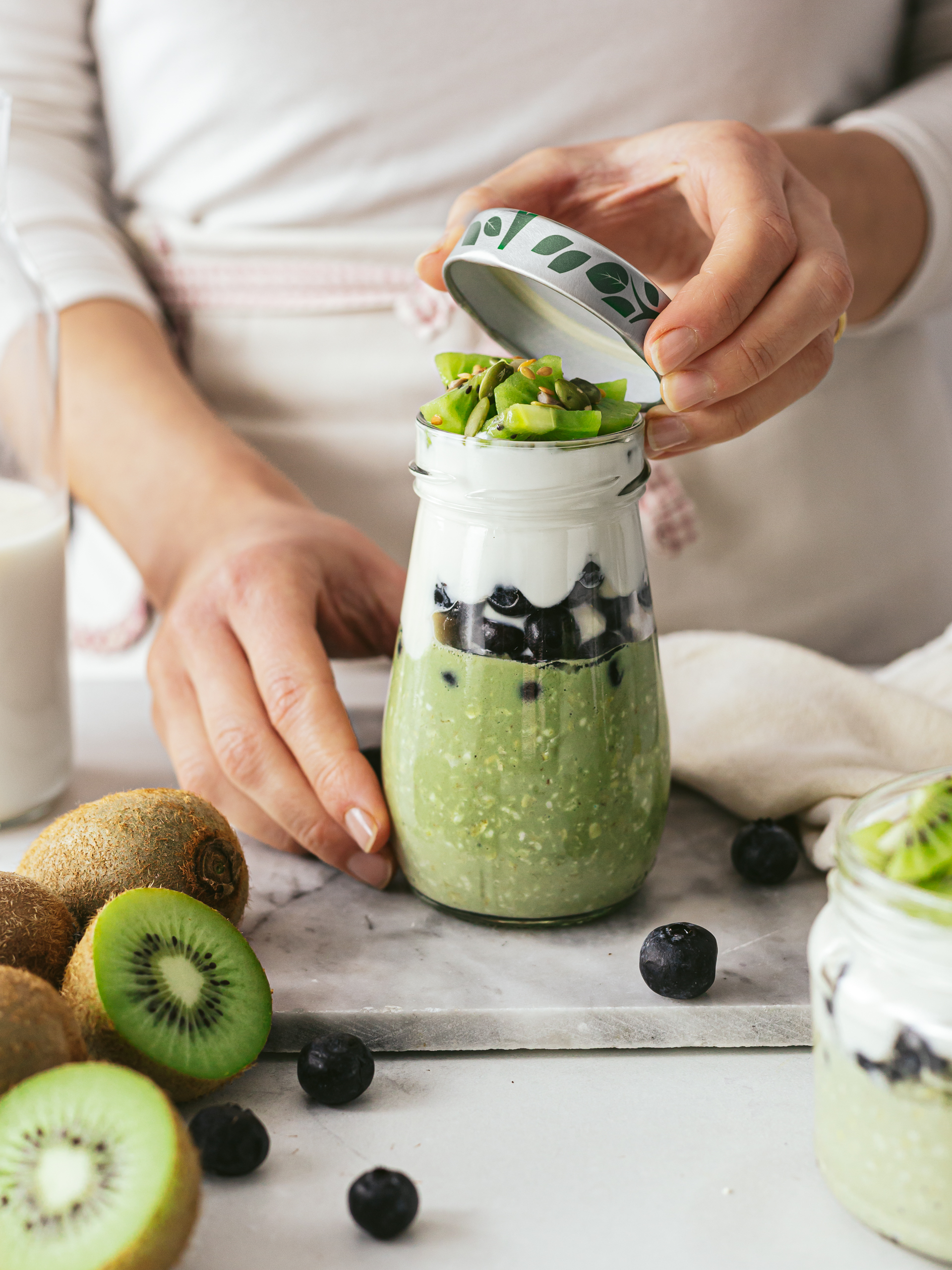 Step 3
Leave the matcha oats to soak overnight in the fridge, ready for the next morning.
You can also prepare this on the same day: 2 hours of soaking will be enough to soften the oats.
Once ready, taste the matcha oatmeal and top it with a drizzle of honey or maple syrup, or a chopped date for extra sweetness if you like. Enjoy!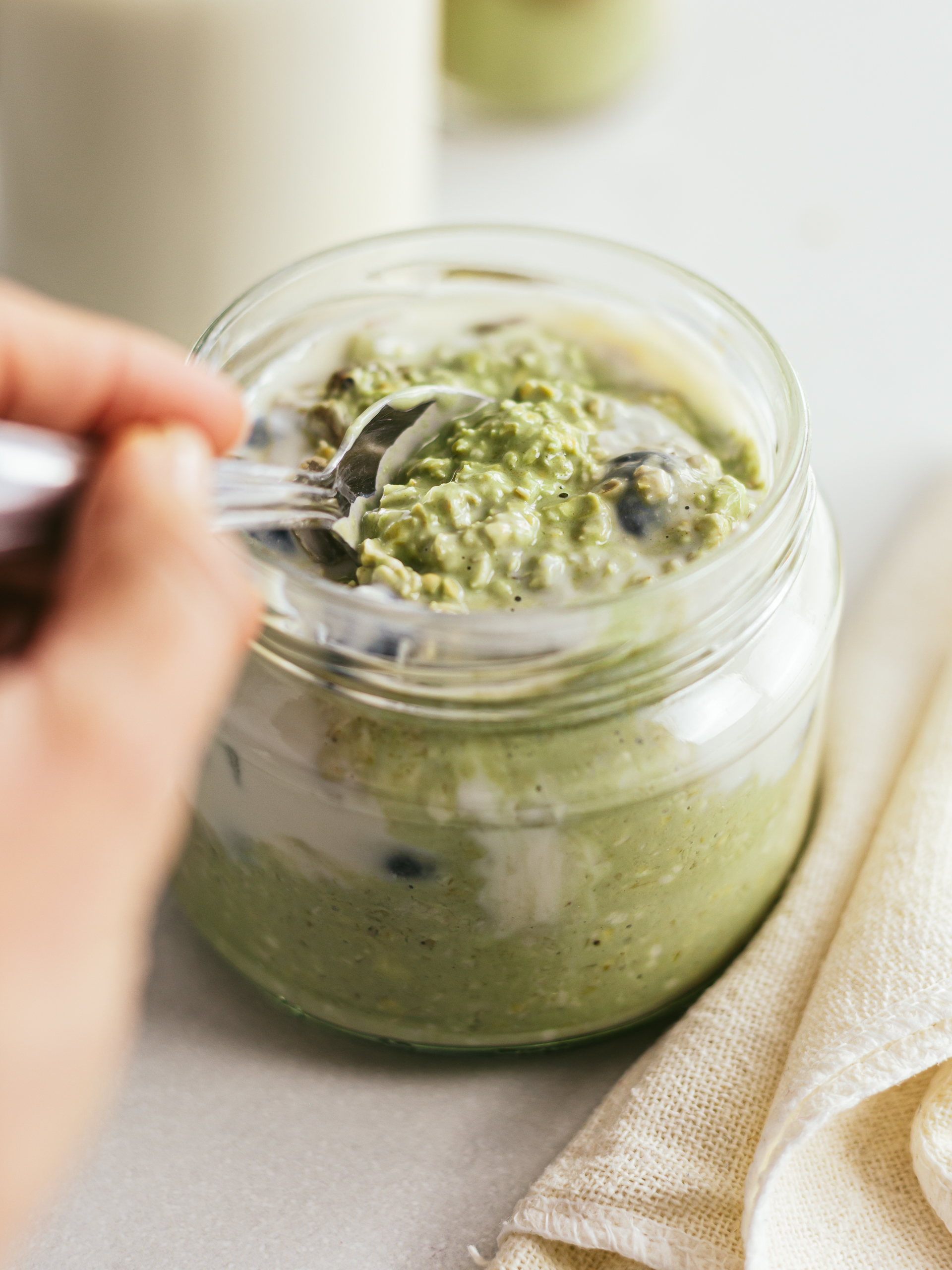 Tips
We used kiwi and blueberries, but other fruits that go well with matcha are citrus fruits (grapefruit, oranges, clementines), other berries (strawberries, raspberries, etc.), and bananas.

You can swap soy yoghurt with silken tofu for extra proteins; for a soy-free alternative, use coconut or oat milk-based yoghurt, or go with Greek yoghurt if not vegan.

For the multiseed mix, you can choose two or three (or more!) of your favourite seeds, or try our high-protein combo of pumpkin, flax/chia, and hemp seeds.

This recipe is perfect for meal-prepping: the matcha oats will keep for 4 days in the fridge when tightly sealed in a jar or food container. So, make a big batch on Sunday to have breakfast ready for half of the week!