This chai hot chocolate combines the aromatic punch of a chai latte with the creaminess of a hot chocolate. Rich and spicy, it's a comforting drink perfect for cosying up on a cold day. It takes less than 15 minutes to make, meaning you'll be sipping it from a big mug in no time!
This spiced hot chocolate builds upon the popular chai latte, which consists of steamed milk mixed with a chai mix paste. We made our chai spice blend from scratch and boiled it in coconut milk drink.
A dusting of cocoa powder and a few squares of melted dark chocolate, and there you have it: a chocolatey delight with an energising, spicy kick.
Chai hot chocolate, like chai latte, is inspired by the classic Indian "masala chai". Masala means "mix of spices", while chai is the Hindi word for "tea", which derives from the Chinese word cha ("tea").
More commonly known as chai tea, masala chai is one of India's most popular beverages and a world-famous hot drink.
The cool thing is you can add chai tea to other drinks like hot chocolate and lattes for colour and aroma, and even use it to bake spiced cakes or make a flavourful chai chia pudding!
Chai tea is traditionally made by boiling water and milk with Assam black tea, sugar, and a blend of spices.
This spice mix, called karha, usually includes cardamom, cloves, ginger, cinnamon, and peppercorns. Some recipes also use other ingredients like star anise, fennel, nutmeg, vanilla, chillies and even rose petals.
In our recipe, we opted for the basic karha blend and then added fennel seeds for extra aroma, but you can use star anise if you fancy.
We infused the whole spices and seeds in simmering milk using a cheesecloth bag and then removed it before adding the cocoa and chocolate.
To make this spicy chocolate dairy-free and vegan, we used coconut milk drink instead of cow milk.
It's thicker than other plant-based alternatives like almond or soy milk, making the chocolate even creamier.
Make sure to use the chilled drink and not the tinned milk, which is more concentrated and higher in fats.
Time to gather the ingredients and prepare this chai-spiced hot chocolate together
Ingredients
| | |
| --- | --- |
| Black Peppercorns | 1 tsp |
| Fennel Seeds | 1 tsp |
| Ground Ginger | 1 tsp |
| Whole Cloves | 4 |
| Cinnamon Sticks | 2 |
| Cardamom Pods | 2 |
| Coconut Drink (or Oat Milk) | 1 L |
| Cocoa | 2 tsp |
| Dark Chocolate 85% | 15 g |
Step 1
Take a cheesecloth bag and add in the peppercorns, fennel seeds, ground ginger, whole cloves, and cinnamon sticks.
Then, open the cardamom pods, drop the seeds into the bag, and close it tightly.
If you don't have a cheesecloth, you can add all the spices to the milk in the next step and strain them with a fine-mesh sieve before adding the chocolate.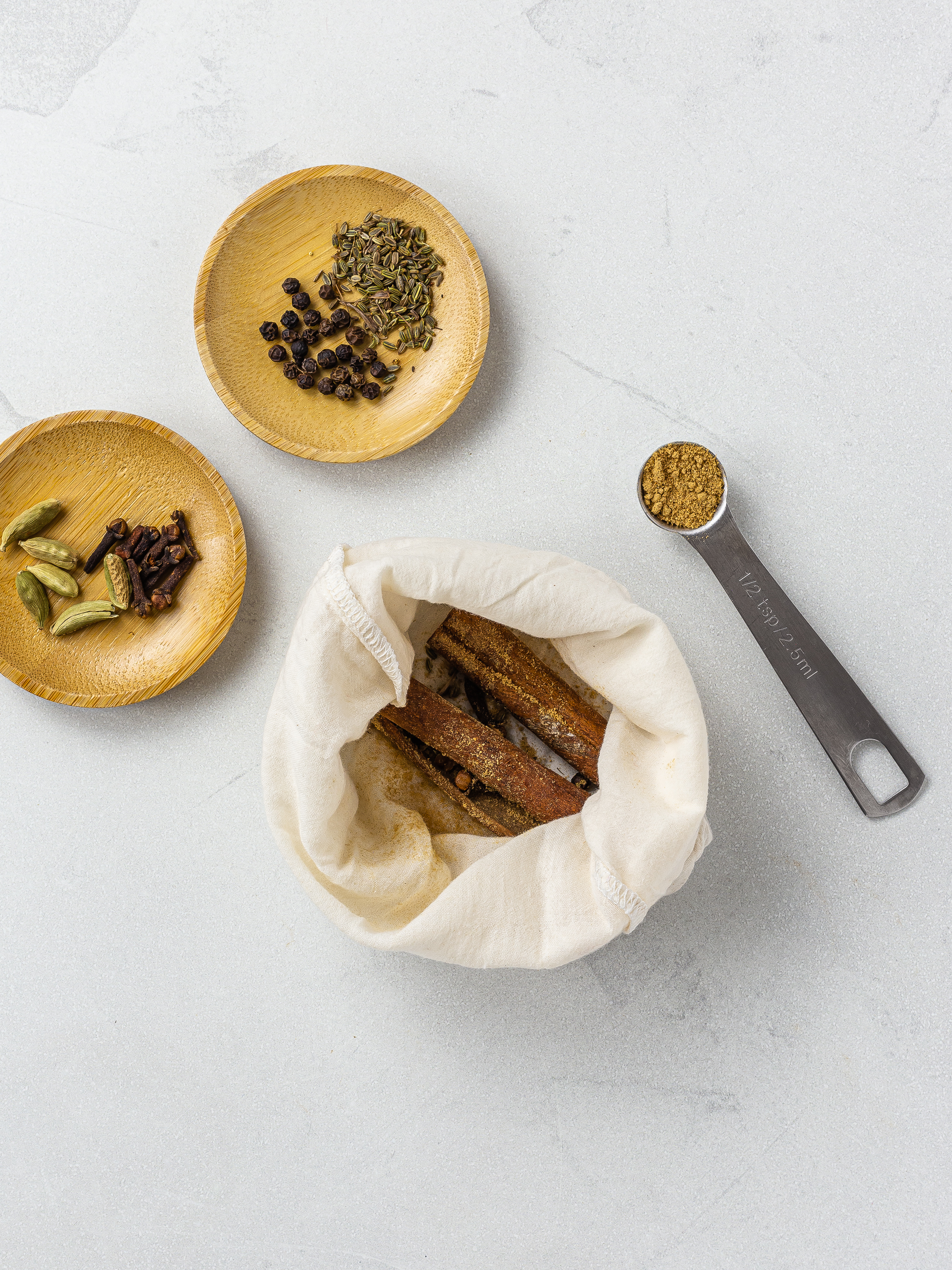 Step 2
Next, pour the coconut drink into a pot and add the prepared spice bag.
Bring the milk to a boil and simmer it over low heat for 10 minutes.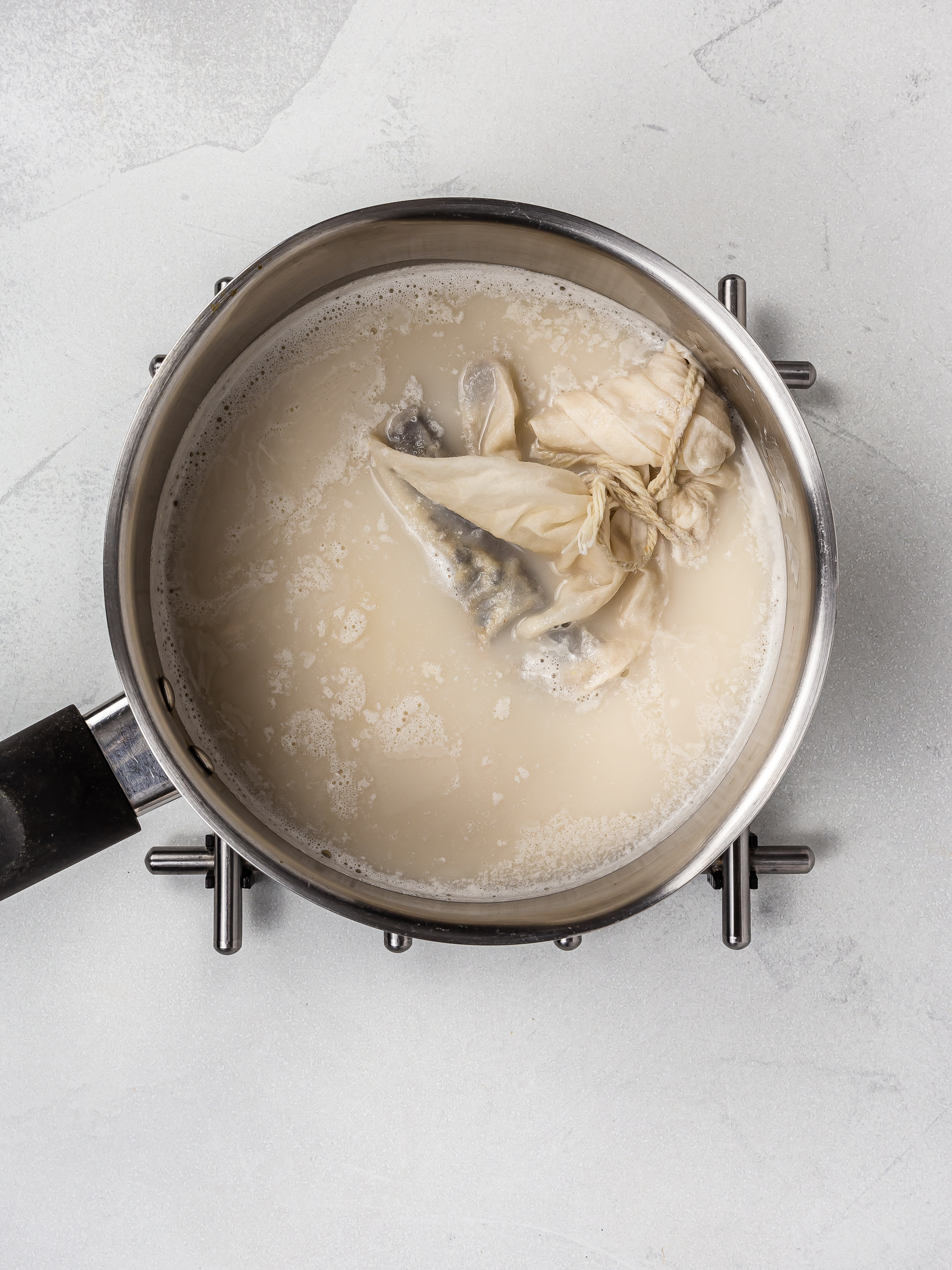 Step 3
Now, remove the bag, add sifted cocoa powder, and stir until dissolved.
Then, tip in dark chocolate chunks and let them melt while keeping the milk on a gentle simmer.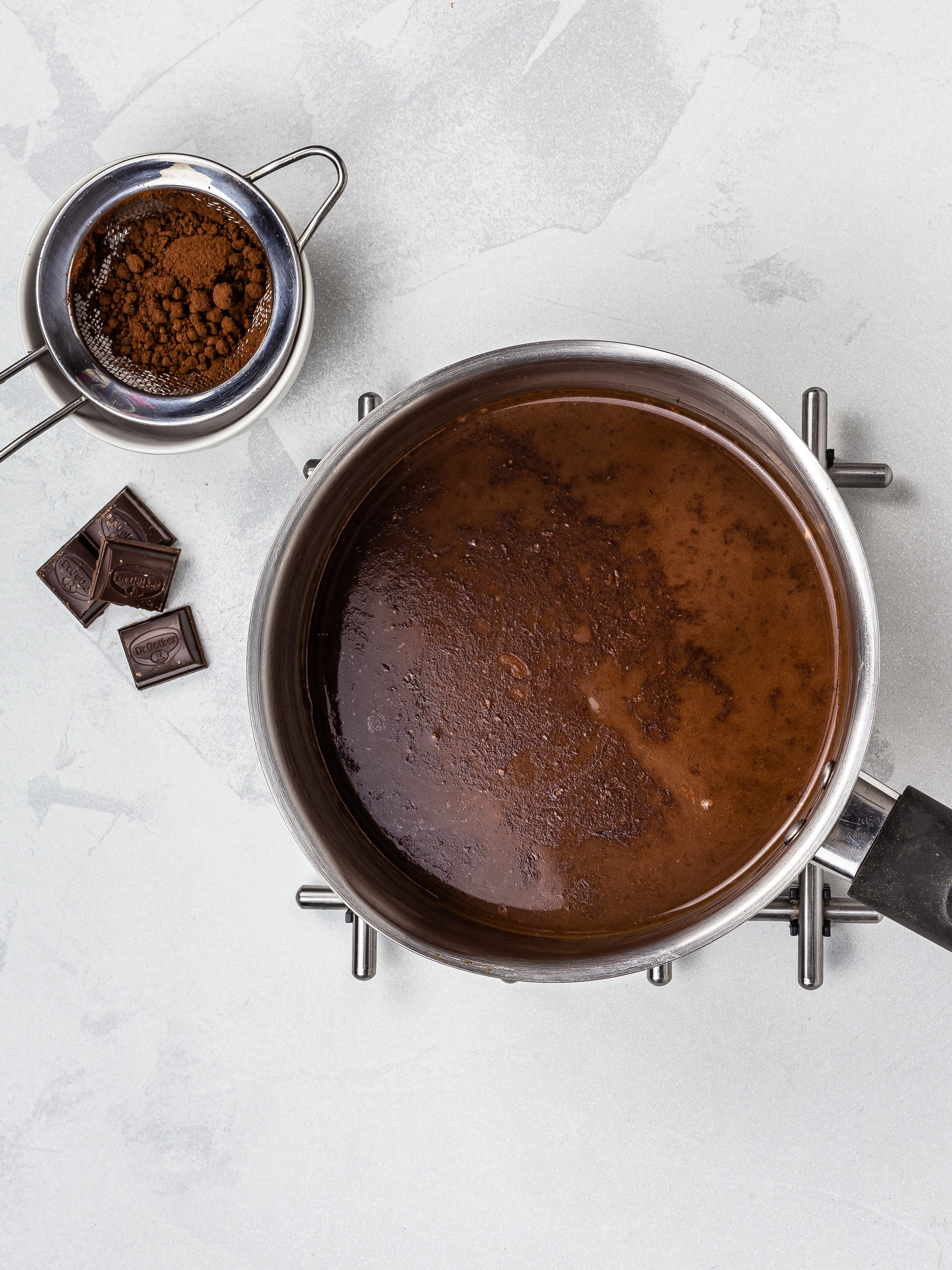 Step 4
Finally, remove the pot from the heat and divide the chai hot chocolate among mugs.
If you want to top it with a foam layer, reserve a third of the chocolate and pour it into a jar. Seal the jar and shake it vigorously until the chocolate is frothy.
Alternatively, dip a hand frother just underneath the surface and foam the chocolate for a minute.
Pour the prepared foam over the chai chocolate and serve it with dusted cocoa and ground cinnamon if you like. Enjoy!
And if you liked this recipe, you can try using chai spices in matcha latte next for a warming and energetic winter drink!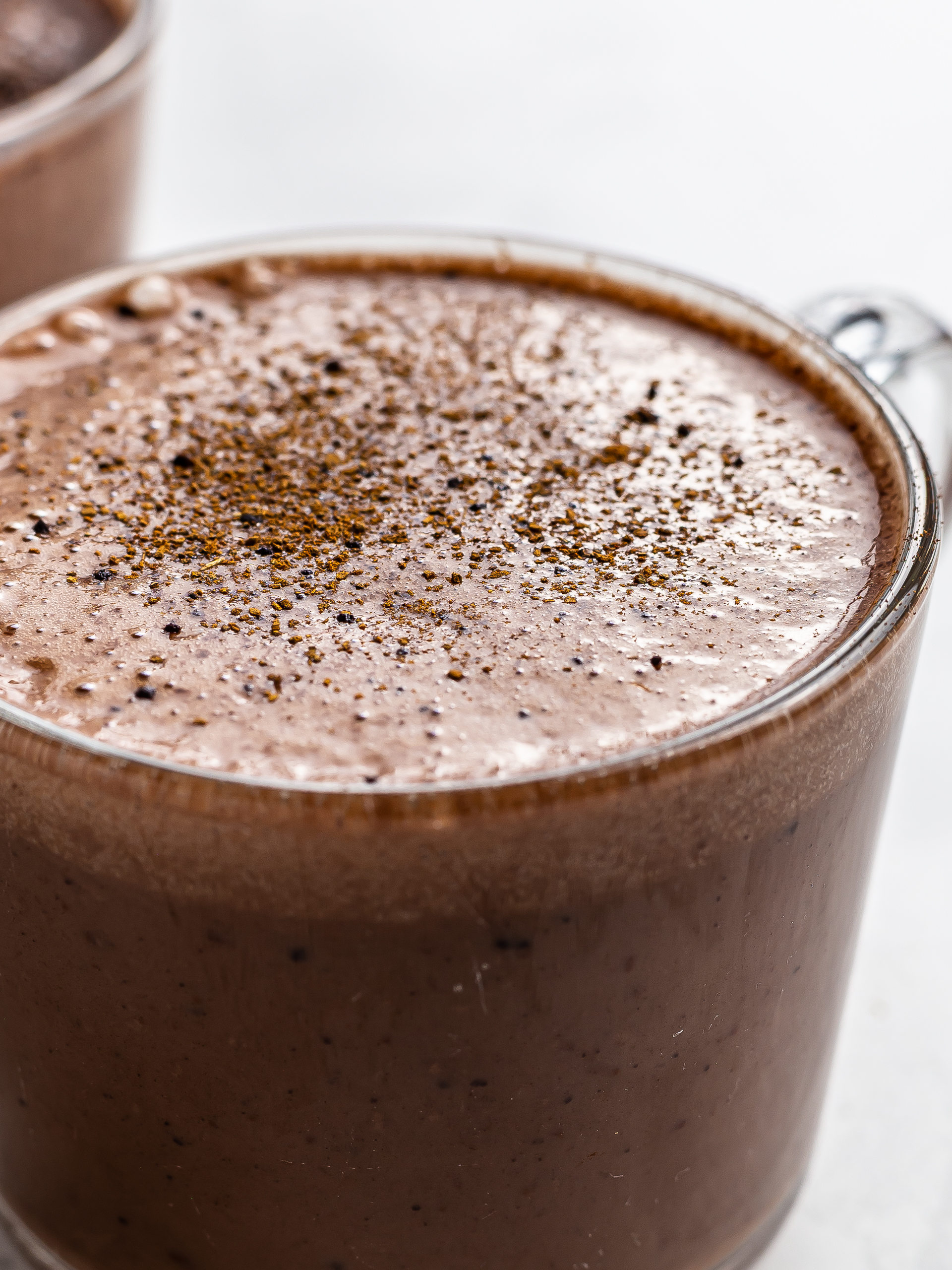 Tips
If you don't have the whole spices or seeds, you can swap them with the ground ones. Use 1/4 teaspoon of black pepper, 1/4 teaspoon of ground cloves, 1/4 teaspoon of ground cardamom, and 1 teaspoon of ground cinnamon. You can omit the fennel seeds.
Watch on Youtube