Are you looking for a hassle-free, nutritious breakfast that actually tastes delicious? Then, our overnight raw buckwheat porridge is absolutely spot on.
This no-cook porridge is ideal for those busy mornings where you need a fast pick-me-up meal. All you have to do is soak raw buckwheat groats the night before and then blitz them with a splash of almond milk the next day. Then, add flaxseeds, nut butter, fruit, a drizzle of maple, and you'll have a tasty breakfast that packs all you need to start the day.
We love buckwheat for its earthy, nutty, and almost caramel-like flavour. But what's even greater about this gluten-free pseudocereal is its beneficial effect on blood sugar levels. These whole-grain groats are packed with fibres, which slow down the digestion of sugars, thus regulating the stream of energy released after a meal. Moreover, buckwheat is a vegan source of complete proteins, meaning it provides all the nine essential amino acids your body needs to build proteins.
Pairing buckwheat with nut butter and flaxseeds will give you a blast of fibres and plant-based proteins. One serving of this porridge provides a whopping 23% of your RDI for proteins and 36% RDI for fibres. Flaxseeds are also an excellent source of essential omega-3 fatty acids, with a single tablespoon covering all you need in a day.
If you don't have the time to cook porridge in the morning or if you never thought of eating buckwheat raw, then this fast porridge recipe will be a brand-new, exciting way of preparing breakfast. Besides, soaking and draining the groats before consuming them also make them easier to digest [1]. It's a win-win!
Delicious and easy-to-make, this overnight porridge is also a fantastic meal prepping idea as you can store it in the fridge for a few days and have a wholesome breakfast always at hand.
Ingredients
Porridge
Raw Buckwheat Groats

75 g

Almond Milk

150 mL

Ground Ginger

1/4 tsp

Ground Cinnamon

1/2 tsp

Ground Flaxseeds

2 tbsp

Toppings
Kiwi Fruit

1

Raspberries

80 g

Nut Butter (Almond or Peanut)

2 tbsp

Maple Syrup

2 tsp
Step 1
Rinse the raw buckwheat groats under cold water a few times and then add them to a bowl.
Next, pour enough water to cover the groats by 3 cm (1 inch) and leave them to soak at room temperature for at least 3 hours or overnight.
The groats will expand and soften as they absorb water.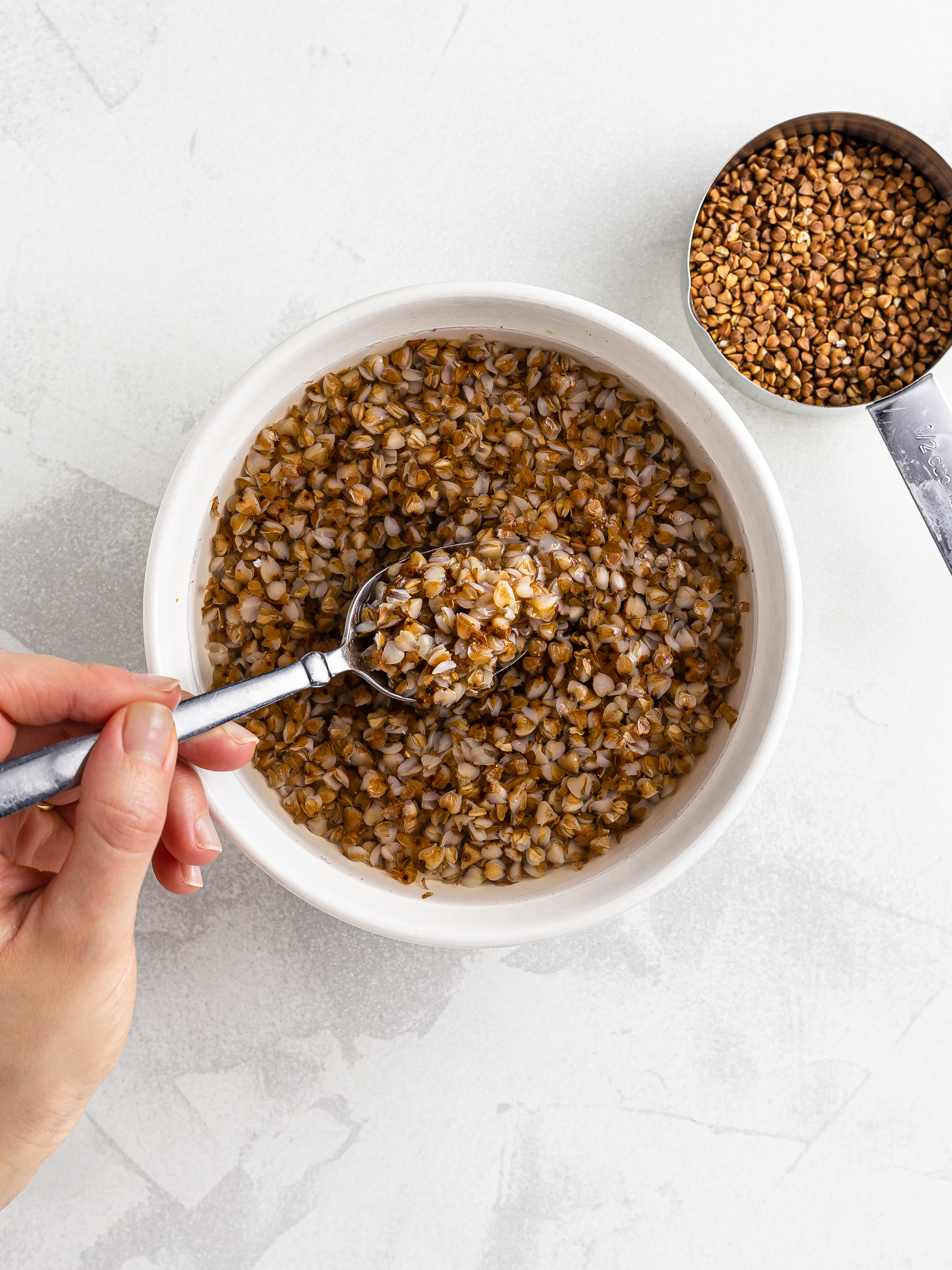 Step 2
Now, drain the buckwheat over a colander to remove excess water and then add the groats to a food processor.
Pour in the almond milk, or any plant-based milk of your choice, and tip in the ground ginger and cinnamon (1).
Pulse the ingredients into a smooth porridge, add the ground flaxseeds, and blitz again until creamy (2).
Now, you can optionally add a few drops of lemon or lime juice to boost the absorption of buckwheat nutrients.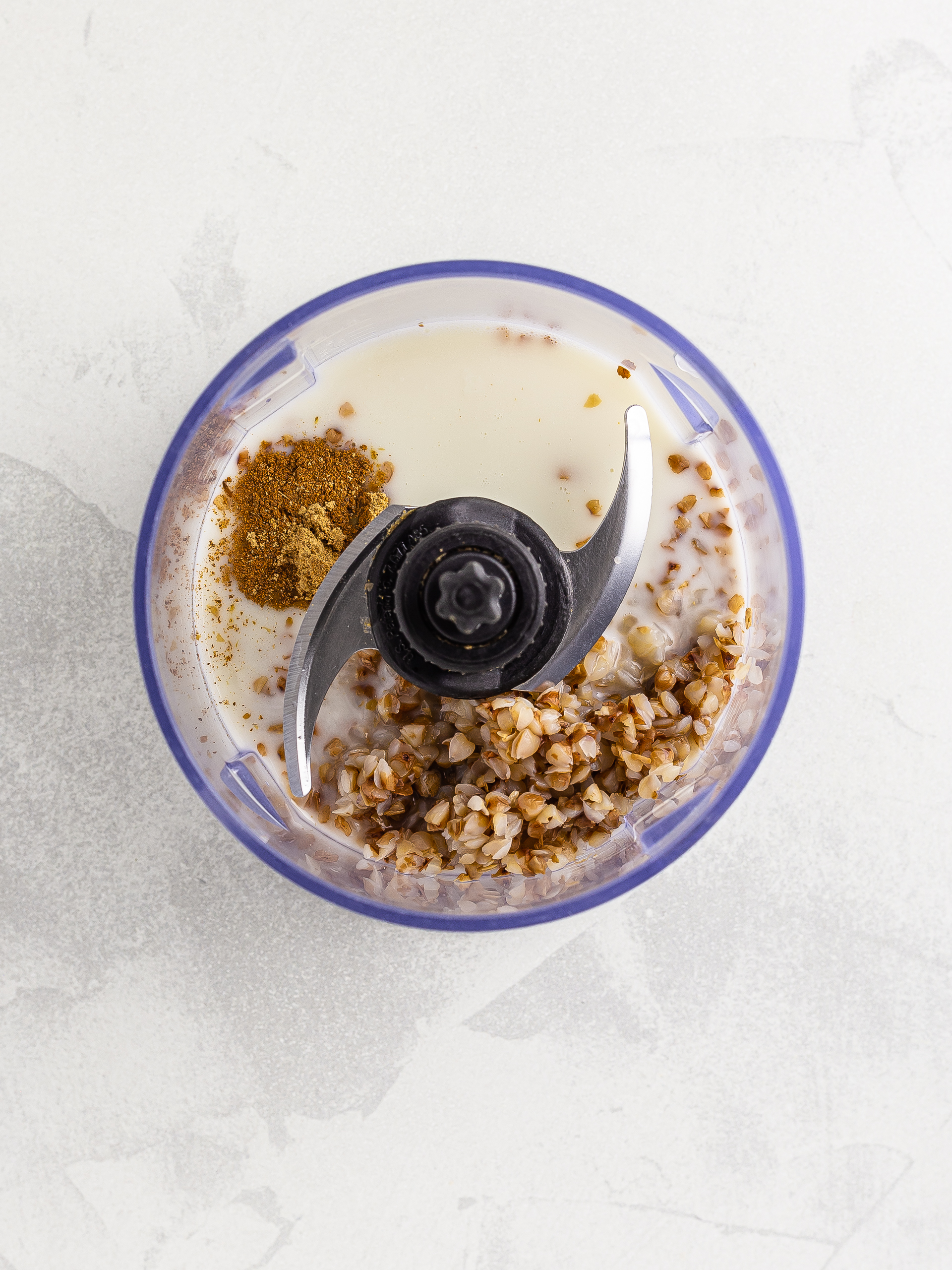 1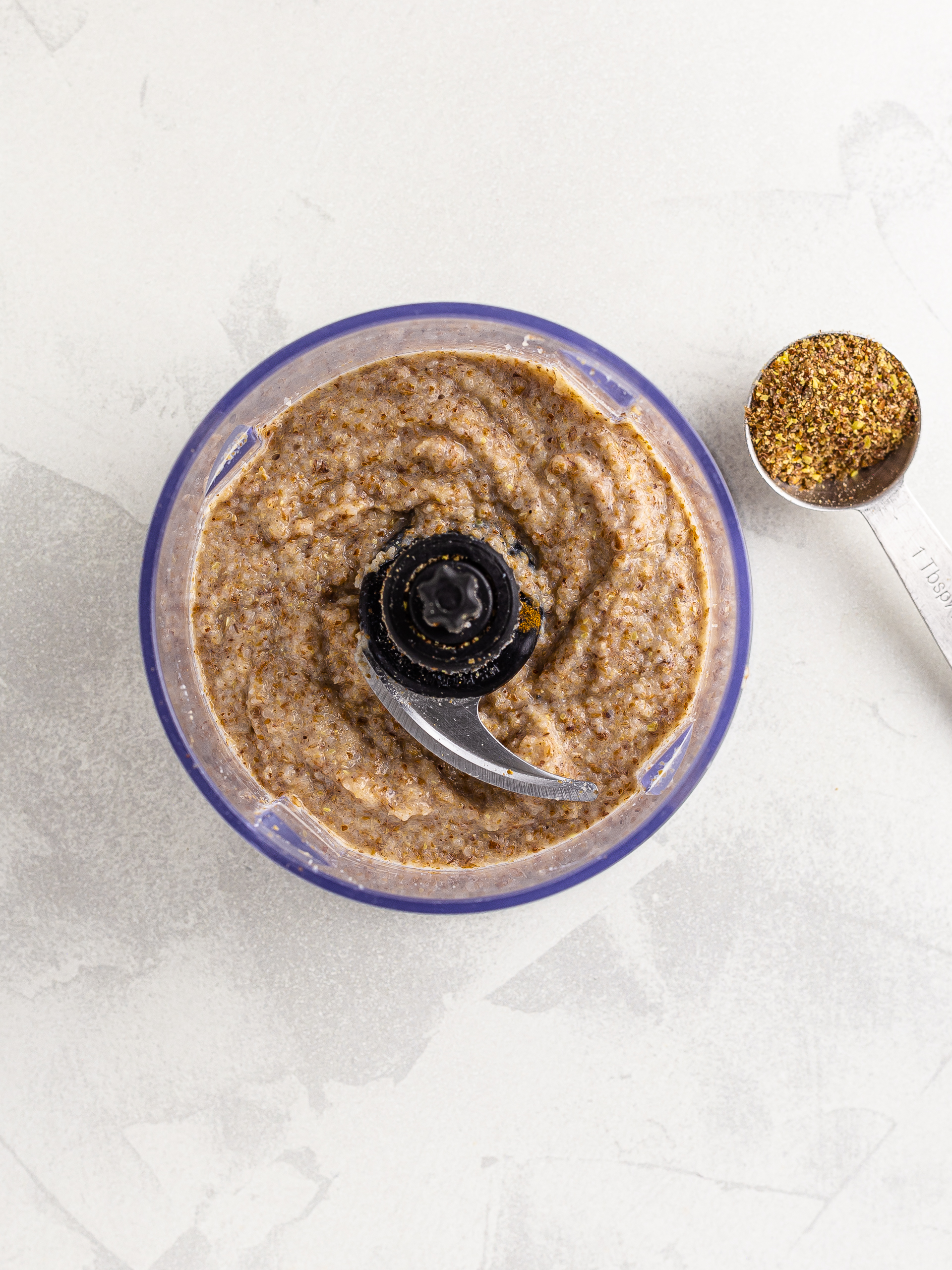 2
Step 3
Now, divide the porridge among single-serving bowls, jars, or glasses (1).
Finally, top it with peeled and sliced kiwi fruit, fresh raspberries, nut butter, and maple syrup (2).
You can optionally pour extra almond milk over the toppings, as we did, or leave it as it is.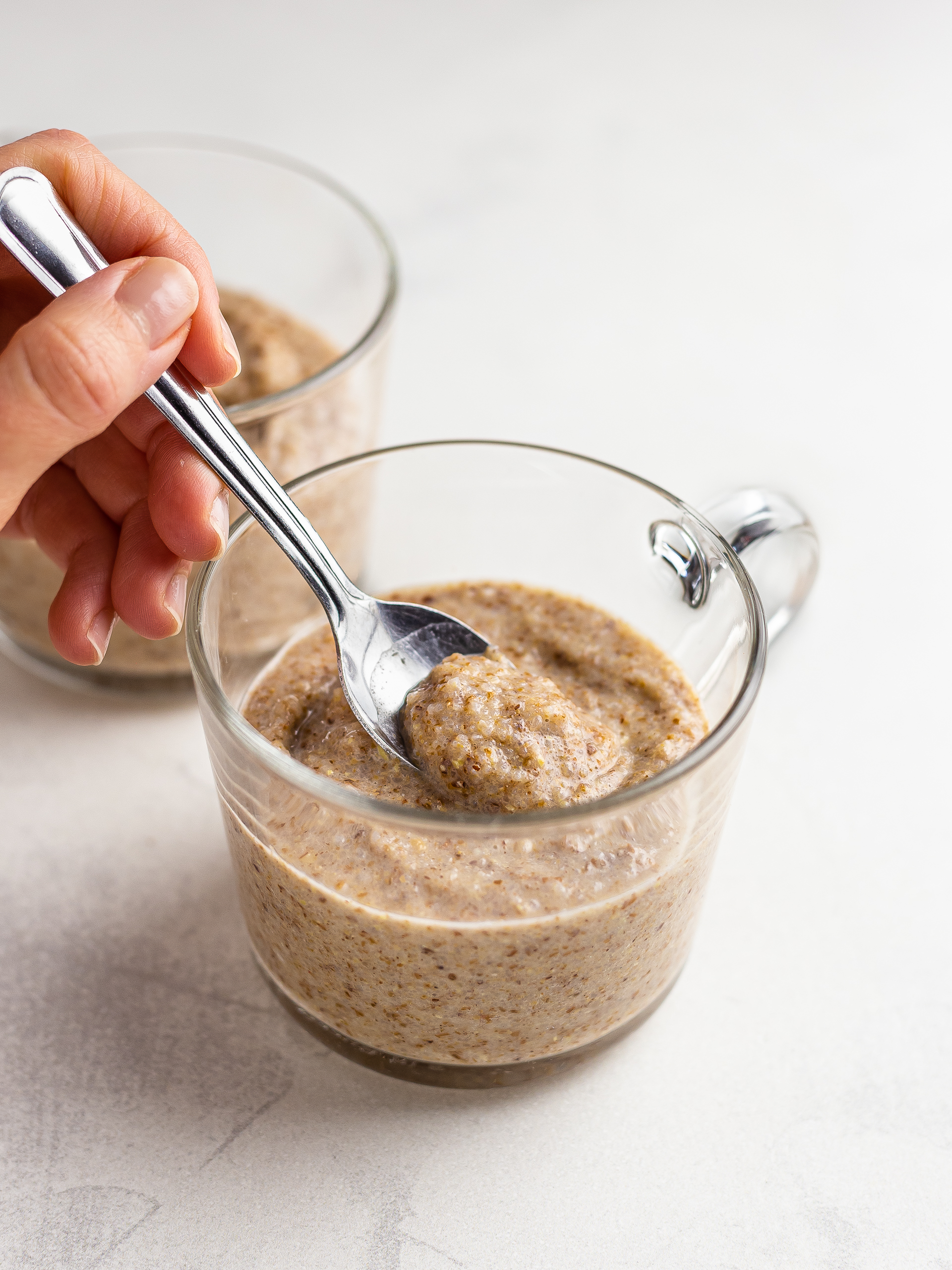 1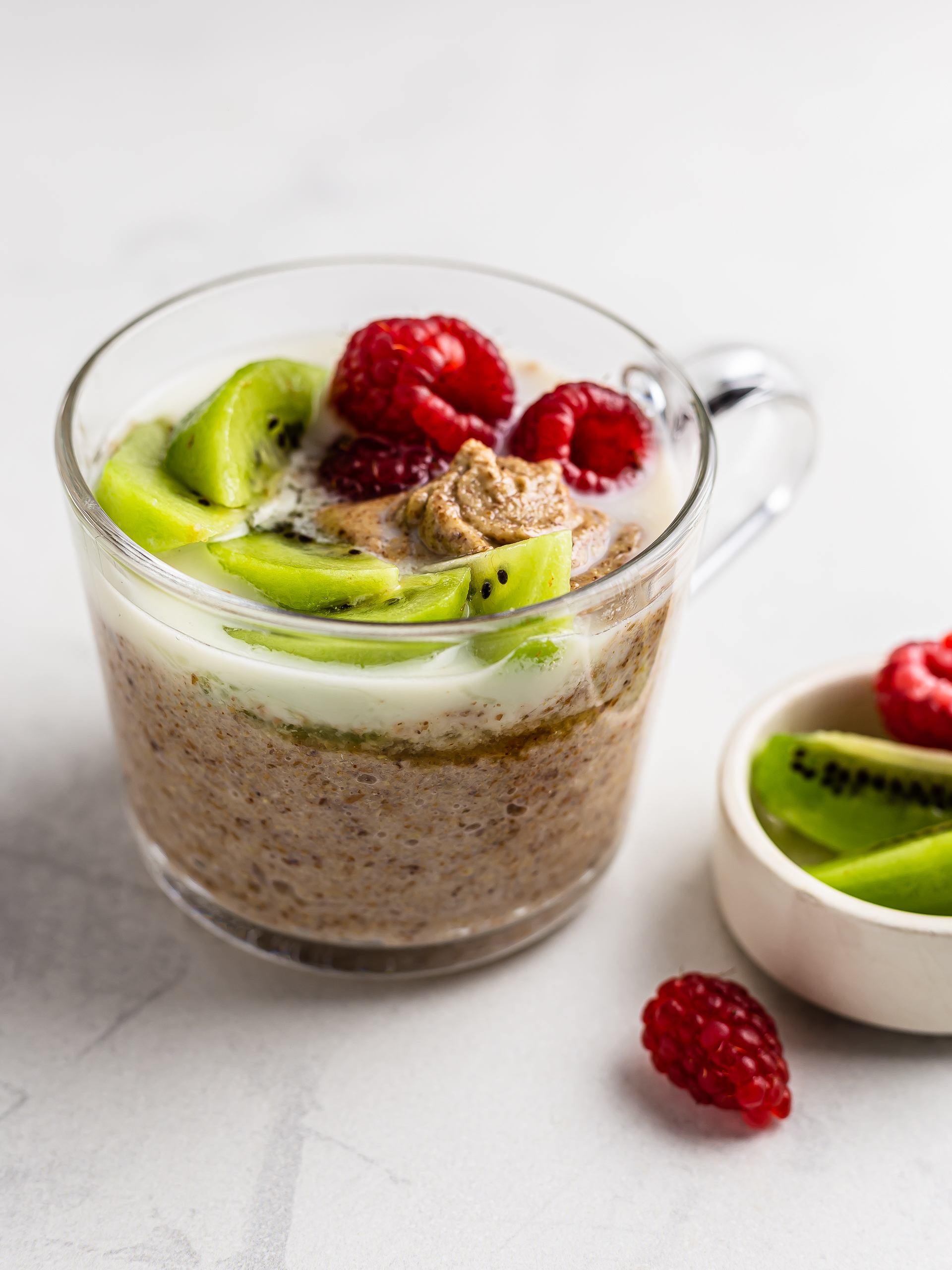 2
Tips
You can swap milk with a plant-based yogurt, like coconut or almond milk yogurt.

Sprinkle this porridge with bee pollen, if you aren't a strict vegan. It's rich in immune-boosting compounds and incredibly tasty.

Store the prepared porridge in tight seal jars and keep them in the fridge for 2-3 days.