In this recipe, we will show you how to make dairy-free salmon pasta with a cream of mashed peas and delicate chives. Sounds delicious? Not only that, but it's also super healthy!
To make this nutritious meal, we have selected a few simple ingredients that pack a lot of healthy yum-yum.
Fresh salmon fillets are quickly seared and then flaked over the peas pasta just before serving. All garnished with freshly chopped chives.
Salmon is an incredibly healthy ingredient to add to your diet. Not only it's packed with proteins - a with a single portion covering 35% of your RDI - but it's also rich in omega-3. These essential long-chain fatty acids are true health booster as they can help with your blood pressure, fats and cholesterol levels, and inflammation in your body. Imagine that 100g (3.5oz) of salmon gives you four times the recommended amount of omega-3 in a day [1].
Peas boost this meal with fibres, which help you feel full for longer and consume fewer calories throughout the day. Also, to replace butter, creme fraiche, and single cream, we blended soft garden peas into a no-dairy pasta sauce, perfect for people with lactose intolerance or dairy allergy.
The result is a fully balanced meal in a single bowl, with the right amount of carbs, proteins and vegetables. A serving gives you 70% of your recommended daily intake (RDI) for proteins and 25% of your RDI for fibres, all in 500 calories. Amazing!
Read in only 25 minutes pan-to-bowl, this salmon pasta recipe without dairy is extremely convenient and perfect for meal-prepping or as an office-lunch box.
But enough with the pitching, let's make it a reality!
Frequently Asked Questions
Can I use smoked salmon in this pasta recipe?

In this recipe, we have used fresh salmon fillets, seared and flaked, to top the peas pasta. However, you can replace them with smoked salmon if you prefer.

As smoked salmon is already salted, we recommend you reduce the amount of salt you add to the peas or pasta to get the right balance of flavour.

Also, remember to skip Step 2 in our recipe as smoked salmon is already cooked. Just, add it right to the prepared pasta when you're ready to serve the dish and you're good to go.

Although weight by weight smoked salmon has fewer calories and fats than the fresh one, it's still a refined, processed product. This can outweigh the beneficial properties of salmon, so we recommend to stick to fresh salmon fillets if you can, to keep this recipe super healthy.
How long will this salmon pasta keep?

As this pasta recipe is prepared with fresh salmon, it's best enjoyed on the same day, but you can also store it for up to two days.

To avoid spoiling, make sure you keep it in an airtight container in the fridge. Also to be on the safe side, we recommend you heat it thoroughly in the microwave or a skillet before eating.
How to make pasta sauce creamy without dairy?

Butter, milk, and single cream are often added to pasta recipes to make creamy sauces. However, in this dairy-free recipe, we opted for a low-fat alternative: mashed peas.

By blending cooked peas with little water, you can get a delicious sauce to coat your pasta.

If you want to make it even creamier or know more about other dairy-free cream alternatives, below are a few options:

Coconut milk

Plant-based yogurt like coconut or soy yogurt

Silken tofu - check out our creamy zucchini risotto recipe here

.Tahini paste or any nut butter diluted with water

Starch - combine potato, corn, or arrowroot starch with cold water or cold vegan milk and add it to the pasta ingredients. With the heat, the starch will thicken, making the sauce denser.
Ingredients
| | |
| --- | --- |
| Extra Virgin Olive Oil | 1/2 tbsp |
| Garlic Cloves | 2 |
| Garden Peas | 320 g |
| Salt | to taste |
| Fresh Chives | 4 tbsp |
| Fresh Salmon Fillet | 360 g |
| Pasta | 260 g |
| Black Pepper | to taste |
Step 1
In a skillet, heat the extra virgin olive oil, add crushed garlic cloves, and sizzle for a minute or until the garlic is fragrant.
Then, add the garden peas and a splash of water, and cook for 8 minutes. The beans should be thoroughly cooked and soft.
Season with chopped fresh chives, saving some for garnishing, and add salt to taste.
Next, transfer half the peas to a food processor and blitz them into a creamy mash.
You can add a bit of water if the mixture feels too dry.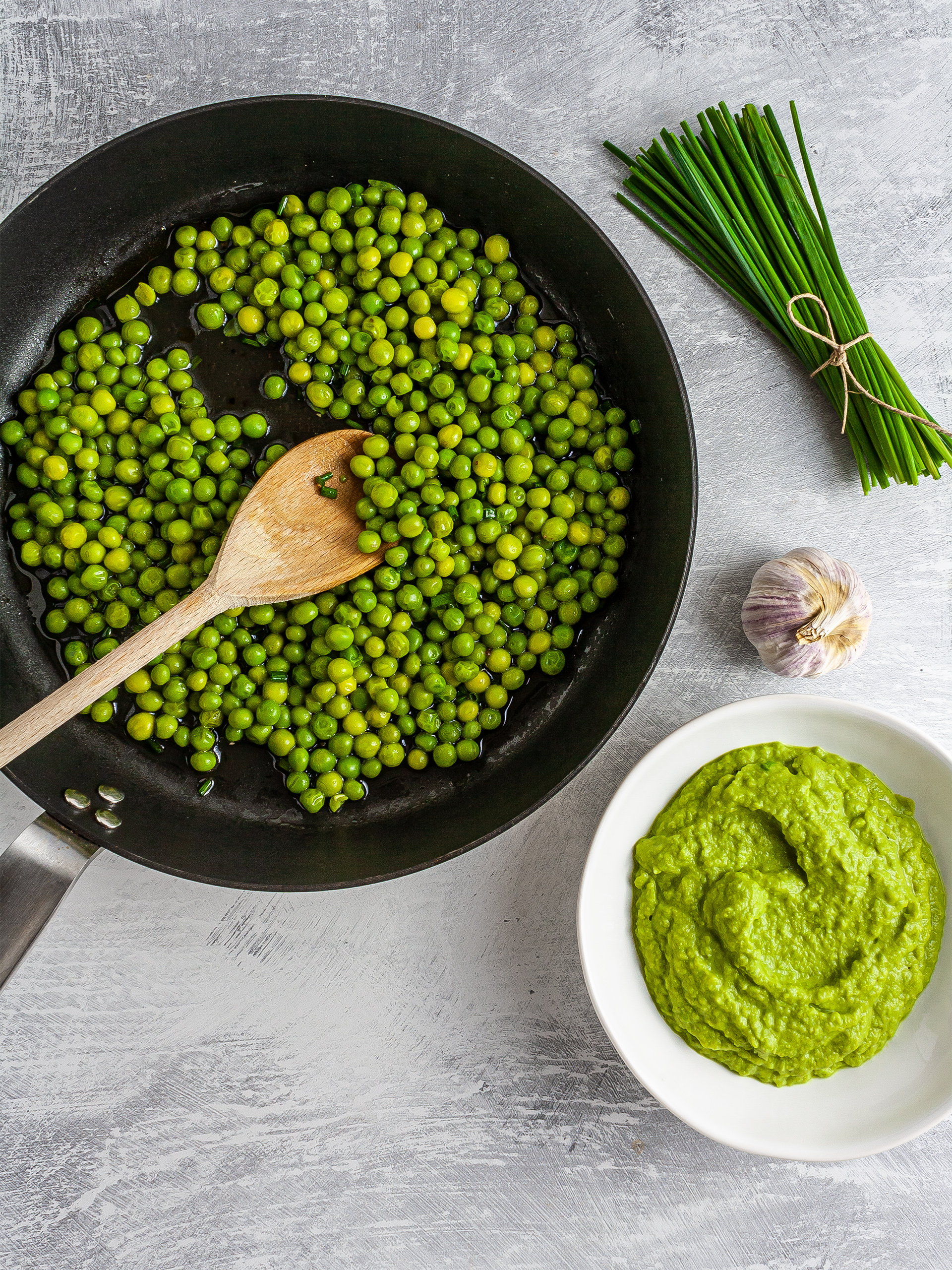 Step 2
Meanwhile, let's prepared the salmon.
Add fresh salmon fillets - skin removed - to a hot skillet and cook by searing them for 2 minutes on each side.
You'll want the fish to stay soft inside and crispy outside, so avoid cooking it for too long, or it will get dry and chewy.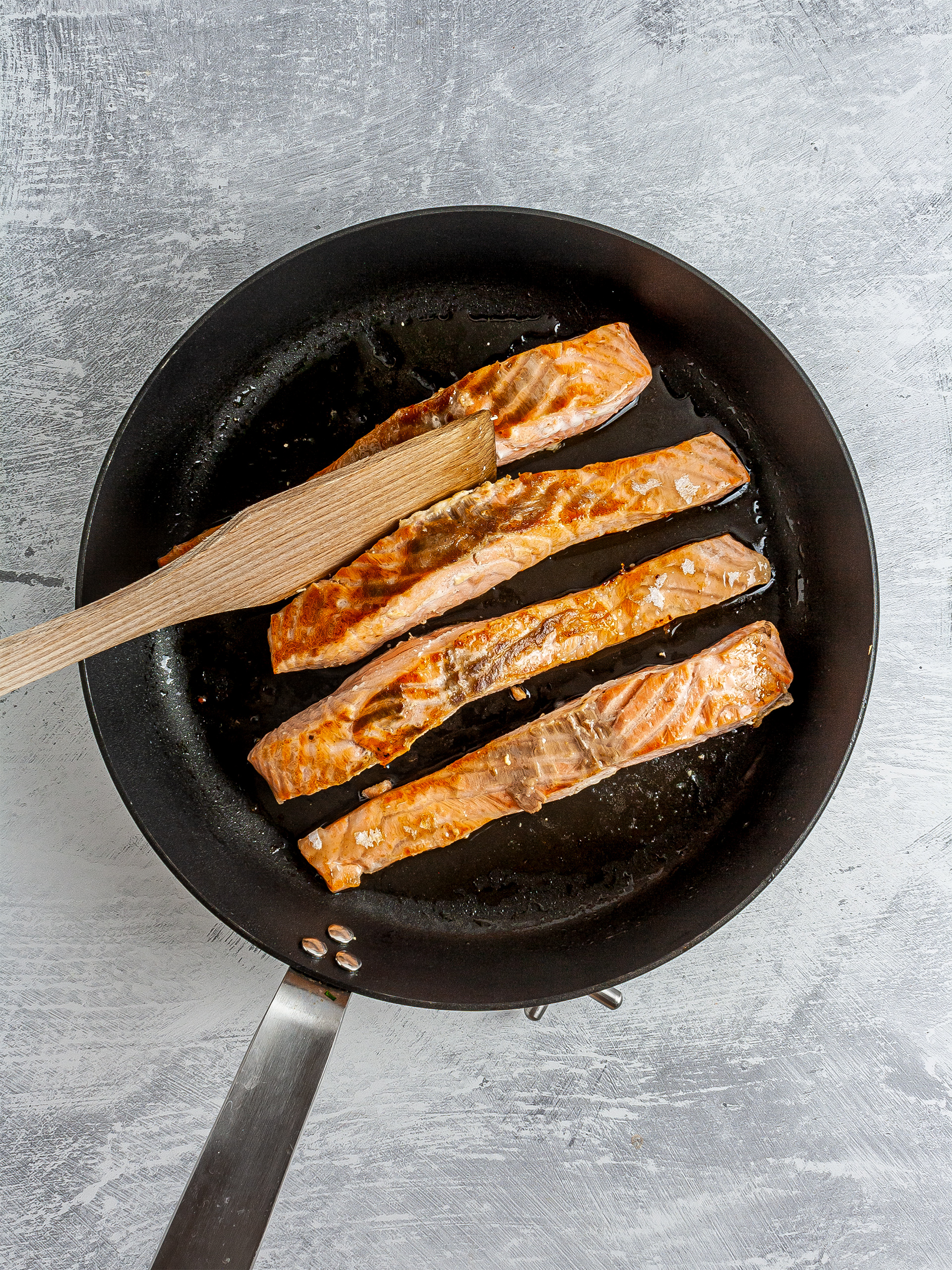 Step 3
In the meantime, cook the pasta in a pan of boiling water with coarse salt, following the packet instructions.
You can use different pasta shapes like penne, fusilli, farfalle, conchiglie, or as we did for this recipe, the lumache type.
Be sure to cook the pasta al dente which means 'firm to the bite', before you drain it.
Save some of the cooking water and add it to the prepared peas to keep pasta sauce creamy.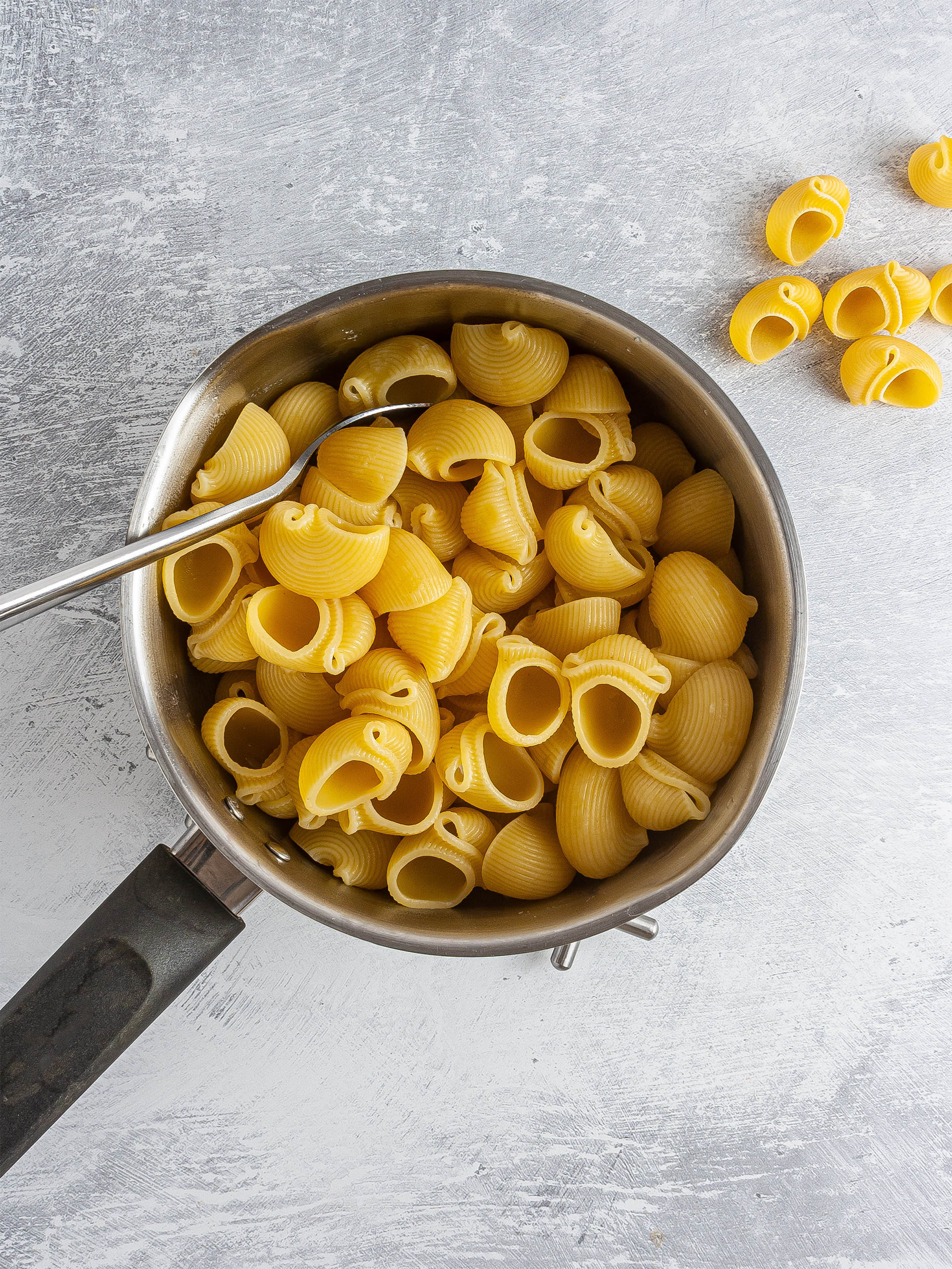 Step 4
Add the drained pasta to the pan with peas and stir in the mashed peas. Mix well with a spatula until the pasta is well coated in the pea sauce (1).
Then, divide the pasta among serving bowls and top it with seared salmon gently flaking it with a fork.
To finish, sprinkle each dish with freshly chopped chives and cracked black pepper (2).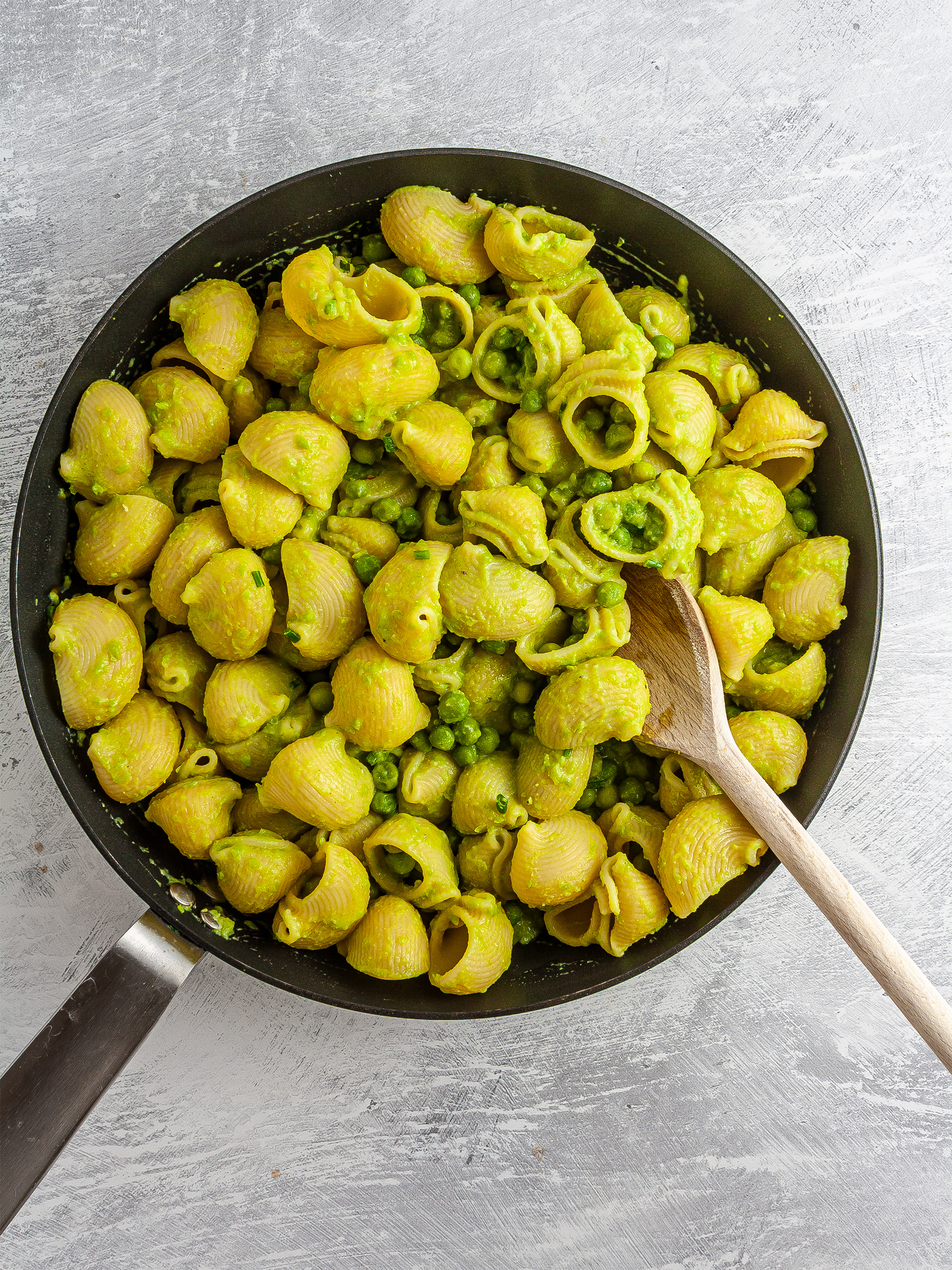 1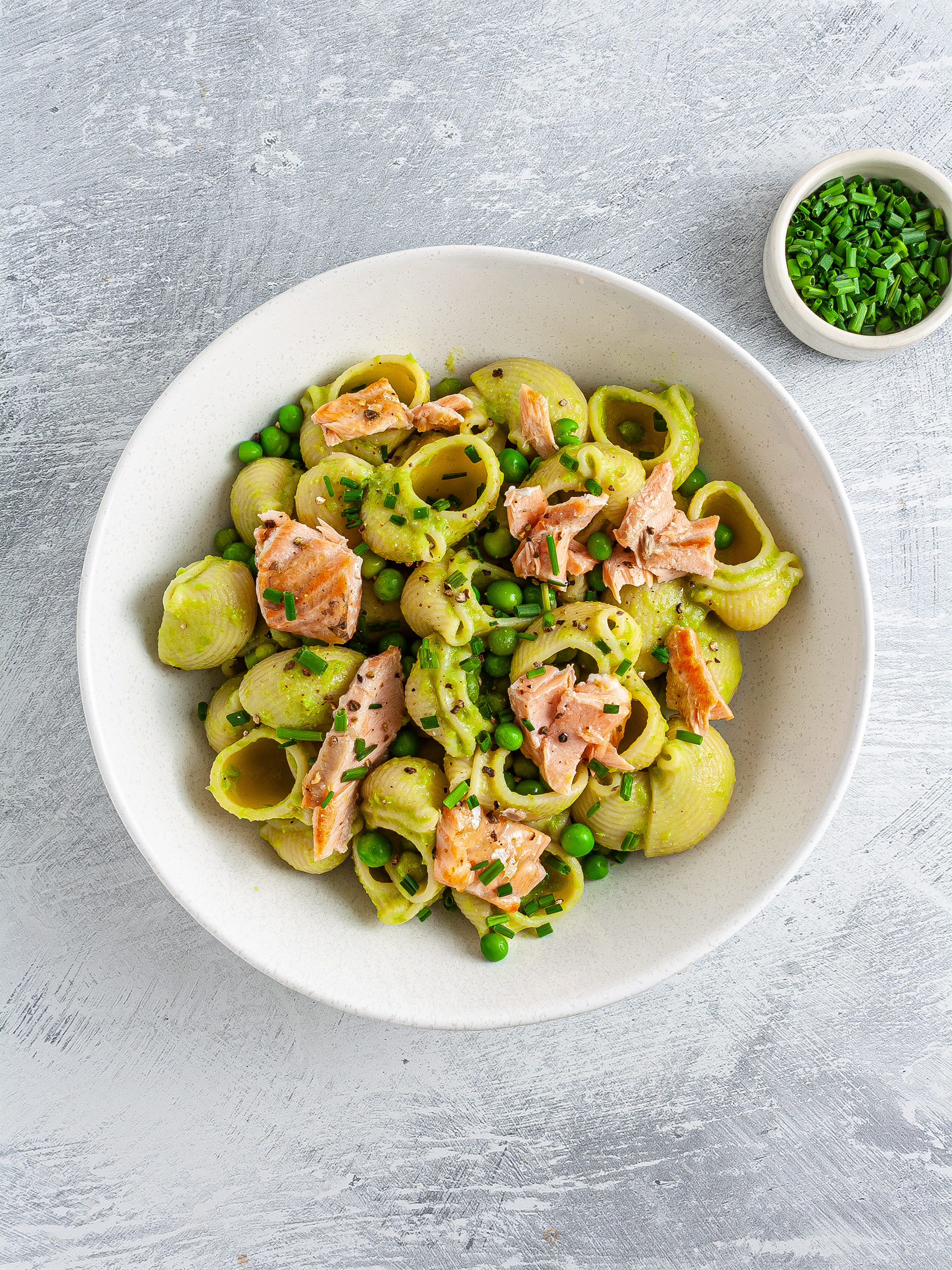 2
Tips
To make this meal even healthier, use fibre-packed wholemeal pasta

Add grated lemon peel for a refreshing, zesty finish.