Below we'll show you how to make a uber-healthy red rice salad with salmon, Brussel sprouts, and grapes. The main goal here is to prepare a meal that bursts with heart-friendly omega-3 fats and anti-inflammatory compounds.
Eating anti-inflammatory foods can help against sudden skin breakouts, bowel irritation, or unexpected fatigue and tiredness. This salad combines fatty fish, red rice and grapes, all excellent anti-inflammatory foods[1]. Brussel sprouts are also great at reducing inflammation and are a rich source of antioxidants and gut-friendly fibres[2].
Making a healthy meal was our first concern, but we didn't want to sacrifice flavour and good taste.
Roasted Brussel sprouts and salmon are a classic combo, and they both play very well with sweet grapes. Red rice is incredibly flavourful, so much more than plain rice. If you can't find it in your local store, you could opt for black or wild rice instead. Black rice exhibits many of the good qualities of red rice, like being a rich source of antioxidants and anti-inflammatory compounds.
This salad has everything you'd expect from a complete meal—carbs from the rice, proteins and healthy fats from fish, fibres and vitamins from the veggies. One of our portions below will give you 20% RDI of carbs, a solid 30% RDI of dietary fibres, and 20% RDI of fats (predominantly healthy omega-3 fats).
That's why we love one-bowl meals. You put everything into one dish, and when the plate is clean, you feel satiated and well-nourished. They are usually ideal for batch cooking, but as this recipe contains fish, we recommend cooking no more than two days ahead. We hope you'll enjoy our salmon & rice recipe, as much as we did. Have fun preparing it!
Ingredients
| | |
| --- | --- |
| Dry Red Rice | 120 g |
| Extra Virgin Olive Oil | 1 tsp |
| Garlic | 1 |
| Cumin Seeds | 1/2 tsp |
| Paprika | 1/2 tsp |
| Turmeric | 1/2 tsp |
| Brussel Sprouts | 120 g |
| Salmon | 180 g |
| Lemon | 1/2 |
| Red Grapes | 60 g |
Step 1
Bring a pan of water to the boil, then add salt according to taste and the red rice. Cover and simmer over low heat for 20 minutes.
Once the grains are tender, drain well, and set the rice aside.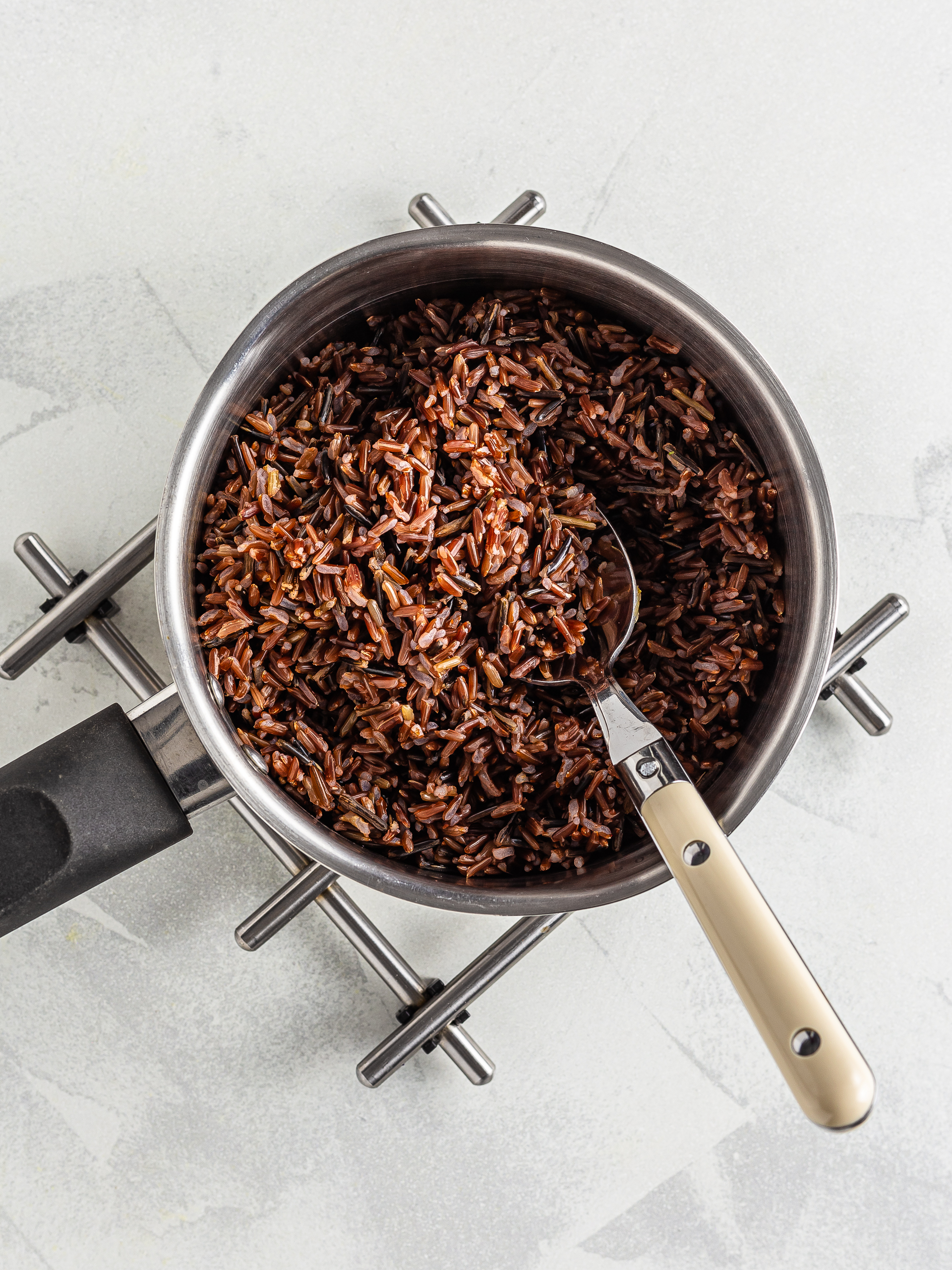 Step 2
Meanwhile, heat the olive oil in a skillet and sizzle the crushed garlic with cumin seeds, paprika, and turmeric.
Once the garlic is fragrant, add halved Brussel sprouts and a splash of water, and pan roast them for 10-15 minutes.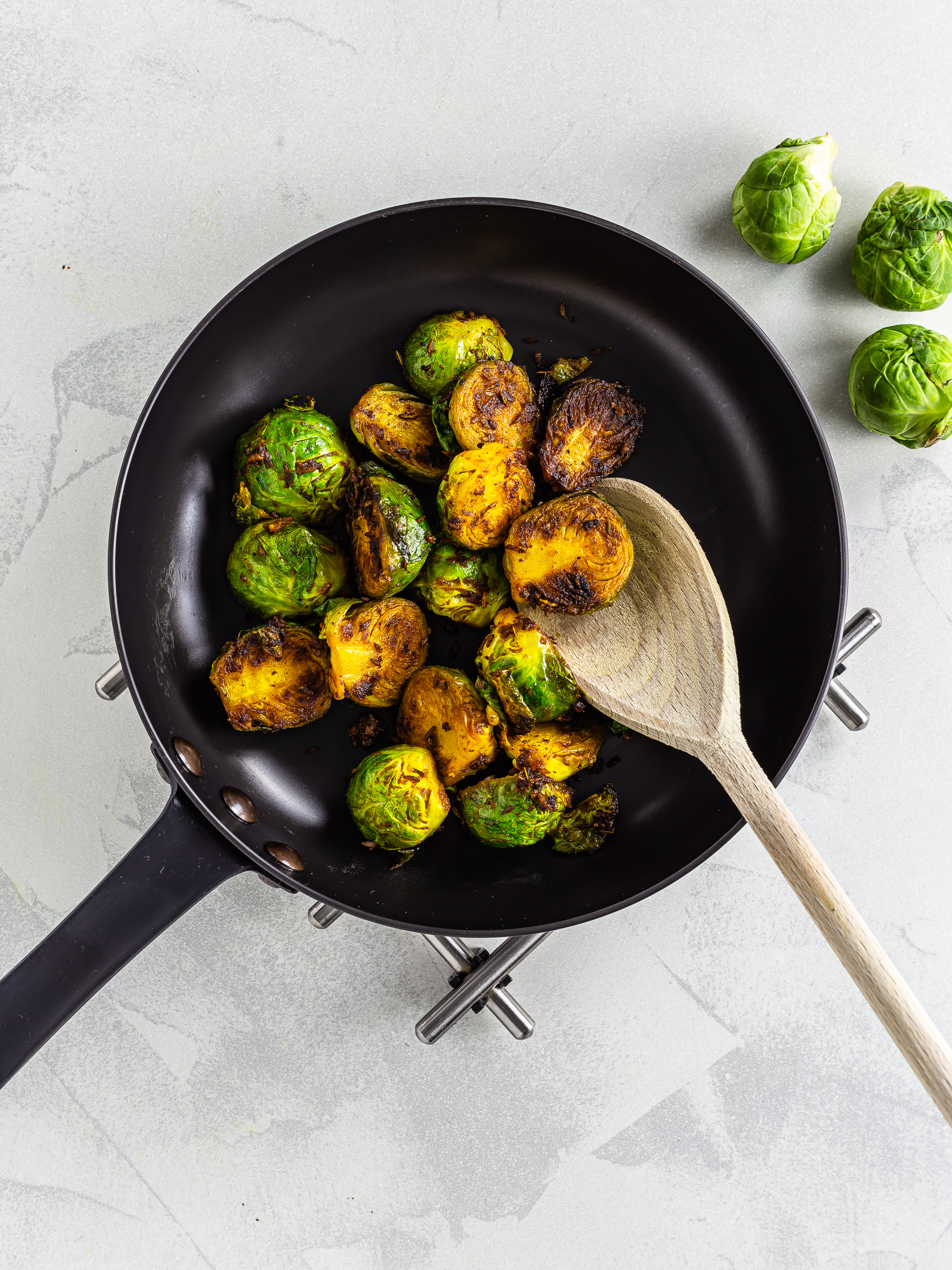 Step 3
Next, add the cooked rice to the skillet and cook all for 3 more minutes.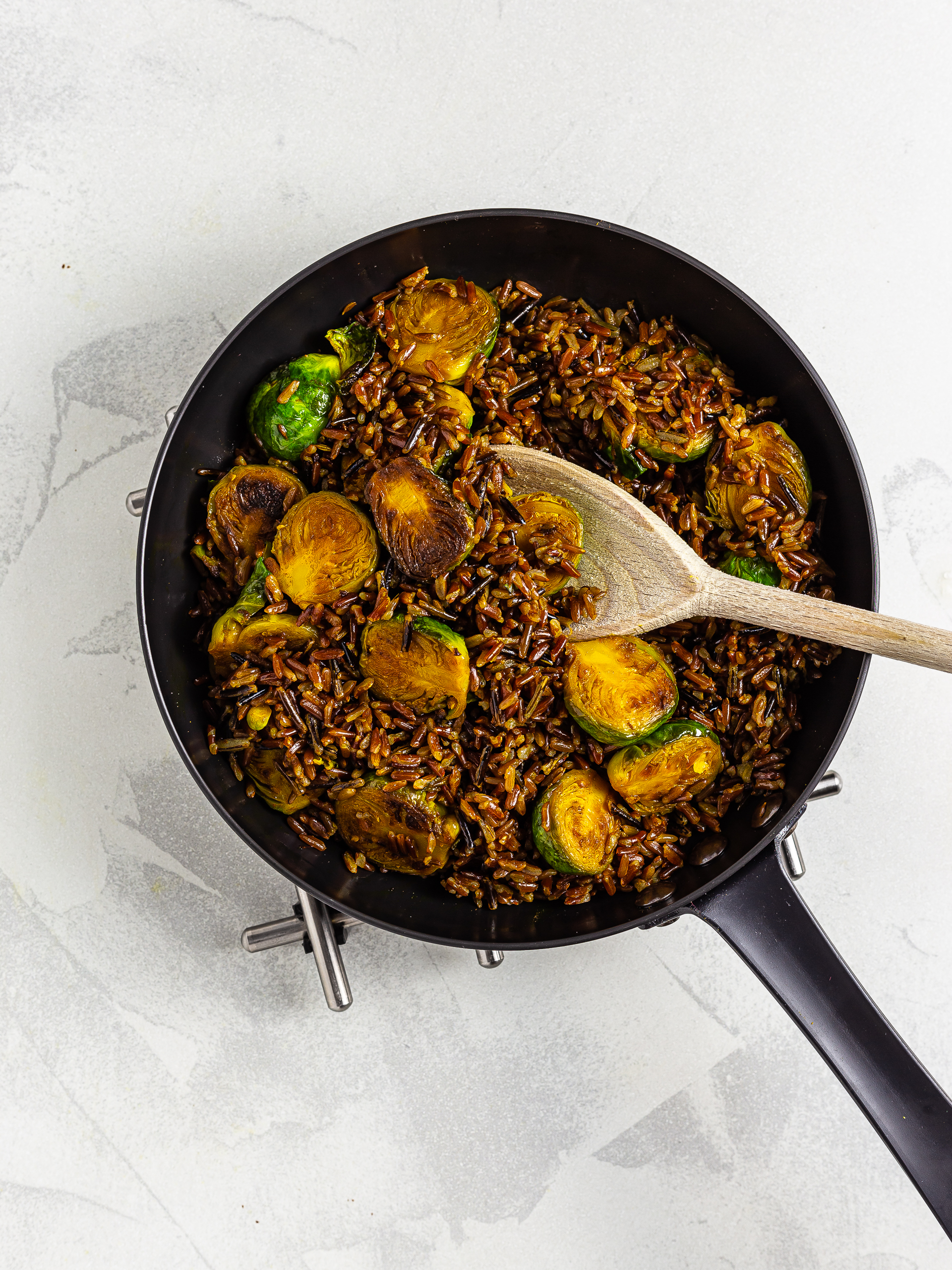 Step 4
Drizzle the salmon fillets with lemon juice and place them on a roasting tray lined with parchment paper.
You can bake the salmon in grill mode at 220°C (425°F) for 10 minutes or in static mode at 190°C (375°F) for 20 minutes.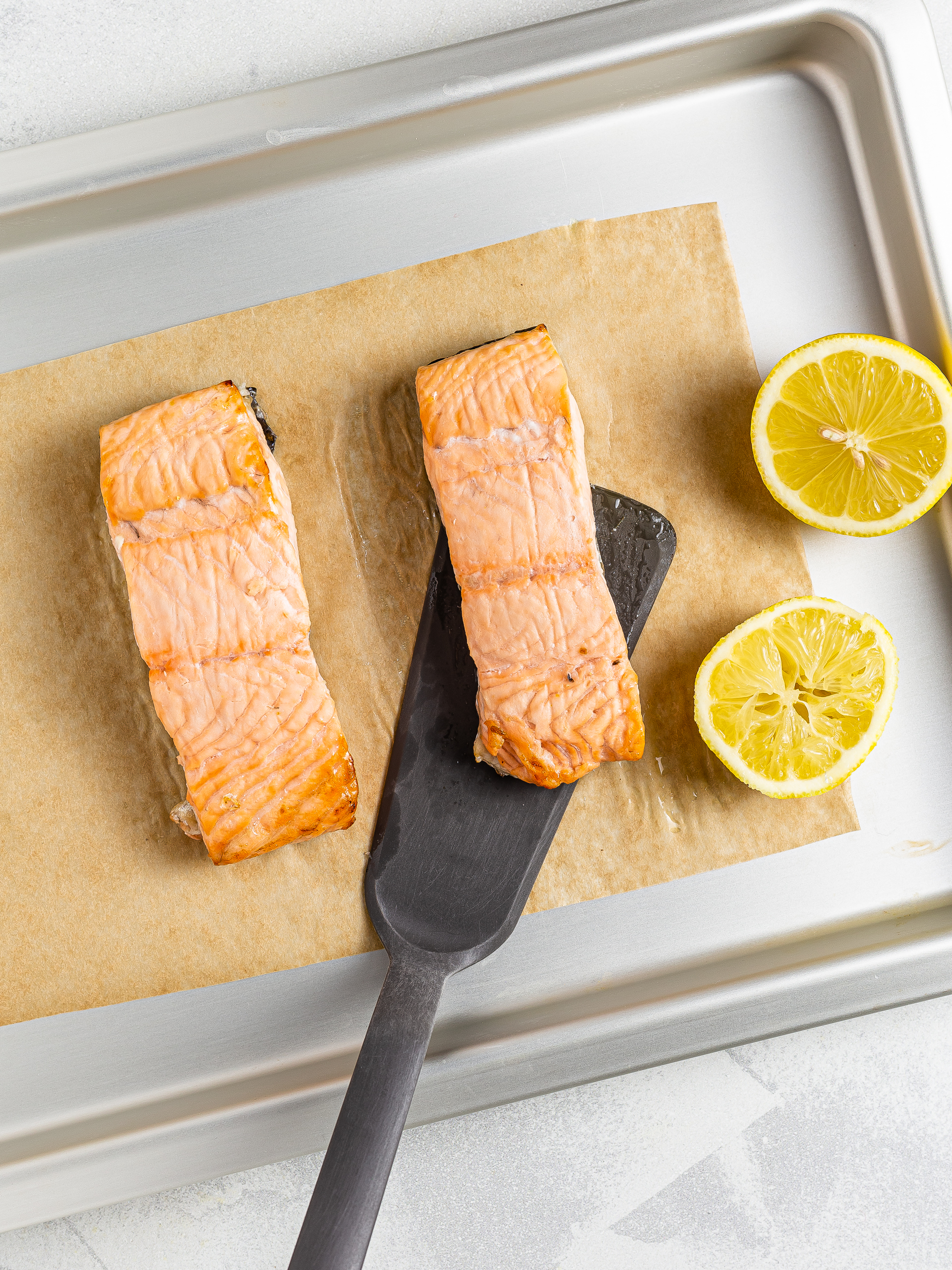 Step 5
Finally, divide the red rice and Brussel sprout salad among plates and top it with baked salmon and halved grapes.
Season with salt and cracked black pepper to taste and serve.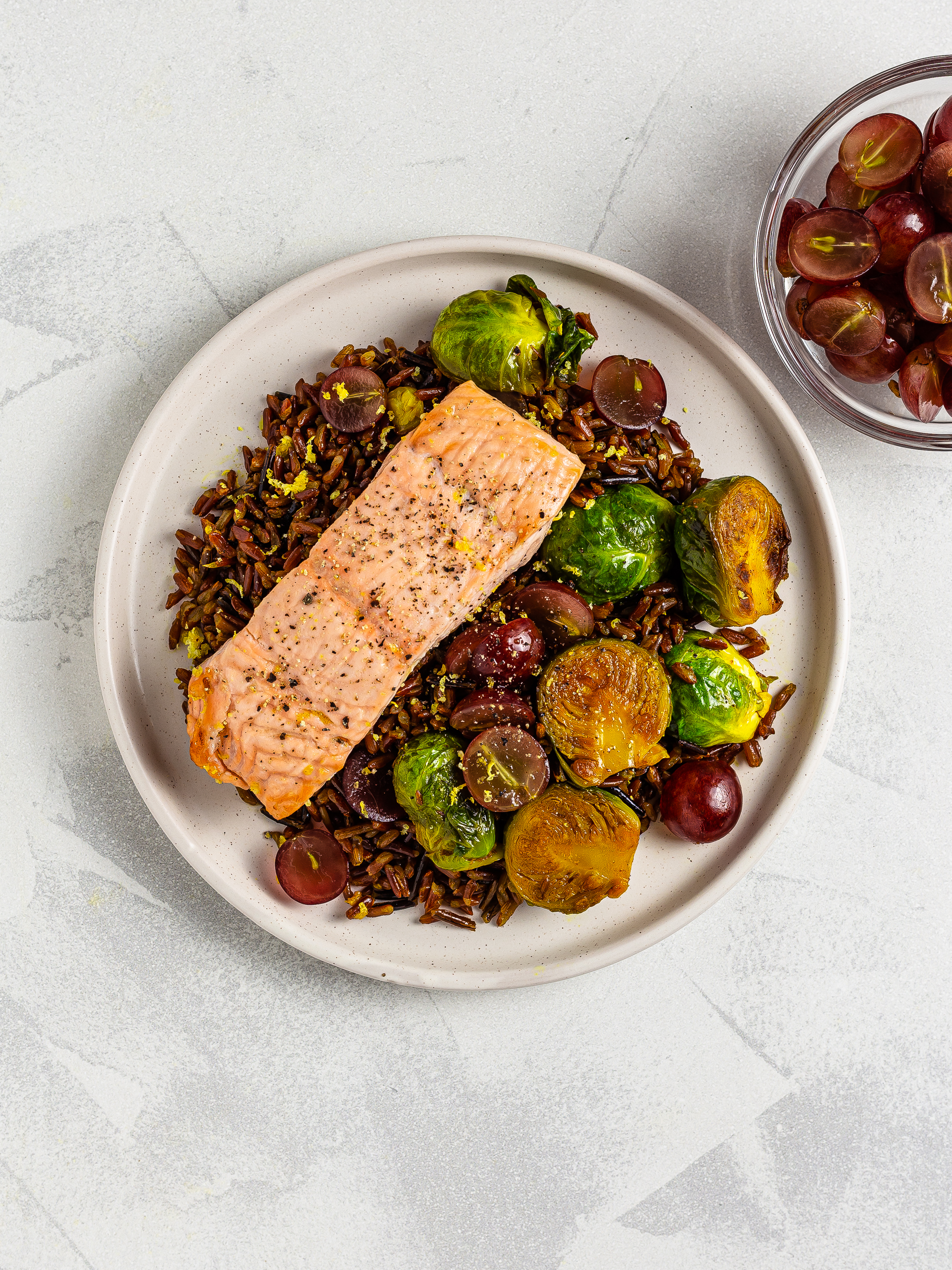 Tips
You can swap red rice with wild rice, black rice, or brown rice.

Instead of Brussel sprouts, you can use kale, spring greens, or spinach.