Banish those boring salads, and give your lunch box a tasty and colourful makeover. This peach and blueberry green salad pairs sweet and savoury ingredients that celebrate the bounty of the summer harvest. Plus, it's loaded with plant-based goodness to nourish you from the inside out. Sounds exciting? Let's do it!
If you thought peaches are just for fruit salads, smoothies, and bakes, you haven't tried grilled peaches! Charred nectarines are tender and slightly sweet, pairing wonderfully with green salads. At first bite, they even taste a bit like cheese because the grilling caramelises the sugars and, at the same time, brings out a smoky flavour.
In the summer season, peaches are easy to find, cheap, and taste so much better. You can swap them with nectarines, which are basically the same fruit but without the furry skin. And if you use nectarines, you won't have to peel them, which means less work and more fibres for you!
We coupled peaches with another summer fruit: fresh blueberries. We already used them in another salad recipe to make a blueberry dressing. And we loved the combo so much that we decided to add blueberries to this recipe too. Being very low in sugars and thus not too sweet, blueberries go well in savoury recipes like green salads. Plus, they're incredibly high in free radicals-fighting antioxidants — one more reason to eat more of them!
For the base, we mixed fresh baby spinach with thinly sliced red onions, chopped walnuts, and cooked broad beans. These ingredients boost the recipe with precious plant-based nutrients: proteins from the beans, omega-3 from walnuts, and iron, calcium, vitamin A, C, and K from spinach.
We love this recipe because of its unique combination of flavours and textures: sweet and savoury, fresh and warm, soft and crunchy. And the good news is that it's also low in calories, with less than 280 kcal per bowl. Yet, each serving packs a whopping 50% of your daily fibres, 25% of proteins, and 20% of healthy unsaturated fats. So pair it with a slice of sourdough bread, a few seeded crackers, or gluten-free quinoa flatbread for a lunch box you will be looking forward to!
Ingredients
| | |
| --- | --- |
| Broad Beans (or Edamame Beans) | 300 g |
| Large Nectarines (or Peaches) | 1 |
| Fresh Baby Spinach | 160 g |
| Red Onions | 1/2 |
| Walnuts | 20 g |
| Extra Virgin Olive Oil | 1 tbsp |
| Lemon Juice | 1 tbsp |
| Dried Parsley | 2 tsp |
| Fresh Blueberries | 100 g |
Step 1
Add the broad beans to a pot of boiling water and cook them for 5-8 minutes.
Then, drain them and set them aside.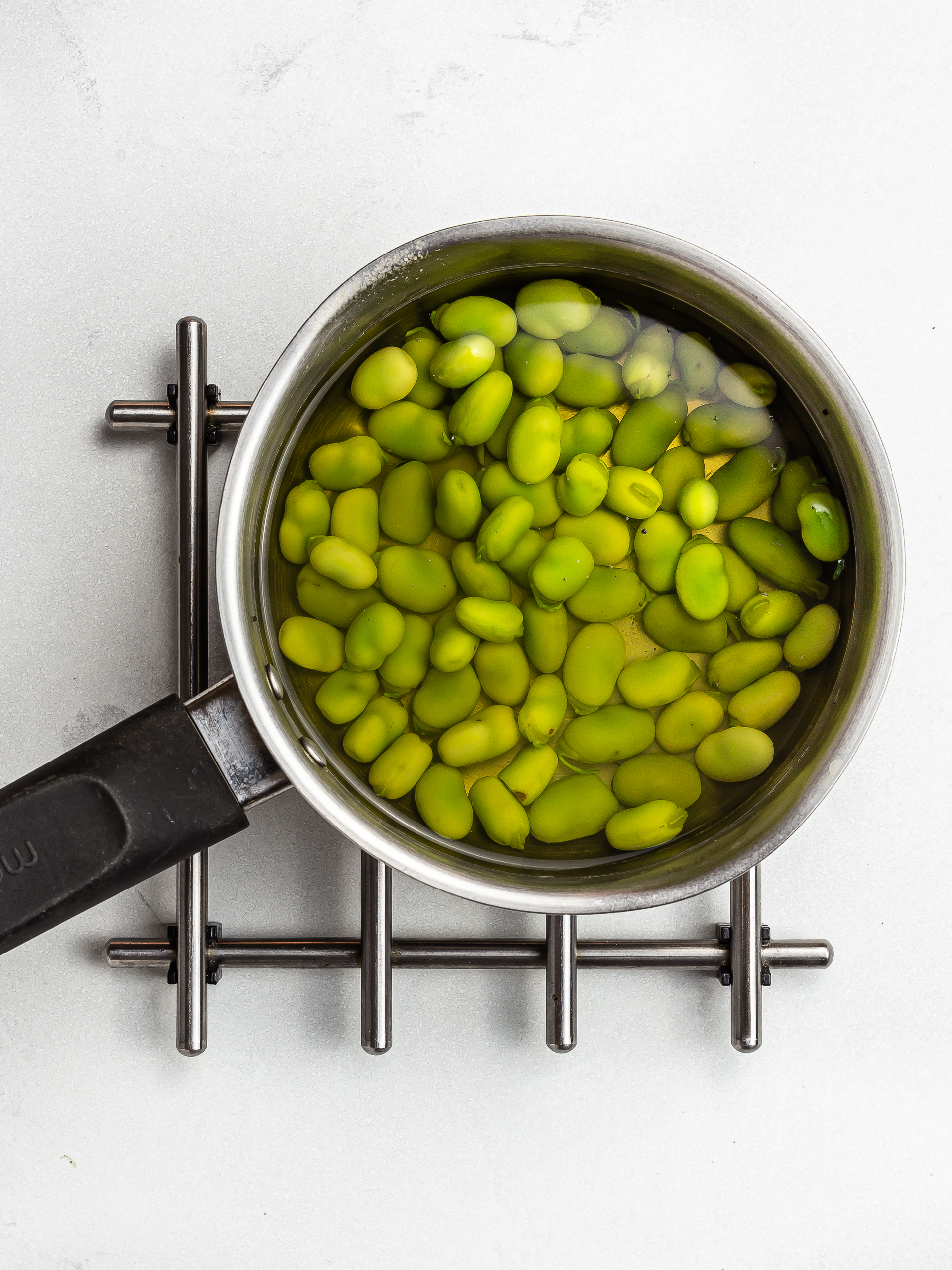 Step 2
Meanwhile, heat a griddle pan and then add the nectarines sliced into thick wedges.
If you're using peaches, peel the skin first and then cut them into wedges.
Cook them on both sides for 2 minutes until tender and charred.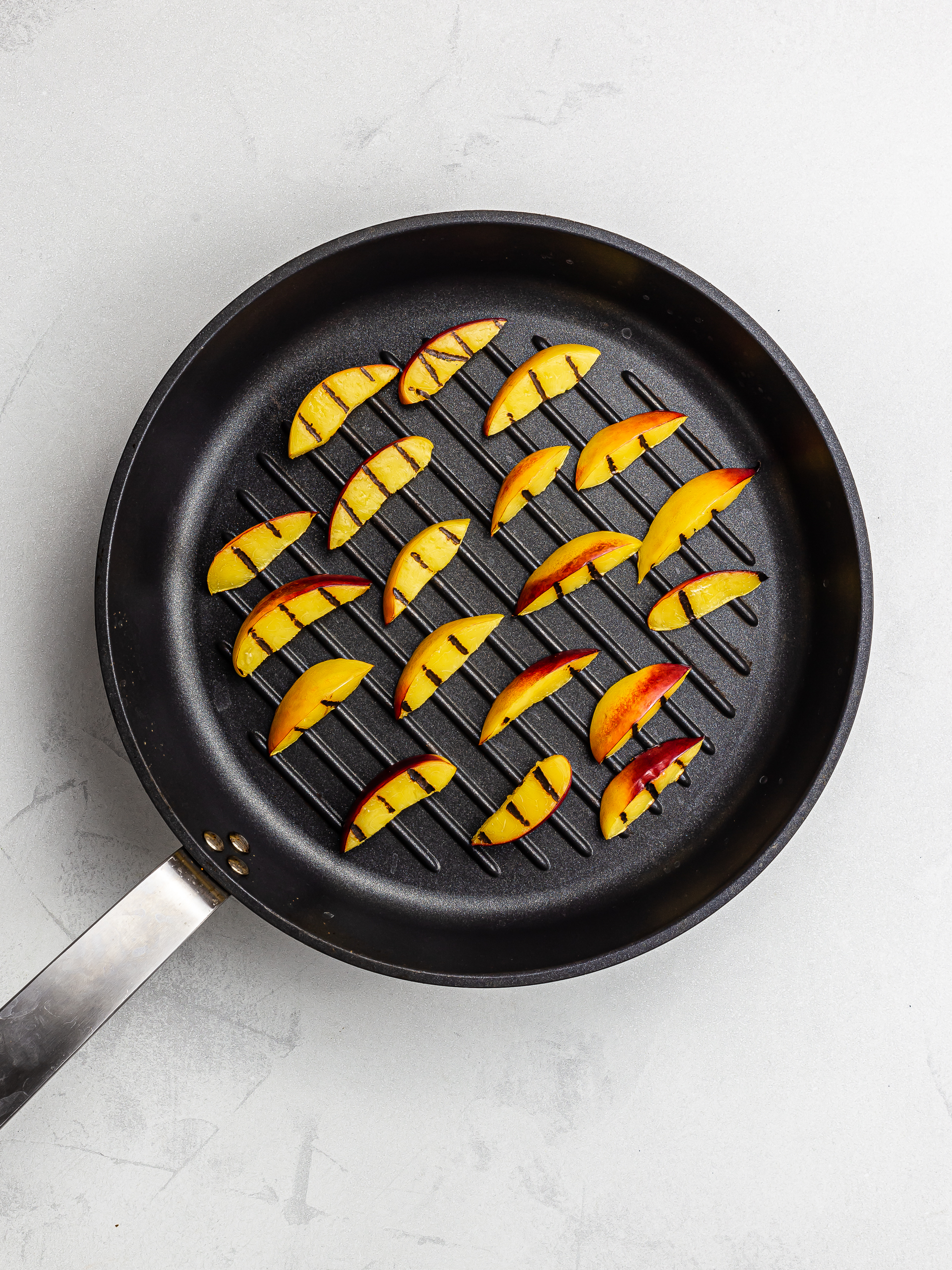 Step 3
Next, shred the spinach, thinly slice the onions, and chop the walnuts.
If you have time, we recommend toasting the nuts at 180°C (355°F) for 5 minutes; they'll get crunchier and tastier.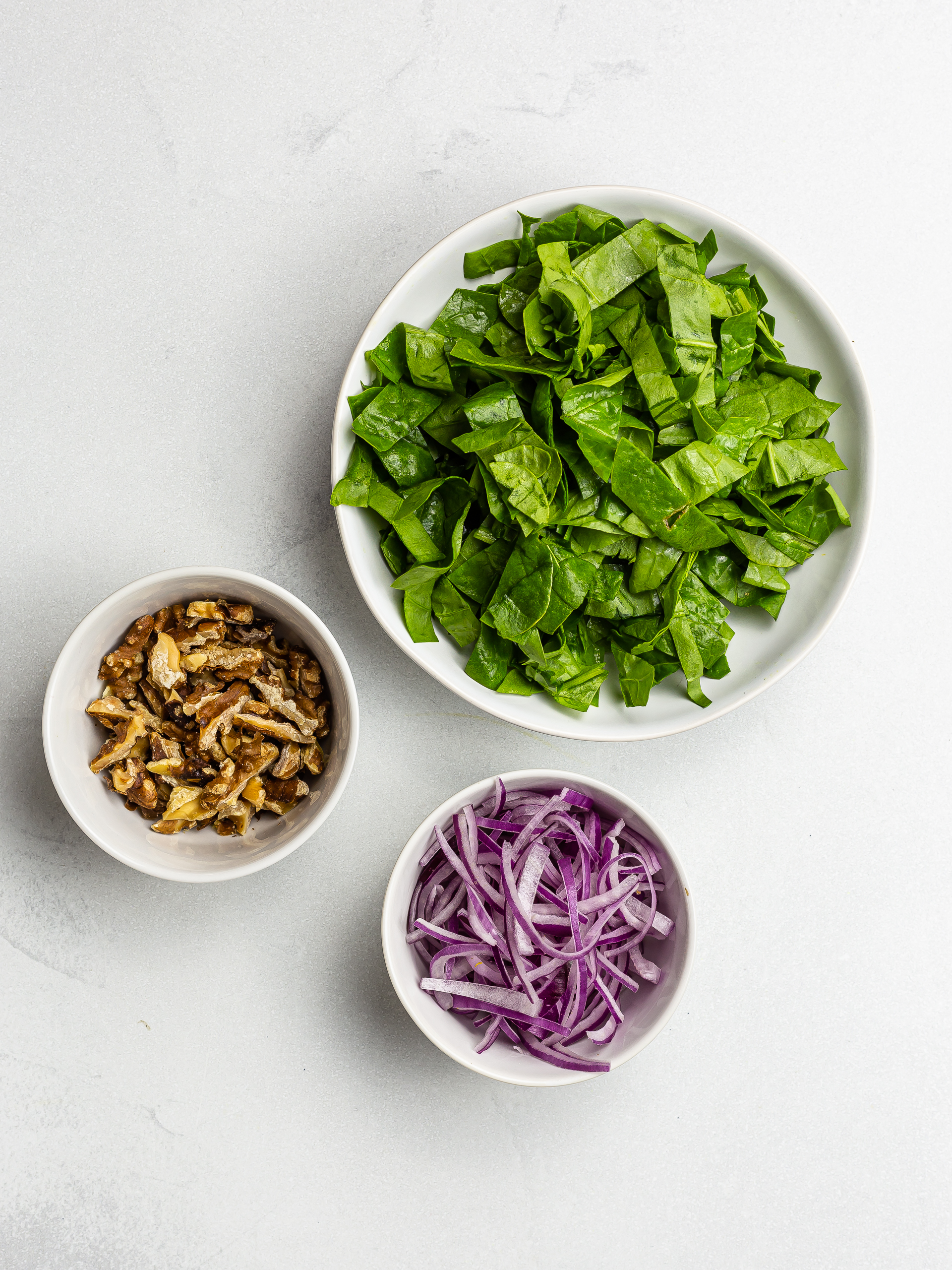 Step 4
For the vinaigrette, mix extra virgin olive oil, lemon juice, parsley, salt, and pepper in a cup.
Step 5
To serve, combine the spinach, red onion, walnuts, and broad beans in a bowl.
Then, top with fresh blueberries and grilled peaches, pour in the dressing and toss well.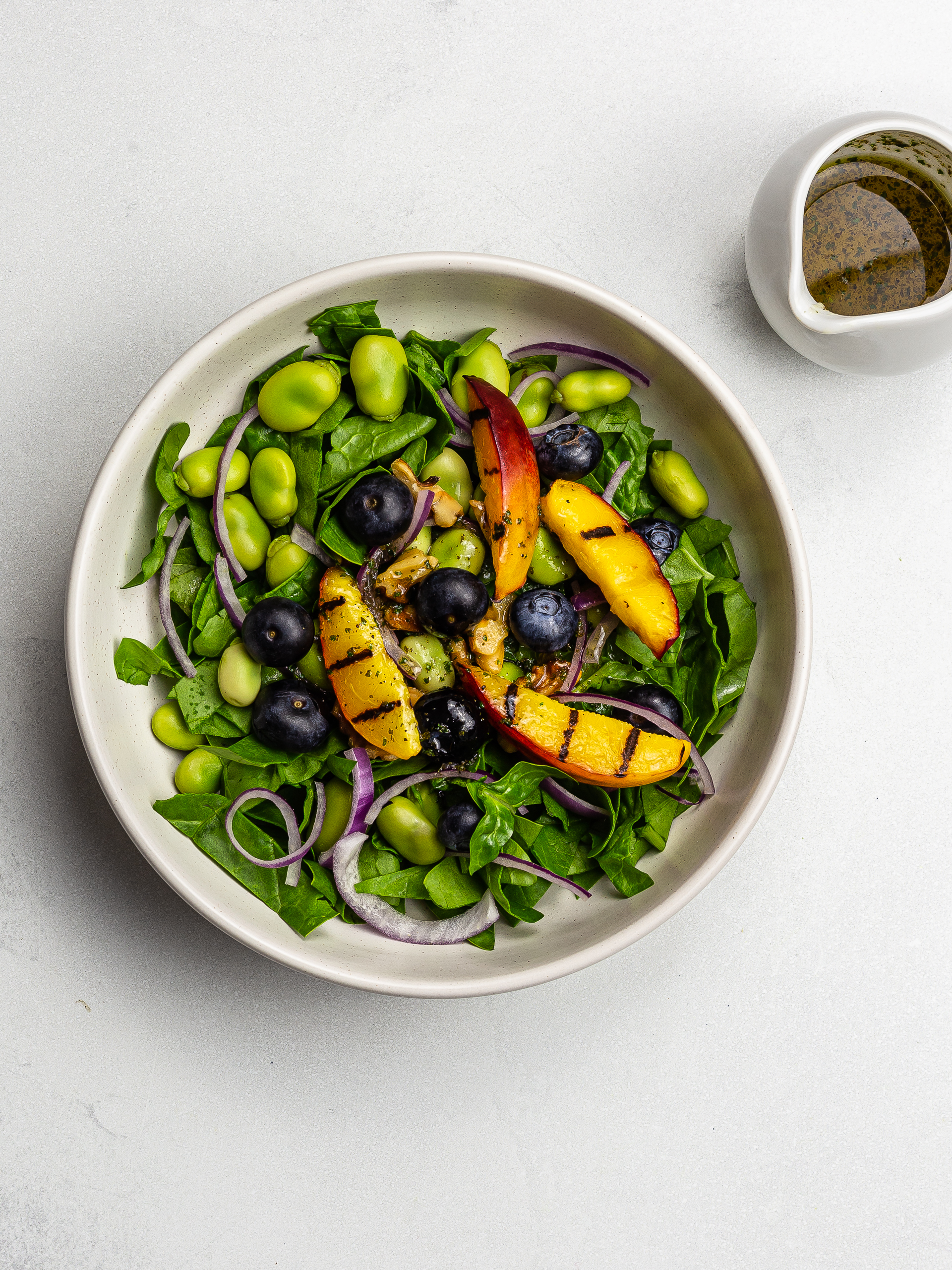 Tips
You can use fresh or frozen beans.

You can swap spinach with cabbage (white or red), pak choi, or arugula.