It is not common to find something that is both incredibly healthy and tasty. Our roasted cajun cauliflower salad is the happy exception! It is prepared with crunchy cauliflower florets roasted in a spicy homemade cajun seasoning and served with shredded cabbage, wild rocket, and almond flakes.
It provides three servings of vegetables per portion, helping you to reach your 5-a-day, and it's loaded with nutrients:
Antioxidants

Tons of fibres: 30% of your recommended daily dose (RDA).

Lots of proteins: 16% of your RDA.

Low carbs but high healthy fats!
If you are on a diet, chances are you and this cauliflower salad are meant for one another. Our recipe is vegetarian, vegan and suitable for keto and paleo diets. If you are new to this website, then just a word: It is our mission to make healthy recipes like this one. We built a discovery tool that makes it super easy to find more. Don't worry, it's free to use and always will be. Check it out!
To the salad now! Just follow our quick step-by-step recipe, and in no time you'll make this your new favourite.
Ingredients
| | |
| --- | --- |
| Cauliflower | 300 g |
| Extra Virgin Olive Oil | 1 tbsp |
| Onion | 1 |
| Garlic Clove | 1 |
| Black Pepper | 1/2 tsp |
| Paprika | 1 tbsp |
| Cayenne Pepper | 1/2 tsp |
| Salt | to taste |
| Oregano | 1 tsp |
| Thyme | 1 tsp |
| Wild Rocket | 40 g |
| Red Cabbage | 200 g |
| Toasted Almond Flakes | 15 g |
Step 1
Rinse the cauliflowers and cut them into small florets.
Then, transfer them to a baking tray lined with parchment paper, drizzle with extra virgin olive oil and toss until well coated.
Roast in the oven for 15 minutes at 180°C (356°F) for static ovens or at 160°C (320°F) for fan ovens.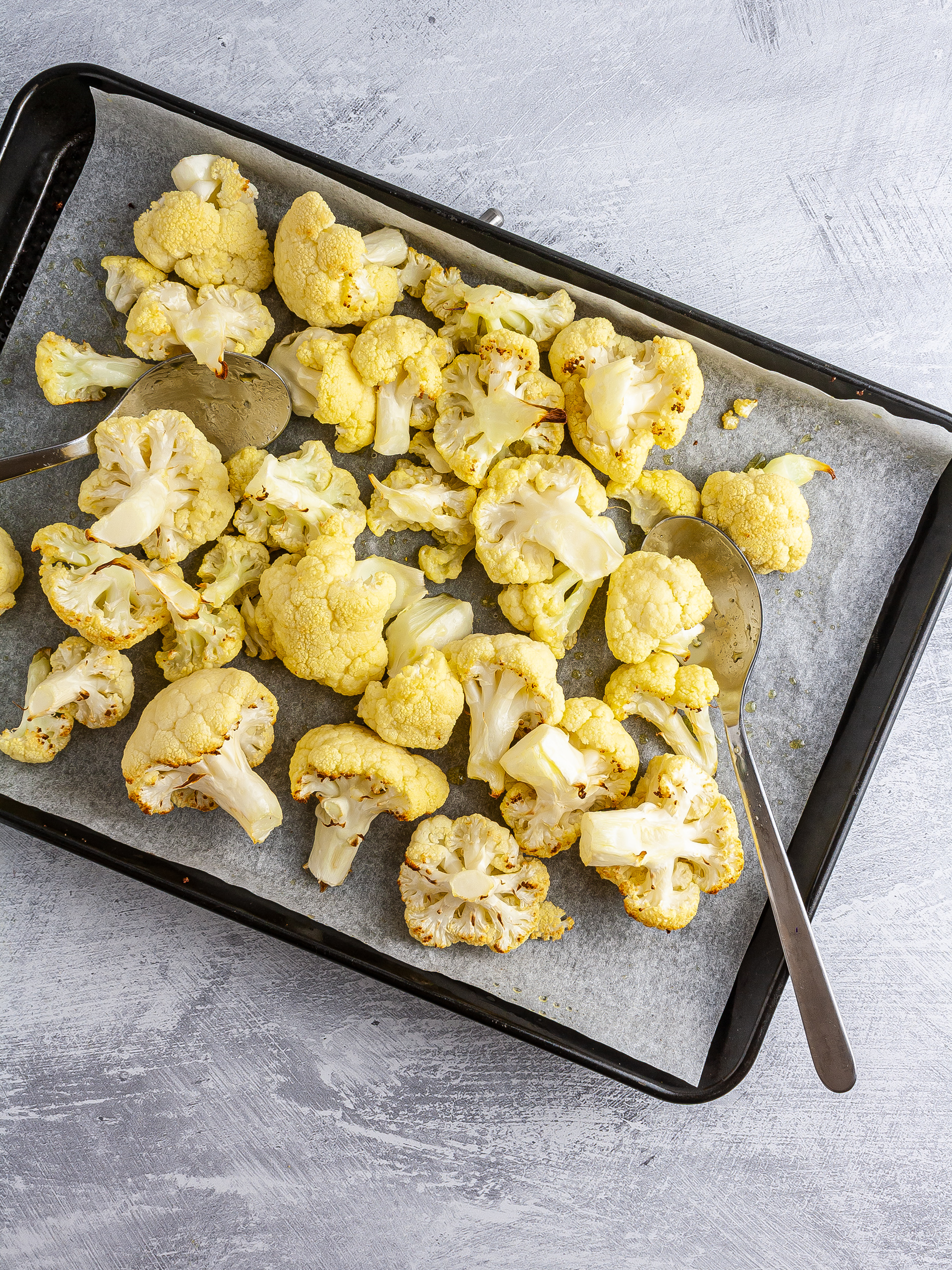 Step 2
In the meantime, peel and finely chop the onion.
Remove the tray from the oven, add the chopped onions and crushed garlic.
Season the vegetables with black pepper, paprika, cayenne pepper, salt, oregano, and thyme.
Mix well until the florets are coated with the cajun seasoning.
Roast for additional 10 minutes or until the cauliflowers are cooked through.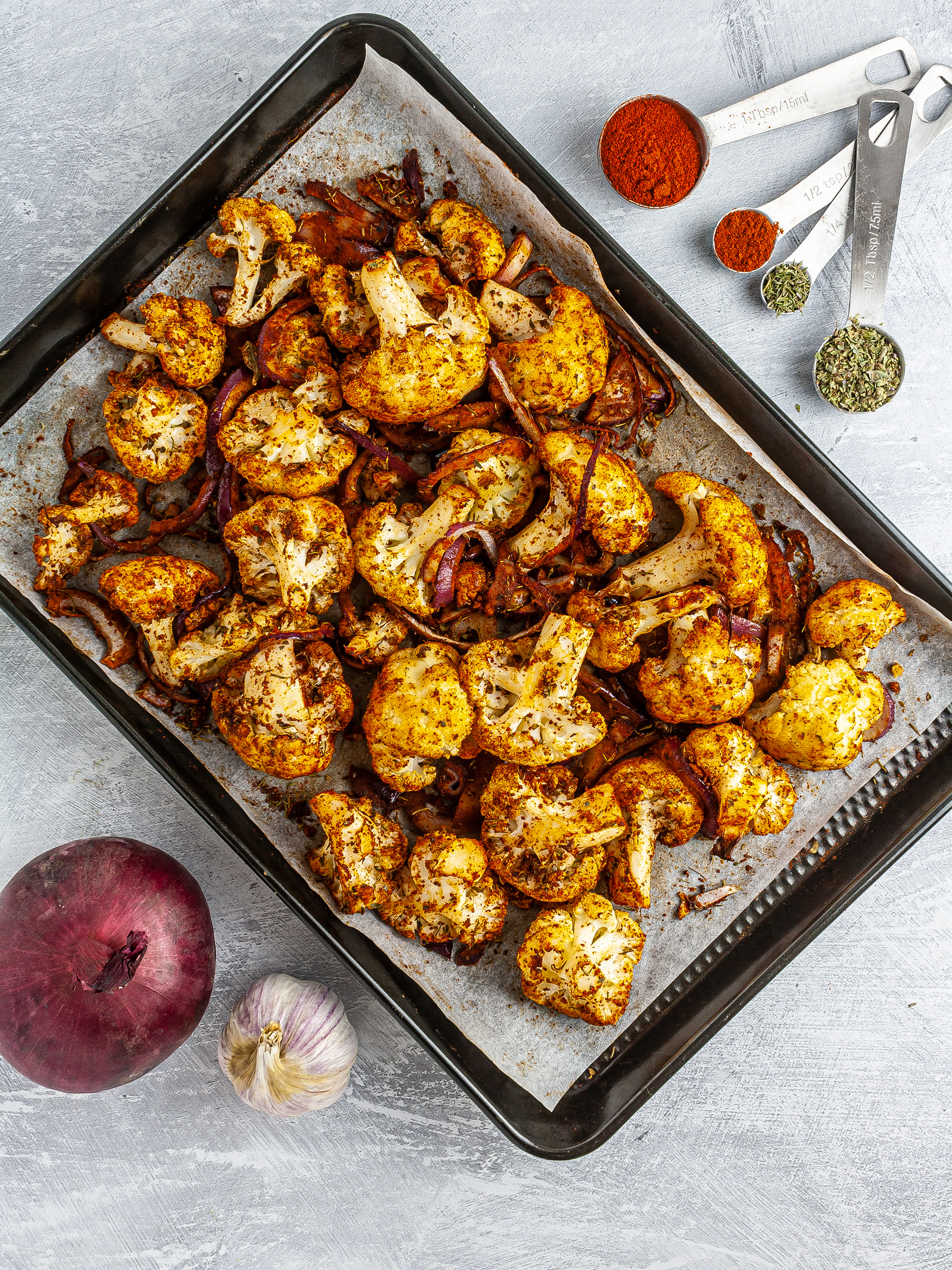 Step 3
While the florets cook, shred the red cabbage into strips and set aside.
In a salad bowl, lay washed and drained wild rocket and then the prepared red cabbage (1).
Top the vegetables with the roasted cauliflowers and sprinkle with toasted almonds (2).
Before serving, drizzle with oil, lemon juice, or vinegar according to taste.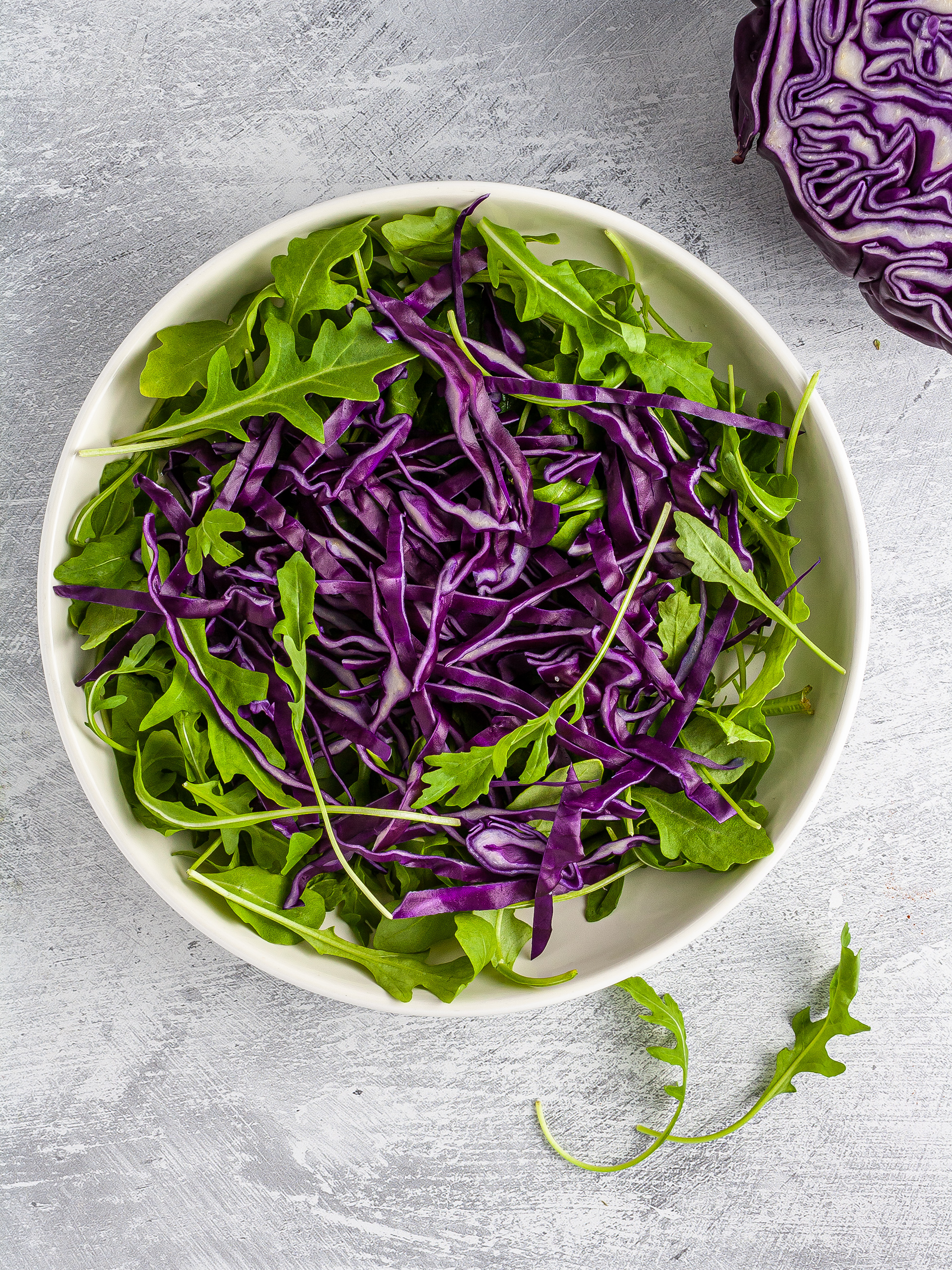 1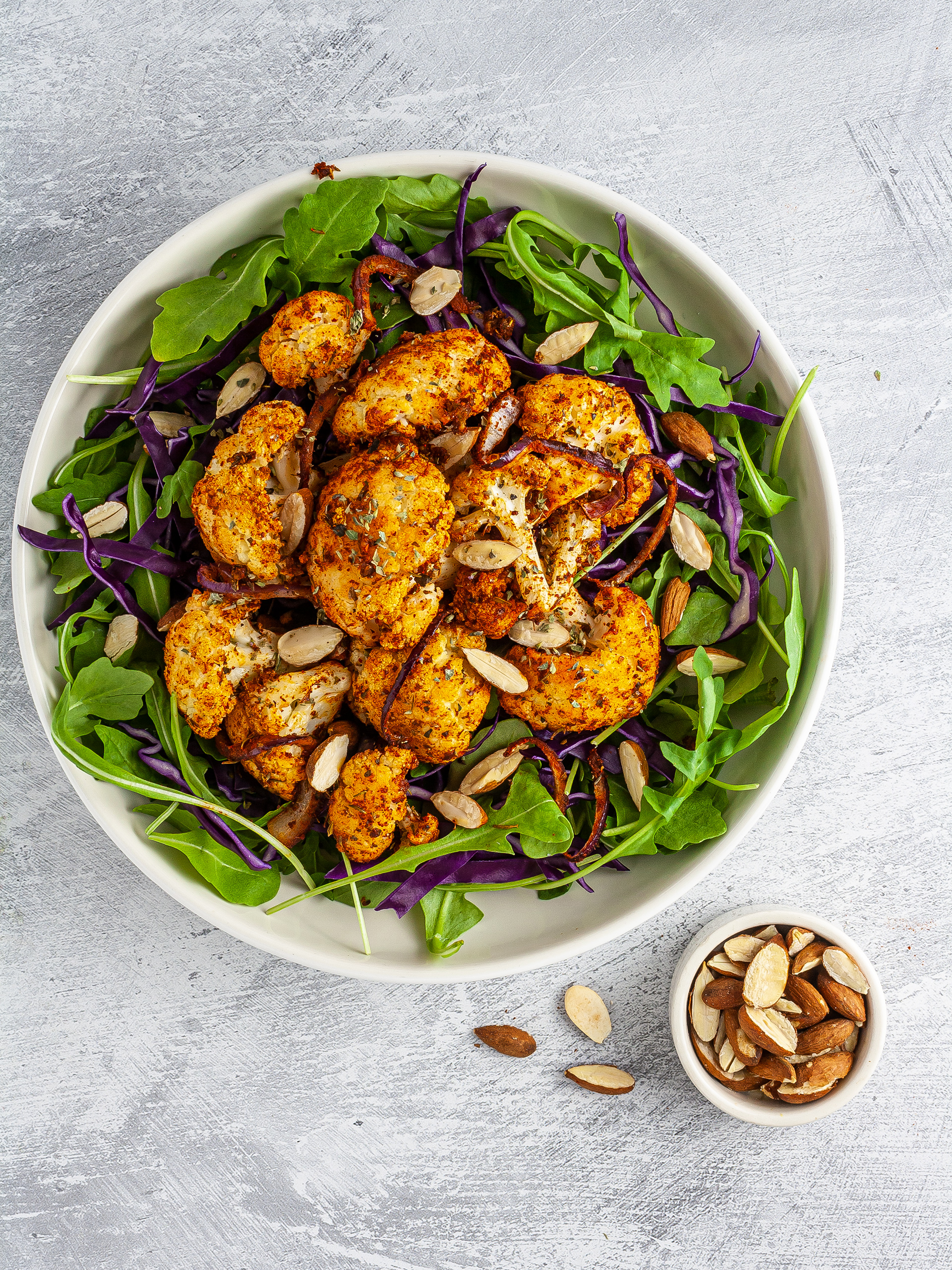 2
Tips
If you are using frozen cauliflower florets, increase the roasting time or allow to defrost thoroughly before cooking them.

Spinach or kale are great alternatives to wild rocket. They can also be used in combination for a more flavourful salad.

If you can't find roasted almond flakes, just chop regular almonds and roast in the oven at 180°C (356°F) for 5 minutes.

If you want to make a meal out of it, you can add tofu or shredded chicken as a source of protein.