How would you like to make a homemade sundried tomato pâté? It's super easy and quick to prepare, and it bursts with hearty Mediterranean flavours. Let us show you how!
To make this paste, we'll combine elements of the ancient Roman tapenade recipe with a generous handful of sundried tomatoes and a flavourful blend of Mediterranean spices.
Our tapenade base consists of olives, capers, and sundried tomatoes. Tapenade derives from the word tapenas in the ancient Occitan language, which means "capers"[1]. So capers are the most fundamental ingredient you need to make tapenade. Olives are important too, and we suggest you use the flavourful Kalamata black olives for maximum taste.
These three ingredients alone would be enough to make a flavourful spread. But we took the recipe a few steps forward with this colourful and synergetic mix of spices and herbs: garlic, cayenne pepper, paprika, parsley, oregano and basil. Beautiful.
To make the pâté easier to spread and give it a longer shelf-life, we finished it off with a drizzle of extra virgin olive oil.
This sundried tomato paste is perfect on crunchy rusks or used as a base for a more flavourful pesto. We'll give you all the help you need to get this on your table in the recipe below. Just follow along and have fun!
NOTE: The default ingredients yield about 220g (7.70z) of tapenade and one serving consists of one tablespoon (16g or 0.5 oz).
Ingredients
| | |
| --- | --- |
| Sun-dried Tomatoes, dry-packed | 100 g |
| Pitted Kalamata Olives | 30 g |
| Capers | 5 g |
| Extra Virgin Olive Oil | 2 tbsp |
| Garlic Powder | 1/2 tsp |
| Cayenne Pepper | 1/2 tsp |
| Paprika | 1 tsp |
| Dried Parsley | 1 tsp |
| Oregano | 1 tsp |
| Dried Basil | 1 tsp |
Step 1
Add the dried tomatoes to a bowl of warm water and leave them to soak for 10 minutes.
You can opt for sun-dried tomatoes in oil instead of dehydrated ones. In that case, there's no need to soak them in water. Just increase the quantity from 100g to 150g (3.5 to 5 oz) and make sure to drain excess oil.
Meanwhile, remove the pit from the olives if they aren't already pitted.
If you're using pickled or unsalted capers, rinse them well and then season them with one pinch of salt.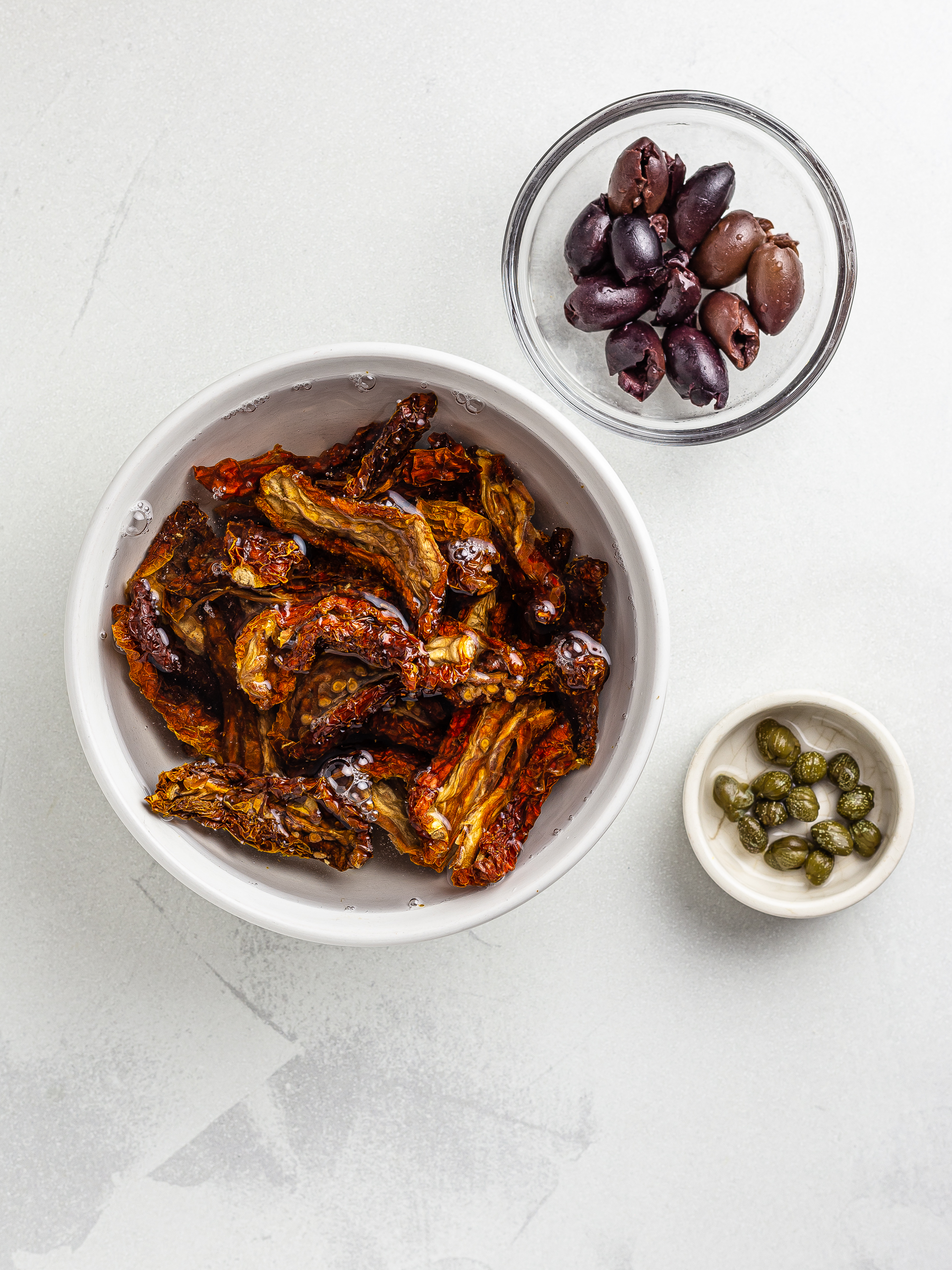 Step 2
Next, drain the tomatoes and, if you can, remove that white strip inside that connects the seeds to the core. This way, the tomatoes will blend into a smoother paste.
Then, add them to a food processor followed by olives, capers, olive oil, and all the spices.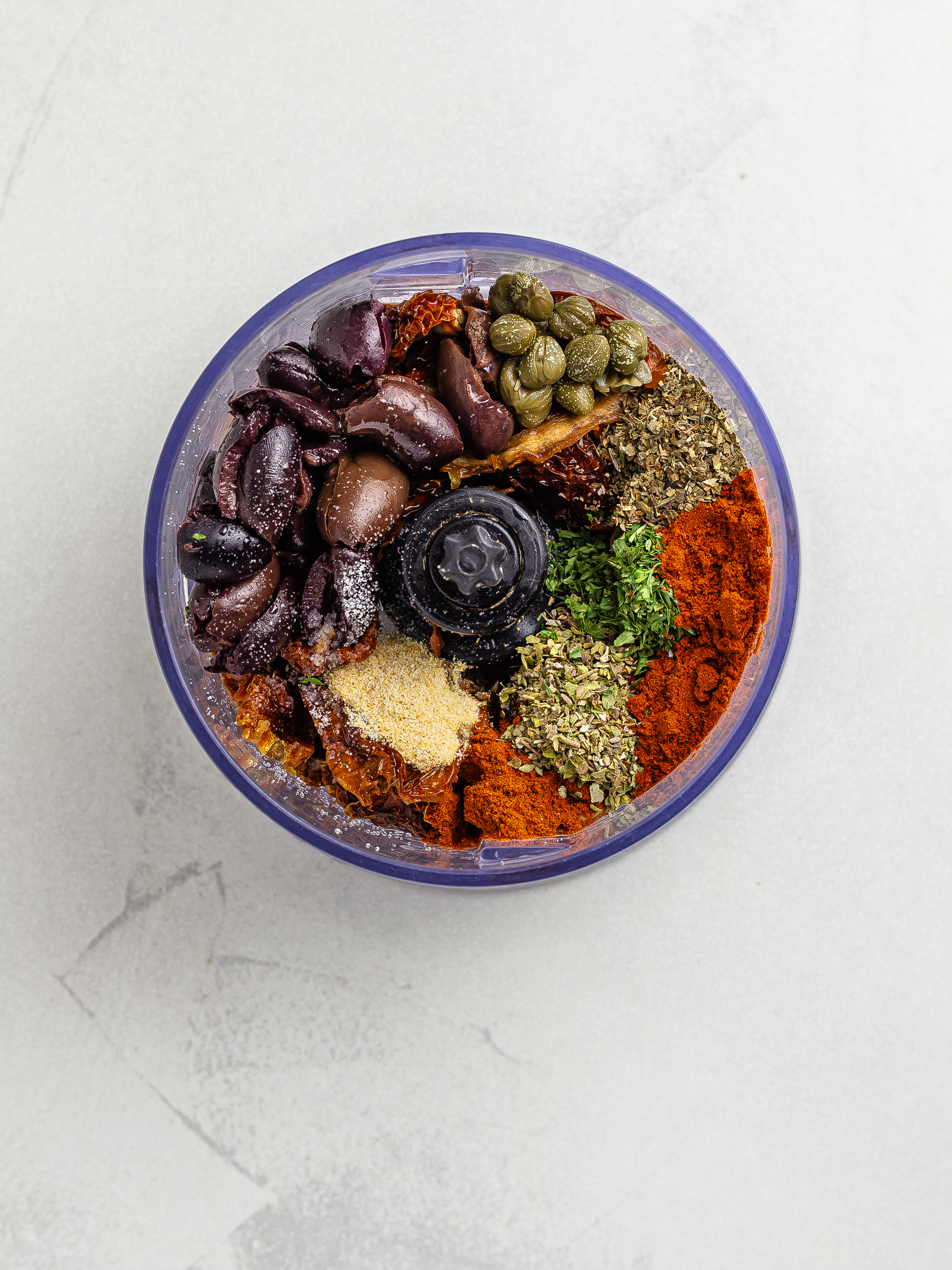 Step 3
Blitz the ingredients into a paste scraping the edges with a spatula a few times in between pulses.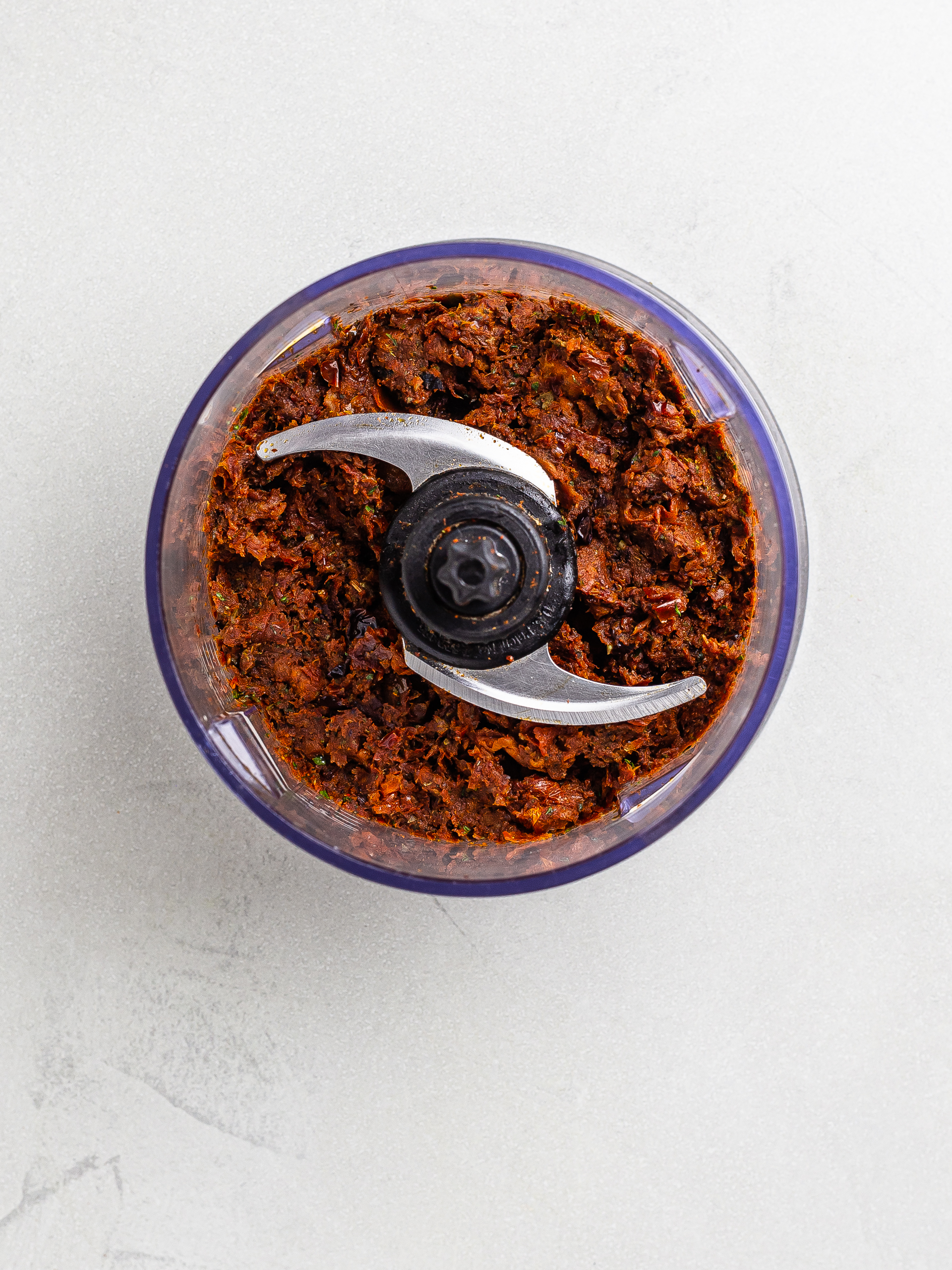 Step 4
Finally, transfer the sundried tomato tapenade into a clean glass jar, keep it in the fridge, and enjoy within a week.
If you want to store this pate for longer, compact the tapenade to remove any air pockets and level the surface with the back of a spoon.
Then, completely cover with extra virgin olive oil, making sure there's no tapenade protruding above it. Finally, seal with a tight-fitting lid and store it in the fridge for up to two months.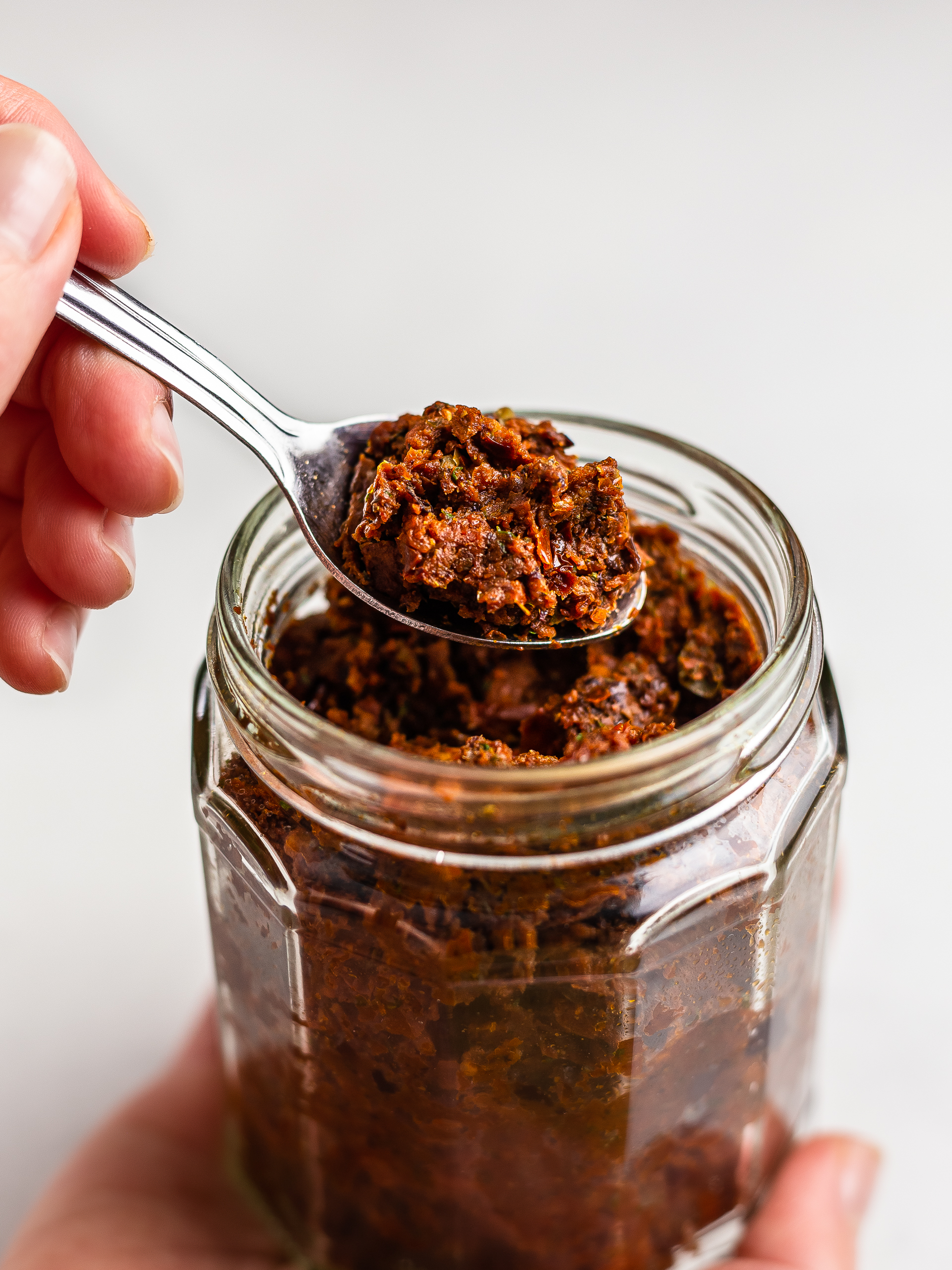 Tips
You can make this pate with fresh garlic, parsley, and basil instead of the dry, powdered ones. To do so, use two garlic cloves for every half a teaspoon of garlic powder and one tablespoon of fresh herbs for every teaspoon of dry ones.