You may love turmeric in your coffee or latte. But do you know it's great with hot chocolate too? In this recipe, we'll show you how to make vegan and refined sugar-free turmeric hot chocolate — a comforting anti-inflammatory drink.
Turmeric is such a beautiful spice. Apart from giving your dishes a gorgeous golden colour, it's also a powerful anti-inflammatory agent.
Turmeric contains the compound curcumin, which has anti-inflammatory properties.
But did you know that your body cannot fully absorb curcumin by itself? It needs a little help.
Certain compounds boost the absorption of curcumin in your body, making turmeric more effective.
One of these compounds is piperine, found in black pepper. Moreover, curcumin is liposoluble: it needs fats to be digestible.
So unless you pair turmeric with a fatty base and piperine, your body won't get any noticeable anti-inflammatory boost.
Worry not, as we used all the right ingredients to make this turmeric chocolate a success.
The two magic ingredients (apart from cocoa powder) are coconut milk and a tiny pinch of pepper.
Coconut drink is among the "fattiest" of the vegan milk substitutes, which helps the curcumin dissolve.
Pepper goes well with chocolate, just like chillies, and it adds an interesting tingle to this classic comfort drink.
Ready to slurp on this? Follow along, and it's in your cup in less than 5 minutes.
And if you like this recipe, try this spiced hot chocolate with masala chai next —just as healthy and delicious!
And if you're looking for more healthy drinks with turmeric, check out this lemon ginger turmeric shot, turmeric carrot juice, and detox turmeric lemonade!
Frequently Asked Questions
How do I make hot chocolate foamy?

Foamy hot chocolate is incredibly delicious and easy to make. We have two options for you, one with a frother and one without.

Once the turmeric chocolate is ready, you can:

By Hand

Fill each mug at two thirds and then pour the remaining chocolate into a jar, filling it halfway through. Then, screw the lid on tightly and shake the jar hard for a minute. Finally, pour the foamed chocolate into your mugs and serve.

With a frother

Manual frother: pour the hot chocolate into the frother pitcher, filling it at no more than two-thirds. Then, pump the plunger for 30 seconds to a minute and serve.

Handheld frother: keep the turmeric drink into the pot and dip the tip of the frother just below the surface. Now, keep the pot tilted and froth the chocolate until foamy.

If you have frother built-in your espresso machine, then follow the manufacturer instructions.
Ingredients
| | |
| --- | --- |
| Unsweetened Coconut Drink | 500 mL |
| Cocoa | 2 tbsp |
| Turmeric | 1 tsp |
| Ground Cinnamon | 1/2 tsp |
| Ground Ginger | 1/2 tsp |
| Black Pepper | to taste |
| Maple Syrup (optional) | 2 tsp |
Step 1
For this hot chocolate recipe, make sure to use coconut drink, not coconut milk. You can find coconut drink among other plant-based milk alternatives in the chilled section of the supermarket. Coconut milk, instead, is usually canned and sold in tins.
Add the coconut drink to a pot and tip the cocoa powder, ground turmeric, cinnamon and ginger. Crack in some black pepper and whisk the ingredients until the cocoa has dissolved.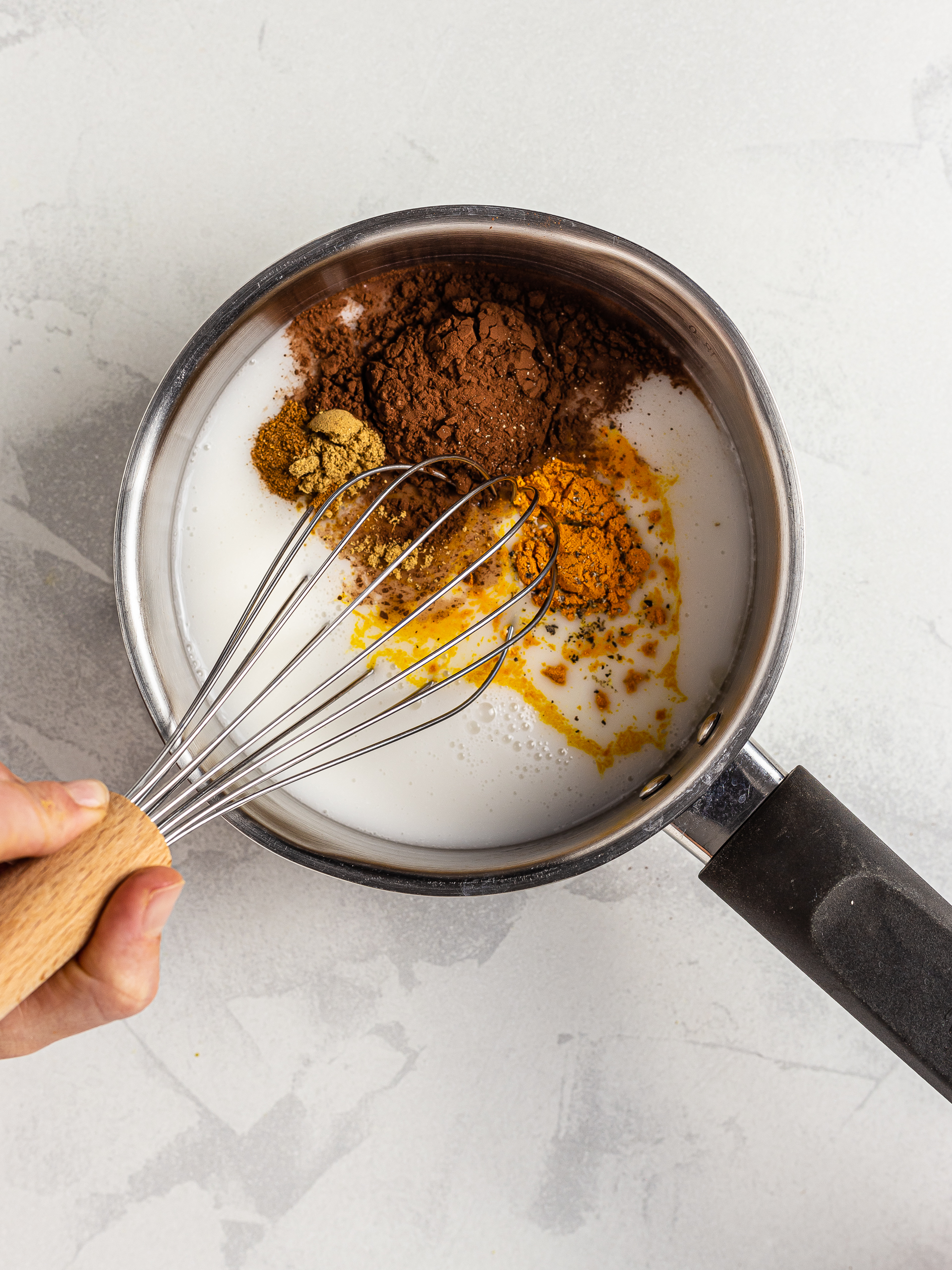 Step 2
Next, heat the chocolate over medium heat while whisking and then pour in the maple syrup, if using it.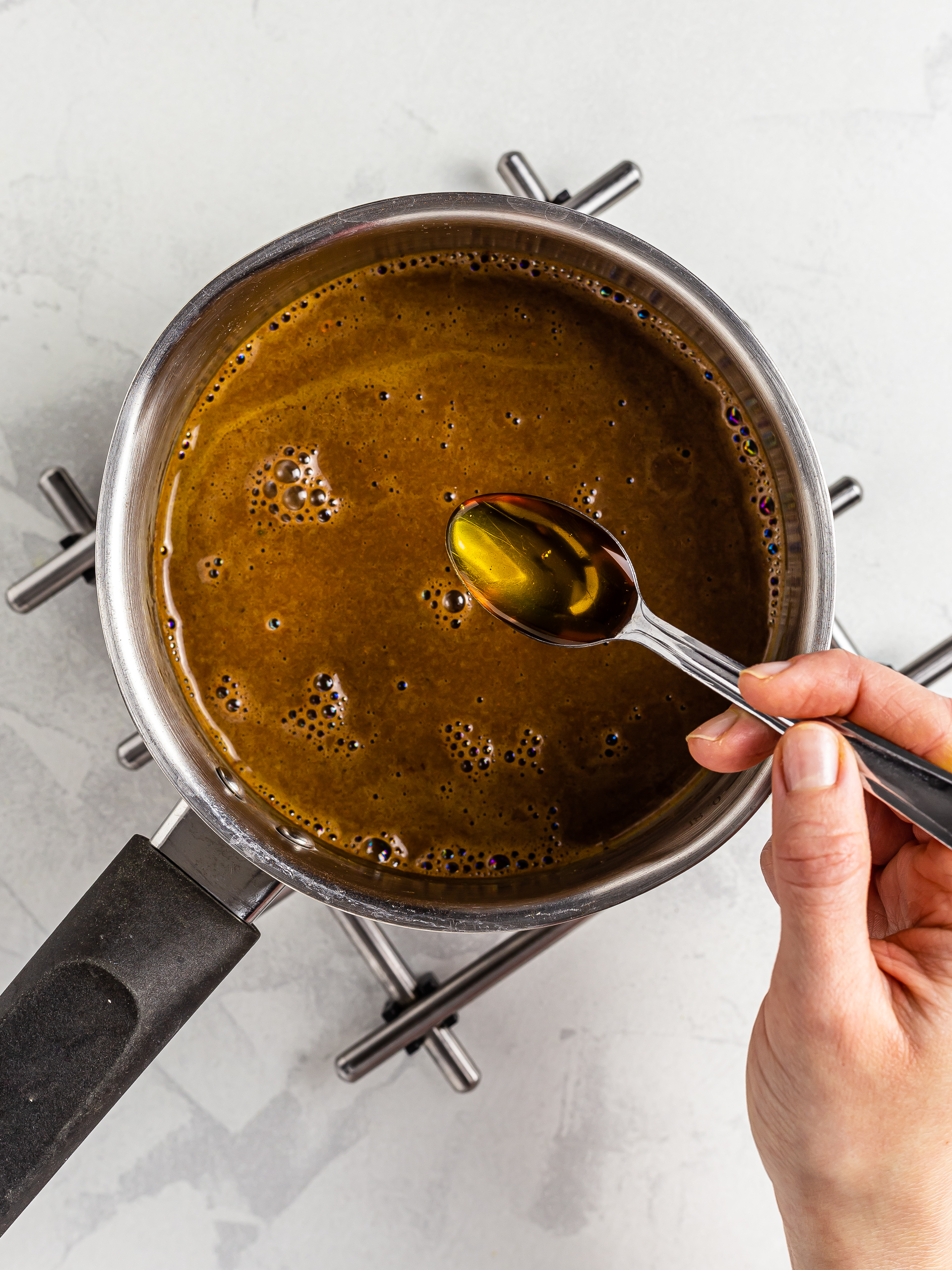 Step 3
Without letting it boil, keep simmering the hot chocolate for a few minutes or until the mixture takes on a deep yellow tone.
Finally, divide it among mugs and enjoy it piping hot.
For tips on how to make your hot chocolate foamy, check out our FAQ section.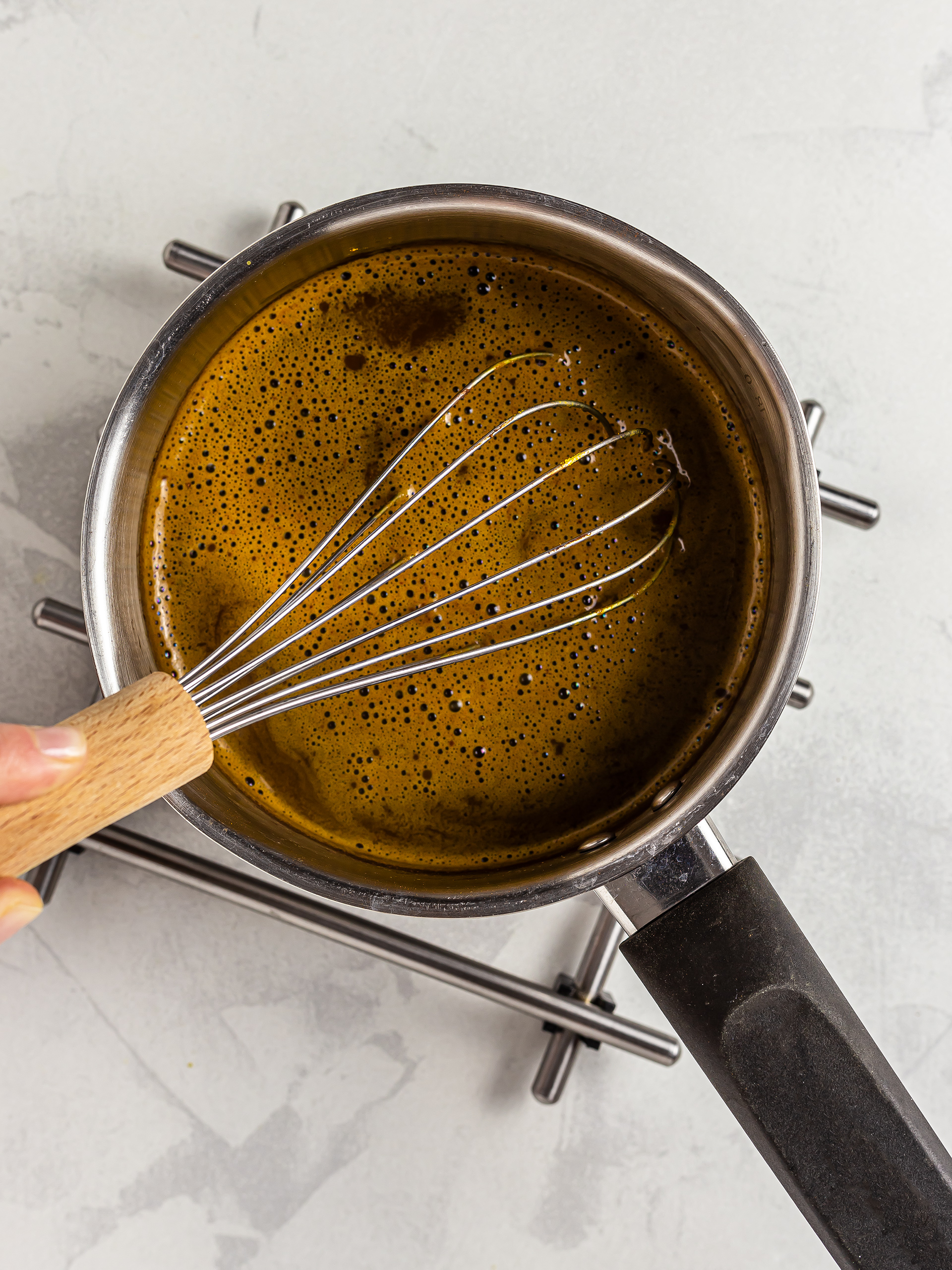 Tips
You can prepare this hot chocolate with raw turmeric and ginger roots or even use golden turmeric paste.
To do so:
Allow 1 tablespoon of grated roots or 1 teaspoon of paste for one serving.

Stir it into the hot chocolate and simmer for 2 minutes over low heat.

Finally, pass the hot chocolate through a sieve before serving it.