There is one pie that reigns supreme over all others. A pie with such pie-ness that makes the neighbour tarts and tartlets bow in awe and respect. The Apple Pie.
But despite all its glory, this beautiful dessert is not for everyone, sadly. Vegans can't have it, people with dairy intolerance can't even get close to it, and neither can folks on a diet. Let's change that! Let's make a delicious apple pie that is dairy-free, egg-free, sugar-free, and wholesomely vegan.
Are you intolerant to gluten? No worries, we've got you. Check out how to make a gluten-free tart base using nut flours and oats here.
Being able to enjoy apple pie without worrying about health and diet doesn't have to be a day-dream. It's actually very easy to achieve! You can do it by preparing a:
Wholesome plant-based crust. We used wholemeal flour, maple syrup instead of white sugars, and vegetable oil instead of butter.

Sugar-free filling. By replacing white sugars with a homemade date paste, you get a creamier filling that is both tasty and good for your blood sugar levels.
Below, we will show you how to do all these things, in a few simple steps.
Once done, you'll have a fragrant pie with three times fewer fats, and half the sugars than the classic one, but 100% of the crunchy crust and luscious apple filling that you know and love.
Frequently Asked Questions
Which are the best apples for apple pie?

The perfect apple pie calls for Granny Smith apples. Firm and slightly tart, they give structure to the bake and don't make it overly sweet.

We also like mixing a few golden delicious apples (about a third of the weight) to add a hint of natural sweetness to the pie.

Other good options include Braeburn, Honey Crisp, and Gala.
Which are the best spices for apple pie?

Cinnamon is definitely the go-to choice when preparing homemade apple pie.

However, we also love adding a spice mix made with 1 tsp of cinnamon, 1/4 tsp of nutmeg, 1/4 tsp of allspice, 1/4 tsp of ground cardamom seeds, and 1/4 tsp of ginger. It makes the pie so incredibly flavourful!
Do you eat apple pie hot or cold?

Fruit pies, like this apple dessert, taste much better when served warm.

However, if you have any leftover slices, you can enjoy them even cold. They're still delicious.
How long does apple pie keep? And can you freeze it?

You can store the apple pie at room temperature wrapped in foil for up to two days.

To keep it for longer, you can store it in the fridge in an airtight container - ideally glass - for up to four days.

Alternatively, freeze the pie after you have assembled it, and then bake it right when you need it.
Ingredients
Crust
Lemon

1

Wholemeal Flour

475 g

Baking Powder

6 g

Canola Oil

140 g

Maple Syrup

70 g

Cold Water

190 mL

Filling
Apples (Granny Smith)

1 kg

Pitted Dates

80 g

Ground Cinnamon

1 tsp

Potato Starch

2 tbsp
Step 1
Peel, quarter, and core the apples. Then, slice them into thin wedges, about 3mm thick (0.1 inches).
Now, add them to a bowl, cover with boiling water, and leave to soak for 10 minutes (1). By pre-cooking the apples, the filling will be less watery.
Next, drain the apple wedges and lay them flat on a tray lined with kitchen paper. Then, pat them dry with extra paper (2).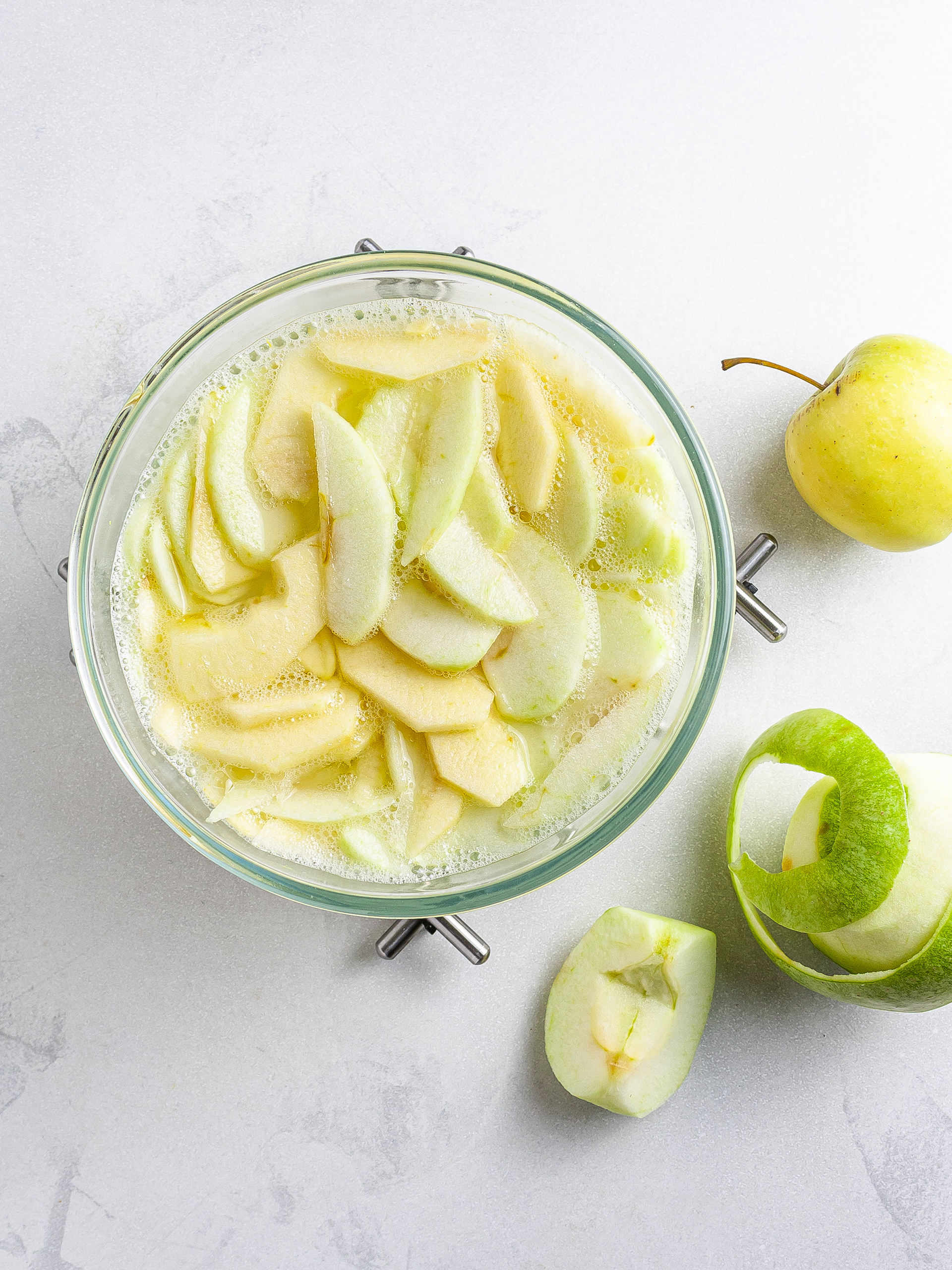 1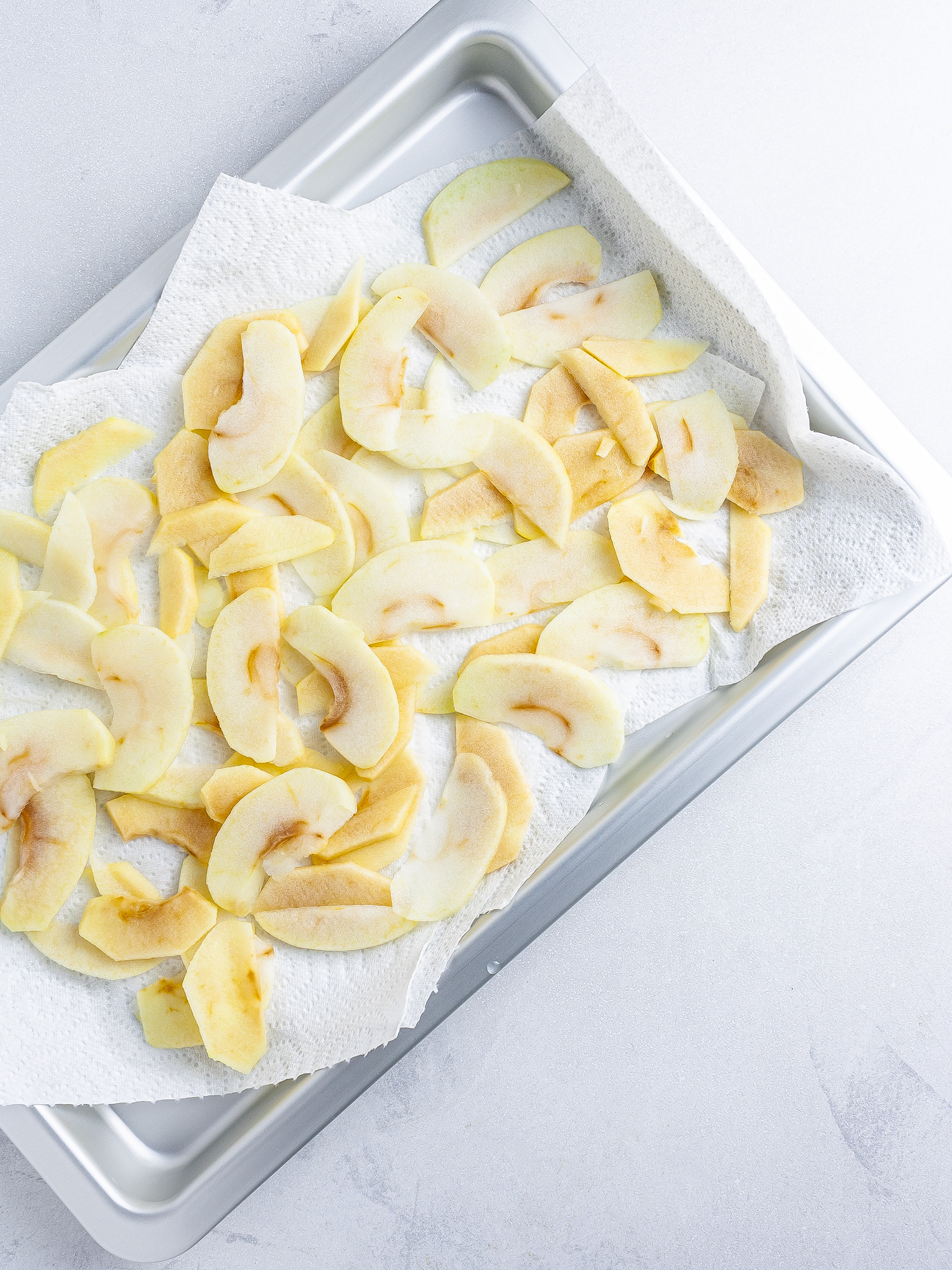 2
Step 2
Meanwhile, soak the dates in warm water for 10 minutes.
Then, drain them and blitz with 50 mL of water into a smooth and creamy sauce (1).
Now, mix the apples with the date paste, cinnamon, and potato starch until they're well coated (2).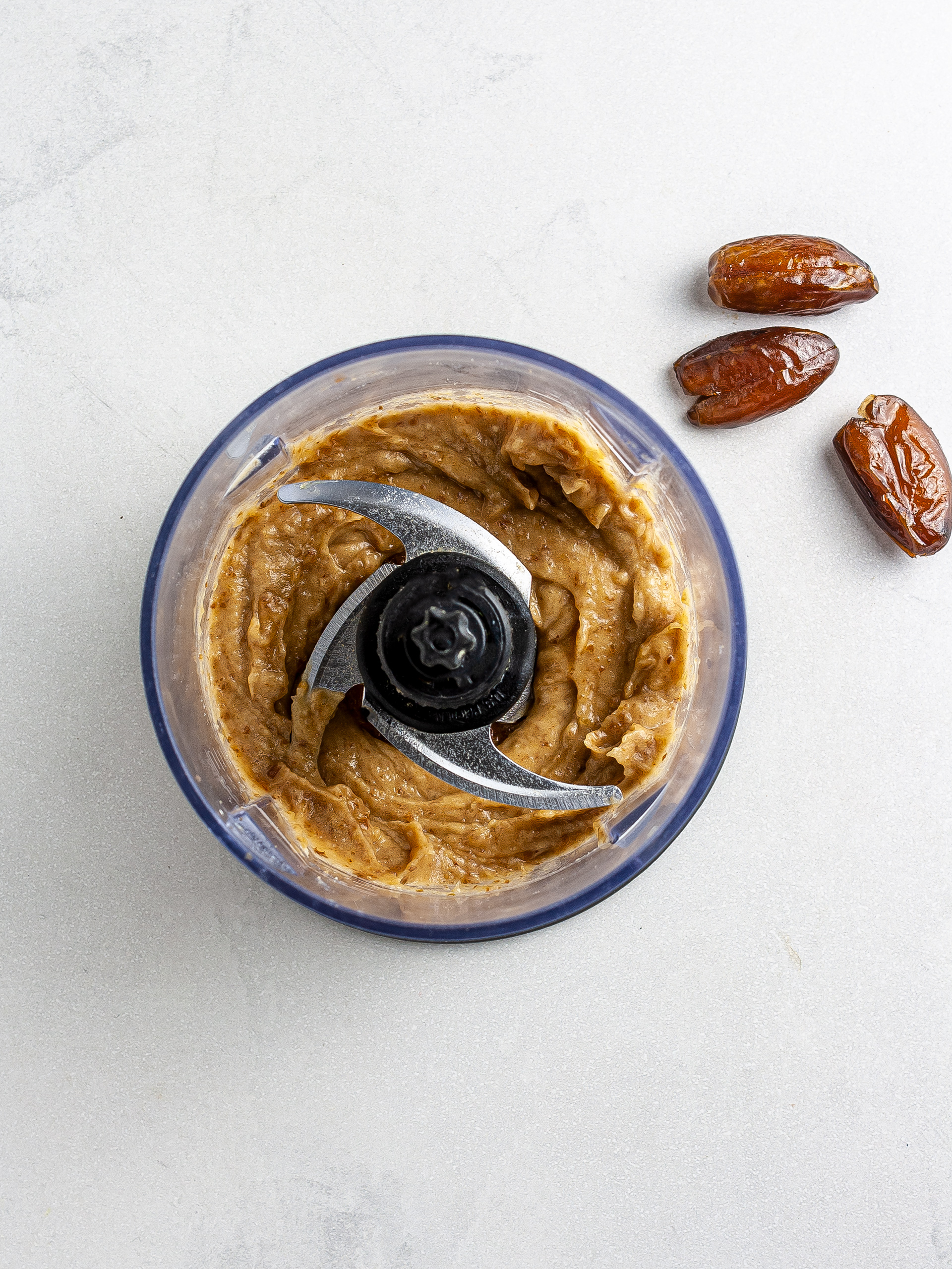 1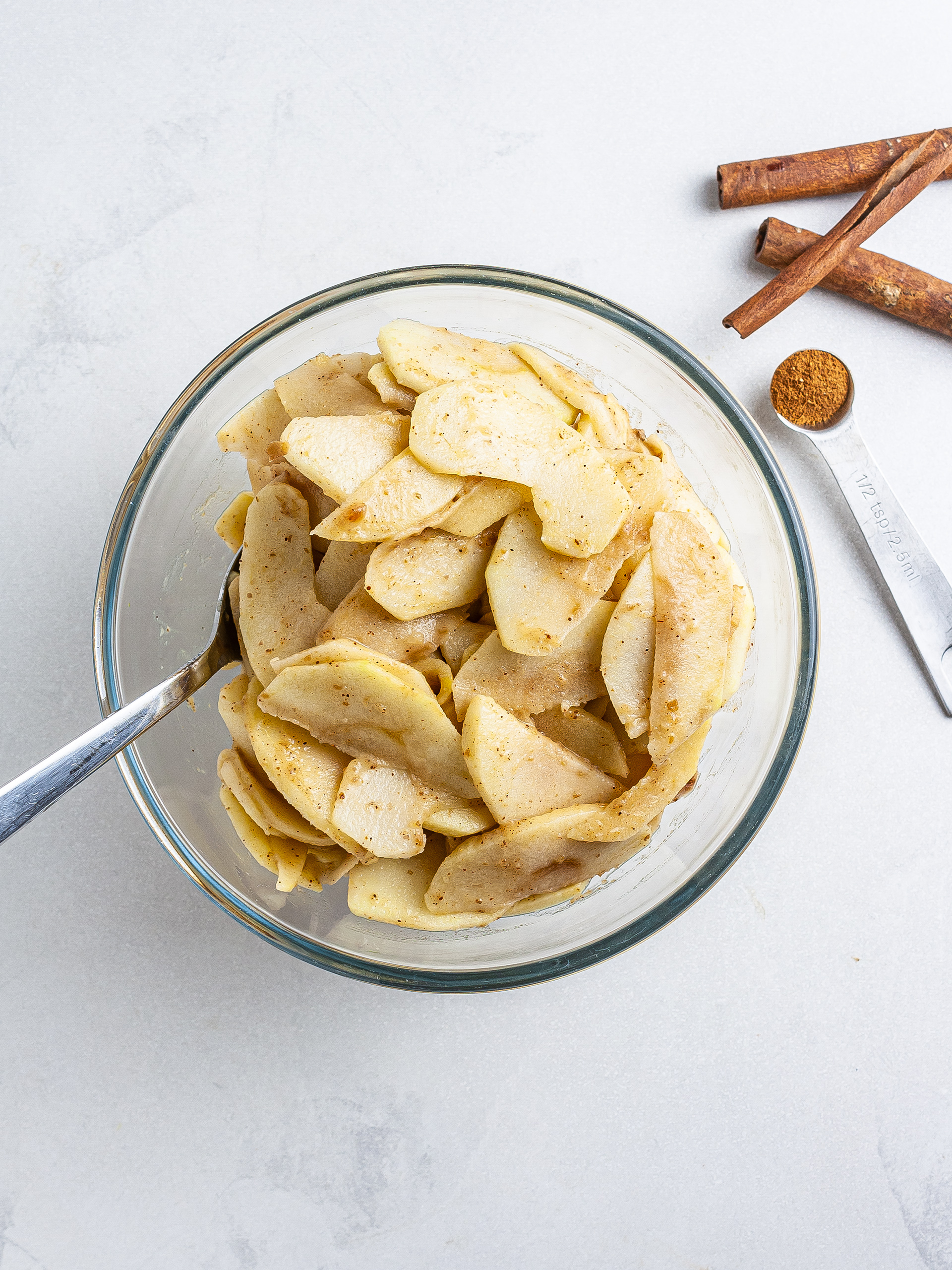 2
Step 3
In a mixing bowl, combine wholemeal flour, baking powder, zested lemon, and a pinch of salt. Stir well and then incorporate the maple syrup, oil, and the remaining 140 mL of cold water (1).
Work the ingredients until they come together into a compact and pliable dough (2).
If it's too sticky, add more flour, or, if too hard and crumbly, pour in more cold water.
Roll the dough into a ball, wrap it in cling film, and chill for 10 minutes.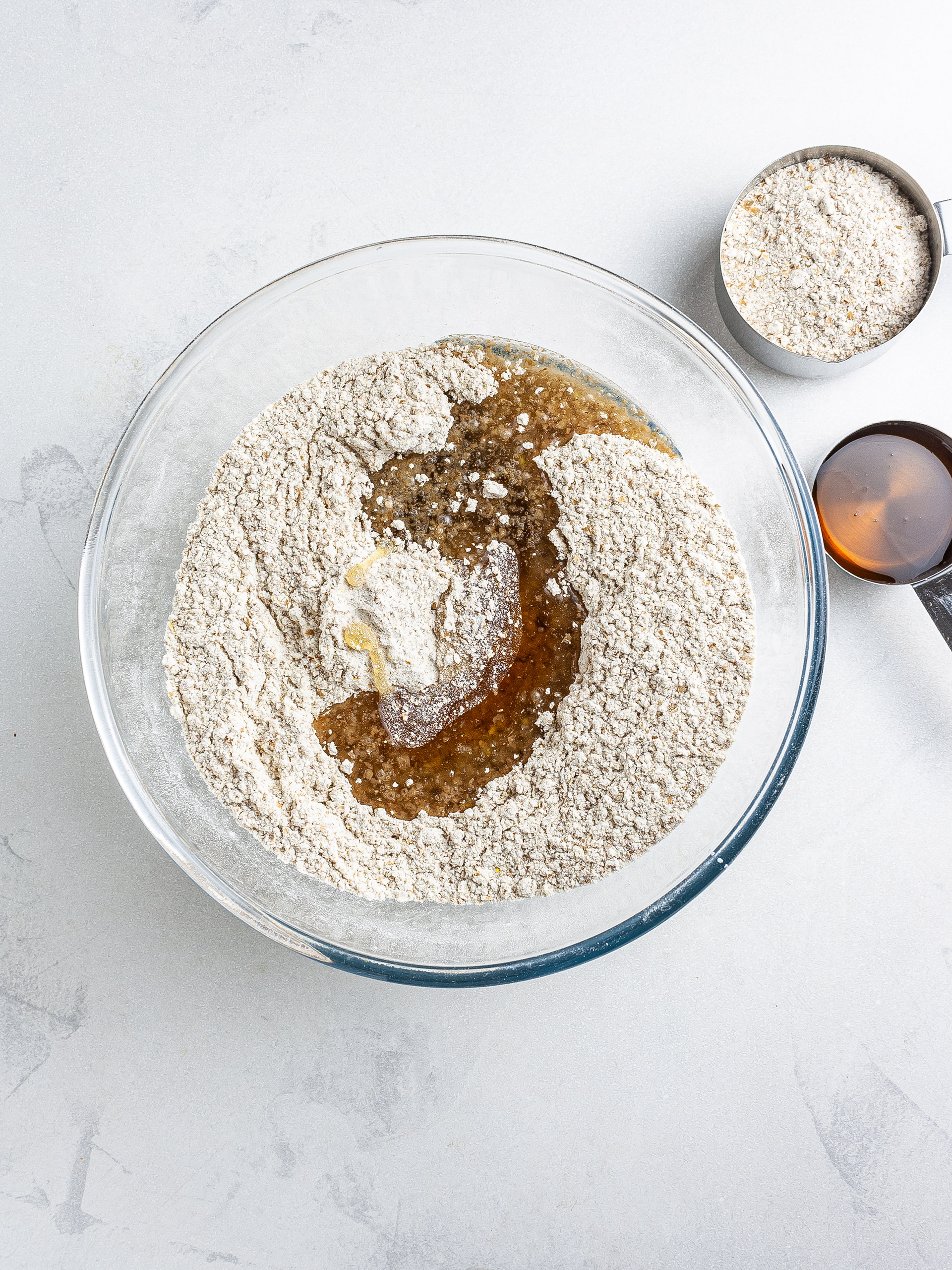 1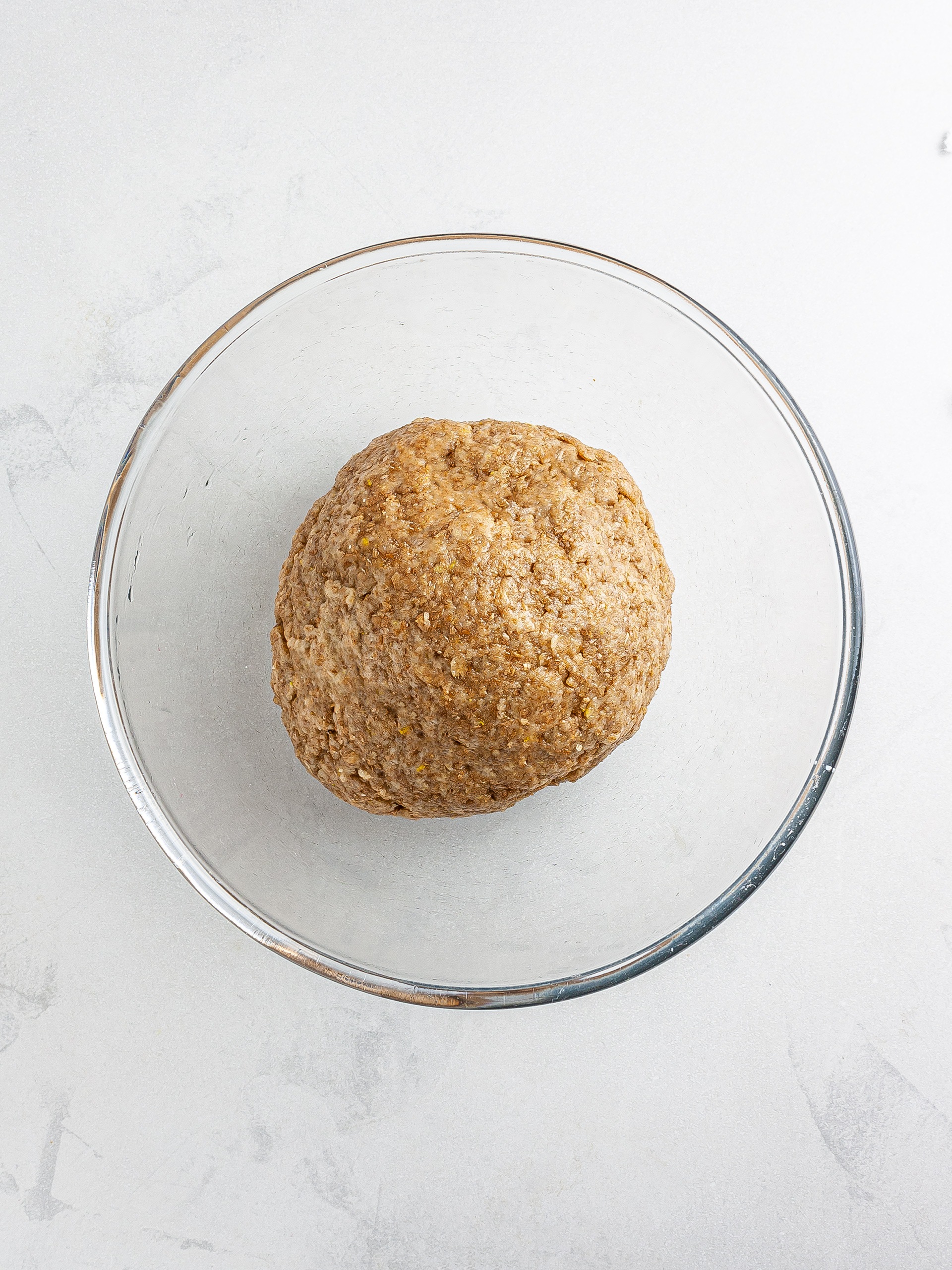 2
Step 4
Grease and flour a pie dish that is 24-26 cm (9.5-10 inches) round and 4cm (1.5 inches) deep.
Cut off two-thirds of the dough and keep the remaining pastry in the fridge to make the lattice top later on.
Now, roll out the dough in between two sheets of baking paper to a 3mm thickness (0.1 inches) and about 5cm larger (2 inches) than the pie dish size.
Then, ease it into the pie tin, pressing the dough into the dish and up the sides, leaving the pastry overhanging from the edges (1).
Pack the pie base with the apple filling making sure it reaches the plate's edge (2).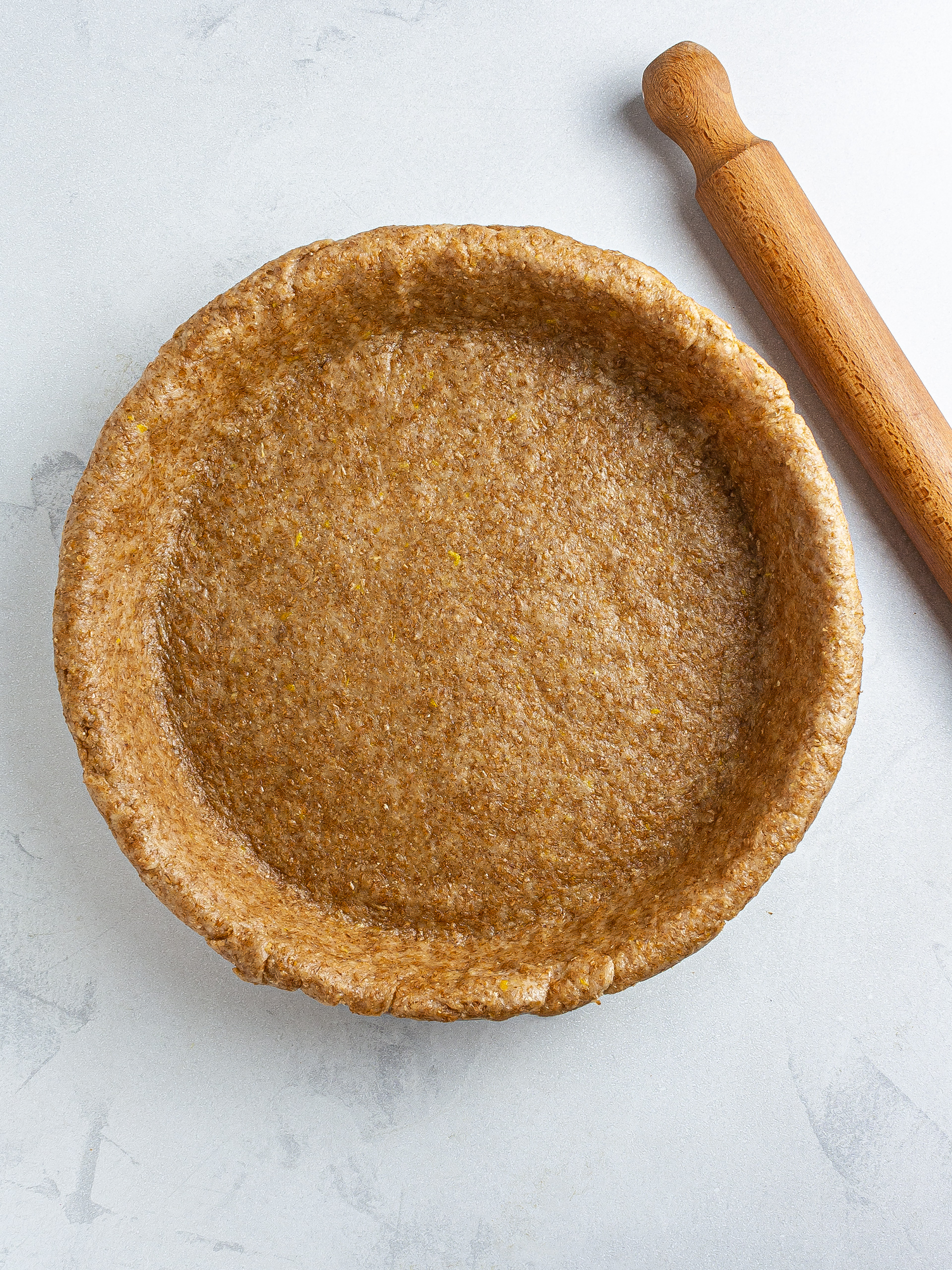 1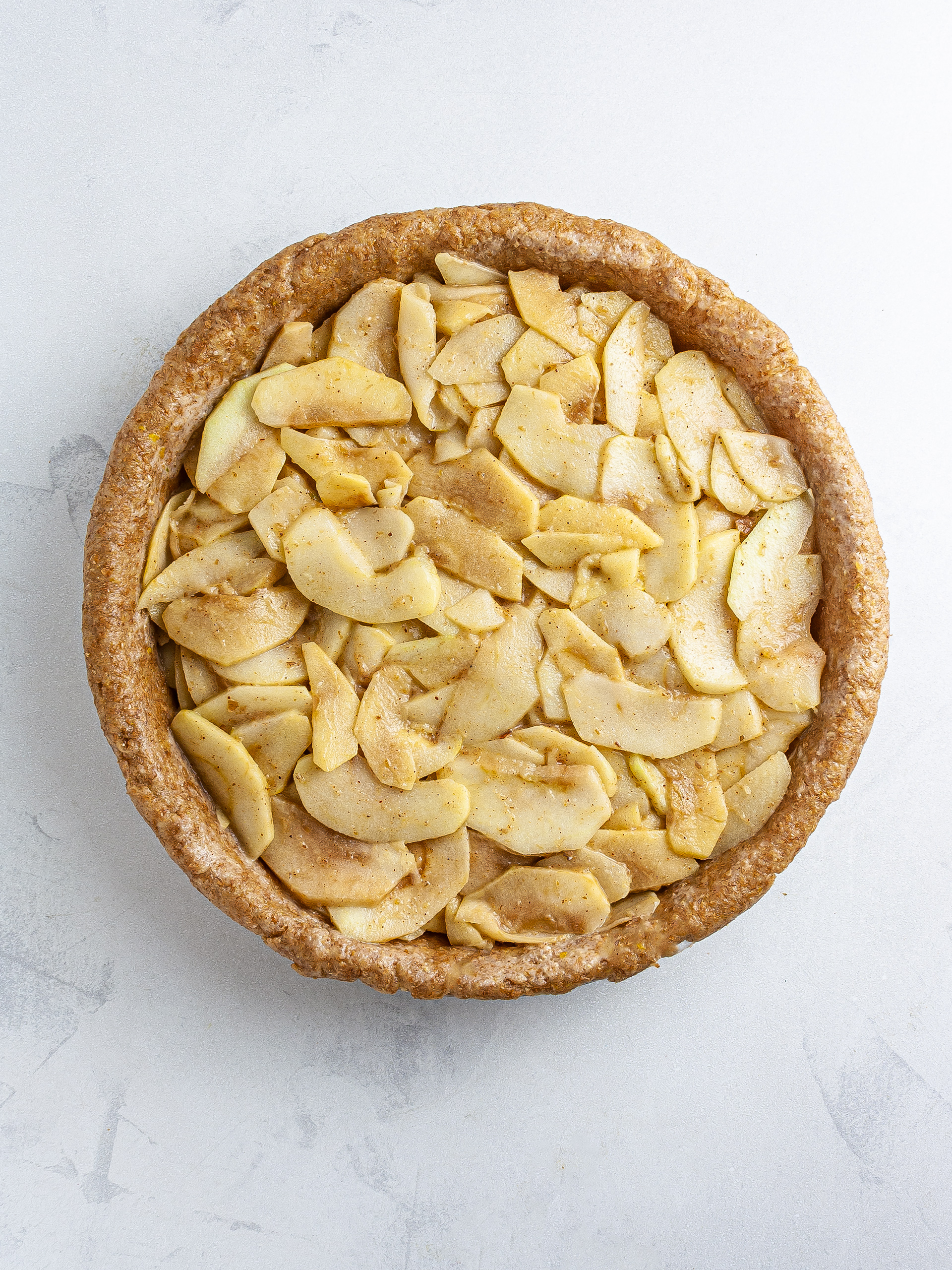 2
Step 5
Roll out the remaining dough and cut it into strips.
We did a total of 14 strips, 7 to be placed vertically and 7 horizontally, about 2 cm (0.7 inches) wide.
Arrange the pastry lines over the apple filling to make a lattice pie crust.
Check out our recipe story here to see how we've made it.
Roll up the overhanging dough and press it together with the edges of the strips.
You can mould the crust into a fluted design by crimping the dough in between your index knuckle on one side and your thumb and index fingertips on the other (1).
For extra colour and crispiness, you can brush the lattice pie crust with plant-based milk.
Finally, bake the apple pie for 30-40 minutes at 190°C (375°F) for static ovens or at 170°C (340°F) for fan ovens (2).
If the crust starts to brown too quickly, then cover it with foil.
Allow the pie to cool down for 10-15 minutes before slicing it and serve it warm.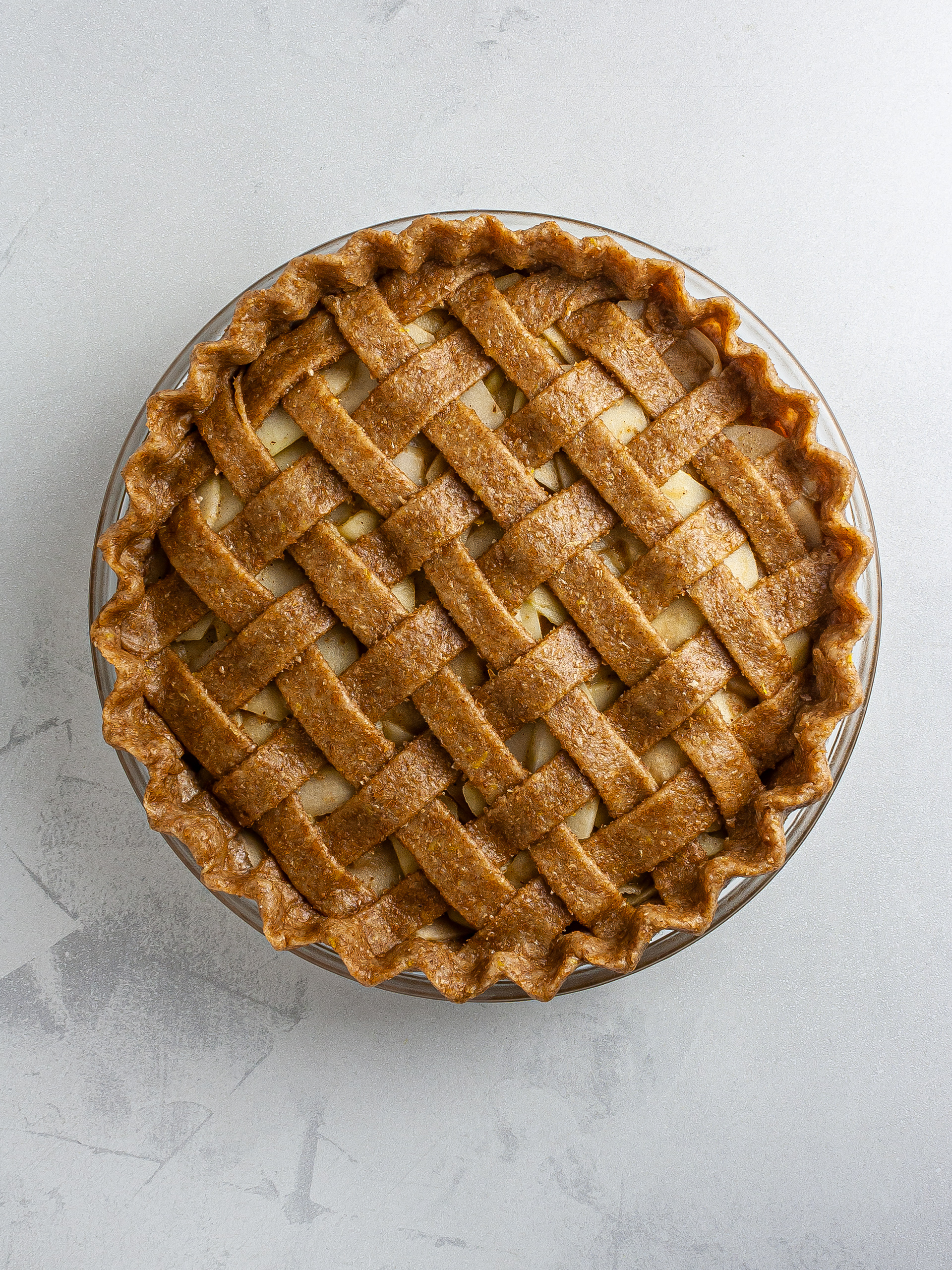 1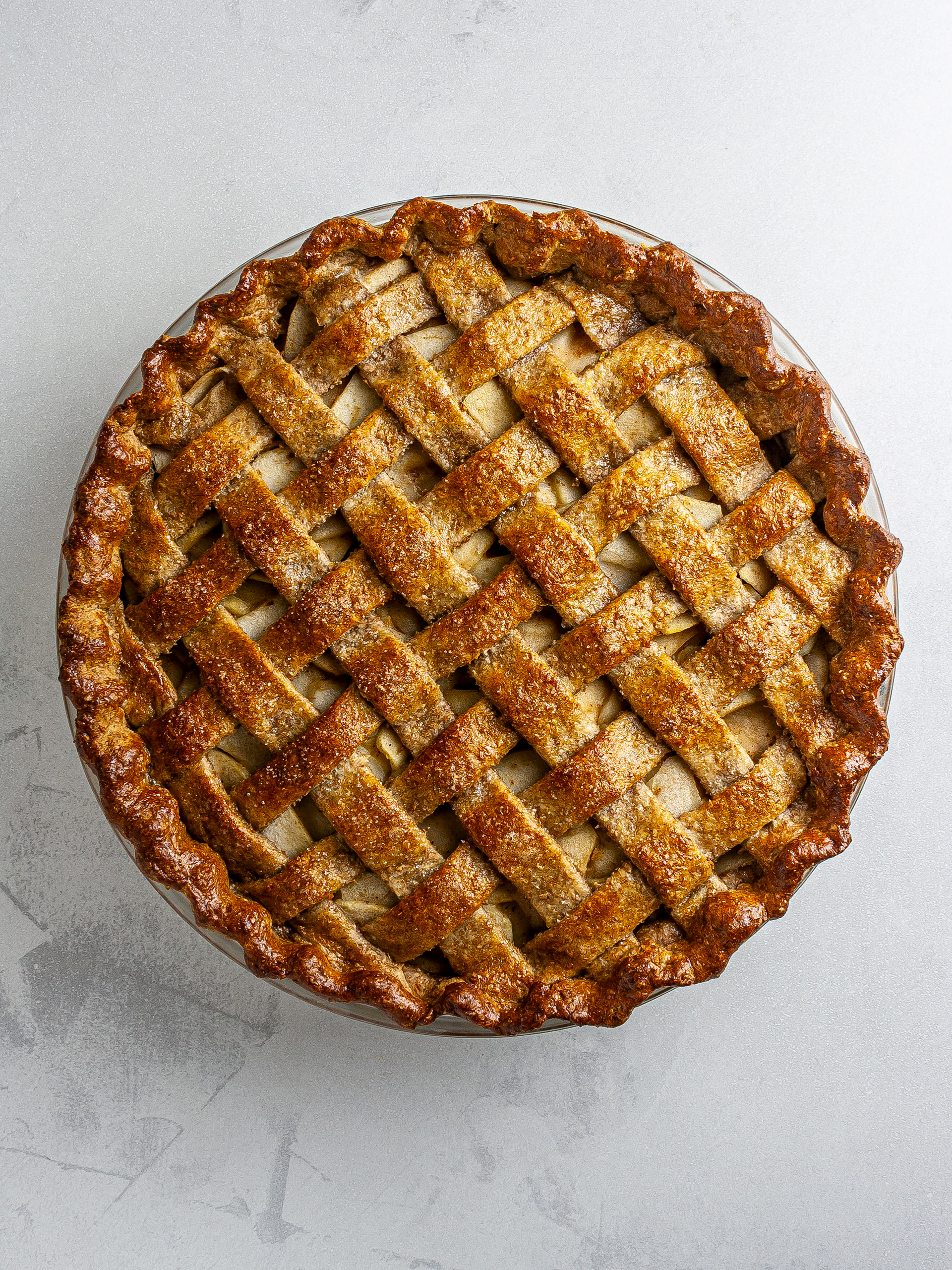 2
Tips
Keep the dough always chilled. It will be easier to handle, and it will hold its shape better when baking.