Do you need inspiration for your next vegan sandwich? Are you bored with the usual hummus or tofu? Well, look no further!
Our delicious vegan "chicken" salad comes to the rescue. Ready in just 15 minutes, it's crunchy, creamy, and full of plant-based goodness.
Jackfruit is the hero of this recipe: just pan-fry it with cumin, garlic, and olive oil, and then shred it into bits.
Mix it with minced onions, celery, parsley, and mustard, and finish it off with a few dollops of our vegan cashew mayo. It's finger-licking good!
In our quest to find a worthy chicken alternative for this salad, we wanted to use something that looked and felt like real chicken.
Smashed chickpeas and seitan pieces were both good options, but jackfruit won the contest! It's cheap, easy to find, and it can be pulled into strips, exactly as you would with cold chicken.
Young green jackfruit has a fleshy texture and a neutral flavour; it can easily take on the flavours of the ingredients it's combined with, similar to tofu.
You can find jackfruit pieces canned in brine or water. Make sure to rinse them well and squeeze out as much canning water as you can.
Besides swapping chicken with pulled jackfruit, we also replaced the classic egg mayo with a vegan one.
You can either use store-bought vegan mayonnaise or make it from scratch with our healthier recipe here.
You can also dress the jackfruit salad with vegan salad cream, a tangier mayo with added mustard. We used it in this African mixed vegetable salad and loved it!
Stuff a few spoonfuls of this vegan "chicken" salad between two slices of bread to make a light yet satisfying lunch.
The great thing about this recipe is that being meat-free and egg-free, it can stay for longer in the fridge without worries - perfect for meal prepping!
Ingredients
Canned Green Jackfruit

300 g

Extra Virgin Olive Oil

1 tsp

Garlic Powder

1 tsp

Ground Cumin

1/2 tsp

Red Onions

1/2

Celery Stalk

1

Fresh Parsley

2 tbsp

Lemon Juice

1 tbsp

Mustard

1 tsp

Vegan Mayo

recipe

4 tbsp
Step 1
Let's start by prepping the jackfruit.
Drain the canned jackfruit chunks and rinse them well to wash away the brine water.
Then, squeeze the chunks tightly to remove excess water.
Some jackfruit chunks may hold a hard seed. If you see any, remove them along with the brownish membrane that holds the seed in place.
Jackfruit meat has two components: a hard, dense flesh (usually the tip of the canned chunks) and a soft, stringy flesh (usually the bottom of the chunks).
What you want to do is trim off the firm part, and only keep the flesh with those threads. You'll "pull" them into shreds later, just as you would do with cooked chicken meat.
Don't throw away the hard jackfruit trimmings! You can use the leftovers to make delicious vegan jackfruit nuggets or vegan jackfruit burgers.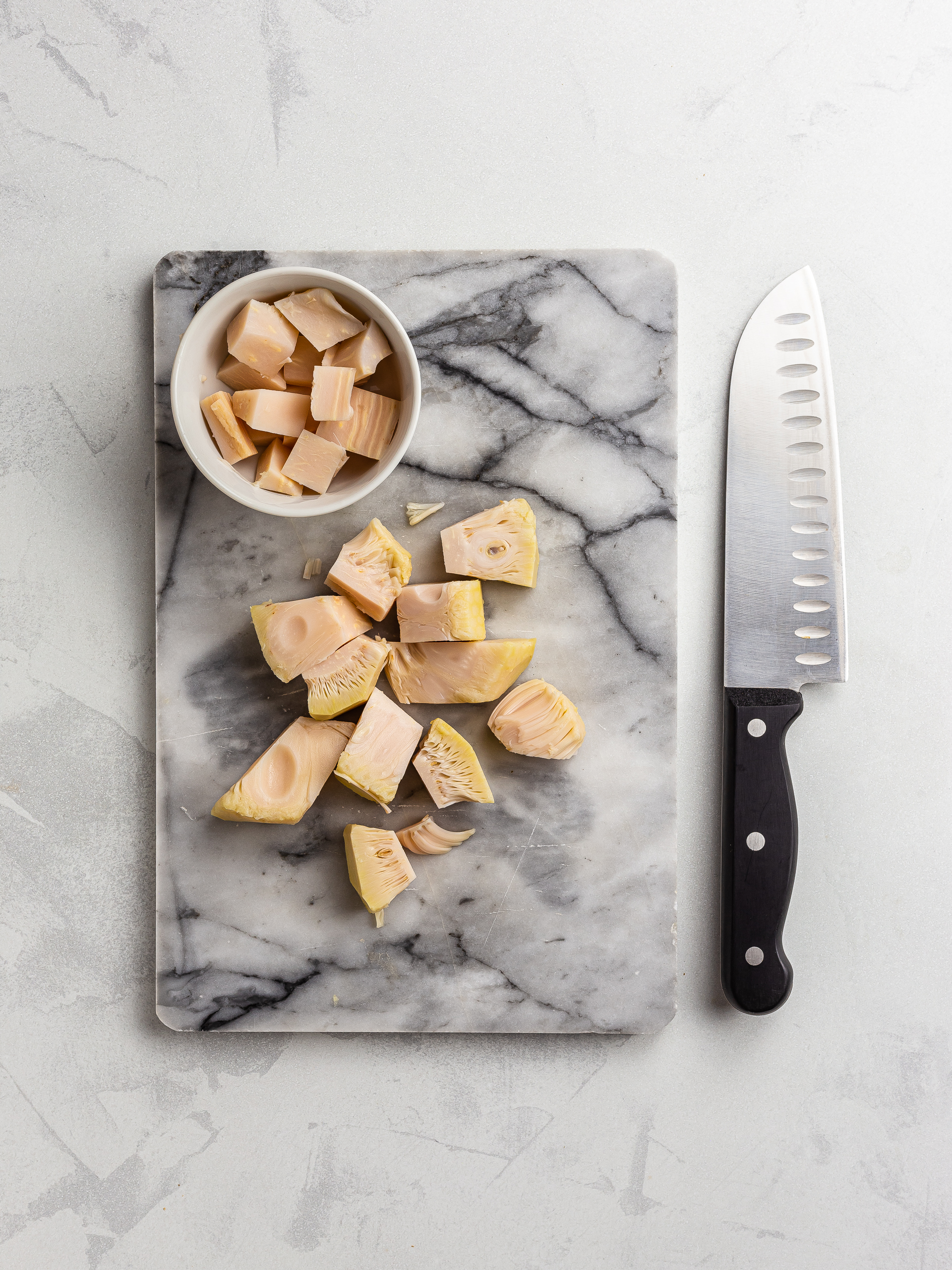 Step 2
Now, heat the oil in a skillet and add in the prepared jackfruit, followed by garlic powder and ground cumin for flavour.
Season with salt and pepper to taste, and pan-fry all for 10 minutes over medium heat.
When the jackfruit meat is cooked enough, it will be much softer. At that point, use a spatula or two forks to tear and "pull" apart the jackfruit strands — so they will look like shredded chicken.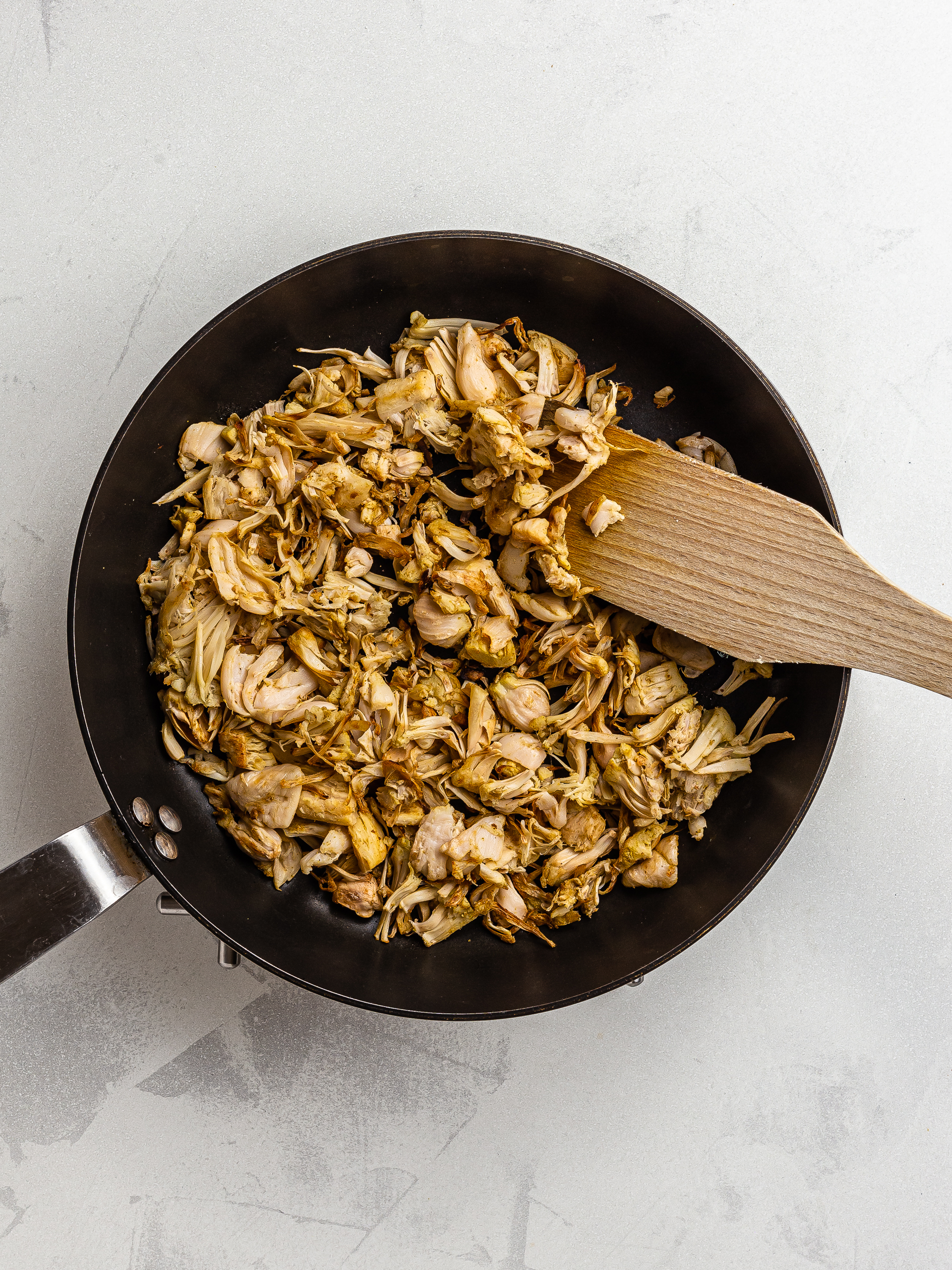 Step 3
Let the jackfruit "chicken" cool down for a few minutes.
Then, add it to a bowl, followed by finely chopped onions, celery, and parsley.
Tip in the lemon juice, mustard, vegan mayo, and mix until well combined.
You can use store-bought mayo or make it yourself with our easy cashew mayo recipe.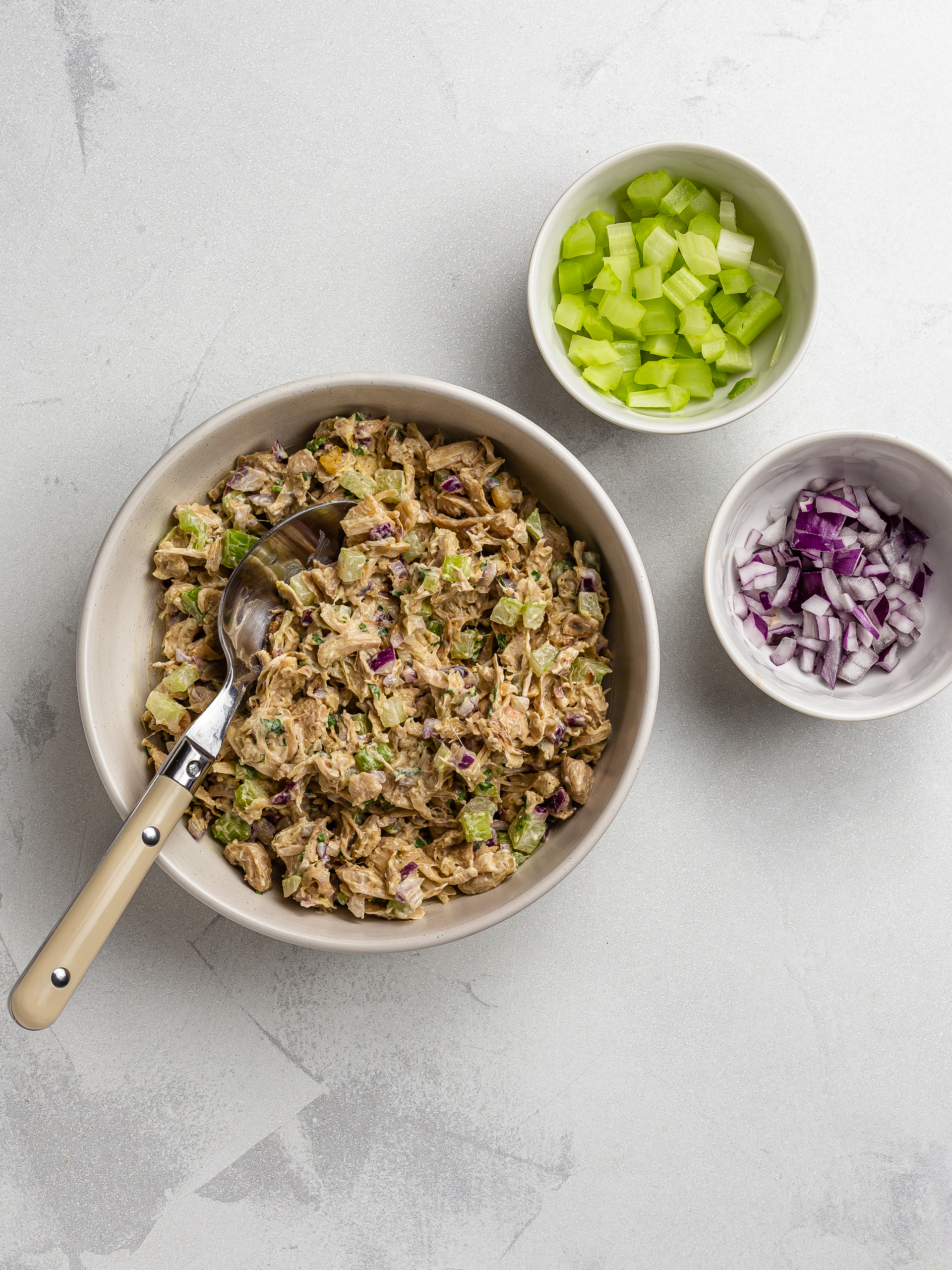 Tips
Add one tablespoon of nutritional yeast flakes to the "chicken" salad for extra flavour and nutrients.

You can swap parsley with dill or chives.

Keep this vegan "chicken" salad in the fridge and consume it within a week.