Do you love enchiladas but can't find a healthy, plant-based, and diet-friendly option? The search is over! Here at Foodciously, we have designed the ultimate vegan and low-carb alternative to this classic Mexican comfort food.
So, let us show you how to make these delicious zucchini enchiladas stuffed with shredded jackfruit and topped with spicy sauce — simply divine!
Enchiladas are a beloved Mexican dish consisting of corn tortillas wrapped around a filling of meat or beans, then topped with a chilli-based sauce and plenty of cheese.
There are countless variations with different toppings, stuffings, and even shapes. Unfortunately, the classic recipe is not suitable for folks on a plant-based or low-carb diet. But, don't worry, we sorted it!
First, we made a tasty vegan filling packed with Mexican flavour.
Beans are usually our best choice for healthy vegan meat swaps, but they're still relatively high in carbs for this recipe. So, we turned to super-versatile green jackfruit.
Weight by weight, this tropical fruit has 80% fewer net carbs than beans. For example, a serving of 100g (3.5 oz) of black beans has 6g of net carbs[1], while the same amount of canned jackfruit comes with just 1g of net carbs[2].
Jackfruit also has a fantastic "meaty" texture, and it can be easily shredded into chicken-like strips after cooking for a while. Exactly what we needed for these meatless enchiladas!
To add more flavour to the filling, we paired jackfruit with a low-carb combo of mixed peppers and shallots, plus fresh cilantro and spicy tomato sauce.
After sorting the vegan filling, we tackled the wraps. The classic corn tortillas are a no-go in low carb diets.
So we thought we could peel the zucchini into ribbons and use them to wrap the filling. It worked perfectly!
And it's so easy to do: just overlap three or four zucchini slices lengthwise and then roll them around the jackfruit mix.
Finally, we assembled the enchiladas in a casserole, covered them with smoky sauce and baked them to perfection.
We skipped the cheese topping to keep fats low, but we'll give you the option to use vegan cheese if you like.
Alternatively, you can drizzle the zucchini wraps with homemade vegan sour cream. All is left to do is to enjoy them with your loved ones!
And if you'd like to try another delicious Mexican recipe with jackfruit, check out these jackfruit birria tacos and chipotle jackfruit quesadillas!
Ingredients
| | |
| --- | --- |
| Canned Jackfruit in Water | 260 g |
| Shallot | 1 |
| Peppers | 2 |
| Tomato Passata | 500 mL |
| Cayenne Pepper | 1/2 tsp |
| Smoked Paprika | 1/2 tsp |
| Chilli Powder | 1/2 tsp |
| Ground Cumin | 1/2 tsp |
| Hot Sauce (chipotle or tabasco) | 1 tbsp |
| Extra Virgin Olive Oil | 2 tbsp |
| Garlic Cloves | 1 |
| Fresh Cilantro | 2 tbsp |
| Juiced Lime | 1 |
| Vegan Grated Cheese (optional) | to taste |
Step 1
Rinse canned green jackfruit under cold water and then drain it well.
Squeeze out as much water as you can from the jackfruit, collecting the liquid in a bowl.
Then, trim off the hard bits of each jackfruit nugget and only keep the stringy parts. They're perfect for shredding into chicken-like strips.
You can use the leftover trimmings to make crunchy nuggets or jackfruit burgers.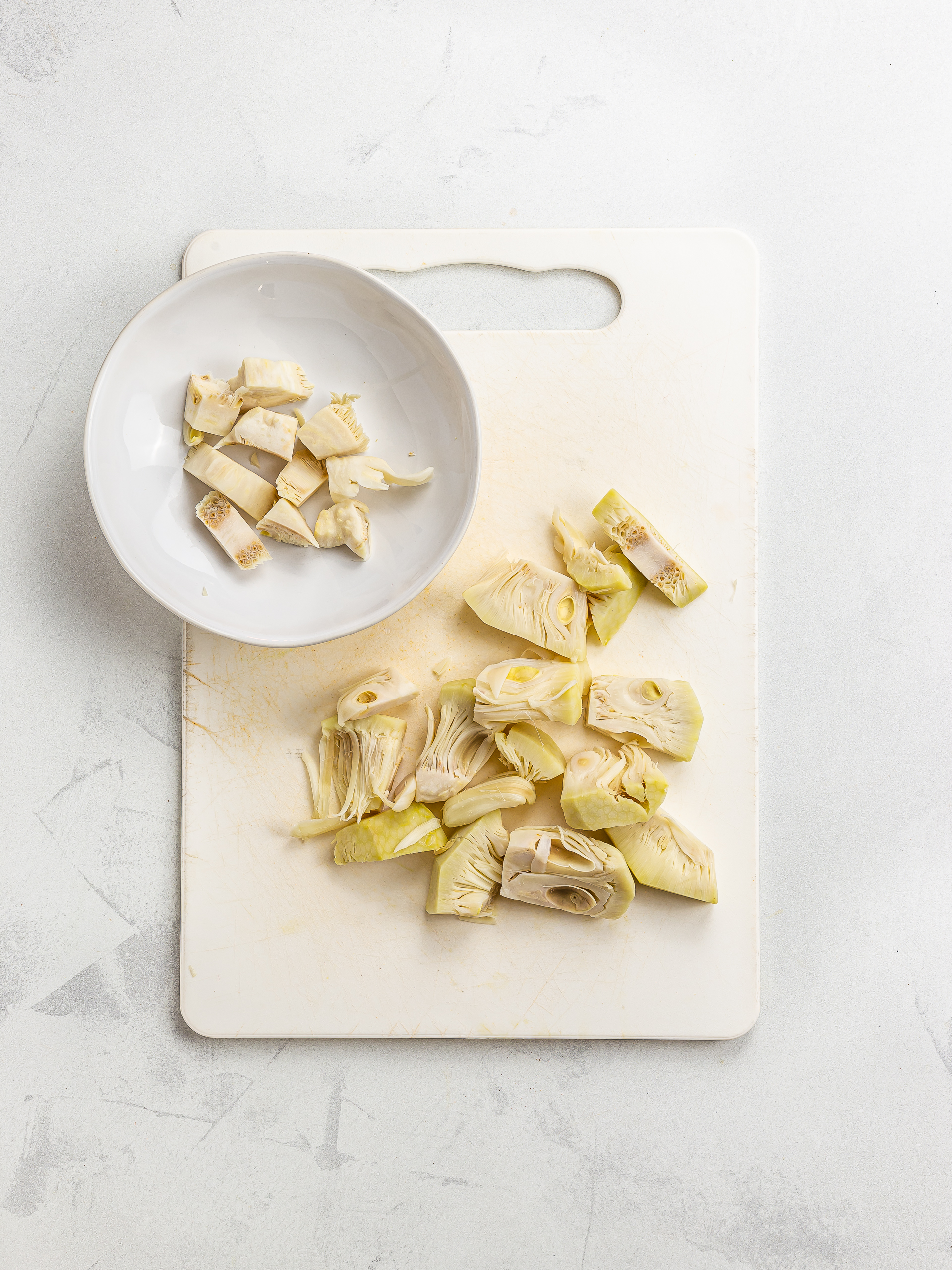 Step 2
Next, finely chop the shallot and peppers.
You can use a combo of red, green, yellow, or orange peppers for a colourful filling.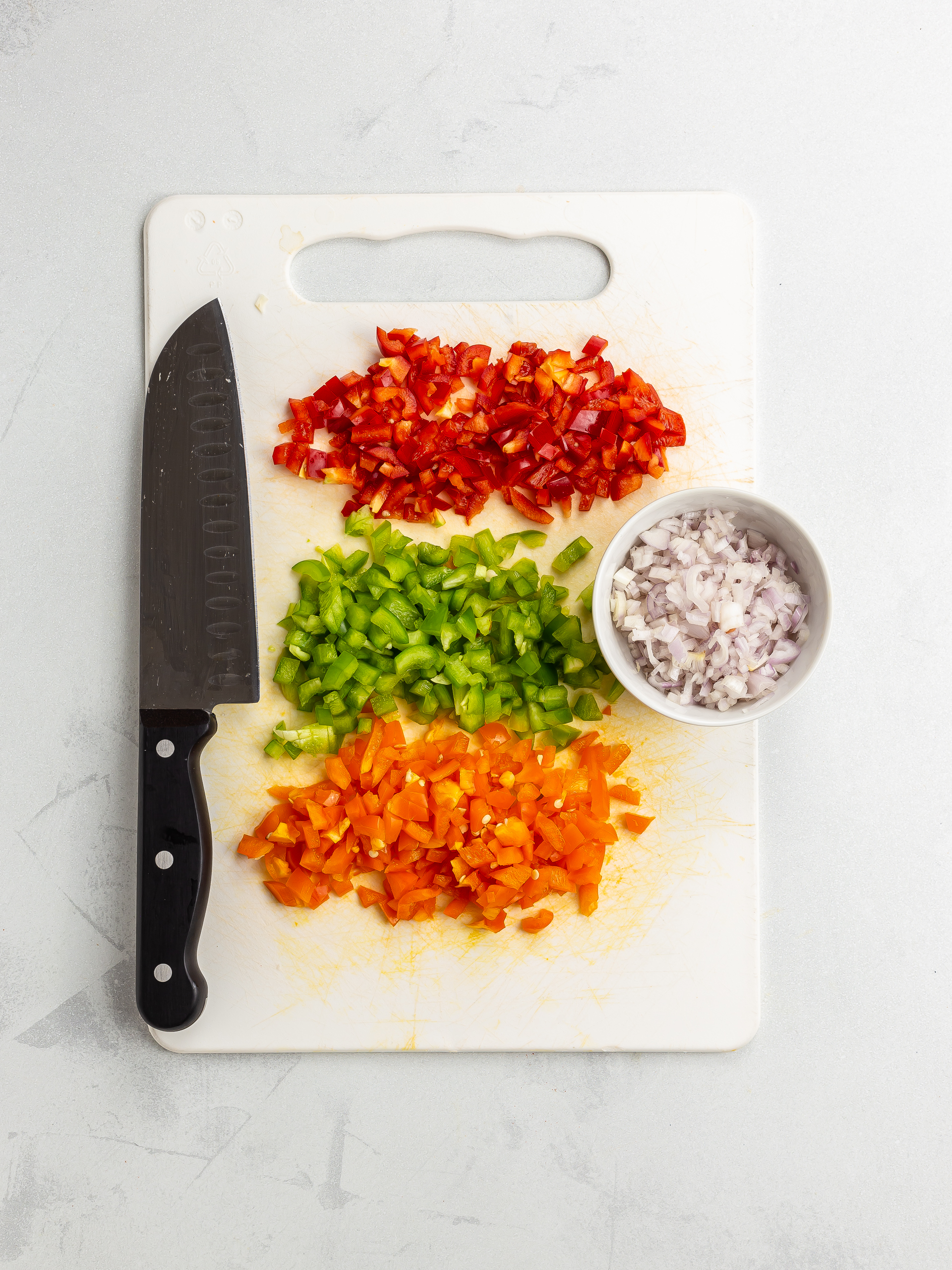 Step 3
Now, prepare the enchilada sauce by mixing tomato passata with cayenne pepper, smoked paprika, chilli powder, cumin, and hot sauce in a bowl.
Season it with salt and pepper to taste and set it aside.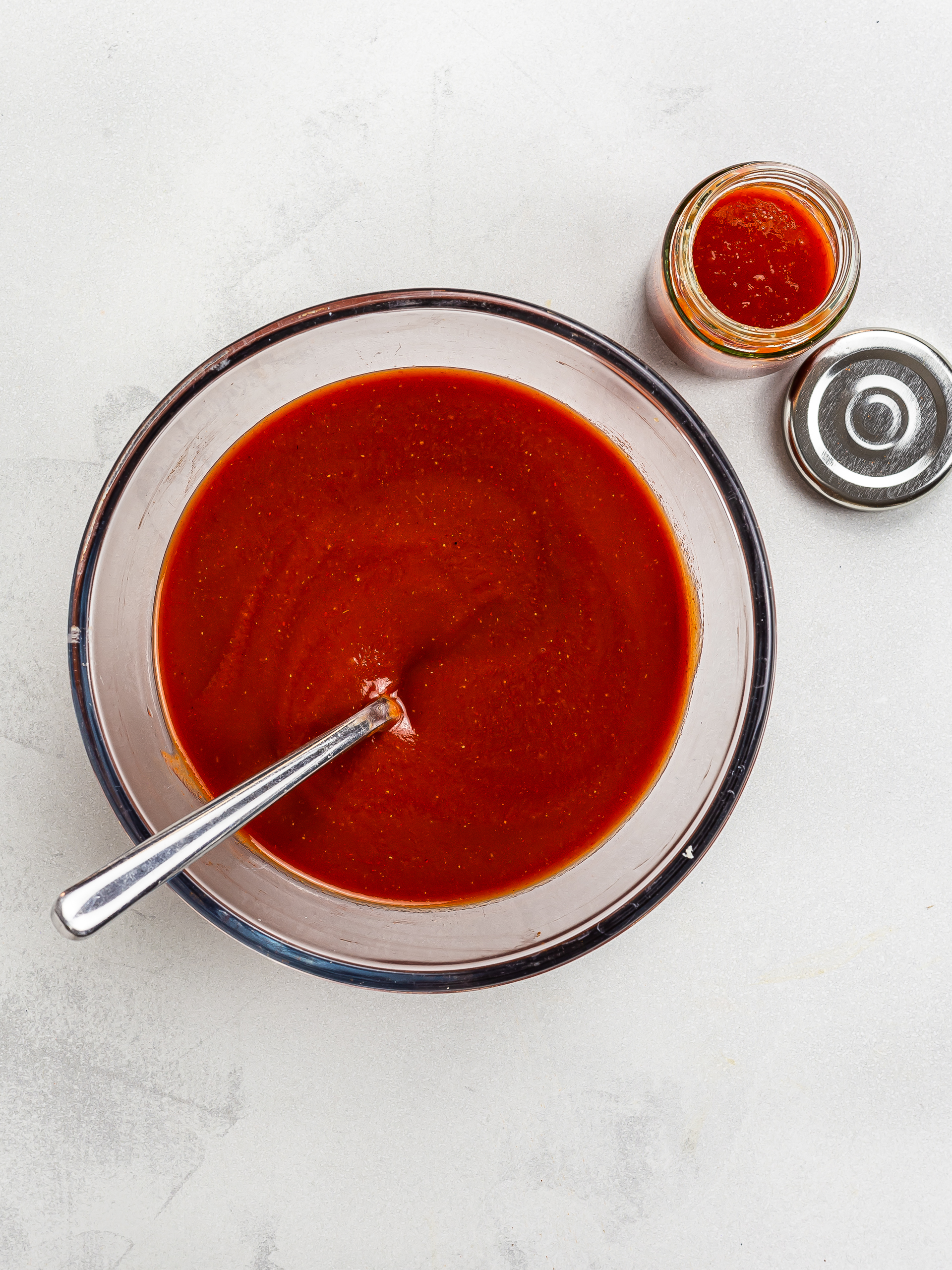 Step 4
Now, let's cook the filling.
Sizzle the shallots and minced garlic with oil in a skillet, then add the chopped jackfruit and peppers.
Cook for 5 minutes, and then mash and shred the jackfruit with the back of a spatula or the tines of a fork.
Next, add a fourth of the sauce, fresh cilantro, lime juice, and cook all for 5 more minutes.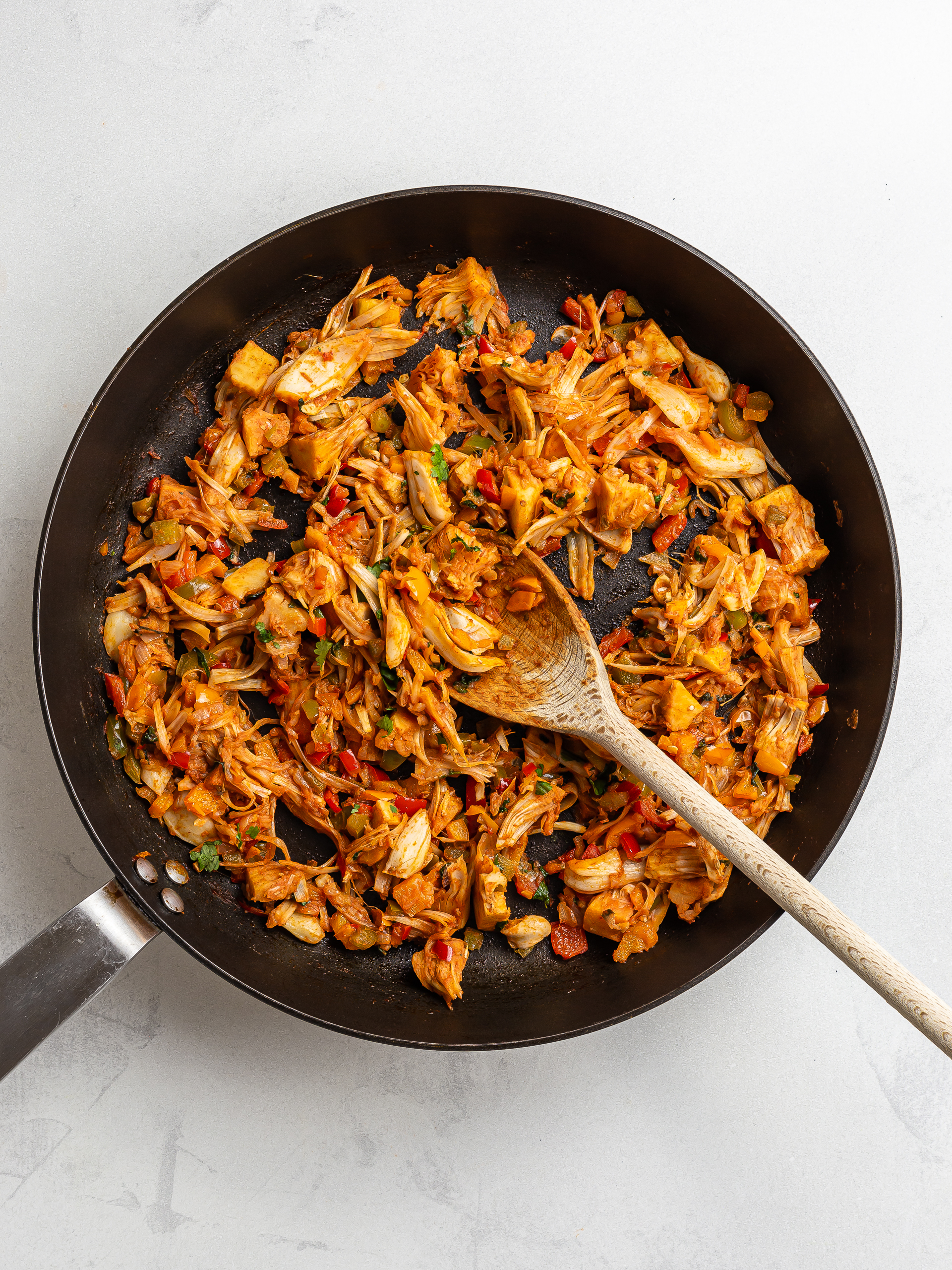 Step 5
To make the zucchini wraps, trim off the ends of the zucchini, and then peel it into thin, flat ribbons using a vegetable peeler (1).
For each enchilada, stagger three zucchini slices lengthwise, so they overlap by a little less than half.
Then, add one spoonful of filling at one end of the wrap (2).
Finally, roll the zucchini tightly but delicately around the filling (3).
Repeat this step until you have used all the zucchini ribbons and the filling.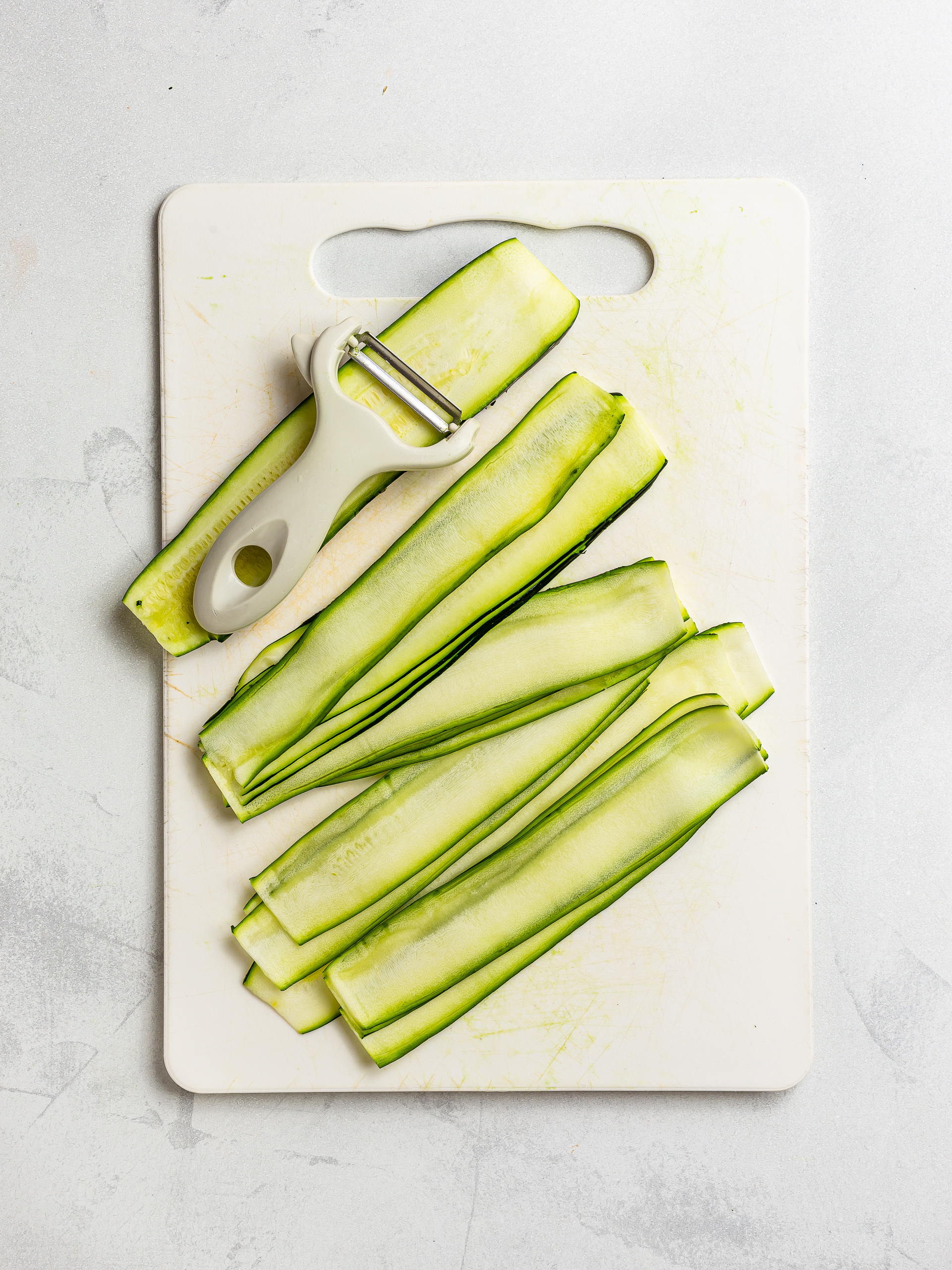 1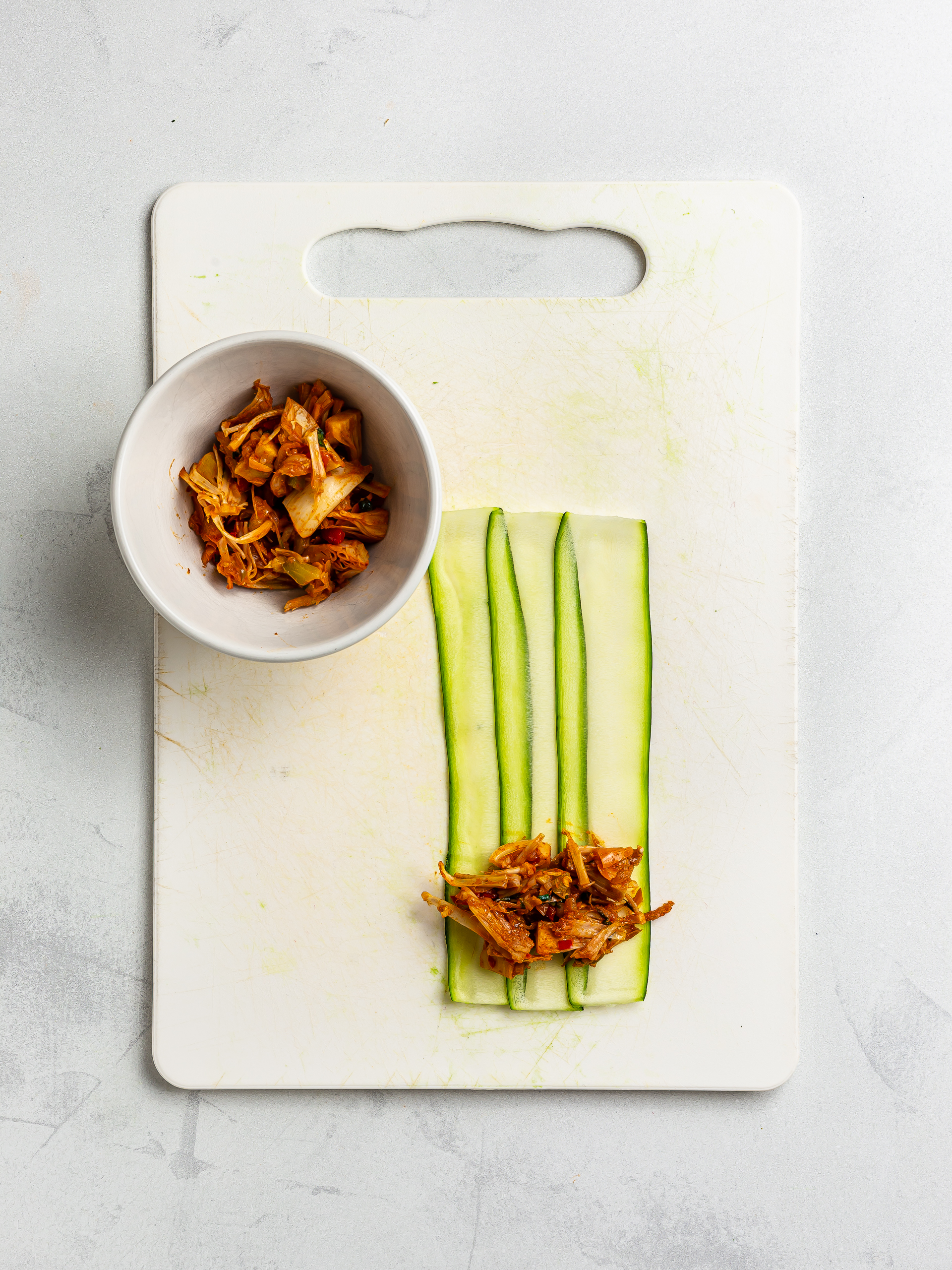 2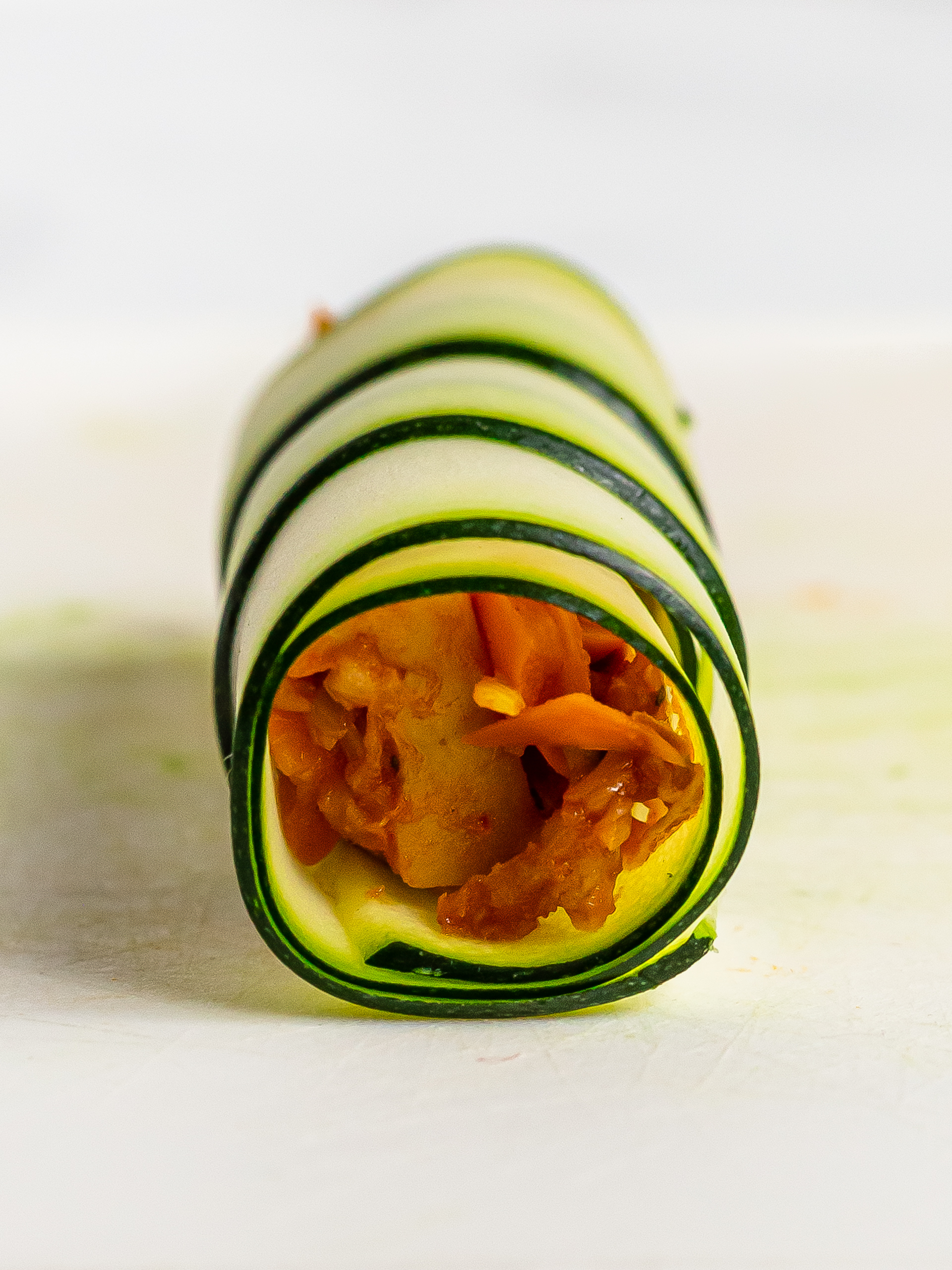 3
Step 6
Place all the rolls seam side down in a casserole dish, arranging them in rows and close to each other.
Then, top everything off with the remaining spicy sauce.
At this point, you can optionally garnish the enchiladas with shredded vegan cheese. Alternatively, prepare a vegan sour cream drizzle for later, following the instructions in the tips section below.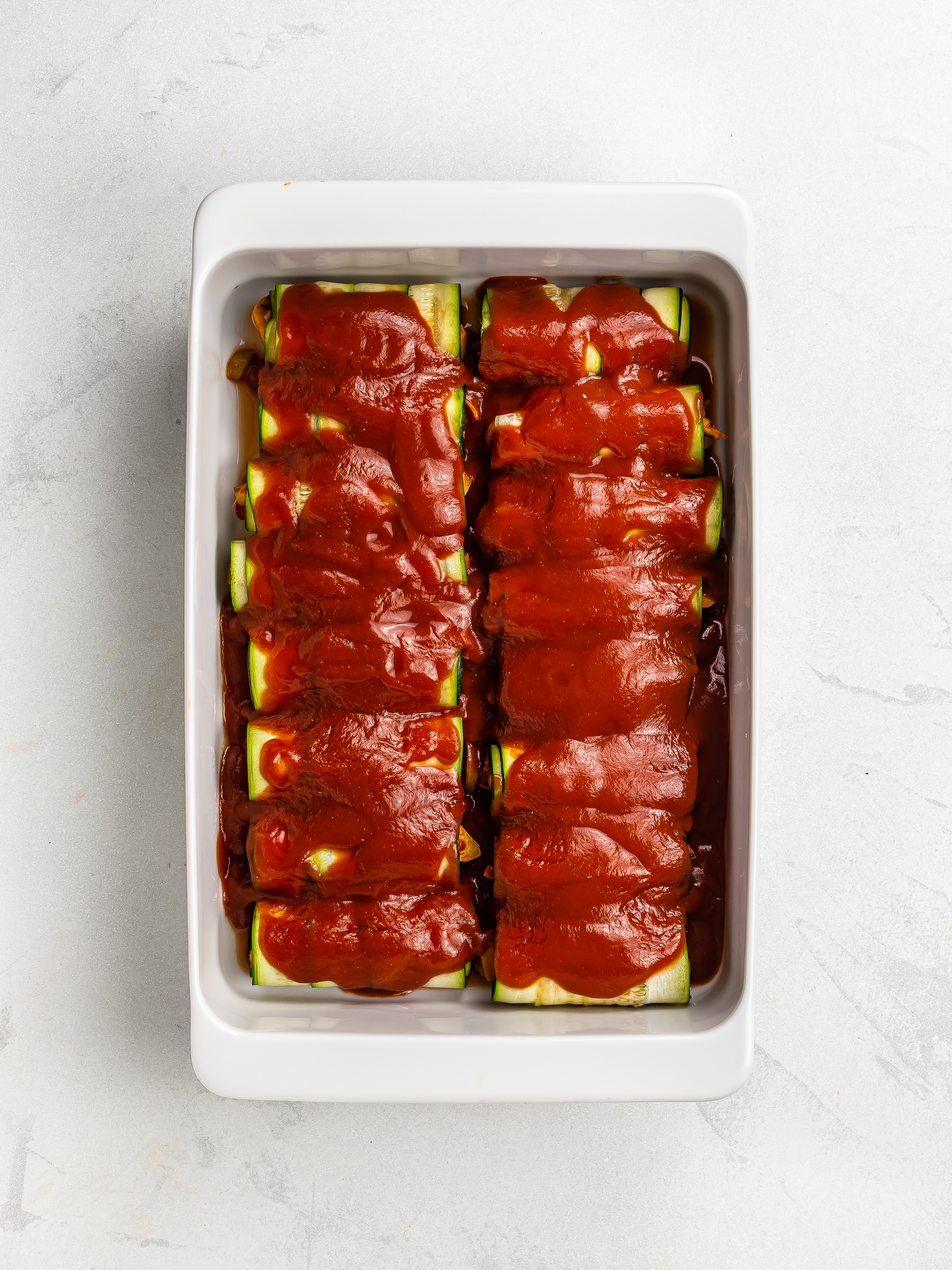 Step 7
Bake the zucchini enchiladas at 200°C (400°F) for 25-30 minutes.
Before serving, you can garnish them with fresh cilantro, a drizzle of hot sauce or vegan sour cream.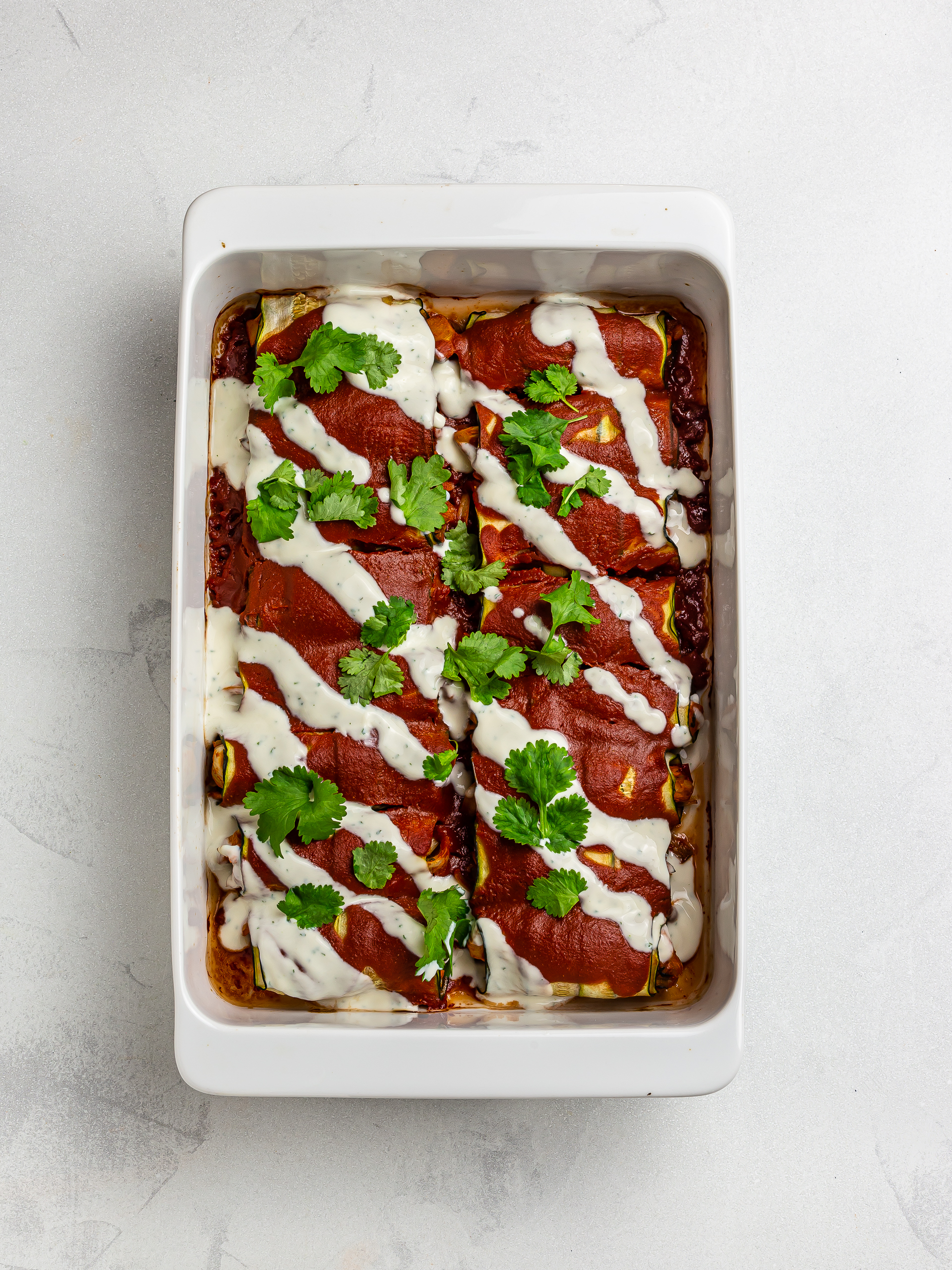 Tips
If you didn't use the vegan cheese, you can make vegan sour cream and drizzle it over the baked enchiladas. To prepare it, combine 100g (3.5 oz) of soy yogurt, 2 tablespoons of vinegar, chopped chives, 1/2 teaspoon of garlic powder, and a pinch of salt in a bowl.
Watch on Youtube