Today, we'll show you how to make jackfruit quesadillas, a delicious plant-based spin on the beloved Mexican recipe.
Quesadillas are like a Mexican-style cheese sandwich: they're crusty outside and nicely melty inside, bursting with earthy, spicy flavours.
These flat-folded wraps consist of a stove-grilled tortilla stuffed with cheese and other fillings, like spices, vegetables, and meat.
Corn-based tortillas are the go-to wraps for quesadillas, but you can also use wheat tortillas if you like.
As for the fillings, onions and bell peppers are a classic addition.
They're sauteed with Mexican spices like cumin, oregano, paprika, and hot chillies before being stuffed into the tortillas.
In our recipe, we kept most of the traditional ingredients and then used vegan cheese and pulled jackfruit meat for a vegan quesadilla filling.
Young green jackfruit is an excellent meat alternative as it has a chewy and filamentous flesh that feels just like pulled pork or shredded chicken.
You can find this amazing tropical fruit conveniently canned in brine, chopped into chunks and sometimes already deseeded.
Then, simply follow our instructions below on how to prepare pulled jackfruit for the quesadillas.
Once ready, find lots of tips and ideas below on how to top and serve these Mexican jackfruit quesadillas.
And if you liked this recipe, try our saucy birria jackfruit tacos or healthy jackfruit 'chicken' enchiladas next, utterly delicious!
Frequently Asked Questions
How do you use jackfruit in quesadillas?

You can make quesadillas with jackfruit stuffing using green young jackfruit, which you can buy canned and already deseeded.

To use it, trim off the hard bits from the chunks first, then pull the filaments apart as you would for pulled pork. Finally, cook the pulled jackfruit in a pan with Mexican seasoning before stuffing it into the tortillas with cheese.
Can you make quesadillas without cheese?

If you have a dairy allergy or you're vegan, you can make quesadillas with vegan cheese instead of the classic Mexican Oaxaca cheese.

Use grated cheddar-style vegan cheese or mozzarella-style vegan cheese for an extra melty finish.

For totally cheese-less quesadillas, swap cheese with pumpkin puree, mashed sweet potatoes or beans, guacamole, or even hummus.

You can also prepare a Mexican vegan cheese alternative with cashews!
What fillings go in quesadillas?

Quesadillas are primarily filled with cheese, but other common fillings include chopped onions, tomatoes, bell peppers, corn, guacamole, or squash.

Some quesadillas also have shredded meat or chorizo, while vegan quesadillas are often made with black beans, refried beans or pulled jackfruit, as in this recipe.
Do you use corn tortilla for quesadilla?

Mexican quesadillas are traditionally made with corn tortillas, but you can also use wheat flour-based tortillas for softer bite and sweeter flavour.
Can you make quesadillas in the oven?

You can surely bake quesadillas instead of cooking them in a pan.

Stuff and fold the tortillas, arrange them over a greased tray, and bake the quesadillas for 15 minutes at 220°C (430°F) static, flipping them halfway through cooking time.
What goes well with quesadillas?

Serve quesadillas with hot salsa and guacamole for dipping, or top them with chopped tomatoes, avocado, and fresh coriander.

Quesadillas also pair well with:
Ingredients
| | |
| --- | --- |
| Canned Green Young Jackfruit | 400 g |
| Extra Virgin Olive Oil | 11/2 tbsp |
| Red Onion | 1 |
| Garlic Cloves | 2 |
| Oregano | 1 tsp |
| Ground Cumin | 11/2 tsp |
| Smoked Paprika | 2 tsp |
| Chipotle/Ancho Chilli Flakes | 1 tsp |
| Bell Peppers (yellow, green, red mix) | 2 |
| Corn Tortillas | 6 |
| Vegan Grated Cheese (Cheddar-style) | 240 g |
| Fresh Coriander | 0 to taste |
Step 1
Rinse and drain the canned jackfruit chunks, then squeeze them well to remove as much brine water as possible.
For each chunk, trim off the hard, meaty bit that is connected to the stringy flesh and discard it (or use it to make vegan nuggets or vegan crab cakes!).
Pop out the seeds (if any) and their membranes, discarding them.
Now, pull apart the jackfruit filaments, as you would do for pulled pork or chicken salad.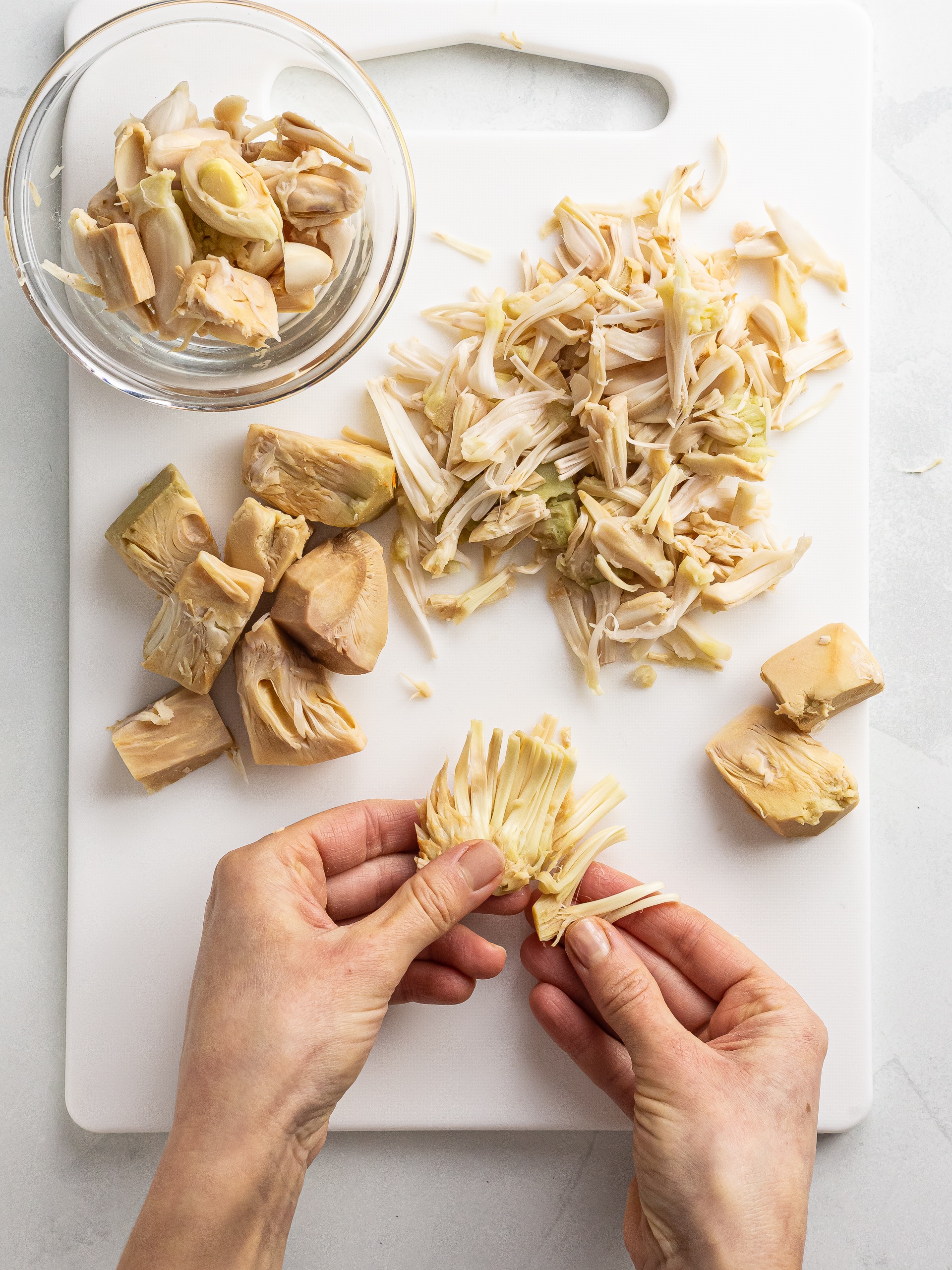 Step 2
Heat the oil in a pan, then add minced garlic, finely chopped onions, cumin, oregano, paprika, and chipotle chilli flakes.
Sizzle all for 2 minutes until fragrant.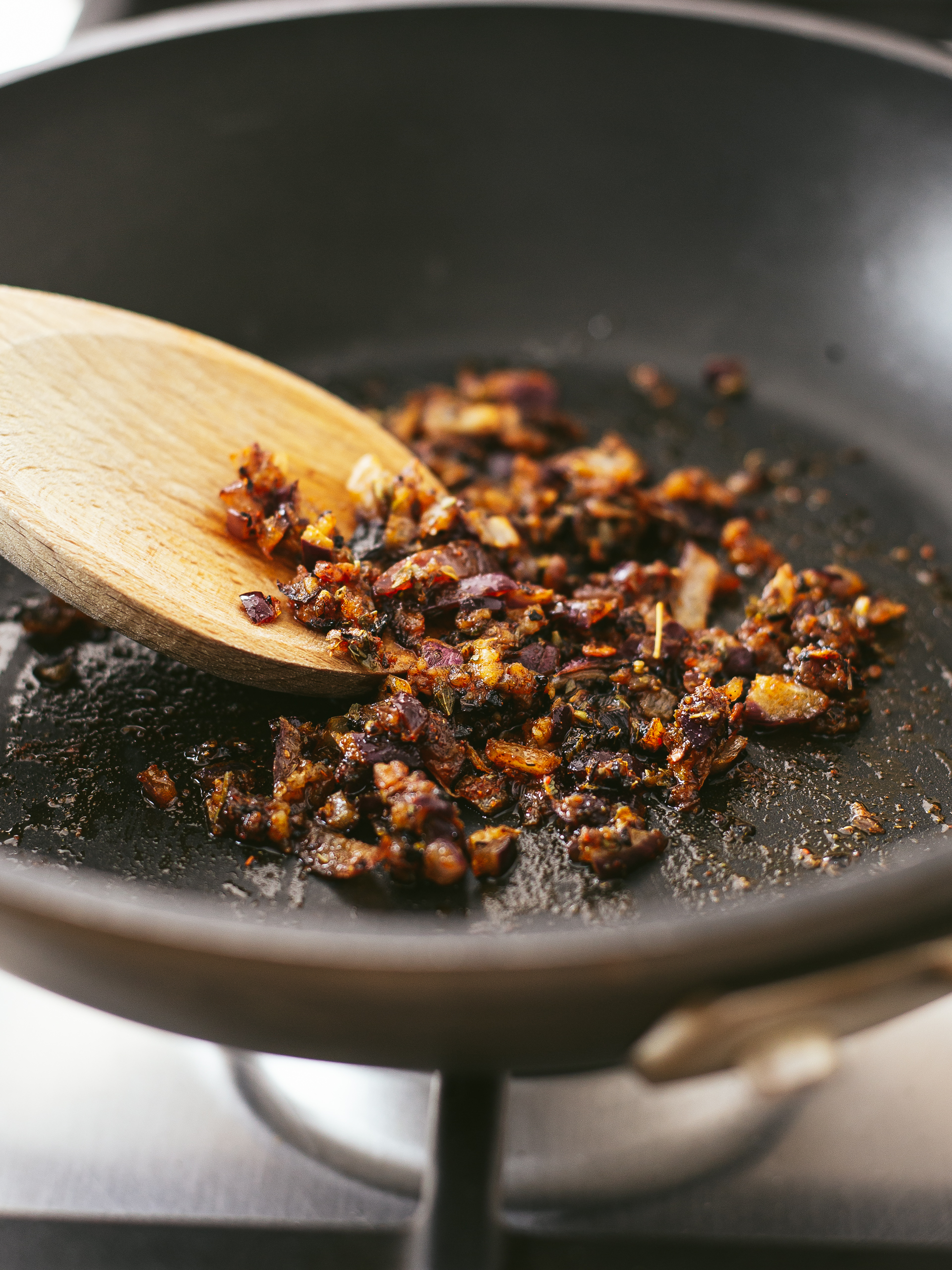 Step 3
Add the prepared 'pulled' jackfruit to the pan along with diced peppers (1) — you can peel the peppers' skin with a vegetable peeler for better digestibility.
Season with salt and pepper to taste and cook for 8 minutes uncovered over medium heat (2).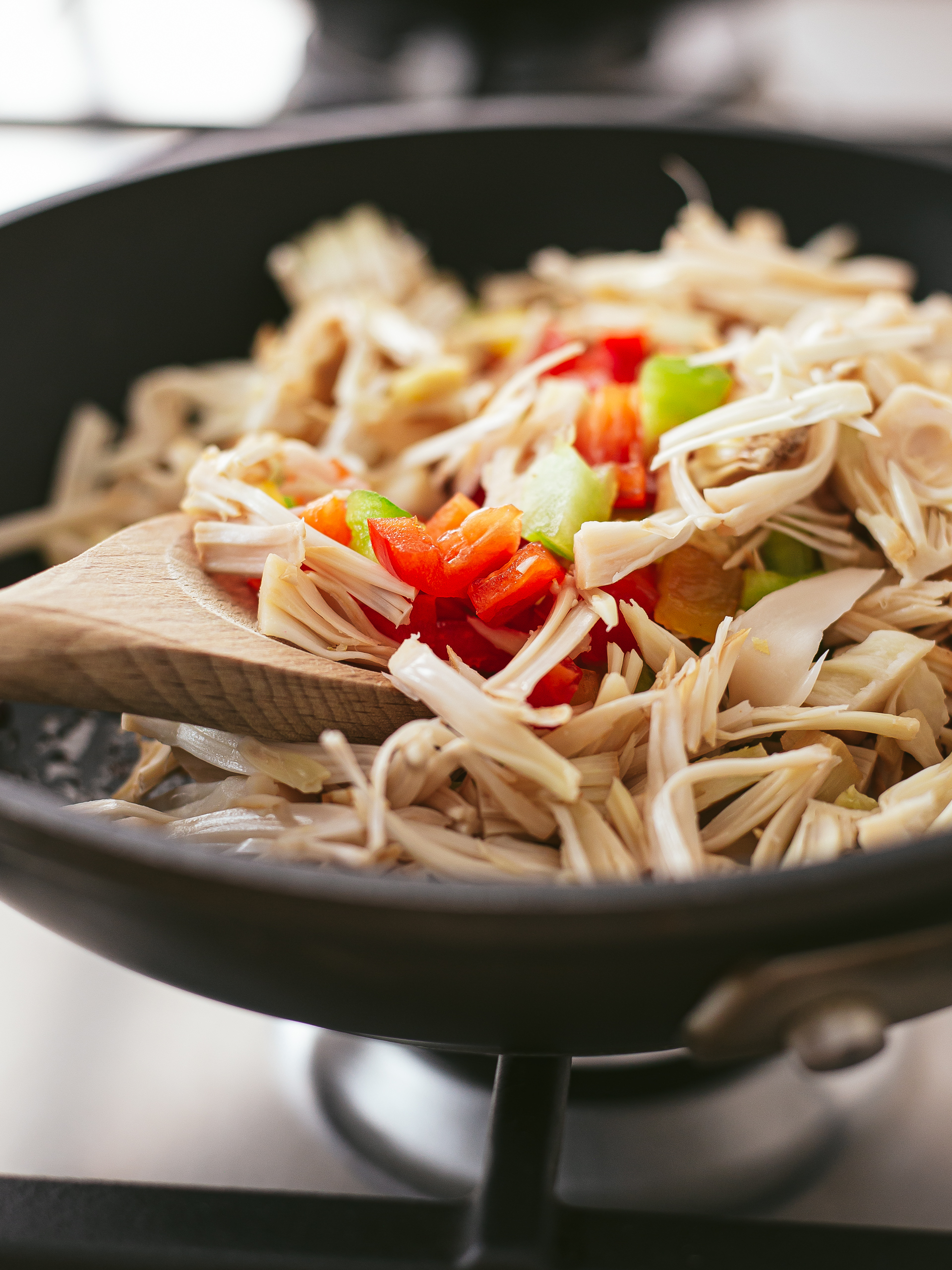 1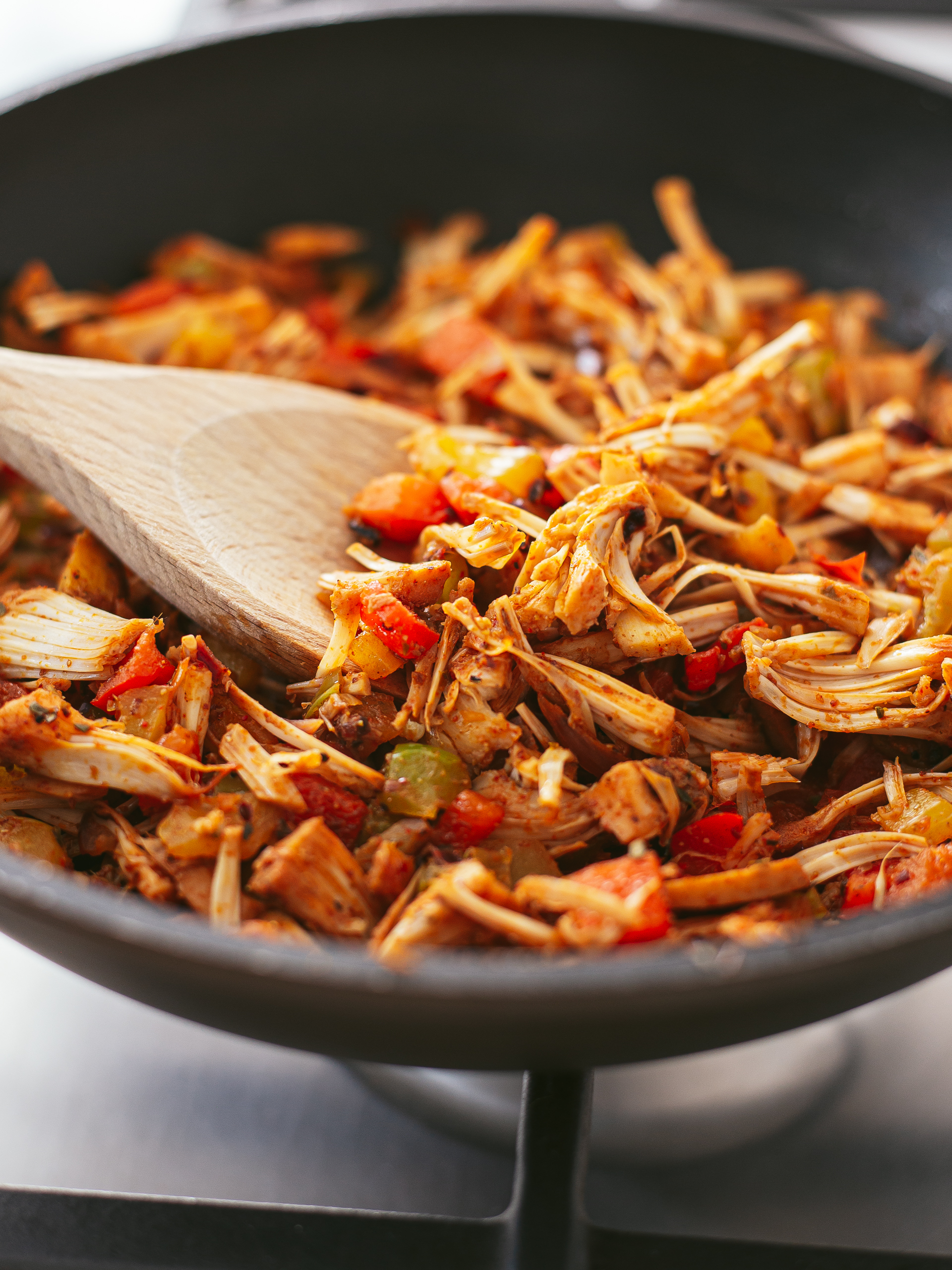 2
Step 4
Heat a clean, non-stick skillet or cast iron pan (lightly greased) over medium-high heat and place one corn tortilla.
Allow 40 grams (1.4 oz) of vegan cheese per tortilla and distribute half of it over one half of the tortilla.
Top it with the chipotle jackfruit filling, sprinkle some chopped coriander, and finish with the remaining cheese.
This way, the jackfruit filing is between two layers of cheese.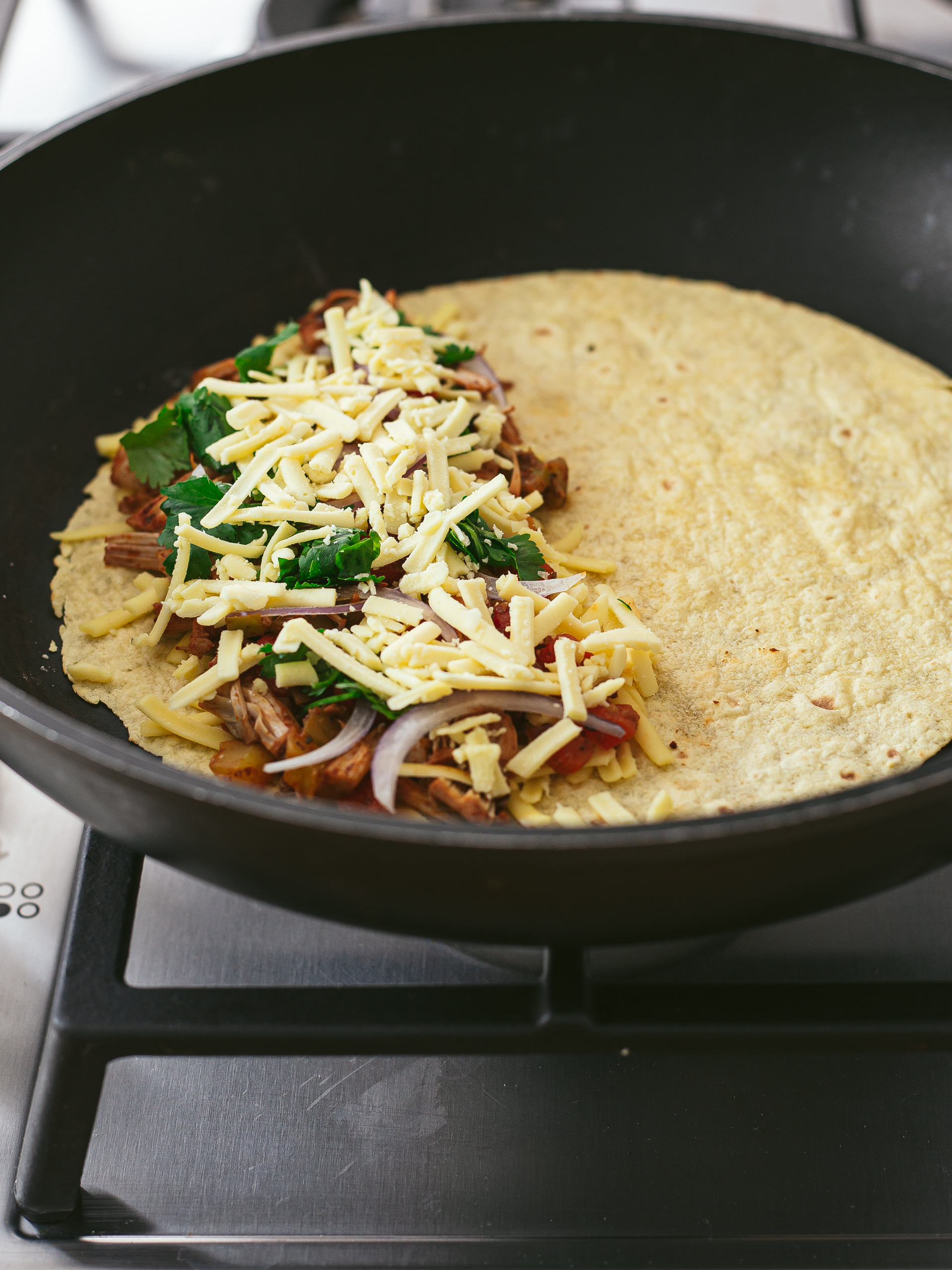 Step 5
Fold the tortilla over the filling, lightly press it down with a spatula, and cook for 3 minutes (1).
Then, flip the quesadilla and cook it for 2 more minutes or until lightly browned and crusty (2).
Repeat for the other tortillas—you can keep the prepared quesadillas warm in a low oven.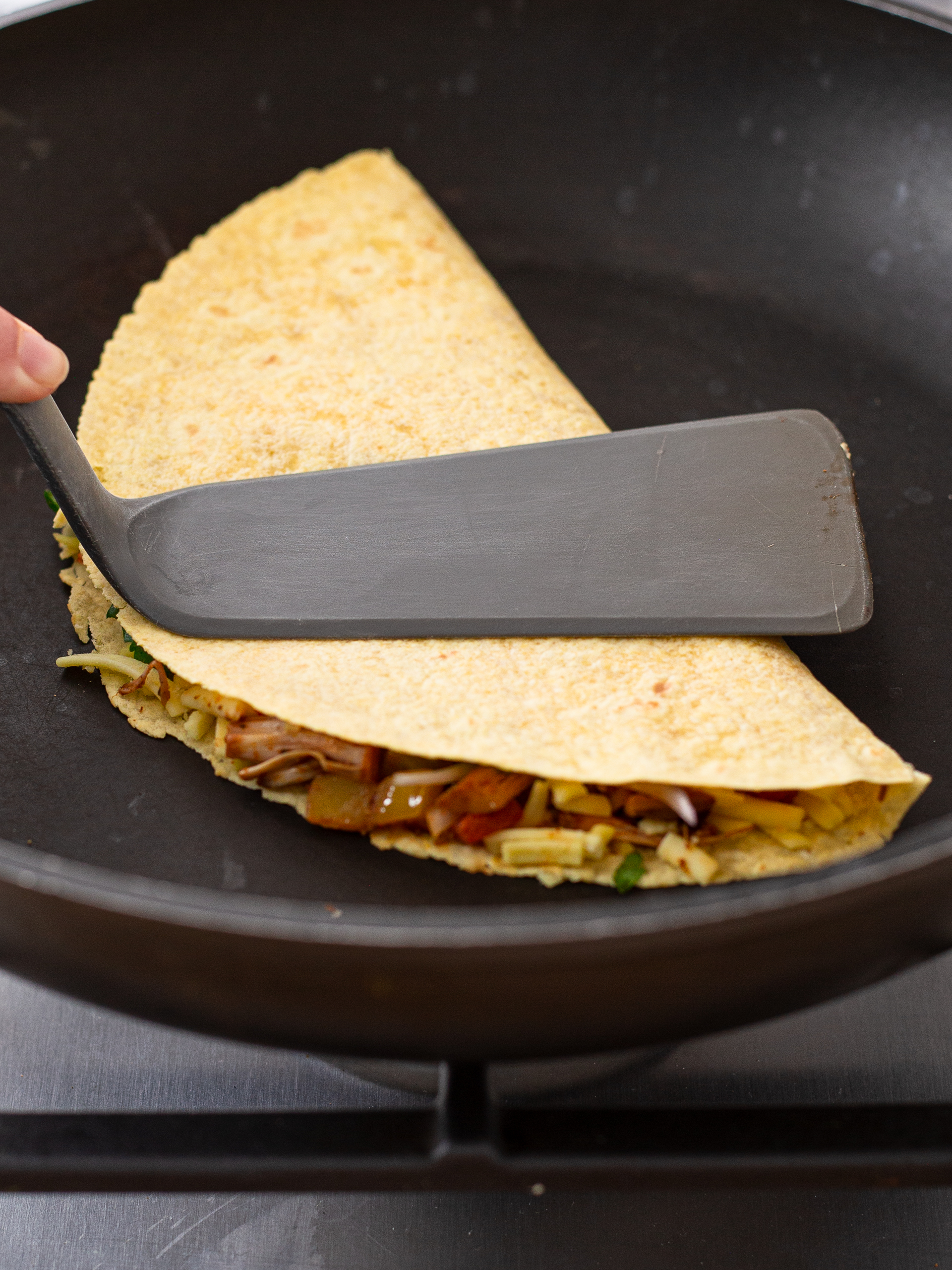 1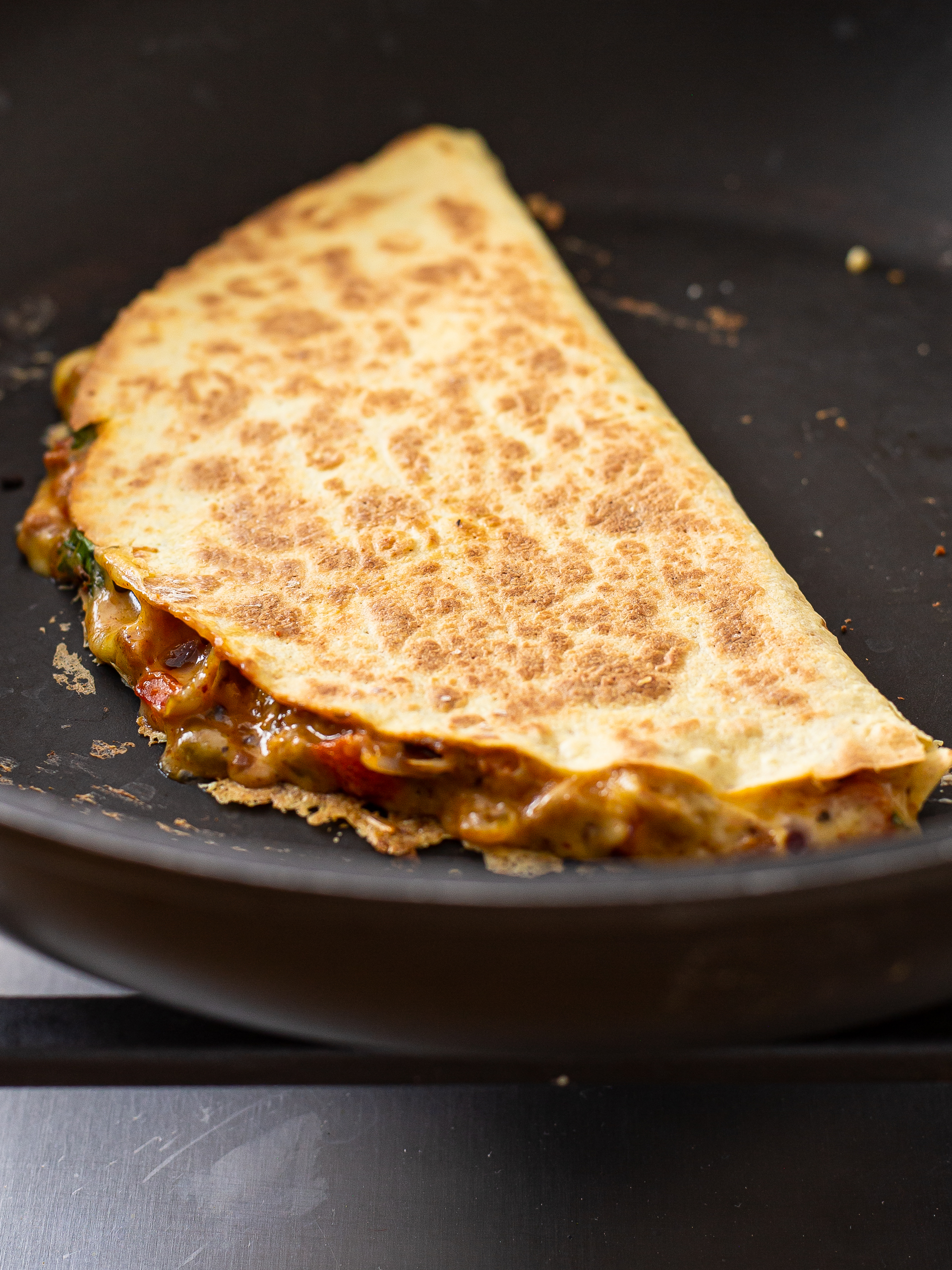 2
Step 6
Your vegan jackfruit quesadillas are ready!
Cut them into triangles and serve them warm with diced tomatoes and avocado or salsa and guacamole.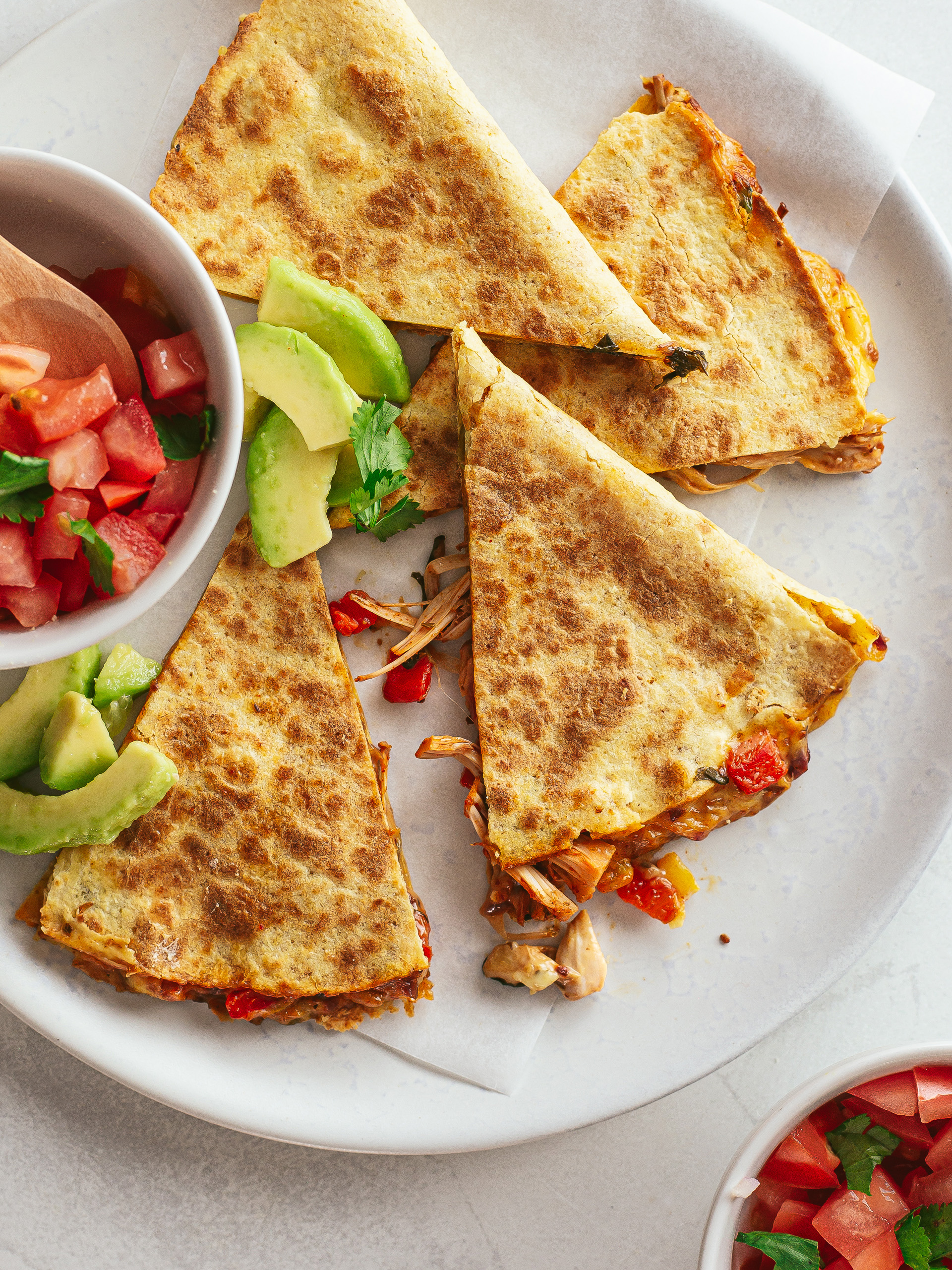 Tips
To avoid soggy quesadillas, make sure to cook the filling until all the juices have reduced. Letting the filling cool down slightly before stuffing the tortillas also helps to get crispier quesadillas.

Quesadillas are best eaten the same day, but you can pack leftovers in an air-tight container and refrigerate them for 4 days or freeze them for 2 months. To eat, grill them in a hot, dry skillet or in the oven.