Our vegan jackfruit po' boy packs all the amazing flavours of the classic New Orleans sandwich, but with a fraction of the fats. It's perfect if you're following a plant-based diet or looking for a healthier take on this Louisiana-style sub.
The traditional recipe consists of a French bread roll stuffed with fried shrimps, piled up with lettuce, tomatoes, dill pickles, and drizzled with mayo-based remoulade sauce. With a few simple tweaks, we turned this filling sandwich into a vegan-friendly and low-fat delight.
In our recipe, we coated jackfruit chunks with spicy vegan buttermilk and Cajun-spiced panko breadcrumbs. Then, we oven-baked the nuggets until crispy rather than deep-frying them to keep the fats low. Finally, we made a vegan remoulade sauce using coconut yogurt instead of mayo, and we seasoned it with wholegrain mustard and tabasco.
The result is a mouthwatering po' boy loaded with savoury "meaty" nuggets and bursting with Creole flavours. We recommend using French baguette bread as it makes the perfect base for this sandwich with its soft crumb and crispy crust.
Jackfruit is a staple ingredient in various cuisines in South East Asia, like in India and Thailand, but you can easily find it at grocery stores canned in water or brine. It has a fairly neutral taste and fleshy texture, ideal as a meat alternative in vegan recipes. We found that jackfruit is absolutely perfect for our po' boy as it takes on all the Cajun seasoning flavours.
Born as a humble filler sub for "poor boys" (from whom it takes the name), the po' boy is now a much-beloved sandwich, sure to keep you satisfied for long. And with our healthy, plant-based option, you can now enjoy a generous portion with only 400 calories, 30% of your RDI of proteins and fibres, and 5% RDI of fats.
And if you're looking for another healthy vegan lunch sandwich, check out this pulled jackfruit banh mi, smashed chickpea sandwich, and green pea hummus wrap!
Ingredients
Jackfruit Nuggets
Canned Jackfruit in Water

250 g

Plain Flour

20 g

Cajun Seasoning

2 tbsp

Coconut Milk Drink

40 mL

Apple Cider Vinegar

1 tsp

Tabasco Sauce (or any hot sauce)

1/2 tbsp

Panko Breadcrumbs

40 g

Remoulade Sauce
Coconut Yogurt

120 g

Wholegrain Mustard

2 tsp

Cajun Seasoning

1 tsp

Tabasco Sauce (or any hot sauce)

2 tsp

Sandwich
Lettuce

to taste

Tomatoes

to taste

Dill Pickles

to taste

Baguette

480 g
Step 1
Drain the jackfruit pieces and rinse them well under cold water.
Then, chop them into bite-sized nuggets.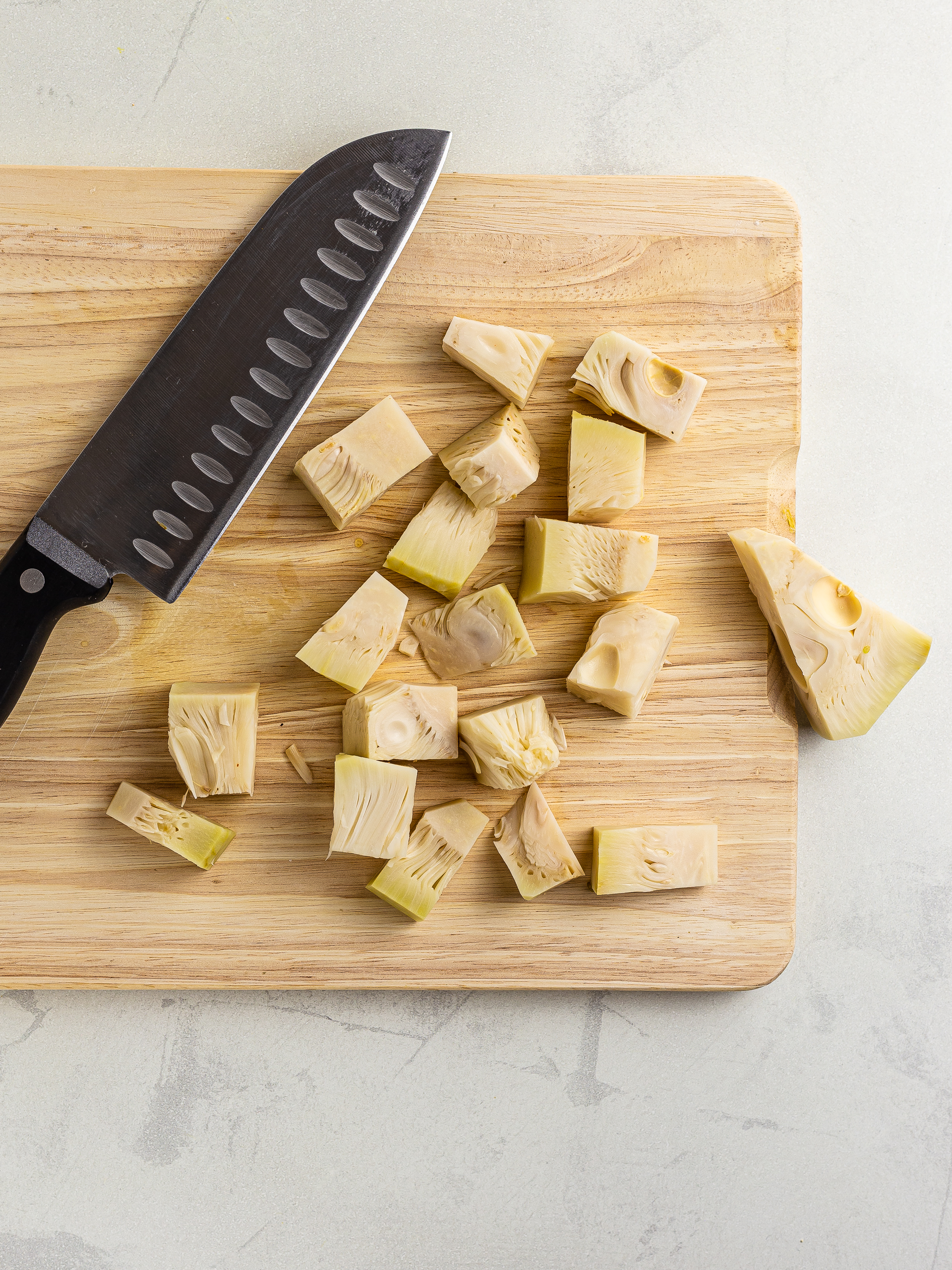 Step 2
Now, let's prepare the breading ingredients for the nuggets.
Mix plain flour with 1 tbsp of cajun seasoning and a pinch of salt in one bowl; whisk coconut milk drink with vinegar and tabasco in another bowl; combine panko breadcrumbs with the remaining 1 tbsp of cajun seasoning in a third bowl (1).
Roll each jackfruit piece in the flour, then dip it in milk, and finally coat it with breadcrumbs (2).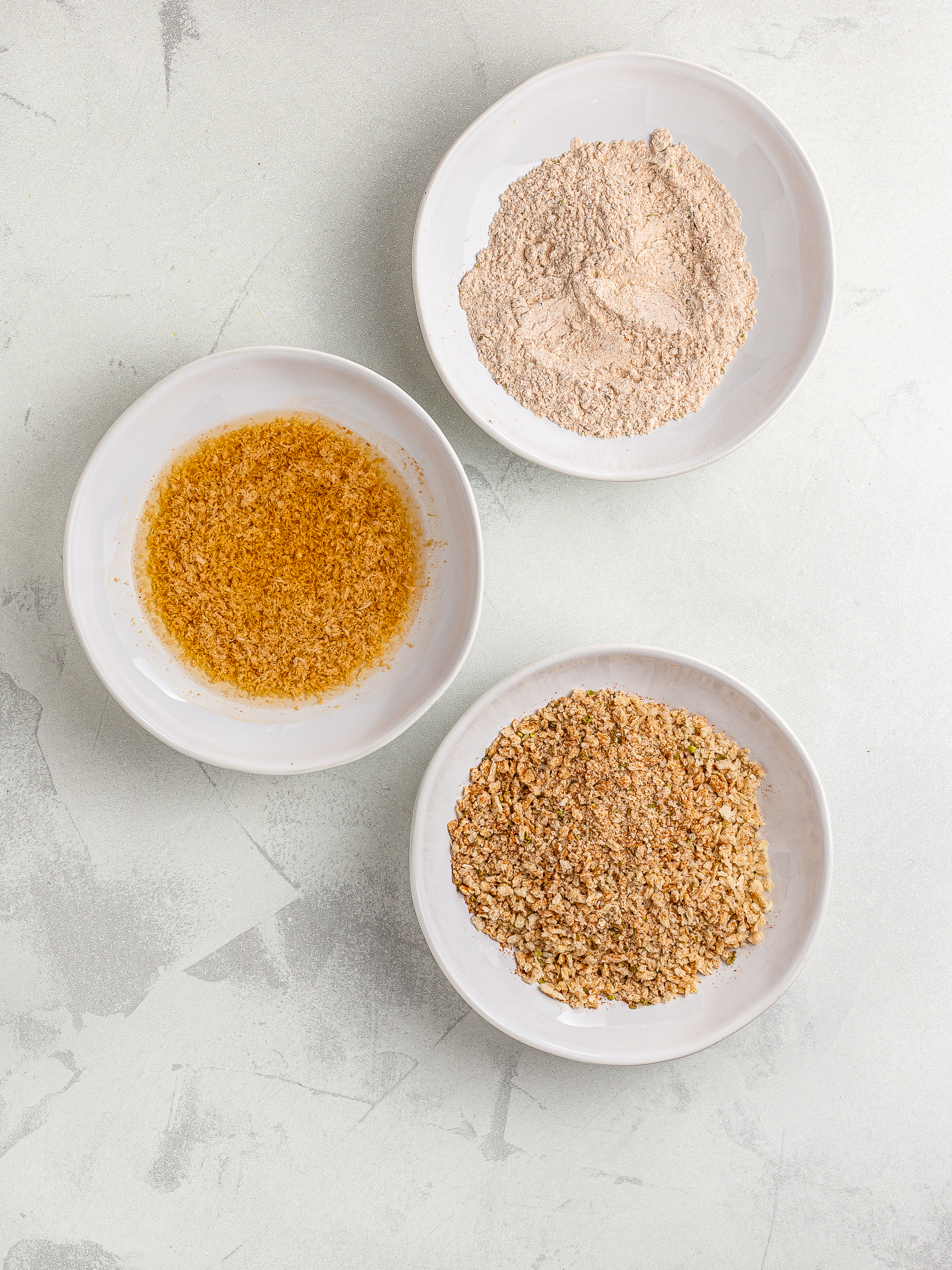 1
2
Step 3
Arrange the breaded jackfruit nuggets onto a baking tray lined with parchment paper (1).
Bake them for 20 minutes at 220 °C (430 °F) for static ovens or at 200 °C (390 °F) for fan ovens until crispy and golden (2).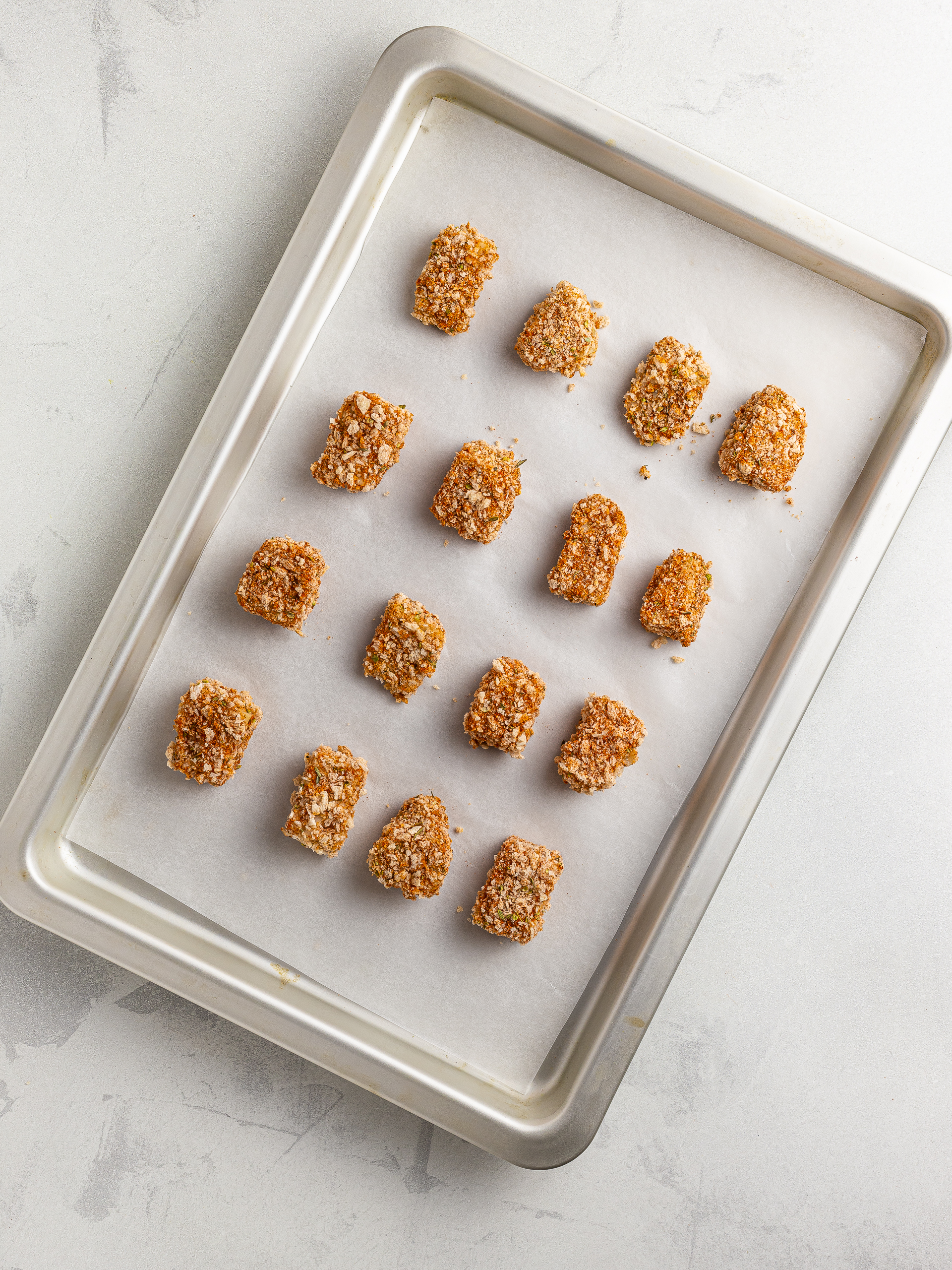 1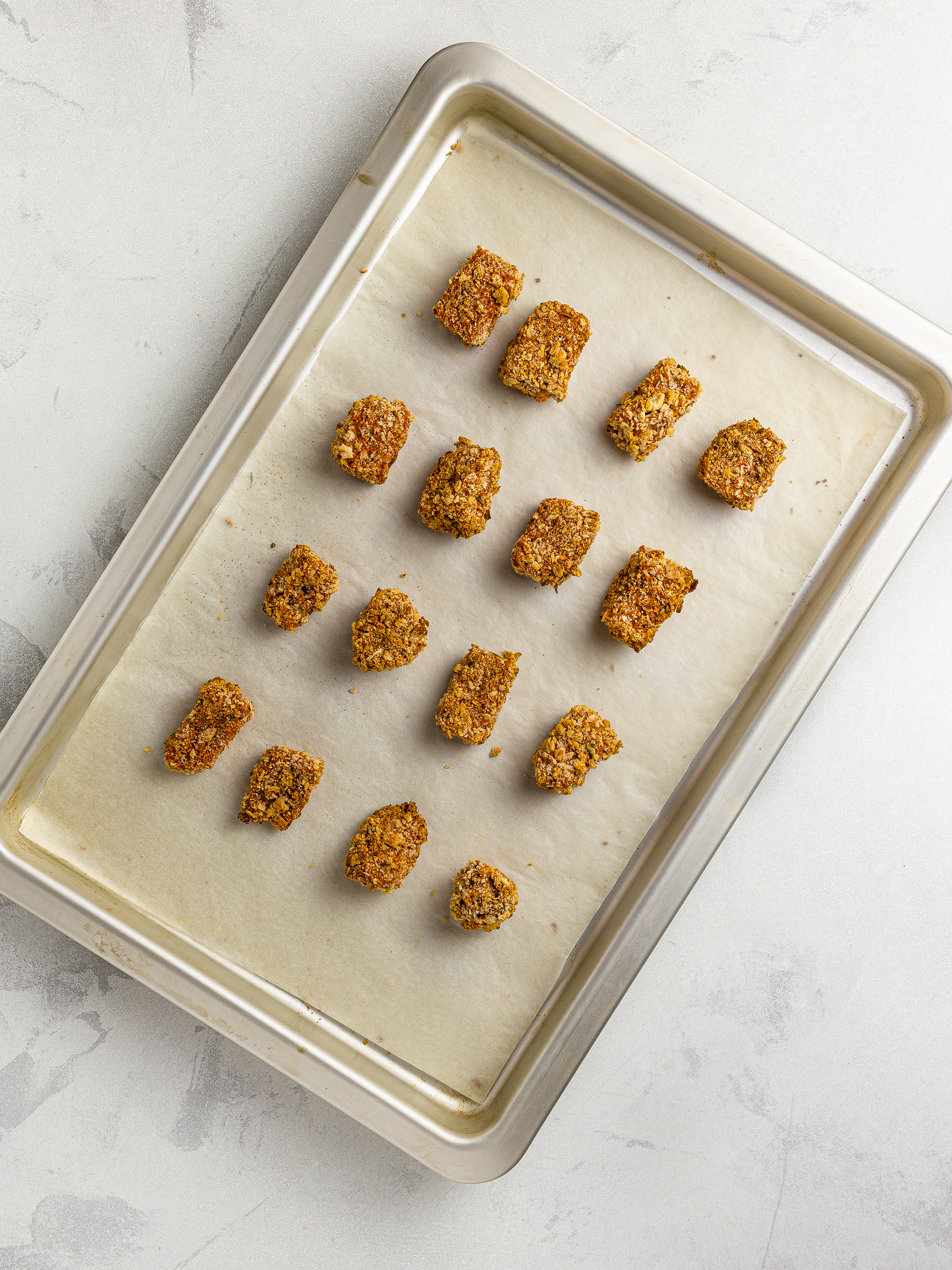 2
Step 4
Meanwhile, let's prepare the vegan remoulade sauce.
Add coconut yogurt, wholegrain mustard, cajun seasoning, and tabasco to a bowl.
Mix until the ingredients are well incorporated.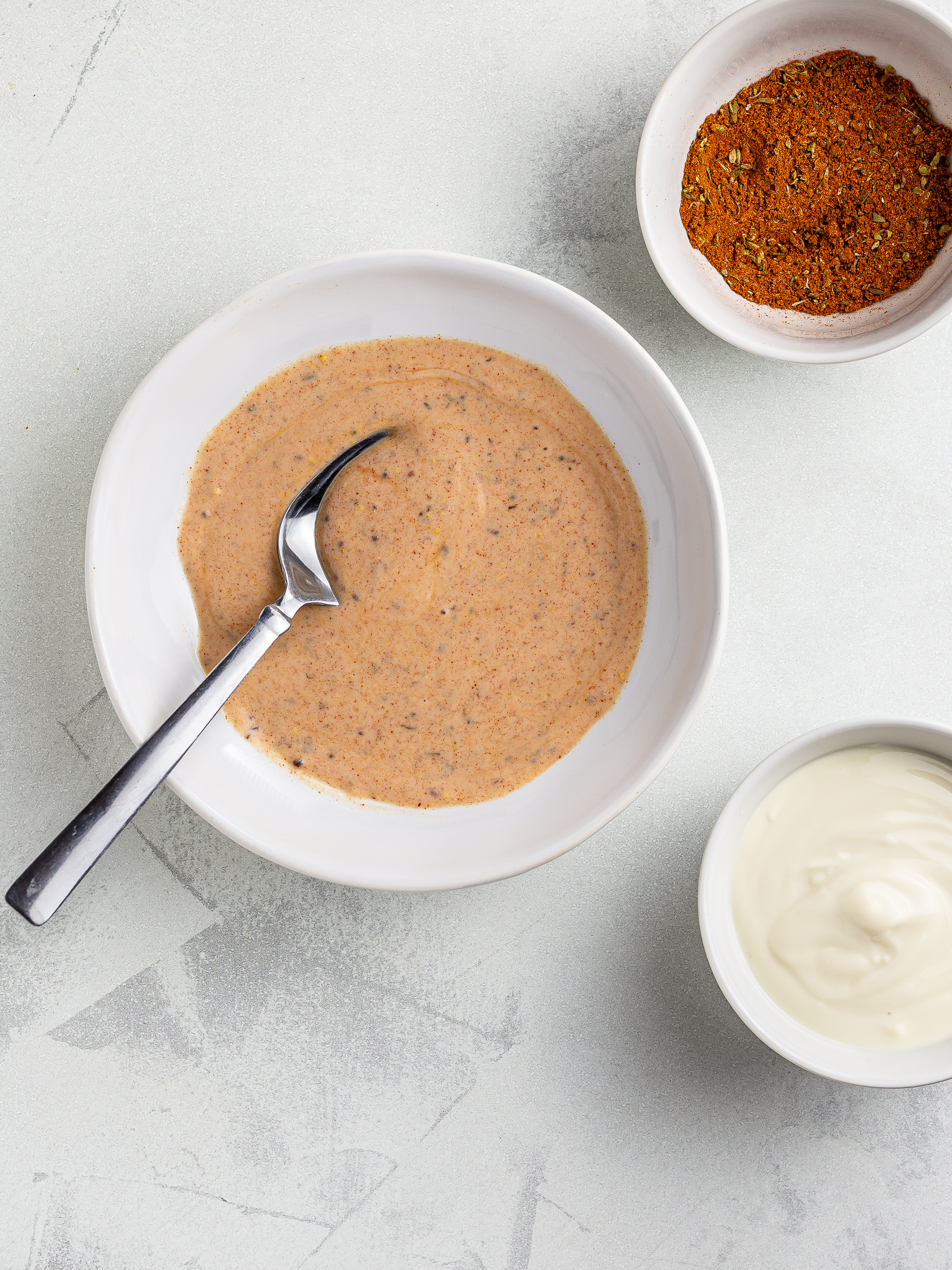 Step 5
Divide the baguette into as many portions as the number of servings and slice them open in the middle.
Spread the remoulade sauce on the base of the bread and then pile up the lettuce (1).
Finally, top it with sliced tomatoes, pickles, and baked jackfruit nuggets (2).
Drizzle the sandwiches with any remaining sauce and enjoy them warm.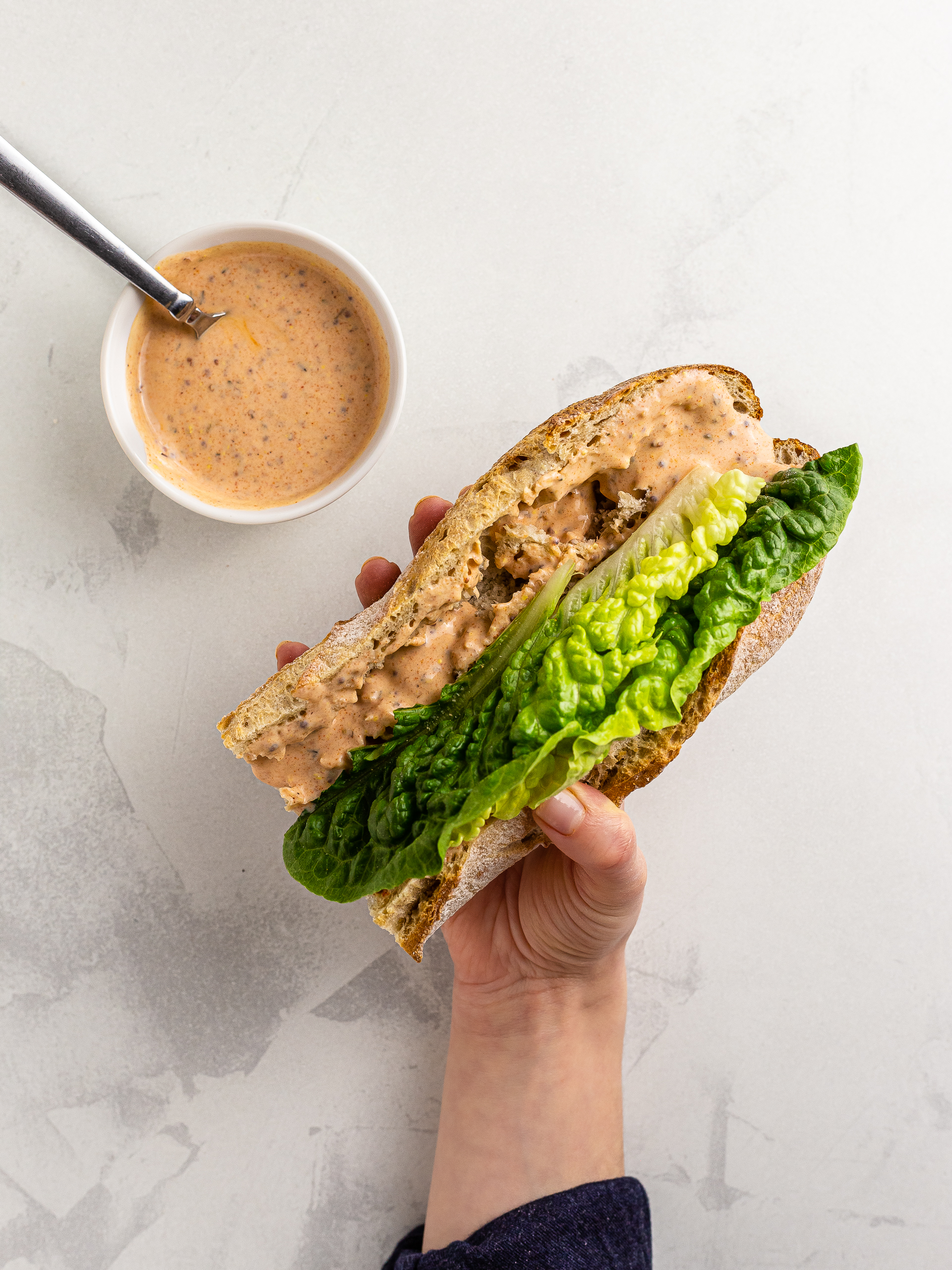 1
2
Tips
If you can't find the Cajun seasoning at the supermarket, you can easily make it yourself from scratch. To do so, mix 1 tablespoon of smoked paprika with 1/2 tablespoon of dried oregano, 1/2 tablespoon of dried thyme, 1/2 teaspoon of cayenne pepper, 1/2 teaspoon of garlic powder, salt and black pepper in a bowl.

You can replace tabasco with any other hot sauce, like chipotle or sriracha sauce. If you fancy, you can also try our homemade chilli sauce!