For today's recipe, we'll make a delicious plant-based version of the famous bánh mì Việt Nam ("Vietnam-style bread"), one of the world's greatest sandwiches. And we'll do it using one amazing ingredient: pulled jackfruit!
What makes jackfruit such a famous pork replacement in vegan recipes?
Green jackfruit (AKA young jackfruit) has a "meaty" flesh with many threads. And when you pull these threads, you get something that looks just like pulled pork!
Plus, its neutral flavour means you can easily spice it up and adapt it to infinite recipes.
So, we made our Vietnamese banh mi rolls with pulled jackfruit instead of the classic shredded pork. And to get jackfruit to play the part, we seasoned it nicely with garlic, ginger, and spicy sriracha sauce.
As for the other ingredients, you'll need the traditional accompanying vegetables:
Pickled carrots, crunchy daikon, and fresh cucumber for stuffing;

Chillies and cilantro for topping.
Besides the crusty baguette, Vietnamese banh mi also features two other French-derived ingredients: meat pate and egg mayo. But wait, why French? Aren't we making a Vietnamese recipe?
Banh mi is basically a mash-up of Vietnamese and French cuisines, a result of French influence in Vietnam in the 1800s.
Take traditional French food, add a generous pinch of Vietnamese flair, and you get tasty things like banh mi and savoury pate chaud pastries!
In our vegan banh mi recipe, we skipped the pate and swapped egg mayo with vegan mayo. But if you want an even healthier alternative, you can prepare your homemade vegan mayo using cashews!
If after gulping down this fine banh mi you are left with some spare jackfruit, use it in one of these tasty recipes: jackfruit crab cakes, jackfruit biryani or jackfruit gyros.
Let's get started!
Ingredients
Pickled Veggies
Sugar (or sugar-free erythritol)

2 tsp

Salt

1 tsp

Warm Water

350 mL

Vinegar (rice, apple cider or white vinegar)

80 mL

Carrots

160 g

Daikon (mooli)

160 g

Pulled Jackfruit
Canned Jackfruit in Water (drained weight)

400 g

Vegetable Oil

2 tbsp

Garlic Cloves

2

Grated Ginger Root

1 tsp

Chilli Powder

1/2 tsp

Sriracha Sauce

2 tbsp

To Serve
Baguette (white or brown)

200 g

Vegan Mayo

recipe

2 tbsp

Cucumber

1/2

Fresh Coriander (cilantro)

to taste

Thin Red Chillies

2
Step 1
Start by preparing the pickled vegetables to stuff the banh mi.
Dissolve sugar and salt in a bowl of warm water, then pour in the vinegar.
Peel and julienne the carrots and daikon (mooli) into thin strips and add them to the bowl of brine water.
Make sure the vegetables are fully submerged and let them soak for at least 1 hour — they should become a little softer.
You can also leave them to marinate in a sealed jar in the fridge for up 24 hours to deepen and intensify the flavours.
Once ready, drain the pickled vegetables, squeeze out excess water, and set them aside.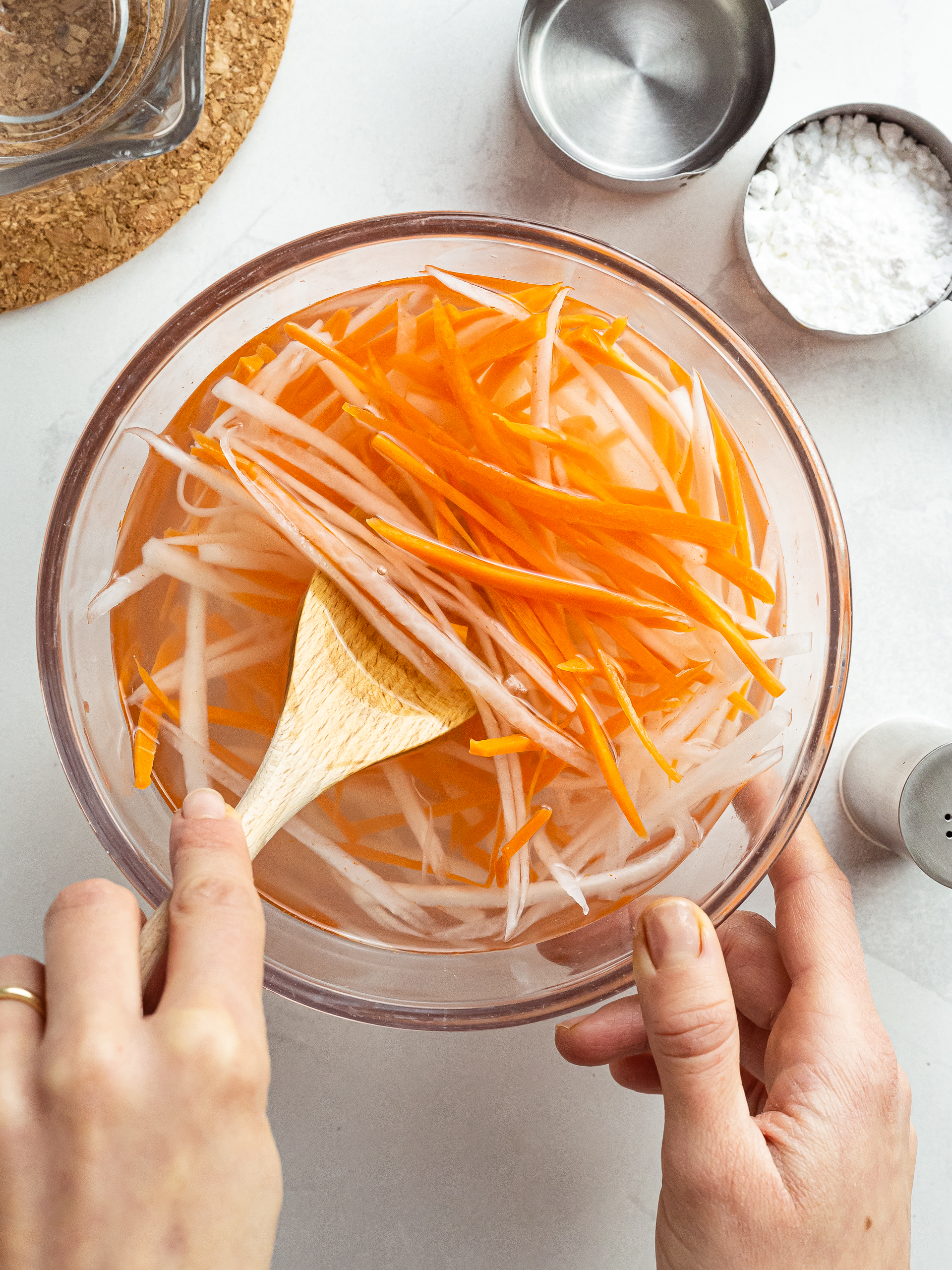 Step 2
Meanwhile, prep up the jackfruit.
Drain the canned jackfruit chunks and rinse them well with fresh water.
Then, squeeze the chunks hard without breaking them to drain as much brine water as possible.
Now, for each chunk, trim off the hard meaty bit that is connected to the stringy flesh.
Then, pull apart the jackfruit filaments, as you would do with pork.
Pop out the seeds (if any) and their membranes, discarding them.
You should now have shredded jackfruit that looks like pulled pork.
You can use the leftover hard "meat" bits to make jackfruit nuggets, jackfruit tikka masala, or a jackfruit burger.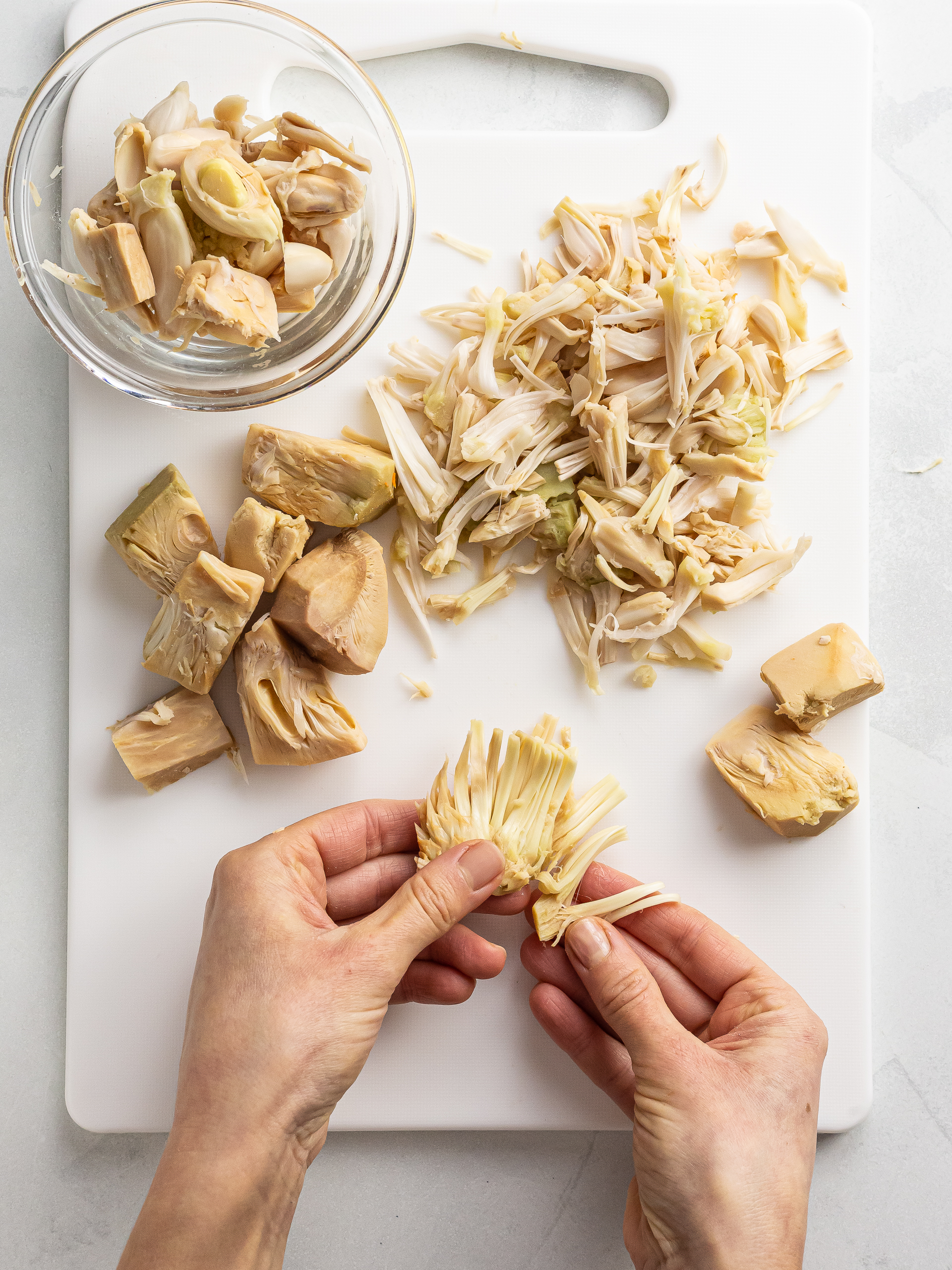 Step 3
Heat the oil in a skillet with crushed garlic, grated ginger, and chilli powder until sizzling and fragrant.
Then, add the pulled jackfruit and cook for 10 minutes over medium heat (1).
Drizzle the jackfruit with sriracha sauce, stir to combine, and remove from the heat (2).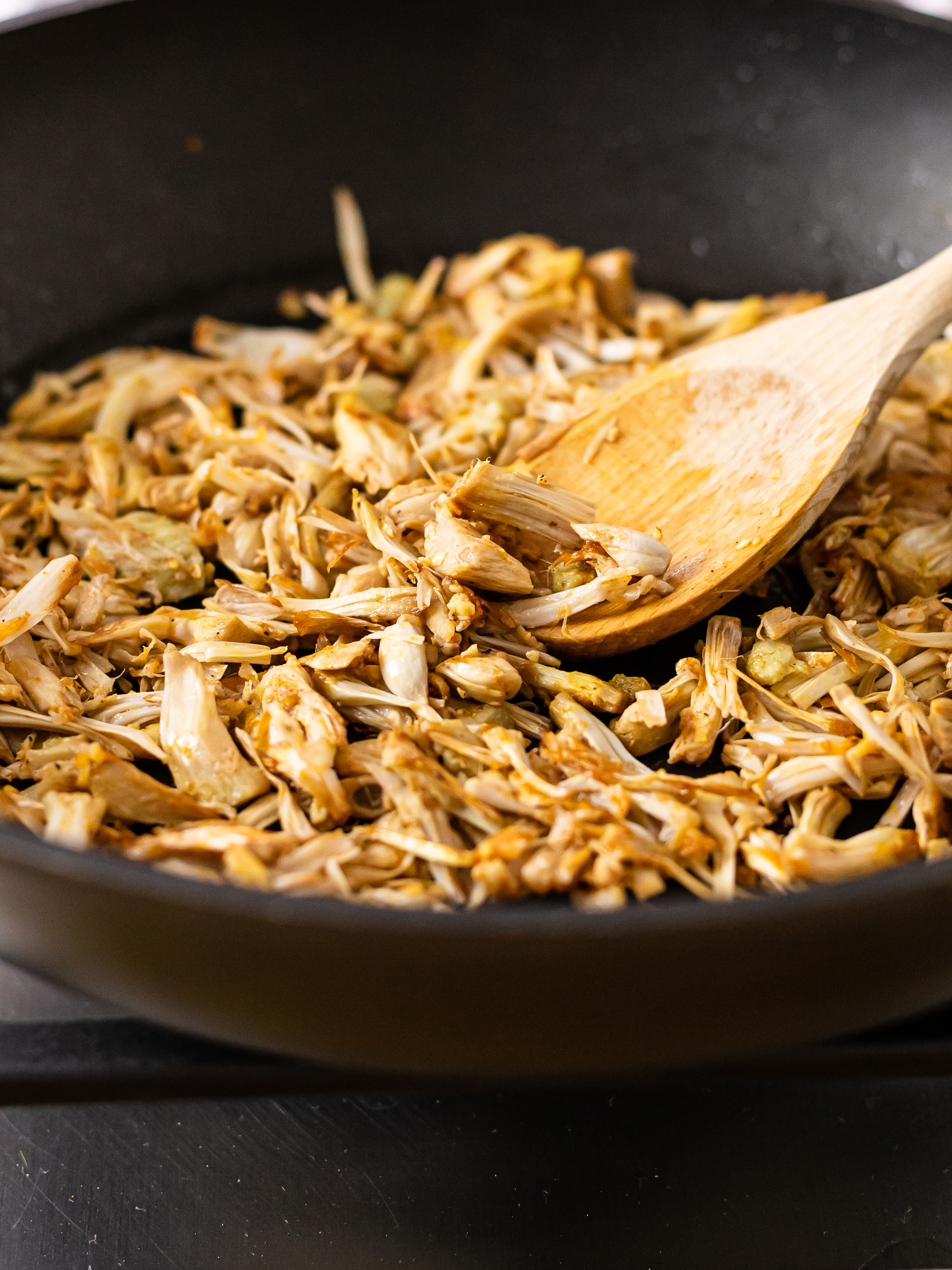 1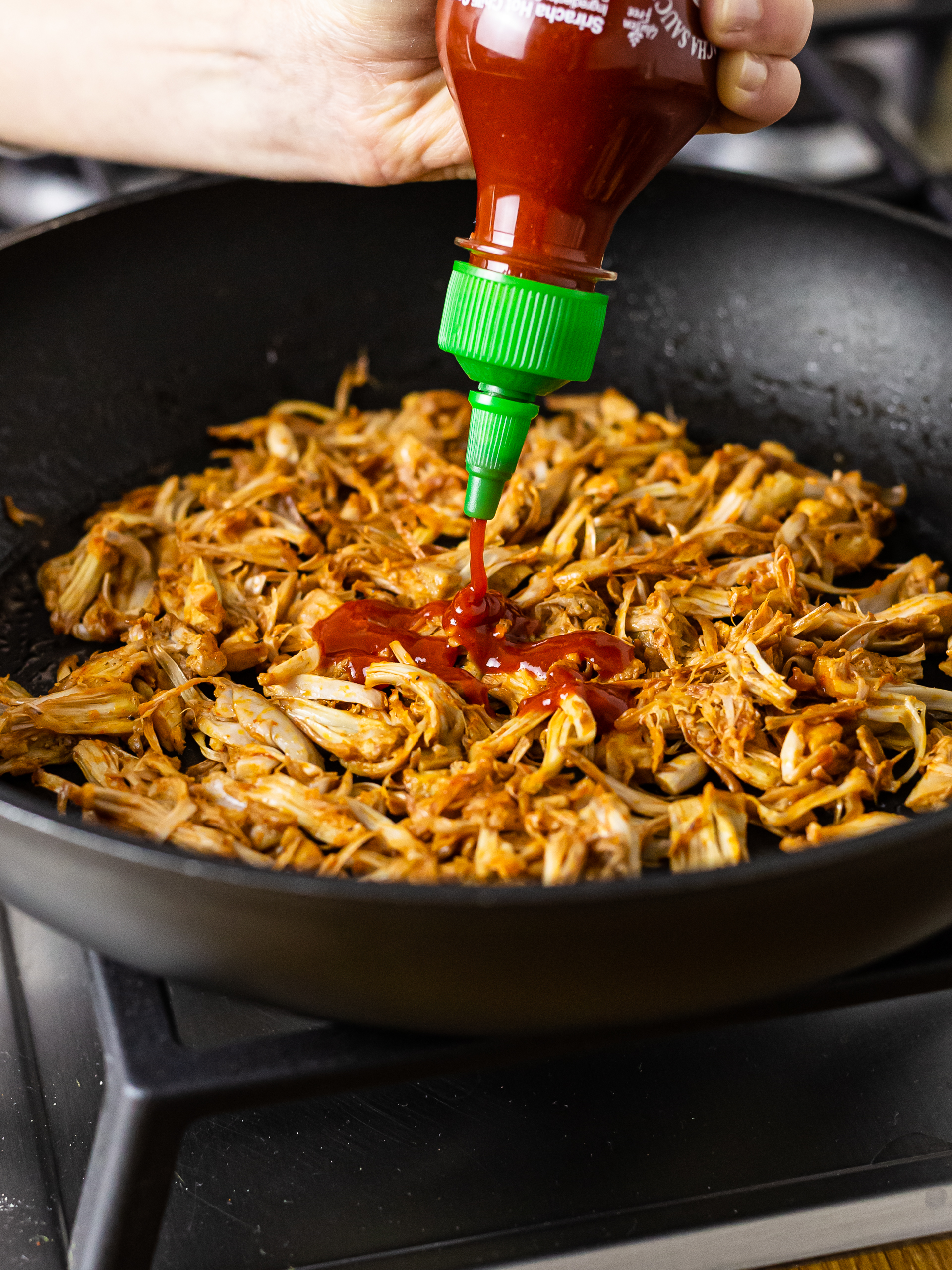 2
Step 4
Warm the baguette bread in the oven until crusty, and slice it in half along the centre without cutting through.
Pry the baguette open, and if there's too much bread crumb for your taste, pluck it off — you'll have more room to fit the delicious filling!
To assemble the banh mi sandwich, spread the vegan mayo (or this healthy cashew mayonnaise) on one side and top it with the cooked jackfruit.
Then, finely slice the cucumber lengthwise into long strips and lay them on the other side (1).
Finally, top the sandwich with pickled veggies, fresh coriander (cilantro) and thinly sliced red chillies (2).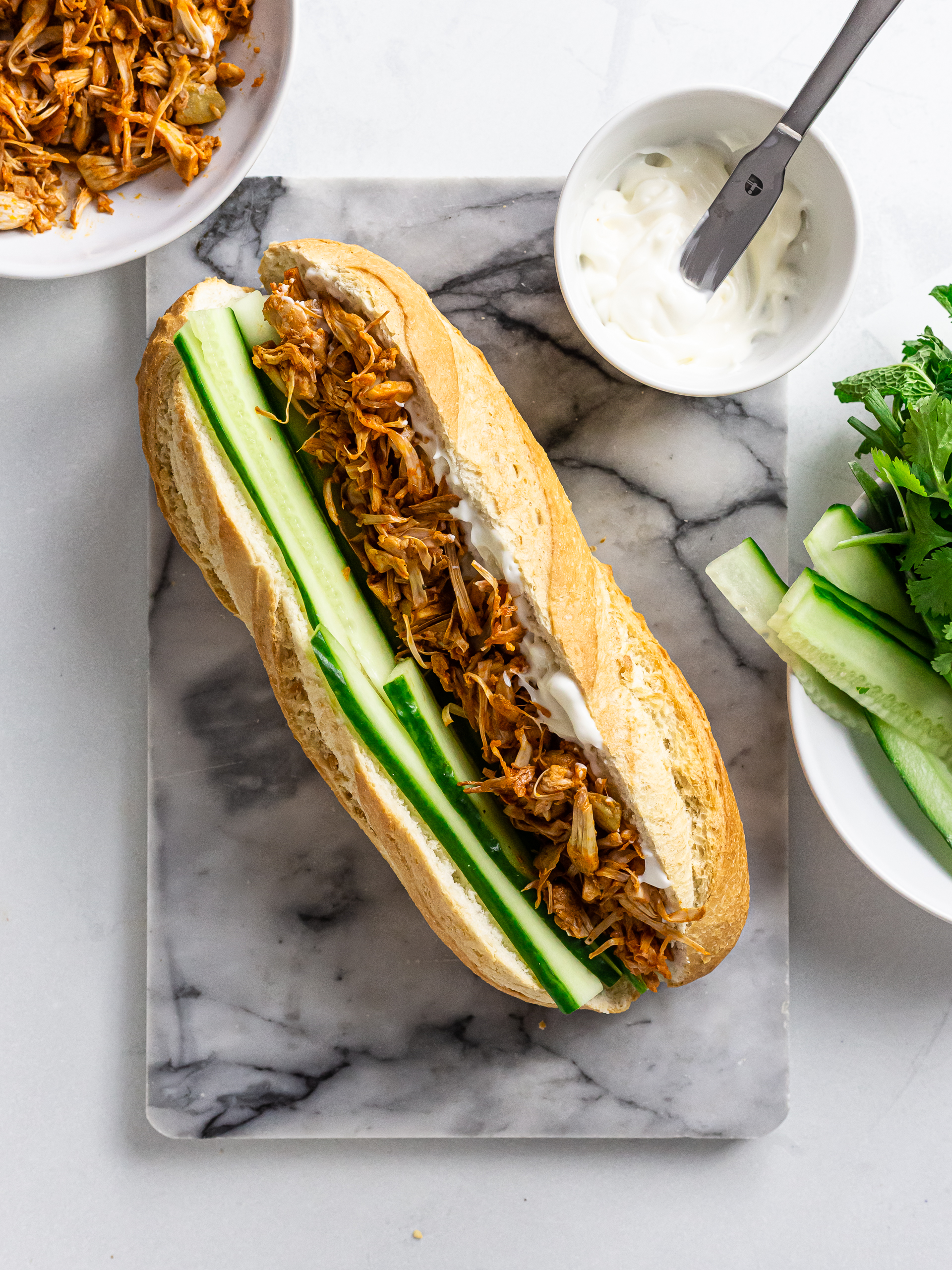 1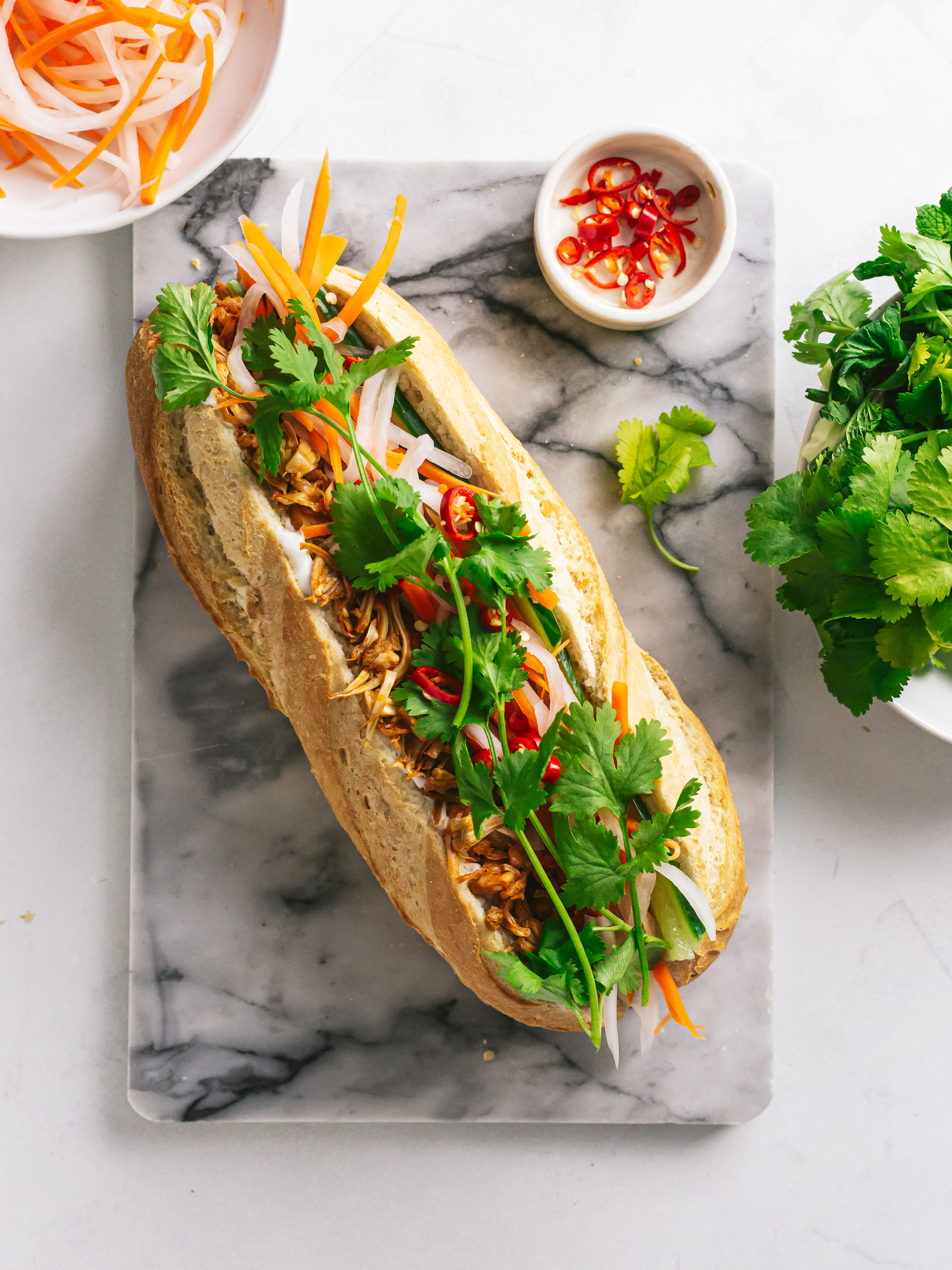 2
Step 5
Your vegan jackfruit banh mi is ready.
Slice the sandwich in half and enjoy it whilst still warm!
Want to pair this sandwich with another vegan Vietnamese dish? Check out these recipe ideas: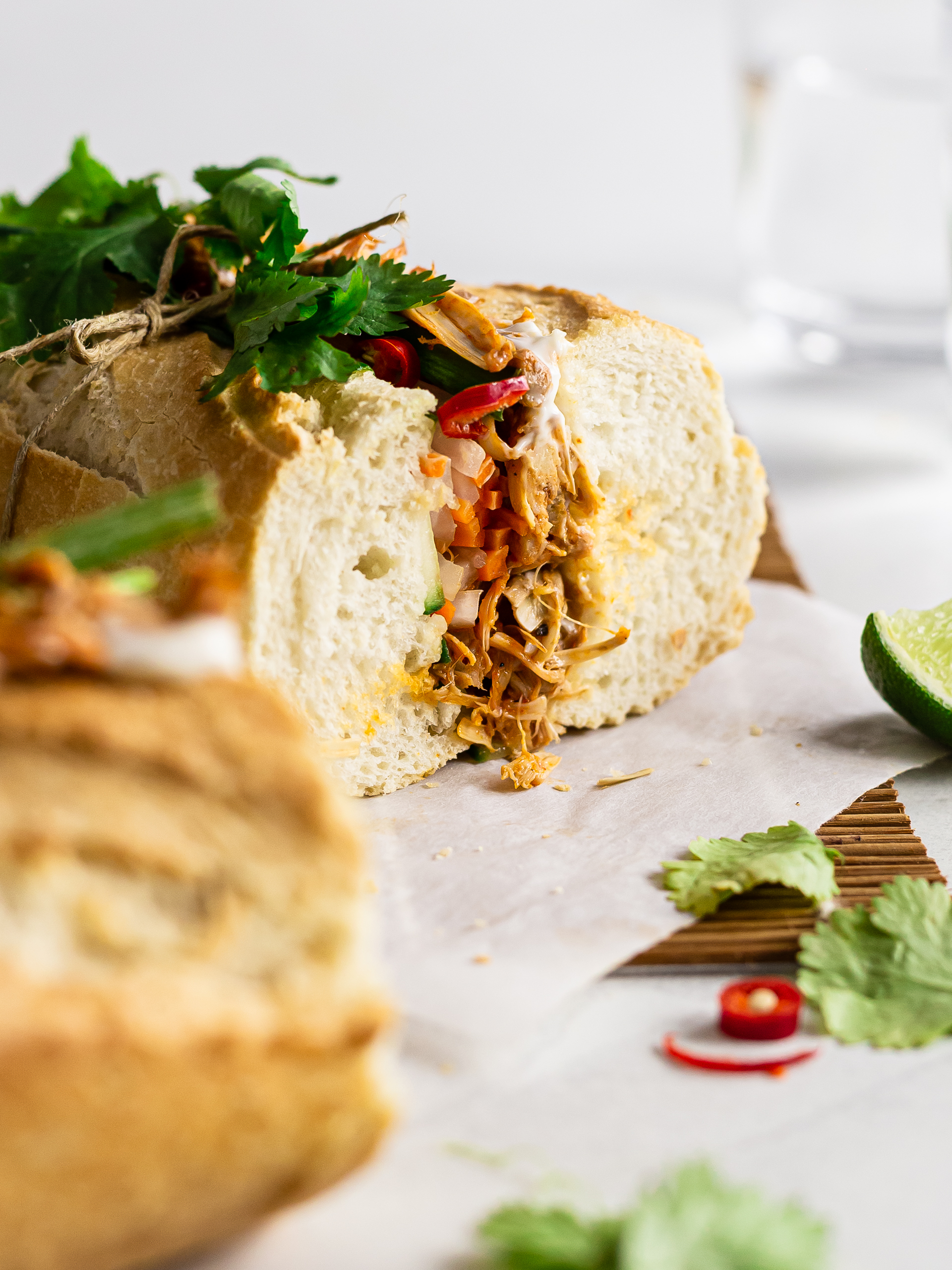 Tips
You can load up your banh mi with more fresh herbs like mint leaves or sliced spring onions or drizzle it with extra sriracha sauce if you like.

These Vietnamese jackfruit rolls are best eaten on the same day while still warm and crunchy.

But you can store them in the fridge tightly wrapped in cling film or foil or into a tight seal container for up to 2 days. The bread will become softer, but you can reheat it in the oven to bring back some crunch.