Today, we want to share our delicious vegan spin of the famous Japanese pumpkin croquettes, aka kabocha korokke.
Made with kabocha squash filling and panko breading, these satisfying nibbles are sweet and soft inside and super crispy outside. So tasty!
And the good news is that our croquettes balls are dairy-free, oil-free, and oven-baked instead of fried.
So go ahead and make a big batch of them for the whole family — or just for you!
Kabocha is a variety of winter squash commonly found in Japan. It's sweeter than other pumpkins like butternut squash, with dark green skin and bright orange flesh.
You should be able to find it at your local Asian food store, but if you don't, we'll give some tips on how to swap kabocha in the FAQ section.
Japanese croquettes, called korokke (コロッケ), are similar to Western potato croquettes, but they're usually coated with panko breadcrumbs instead of regular breadcrumbs. This means they're way crispier and crunchier!
To make our recipe vegan, we swapped buttered onions with oven-roasted onions.
Then, we mixed them with kabocha squash pureé, made from roasted instead of steamed kabocha, for extra flavour.
Because kabocha is starchier than other pumpkins, you can easily shape it into balls and make croquettes with it.
As for the coating, we replaced the classic egg wash with a simple "flax egg wash" prepared with just flax seeds and water.
No flax? No problem, you can find some substitutions in our FAQ section.
Then, simply roll the korokke in panko and bake these beauties in the oven until crispy. Et voila!
Savour your vegan kabocha squash croquettes while hot with some dipping sauce on the side. Yum!
And if you'd like to try other crusty bites ideas, check out these mushroom croquettes, tofu karaage nuggets, and Nigerian bread rolls.
Frequently Asked Questions
What are Japanese kabocha korokke?

Kabocha Korokke are Japanese fried croquette balls made with a filling of kabocha pumpkin pureè instead of the more common potato mash.

Kabocha (かぼちゃ) is a type of Japanese winter squash, while korokke (コロッケ) is how people in Japan say "croquettes".
What is kabocha?

Also called kabocha squash or Japanese pumpkin, kabocha (南瓜) is a Japanese variety of winter squash.

It's a round pumpkin with rough, deep-green skin and bright yellow-orange flesh.

Kabocha is sweeter and starchier than other cooking pumpkins like butternut squash.

Some say its flavour and texture is a cross between a pumpkin and a sweet potato.

In Japan, kabocha is used in a variety of dishes like soups, tempura, croquettes and even desserts.
What can I use instead of kabocha to make Japanese korokke?

If you can't find kabocha, you can use butternut squash to prepare Japanese korokke.

But because butternut squash is less starchy and more watery than kabocha, we recommend roasting it in the oven instead of steaming it.

This way, you'll get rid of the excess moisture.

Yet, if the butternut pureé is still too soft and watery to shape the croquettes, you can tip in some starch or flour to thicken it.

As for the taste, korokke with butternut squash will be slightly less sweet than those made with kabocha.

So, if you wish, you can optionally tip in some maple syrup, or use half butternut pureè and half mashed sweet potatoes. But, we tested the recipe with both types of pumpkin and didn't find it necessary.
How do you make korokke vegan?

You can make kabocha korokke vegan by replacing butter with vegetable oil and using a plant-based alternative to eggs like flax egg for the coating.

Japanese croquettes are usually coated with eggwash before being breaded with panko breadcrumbs.

Instead of egg wash, you can make a quick "flax eggwash", mixing 1 tablespoon of flax seeds with 4 tablespoons of water.

Alternatively, make a flour batter whisking 160ml (5.5 fl oz) of cold water with 100g (3.5 oz) of plain flour.
Are these Japanese pumpkin croquettes healthy?

Our vegan and oven-baked korokke are a healthy alternative to the classic Japanese pumpkin croquettes.

They're lower in fats, saturated fats, and calories because we replaced butter with oil, eggs with flaxseeds, and we baked them in the oven instead of deep-frying them.
Is korokke the same as croquettes?

Yes, korokke is the same croquettes. The word korokke (コロッケ) is how Japanese people write and spell the English term "croquettes" in katakana, their alphabet for words of foreign origin.
Can you bake Japanese korokke?

Yes, you can bake Japanese kabocha korokke instead of deep-frying them for a low-fat, oil-free recipe.
How do you make kabocha squash croquettes from scratch?

Preparing kabocha squash croquettes from scratch is super easy.

All you have to do is roast or steam pumpkin chunks until soft, mash them into a pureé, and coat them with panko breadcrumbs.

Then, either bake the korokke balls in the oven or deep-fry them in hot oil until crispy outside.
What can I serve with kabocha croquette balls?

The best way to enjoy kabocha croquettes is to serve them piping hot with a drizzle of lemon and a dipping sauce.

You can try them with our spicy vegan sriracha mayo, egg-free cashew mayo, or the classic tonkatsu sauce (a sweet and savoury Japanese sauce made with soy sauce).
Ingredients
Coating
Starch (potato or corn)

60 g

Ground Flaxseeds

12 g

Water

70 mL

Panko Breadcrumbs

60 g

Filling
Kabocha Pumpkin

800 g

Onions

1/2
Step 1
Peel and deseed the kabocha pumpkin or butternut squash.
Then, chop it into chunks and toss them in a roasting tin with a little vegetable oil, salt and pepper to taste.
Roast them for 25 minutes at 200°C (400°F).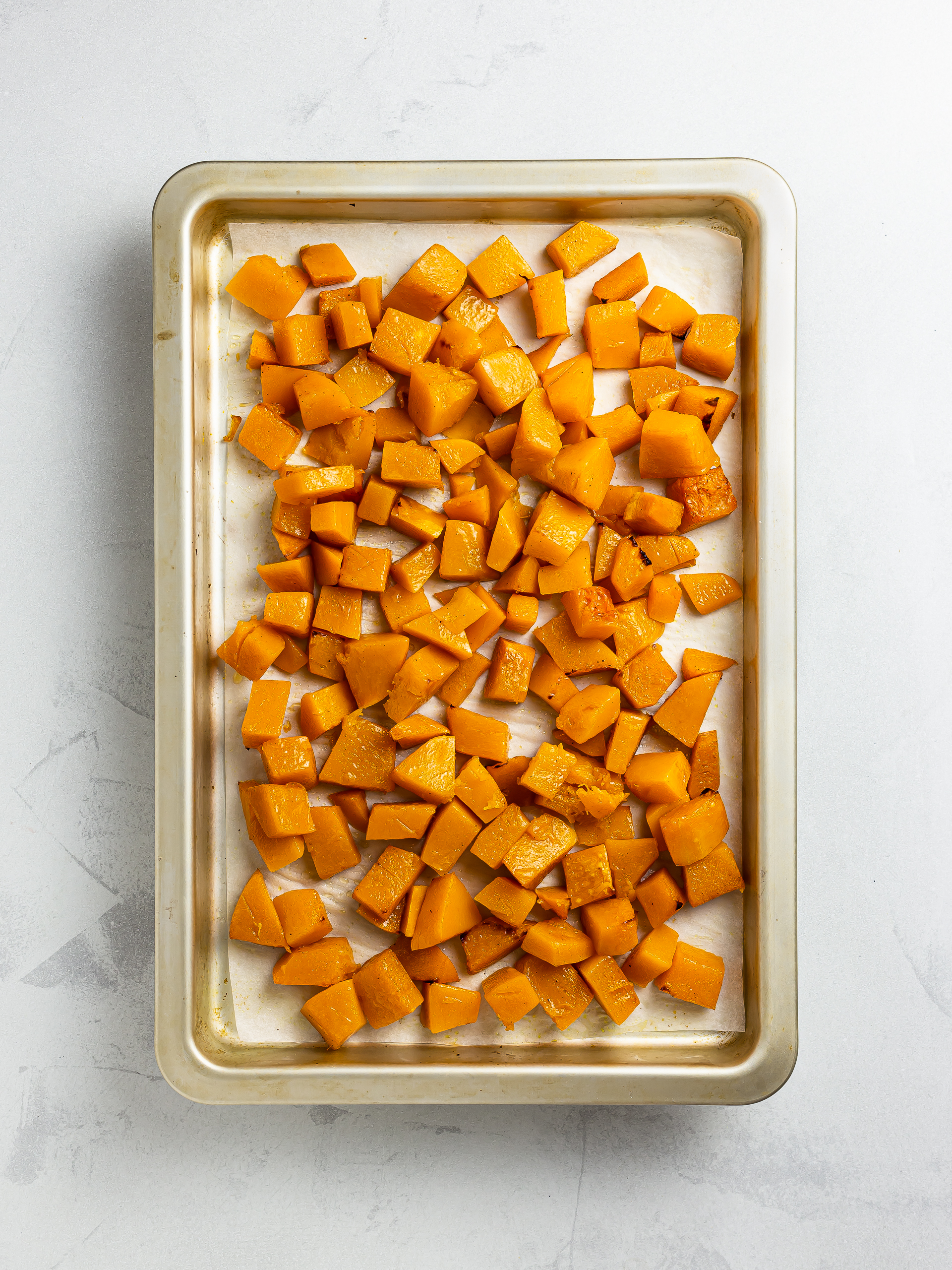 Step 2
Thinly chop the onions, add them to the roasted squash, and return the tray to the oven.
Roast all for 10 more minutes until the onions and pumpkin are soft.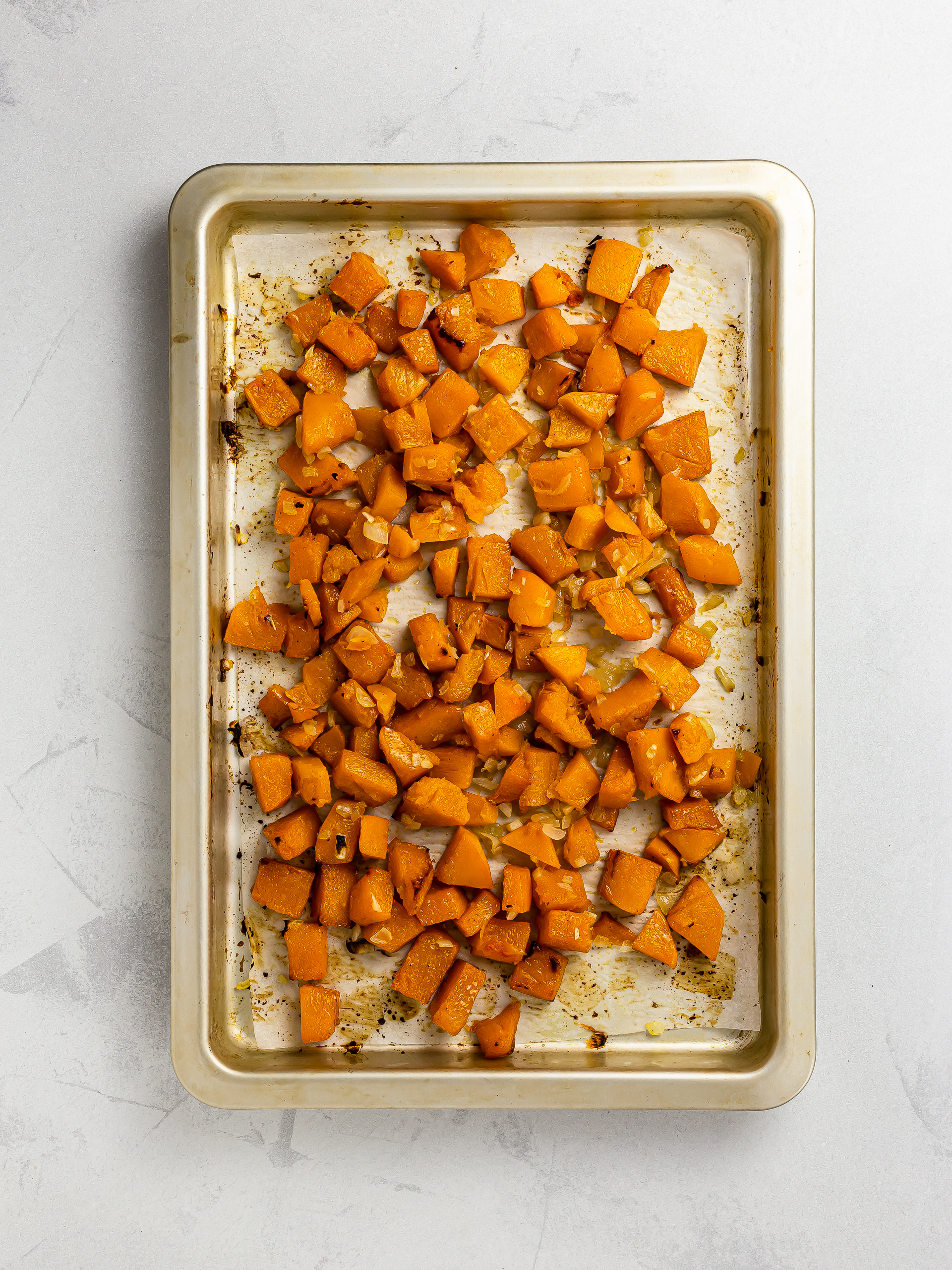 Step 3
Transfer the roasted pumpkin to a shallow bowl and let it cool down completely before mashing it with a potato masher or a fork.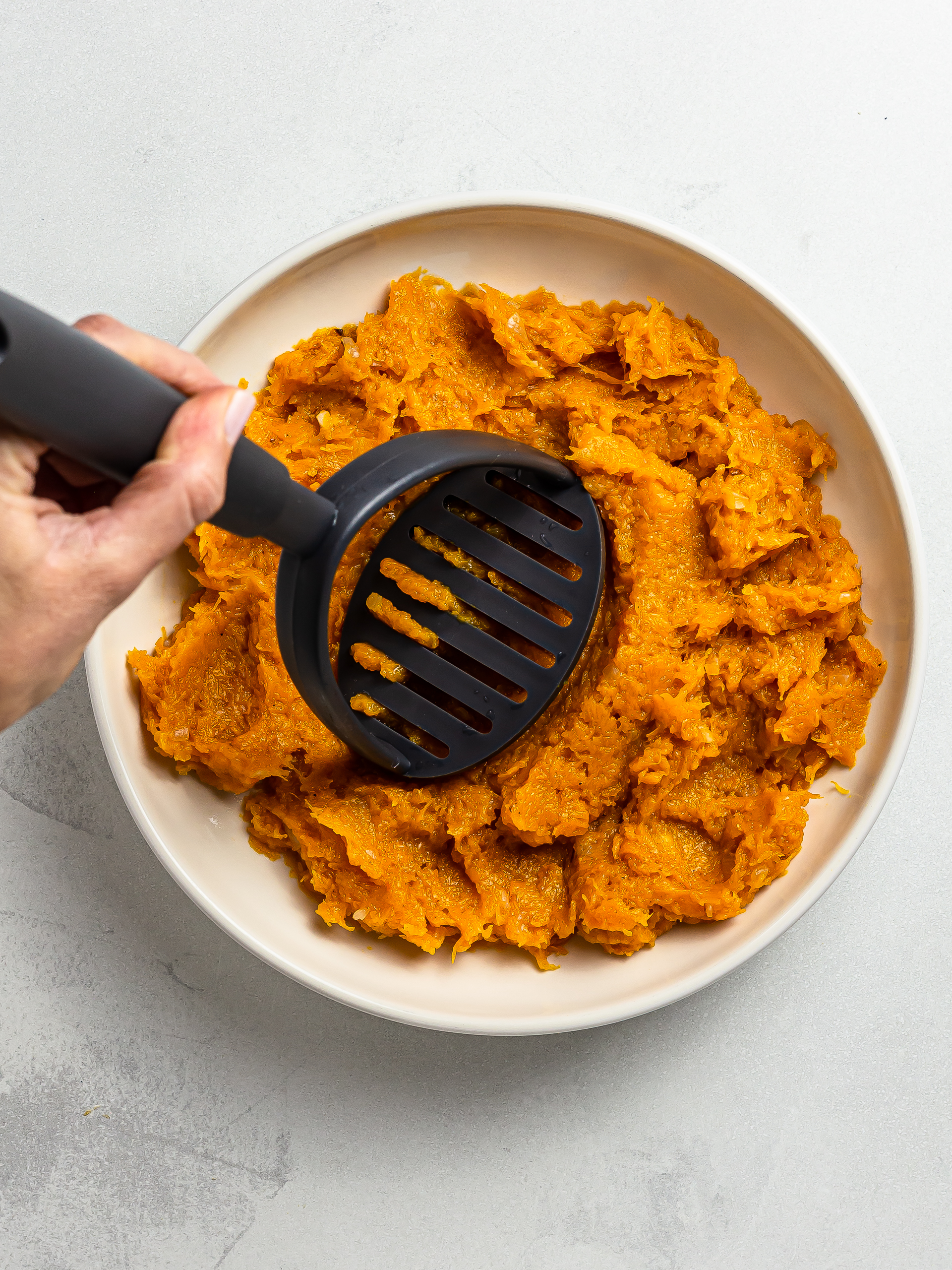 Step 4
Scoop out a small handful of pumpkin mash and compact it into a small, bite-sized ball.
The kabocha puree should be dense and starchy enough to be moulded into a ball, but if it's still too soft to handle, let it set in the fridge for 30 minutes.
Place the shaped balls onto a tray lined with parchment paper and let them harden in the freezer for 20-30 minutes.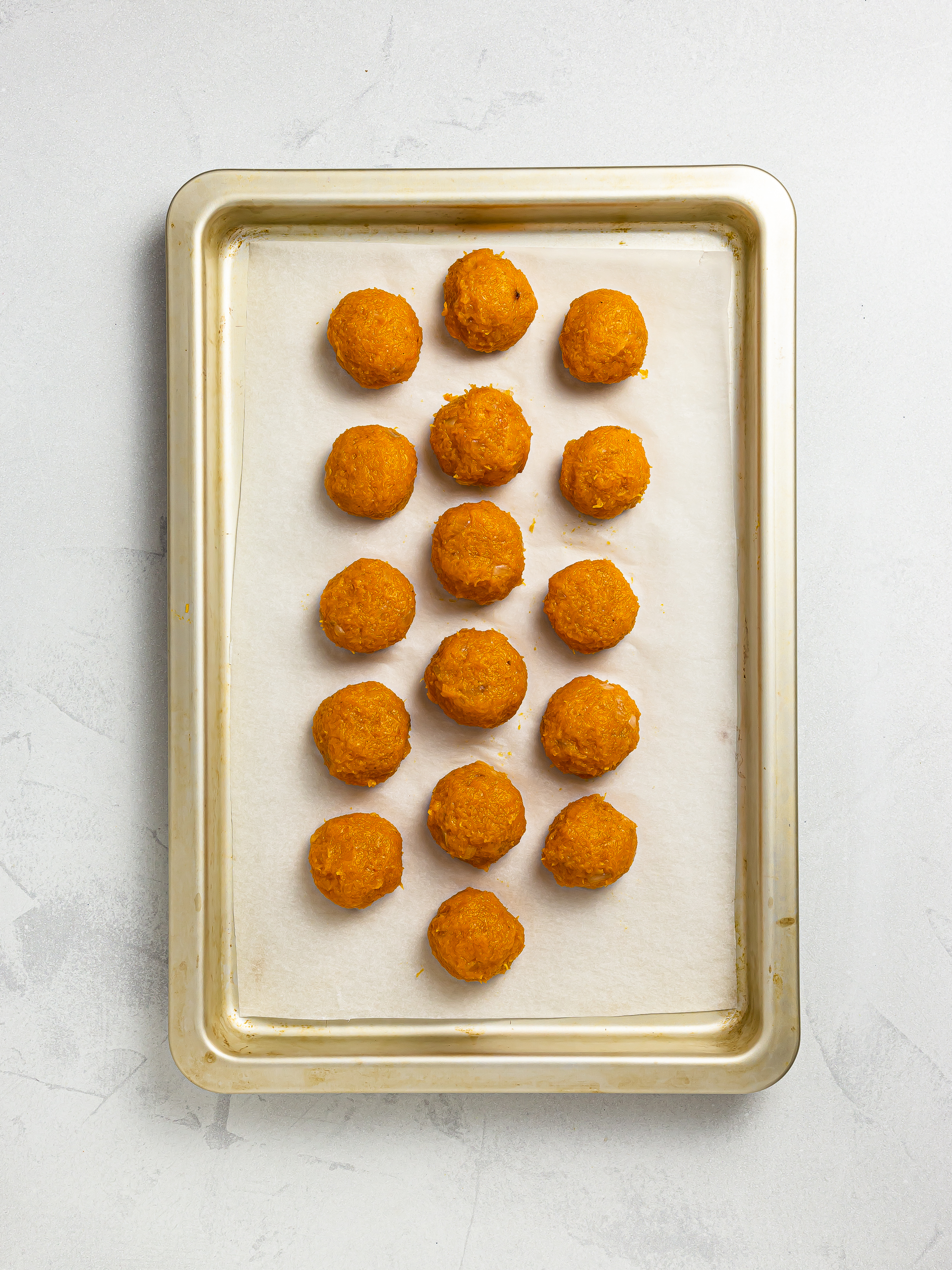 Step 5
Meanwhile, let's prepare the croquettes coating ingredients.
Prepare three shallow bowls: one with sifted starch, one with flaxseeds and water, and one with panko breadcrumbs.
As for the flaxseeds, let them soak for 10-15 minutes in the fridge until they form a gel-like mixture called flax egg.
If you don't have flaxseeds, you can use a batter of flour and water; read how to make it in our FAQ section.
For each croquette, roll one pumpkin ball first in the starch, then in the flax egg, and finally in the panko.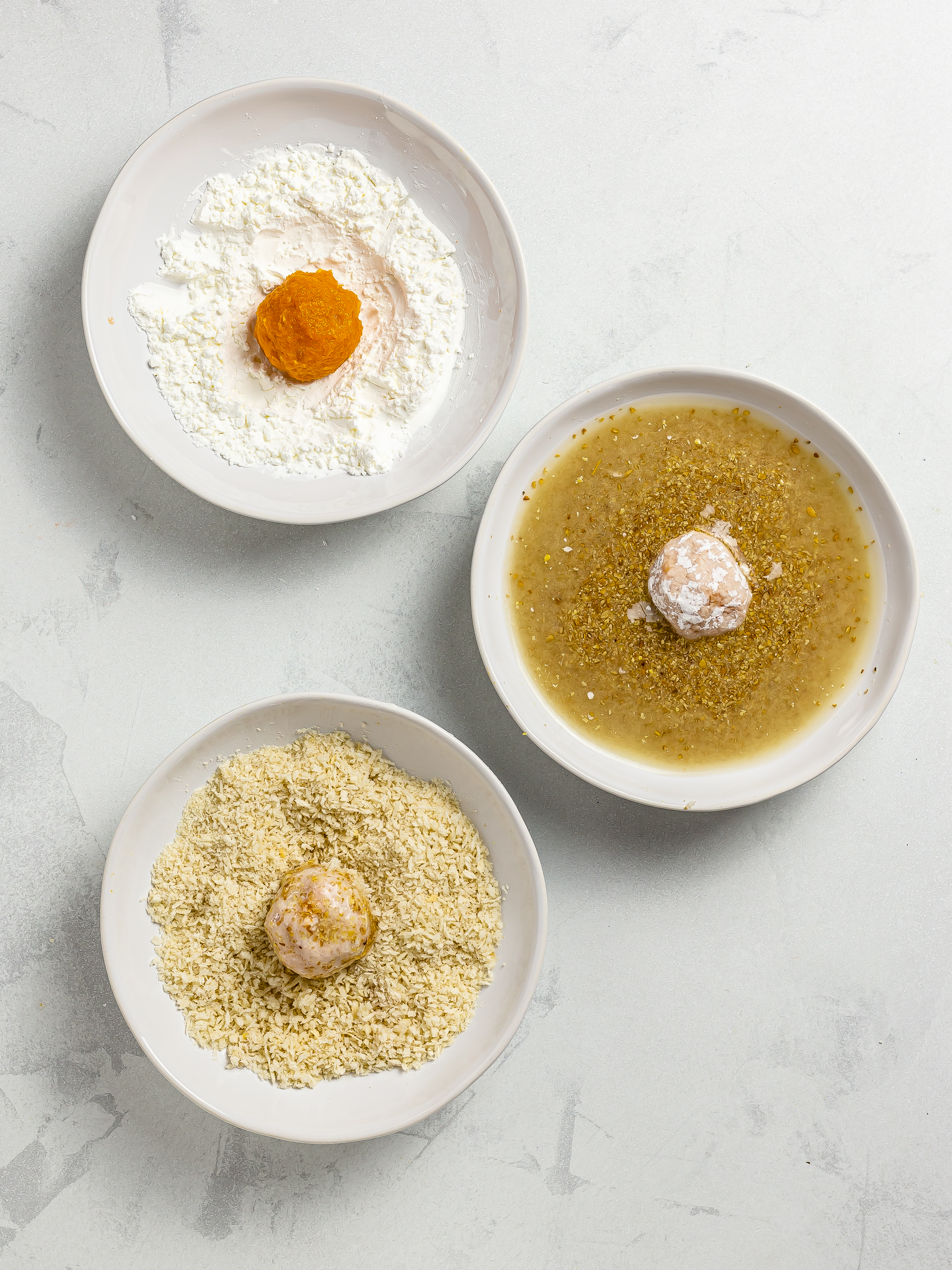 Step 6
Repeat the coating step until you have used all the kabocha mash balls, and place the prepared croquettes on a tray lined with baking paper.
At this point, you can optionally spray or brush the korokke with a little vegetable oil for a more golden finish or skip the oil for a fat-free option.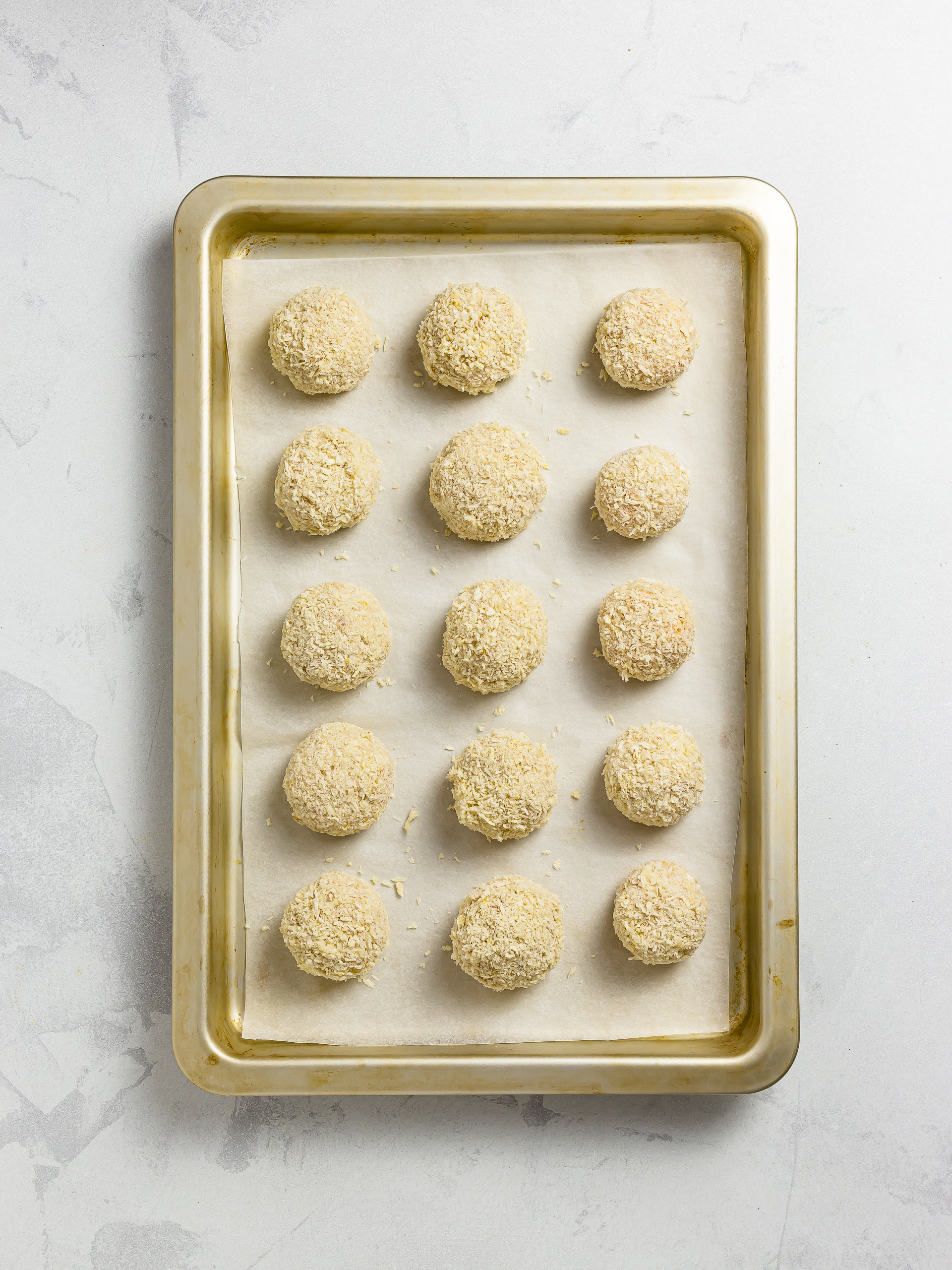 Step 7
Finally, bake the pumpkin korokke at 220°C (430°F) for 30-35 minutes until they are lightly golden and crusty outside.
Once ready, transfer them on a wire rack to cool slightly and serve them whilst still warm.
Enjoy your Japanee kabocha croquettes on their own or with a tasty dip like tonkatsu sauce, vegan mayo, or sriracha mayo.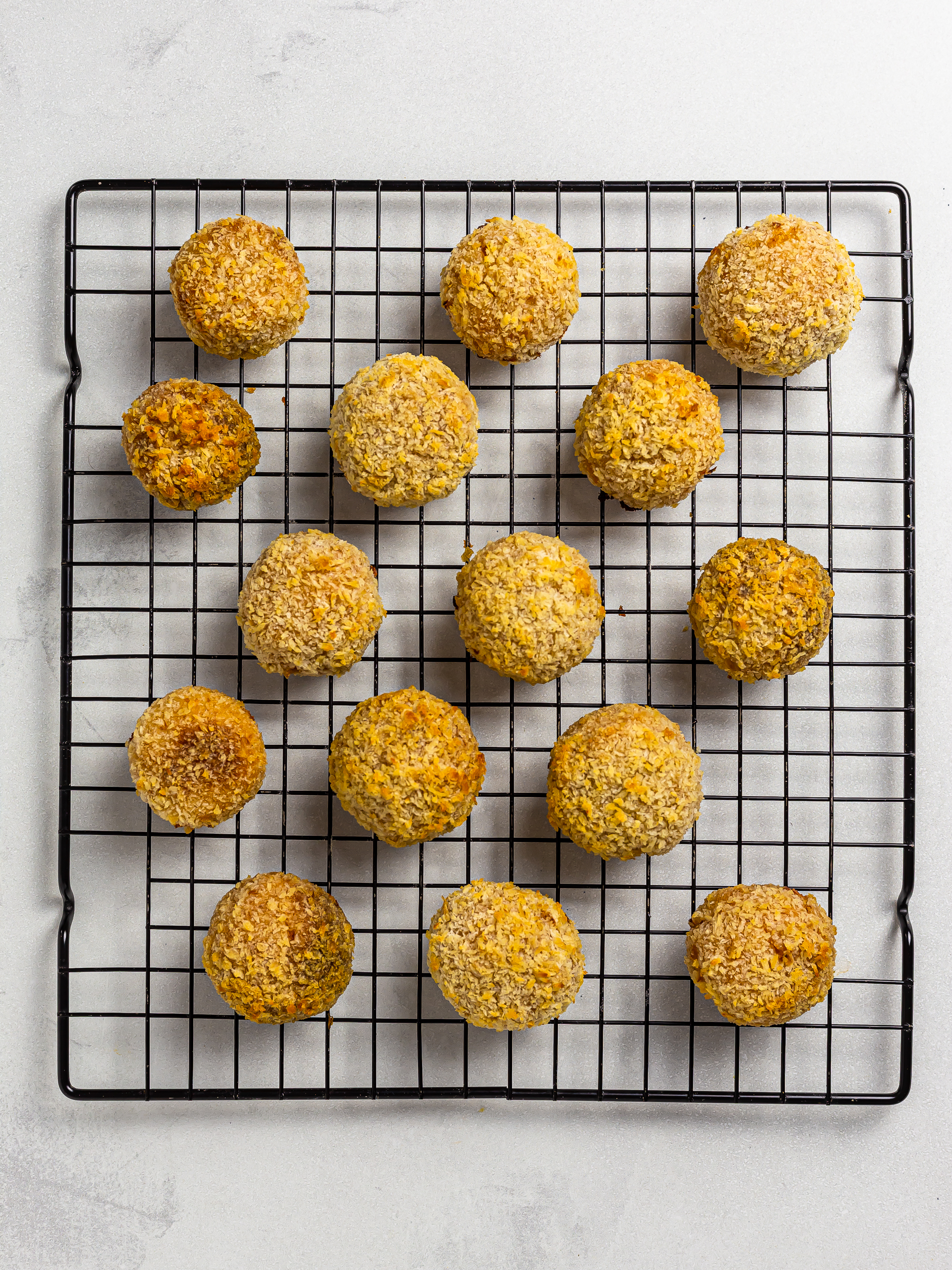 Tips
Add finely chopped and roasted shiitake mushrooms to the kabocha squash puree for extra flavour and texture.