If you're looking for a new and easy way to use green tea powder, you're in the right place. Today, we'll show you how to make a delicious matcha spread with two simple and healthy ingredients. In no time, you'll have a creamy vegan butter bursting with goodness!
This matcha spread recipe is based on the famous matcha milk spread, also known as matcha milk jam.
It's a green tea butter popular in Korea and made with refined oils, milk powder, and sugar, all simmered with matcha powder into a sweet and runny green spread.
Although tasty, the original spread is not very healthy. So, we decided to make a wholesome, sugar-free, and dairy-free version of matcha butter.
All you need to prepare this green tea spread is matcha powder and cashew nut butter. That's it.
Nut butter is naturally silky, creamy, and full of flavour. So you won't need any extra oil or sugar. It's the perfect spread base to which you'll add the green tea powder.
For best results, we recommend using nut butter made with cashews or blanched almonds instead of peanut butter.
That's for two reasons:
First, the taste of cashews or almonds is not as strong as that of peanuts, so you'll taste more of delicious matcha flavour in the spread.
Second, the butter will look much greener if you start with a light coloured nut spread, like cashew butter. Matcha spread made with peanut butter will be more brownish instead, and not as pretty.
Not many things in life are both healthy and incredibly easy, but this green tea-flavoured butter is the exception! It has a rich and creamy texture with earthy, bittersweet, and grassy notes from matcha powder. You'll love it!
The default ingredients yield one generous jar of green tea butter, about 300g (10.5 oz), perfect for the whole week.
And here's more good news: this matcha spread is super versatile. You can have it on your morning toast, pancakes, waffles, and crepes; you can add it to bakes and energy bars; or simply enjoy a spoonful right off the jar — we know you won't resist it (we didn't!).
Ingredients
| | |
| --- | --- |
| Cashew Butter | 300 g |
| Matcha Powder | 2 tbsp |
Step 1
To prepare this green tea spread, we recommend using a light coloured nut butter, like that made with cashew nuts or blanched almonds.
This way, the spread will have a nice, deep green colour.
If instead you use a darker nut butter like peanut or whole almond butter, the matcha spread will look more brownish.
You can buy the nut butter ready-made or prepare it from scratch — it's super easy and cheap.
All you have to do is blend the nuts in a powerful food processor until they turn first into a paste and then into a silky butter.
If you'd like to try it, you can follow the instructions in this Brazil nut butter recipe, as they can be applied to any nut.
Add the nut butter to a food blender and tip in sifted green tea matcha powder.
If your nut butter isn't salted already, you can tip in a pinch of salt.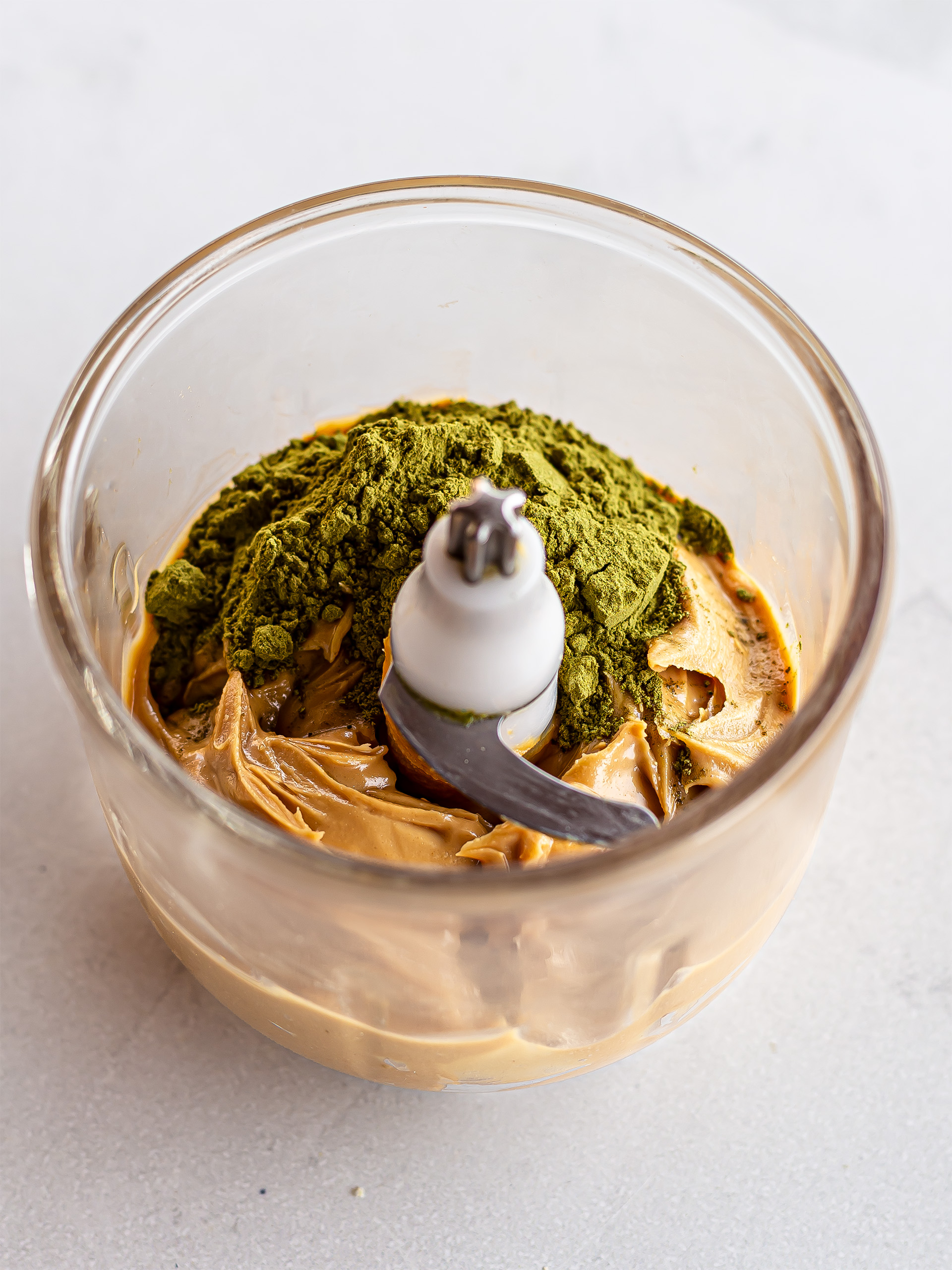 Step 2
Now, blitz all until the matcha powder is fully incorporated into the cashew butter, and you have a uniform, green spread.
You might have to scrape the sides of the blender bowl a few times in between pulses.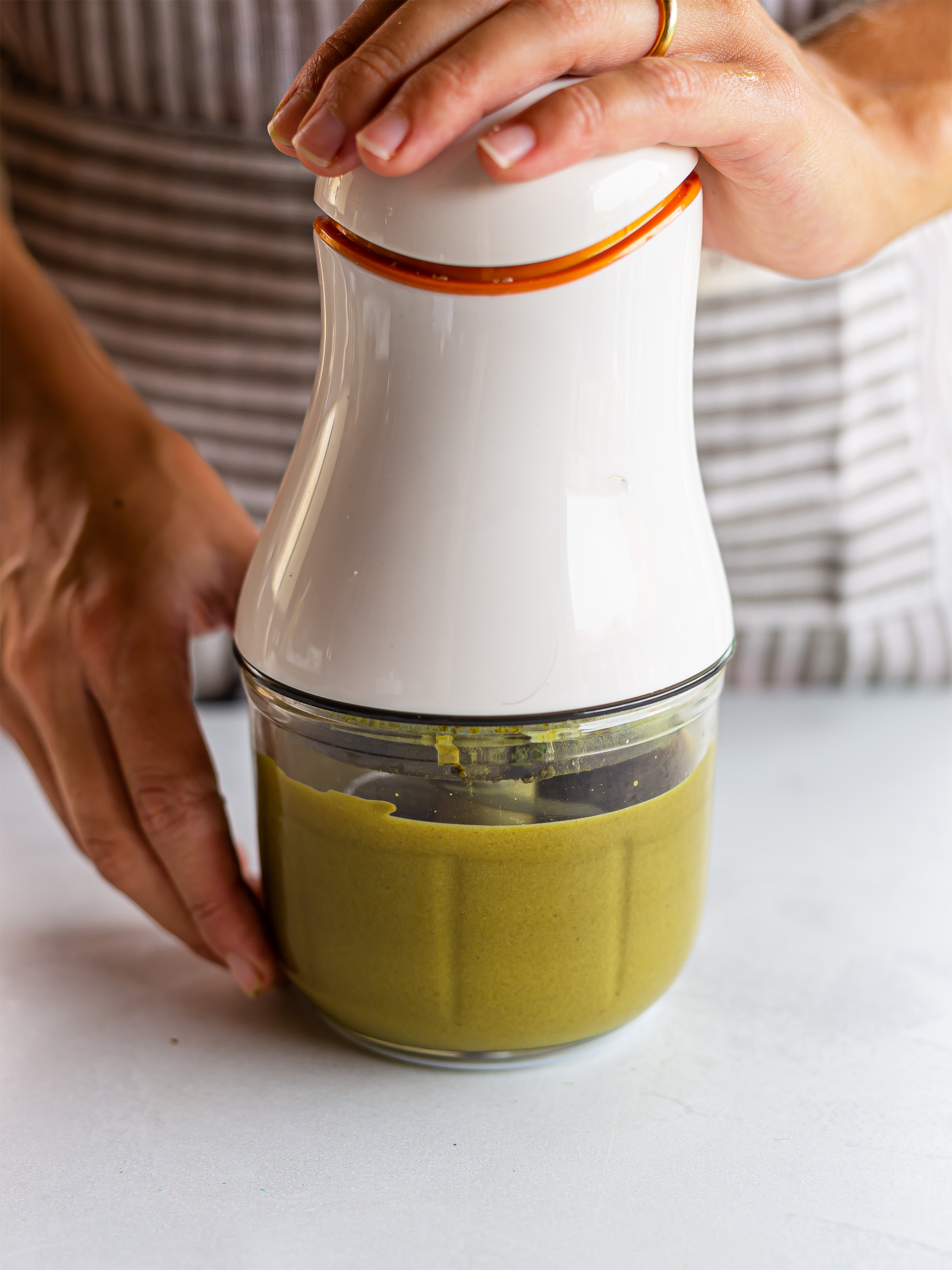 Step 3
Finally, transfer the green tea butter into a clean jar.
Your vegan, healthy, and homemade matcha spread is ready!
You can enjoy it right away spread on toasted sourdough bread or on these vegan protein waffles.
You can also add it to these matcha energy bars or sugar-free banana flapjacks, or stuff it into homemade sourdough croissants!
To store the matcha spread, seal the jar and store it at room temperature for one week or in the fridge for one month.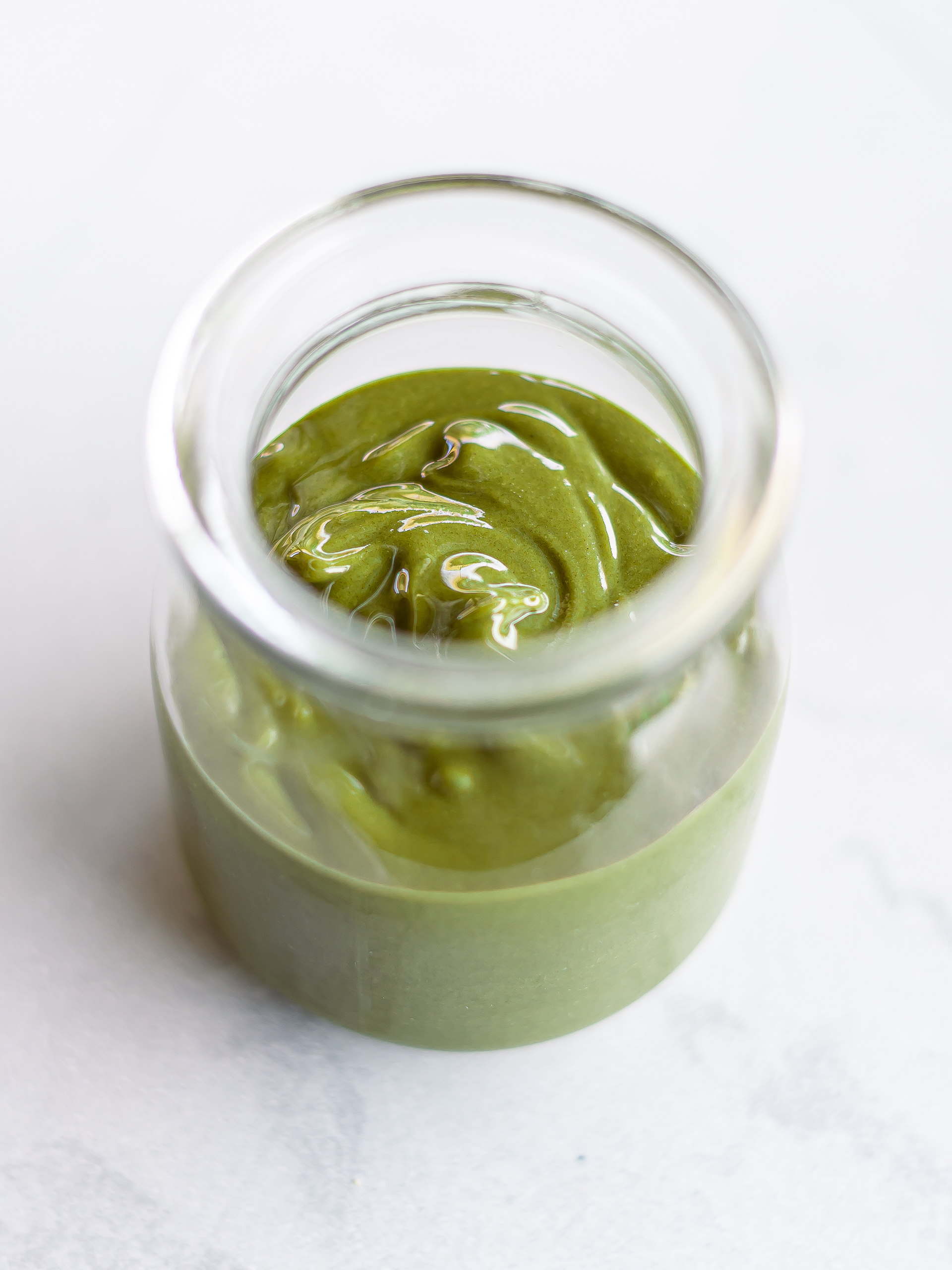 Tips
After blending it, taste the matcha butter. If it feels too bitter for you, you can add some maple syrup to sweeten it. Add one teaspoon at a time and blitz the spread until the syrup is fully incorporated before adding more. If you use sugar, the spread will be grainy and won't look as smooth.