Part of the Indonesian culinary traditions, nasi goreng is a delicious and hearty stir-fry dish often served with chicken, seafood, and eggs.
As here at Foodaciously, we want everyone to enjoy the food they love without compromise, we decided to experiment with a plant-based version of this rice dish that still packs plenty of proteins. So, today, we'll show how to make vegan nasi goreng with edamame and peanuts.
For this Asian stir-fry, we sizzled garlic and ginger with chillies and tipped in cabbage, mushrooms, edamame, and brown rice. Then, we stirred in soy sauce and topped all with crunchy peanuts.
The main feature of the classic dish is the kecap manis, a sweet soy sauce that gives the rice a unique flavour. To replace this ingredient, we have caramelised the onions and then combined low-salt soy sauce with maple syrup. Result guaranteed!
Although we swapped animal products with plant-based ones, a bowl of this fried rice still provides plenty of proteins, making a well balanced vegan meal. Edamame beans, brown rice, and peanuts as great sources of this precious nutrient.
Each bowl comes in just 500 calories and provides 40% of your RDI for fibres and 45% of your RDI for proteins. So, make a big batch of this nutritious, healthy meal and pack it for the next day's lunch.
Frequently Asked Questions
Is the classic nasi goreng vegan?

In the traditional Indonesian recipe, the fried rice is accompanied by chicken, shrimps, or eggs, making this dish unsuitable for those following a plant-based diet.

So, to make this rice dish vegan-friendly, we swapped animal products with protein-rich edamame beans and peanuts.

Coupling edamame with brown rice and peanuts means you'll have a source of complete proteins, which provides all the essential amino acids you need every day.
How can I make it keto?

This meal is nutritionally balanced and provides less than 20% of your recommended daily intake (RDI) for carbohydrates. However, being prepared with rice, it isn't suitable for those on a ketogenic diet.

To make a low-carb variation of this vegetable stir-fry, you can replace brown rice with cauliflower rice. We have a quick and tasty recipe here for you.

Also, based on the high-fat content principles of the keto diet, you may want to top up this dish with extra peanuts or nut butter.
Is this fried rice healthy?

This quick stir-fry recipe is incredibly healthy, packed with nutritious ingredients, and is well balanced to keep you full for long.

Provided that you use just a 1/2 tablespoon of rapeseed oil (60 calories) per person and that you don't fry the rice for too long, this dish isn't fattening.

We used brown rice which, unlike its refined white counterpart, is packed with fibres, that fill you up, slow down digestion, and keep blood sugars in check.

Also, this recipe covers two of your 5-a-day for fruit and vegetables, it's low in saturated fats, and contains plenty of plant-based proteins.

Each bowl has 500 calories and provides almost 40% of your RDI for fibres and 45% of your RDI for proteins.
Ingredients
| | |
| --- | --- |
| Long-Grain Brown Rice | 220 g |
| Rapeseed Oil | 2 tbsp |
| Red Onions | 1 |
| Garlic Cloves | 2 |
| Fresh Ginger Root | 1 tbsp |
| Chilli Flakes | 2 tsp |
| Mushrooms | 250 g |
| Savoy Cabbage | 220 g |
| Edamame Beans | 320 g |
| Gluten-Free Soy Sauce | 5 tbsp |
| Maple Syrup | 2 tbsp |
| Peanuts | 60 g |
Step 1
Add brown rice to a saucepan, cover with water, and simmer for 10 minutes. As you'll fry the rice later on, make sure the grains are cooked but still a bit firm to bite.
Then, drain well under cold water, and set aside to cool down.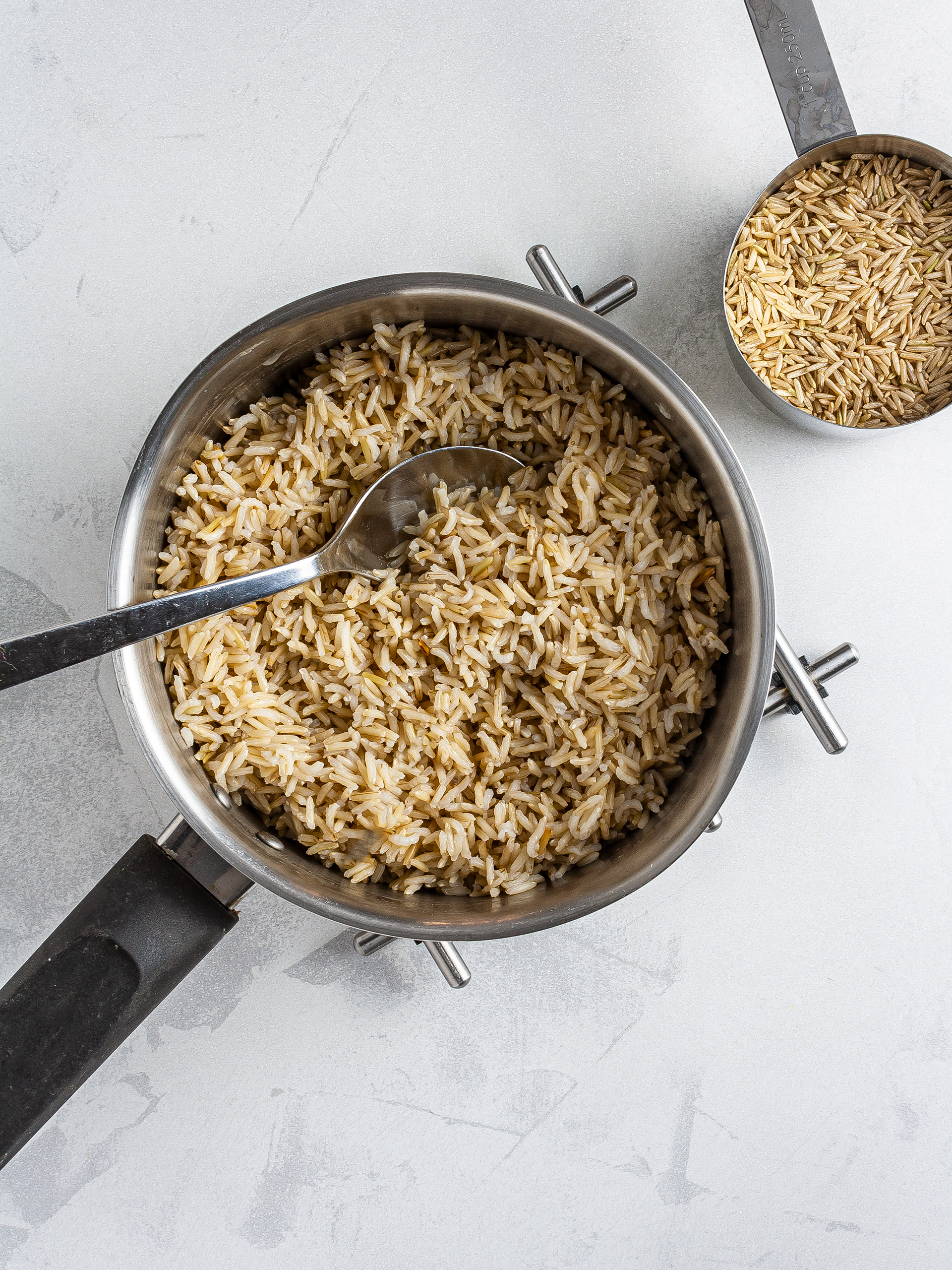 Step 2
In the meantime, heat the oil in a large skillet or wok and add finely chopped onions, crushed garlic, grated ginger, and chilli flakes.
Sizzle the ingredients for a few minutes or until the onions have softened and the garlic is fragrant.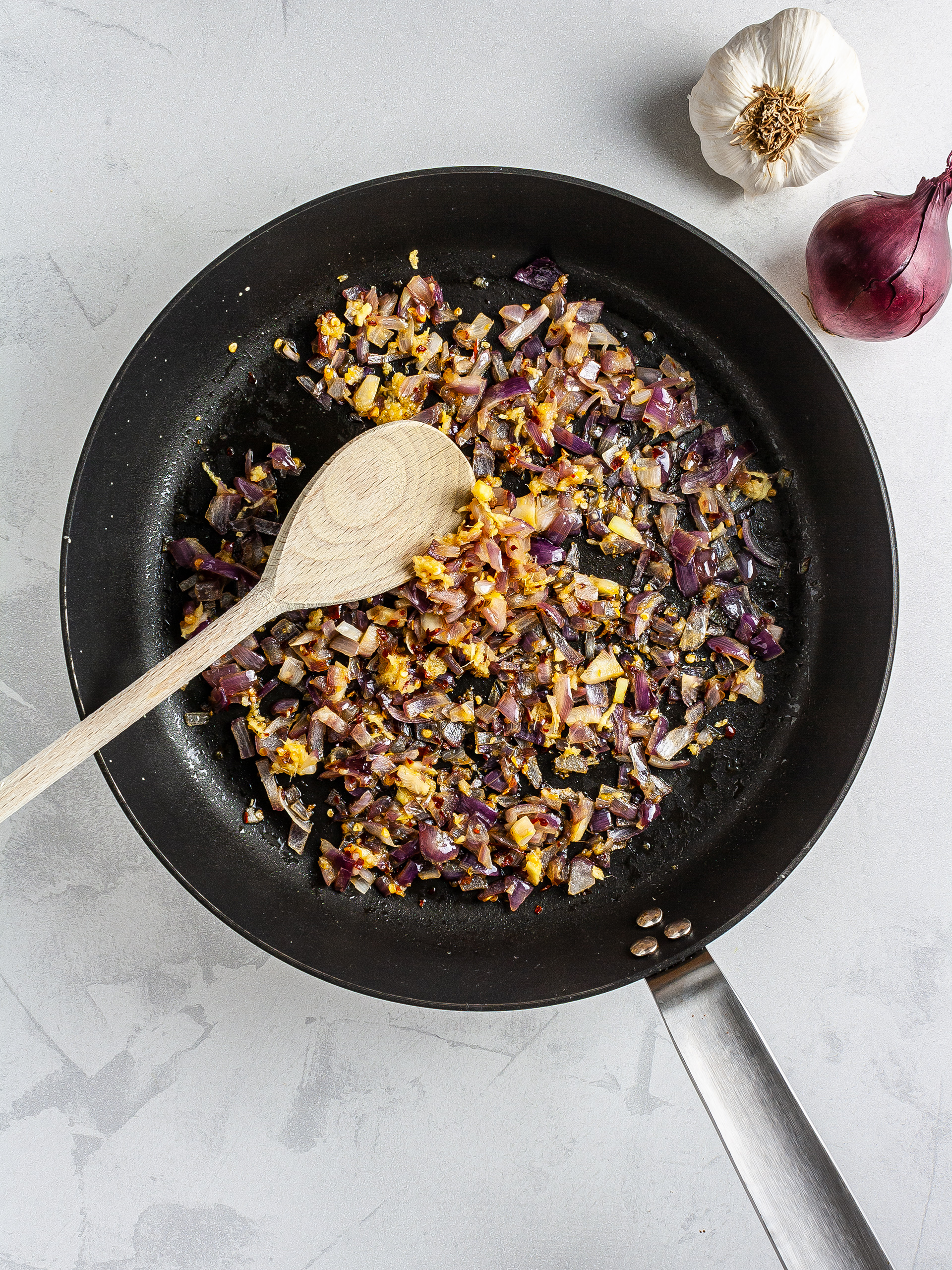 Step 3
Now, add diced mushrooms, shredded cabbage, and edamame beans to the skillet.
Cook the vegetables covered for 10 minutes and then for a further 5 minutes without the lid, allowing the sauce to reduce.
Then, season with salt and pepper to taste.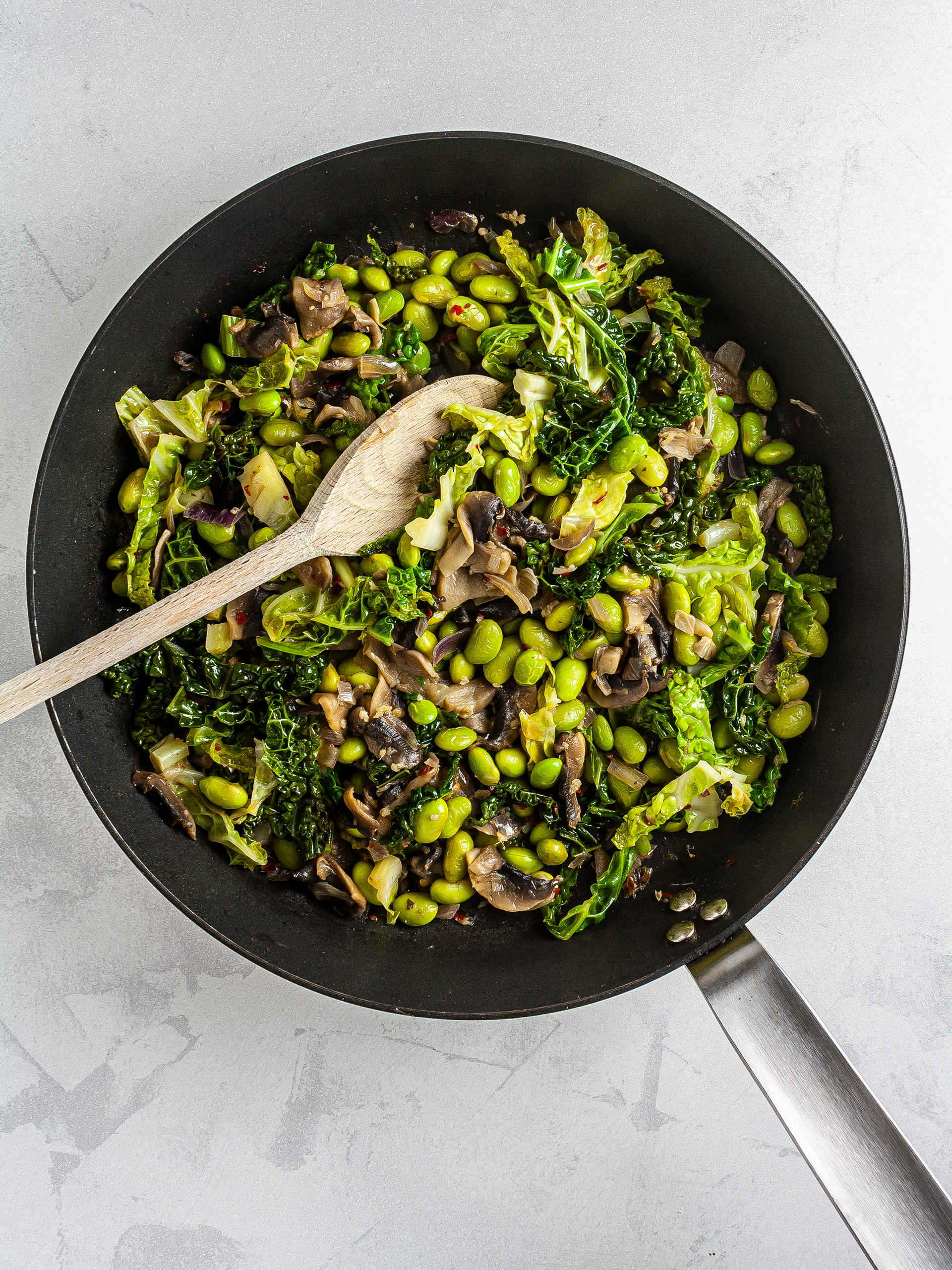 Step 4
Add the cooked rice along with soy sauce and maple syrup, and stir fry for 5 minutes on high heat.
Always keep stirring while the rice and vegetables become dry and crisp up nicely.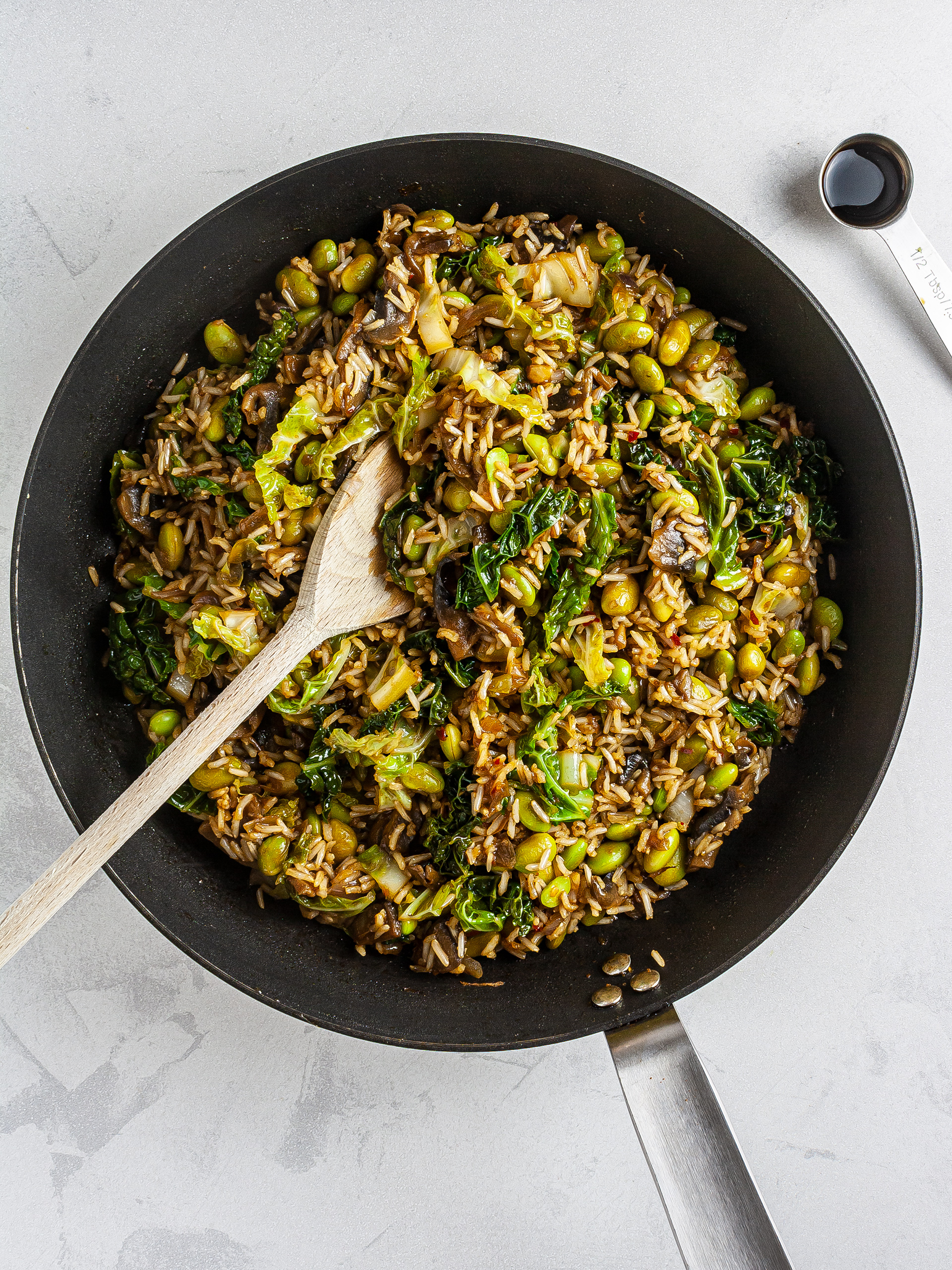 Step 5
Divide the fried rice among serving bowls and top with peanuts and chilli flakes.
You can garnish your nasi goreng with chopped spring onions, if desired.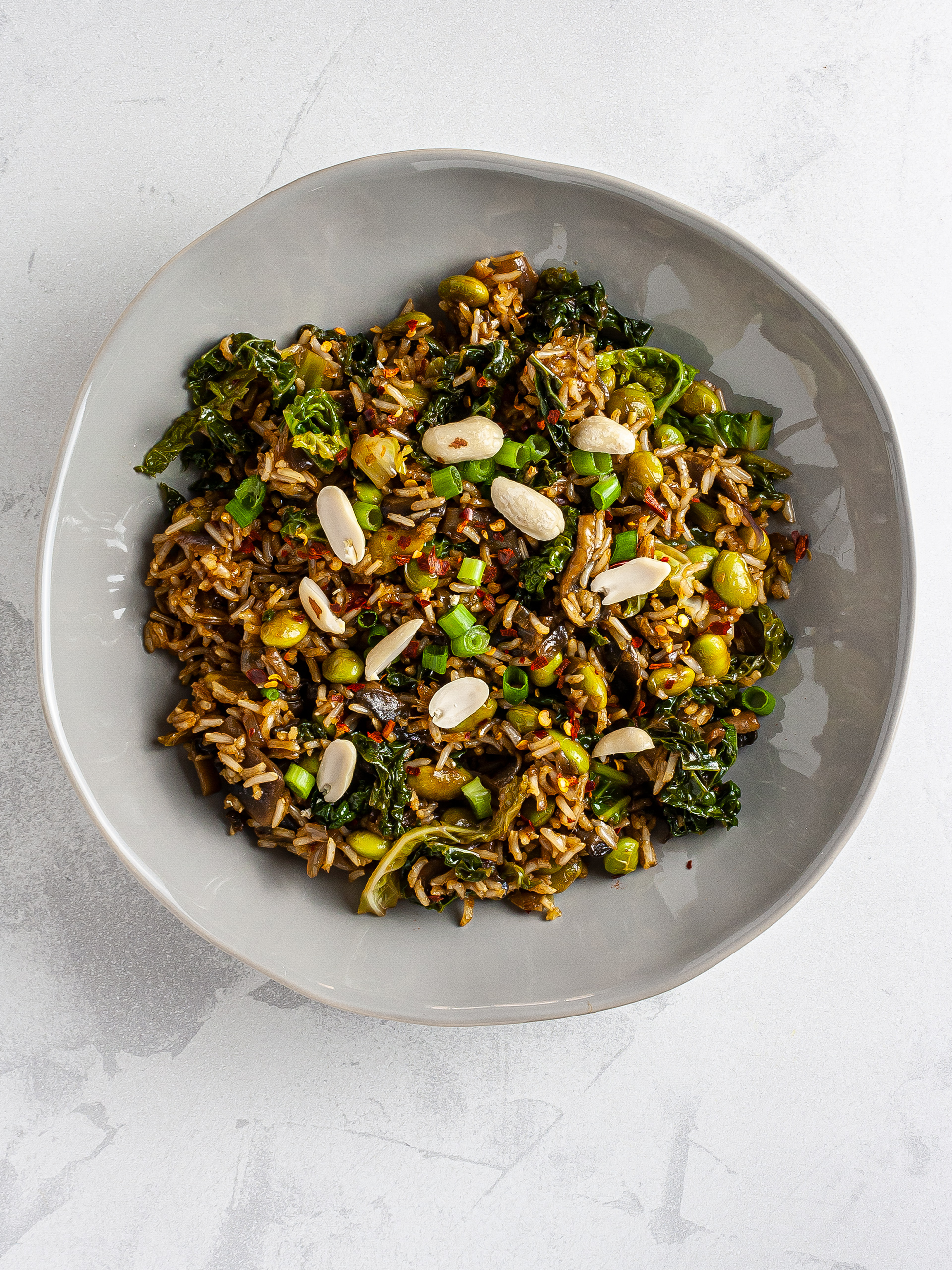 Tips
Add a pinch of nutmeg to the rice seasoning for extra flavour.