With a mix of healthy carbs, veggies, and legumes, a bowl of stew has all you need for a well-balanced meal. And with so many soup variations out there, you could have a different stew every day and never get bored. So, for tonight's menu, why not prepare a scotch broth? It's a humble soup prepared the Scottish way. And we revisited the classic recipe to make it vegan and healthier. Let us show you how to do it!
Simple and comforting, the Scotch broth is a traditional soup that originated in Scotland. It's so popular now that you can even find the ready-made, canned version at the supermarket. The original recipe includes winter vegetables, pearl barley, and stewing cuts of mutton, lamb, or beef.
As some recipe variations also include legumes, we simply replaced meat with beans for our plant-based version. But if you still want the look and feel of meat, you could also use shredded jackfruit. We have a stewed jackfruit recipe where you can find tips and inspiration if you want to give it a go.
Before we start, let's have a look at all the delicious ingredients that make up our vegan scotch broth:
Pearl Barley - This cereal has lovely nutty and roasted notes and a wonderful chewy texture. It's one of the distinctive ingredients of the Scotch broth, so we don't recommend substituting it with other cereals. But a good alternative would be spelt, and for a gluten-free option, you can use oat groats or buckwheat groats.

Vegetables - A classic scotch broth mix includes onions, carrots, and leeks, plus swede or turnips. Shredded cabbage added at the last few minutes of cooking time gives the soup a pop of colour and extra nutrients.

Yellow Split Peas - Many scotch soups include a mix of green split peas, yellow split peas, and red lentils. Here, we opted for just yellow peas to keep the ingredients list short and sweet.
All you have to do is simmer the ingredients until tender and then get ready to savour this warming and hearty soup. Each bowl has only 360 calories, and yet it packs nearly all the fibres you need in a day, plus 30% RDI of proteins. With a single meal, you'll stock on plenty of vegetables, precious nutrients, and slow-digesting carbs, sure to keep you full and satiated for long. Awesome!
Ingredients
| | |
| --- | --- |
| Carrots | 2 |
| Swede | 1/2 |
| Brown Onion | 1 |
| Leek | 1/2 |
| Extra Virgin Olive Oil | 2 tbsp |
| Pearl Barley | 140 g |
| Yellow Split Peas | 140 g |
| Vegetable Stock | 2 L |
| Cabbage (spring, savoy, or white cabbage) | 120 g |
| Fresh Parsley | to taste |
Step 1
Before you start, we recommend soaking the yellow split peas in water overnight, as they will soften and cook faster.
Ok, now peel the carrots, swede, onions and dice them into small cubes.
Then, remove the tough outer layers of the leek and trim off the hard green tips. Slice the leek in half lengthwise and finely slice it.
Heat the olive oil in a large, heavy-based pot and tip in the prepared vegetables.
Sweat the veggies covered for 5 minutes, stirring occasionally.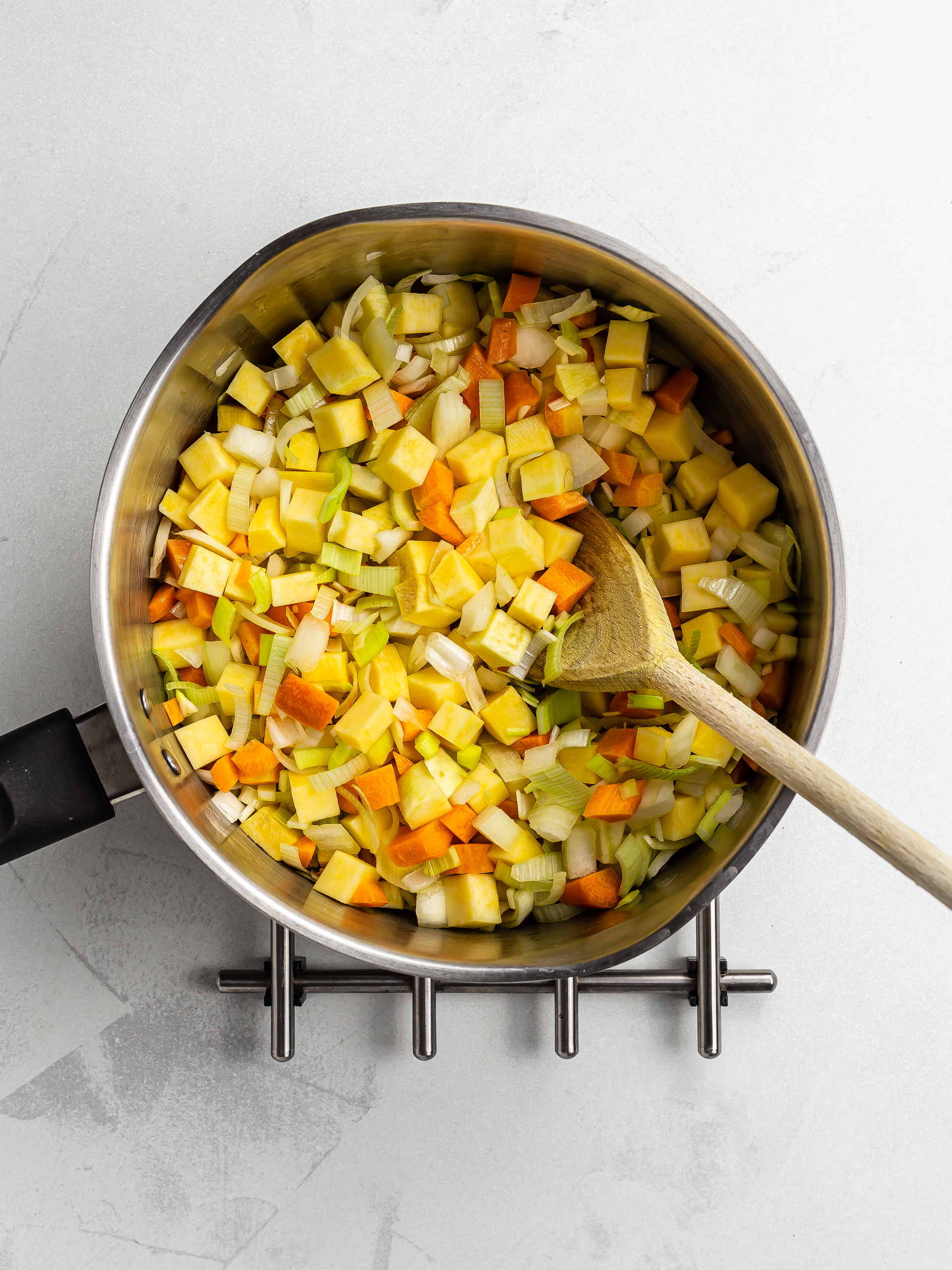 Step 2
Rinse the pearl barley and yellow split peas thoroughly, and then add them to the pan along with the vegetable stock.
You can replace the broth with water and 2-4 tablespoons of bouillon powder; we have a vegan homemade bouillon recipe if you want to make it from scratch.
Bring the stock to a boil and let the stew simmer covered for 30 minutes over medium-low heat.
The barley and peas should be nice and soft but slightly chewy; if you prefer them even softer, cook them for a further 15 minutes according to taste.
Step 3
While the scotch soup cooks, let's prepare the cabbage.
Pull the cabbage leaves and trim off the hard stem. Stack the leaves one on top of the other, roll them tightly, and slice them into thin strips.
Next, add them to the soup and cook them for 3-5 minutes, just long enough for the cabbage to soften without losing its bright green colour.
Finally, season your delicious vegan scotch broth with salt and black pepper to taste and garnish it with chopped fresh parsley.
You can optionally toast and season some bread croutons to accompany the soup.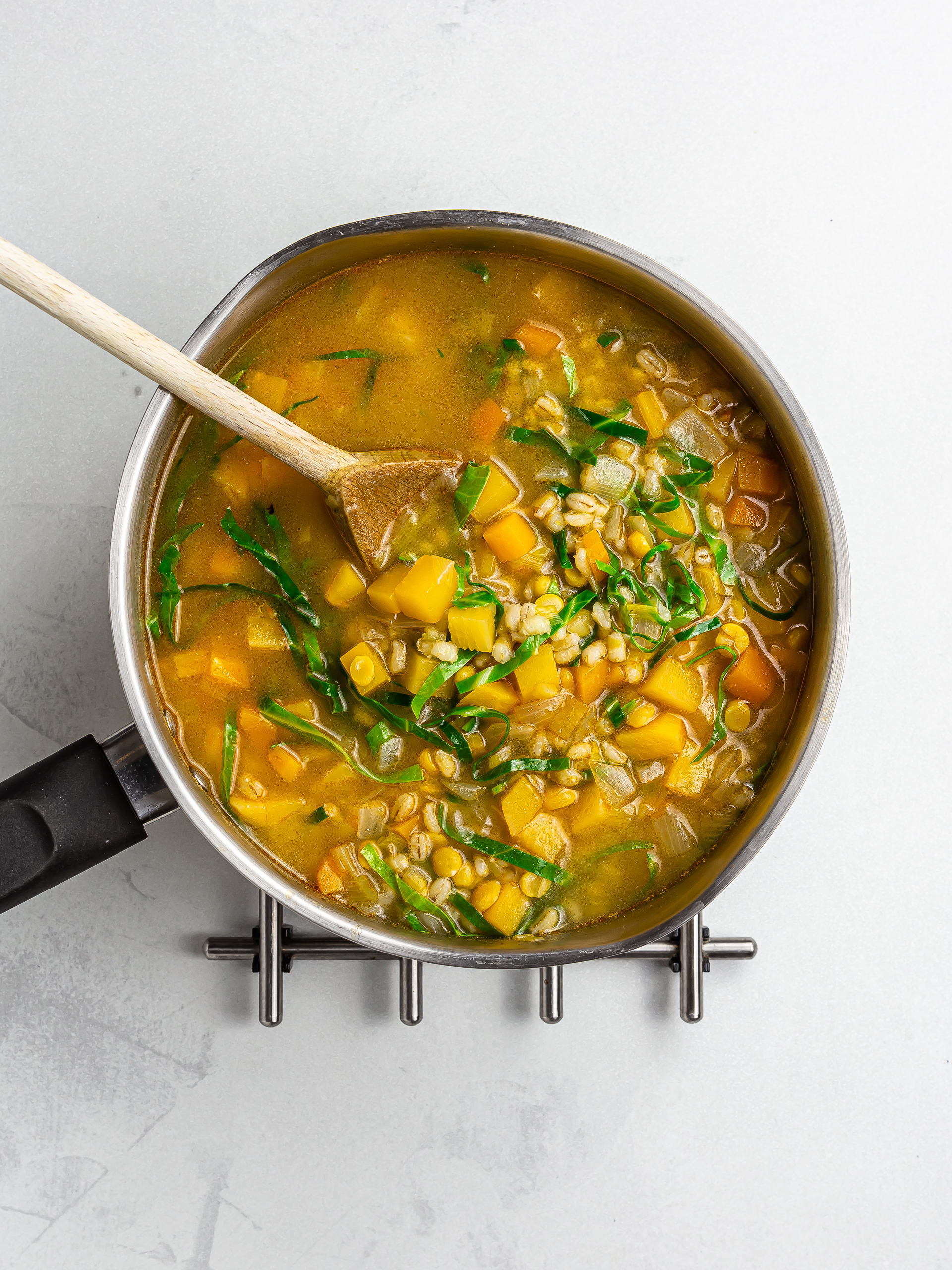 Tips
You can optionally add one tablespoon of tomato passata to the soup for extra colour and flavour.

If you can't find swede, you can replace it with turnips, potatoes, celeriac root, kohlrabi or parsnips.

We used only yellow split peas for ease and convenience, but you can also make a scotch mix of green split peas, yellow split peas and red lentils.

Store any soup leftovers in an airtight container in the fridge for 4-5 days. Then, reheat them on the hob or in the microwave. Alternatively, freeze the scotch broth for up to 3 months; you can let it thaw before warming it up, or you can reheat it from frozen if you're short on time.