This vegan sourdough pancakes recipe is a quick and easy way to use up your starter discard between feedings. You'll have a delicious breakfast ready in just 20 minutes, and you won't have to throw away any of your sourdough starter ever again!
The sourdough starter will add a zing of acidity to your pancakes, perfectly balancing the sweetness of toppings like maple syrup or fresh fruit.
And it will also puff up your pancakes nicely with no need for baking powder!
All you need are five simple ingredients:
Sourdough starter. Make sure it's bubbly and active;

Flour. You can use plain white flour or wholemeal flour to add some healthy fibres, or use half wheat flour and half oat/buckwheat flour for extra flavour;

Sugar. It gives your pancakes a lovely golden finish and balances the acidity of the starter.

You can swap it with natural sweetener erythritol if you want to make your sourdough pancakes sugar-free;

Coconut milk. Use tinned coconut milk to replace dairy milk and butter while adding flavour to the pancake batter.

Baking soda. By reacting with the acid component of the sourdough, it will help make the pancakes even fluffier.
As mentioned above, the sourdough starter has to be active before you use it. If you've fed it and just used it to make bread, then you can use the leftovers right away and make these pancakes.
If instead, your starter has been sitting for a few days on your counter or a week in the fridge, you'll have to feed it before adding it to the pancake batter.
However, if don't have time to feed the sourdough, you can still make these pancakes by adding an extra pinch of baking soda for a leaving boost.
Once you have sorted your starter, all you have to do is whisk the ingredients in a bowl, ladle the batter into a skillet, and cook the pancakes until golden. Easy!
Because we didn't use any eggs or dairy, our sourdough pancake recipe is 100% plant-based, perfect for folks with egg or milk allergies or on a vegan diet.
Once ready, serve these wonderful pancakes warm with a dollop of yogurt, a handful of fresh berries, and a drizzle of maple syrup — or choose your favourite toppings!
And if you have some more sourdough starter left, try our vegan sourdough discard waffles! Or give our vegan sourdough cinnamon rolls a go. You'll love them!
Ingredients
| | |
| --- | --- |
| Sourdough Starter (active or the excess you'd throw away) | 300 g |
| Flour (plain white or wholemeal) | 150 g |
| Sugar (or sugar-free erythritol) | 35 g |
| Baking Soda | 1/2 tsp |
| Tinned Coconut Milk | 330 mL |
Step 1
To make these sourdough pancakes, you can use the leftover sourdough starter (called "discard") you would normally throw away before the next starter "feeding".
Make sure the sourdough starter is bubbly and active.
If needed, "feed" it as you usually do and leave it to rise and bubble until doubled in volume.
This can take from 2 hours to 8 hours, depending on how warm is your kitchen and how lively is your sourdough.
If you have a lot of extra sourdough, but no time to feed, use an extra pinch of baking soda in the step below.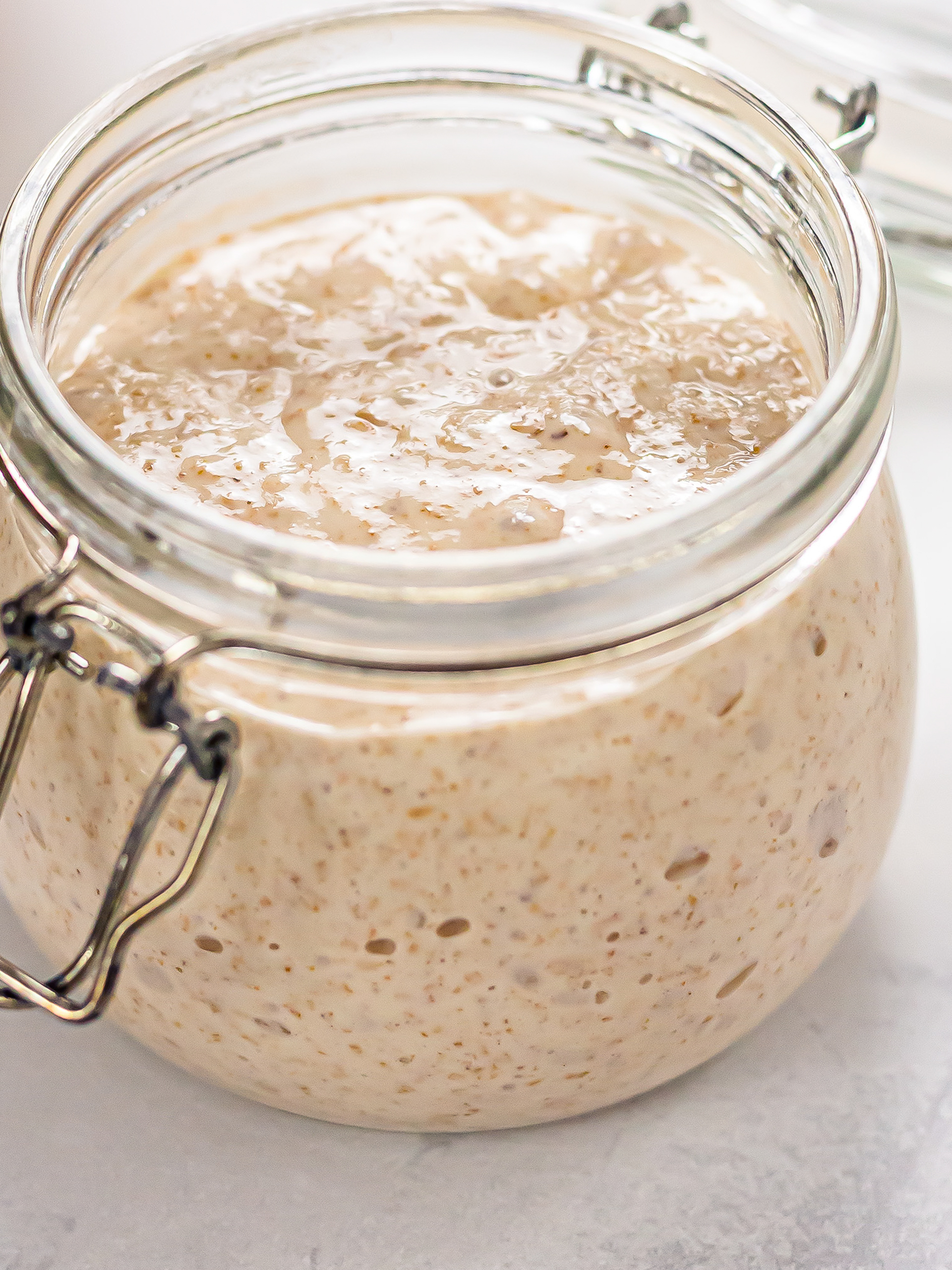 Step 2
Prepare the pancake batter by mixing flour, sugar and baking soda in a bowl.
Then, tip in the sourdough starter and tinned coconut milk.
You can swap plain white flour with wholemeal flour and replace sugar with the same amount of erythritol, a natural sugar-free sweetener for healthier, sugar-free sourdough pancakes.
Whisk all the ingredients into a smooth and pourable pancake batter.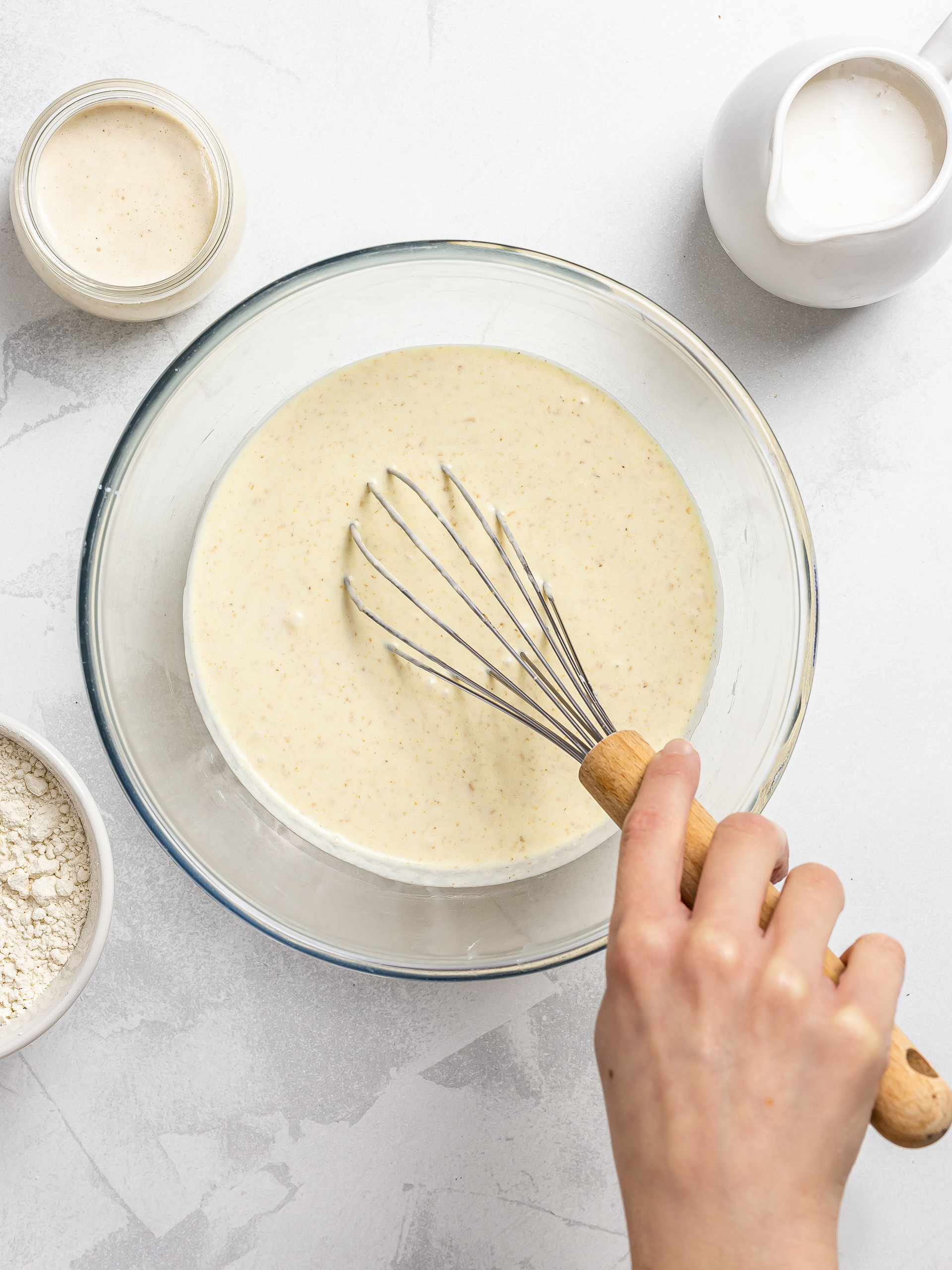 Step 3
Put a large non-stick skillet on medium heat, and when hot, pour in half a ladle of pancake batter.
Then, gently tilt the pan around to give the pancake a round shape.
If they fit in the pan, you can cook more pancakes at once; but make sure you leave enough space between them as they spread out a little.
Cook the sourdough pancakes until you notice little bubbles appearing on the surface and the bases are golden — about 2 minutes.
Now, flip the pancakes over with the help of a spatula and cook them for 2 more minutes until golden on both sides.
Keep the prepared pancakes warm under a bowl or in the oven at a low temperature while you finish cooking the others.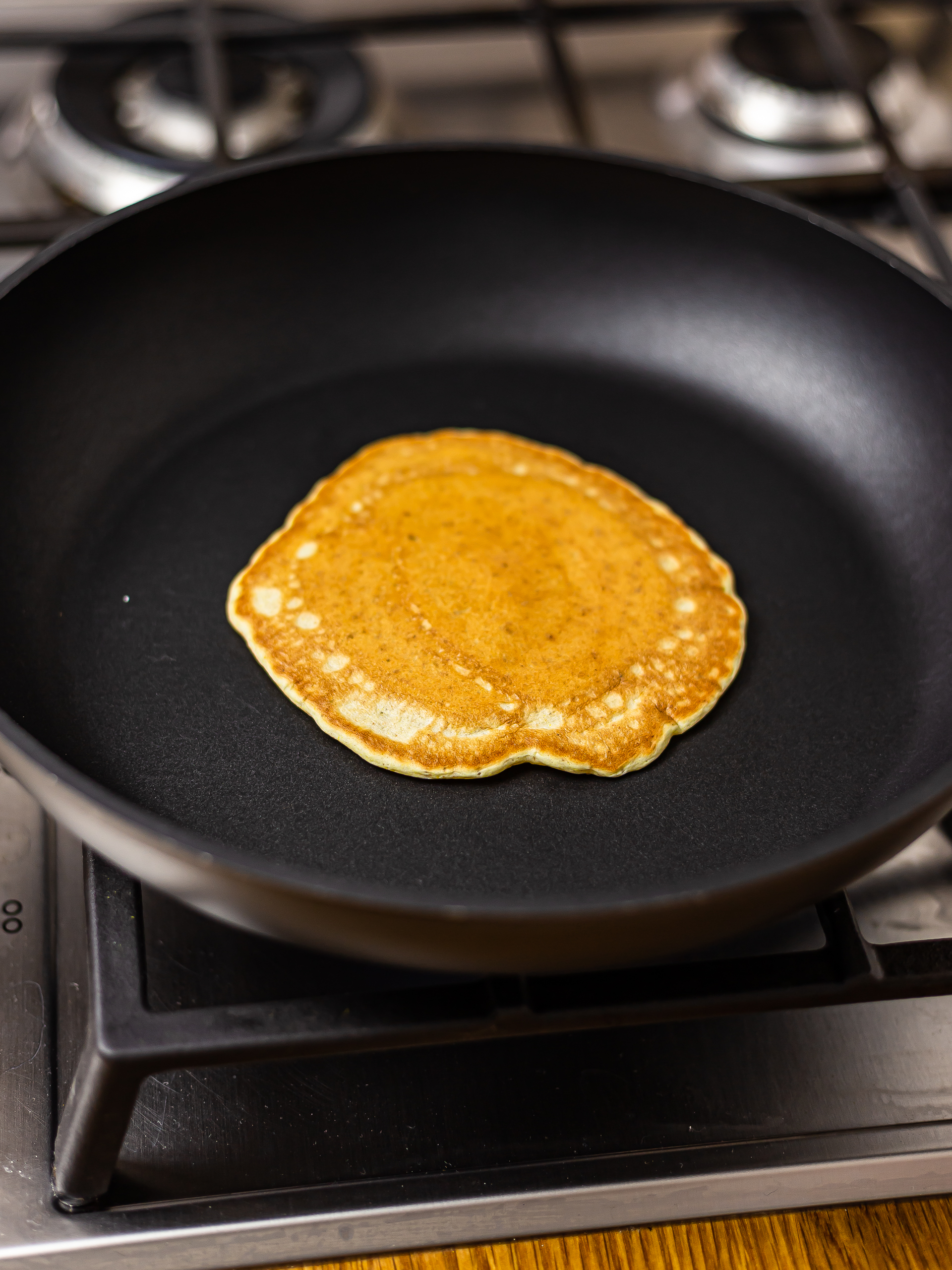 Step 4
Serve your delicious vegan sourdough pancakes warm with a dollop of plant-based yogurt, fresh berries, and a drizzle of maple syrup.
They're also delicious with melted peanut butter and our seedless raspberry apple jam.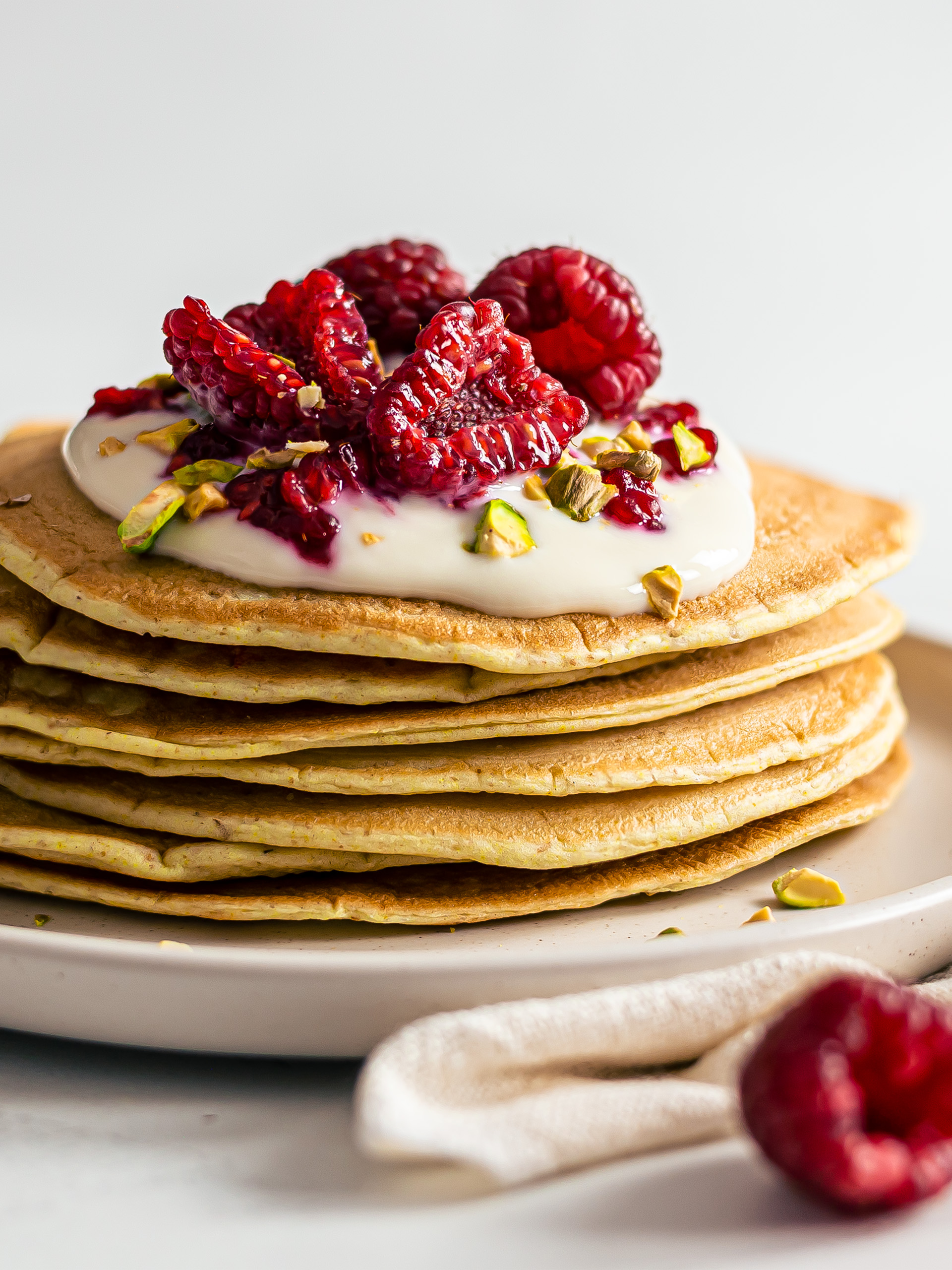 Tips
For extra fluffy pancakes, you can use self-raising flour instead of plain flour or add 1 tsp of baking powder to the sourdough pancake batter.

Try adding fresh or frozen berries to the pancake mix for fruity pancakes.