Don't know what to do with your sourdough discard? Instead of throwing it away, use it up in these vegan sourdough waffles. They're fluffy, flavourful, and ready in just 10 minutes!
Using sourdough to make waffles means you won't need any baking powder. Instead, your bubbly starter will take care of making those waffles extra spongy for you.
Our recipe is simple: sourdough, maple syrup, and a little oil. That's it.
Your starter has already the ideal consistency of a perfect waffle batter as it's liquid enough to be poured or scooped. All it needs is a bit of sweetener and oil for richness.
You can use the sourdough starter you have left after making bread or other sourdough recipes or you can prepare it specifically for these waffles.
If you use the sourdough when it's still bubbly and active, the waffles will puff up nicely.
If your sourdough starter is 1-2 days old or not too bubbly, you can still make this waffle recipe without feeding the starter first.
All you need is a little baking soda! Find how to use it in the recipe below.
To make the waffles, simply mix the sourdough with the other ingredients, and pour the batter into your warm waffle machine. Once fluffy and golden, serve your delicious sourdough waffles with your favourite toppings, sweet or savoury.
If you liked this recipe and want to try other awesome recipes with sourdough, check out our sourdough discard crackers, vegan sourdough croissants, and sourdough cinnamon rolls!
Ingredients
| | |
| --- | --- |
| Sourdough Starter | 250 g |
| Maple Syrup | 2 tbsp |
| Vegetable Oil | 1 tbsp |
Step 1
To make these waffles, you can use the sourdough discard you have left after making other sourdough recipes or you can "feed" it specifically for this recipe.
Ideally, the starter should be bubbly and active so the waffles will be fluffy and flavourful.
However, you can still make these waffles even if the sourdough starter is not very bubbly or if it has been a day or two since you last fed it and you don't have time for another feeding.
If that's the case, then simply use the sourdough discard as is and add 1/2 teaspoon of baking soda to the waffle batter.
The baking soda will react with the acidic component of the sourdough, releasing lots of air bubbles and puffing up the waffles.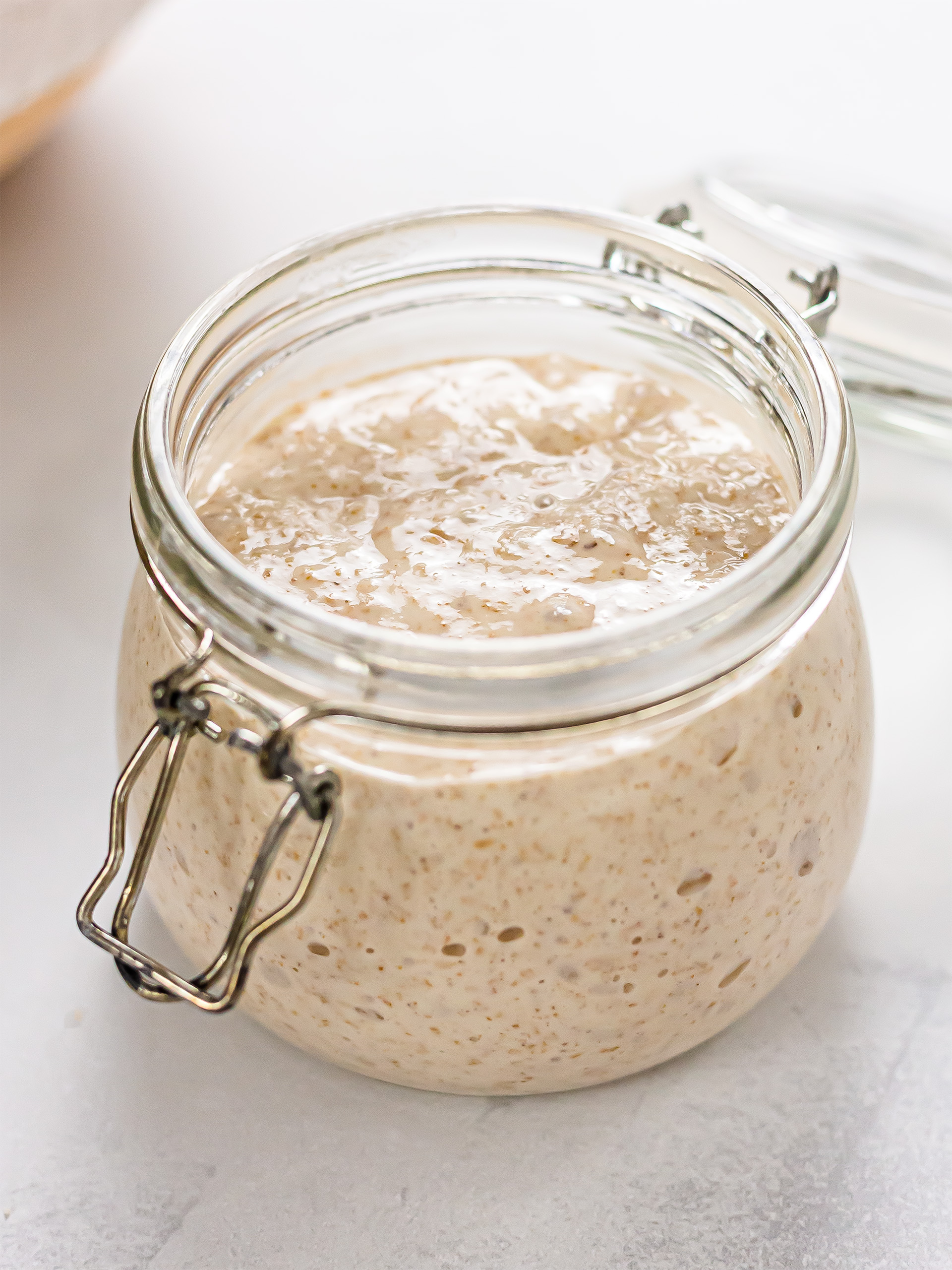 Step 2
Pour the bubbly sourdough starter into a bowl and tip in the maple syrup and vegetable oil.
Stir well until you have a pourable waffle batter.
At this point, you can also incorporate blueberries (fresh or frozen) or dark chocolate chips if you like.
If you want to make savoury sourdough waffles instead, swap the maple syrup with a few pinches of salt.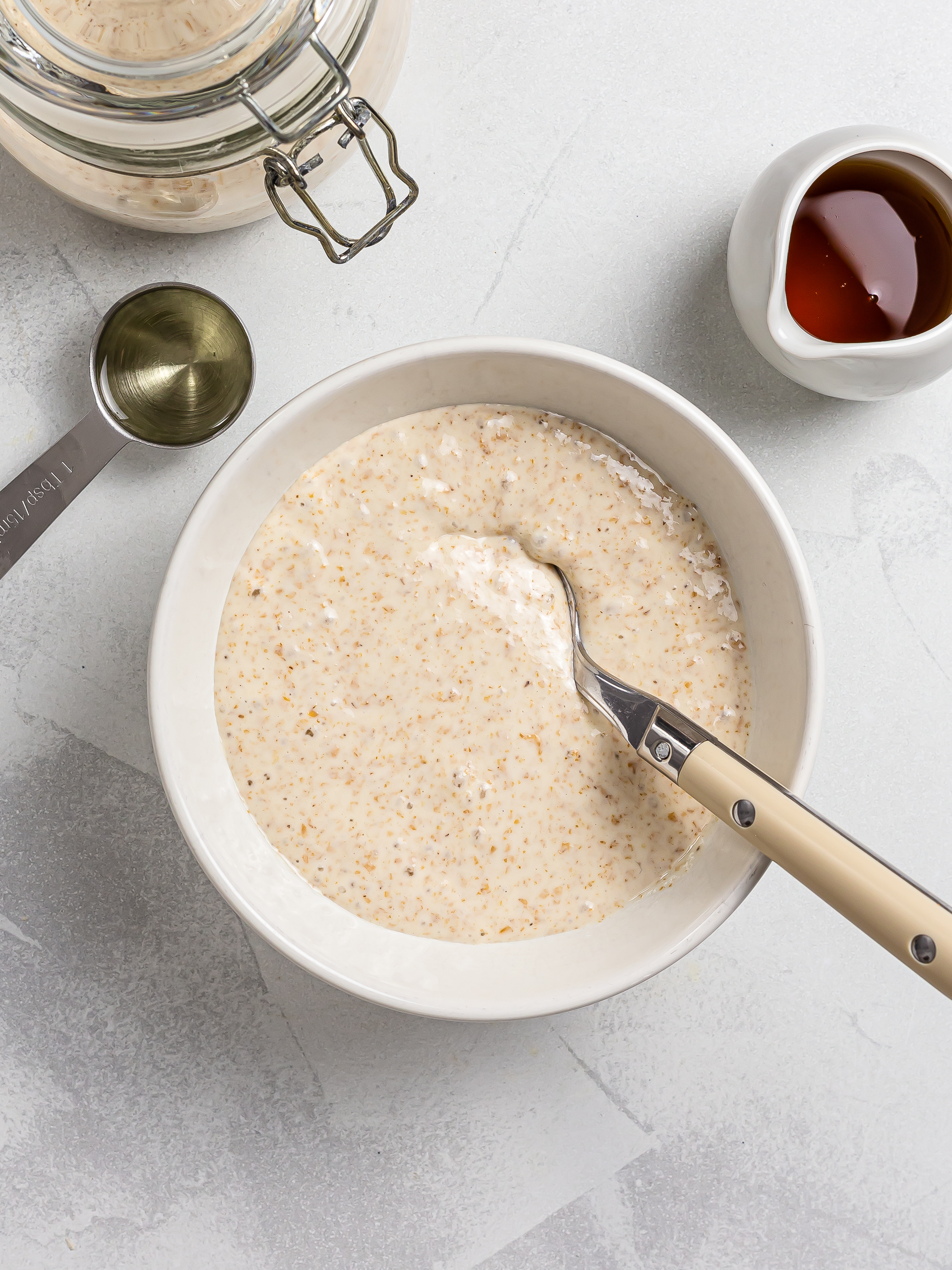 Step 3
Set your waffle maker to the max temperature and grease the griddles thoroughly with vegetable oil.
Now, pour in enough waffle batter to fill all the grooves and level it with a spatula.
Avoid overfilling the griddles, or the waffle mixture might leak out when you close the lid.
Also, keep in mind that the sourdough waffles will expand a bit while cooking.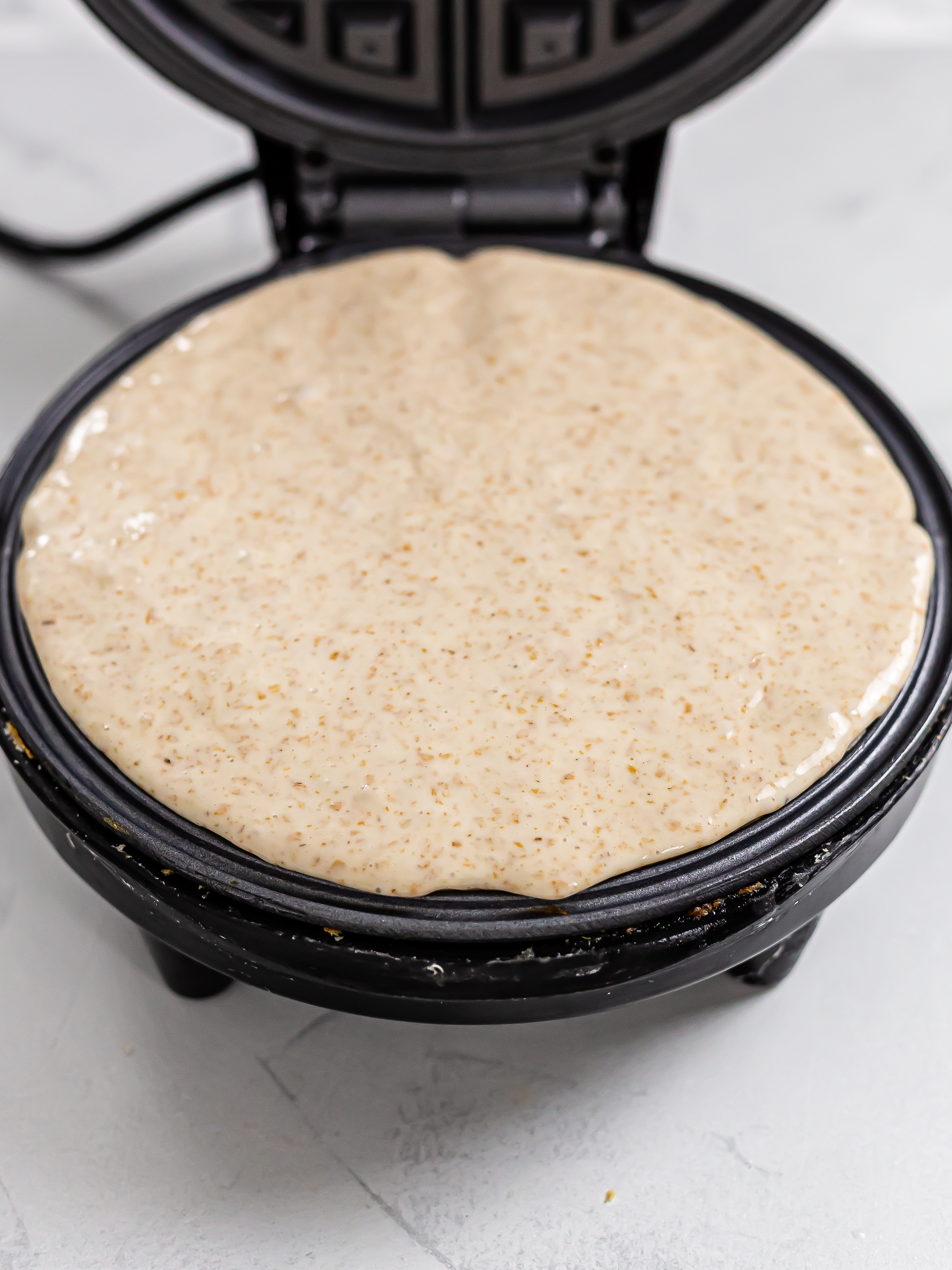 Step 4
Now, close the lid and cook the sourdough waffles for about 7 minutes or follow the machine's manufacturer instructions.
Make sure the waffles are cooked through, soft inside and slightly crispy outside, before removing them with the help of a spatula.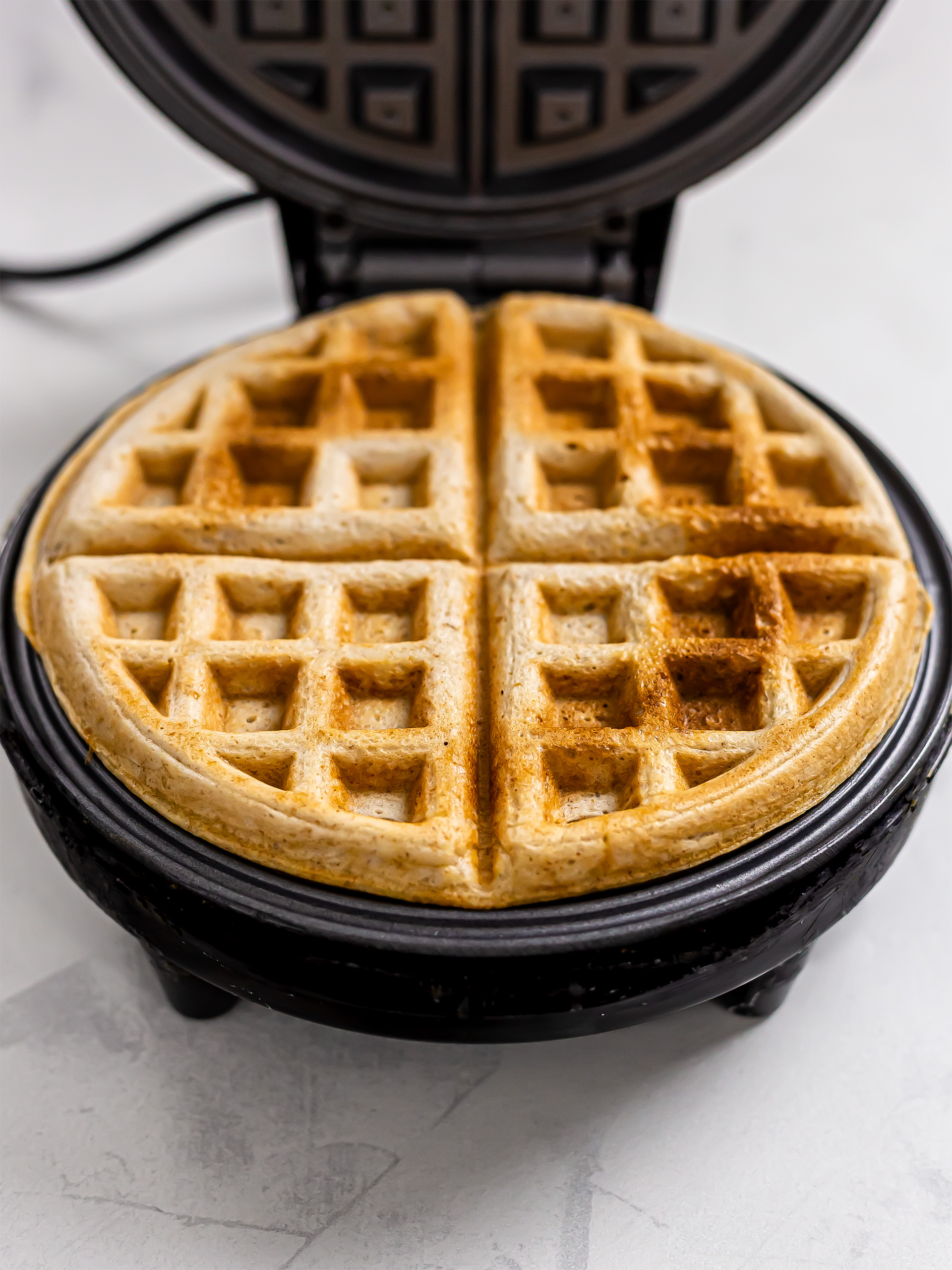 Step 5
Keep the waffles warm under a plate or in the oven set to 160°C (320°F) while you finish cooking the others.
Serve these vegan sourdough waffles warm and enjoy them with your favourite toppings.
We drizzled ours with maple syrup and topped them with fresh blueberries.
They're also delicious with our homemade sugar-free plum jam, no-sugar raspberry and apple jam, or with a scoop of our vegan salted caramel ice cream.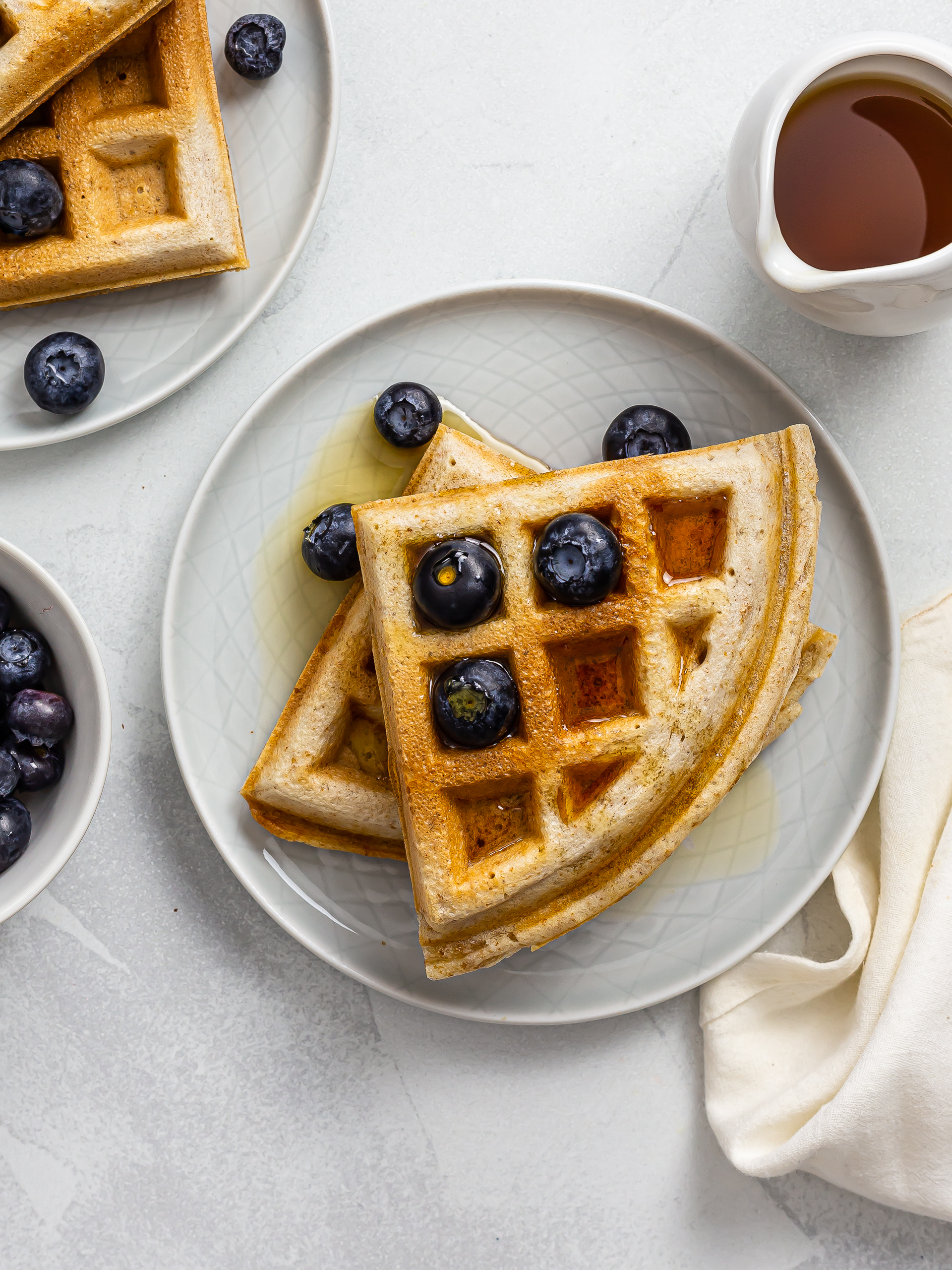 Tips
Freeze any leftover waffles in a freezer-safe container, interleaving each waffle with baking paper so they won't stick. To serve, pop the frozen waffles in your waffle machine or the oven and warm them up until soft and fluffy.