If you're looking for an exciting spin to classic brownies, you're in the right place. Today, we want to share our delicious recipe for vegan ube brownies, prepared with Filipino purple yam spread.
They're fudgy, colourful, and 100% plant-based — we're sure you'll like them. So, let us show you how to make them!
Ube spread is a sweet paste made from purple yams, and it's also called ube halaya in Filipino, which means "purple yam jam".
In our recipe, we'll use ube spread to replace butter and sugar in the vegan brownie dough.
You can find ube halaya at your local Asian food store or online. But, you can also prepare it from scratch if you find fresh ube or purple sweet potatoes.
You can follow our easy recipe for homemade vegan ube butter, where we used ube, coconut milk, a little coconut oil, and a splash of maple syrup.
Whenever you use ube butter in recipes, you need to be careful not to mix it with baking powder or self-raising flour. That's because the raising agents react with the colour pigments in ube.
And what happens is that it turns green! It happened to us with various self-raising flour and baking powder brands, so we recommend testing yours first or skipping them altogether.
We didn't use any raising agents in these ube brownies, so they will be a bit flatter than classic brownies. But they will be just as tasty and gooey!
To keep these purple brownies vegan, we substituted classic white chocolate with vegan white chocolate, available online or at health food stores. Feel free to use normal white chocolate if you wish!
Also, we used glutinous rice flour instead of plain flour. Despite the name, glutinous rice flour is gluten-free and it's milled for a type of Japanese sticky rice, called mochigome.
This flour is also called mochigomeko or mochiko, and it's used to make Japanese mochi balls.
The cool thing is that glutinous rice flour becomes super chewy and sticky when cooked with water or milk. So we used it in this recipe to make the ube brownies soft and gooey with no need for butter.
You can find mochi flour at your local Asian food store or online, it's super cheap, and you can make lots of delicious gluten-free mochi recipes with it!
Still, you can swap it with plain flour if you prefer. Just follow our substitutions tips at the bottom of the recipe page.
In our tips section, you'll also find lots of tasty ideas on how to garnish these delicious vegan purple yam brownies once baked.
Ingredients
Ube Spread

recipe

240 g

Coconut Milk Drink

150 mL

Glutinous Rice Flour (Mochiko)

220 g

Vegan White Chocolate

200 g
Step 1
For the ube butter, you can use the ready-made ube spread, called ube halaya, which you should find online or at your local Asian food store.
You could also prepare it from scratch using fresh purple yams (or purple sweet potatoes) following our vegan ube butter recipe.
We tried and tested this ube brownies recipe with our homemade ube spread.
Make sure the ube butter and coconut milk drink are at room temperature as they will incorporate better into the brownie dough.
Ok now, combine ube spread with coconut milk drink in a bowl.
Then, tip in sifted glutinous rice flour and mix well until the ingredients come together into a uniform dough.
If you can't find glutinous rice flour, check our tip section below for substitutions.
Don't add any baking powder or use self-raising flour as the raising agents react with the purple pigments in the ube spread, turning it green.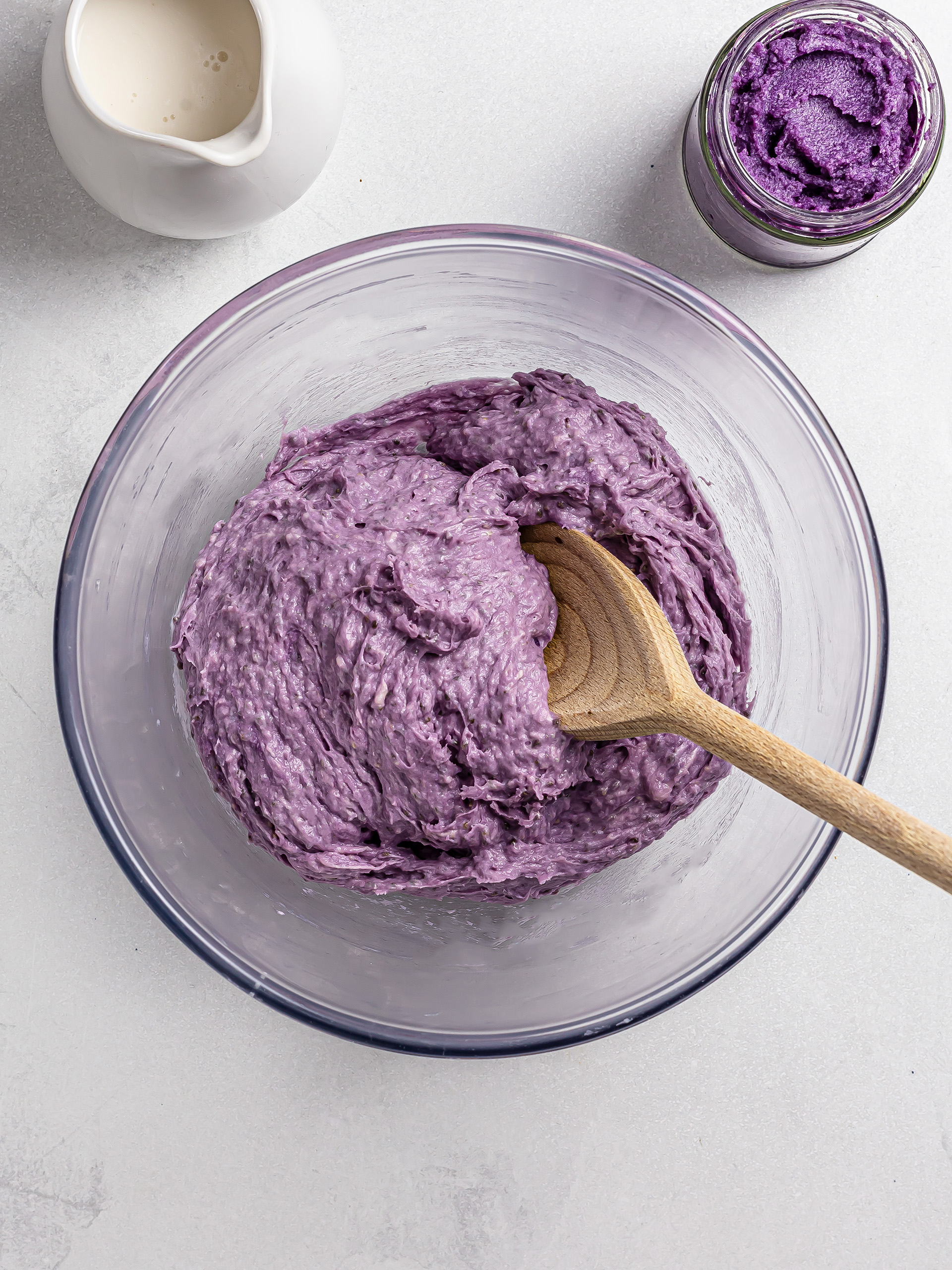 Step 2
Finely chop the vegan white chocolate, add it to a heat-proof bowl, and melt it in the microwave or bain-marie.
For the bain-marie, set the bowl onto a pot of simmering water, making sure the water is not touching the bottom of the bowl.
Stir the chocolate every now and then, and when until it's completely melted, remove the bowl from the heat.
For the microwave, melt the chocolate for 20 seconds at high temperature, stir it, and put it back for 20 more seconds. Keep stirring and returning the chocolate to the microwave until it has melted.
Once ready, fold the melted vegan white chocolate into the ube brownie dough with the help of a spatula, making sure it's well incorporated.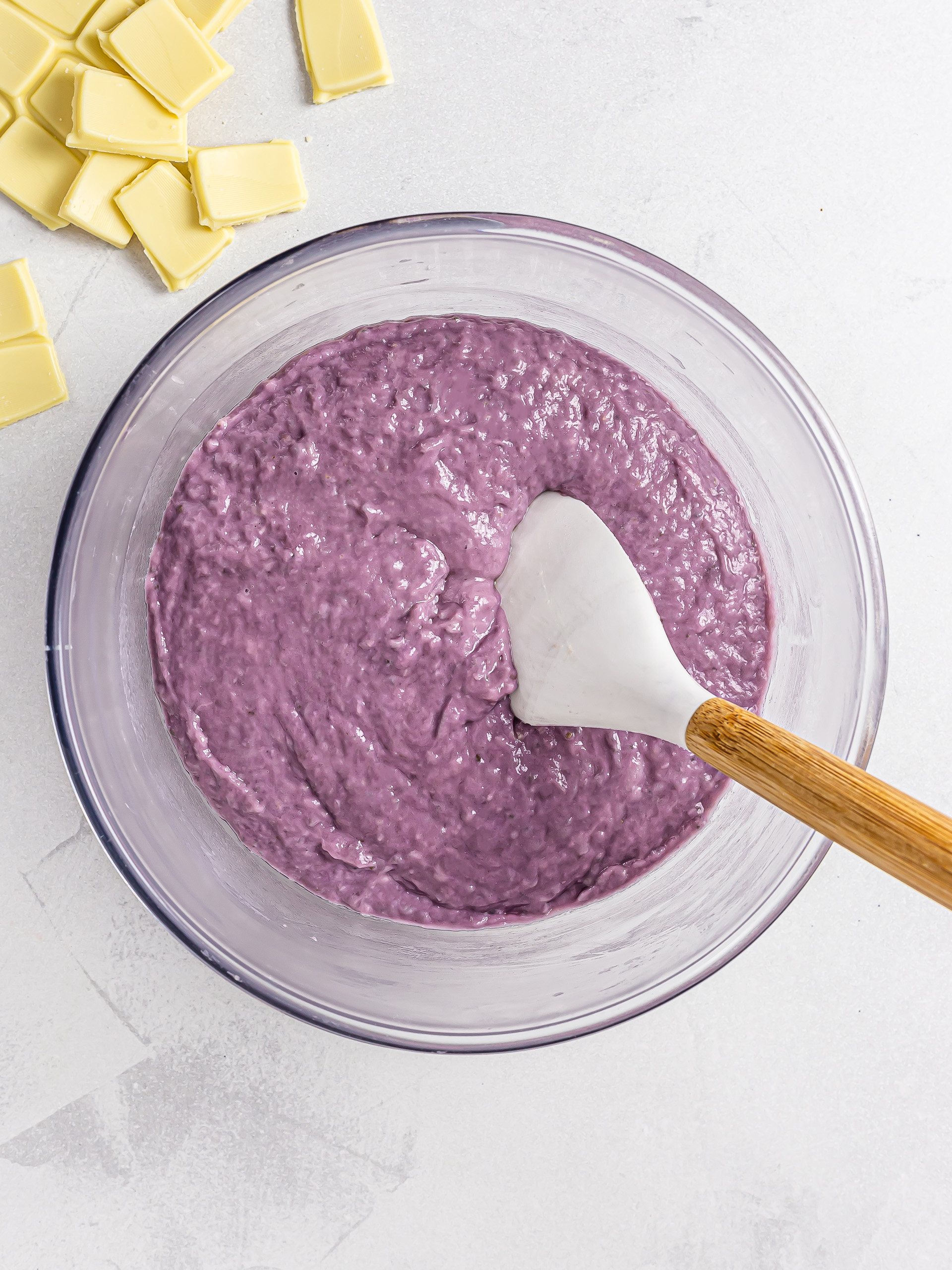 Step 3
Heat the oven to 180°C (355°F).
Grease a 20cm (8 inches) square cake tin with vegetable oil and line it with baking paper.
Press the baking paper at the bottom and up the sides of the tin to make sure it adheres. Leave the sides of baking paper overhanging from the tin.
This way, you'll have perfectly a shaped ube brownie slab, and you'll be able to remove it from tin easily once baked.
Now, transfer the ube brownie dough into the prepared tin and level it with a spatula.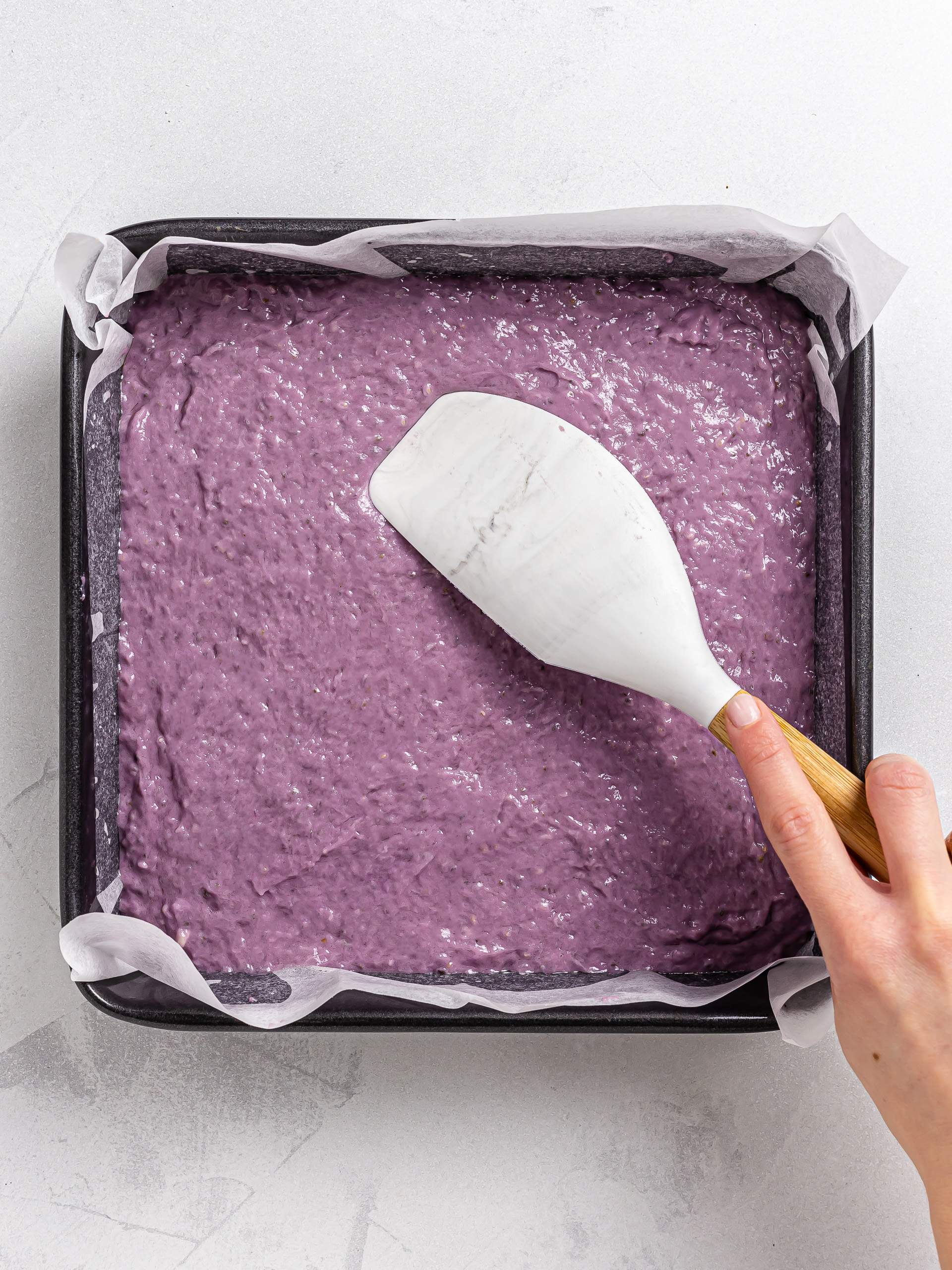 Step 4
Bake the ube brownie slab on the middle shelf of the preheated oven for 25 minutes.
You want the brownie slab to be just lightly golden on the edges but still soft in the centre.
Once ready, remove the slab from the tin by lifting it with the help of the baking paper, and place it on a wire rack.
Let the ube brownie slab cool down completely in the fridge before moving it onto a board and slicing it into brownie squares.
If you want, check out our tips below for inspiration on how to garnish your vegan white chocolate ube brownies — or enjoy them as they are!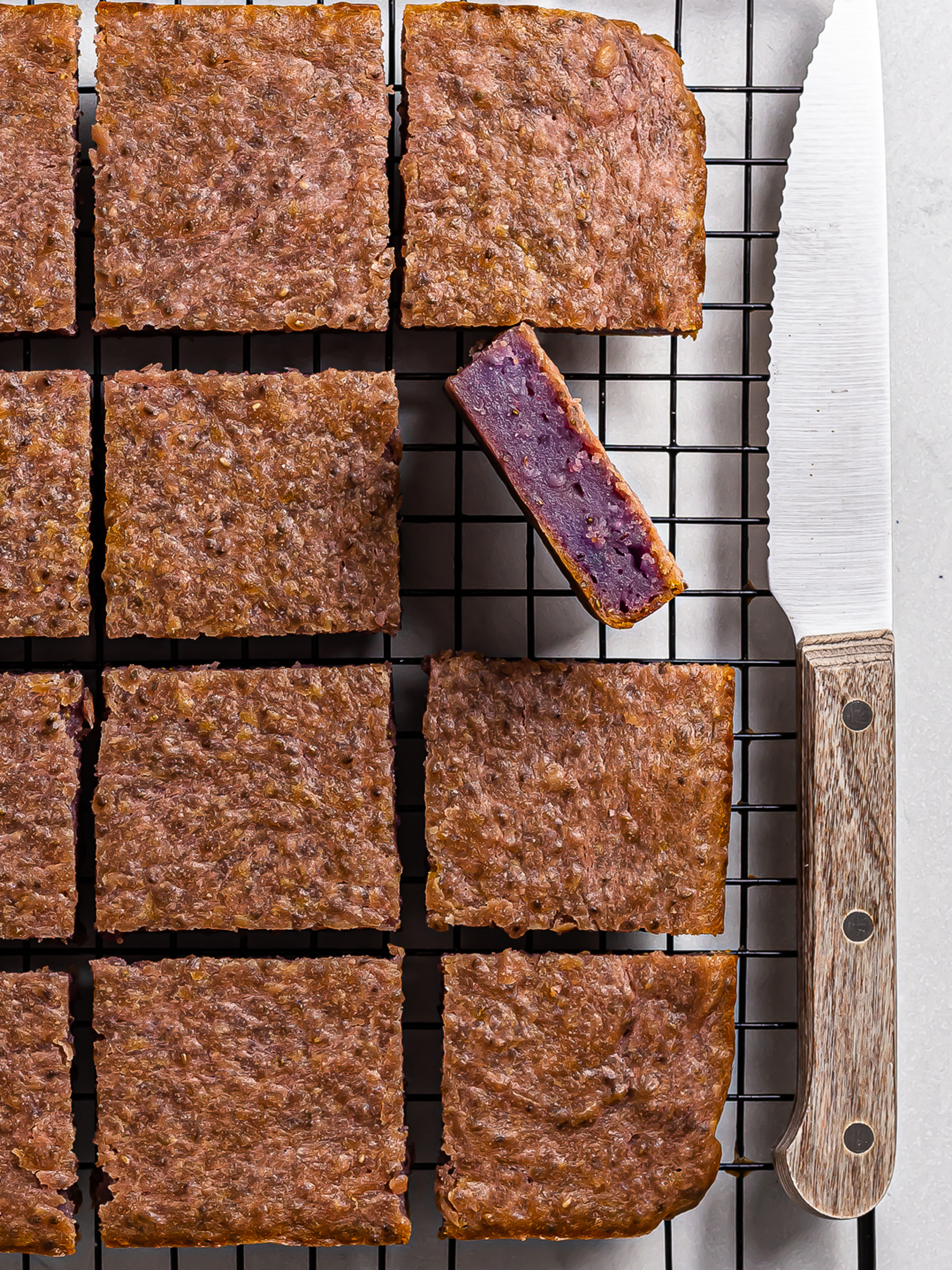 Tips
Glutinous rice flour is a gluten-free flour made from a type of Japanese sticky rice. It's also called mochiko or sweet rice flour. If you can't find it, you can replace it with 220g (7.7 oz) of plain wheat flour and then add 2 eggs or, for a vegan option, a "chia-egg" made with 2 tablespoons of chia seeds and 80ml (2.8 fl oz) of water.

Before slicing the brownies slab, you can garnish it with a drizzle of melted white chocolate.

Alternatively, you could slather it with ube spread or make a simple ube butter frosting. For the frosting, mix equal parts of ube spread and cream cheese (vegan or dairy-free if needed), plus icing sugar or maple syrup to taste, and spread it over the brownie slab.

Then, you can sprinkle the frosted brownies with dried coconut flakes or white chocolate shavings if you like.

Have extra ube butter? We've got more tasty vegan ube recipes for you, like our ube leche flan, ube butter mochi, or ube latte. Or you can go through all our ube recipes and see if you find something you fancy!