White chocolate chip cookies for vegans? It used to be a dream, but not anymore. As veganism entered mainstream years ago, many companies have rushed to add vegan options to the most beloved foods, including white chocolate.
It's now easier to find vegan (aka dairy-free) white chocolate chips at the supermarket and even more so online. And if you are into DIY chocolate, it's not hard to make it at home. We talk about this in the FAQ section, after the recipe.
Even though white chocolate is not as healthy as the dark variant, we still worked hard to make our white chocolate chip cookies as nourishing as possible.
So we replaced all unnecessary fats from butter with protein-rich and nutritious peanut butter. Almond nut spread would be a tasty option as well.
We swapped cow milk with almond milk. We like to use almond milk because almonds are a rich source of vitamin E, magnesium, and healthy fats, all in a third of the calories. Another plant-based milk option for these cookies is oat milk or even hazelnut milk for extra nutty flavour!
And finally, we have used oatmeal instead of wheat flour. This way, our cookies are not just vegan, but also gluten-free! Plus we get biscuits rich with healthy fibres.
We hope you'll enjoy these cookies as much as we did. Let's get baking!
NOTE: The default ingredients yield 12 cookies, and one serving consists of 2 cookies.
Frequently Asked Questions
Is white chocolate vegan friendly?

Traditional white chocolate is not dairy-free, hence not vegan. But for like many other products, there are vegan white chocolate alternatives out there. Moreover, it's not hard to make homemade white chocolate if you can get your hands on cocoa butter.

Dairy-free white chocolate works just as well when baking vegan chocolate chip cookies, so don't let your allergy or diet stop you from enjoying these tasty biscuits.

To make vegan white chocolate, we need to replace the milk powder contained in the classic recipe. We have compared the labels of various vegan white chocolate bars on the market and observed how different producers tackled this problem.

Here is what we found. All dairy-free white chocolate bar we inspected reported one of these two ingredients as a replacement to milk powder:

Rice milk powder. This is the most common option. The powder is made by mixing rice flour, rice syrup, and rice starch until they form a dry paste.

Maize flour mixed with coconut oil. Fewer use this option, although the ingredients are easier to find.

If you fancy making your own vegan white chocolate, we have written a little guide about it below. Check it out!
Can I make gluten-free white chocolate chip cookies?

You sure can! Our cookies recipe is gluten-free. Just follow our method above you'll be nibbling on chewy white chocolate cookies in no time.

To make these cookies gluten-free, we have replaced wheat flour with oatmeal. Oat flour is an excellent choice for gluten-free baking because:

It's naturally sweet

It binds ingredients well

it's rich in nutrients like vitamins, minerals, and fibres

You don't have to buy oat flour as you can easily make it yourself from oat flakes or porridge oats. Just blitz them in a powerful food processor until they are finely ground, and you're game.

If you don't have oatmeal at hand, there are other ways to make gluten-free chocolate chip cookies. You could use rice flour, for crispier biscuits. Or consider a 1:1 mix of coconut flour and almond flour for chewy biscuits rich in vitamins, minerals and healthy fats.
Can I make white chocolate cookies without sugar?

There are many ways to make your chocolate chip cookies sugar-free, so you can still enjoy a tasty biscuit without guilt.

In cookies, as for other baked goods, you can swap refined white sugar with healthier alternatives, like honey, maple, or coconut sugar. While 100 grams white refined sugar have 100g of carbs, these other options have a better nutritional profile. Let's have a look at them together:

Raw honey: 80g of sugars in 100g

Coconut sugar: 75 g of sugars in 100g

Maple syrup: 60g of sugars in 100g

This means that when you swap sugar with these alternatives, you are consuming fewer calories and free sugars.

You can also replace sugar with fruits, like raisins, dried berries, and dates. Not only they are naturally sweet, but studies have shown that sugars found in fruit aren't fattening as the added ones as they are slowly released in your bloodstream. Moreover, fruit comes packed with many nutrients like fibres, vitamins, and antioxidants.

Another excellent sugar substitute for your chocolate chip cookies is applesauce. It binds the ingredients and adds sweetness. You can read more about this fantastic ingredient in the FAQ of our vegan applesauce cookies here.

If you want to go completely sugar-free, for example, if you are following a ketogenic diet or have diabetes, then sweeteners make excellent substitutes for baked goods like cookies. For example, you can try stevia, sucralose, monk fruit, and erythritol. They are sugar alternatives with little or no calories.
How do you make vegan white chocolate from scratch?

Dairy-free white chocolate is no longer as difficult to find in a store as it used to be. But if your local market doesn't have any, making vegan white chocolate at home is not difficult. Keep reading if you want to learn how to make it yourself. We will also include tips on how to make sugar-free white chocolate!

Plain white chocolate uses the following ingredients:

cocoa butter

sugar

dried whole milk

soy or sunflower lecithin emulsifier, to help binding fats and liquids.

vanilla for extra flavour (optional)

To make vegan white chocolate, we have to get rid of the dairy. The other ingredients can stay as is, or swapped with healthier alternatives. To make sugar-free white chocolate, we will exchange the sugar with a zero-carb sweetener: erythritol powder.

We will replace dried whole milk with rice milk powder. The mild taste of this powder will not overtake the flavour of cocoa butter, which is what we want.

To make one bar of vegan white chocolate, we will need:

50 grams of cocoa butter

66 grams of icing sugar (or 70 grams of erythritol for a sugar-free variation)

One teaspoon of rice milk powder. If you can't find this, we saw that some brands of dairy-free white chocolate use maize flour instead. We haven't tried it, but it's worth a shot!

Less than 1 gram of soy or sunflower lecithin (optional).

Half a teaspoon vanilla essence (optional).

Let's start by double-boiling the cocoa butter. We do this by filling a pot with water a bit more than halfway and bringing to the boil. Then we lower the heat to minimum and position a second pot - or a bowl - into the first so that it touches the hot water. Next, we add the cocoa butter to the second pot and wait for it to melt. Add in the lecithin now if you have it. Do not stir the cocoa butter until it's melted.

Now add the icing sugar (or erythritol) to the melted cocoa butter and stir delicately until well incorporated. Proceed with adding the rice milk powder and vanilla essence if you have it. Keep stirring until you get a dense and opaque mix.

Now it's time to pour the blend into chocolate moulds and place in the fridge until solid. If you don't have moulds and don't care about pretty looks, you can pour the melted white chocolate into a small tray lined with parchment paper. If you can, use a tray with a similar size to a chocolate bar (around 18x9 cm or 7x3.5 inches), to get the right thickness.

Well done! Now you can finally turn all your favourite white chocolate recipes vegan. Including white chocolate cookies!
Ingredients
| | |
| --- | --- |
| Ground Flaxseeds | 1/2 tbsp |
| Water | 11/2 tbsp |
| Oat Flour | 150 g |
| Maple Syrup | 40 g |
| Peanut Butter | 35 g |
| Vanilla Extract | 1/2 tsp |
| Almond Milk | 75 mL |
| Baking Powder | 1 tsp |
| Vegan White Chocolate | 45 g |
Step 1
Let's start by preparing a 'flax egg' which is a vegan alternative to eggs. Soak ground flaxseeds in water in a small cup and refrigerate for 10 minutes. The seeds with absorb water and form a thick gel-like mixture.
Then, combine the oat flour, 'flax egg', maple syrup, peanut butter, vanilla extract, almond milk, and baking powder in a mixing bowl.
Stir the ingredients until they come together into a soft and sticky dough.
Step 2
Next, add the vegan white chocolate chopped into small chunks and knead the dough until they are well incorporated.
If you feel that the cookie dough is too wet, add a few spoonfuls of oat flour, or if too dry, a splash of milk.
Then, roll the dough into a ball, wrap in cling film, and refrigerate for 10 minutes. When the dough is cold is firmer and easier to work.
Step 3
Now, it's time to shape our white chocolate chip cookies.
To do so, pinch off a bit a dough - about 30g (1oz) of dough per biscuit - and roll it in the palm of your hands into a bite-sized ball.
Then, place it over a baking tray lined with parchment paper or a baking mat. Flatten down the cookie and press with your fingertips to give it a rounded shape.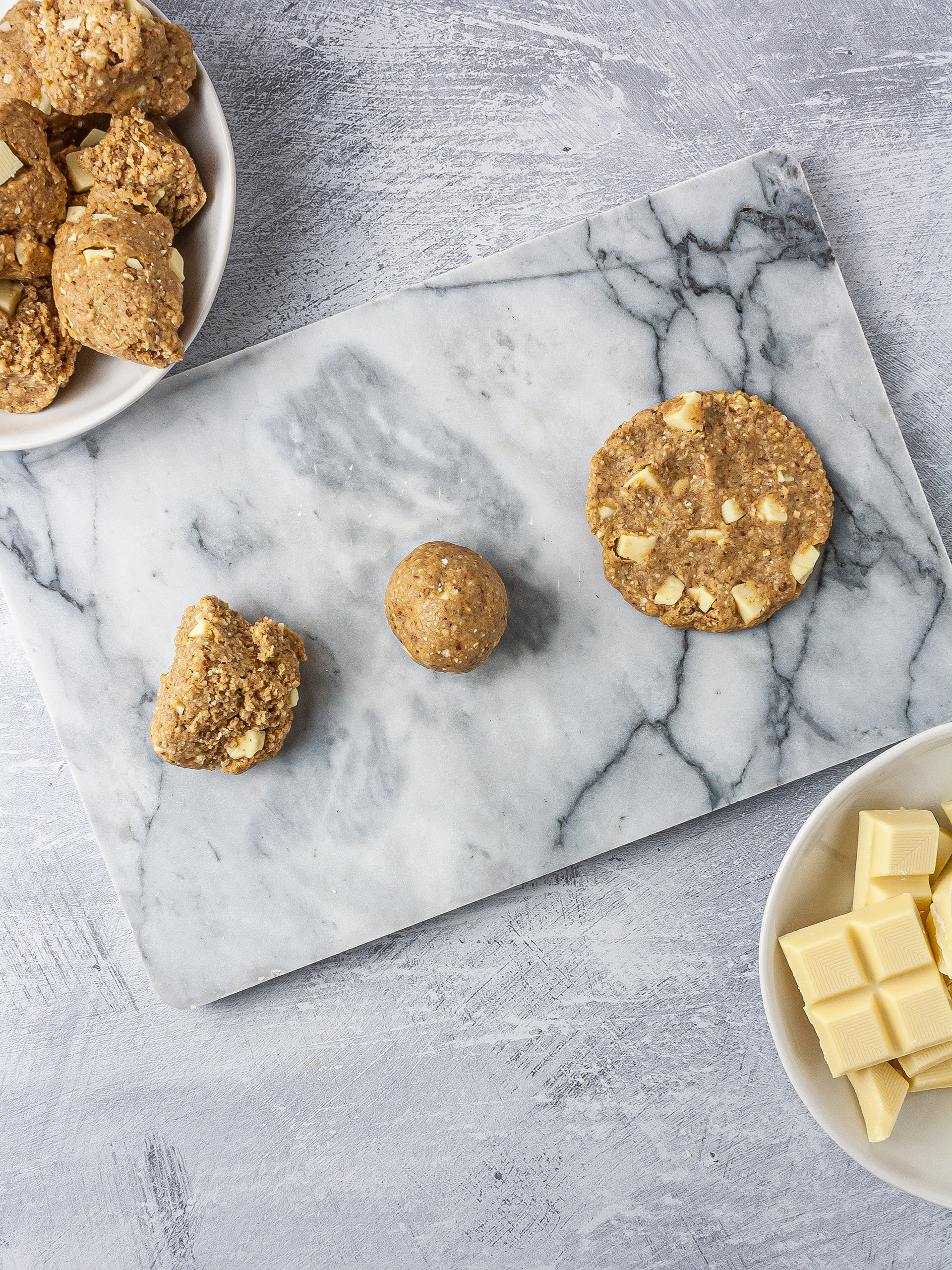 Step 4
Bake the white chocolate chip cookies for 15 minutes in the oven at 170°C (340°F) for conventional ovens or at 150°C (300°F) for fan-operated ovens.
We recommend cooking the biscuits at a lower temperature than for the classic choc chip cookies, and the white chocolate tends to brown quite quickly.
Remove the cookies from the oven and allow to cool down on a wire rack. They will harden and crisp up nicely.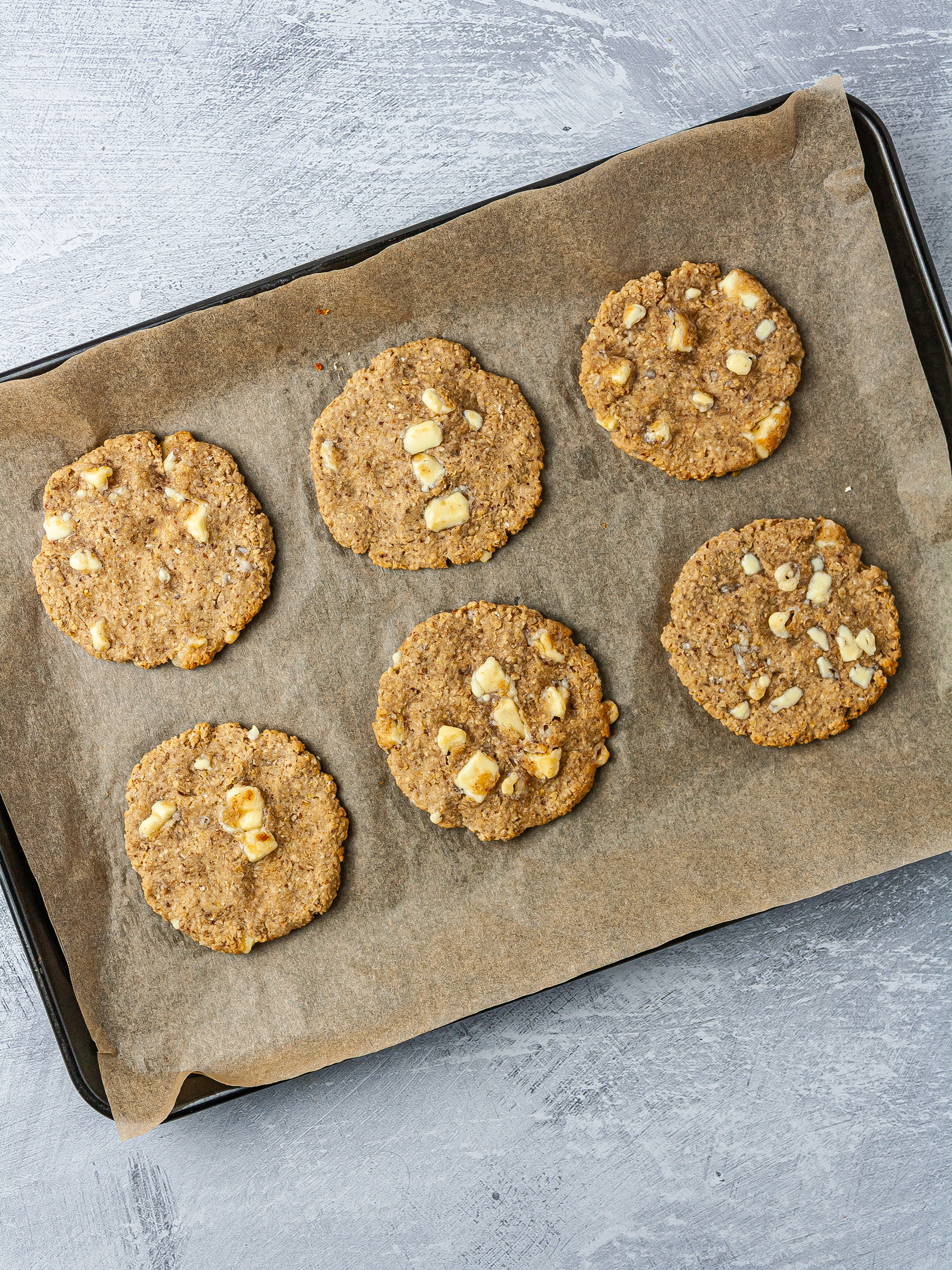 Tips
Before you start, make sure all the wet ingredients are cold. The dough will hold together much better, and it will be easier to work and shape into cookies. To learn more and for extra tips and tricks, check out our ultimate baking guide here.