For many of us, summer 2020 won't be all sunshine and rainbows. But you know what is still 100% awesome? Smoothies! And if there is one fruit that makes summer special, well that fruit is watermelon. So let's get our blenders ready and blitz ourself some happiness with this colourful watermelon and kale smoothie.
If you want to wow your guests, you could serve the smoothie in a carved watermelon, as we did. Otherwise, a good ol' glass will do just fine.
We'd like to mention some major benefits of the ingredients we used and talk about the nutritional profile of this recipe.
If right now your thirst for a smoothie exceeds that of knowledge, then skip right to our easy instructions below!
The ingredients in this smoothie are:
Watermelon. Did you know that watermelon is 90% water? That's why it's so refreshing! This beautiful fruit is a real hydration booster, as well as being rich in vitamin C.

Kale. All hail king kale. This leafy green is a favourite of ours, and we use it often in our vegan recipes. It packs vitamin K, nitrates, and antioxidants, supporting a healthy heart and fighting free radicals.

Melon. Just like watermelon, melon is a staple summer fruit. We added it to this smoothie to get a boost of vitamin A.

Banana. Banana is a rich source of potassium which helps keep blood pressure under control. On top of it, this fruit is excellent at making smoothies thick and juicy. Want to use something else? Try yogurt or silken tofu.

Spirulina [optional]. Watermelon is red, and kale is green. Together they become greenish/brownish. By using spirulina, we can give this smoothie a pleasant, lush green colour. But spirulina is not just a colourant. It's one of the most nutritious food in the world. So adding this to any of your drinks is a real health booster.
All this goodness comes in just 170kcal and provides us with almost 20% of the daily intake for fibres. Lovely!
And if you're looking for another healthy smoothie with watermelon, try this dragon fruit watermelon refresher.
For more kale smoothie ideas, check out this weight-loss raw kale smoothie or antioxidant beet kale smoothie next!
Ingredients
| | |
| --- | --- |
| Kale | 80 g |
| Watermelon | 200 g |
| Cantaloupe Melon | 160 g |
| Bananas | 1 |
| Fresh Ginger Root | 1 tsp |
| Pitted Dates | 2 |
| Spirulina (optional) | 2 tsp |
Step 1
To get a smoother drink, remove the stalks from the kale leaves. You can then add them to soups or stews, or just discard them.
Peel and slice the watermelon and melon.
Try keeping the seeds of the watermelon as they pack loads of antioxidants.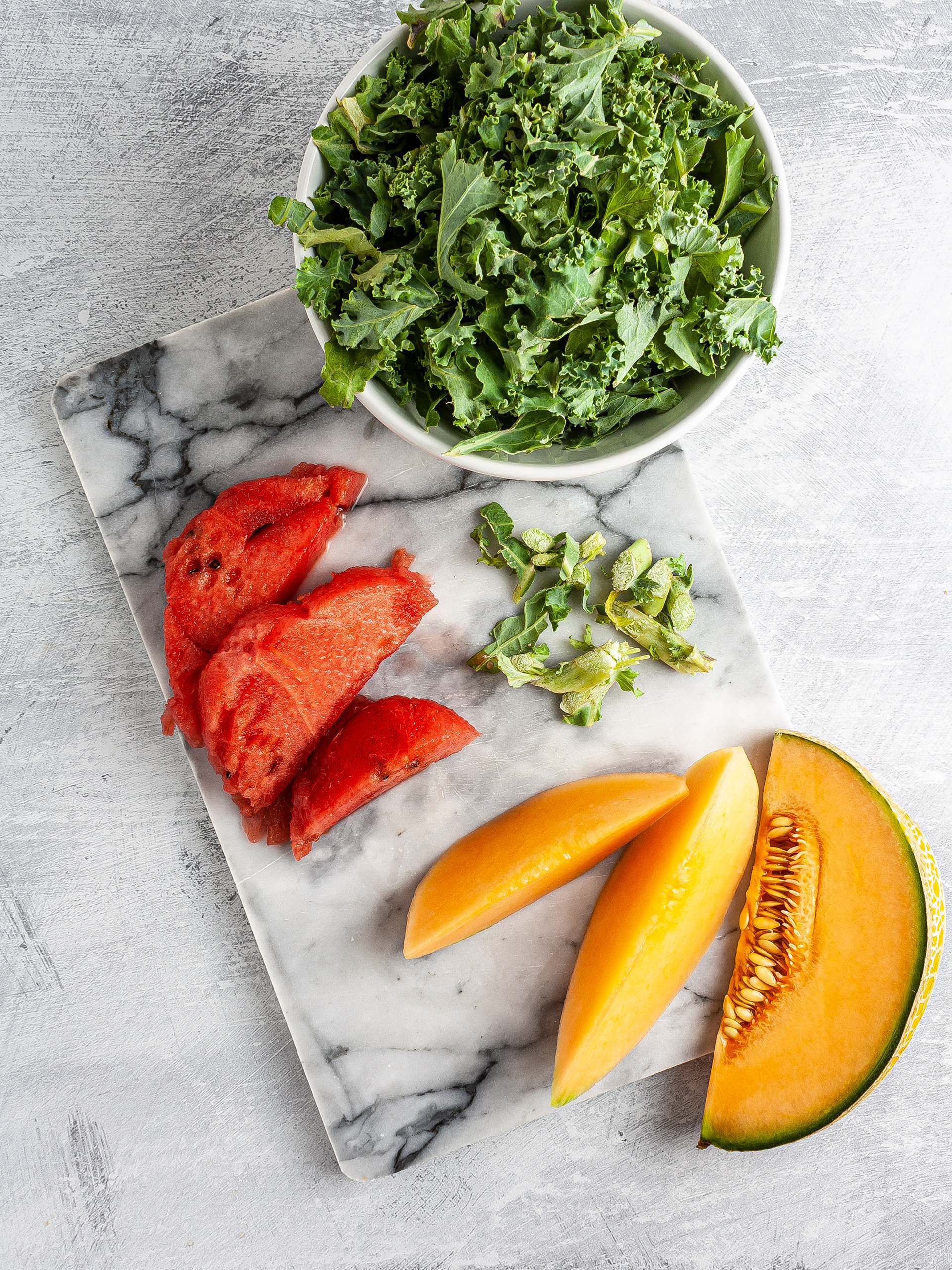 Step 2
In a powerful food processor, add the kale, melon, and watermelon along with peeled bananas, grated ginger root, and soft pitted dates.
Blitz all the ingredients until smooth.
To give this smoothie a gorgeous green tone, tip in the spirulina powder and blitz again.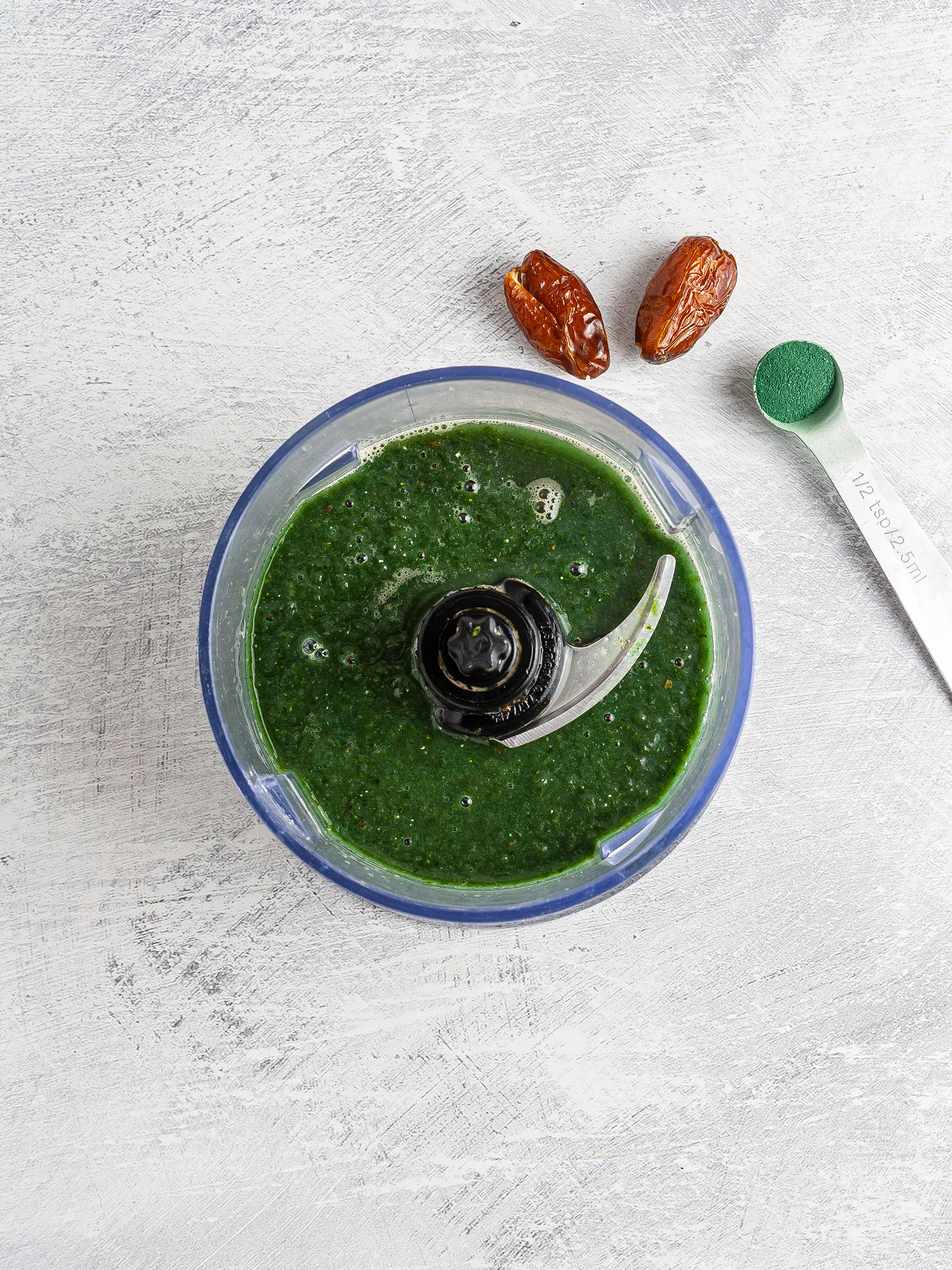 Step 3
You can serve this juice in glasses, or, as we did in this recipe, in a pretty bowl carved out from baby watermelon halves.
Enjoy your smoothie right away or store it in the fridge for up to two days.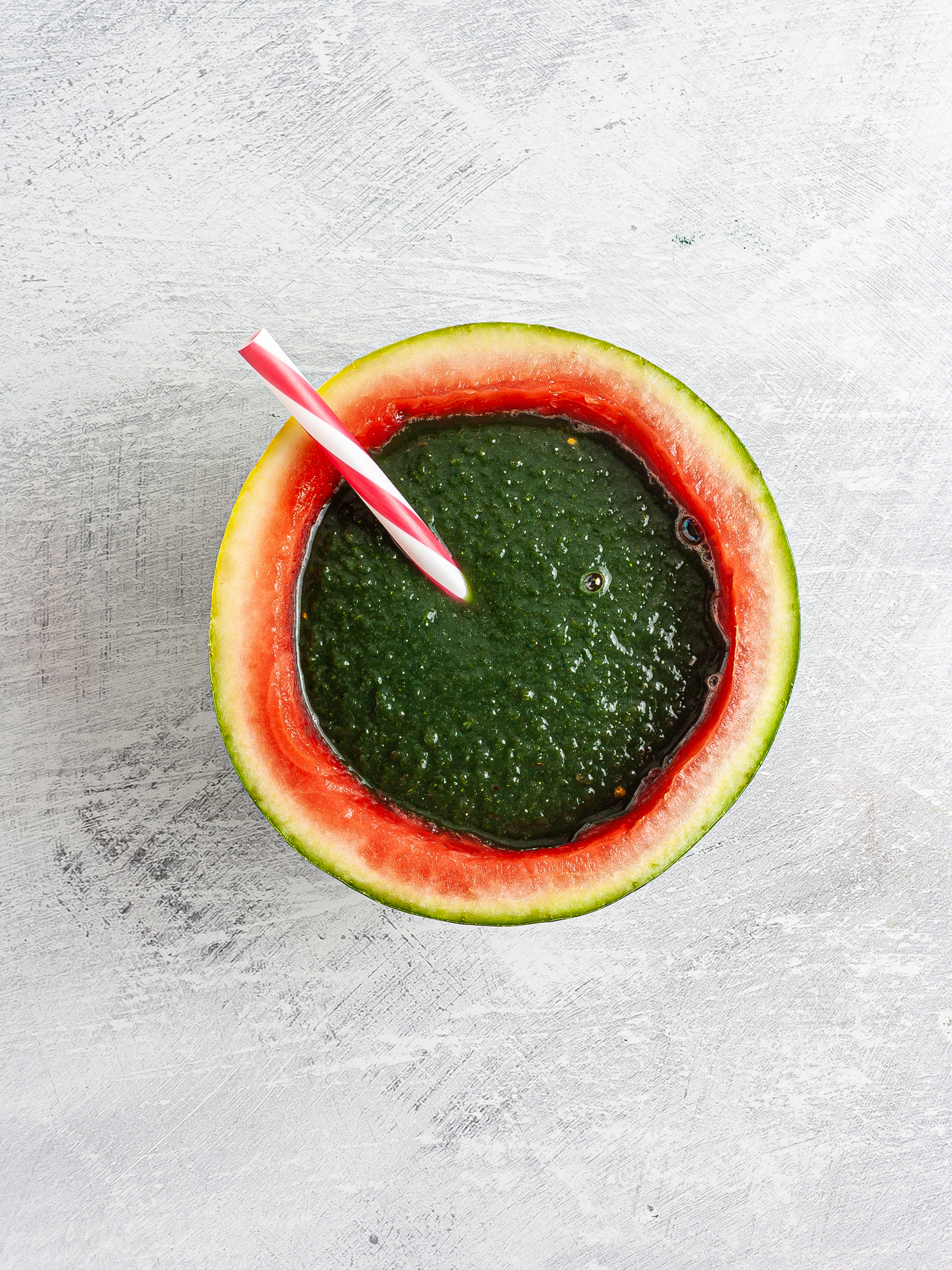 Tips
For a boost of nutrients, sprinkle this green smoothie with bee pollen.

Instead of spirulina, you can also use matcha green tea powder.

Add a source of whole grains, like oat flakes, and healthy fats, like nut butter, to make a balanced breakfast bowl that will keep you satisfied all day long. For more tips and ideas, check out our blog on how to make healthy smoothies.