With our easy step-by-step recipe, you can make these delicious zucchini garlic bread knots from scratch at home. Prepared with a few simple ingredients they are perfect with soups and salads or just to snack on.
To make this zucchini bread, we have added grated courgettes to the classic bread dough and shaped it into cute spiral-twisted bread knots.
Make sure you prove the dough long enough to double in volume and you'll have the softest bread.
Brushing the rolls with garlic and rosemary-infused olive oil before baking gives them a fragrant and spicy flavour. Mouthwatering!
If you love tasty recipes like this, make sure to subscribe to our newsletter and you'll get our newest recipes sent right into your inbox every week, plus our free ebook!
Ingredients
| | |
| --- | --- |
| Zucchini | 180 g |
| Wholemeal Bread Flour | 250 g |
| White Bread Flour | 200 g |
| Warm Water | 210 mL |
| Extra Virgin Olive Oil | 3 tbsp |
| Salt | 11/2 tsp |
| Brown Sugar | 1 tbsp |
| Dry Yeast | 2 tsp |
| Garlic Powder | 1 tsp |
| Black Pepper | 1 tsp |
| Rosemary | 1 tbsp |
Step 1
Grate the zucchini with a cheese grater, leave them to drain over a strainer for 20 minutes, and then squeeze them to remove excess water.
Next, combine the courgettes with wholemeal flour, white flour, lukewarm water, 1 tbsp of oil, 1 tsp of salt, sugar, and dry yeast in a bowl.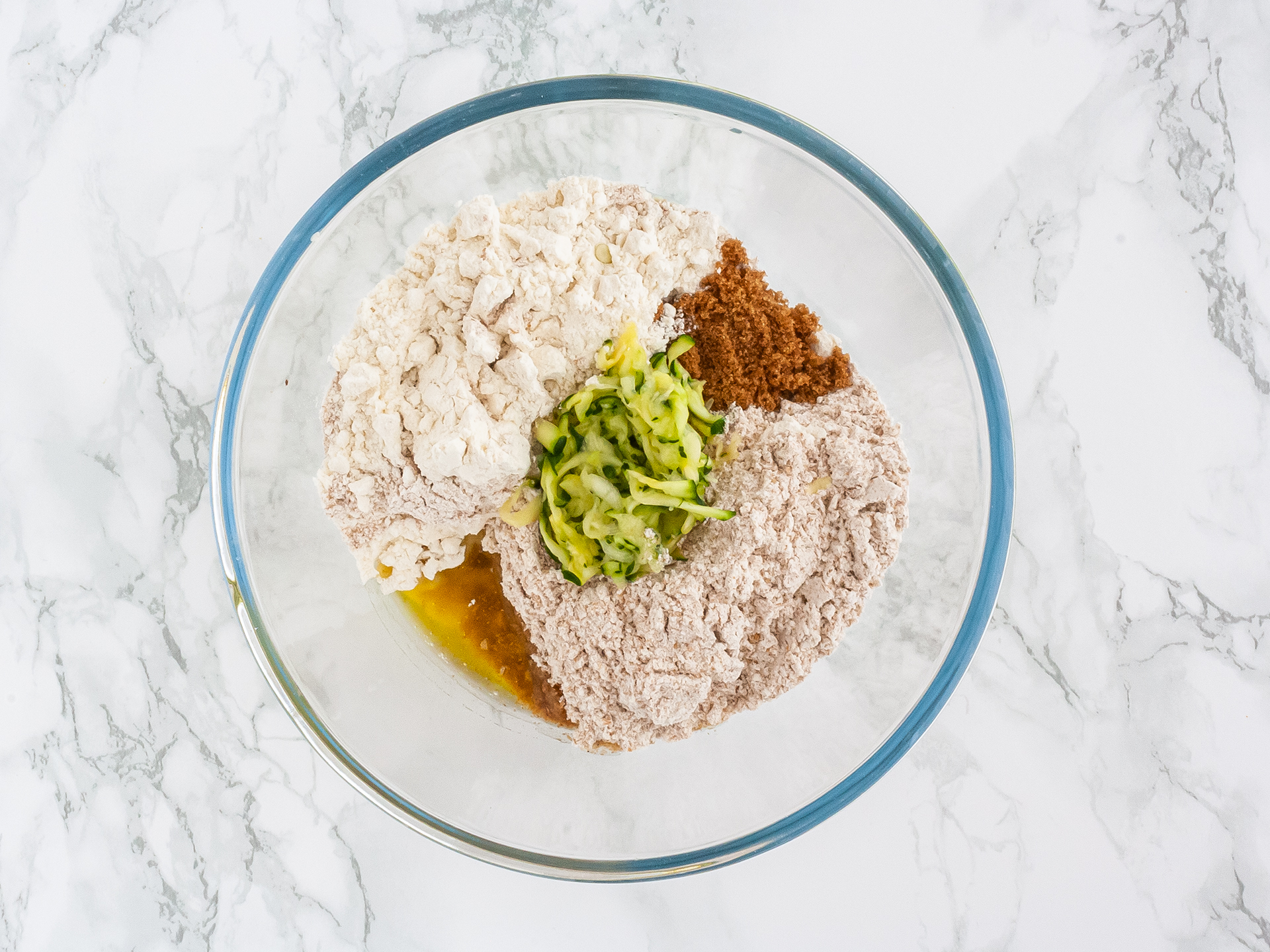 Step 2
Knead the ingredients for 10-15 minutes until the dough comes together.
Let the dough prove for 1 hour covered with a clean towel in a greased bowl. The dough should double in volume.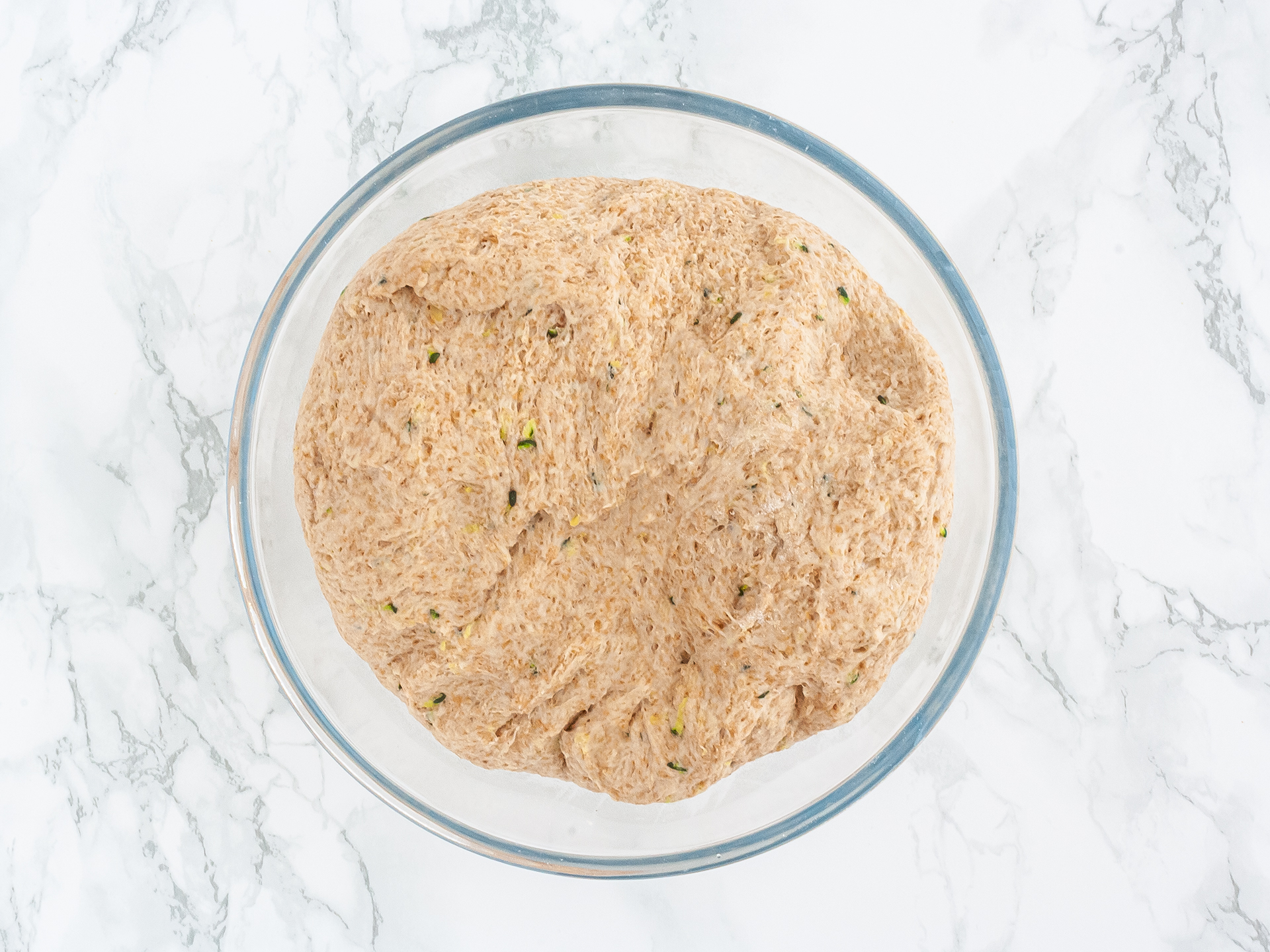 Step 3
Knead the dough for a minute to remove excess air and divide it into 80g (3 oz) pieces.
Roll each dough piece into two 20 cm (8 inches) rods, pinch the ends together on one side, then twist the rods around each other, and wrap the twisted shape around itself. Finally, pinch the ends on the other side together to keep the shape when baking (1).
Prove the bread knots for 20 minutes covered over a baking tray lined with parchment paper (2).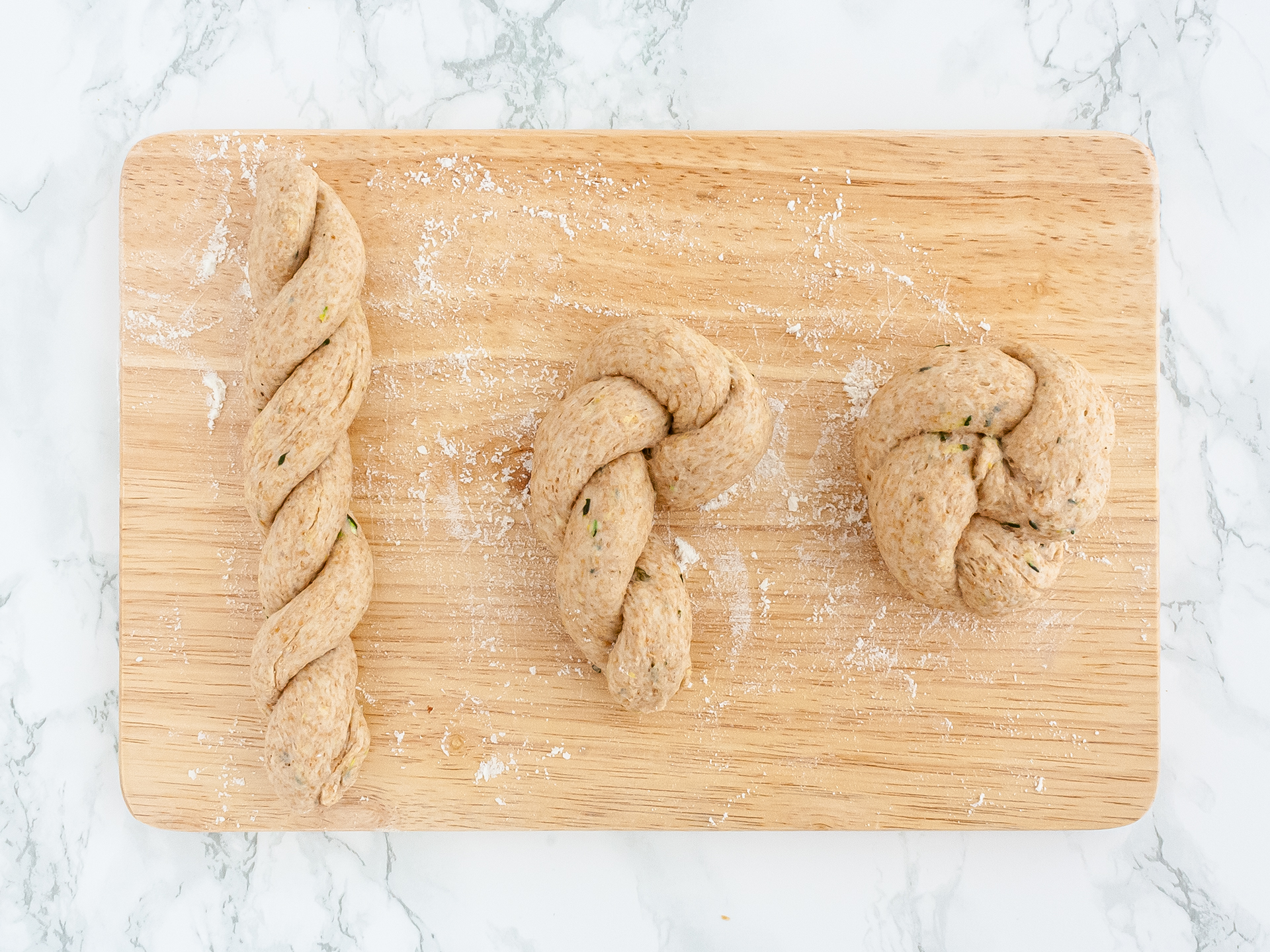 1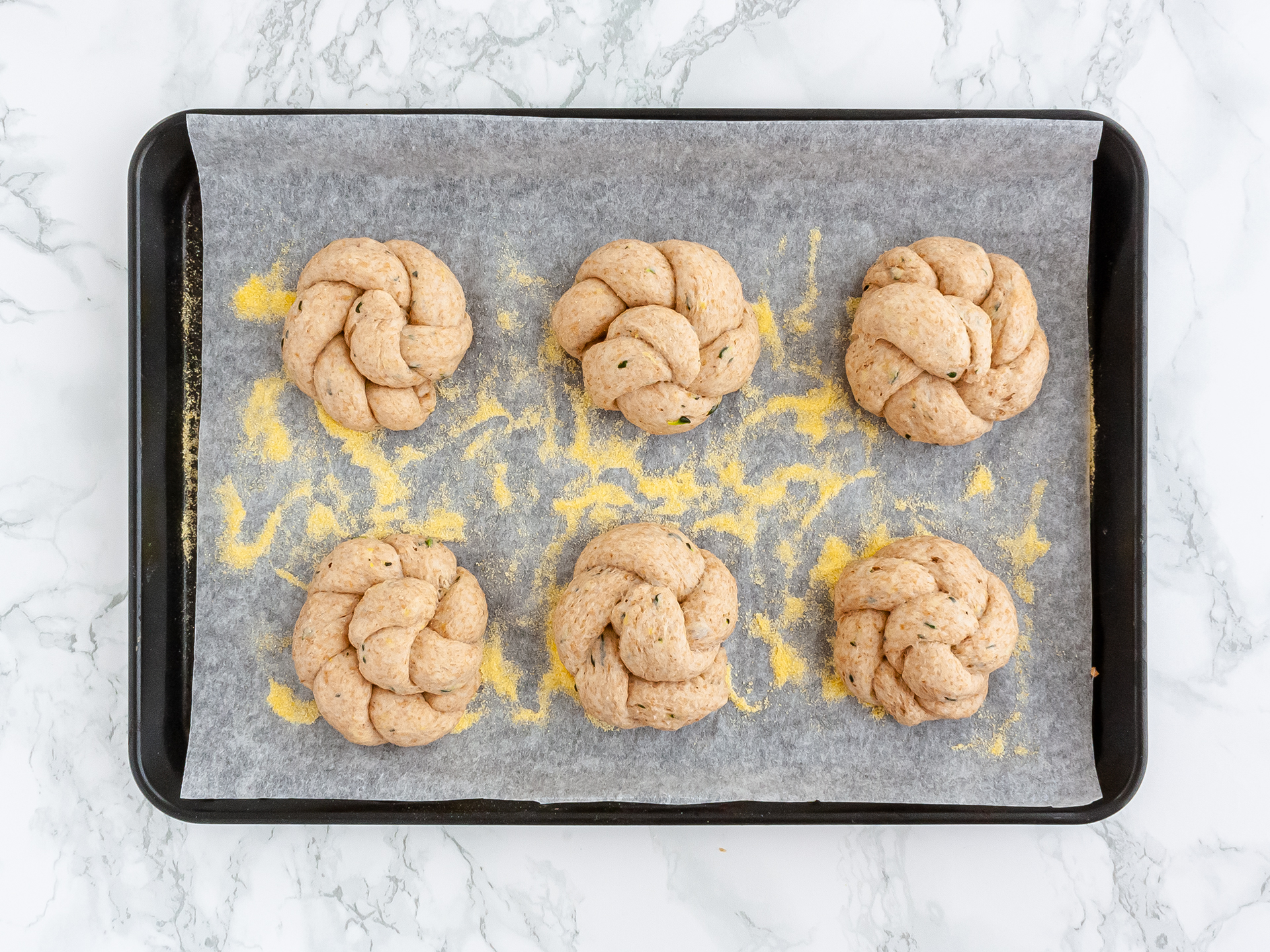 2
Step 4
Brush the bread rolls with 2 tbsp of oil mixed with garlic powder, black pepper, and rosemary.
Bake them in the oven at 200°C (390°F) for 15-20 minutes until golden.
Enjoy these delicious zucchini garlic bread knots still warm with this delicious soup or this crunchy salad!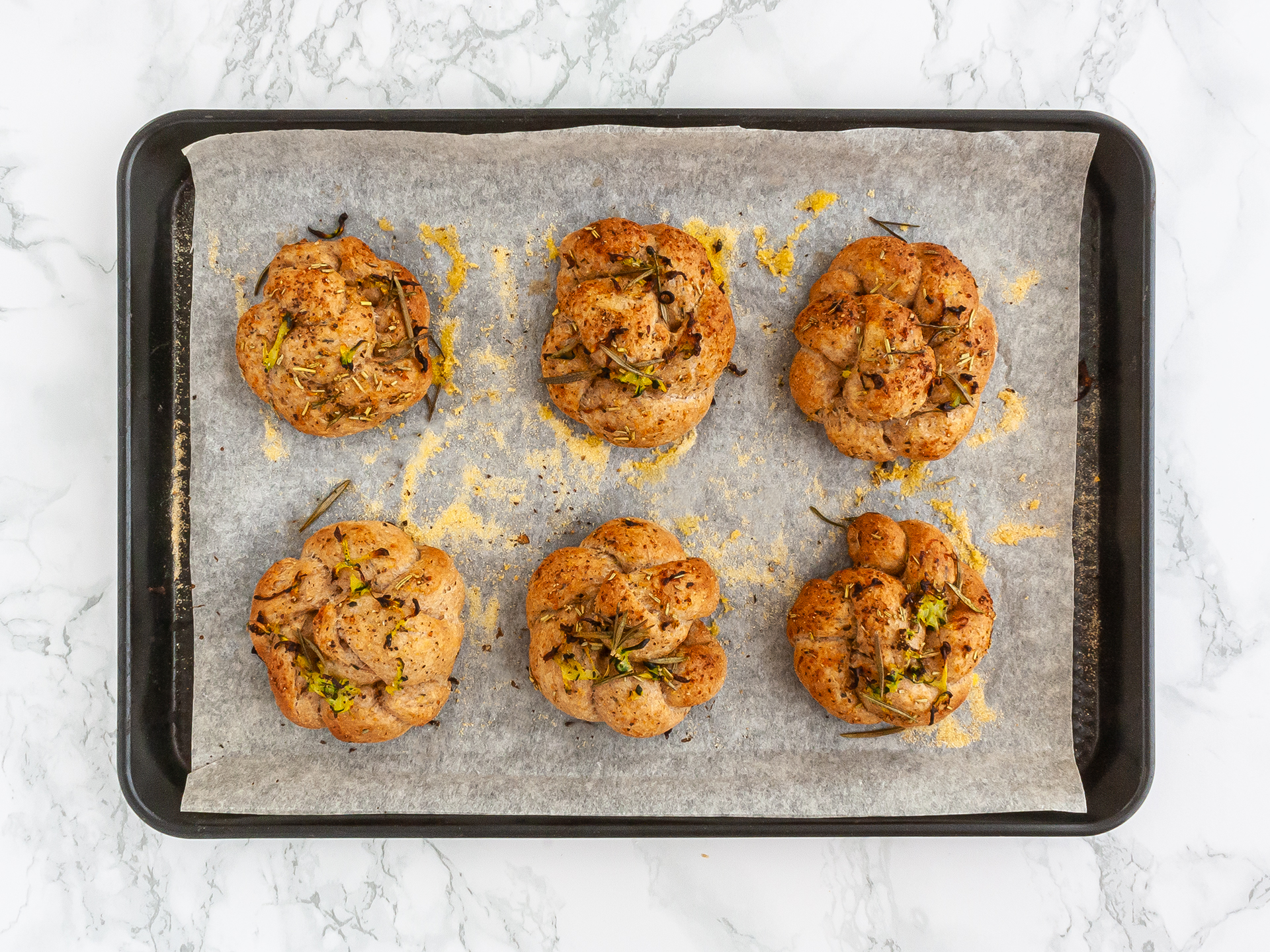 Tips
Make sure the zucchini bread dough is soft and a bit sticky and, if needed, add flour or water to reach the right consistency.

When proving the dough, keep it in a warm place, like inside the oven with the light turned on or under a wool blanket. Yeast loves warmth!

When shaping the bread knots, keep the other dough pieces under cling film to prevent them from drying out.

If you don't have time for kneading and proving, you can prepare the dough with a bread machine.