Looking for a new, fun way to use matcha powder? You can put together this colourful green tea pudding with chia seeds in just a few minutes. Let us show you how!
If the word pudding makes you think of a fancy dessert that takes a long time to make, don't worry.
Chia pudding is a scoopable jelly made from chia seeds that are simply soaked in water or milk.
You can then level it up with toppings and spices to make a delicious breakfast or a power snack.
In our recipe, we prepared a matcha-flavoured milk, stirred in the seeds, and left them to soak until thick and jelly-like.
Then, we rounded it all up with a combo of yummy toppings!
Wondering what makes chia pudding so jelly-like?
It's all thanks to some special fibres!
Chia seeds are among the foods with the most fibres on the planet, weight by weight.
These fibres, called soluble fibres, dissolve in water and turn into a viscous substance.
The longer you let the seeds soak, the thicker the pudding gets!
The fibres in chia seeds aren't just the magic behind your pudding but are also good for you in many ways, from fighting cravings to lowering cholesterol.
Now, add the goodness of matcha to this, and you'll get an even bigger health boost.
Matcha powder is made from high-quality pulverised green tea leaves and gives you 10 times more antioxidants than a cup of regular green tea.
But enough talking, right? Let's make this energising matcha pudding together!
Oh, and if you'd like to try the fancy-dessert matcha pudding, we've got it: it's our silken tofu matcha flan recipe — vegan and low-fat.
For more healthy chia pudding ideas instead, check out our chai milk tea pudding and strawberry protein pudding.
Ingredients
Pudding
Matcha Powder

1 tsp

Oat Milk

90 mL

Chia Seeds

1 tbsp

Toppings
Soy Yogurt (vanilla /coconut flavour)

200 g

Raspberries (fresh or frozen)

60 g

Puffed Rice (or oats or muesli)

30 g
Step 1
Add a splash of the oat milk to a cup and tip in the matcha powder.
Use a matcha whisk, frother, or just a spoon to incorporate the powder into the milk.
There should be no lumps.
Then, incorporate the remaining milk and stir in the chia seeds.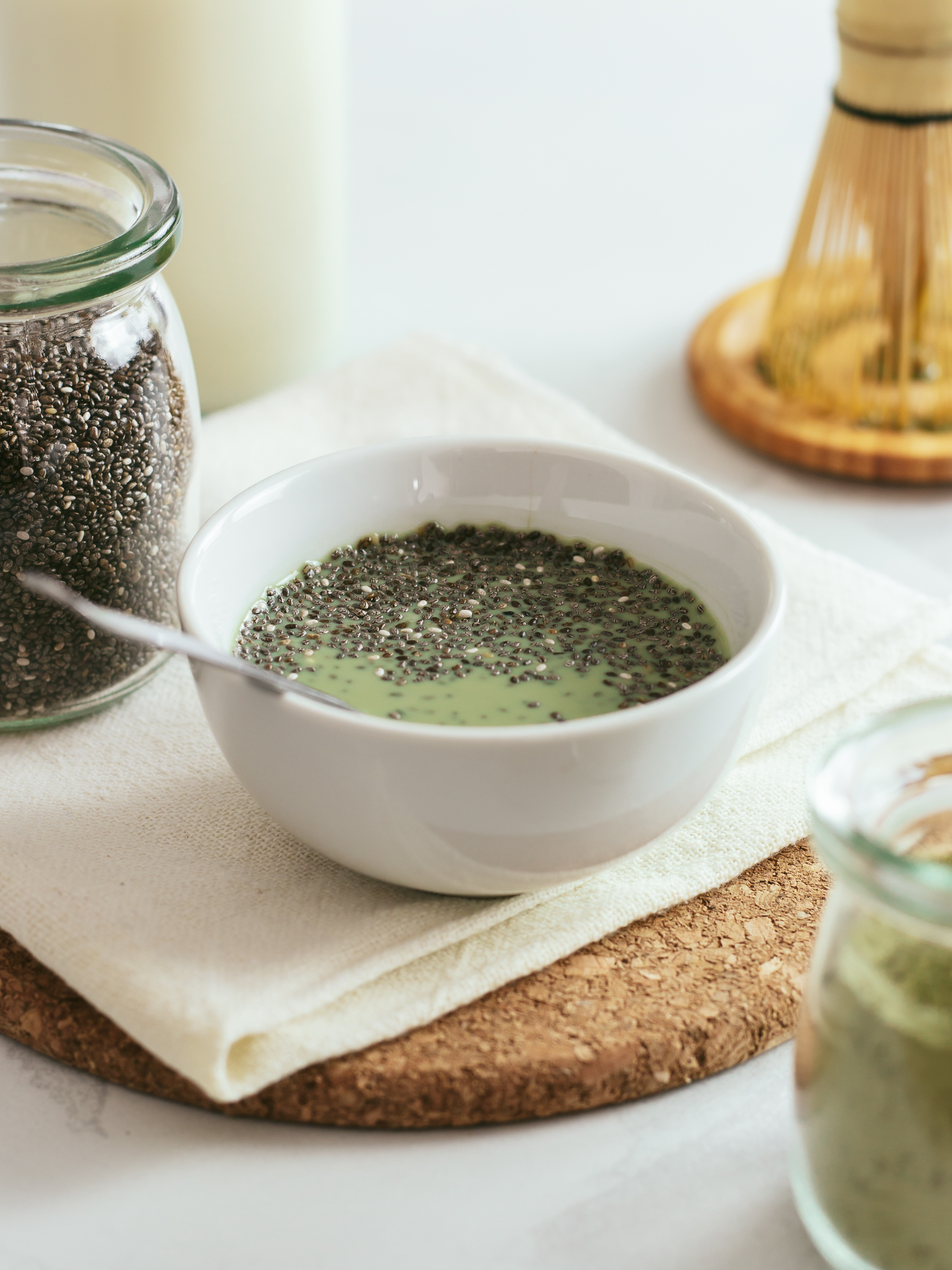 Step 2
Transfer the mix to a cup, jar, or container, cover or seal, and place in the fridge.
Let the chia seeds soak in the matcha milk for at least 20 minutes to thicken and form a jelly-like pudding.
The longer you let the chia seeds soak, the thicker and more scoopable the pudding will be: 1 hour of soaking gives the best consistency.
You can also prepare the chia pudding the day before and leave it to soak overnight, ready for breakfast.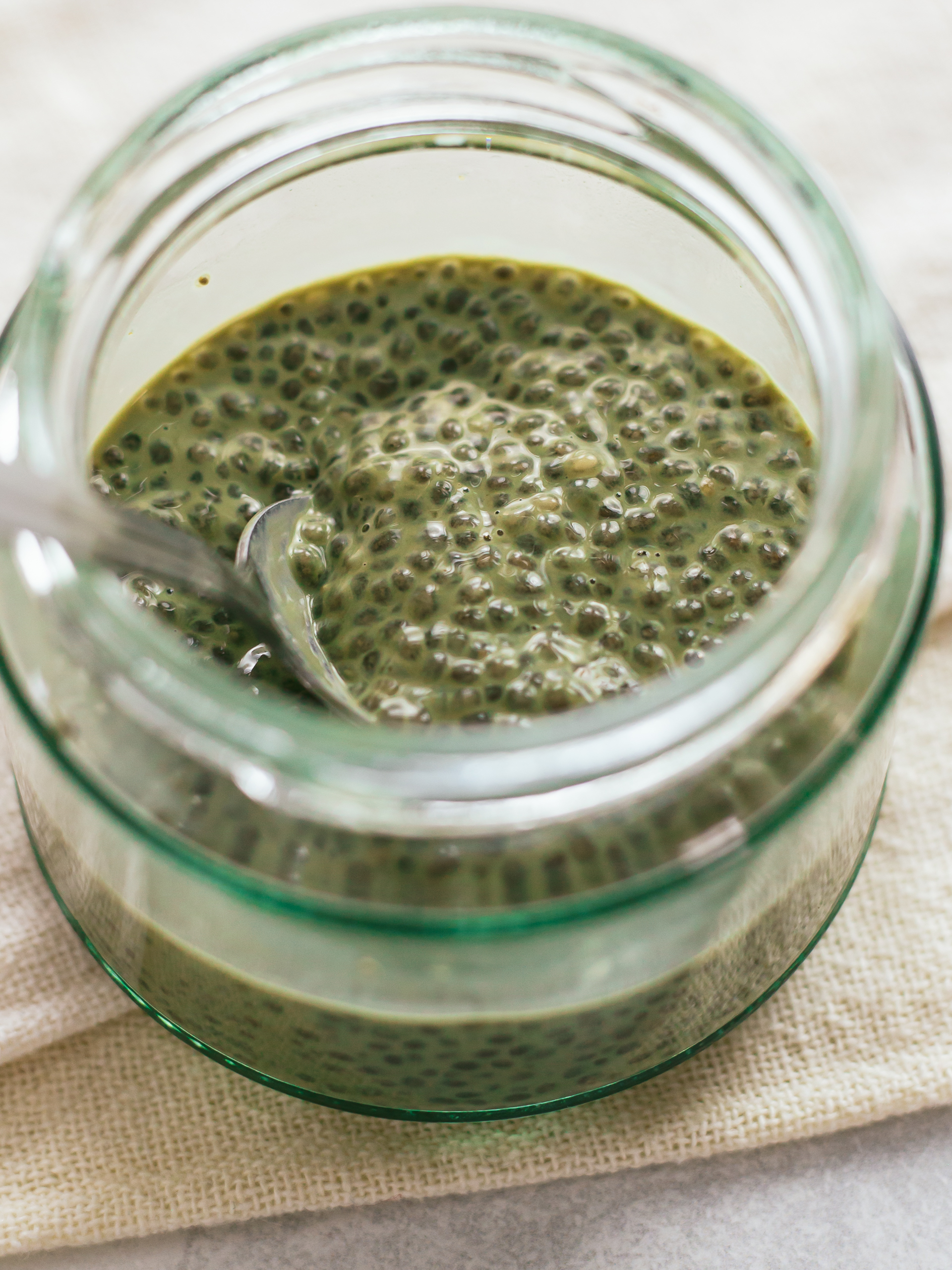 Step 3
Your green matcha pudding is ready.
You can enjoy it as is (1), maybe with a drizzle of syrup (or honey) if you like it sweeter.
Or you can top it with soy yogurt, puffed rice cereals, and raspberries to make a balanced breakfast or filling snack (2).
We blended half of the yogurt and raspberries together for a colourful finish!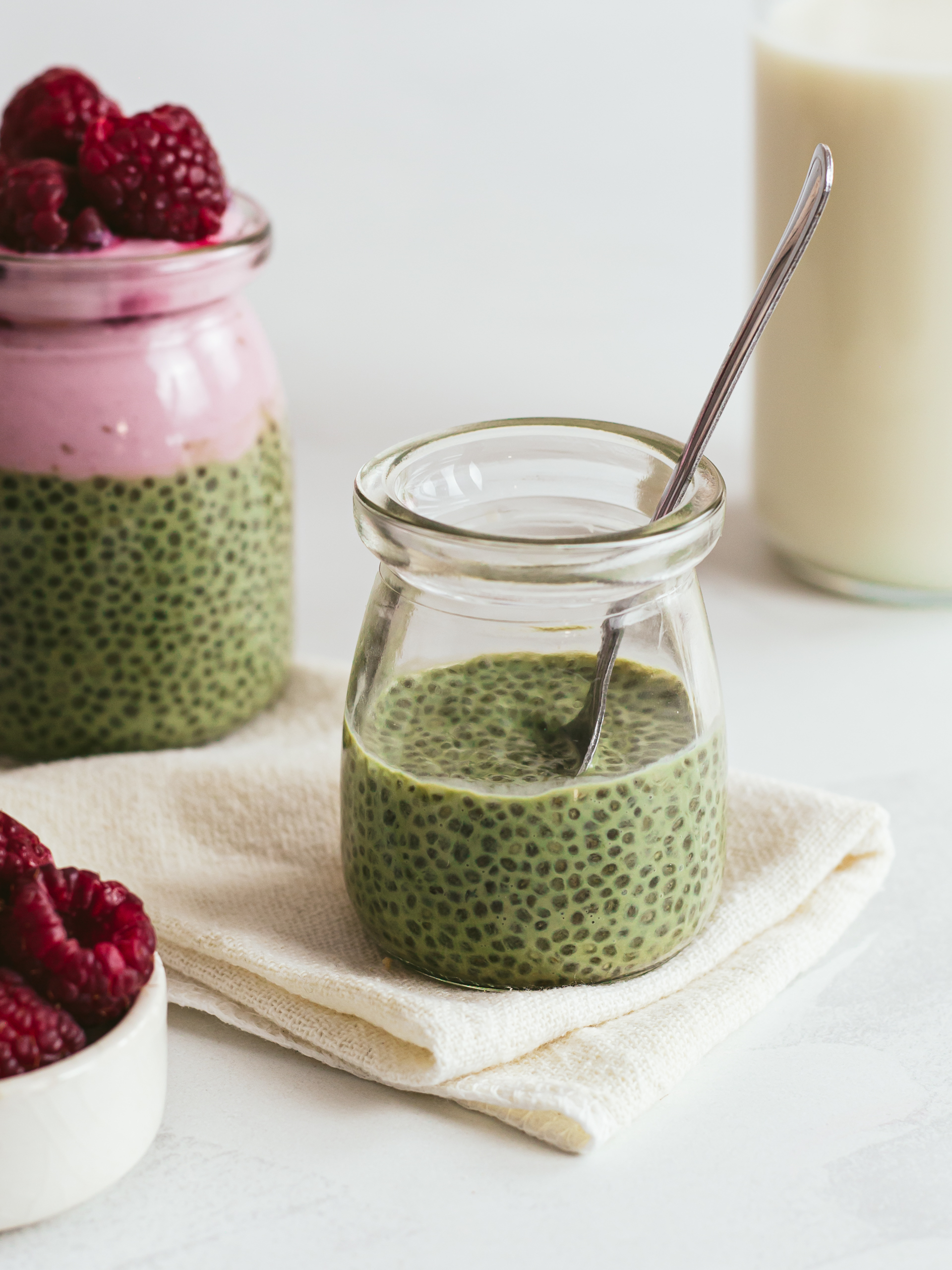 1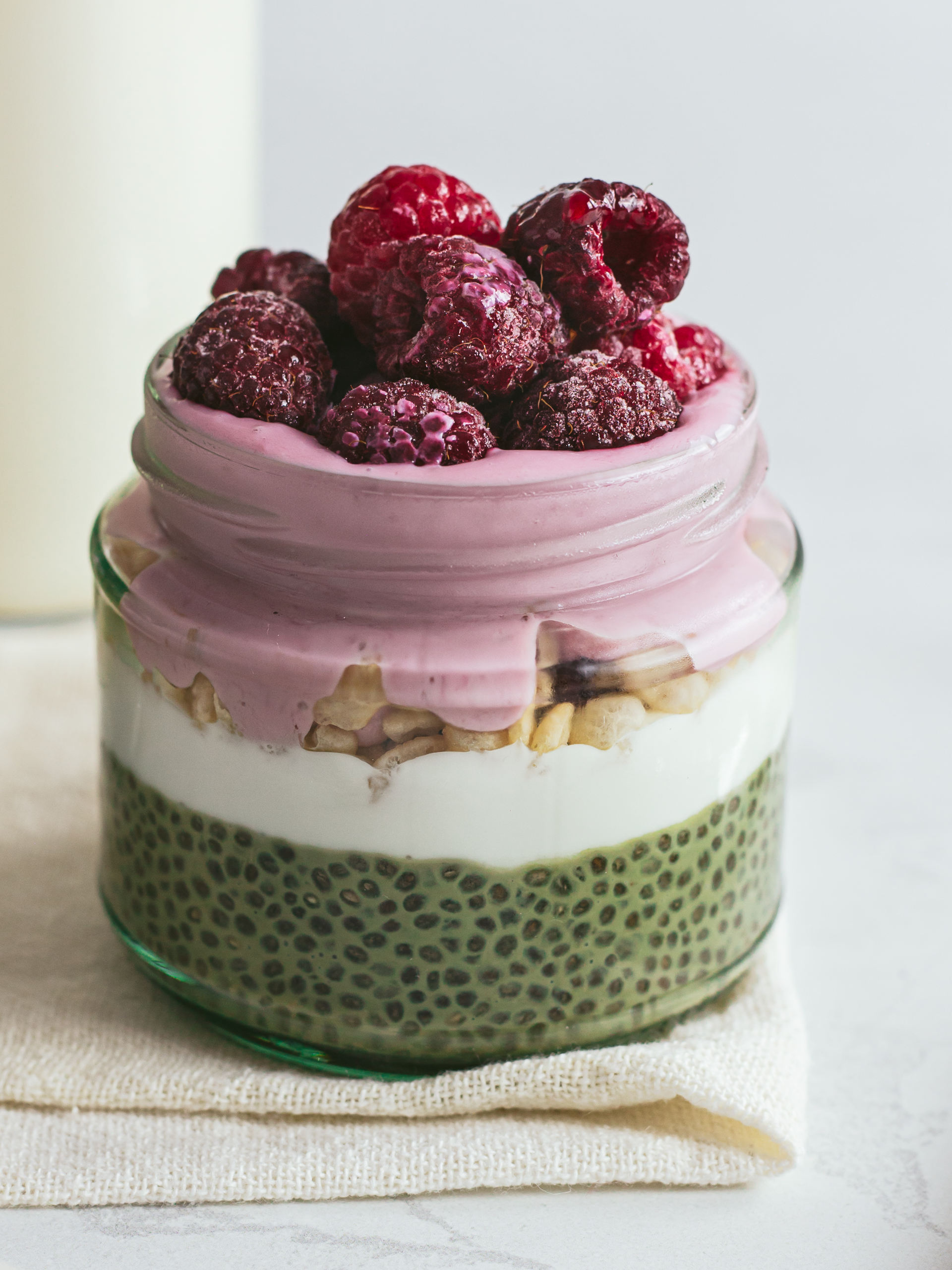 2
Tips
The best plant-based milk for this green tea pudding is either oat or coconut milk, as they're a little sweet and creamy. But you can also use almond milk, which is lower in calories, or soy milk, which is higher in proteins.

Other delicious toppings you can try for this matcha pudding include green apples, strawberries, goji berries, roasted almonds, and cocoa nibs.

Prepare 3-4 individual pots/jars of this matcha chia pudding (toppings included) and keep them sealed in the fridge. You'll have all your breakfasts or snacks sorted for half of the week!

Chia seeds pack tons of good fibres, but if you're not used to eating them, they may bloat you a little. So, you can start with a smaller serving size of 1/2 tbsp of seeds instead of 1 tbsp and gradually increase.