This braided blue bread is a super fun recipe that will make your next breakfast the happiest meal! It's a fluffy milk loaf prepared with butterfly pea flower, a wonderful blue flower from Asia. Deliciously spongy, exotic, and colourful — what's not to love about this loaf? So, let's make it together!
Butterfly pea flower, or blue pea for short, is a vibrant blue flower native to Southeast Asia. It's rich in blue-violet pigments and has a delicately sweet and floral taste with subtle earthy notes.
The dried flowers are traditionally brewed into a soothing blue tea. They're also a natural food colourant for rice, noodles, drinks, and even jellies, cakes, and other desserts.
And yes, you can use blue pea to make blue bread too!
For this recipe, you'll need all the classic bread ingredients — flour, salt, warm water, and yeast; plus powdered butterfly pea flowers for colour.
We've also used oil and coconut milk to get that fluffy, tender crumb that makes milk bread so good! But because there's no cow milk or butter, this recipe is totally dairy-free and vegan, which is a nice plus!
As for the powdered butterfly pea flowers, you can find them online or at health food stores, sometimes called "blue matcha" powder.
The powder is made by pulverising the dried petals of blue pea flowers. It's much more concentrated with blue pigments than the simple dried flowers. So it's perfect for recipes where you need to achieve a deep blue hue, like this blue sponge cake and, of course, this blue bread.
If you want to keep things nice and simple, you can knead all ingredients together into a blue dough and make the whole loaf blue.
Or, you can split the dough in half and make a two-colour braided bread, as we did. It's super easy — and it will look super pretty! So, follow along, and we'll show you how!
And if you're looking for more fun bread recipes, check out this purple bread with ube butter, banana bread with mochi flour or vegan pumpkin babka loaf. They are all incredibly delicious!
Ingredients
| | |
| --- | --- |
| White Bread Flour | 450 g |
| Salt | 11/2 tsp |
| Caster Sugar (or sugar-free erythritol) | 2 tbsp |
| Instant Dry Yeast | 7 g |
| Water (lukewarm) | 200 mL |
| Coconut Milk (lukewarm) | 100 mL |
| Vegetable Oil | 50 mL |
| Butterfly Pea Powder | 2 tsp |
Step 1
We used a 25x13 cm (9.5x5 inches) loaf pan to bake the bread. If you have a larger or smaller tin, adjust the ingredients' quantities before you start.
Also, ensure water and coconut milk are lukewarm (about 40°C/110°F) and not hot, or they will inactivate the yeast.
To make the two-colour braid, you have to prepare two separate doughs.
So divide all the dough ingredients in half (except the blue pea powder).
Use half of the ingredients to make a plain white dough and the other half (plus the blue pea powder) to make a blue dough.
However, you can also make the entire loaf blue, if you prefer, kneading all the ingredients together into a single dough.
Ok now, for the plain dough, mix half of the flour, salt, sugar, and instant dry yeast in a bowl.
Then, add half of the lukewarm water, coconut milk, and oil.
Use a dough hook to work the ingredients until they come together into a dough. Then, keep kneading for 3-5 minutes until the dough is smooth and elastic.
If you don't have dough hooks, use a hard spatula or a spoon and work the dough right inside the bowl — the dough is too moist and sticky to knead by hand.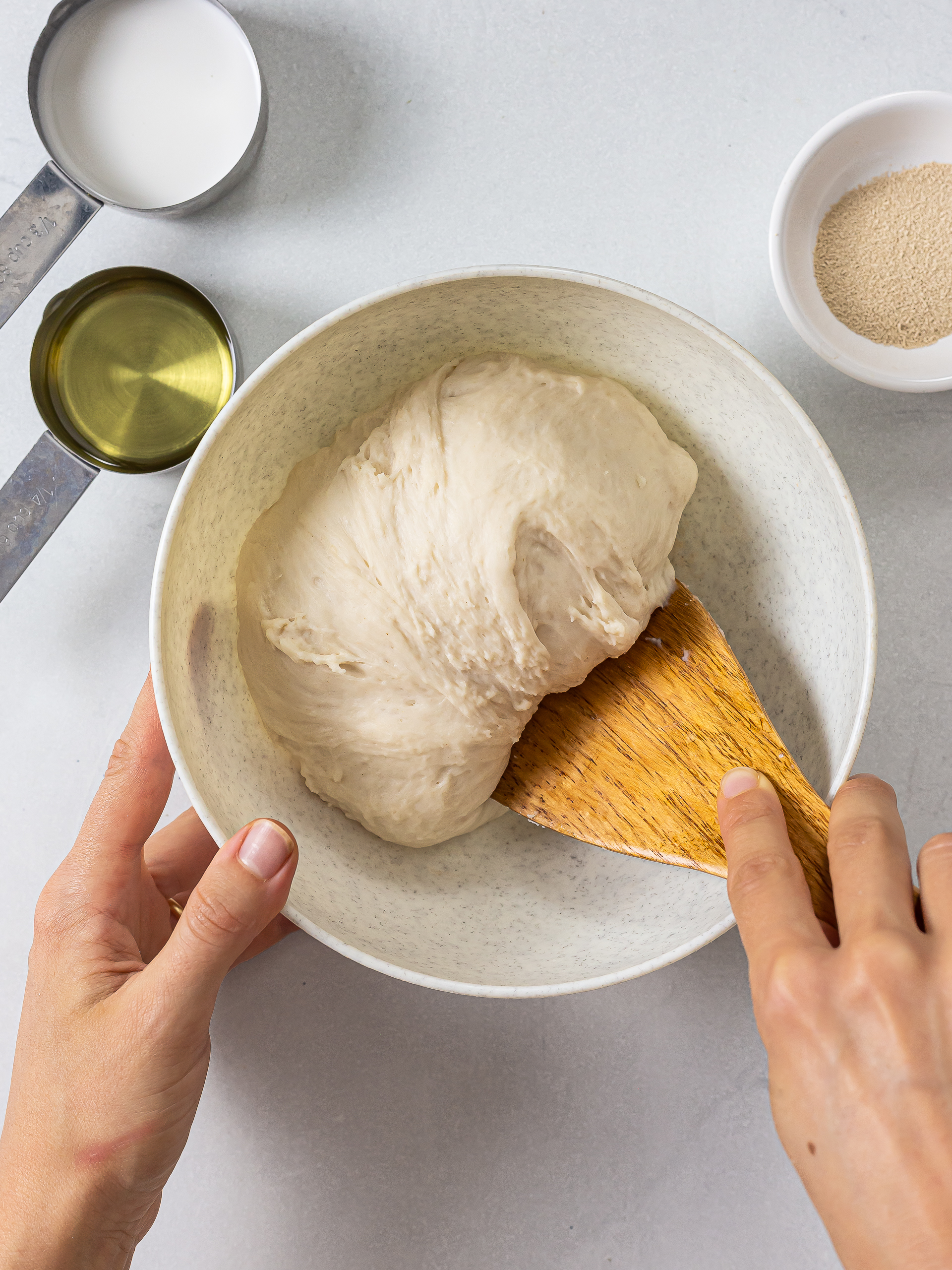 Step 2
Cover the white dough with film or a kitchen towel and set it aside.
Let's make the blue dough now.
Mix the remaining half of flour, salt, sugar, and instant dry yeast in a clean bowl.
In a cup or glass, stir butterfly pea powder with a little warm coconut milk until completely dissolved. Then, pour in the remaining coconut milk.
You should now have a very dark blue milk; add it to the flour mix, followed by the remaining half of lukewarm water and oil.
Next, knead the blue pea bread dough using dough hooks or a spatula, as you did in the previous step for the white dough.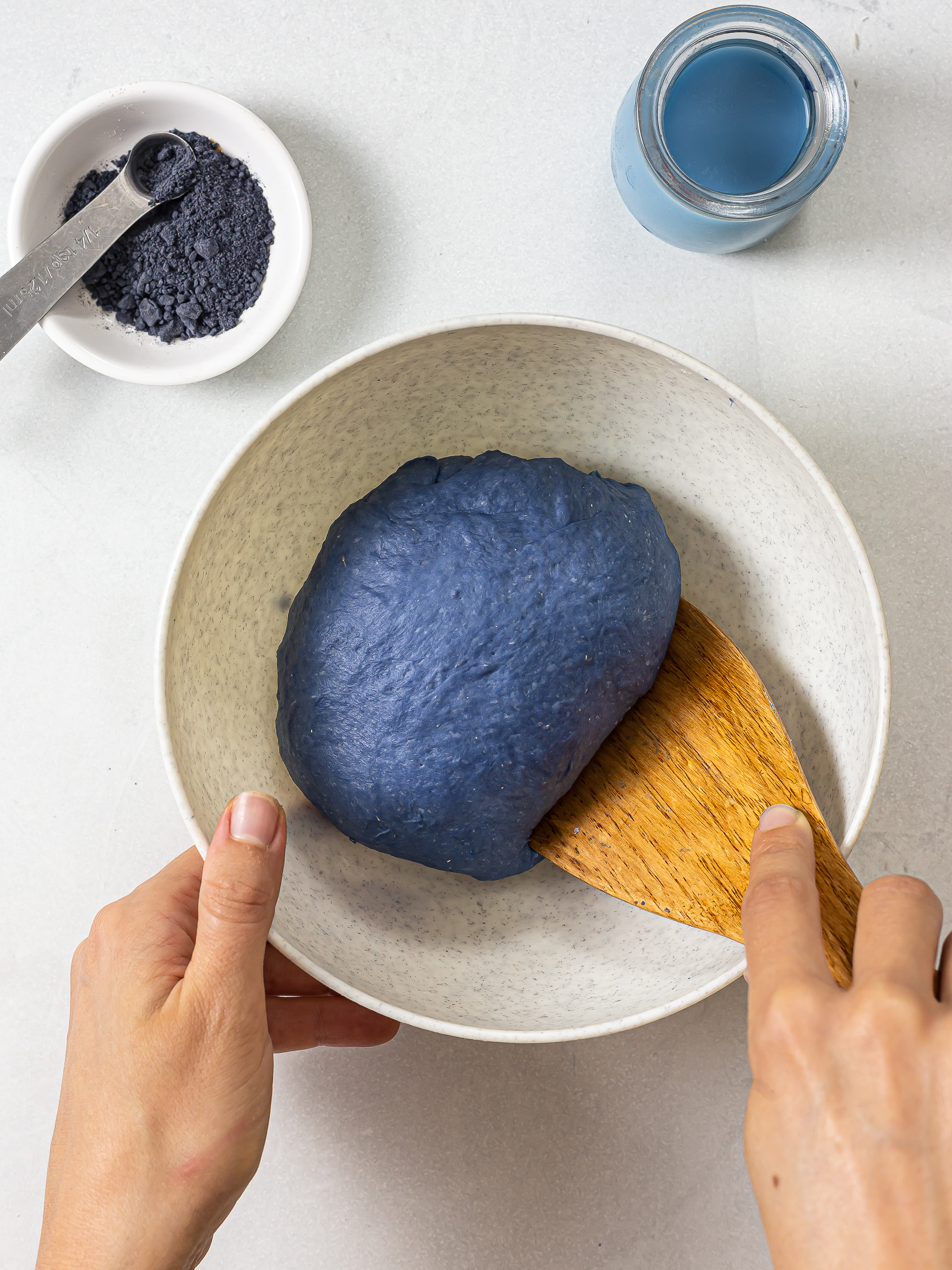 Step 3
Now, it's time for the first proofing.
Grease your hands with a little oil, roll the white dough into a ball, and transfer it into a greased bowl. Then, loosely wrap it with cling film.
Do the same with the blue dough.
Let the two doughs prove in a warm place, away from drafts, until they have doubled in volume (1) — about 30 minutes.
Then, gently "punch" the doughs to deflate them and remove excess air (2).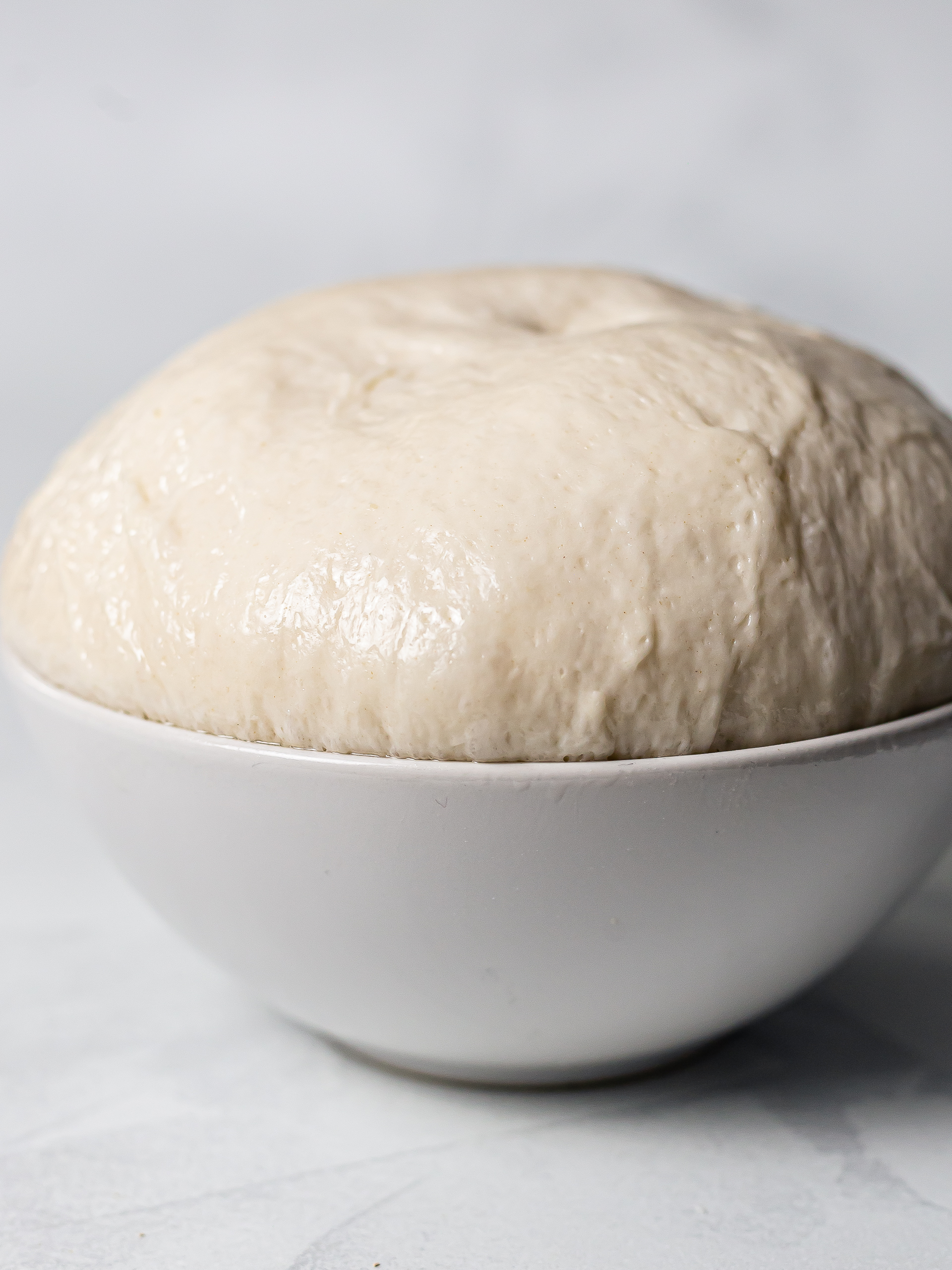 1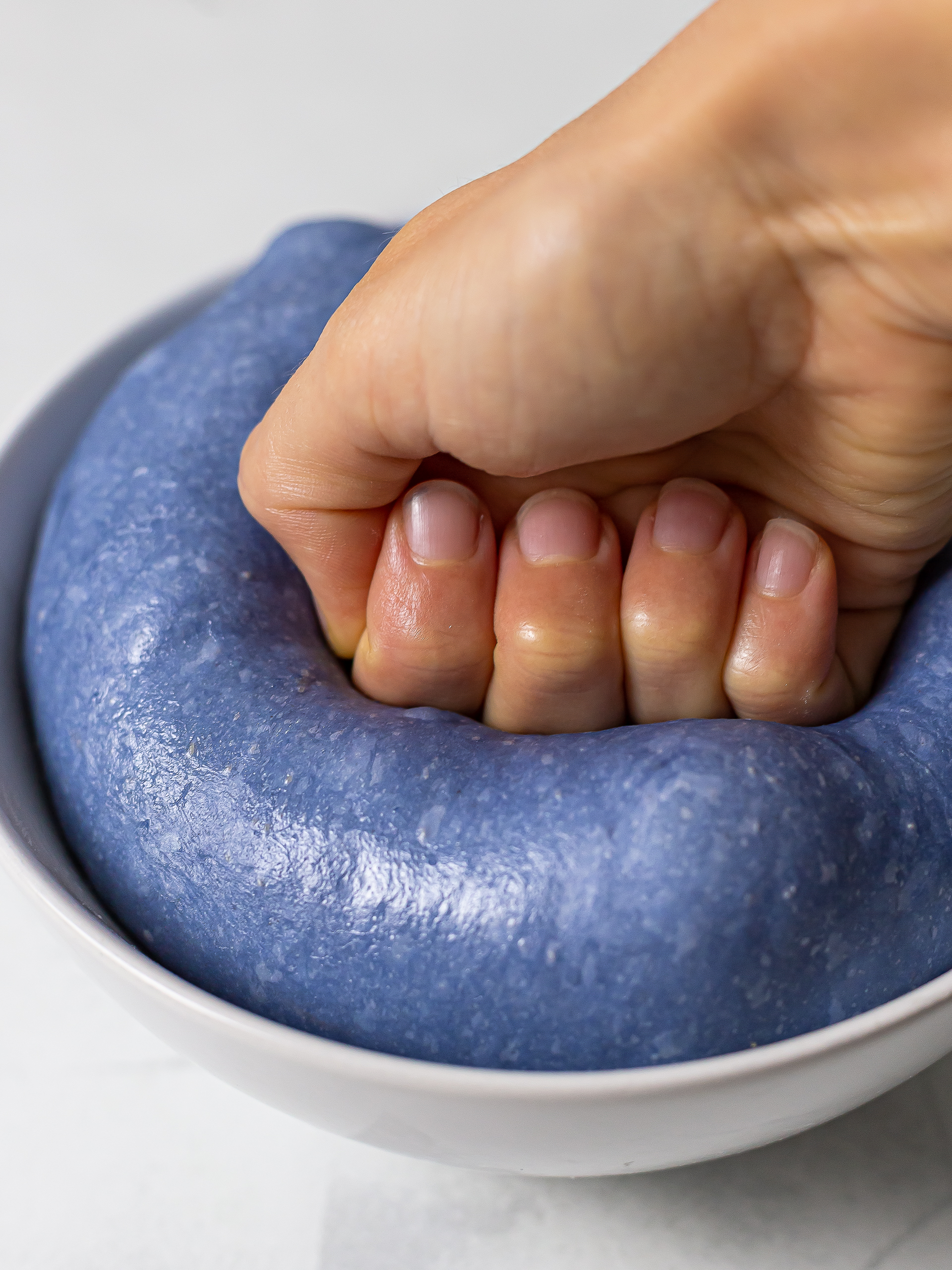 2
Step 4
Now, it's time to make our beautiful braided bread.
Start by shaping the two doughs into rolls, one blue and one white.
To make one roll, lightly grease your hands and your worktop. Stretch and flatten one dough into a rectangle, making the short side of the rectangle as long as your loaf tin.
Then, starting at the short side of the dough, roll it into a tight log.
If you have trouble with this step, watch the recipe video on this page to see how we've done it, or check this ube bread loaf recipe for more details.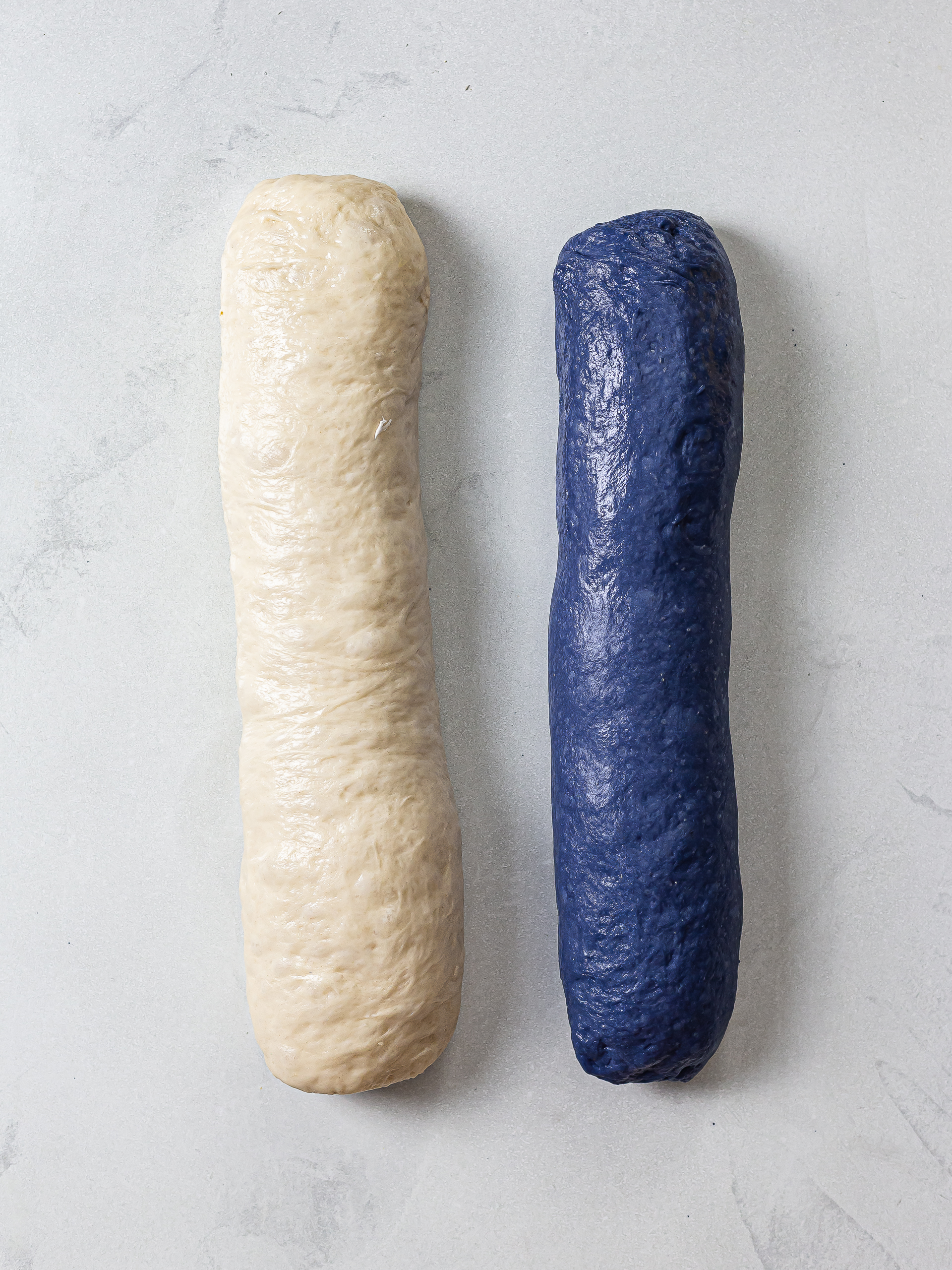 Step 5
Now, position the blue and white rolls next to each other, seam side down.
Then, overlap one length over the other to make an "X".
Weave the two lengths on one side of the "X" into a braid, then do the same on the other side.
Then repeat, but this time tuck the ends under to close and seal the braid.
Again, you can watch the recipe video for this step or check the pictures in step 7 in our pumpkin babka recipe.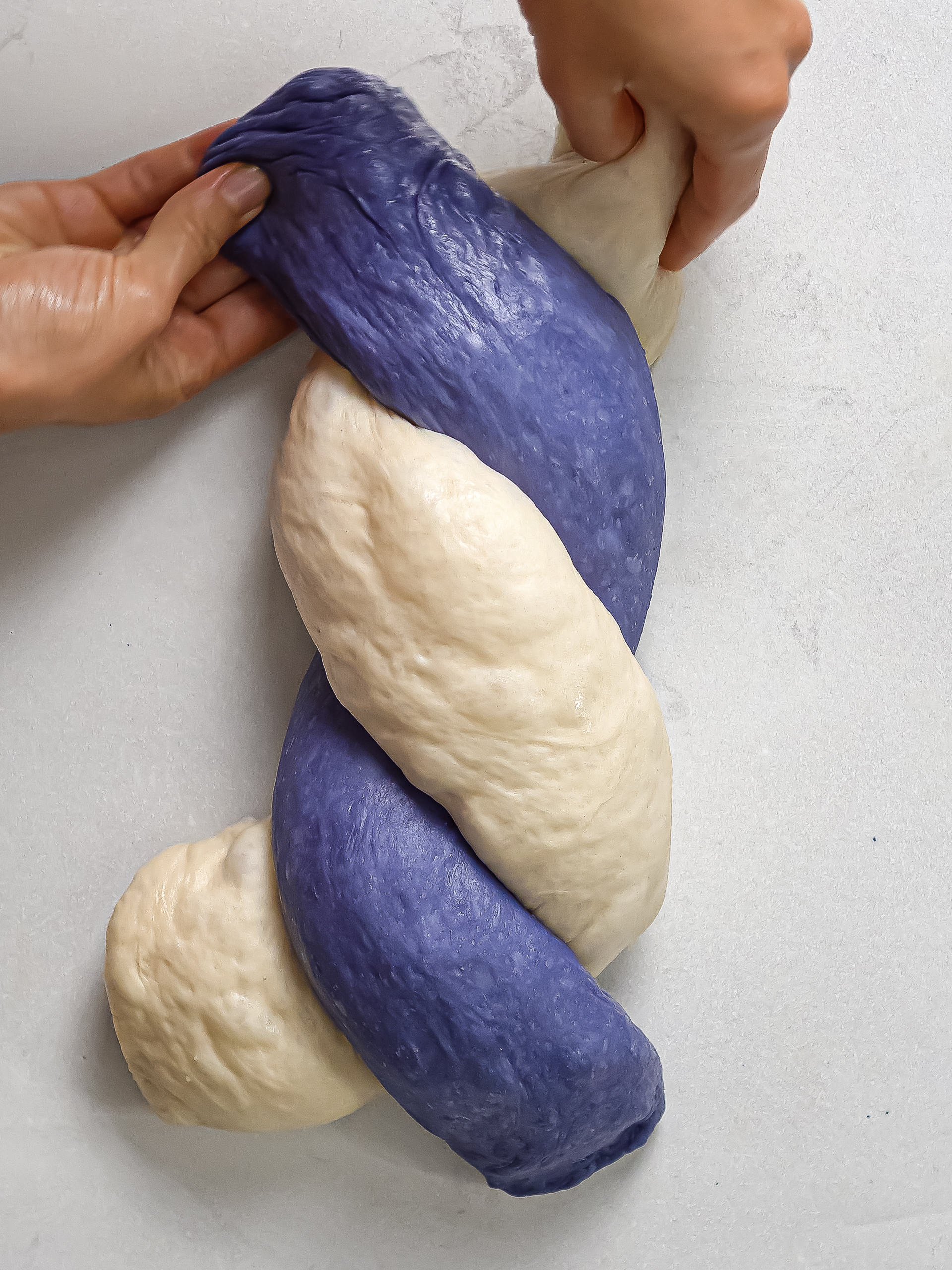 Step 6
Next, it's time for the second and last proofing.
Transfer the blue and white braided dough into the greased loaf tin.
Brush the top of the dough with a little oil to prevent it from drying, and cover it with a kitchen towel or cling film.
Let the bread prove for 15 minutes or until the dough has risen 2.5-5 cm (1-2 inches) above the top of the tin.
Meanwhile, preheat the oven to 200°C (390°F).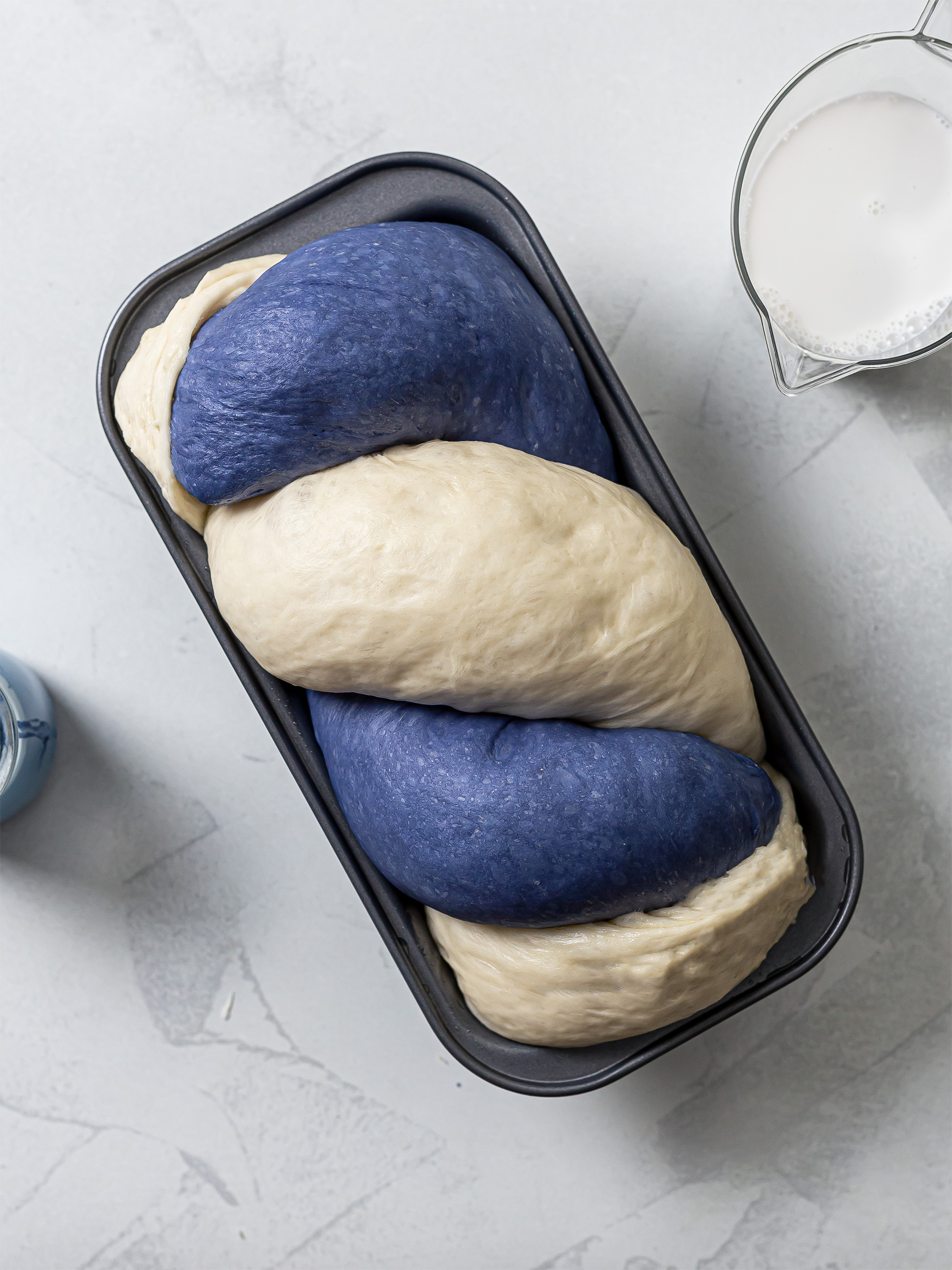 Step 7
Place the loaf tin on the lowest oven shelf and bake the blue pea bread at 200°C (390°F) for the first 10 minutes.
Then, lower the temperature to 180°C (355°F) and bake for 20 more minutes.
When the bread is golden brown on top and sounds hollow when tapped, you know it's ready (1).
Pop it out of the tin and let it cool down completely on a wire rack before slicing (2).
Your beautiful blue pea braided loaf is ready!
Enjoy it on its own, or toast it and spread it with nut butter, homemade jam like this sugar-free raspberry apple jam, or a tropical custard like this passion fruit curd.
So good!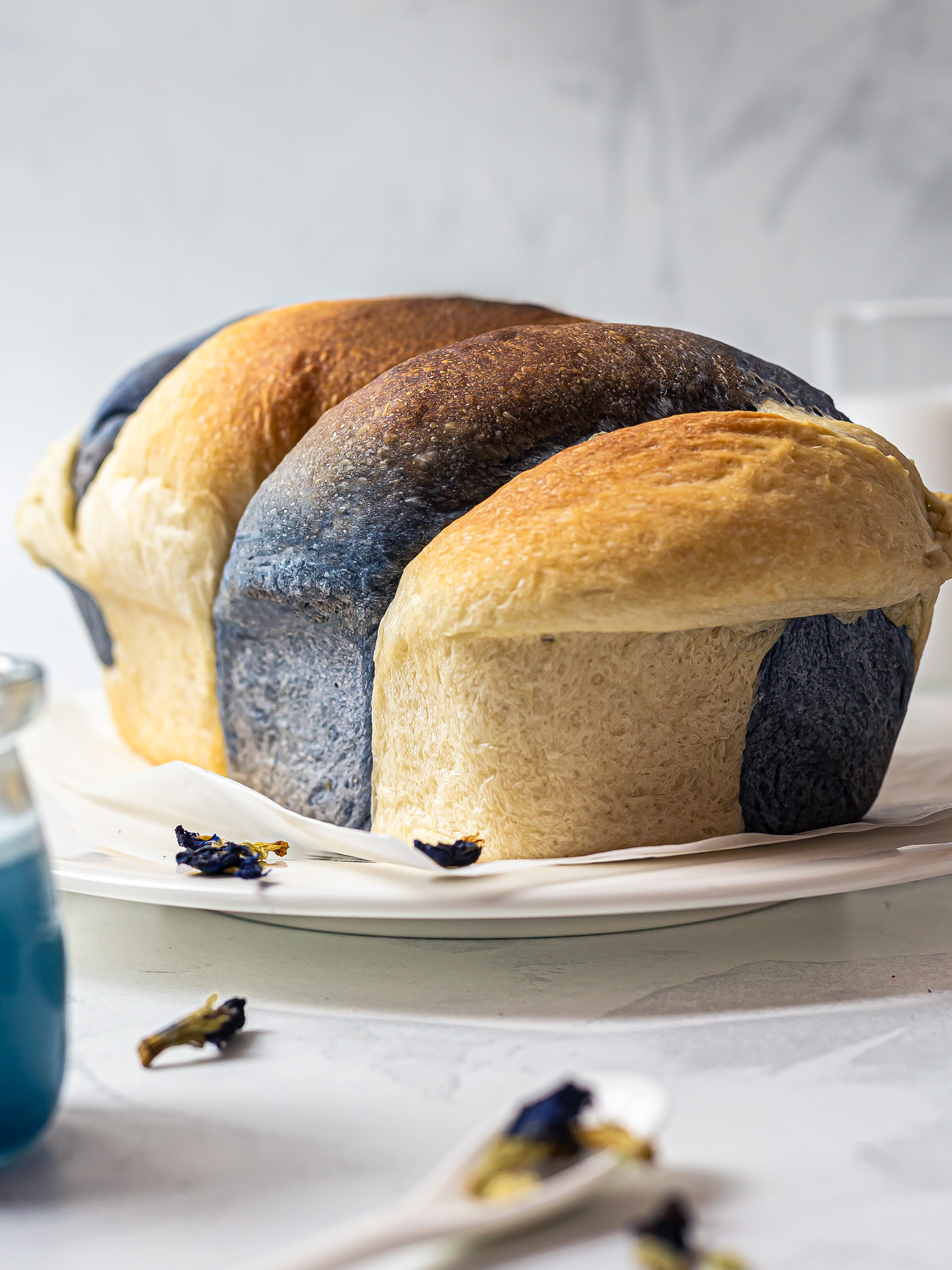 1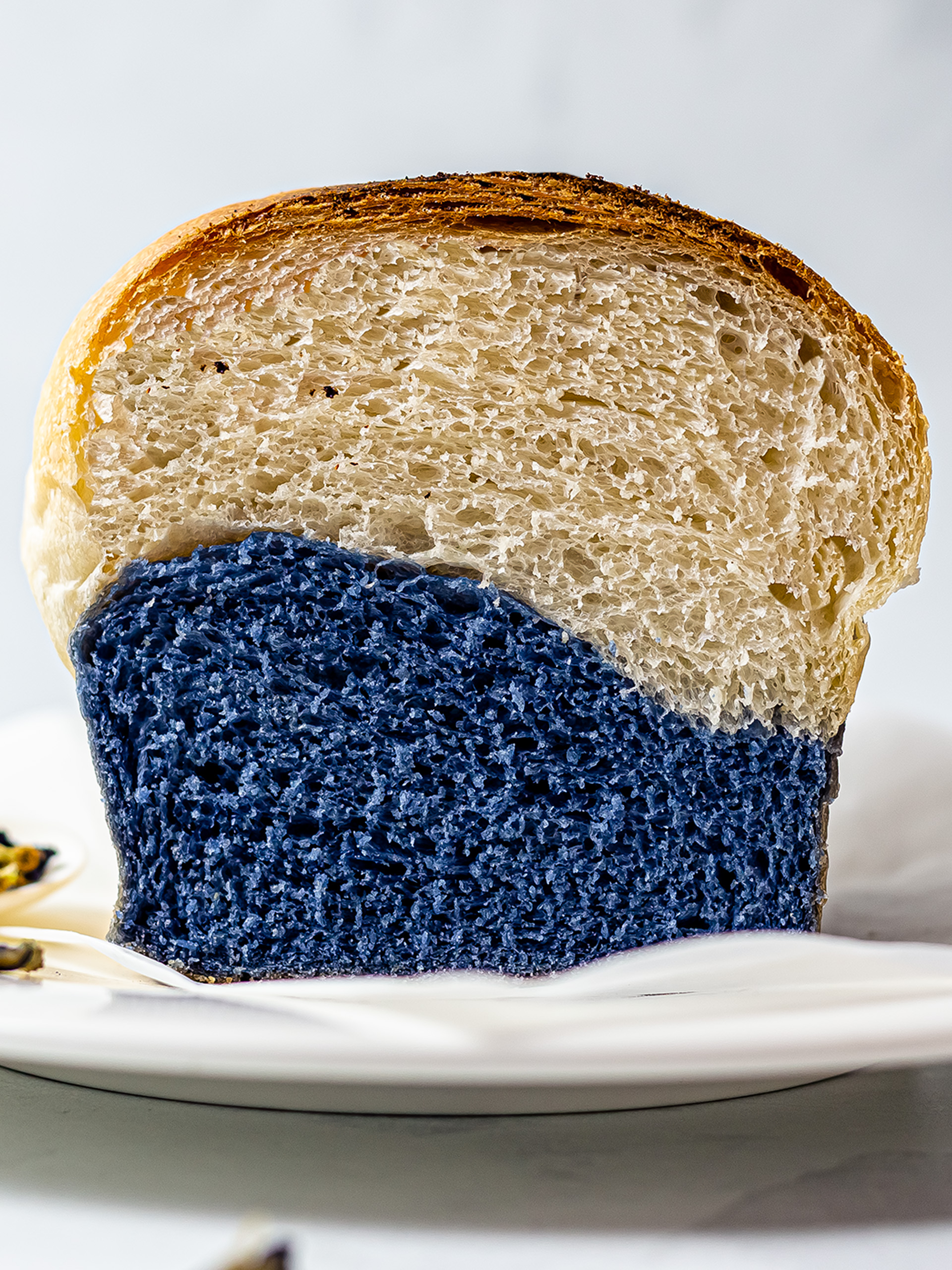 2
Tips
You can find butterfly pea flower powder online or at health food stores. Sometimes it comes under the name "blue matcha".

We tried making the blue dough with blue tea made from dried butterfly pea flowers, but it's not strong enough to colour the dough. So, stick to blue pea powder for this recipe.

You can optionally add dried fruits to the dough for extra flavour; try dried cranberries, blueberries, mango, or apricots.

For a crunchy finish, you can sprinkle the braided blue loaf with nuts and seeds like sesame seeds, almond flakes, chia seeds, or sunflower seeds. Brush the top of the braid with cold water before sprinkling the toppings so they'll stick to the dough.

Store this butterfly pea bread for up to 4 days, wrapped in foil, cling film, or in a bread box. Alternatively, you can slice the loaf and freeze the slices in a zip-lock bag, interleaving them with baking paper.