Give your sweet creations a lovely tropical spin with our passion fruit curd. We made it vegan, low-fat, and refined sugar-free, meaning you can use it in your recipes without loading them with too many fats and sugars.
It's quick and easy to make — only 4 ingredients needed!
For this vegan curd, we mixed plant-based milk with starch and maple syrup, thickened the mixture over the hob, and then stirred in passion fruit juice.
The result is a soft, smooth, and glossy yellow custard with wonderful tropical notes — a real delight!
Fruit curd is usually made with citrus fruits like lemon or orange, but some variations use mango, raspberries, and passion fruit.
Unfortunately, classic curd is not vegan, and it's quite high in fats and sugars. The base ingredients include egg yolks, white sugar, fruit juice, zest, and butter.
But, thanks to our recipe, you now have a healthy, plant-based alternative to try, as tasty as the classic one!
What we did in this recipe was to replace the eggs with starch for thickness and white refined sugar with maple syrup for sweetness.
In our previous vegan lemon curd, we also used a little bit of coconut oil instead of butter, but here, we completely skipped the added fat. Yet, we felt like we didn't compromise on flavour and texture at all.
Plant-based milk like coconut drink or oat milk contains a small amount of fats, which, coupled with starch, are enough to make the curd rich, glossy, and creamy.
As for the passion fruit, we'll show you how to extract the juice from the passion fruits. All you need is a sieve or a nut bag and a little bit of patience.
But if you're short on time or can't find fresh passion fruit, you can also opt for store-bought juice, possibly without added sugars or preservatives.
This vegan passion fruit curd is perfect spread on toast, scones, or muffins, but you can also use it to fill layered cakes, small pastries, cheesecakes, and tarts.
We especially love it in our passion fruit bars or with yogurt and homemade granola for a fruity breakfast!
After all, one 30g (1 oz) serving has only 30 calories, one-third of the sugars and one-fourth of the fats than a classic non-vegan curd. Amazing!
NOTE: The default ingredients yield about 400g of passion fruit curd, enough to fill a large jar.
Ingredients
| | |
| --- | --- |
| Passion Fruits | 5 |
| Starch (potato, arrowroot, or corn) | 45 g |
| Plant-based Milk (coconut, oat, or almond) | 230 mL |
| Maple Syrup | 30 mL |
Step 1
Let's start by juicing the passion fruits.
Halve the fruits and then scoop the pulp into a fine-mesh sieve, or even better into a nut milk bag.
Then, strain the pulp to separate the seeds from the juice, collecting it into a bowl.
We calculated that 5 passion fruits yield about 100 ml (3.5 oz) of juice, so use more or less fruits to get this same amount.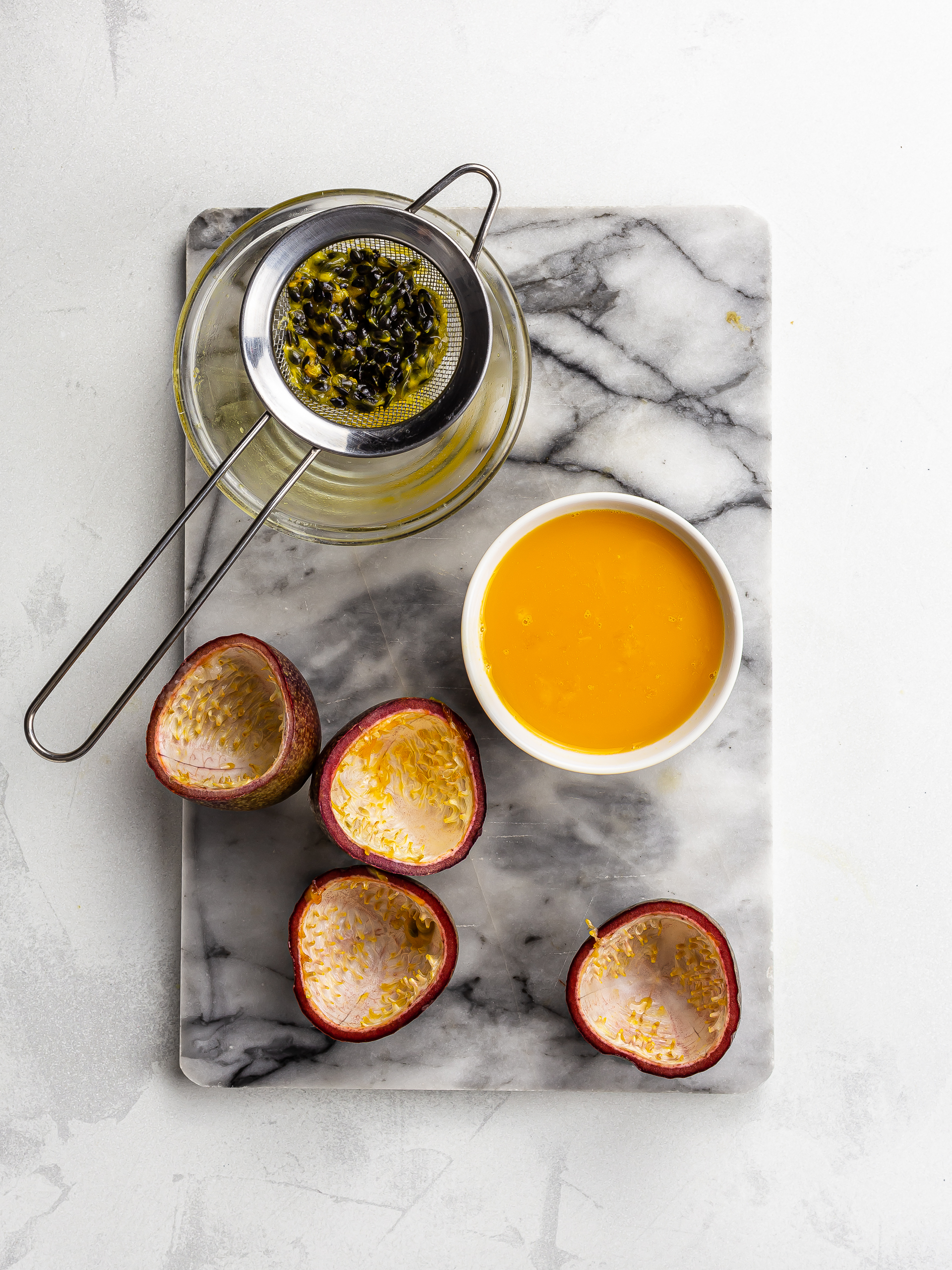 Step 2
Next, add sifted starch to a pan and pour in the milk a bit at a time. Whisk well until the starch is completely dissolved and there are no lumps.
Then, tip in the maple syrup, stir well and turn on the heat.
Bring the mixture to a boil while always stirring; this prevents the starch from sedimenting at the bottom of the pan and forming lumps.
As soon as the custard starts to thicken, remove the pot from the heat, and stir it vigorously for a minute until it turns into a dense and glossy curd.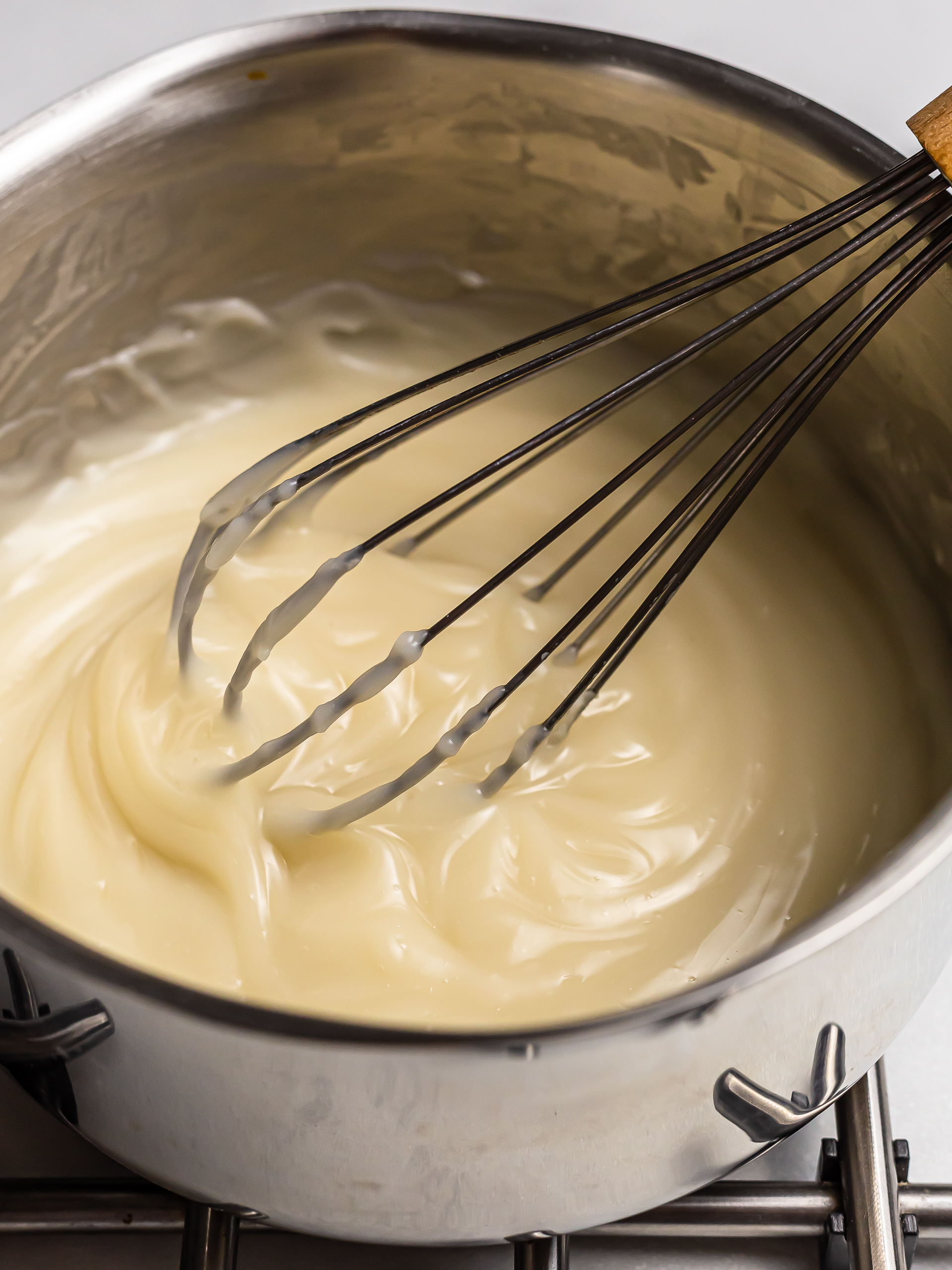 Step 3
Now, add the passion fruit juice into the warm curd: pour it in a few spoons at a time and mix until the juice is well incorporated before adding more.
Then, keep beating the curd for a minute or so with a spoon or spatula to break down any lumps that might have formed.
Once it's smooth and creamy, transfer the passion fruit curd into a clean jar and let it cool down before using it.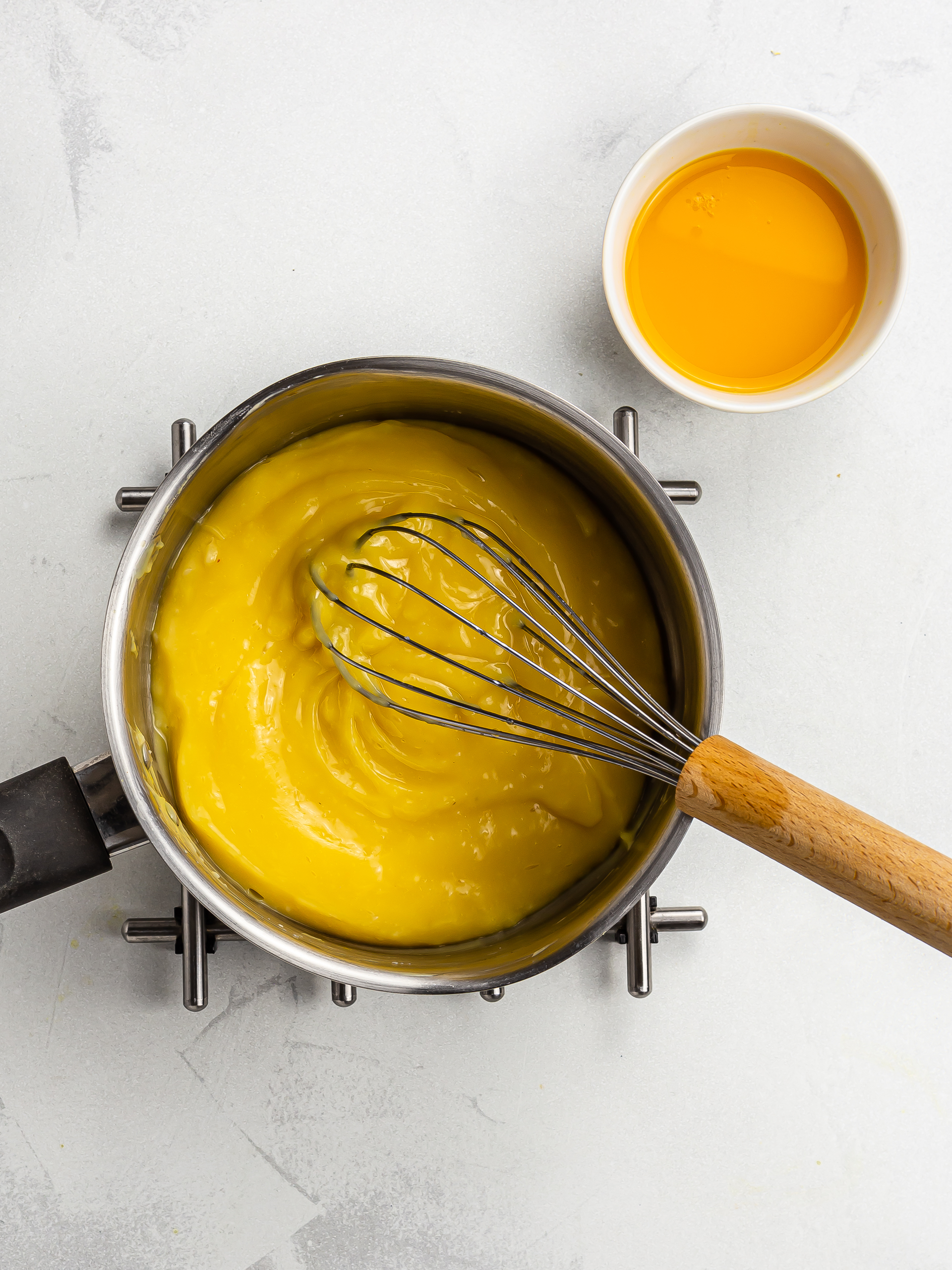 Tips