Can't decide between matcha latte and chai latte? How about both? Say hello to "matcha chai latte", the new Starbucks wonder. Here's how you can make it at home and turn it vegan, sugar-free, and super healthy!
This delicious latte combines the aromatic punch of masala chai spices with the energetic kick of green tea powder, AKA matcha.
We love it because it brings together so many healthful ingredients in one delicious drink that's great hot or cold.
So, how do you make matcha chai latte? There are different ways to go about it.
Some recipes start with a matcha latte and top it with a vanilla-syrup chai foam, while some go the other way around. And others mix half chai-half matcha latte.
In our recipe, we took only the healthiest ingredients and kept things as simple as possible.
Only raw spices, green tea powder, and low-fat, plant-based milk made it into our cups. Nothing else!
So, we first prepared a chai-spiced vegan latte and then whisked it with matcha powder. Finally, we topped it with a frothy (soy milk-based) foam. Easy!
For the chai latte, you'll need those wonderful Indian spices that make up the classic masala chai blend: cinnamon, ginger, cardamom, cloves, peppercorns, and anise.
Use the dry ground spices if you can, so you won't have to filter them out. Also, you'll get tons of health benefits by sipping them straight from your cup of latte!
This chai matcha latte is not just a warming, spicy, and aromatic drink but a powerhouse of pure health. Why?
Green tea powder and masala chai spices are amazing for heart health, digestion, blood sugar levels, and even weight loss.
In short, a cup of this spiced green tea latte is an all-around health booster. So, get your favourite mug ready and let's make some matcha chai latte together!
And if you want to try another super-latte next, check out these:
Frequently Asked Questions
Which spices do you need to make chai latte?

Classic spices used for chai latte include ginger, cinnamon, cardamom, black pepper, clove, and anise.

You can swap clove with allspice, anise with fennel, or use nutmeg to replace both.
How do you infuse milk with chai spices?

The best way to make chai-spiced latte is to boil the milk with the masala chai mix and leave the spices to infuse for a few minutes.

Use the ground spices if you can, so you won't have to strain them — and you'll actually drink them in your latte, reaping all the health benefits of these ayurvedic spices.

You can also use whole cinnamon sticks, cardamom pods, anise or clove seeds if you can't find them ground.

Make sure you have a strainer or a cloth bag and read how to infuse them in our chai-spiced hot chocolate recipe.
Can I make the chai latte without all the spices?

You can make the chai-spiced latte using a bag of chai tea per cup as an alternative to the individual spices.

The tea bag already has all the masala chai spice blend: add it to milk and let it infuse for 3-5 minutes before removing it.

However, the chai tea bag also includes black tea, making your chai matcha latte darker, a little brownish, and higher in caffeine.
Which is the best non-dairy milk for this matcha chai latte?

We recommend using a plain-tasting vegan milk alternative for this recipe. Oat milk would be the best as it's creamy, plain-ish, and a little sweet.

Rice, almond, and hemp milk are good options, while soy milk will give you the closest nutritional profile to dairy milk.

Soy milk is also one of the best options for foaming: it has the right amount of proteins and fats to give you a fluffy and stable foam when frothed.
Can you mix matcha directly into hot milk when making latte?

To avoid lumps, the best way to mix matcha with chai-spiced milk is to whisk the green tea powder with a little hot milk first.

Use a matcha whisk, hand whisk, frother, or even a teaspoon will do.

Then, when the matcha powder is completely dissolved, you can add the remaining hot milk.
Do you have matcha chai latte hot or cold?

Matcha chai latte tastes great hot or cold, as most other lattes do, and the recipe works the same for both options.

In any case, you have to warm up the milk to infuse the masala chai spices or tea bags and dissolve the matcha powder.

So, we recommend doubling up the servings: enjoy one hot cup first and let the other cool down in the fridge.

Then, serve it with ice for an iced matcha chai latte drink — just like the one from Starbucks!
Ingredients
Chai Spice Mix
Ground Ginger

1/4 tsp

Ground Cinnamon

1/4 tsp

Ground Cardamom

1 pinch

Ground Black Pepper

1 pinch

Ground Clove

1 pinch

Ground Star Anise

1 pinch

Optional
Soy Milk (for foam topping)

to taste

Others
Plant-Based Milk (oat milk best)

300 mL

Matcha Powder

1 tsp
Step 1
Heat the milk over medium heat with all the masala chai spices: ground ginger, cinnamon, cardamom, black pepper, clove, and anise.
Check our tips and FAQs for substitutions and tips on chai spices and milk.
Allow the milk to boil for a minute while you stir to let the spices dissolve. Then, turn off the heat.
Let the chai spices infuse in the milk for 3 minutes — this also allows the milk to cool down a little so it won't be too hot (and damage those precious matcha antioxidants!).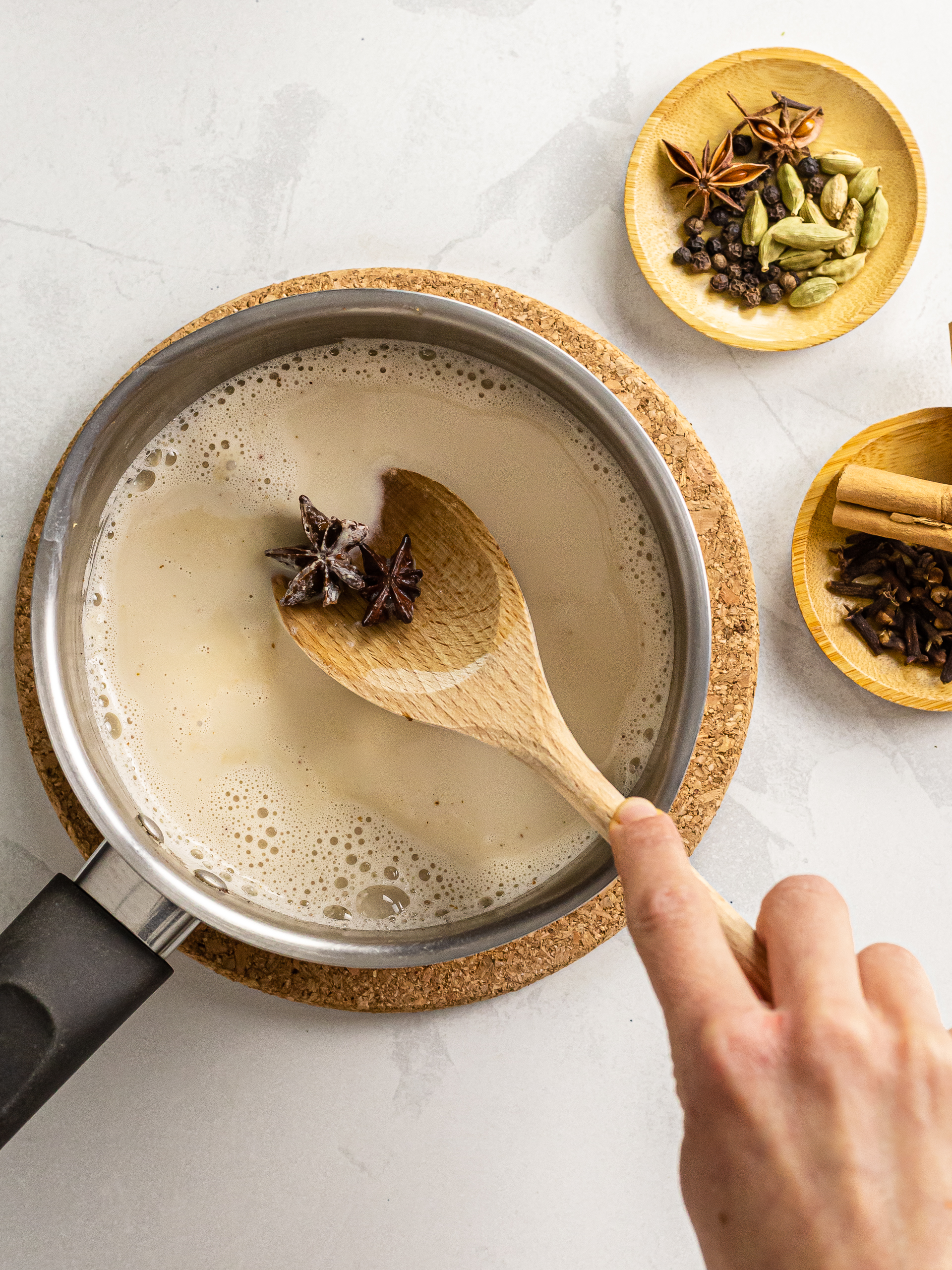 Step 2
Next, add matcha to a mug and pour in just a little warm chai milk.
Whisk well to dissolve the green tea powder and break up any lumps — you can use a matcha whisk, a hand frother, or just a teaspoon.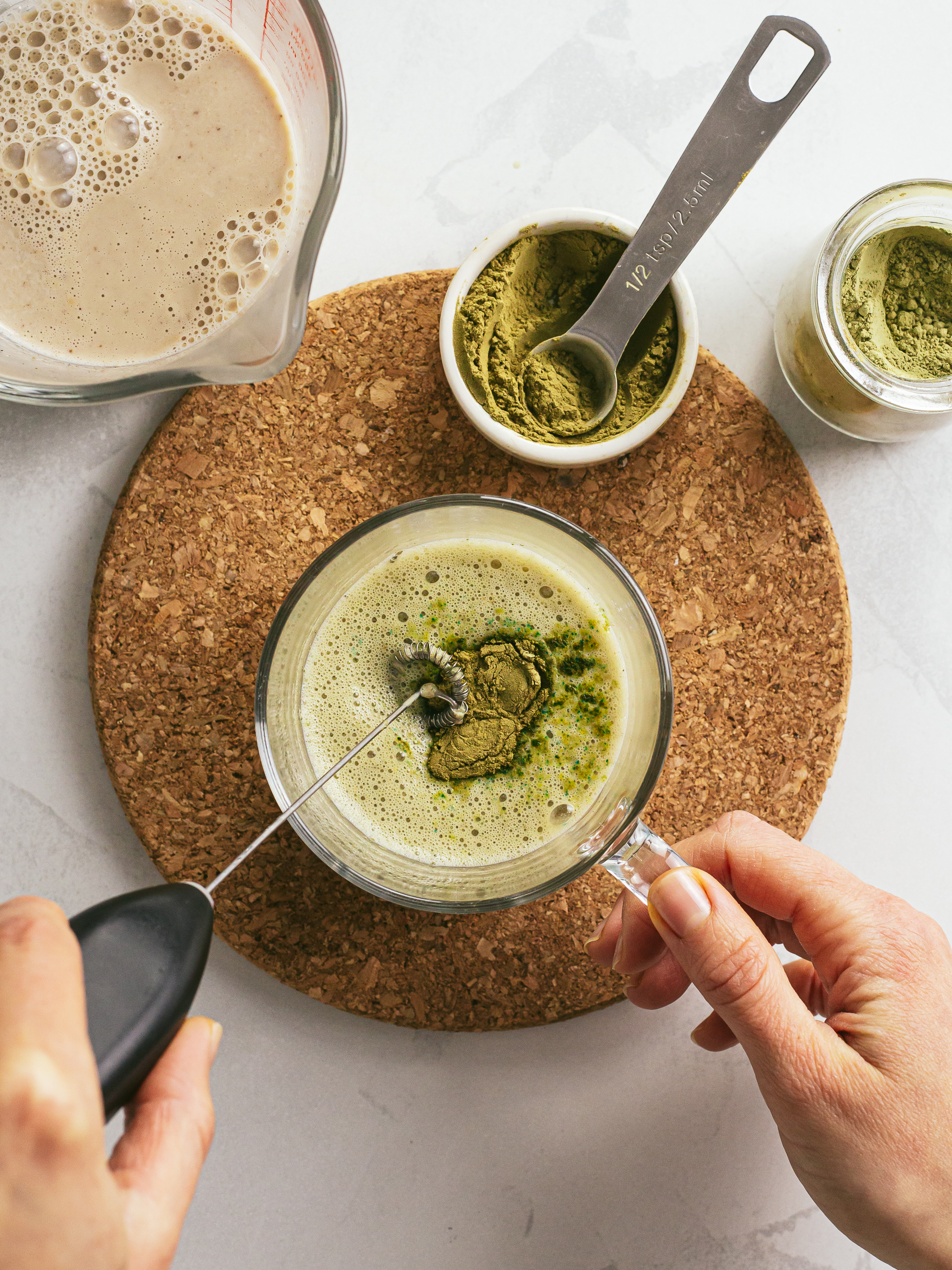 Step 3
Pour in the remaining masala chai milk and mix well.
Now, taste the chai matcha latte and add a sweetener if you like.
We love it as is, but if you find it too bitter, stir a little sugar or sugar-free erythritol to taste.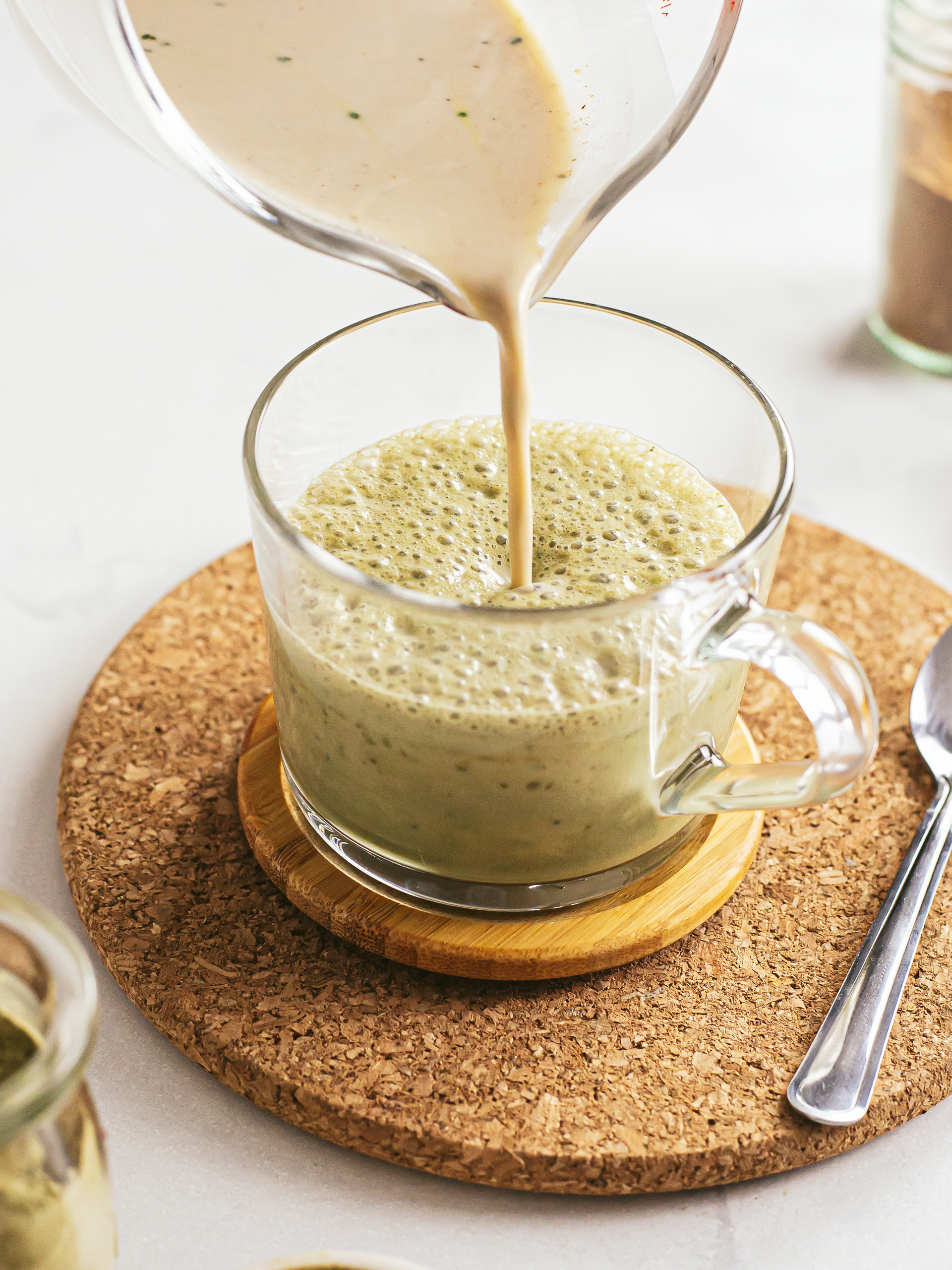 Step 4
Your healthy chai-spiced green tea latte is ready!
You can optionally top it with frothed milk, just like we did.
Use soy milk for best results; heat it in a pot and pour it into a tall jar.
Dip the frother head just below the milk surface and foam for a minute.
Then, let the milk sit for a few seconds to allow any un-foamed milk to collect at the bottom of the jar.
Tilt the jar and let this excess milk trickle into a separate cup until you're left with only the foamed milk.
Finally, pour the foam over the hot chai matcha latte and enjoy!
Pair this green tea spiced latte with these gooey matcha mochi cookies, wholesome blueberry oat cookies, or fluffy raspberry matcha muffins!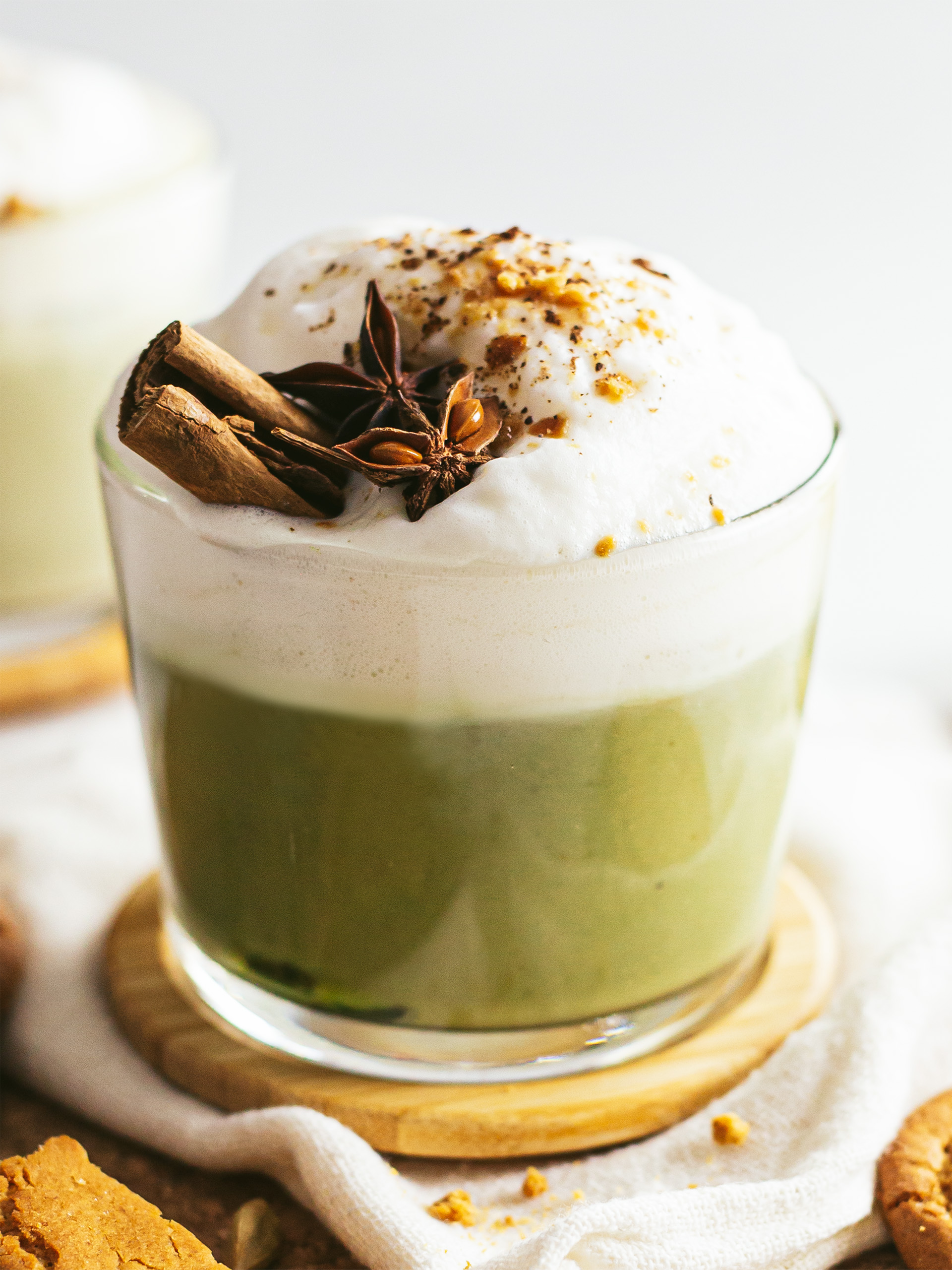 Tips
Once prepared, you can store this green tea chai latte in a closed bottle, jar, or travel mug and keep it in the fridge for 3 days.