What better way to garnish your sweet bakes than with a luscious chocolate frosting? But if you're worried about the excess sugars and fats that come with it, our vegan healthy chocolate frosting comes to the rescue! It's silky, glossy, and indulgent — only two ingredients needed.
Classic frosting consists of softened butter beaten with lots of icing sugar, cocoa powder, and milk.
Although quite tasty, it's not so healthy, as it's high in fats and sugars. Plus, it's unsuitable for those with a dairy allergy or following a vegan diet.
Instead, in our healthy glaze, we used only applesauce and dark chocolate — that's it.
You can use store-bought sugar-free applesauce or make it from scratch by following the steps below. Then, combine it with melted dark chocolate in a bowl, and your delicious glaze is ready.
The great thing about this recipe is that the frosting is a cross between buttercream and ganache.
You can chill it for 10-15 minutes and use it as a spreadable filling or topping for layered cakes, like this applesauce cake.
Alternatively, you can let it harden in the fridge for longer, about 30-40 minutes, and then pipe it onto cupcakes; it will retain the piping patterns wonderfully.
We chose applesauce as a vegan substitute for butter to give structure to the frosting while keeping the fats low.
Applesauce is a great fat alternative in bakes like cakes and cookies and works really well in this glaze too.
For the chocolate, make sure to use a dark variety, at least 70% or higher to avoid too many sugars and fats.
What makes this chocolate frosting healthier than other recipes is that we didn't use any added white sugars.
All the sweetness comes from naturally occurring sugars in apples and the small fraction of sugars found in dark chocolate. Sweet!
And if you'd like to try another way of making healthy chocolate frosting check out this chocolate orange ganache recipe without cream!
NOTE: With the default ingredients, you can frost 12 medium cupcakes or a two-layer 20cm (8 inches) cake.
Ingredients
| | |
| --- | --- |
| Sugar-Free Applesauce | 250 g |
| Dark Chocolate 85% | 160 g |
Step 1
In this step, we'll show you how to make applesauce from scratch if you can't find sugar-free applesauce at your supermarket.
As one medium apple (130g/4.5 oz) yields 85g (3 oz) of applesauce, you'll need about 3-4 apples; chose golden delicious or gala apples for best results.
Peel, quarter, and core the apples. Chop them into chunks and add them to a pot with water.
Bring to a boil and simmer covered for 10 minutes over low heat until they're soft and spongy (1).
Then, drain them well and blend them into a smooth puree (2).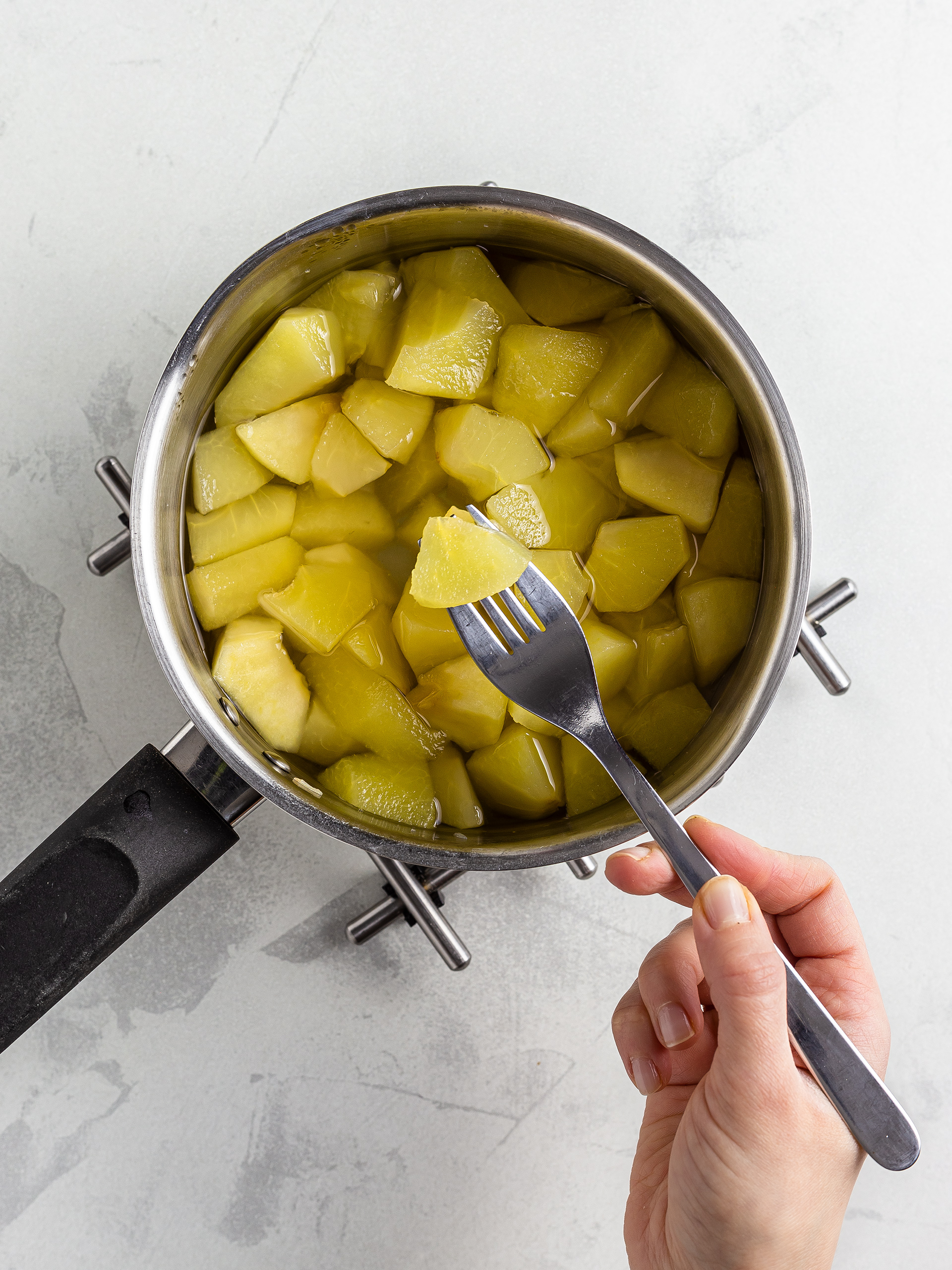 1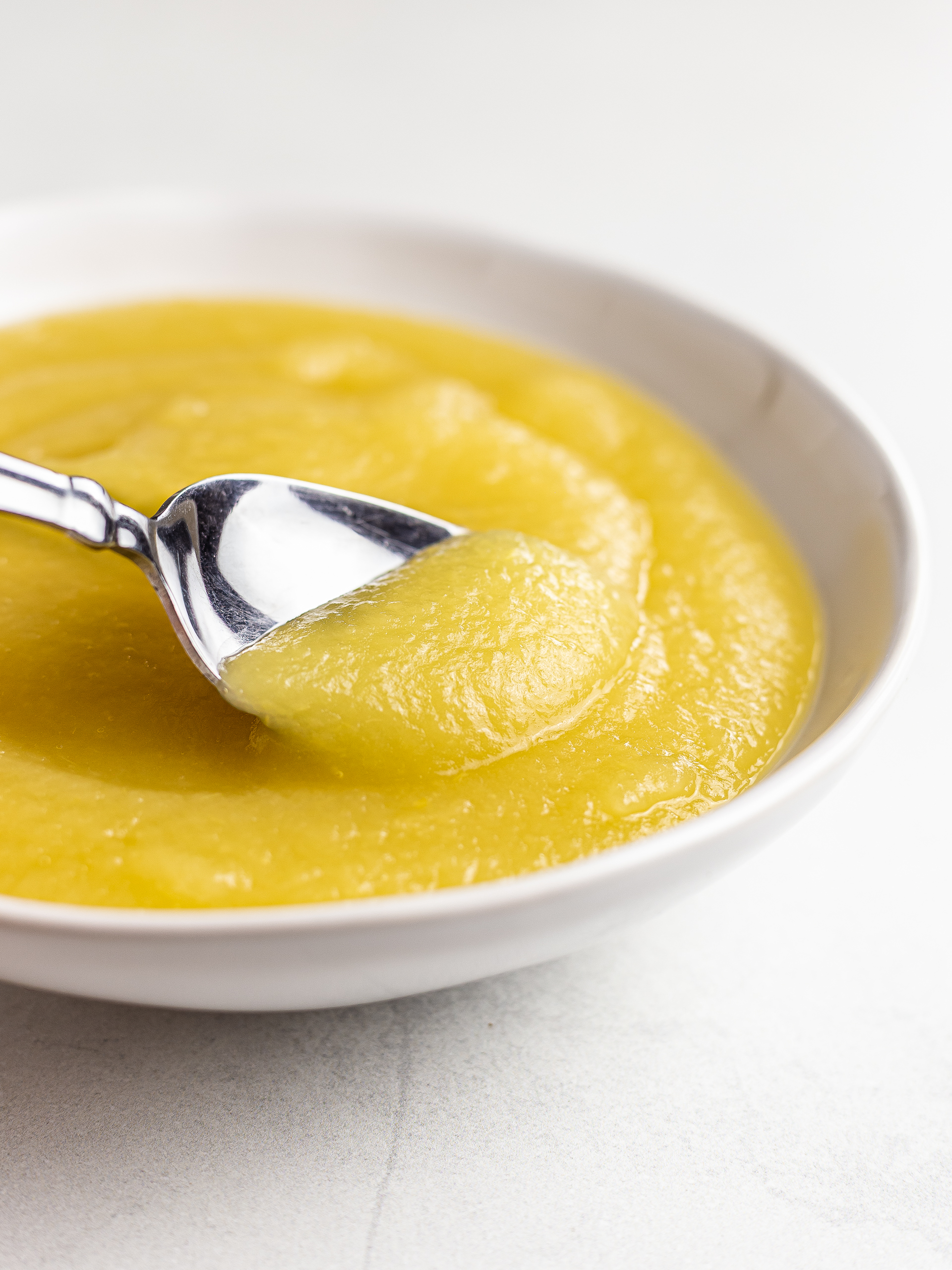 2
Step 2
Chop the chocolate bar into chunks and add them to a heat-proof bowl.
Place the bowl in the microwave for 20 seconds at high power, then stir the chocolate, put it back, ad repeat this process until it's completely melted.
Alternatively, sit the bowl over a pan with simmering water (bain-marie) and allow the chocolate to melt, stirring occasionally.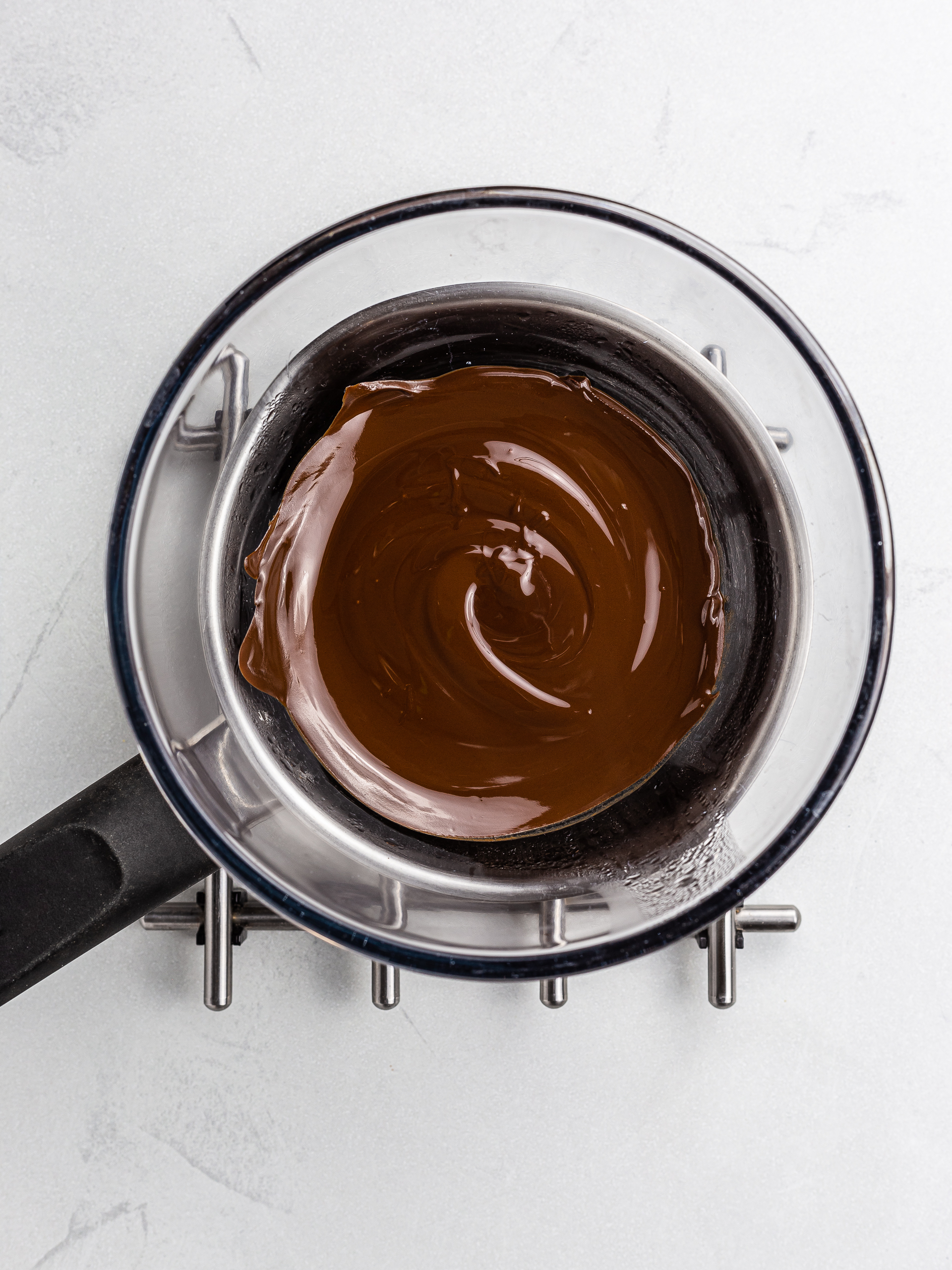 Step 3
Now, pour the chocolate over the applesauce in a mixing bowl and stir until well combined.
Allow the ganache to cool down and set in the fridge for 20 minutes before frosting cakes or cupcakes.
If you need to pipe it over cupcakes, let it harden for 40 minutes in the fridge for best results.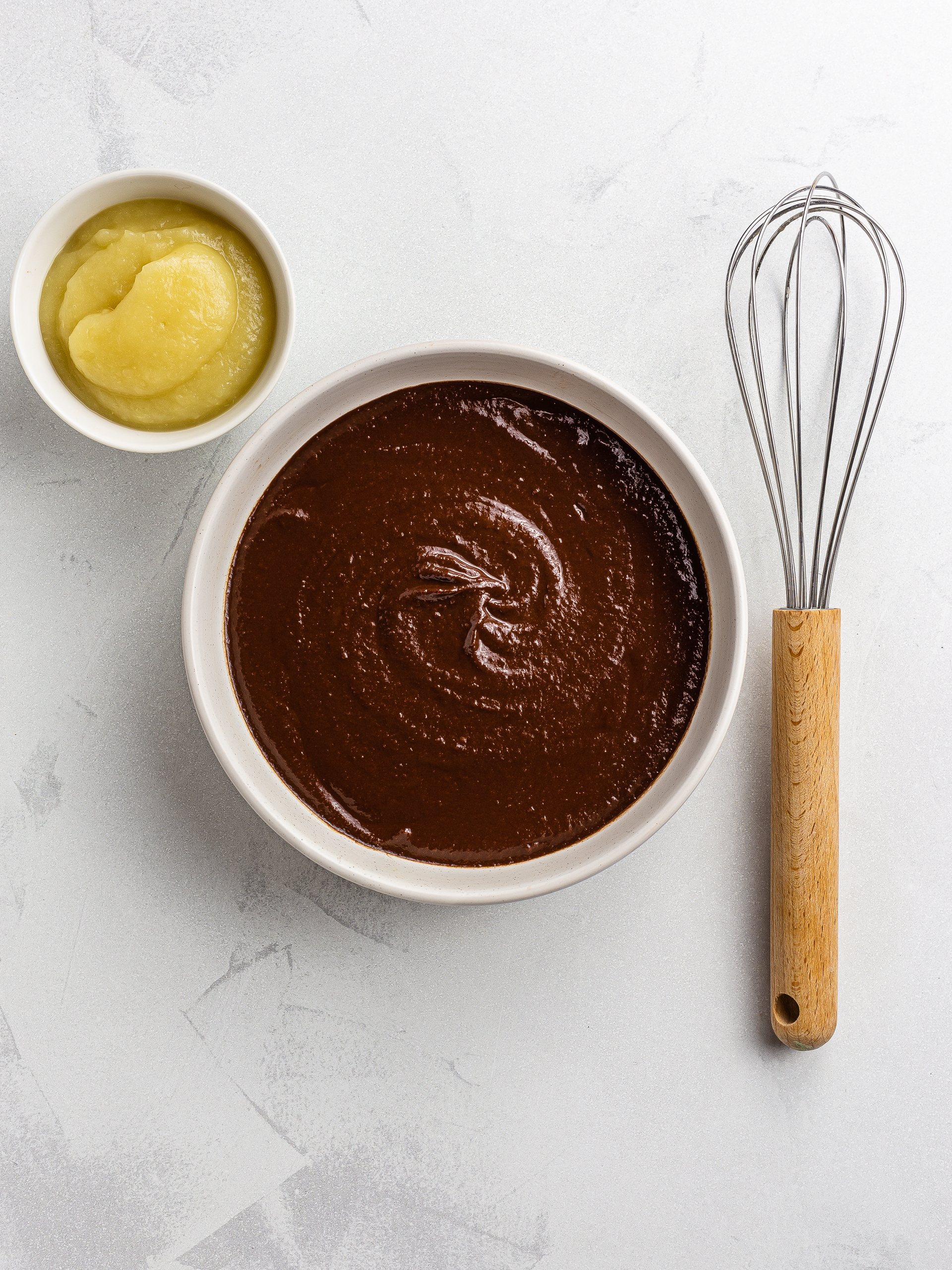 Tips
Add a teaspoon of vanilla extract or almond essence for extra flavour.

Use the frosting right away as soon as it reaches the desired consistency. The longer it sits in the fridge, the harder it will become. If you need to store it for longer, keep it in an air-tight container for up to 5 days. Before using it, beat it with a splash of milk or gently warm it up in the microwave or over a double boiler to thin it out.

If you don't mind extra sugars, you can try making the frosting with vegan white chocolate (or regular white chocolate if not vegan) for a silky finish as in this white chocolate lemon ganache.