Ice your favourite bakes and treats with this silky and fragrant lemon ganache, made with three simple ingredients.
Easy to prepare and so versatile, ganache is a staple in any baker's kitchen, used for filling, piping, frosting, dipping, and truffle-making.
Classic ganache is a 1:1 mixture of chocolate and double/heavy cream, warmed and stirred together until smooth and glossy.
To prepare it, you can use dark chocolate, milk chocolate, or white chocolate and then add flavourings, extracts, or liqueurs.
For this lemon ganache recipe, we made a white chocolate-based ganache and flavoured it with lemon extract. Easy!
We also added a few drops of yellow food colouring for a brighter, warmer yellow hue. But this is optional.
Follow the recipe below, and we'll show you how to make lemon ganache in three simple steps.
Once ready, you can use the ganache as a lemon glaze for cakes and cupcakes or leave it to set until thick for frosting and piping. You can find more ideas in the FAQ section!
And if you're looking for more icing recipes, maybe with a healthier spin or dairy-free, check out this applesauce chocolate frosting, no-sugar glaze with erythritol, orange chocolate ganache, and passion fruit curd.
Frequently Asked Questions
How do you make ganache taste of lemon?

Use lemon extract to make lemon-flavoured ganache, as it packs all the lemony flavour of the lemon peel without the bitterness.

As an alternative to lemon extract, you can use lemon zest, making sure not to grate the bitter, white pith.

Lemon juice, instead, is too bitter and you may have to add extra sugar to the ganache to compensate.
How long does it take for lemon ganache to set?

Left to cool at room temperature for 2 hours, lemon ganache thickens enough for glazing and drizzling. For piping and spreading instead, allow up to 5-6 hours.

Refrigerating the ganache speeds up the setting time, but the icing may not cool evenly. To avoid that, stir it frequently.
What do you use lemon ganache for?

Lemon ganache is extremely versatile, and you can use it for:

Glazing pound cakes, muffins, and cookies

Filling layered cakes, pies, pastries, and crepes

Topping and frosting cakes, cupcakes, cheesecakes, and brownies

Piping cupcakes

Dipping treats, bars, cookies, fruit, and nuts

Making truffles and truffle fillings
Ingredients
| | |
| --- | --- |
| White Chocolate | 250 g |
| Double/Heavy Cream | 240 mL |
| Lemon Extract | 2 tsp |
| Yellow Food Colouring (optional) | 1/4 tsp |
Step 1
Finely chop the white chocolate and add it to a heatproof bowl.
Set the bowl over a pot of simmering water, making sure the bottom of the bowl doesn't touch the water.
Pour in the double/heavy cream.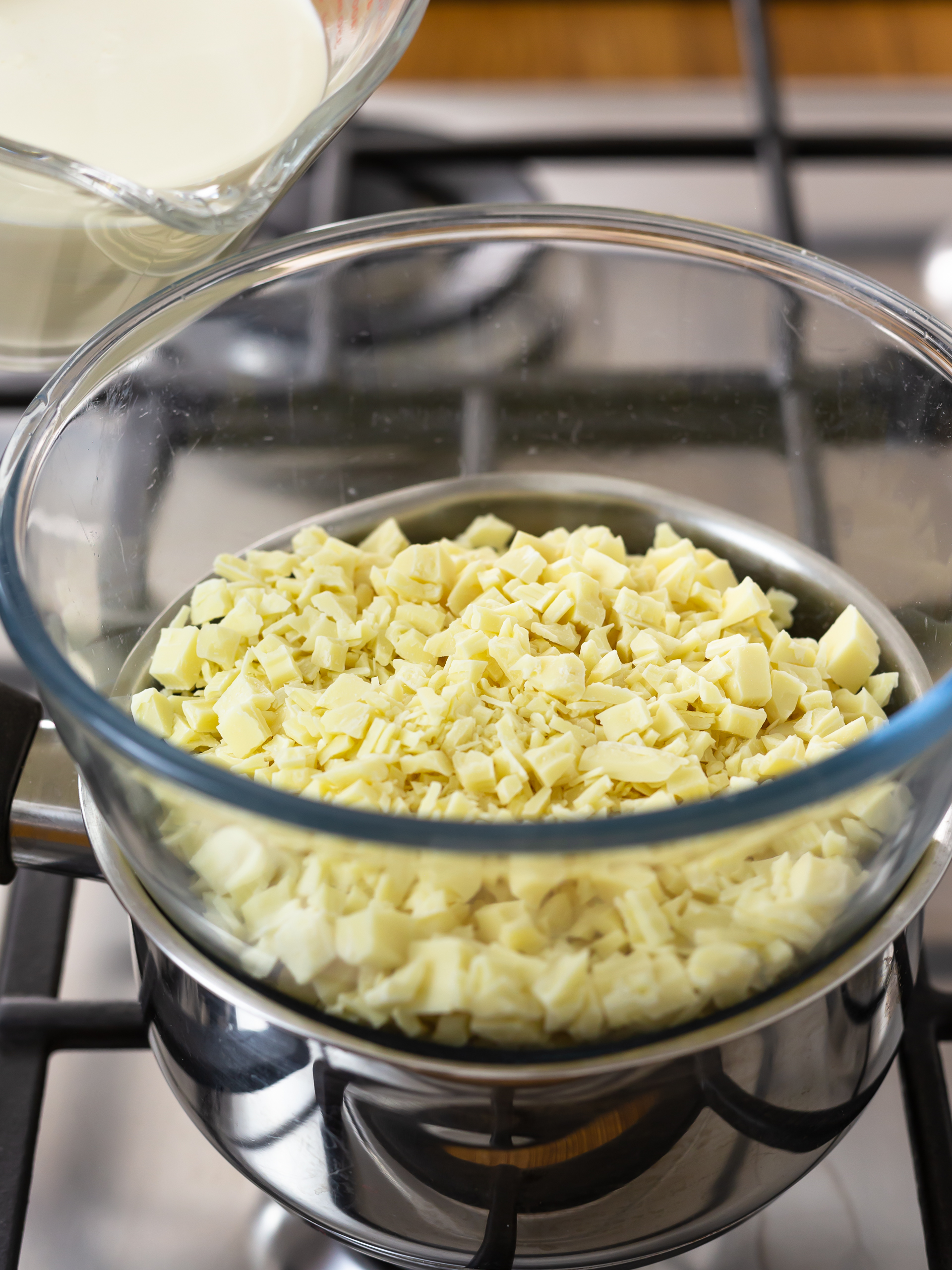 Step 2
Set the heat to low and keep the water to a gentle simmer.
Using a spoon or spatula (not a whisk), very slowly stir the white chocolate until it's completely melted and combined with the cream.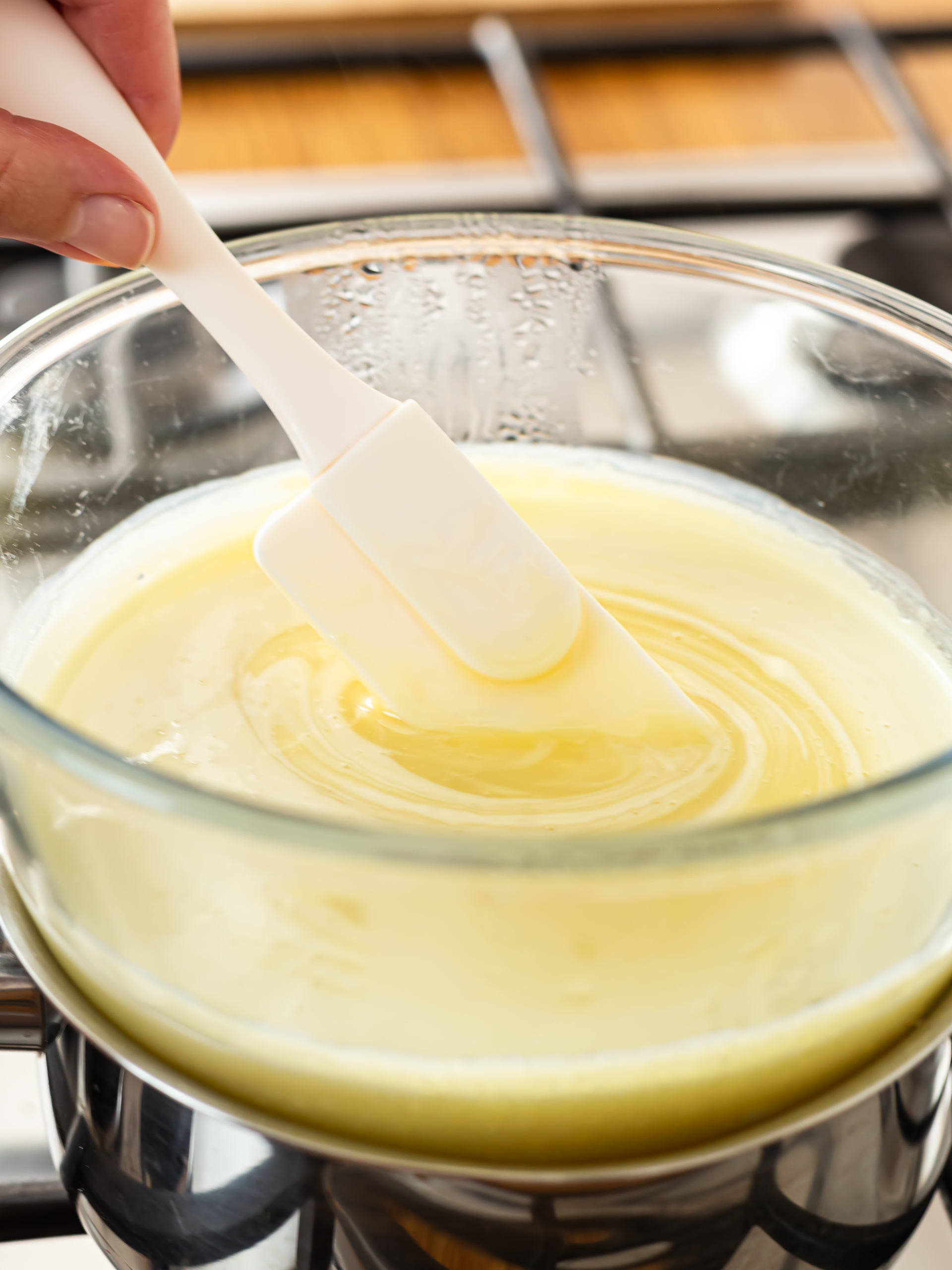 Step 3
Carefully remove the bowl from the heat.
Add the lemon extract and a few drops of yellow colouring (if using it) to the ganache.
Now, use a whisk to stir the ganache until it's smooth, silky, and glossy — about 1-2 minutes.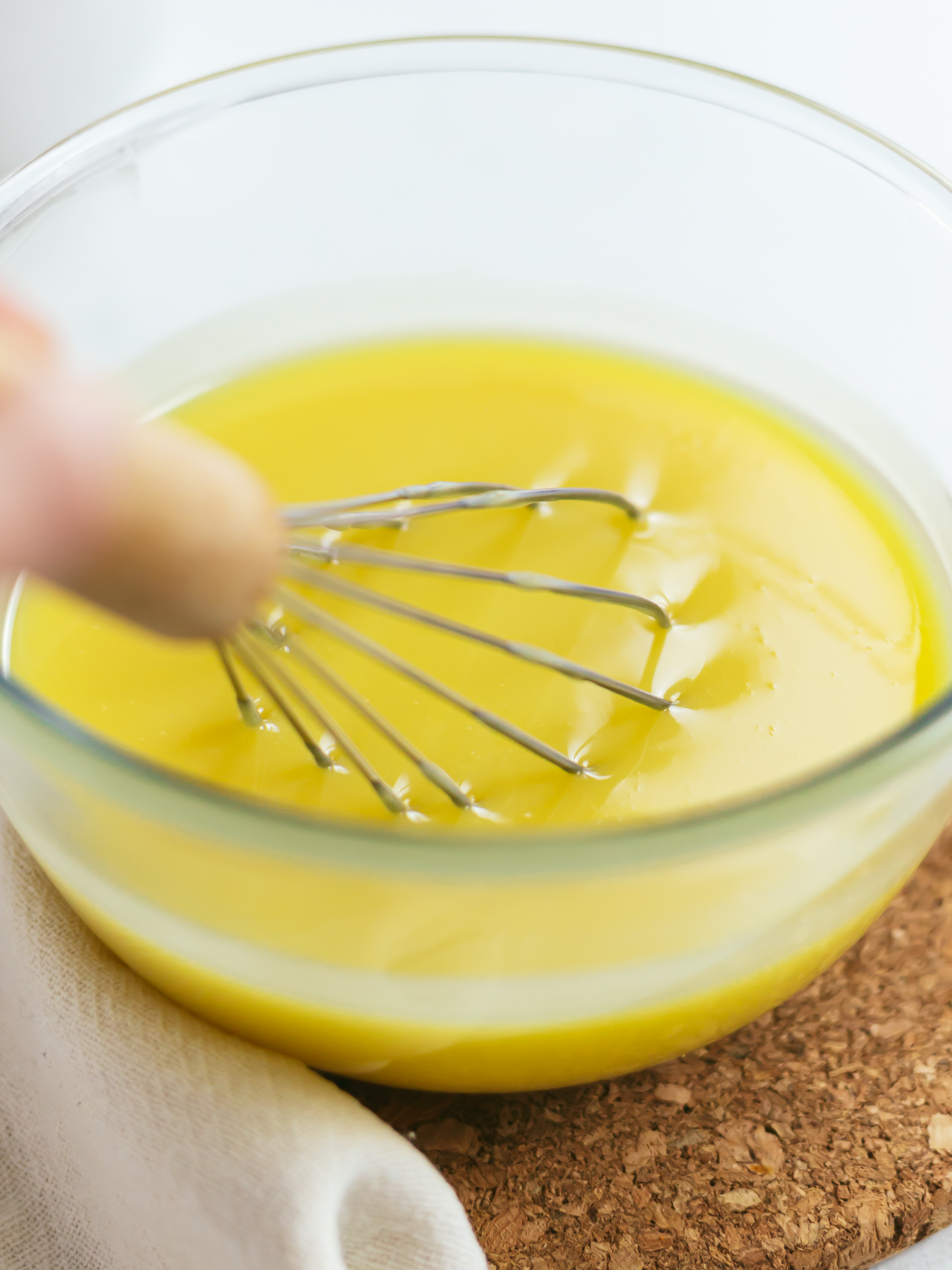 Step 4
Your lemon ganache is ready!
You now have three ways to use it:
As a glaze Let the ganache cool at room temperature for 2 hours until slightly thicker and pourable. Use it for drizzling, glazing, and icing.

For piping, filling, and frosting Once completely cool, let the lemon ganache harden in the fridge covered for about 2 hours, stirring it every 20-30 minutes to make sure it sets evenly. Once it's thick and scoopable (1), use it for piping, filling, or frosting cakes and cupcakes (2).

Whipped Use a hand mixer to beat the cooled, thickened lemon ganache for 3-4 minutes until light, airy, and mousse-like — similar to buttercream. Use it for piping, filling, or frosting cakes and cupcakes (3).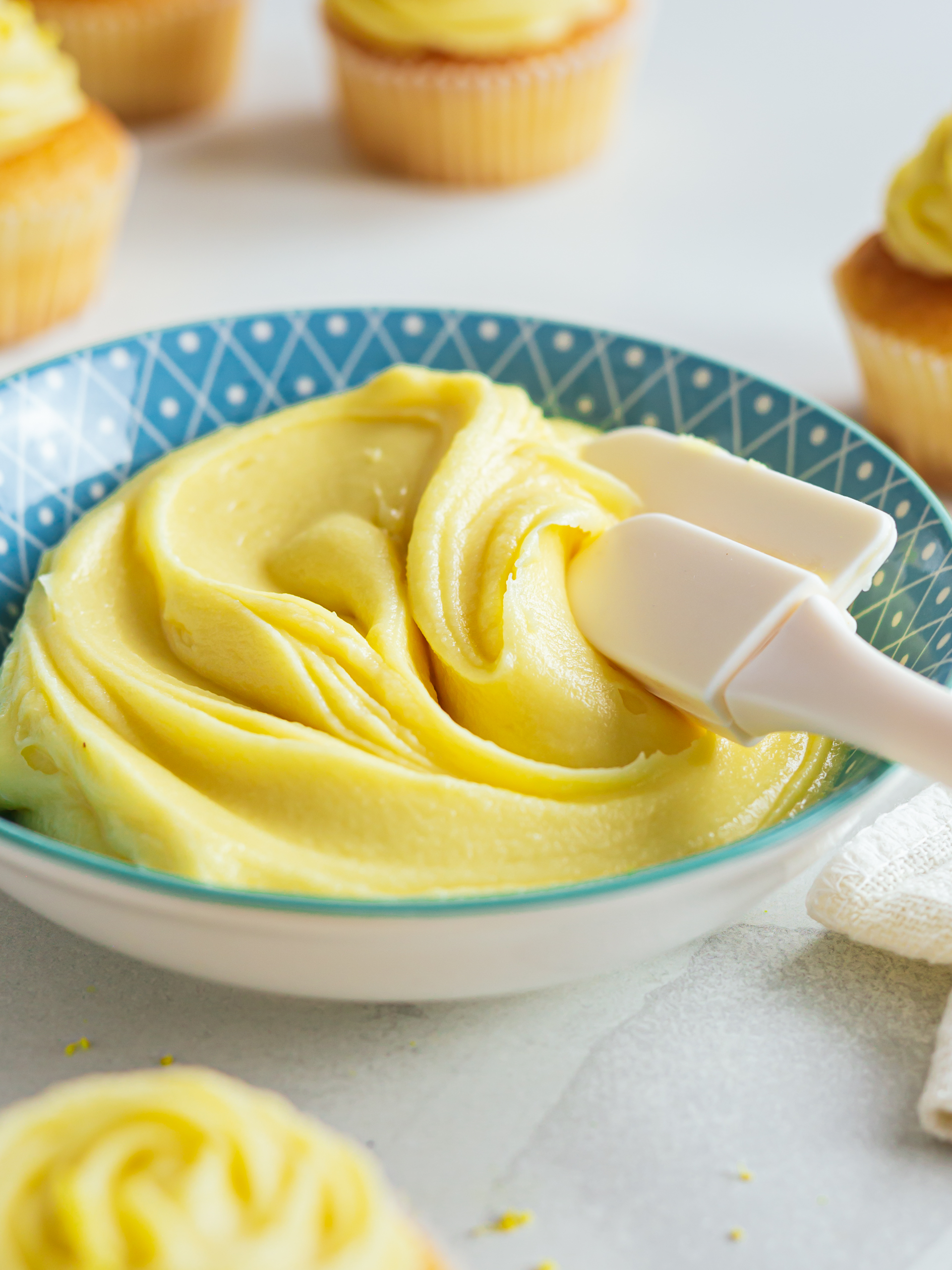 1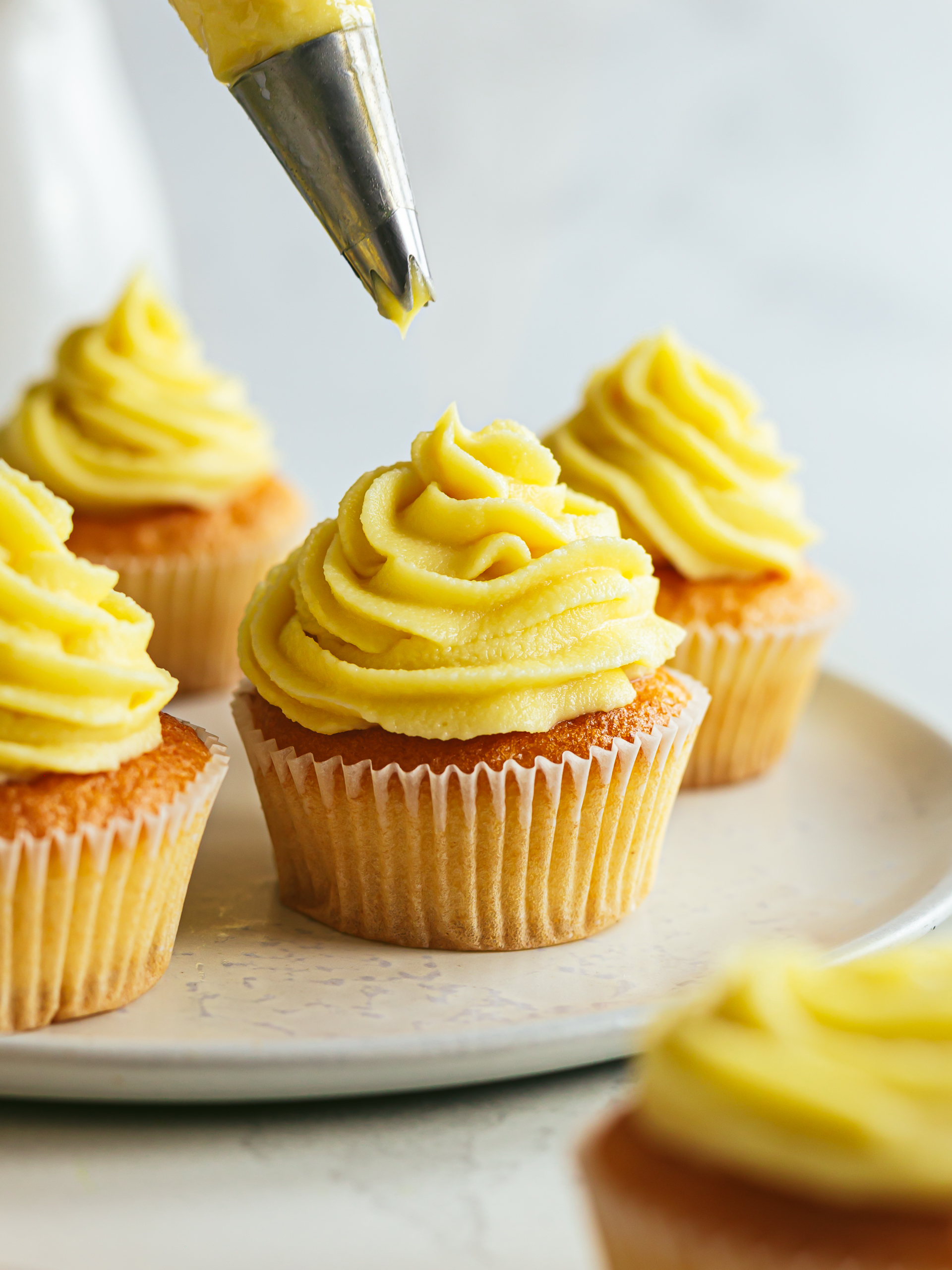 2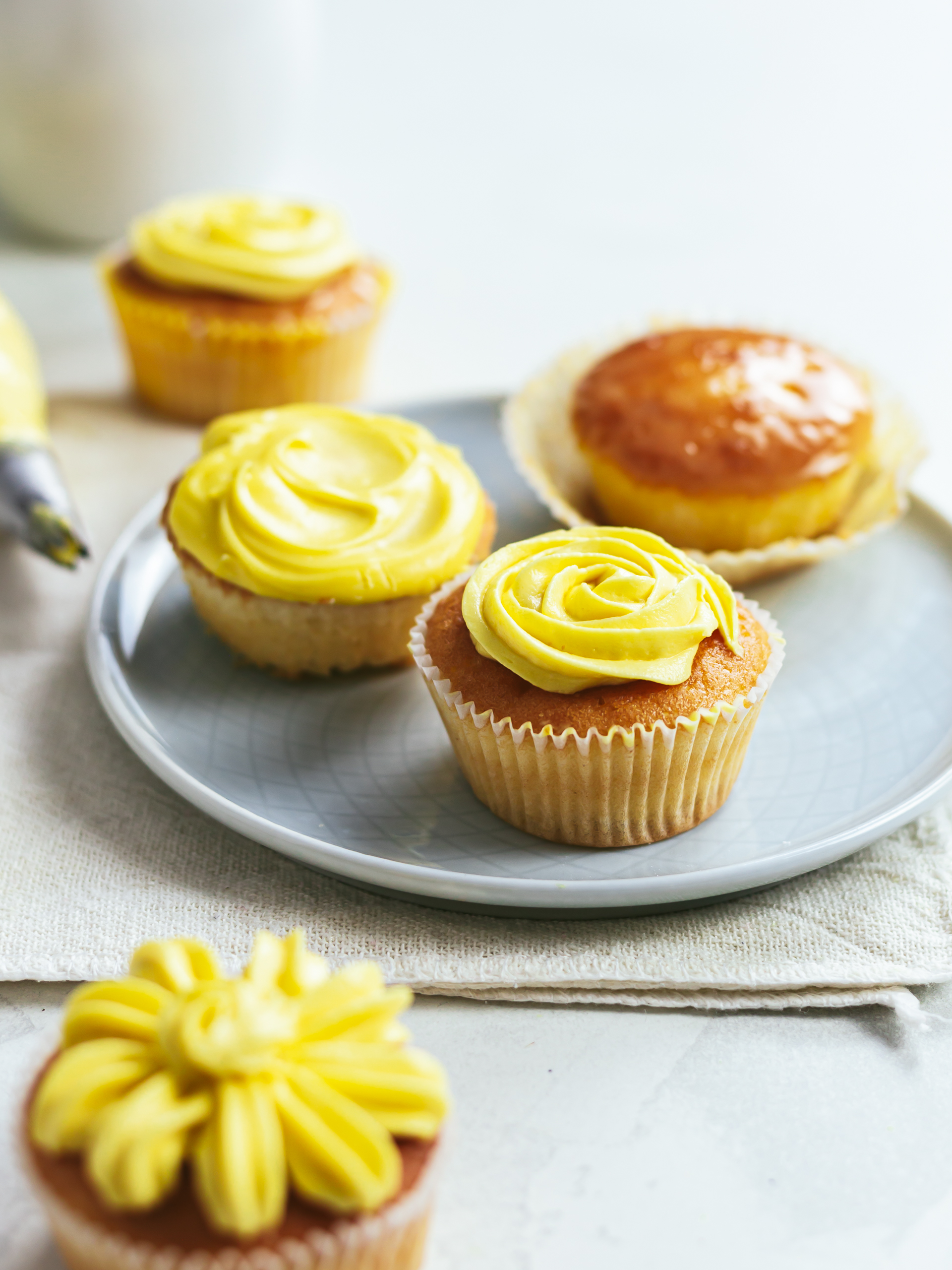 3
Tips
The default ingredients yield enough lemon ganache to ice a two-layer 20cm (8 inches) cake or 12 medium cupcakes. For piped cupcakes, double the ingredients, so you'll have plenty of ganache to pipe.

You can prepare the ganache in advance, cover it tightly and store it in the fridge for 3 days. To use it, slightly thin it out in a heatproof bowl set over a pot of simmering water. Alternatively, whip it as explained in step 4.