We love experimenting with curry recipes from all around the world to discover new and unique flavours. So after our Carribbean Prawn curry and Japanese Katsu curry, today we want to show you how to prepare Kerala-style mushroom curry from scratch.
This vegetable stew shares many ingredients of the classic Indian curries, but the addition of coconut milk, mustard seeds, and fenugreek seeds gives it a distinctive flavour.
While the traditional Kerala recipe includes fish, poultry, and red meat, we wanted to prepare a vegan alternative that is suitable to those with food allergies or who are following a plant-based diet.
So, for this recipe, we cooked "meaty" oyster mushrooms with a gravy-like broth prepared with lentils, coconut milk, chillies, turmeric and tomatoes.
The result is a creamy, hearty, and spicy dish boosting with Keralan flavours.
What's great about this curry is that it's also incredibly healthy. Each bowl has only 290 calories and packs 40% of your recommended daily intake (RDI) of fibres and 30% of your RDI for proteins. Also, as we tried to use as little coconut milk as we could, this curry is much lower in fats than many others out there.
Frequently Asked Questions
Can I use tinned lentils?

In this recipe, we have used dry lentils, but you can use the tinned ones as well.

As canned legumes are already partly cooked, you can add them to curry along with mushrooms and tomatoes and simmer all for just 10-15 minutes.

With dry lentils, instead, the cooking time is a bit longer. To speed it up, you can pre-soak the legumes for at least 2 hours or overnight before adding them to the broth.
Which mushrooms are best for this curry?

You can prepare curries with almost any variety of mushrooms. In this recipe, we opted for the King Oyster type for its "meaty" consistency. Being a vegan curry, we wanted the mushrooms to really stand out, and we found king oysters to have a delicious, "fleshy" texture.

Other great alternatives include:

Shiitake Mushrooms

Portobello Mushrooms

Chestnut Mushrooms

Wild Mushrooms
How can I make Kerala curry without coconut?

Coconut is one of the staples in Kerala culinary traditions, and it's often used grated, chopped, or as milk. For this recipe, we opted for coconut milk to give the curry a super creamy texture.

However, if you don't have this ingredient or prefer a coconut-free curry, then you can substitute it with any plant-based milk in the same amount.

Almond, rice, soy, and oat milk are excellent options, and, unlike with coconut milk, they will make your mushroom stew much lower in fats and saturates too.

To get a thicker consistency, you can then add a teaspoon of potato starch to the broth.

Alternatively, swap it with plain water or vegetable broth.
What goes well with this mushroom curry?

According to South India traditions, vegetable curries like this one are often accompanied by flatbreads like naan or roti. Warm them in the oven or on a skillet and used them to scoop up this hearty curry.

We also love pairing it with long-grain brown rice for a boost of fibres and to add proteins to this vegan stew. Cook the rice according to packet instructions and then serve it in the same bowl with the curry.
Ingredients
| | |
| --- | --- |
| Rapeseed Oil | 1 tbsp |
| Mustard Seeds | 1 tsp |
| Fenugreek Seeds | 1 tsp |
| Red Onion | 1 |
| Garlic Clove | 2 |
| Fresh Ginger Root | 1 tsp |
| Fresh Green Chillies | 4 |
| Brown Lentils (raw) | 180 g |
| Ground Turmeric | 1 tsp |
| Mushrooms (King Oyster) | 300 g |
| Tomatoes | 4 |
| Coconut Milk (canned) | 180 mL |
Step 1
In a large skillet, heat the vegetable oil and add mustard seeds, fenugreek seeds, finely chopped onions, crushed garlic, grated ginger root, and sliced chillies.
Sizzle the ingredients for 3-5 minutes or until the seeds are fragrant and the onion has softened.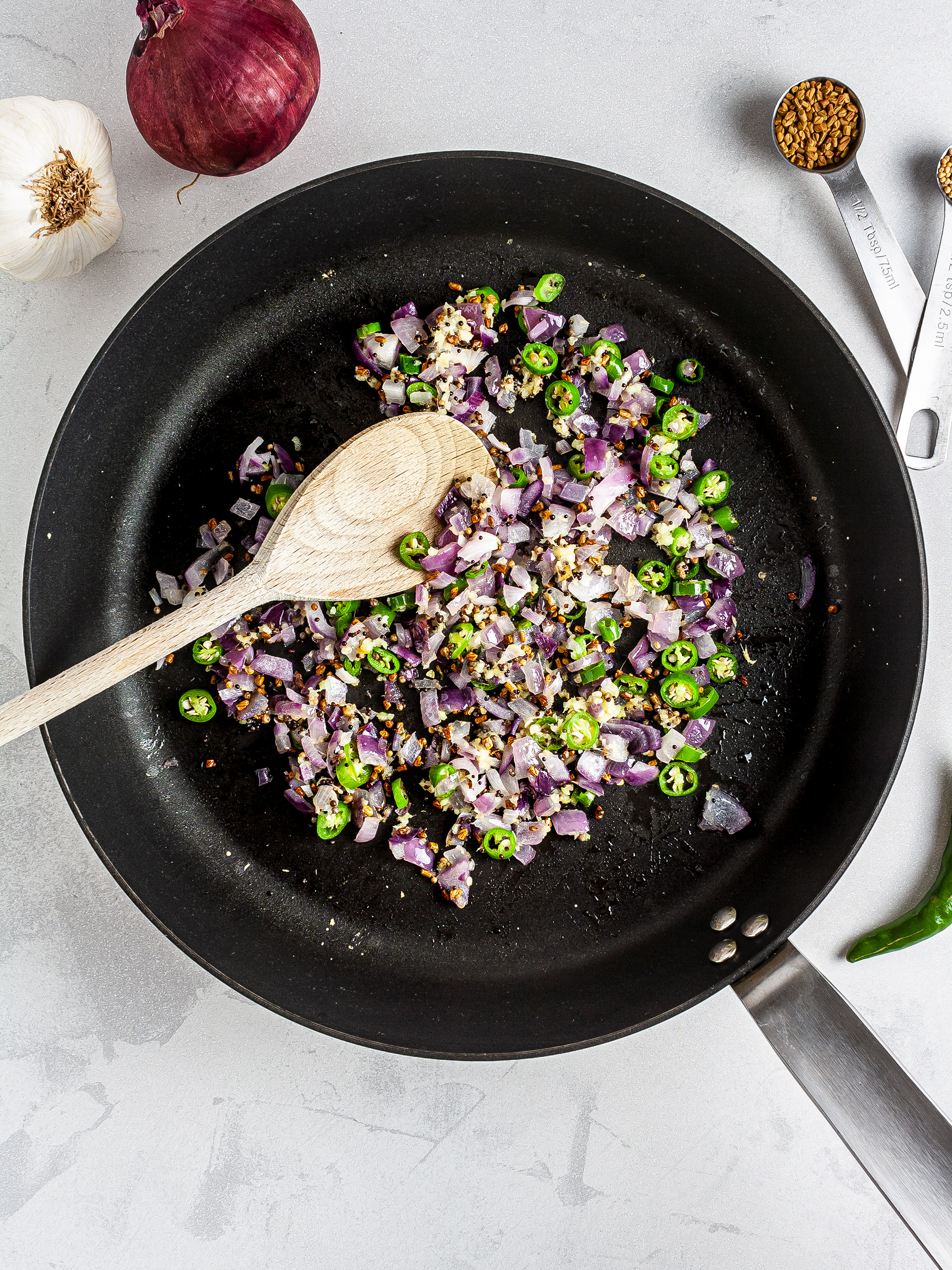 Step 2
Then, add the raw brown lentils (rinsed) and turmeric and cover with water. Bring to a boil and simmer the legumes, covered, for 15 minutes.
If you're using already cooked or tinned lentils, then check our FAQs below for extra tips.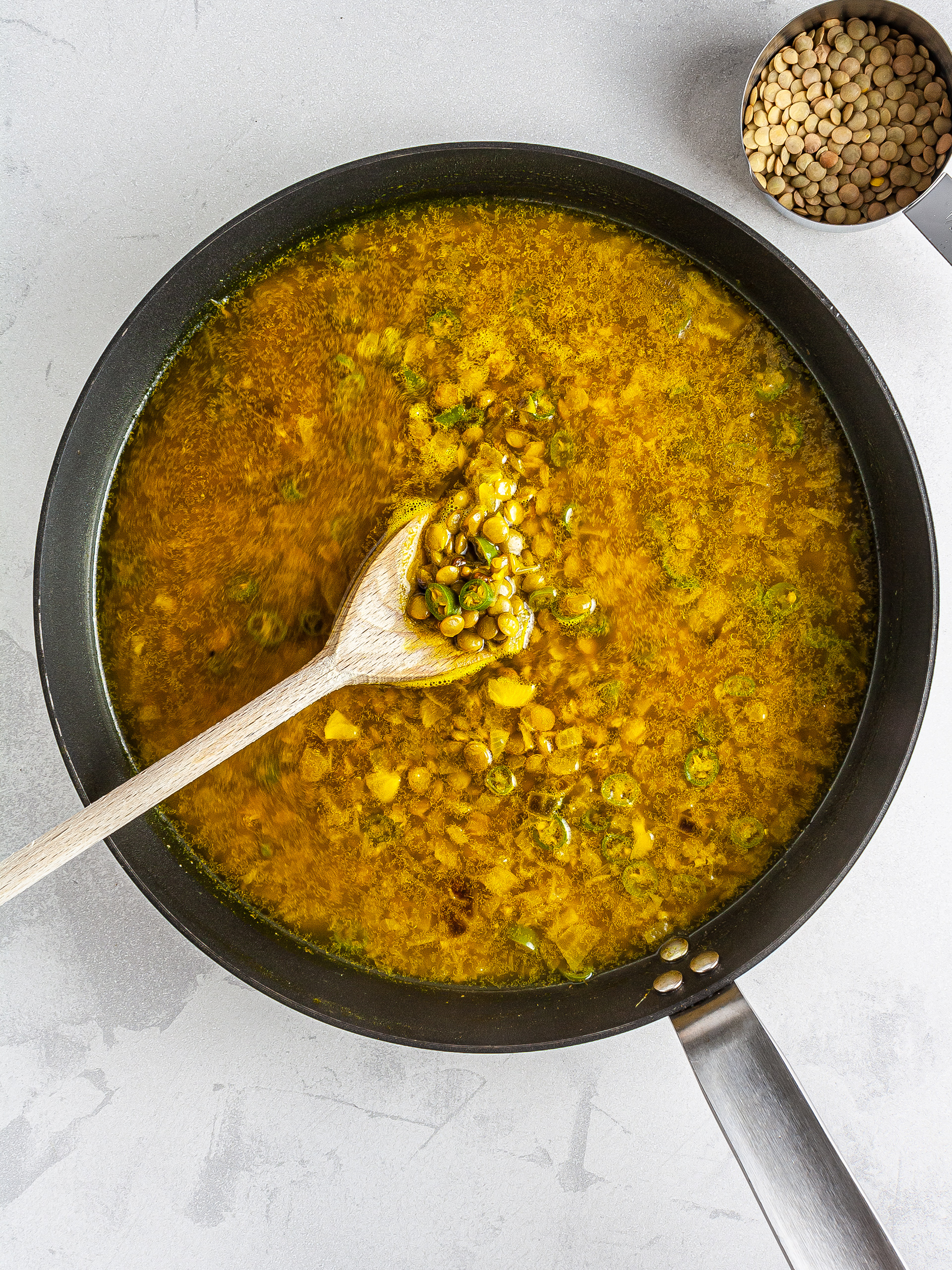 Step 3
Now, tip in chopped mushrooms along with the tomatoes.
We used king oyster mushrooms, but you can use other varieties - check out our FAQ below for suggestions.
Pour in the coconut milk and give all a good stir.
Cook the curry at medium heat for a further 8-10 minutes and then season it with salt and pepper to taste.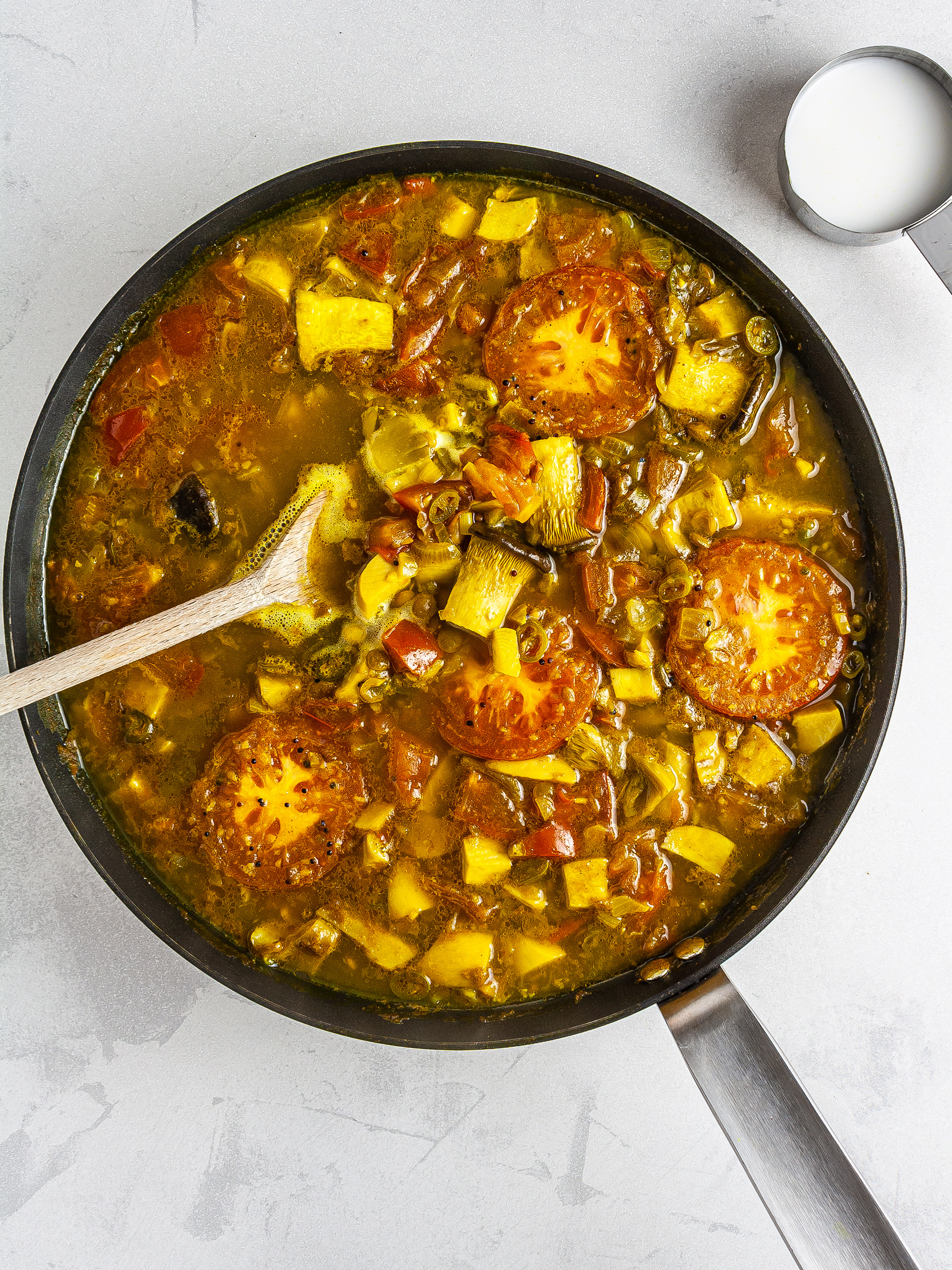 Step 4
When the broth has reduced, the mushrooms are cooked through, and the lentils are soft, remove the pan from heat.
Divide the mushroom curry among serving bowls, garnish with coriander, and enjoy the stew with some boiled rice on the side.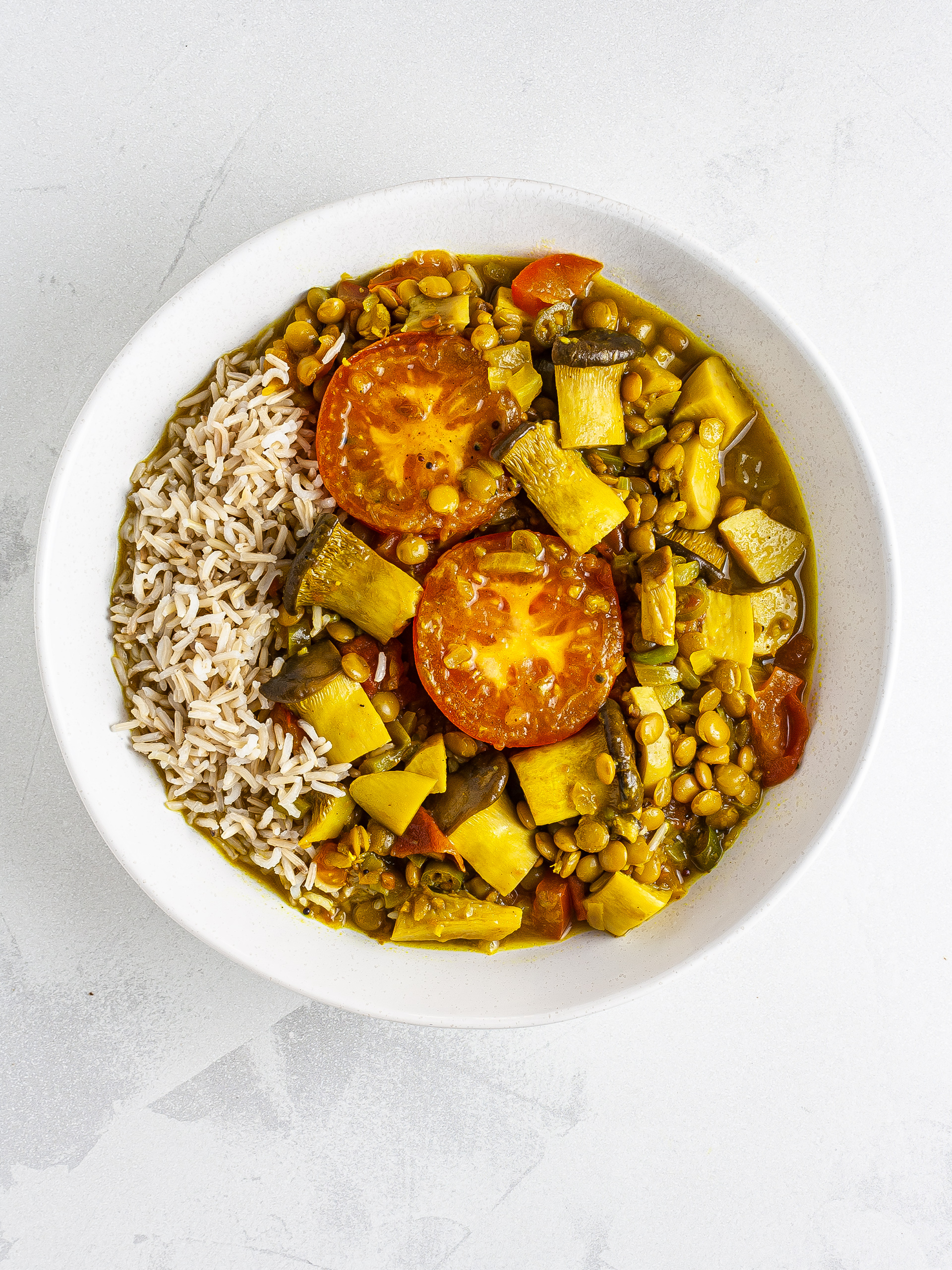 Tips
You can use this raw ginger turmeric paste as a base for the curry and keep the leftover paste for preparing sauces, tea, and golden lattes.

For a distinctive flavour and in full Kerala cuisine style, tip in a few curry leaves when adding mushrooms to the broth.