Today we'll show you how to make this vegan keto lemon pound cake, a moist and spongy dessert recipe that bursts with flavour and nutrition.
The cake batter is prepared with almond meal, erythritol, silken tofu, and almond milk, then gently baked into a super soft lemony treat.
To prepare this dessert, we went all out, and we made it dairy-free, gluten-free, and sugar-free, suitable for both vegan and ketogenic diets.
Almon meal is made from grounded almonds, and it's the perfect wheat flour replacement in gluten-free and keto-friendly diets. This low-carb flour adds a rich, nutty flavour to any bakes, and it also provides healthy unsaturated fats and vitamins.
Erythritol is a zero-calorie natural sweetener that tastes as sweet as sugar, but it doesn't get digested. So, it won't add any sugars and calories to this pound cake. This ingredient is perfect for low-carb diets like ketogenic and diabetes-friendly eating regimens.
When you blitz silken tofu in a food processor, you get a smooth and creamy vegan replacement to butter. Also, as tofu packs plenty of plant-based proteins, each slice of this lemon cake provides almost 20% of your recommended daily intake for proteins. Not bad for a dessert!
We have used arrowroot starch to help to bind the ingredients and give structure to this flourless cake. It's the secret ingredient for perfect gluten-free baking as it reduces crumbling and adds thickness to the cake.
Let's get started!
Frequently Asked Questions
Is this cake good for diabetics?

As we prepared this flourless cake to be suitable for those on a ketogenic diet, also people with diabetes can enjoy a slice of this lemony treat.

Almond flour is a low-carb flour and erythritol is a natural zero-calorie sweetener, meaning this dessert recipe has very little sugars and carbohydrates. Each slice has only 1.6 grams of sugar which amounts to just 1.8% of your recommended daily intake (RDI). Therefore, this pound cake is good diabetics too.

With our free Smart-Search tool, you can easily find recipes that match your diet needs including low-carb or low-sugar diets.
What makes this lemon pound cake so healthy?

As this recipe is prepared without eggs, dairy, and refined sugars, it makes a healthy alternative to classic sponge cakes.

Being vegan and ketogenic, it has very little sugars, carbs, and saturated fats. Each slice of this lemony dessert has 200 calories, less than 2% of your RDI for sugars, but over 17% of your RDI for proteins and 30% of your RDI for fibres. Also, it won't cause a sugar rush followed by a spike of insulin.

Instead, the healthy unsaturated fats from almonds and the proteins for silken tofu will keep you satisfied and keep your sugar cravings at bay.
Can I freeze it?

Yes, absolutely. If you have any leftovers of this delicious vegan dessert, you freeze them and enjoy them whenever you need a sweet treat.

Just remember to slice the cake into portion sizes and stack the servings in a freezer-friendly container interleaving them with a sheet baking paper, foil, or cling film.

Before eating them, let them thaw completely on the kitchen counter or warm them in the microwave or in the oven, and you're good to go.
What can I use instead of silken tofu?

In this recipe, we have used silken tofu as a vegan replacement to butter but can easily swap it other alternatives.

Mashed avocados or coconut/soy yogurt are fantastic options in low-carb cakes. Also, you can use a vegetable oil like canola, sunflower, or olive oil as we did in this lemon rosemary cake.

If you aren't on a strict keto diet, you can also substitute silken tofu with pumpkin puree as in this pumpkin pound cake.
How can I garnish this lemon cake?

For a fancier look, you can garnish this cake with chopped almonds, coconut flakes, and grated lemon zest, or simply dust it with icing sugar or keto-friendly sweeteners.

Also, you can coat it with a homemade lemon drizzle. Use our sugar-free glaze recipe and add a splash of lemon juice for a delicious, tangy cake frosting.
Ingredients
| | |
| --- | --- |
| Ground Flaxseeds | 3 tbsp |
| Water | 5 tbsp |
| Almond Flour | 380 g |
| Baking Powder | 12 g |
| Baking Soda | 1 tsp |
| Erythritol | 180 g |
| Silken Tofu | 220 g |
| Almond Milk | 250 mL |
| Lemon Essence | 1/2 tbsp |
| Lemons | 2 |
| Arrowroot Powder | 140 g |
Step 1
Let's start by preparing the vegan "flax-egg". In a bowl, combine ground flaxseeds with water, and leave them to soak for 10 minutes until they form a thick gel-like mixture (1).
Meanwhile, mix almond meal, baking powder, baking soda, arrowroot starch, erythritol, and a pinch of salt in a large bowl (2).
Stir well to ensure the baking powder is evenly distributed in the cake mix.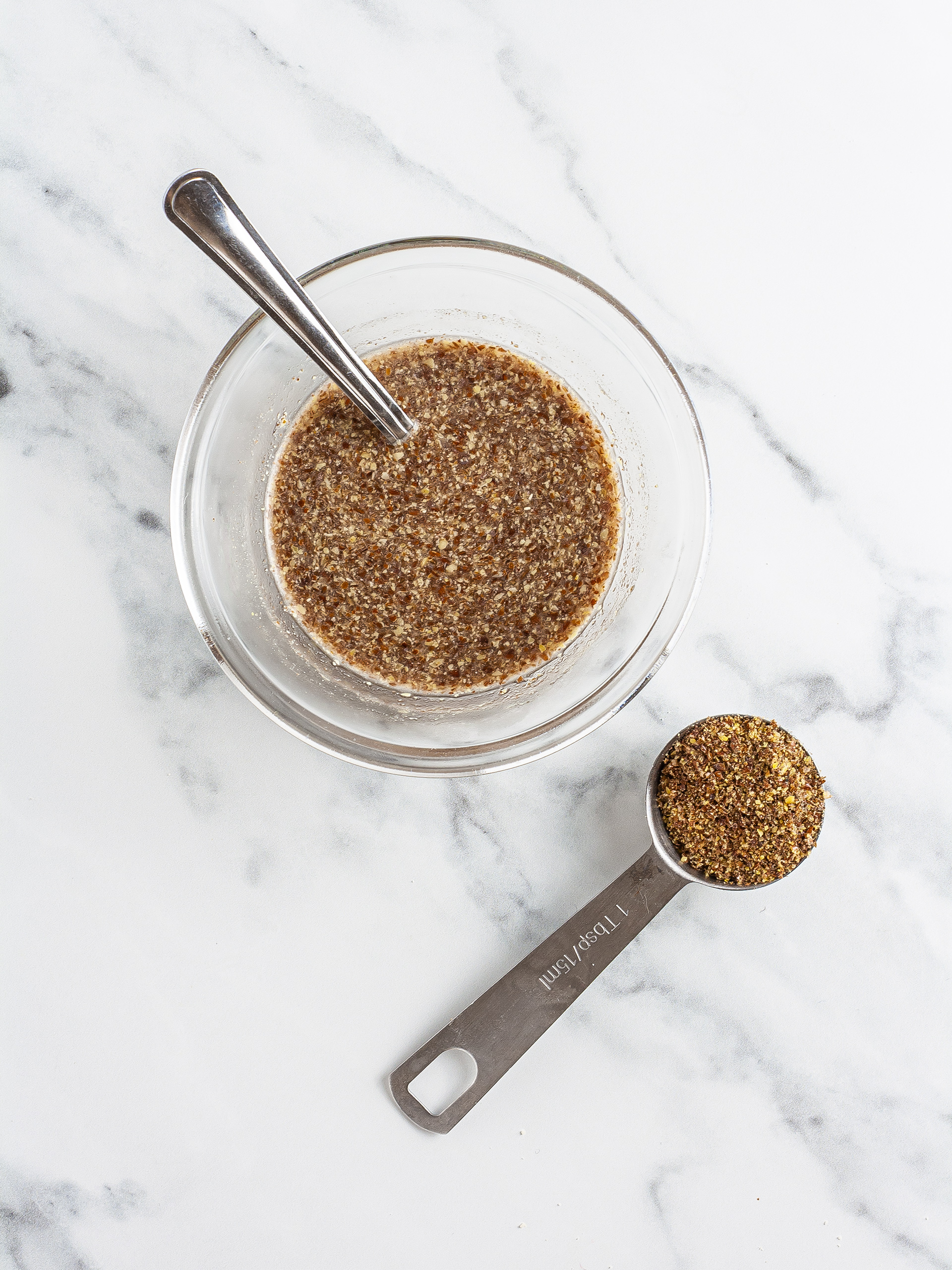 1
2
Step 2
Now, incorporate the prepared flax-egg into the flour mix and add blended silken tofu, almond milk, lemon essence, grated lemon zest.
Use an electric mixer, stand mixer or a balloon whisker to combine the cake ingredients into a smooth, creamy batter.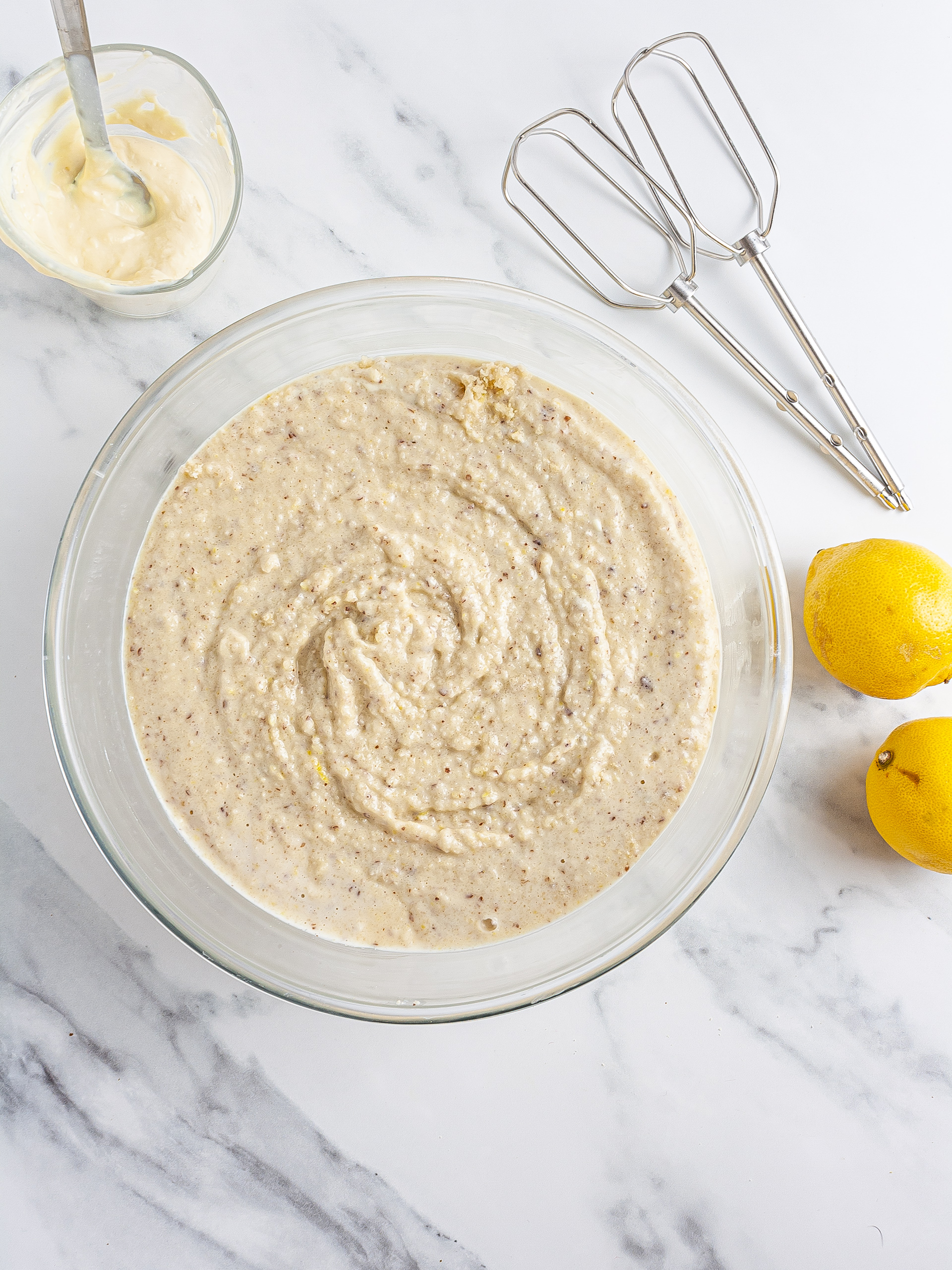 Step 3
Transfer the lemon mixture into a cake tin with the help of a spatula.
You can use a loaf tin, a rounded cake tin, or a bundt tin as we did in this recipe.
Fill it almost to top but leave some space for the cake to rise during cooking.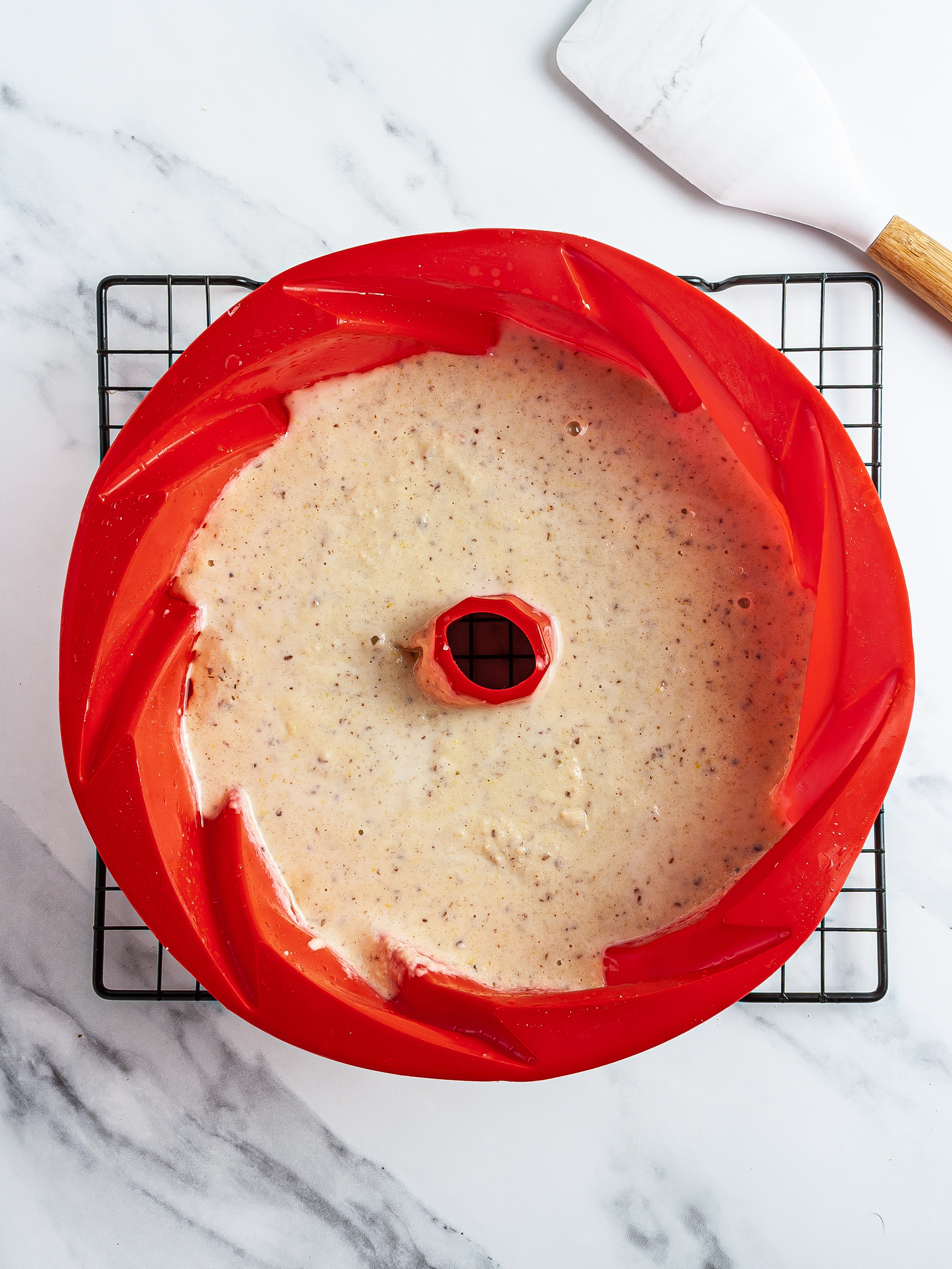 Step 4
Bake the cake for 60 minutes at 150°C (300°F) for static ovens or at 130°C (265°F) for fan ovens.
The cake is ready when a skewer inserted in the centre comes out clean.
Leave the lemon cake to cool down for a few minutes before removing it from the tin.
Finally, transfer it to a wire rack to cool down evenly before serving.
You can garnish the cake with dusted icing sugar or if you're on a keto diet, drizzle it with our sugar-free glaze.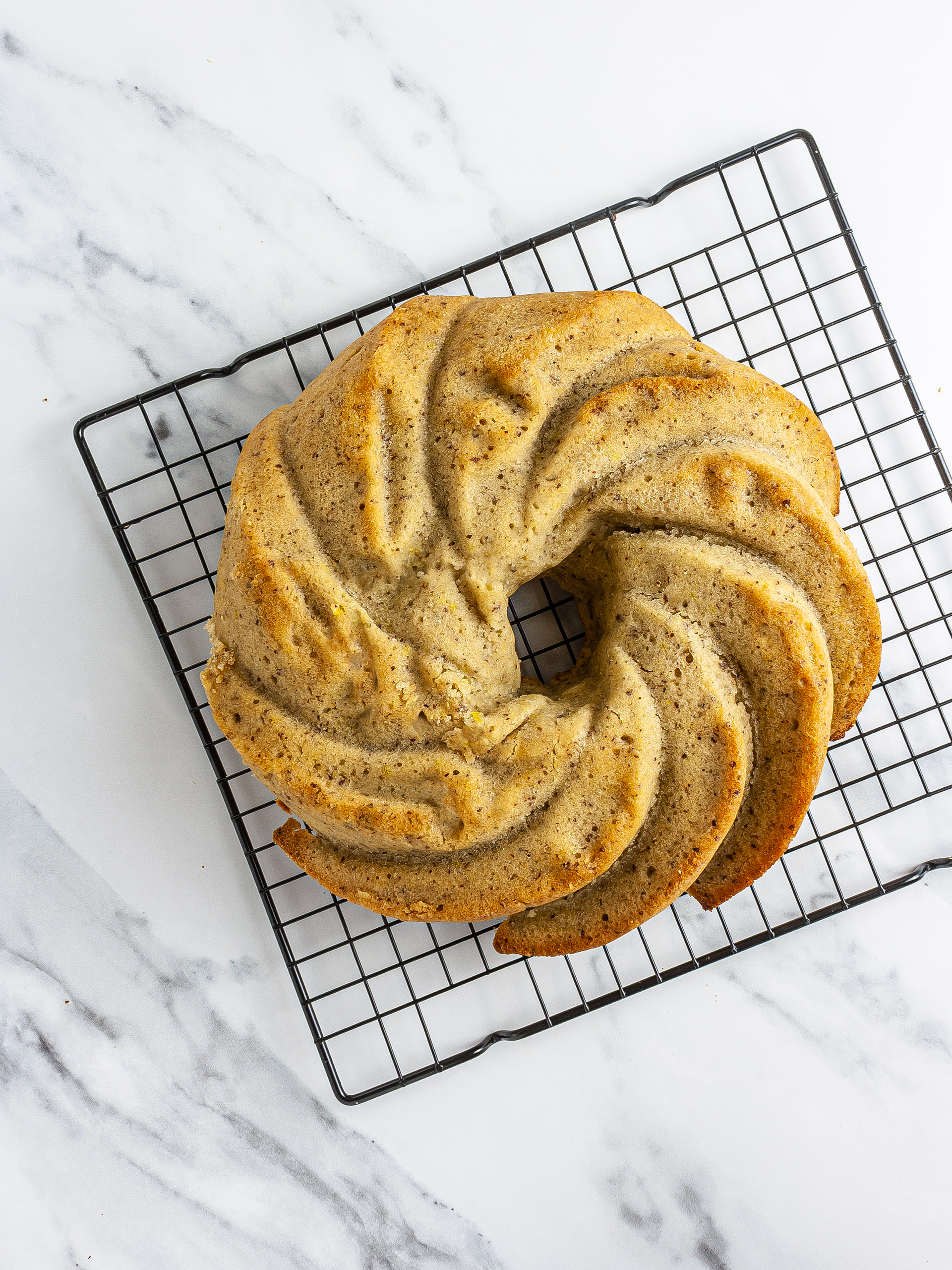 Tips
Instead of almond milk, you can use soy milk or hemp milk. If you aren't following a strict keto diet, you can also use oat milk or rice milk.

Store this pound cake in an airtight container for up to 4 day.