Is there anything more homey and hearty than a hot bowl of bean stew? There are almost infinite variations to this humble yet rich dish.
We want to propose a Middle-Eastern bean stew recipe that is super tasty and delicious, called Lebanese fasolia stew.
Fasolia (or fasulia, فاصوليا) is a flavourful red bean stew cooked in tomato sauce.
The classic recipe can also contain beef or lamb, but we are showing you a 100% plant-based version.
What makes Lebanese fasolia stand out from other bean stews is the mix of herbs and spices. There are three magic spices at play:
allspice

ground coriander seeds

sumac
If you have never tried sumac, you're in for a treat. It's a beautiful deep red spice with lemony and fruity flavours. If you can't find it, worry not.
Check out the tips section below for substitution advice.
Fasolia is so delicious that you can have it on its own. But most traditional recipes accompany it with flatbread, rice, or some other grain.
We are serving it on a bed of bulgur wheat. Feel like pairing it with something else? Check out our serving suggestions here.
Overall, our Lebanese fasolia is a balanced meal with lots of veggies, plant-based proteins, and slow-digest carbs.
A generous bowl will give you 60% RDI for fibres, 36% RDI for proteins, 10% RID for fats and 352 calories. And it's ready in only 25 minutes! Simply beautiful. Let's do this!
And if you liked this recipe, check out this African-style tomato stew with spinach, deliciously saucy and spicy!
Frequently Asked Questions
What to serve with fasolia?

This Middle Eastern beans stew pairs wonderfully with warm wholemeal pittas, bulgur wheat or couscous.

We also have a delicious potato salad, baba ganoush, and hummus recipe if you're looking for more Lebanese-style sides for this hearty stew.

For a gluten-free option to flatbread and bulgur wheat, you can serve the beans with a side of brown rice or quinoa.

Consuming legumes with a portion of grains like rice or wheat is a great way to balance your meal with plant-based complete proteins. Quinoa, instead, is a pseudocereal that already packs all nine essential amino acids that make up "complete proteins". So, pairing quinoa with beans gives you an even greater boost of proteins.

Finally, if you want to keep your carbs intake low, try swapping bulgur with cauliflower rice following our easy recipe here.
Which beans are used in Lebanese fasolia?

Traditional fasolia uses red kidney beans. You can use both dried or canned ones.

With the dried ones, you'll have to pre-soak them and cook them for at least 30 minutes. The canned beans, instead, are a quick and simple option is you're short on time.

Lebanese cuisine is famous for its variety of legumes, and many stews are often prepared with a combination of them. Instead of red kidney beans, you can try:

Chickpeas

Green lentils

Cannellini or butter beans

Fava beans
Is this bean stew healthy?

This Lebanese-style stew is a healthy and balanced meal as it's prepared with just legumes, vegetables, and a little olive oil.

Beans, including red kidney beans, are rich in fibres which help slow down the digestion and absorption of carbs, thus promoting a controlled release of energy.

Tomatoes and spinach are low-carb vegetables, packed with antioxidants and minerals.

As this recipe has no butter or meat, it's very low in fats. Using extra virgin olive oil ensures you'll get a good serving of heart-healthy, unsaturated fats.

We paired this hearty stew with bulgur wheat, a whole-grain rich in fibres and vitamins. Bulgur wheat also contains essential amino acids which, coupled with those from kidney beans, ensure you'll have a source of complete plant-based proteins.

In just 350 calories, a generous bowl of this fasolia makes a tasty, nutritious, and balanced meal, sure to keep you satiated and satisfied for hours.
Ingredients
Stew
Extra Virgin Olive Oil

2 tbsp

Medium Brown Onions

1

Garlic Cloves

2

Ground Coriander

1 tsp

Allspice

1 tsp

Canned Chopped Tomatoes

400 g

Canned Red Kidney Beans (drained weight)

460 g

Fresh Baby Spinach

150 g

Lemon Juice

1 tbsp

Sumac (optional)

2 tsp

To Serve
Wholemeal Bulgur Wheat

160 g

Water

480 mL

Fresh Parsley

to taste
Step 1
To cook the bulgur wheat, you can follow the packet guidance or our instructions below.
Add the bulgur wheat to a pot and pour in the 480 mL of water.
Then, bring to a boil, cover, and simmer for 15 minutes. Make sure the water has been absorbed, and the wheat grains are soft.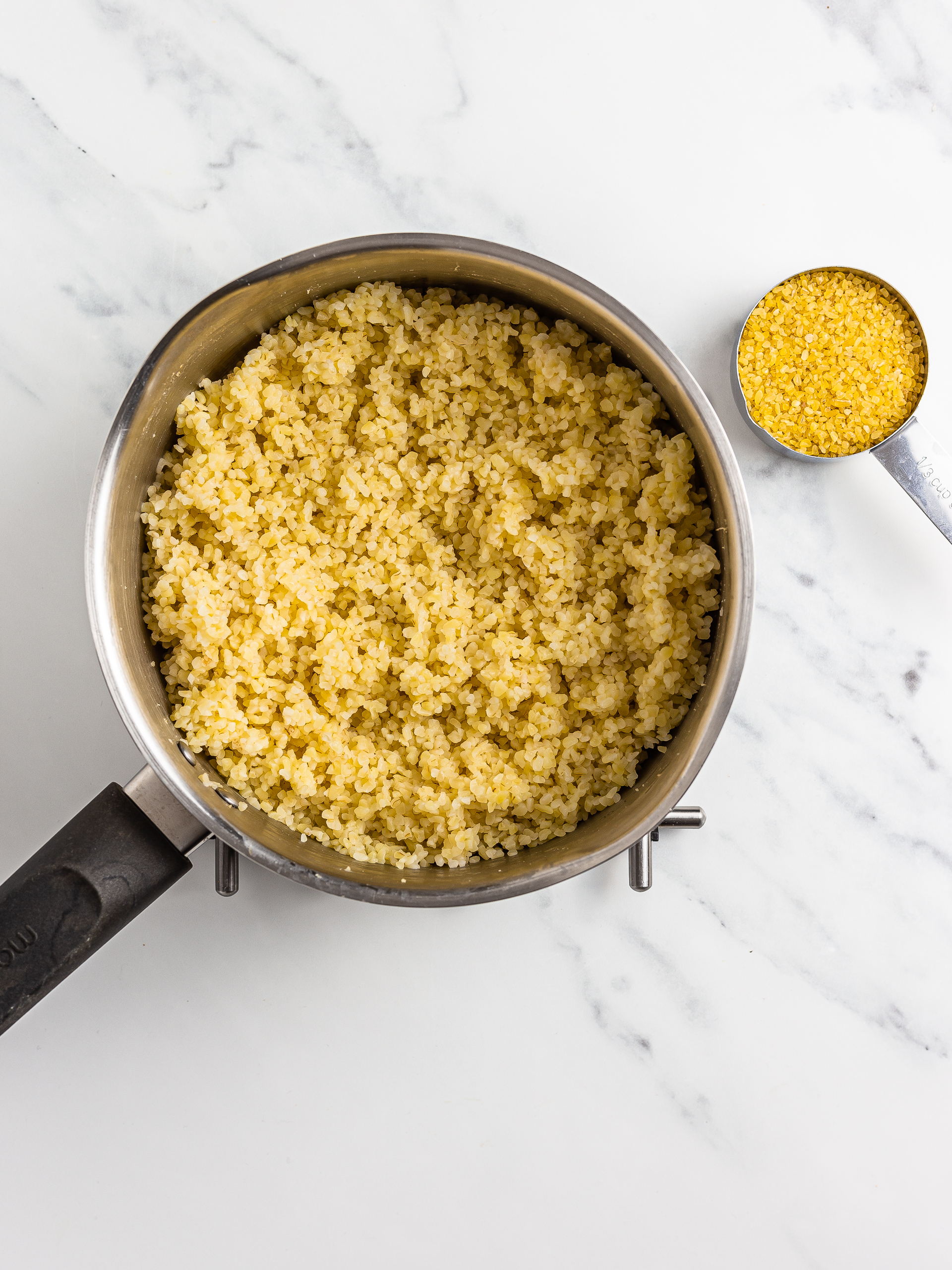 Step 2
Meanwhile, heat the olive oil in a skillet, then add finely chopped onions and crushed garlic cloves.
Sizzle all for 3 minutes or until the onions turn soft and translucent.
Then, tip the ground coriander and allspice, stir well and cook for one more minute.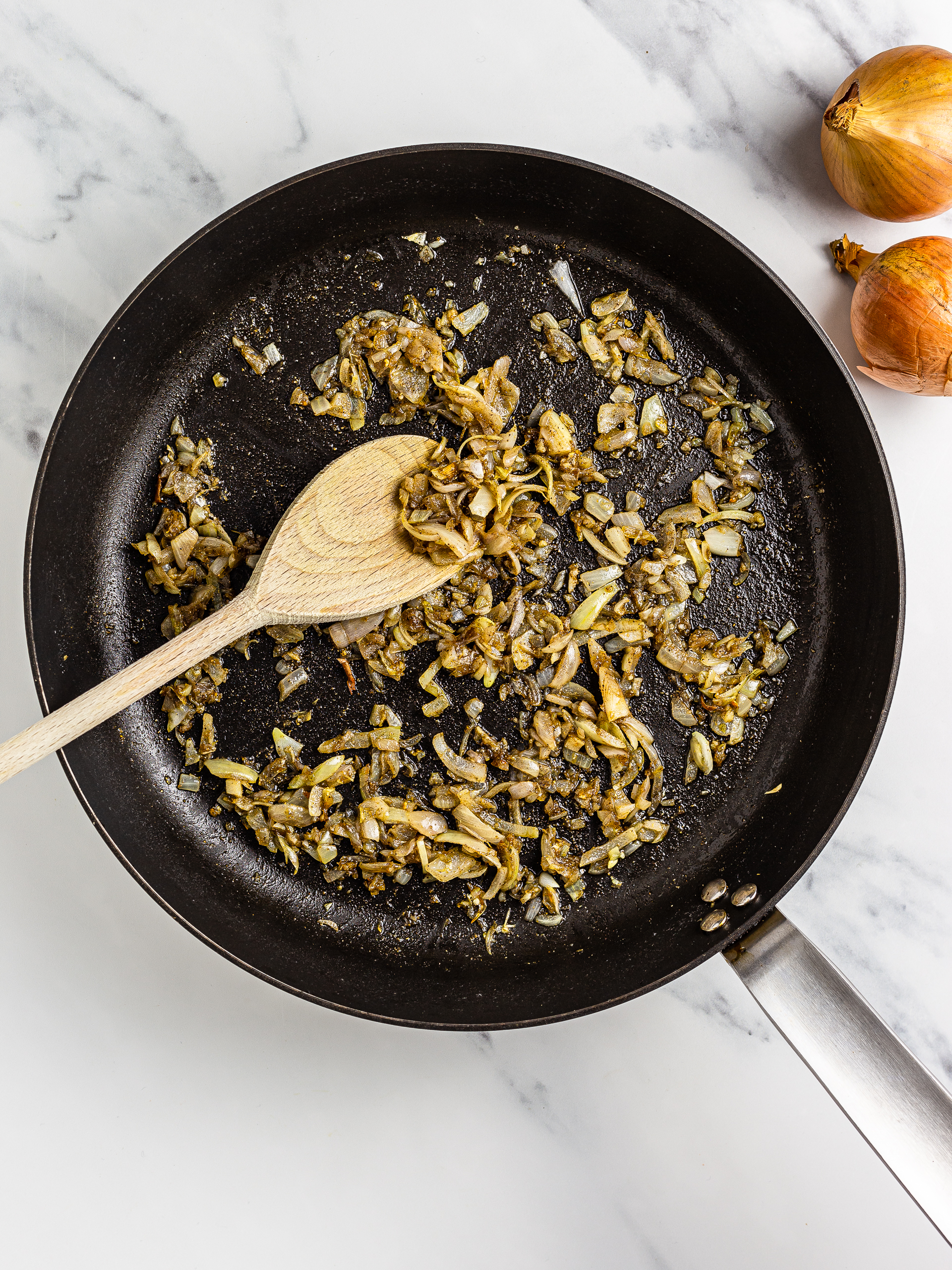 Step 3
Next, add the canned chopped tomatoes and red kidney beans.
Season with salt and pepper to taste, and add the sumac if you're using it.
Pour in enough water to cover the stew ingredients by one centimetre (1/2 inch), put the lid on, and allow to simmer for 12 minutes.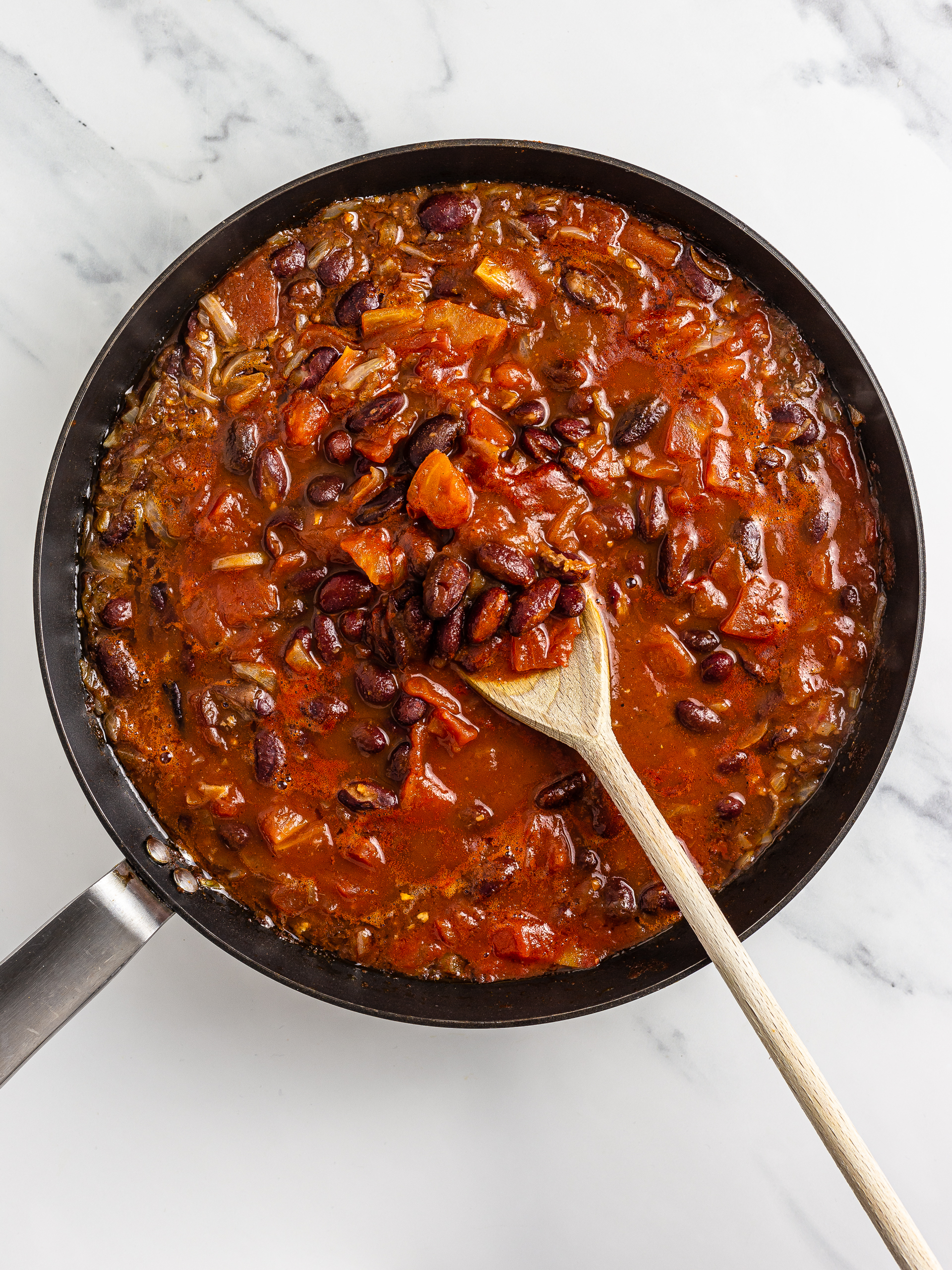 Step 4
Now, add fresh spinach and cook the stew for 5 more minutes, stirring occasionally.
If you want to use frozen spinach, check out tips section below for advice on how to do it.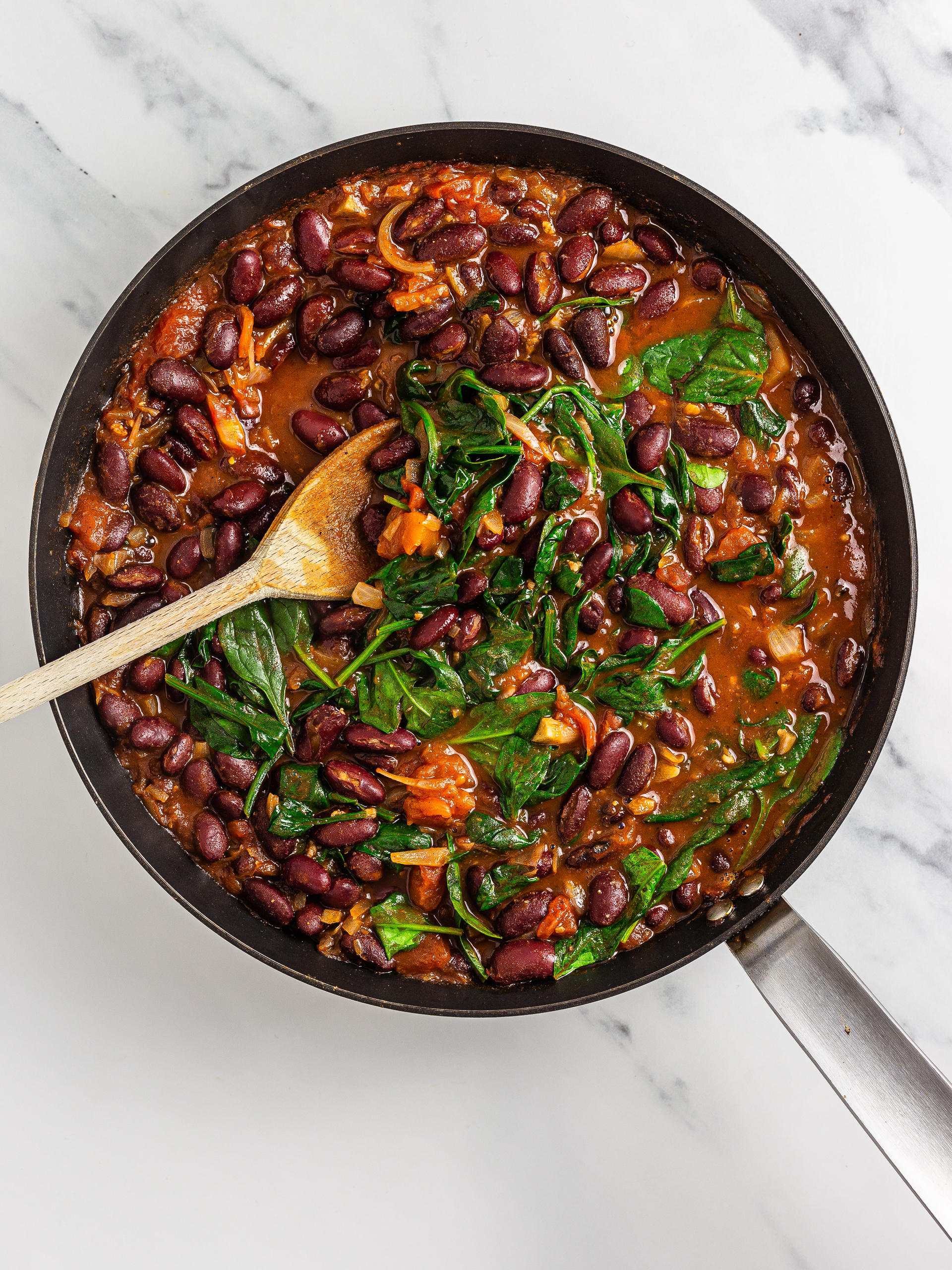 Step 5
Finally, drizzle the fasolia with lemon juice, stir well, and remove the pan from the heat.
Divide the bulgur wheat among bowls, top with the kidney beans stew, and garnish with freshly chopped parsley.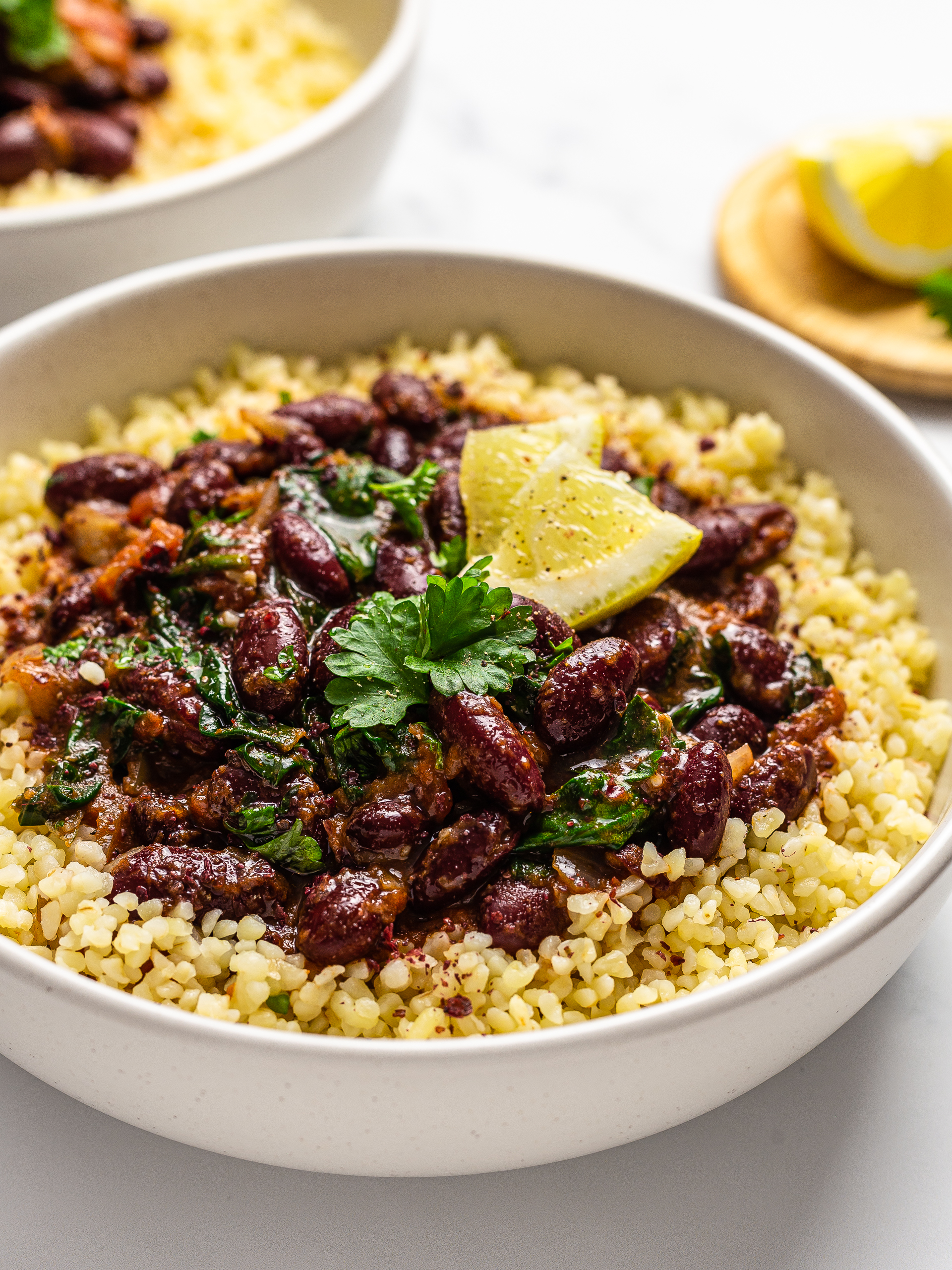 Tips
Instead of canned beans, you can use the dried ones. To do so, replace 380g (13 oz) of canned beans with 190g (6.7 oz) of dried red kidney beans. Soak them overnight in a bowl of water. Once ready, add them to the skillet following our recipe above, but increase the cooking time to 30-40 minutes, adding more water if the stew gets too dry.

You can replace sumac with a mix of lemon zest, black pepper, and lemon juice.

If you're using frozen spinach, leave them to thaw completely and then follow our recipe as above. Alternatively, you can add them frozen to the beans stew and cook them for at least 10 minutes.