These low-fat pumpkin muffins are definitely a must-try if you're following a diet plan or simply looking for a healthier way to prepare muffins.
Made with a batter of spiced pumpkin puree and mashed banana, these pumpkin muffins are vegan and sugar-free. They make the perfect sweet treat to enjoy at breakfast with our Goji berry smoothie or superfood spirulina latte.
Ground flaxseeds, mashed bananas, and pumpkin puree have binding powers and give moisture to the batter. Also, when combined with chopped dates, they make the muffins naturally sweet with no need for added sugars.
These easy pumpkin muffins are low calorie, only 135kcal per muffin, and they also have five times less fat and half the sugars compared to classic muffins.
If you love healthy recipes like this, make sure to subscribe to our newsletter and you'll get our newest recipes sent right into your inbox every week, plus our free ebook!
Ingredients
| | |
| --- | --- |
| Ground Flaxseeds | 2 tbsp |
| Water | 6 tbsp |
| Wholemeal Flour | 300 g |
| Jumbo Rolled Oats | 20 g |
| Cinnamon | 1/4 tsp |
| Ginger | 1/4 tsp |
| Baking Powder | 16 g |
| Baking Soda | 1 pinch |
| Salt | 1 pinch |
| Pumpkin Puree | 250 g |
| Bananas | 1/2 |
| Almond Milk | 200 mL |
| Vanilla Extract | 1 tsp |
| Dates | 100 g |
| Cacao Nibs (optional) | to taste |
Step 1
Before you start, make sure all the ingredients are at room temperature. Also, check out our baking guide for helpful tips and tricks!
To prepare the 'flaxegg', mix the ground flaxseeds with water and place in the fridge for 10 minutes or until they form a thick gel-like mixture.
In the meantime, combine the wholemeal flour, oat flakes, cinnamon, ginger, baking powder, baking soda, and salt.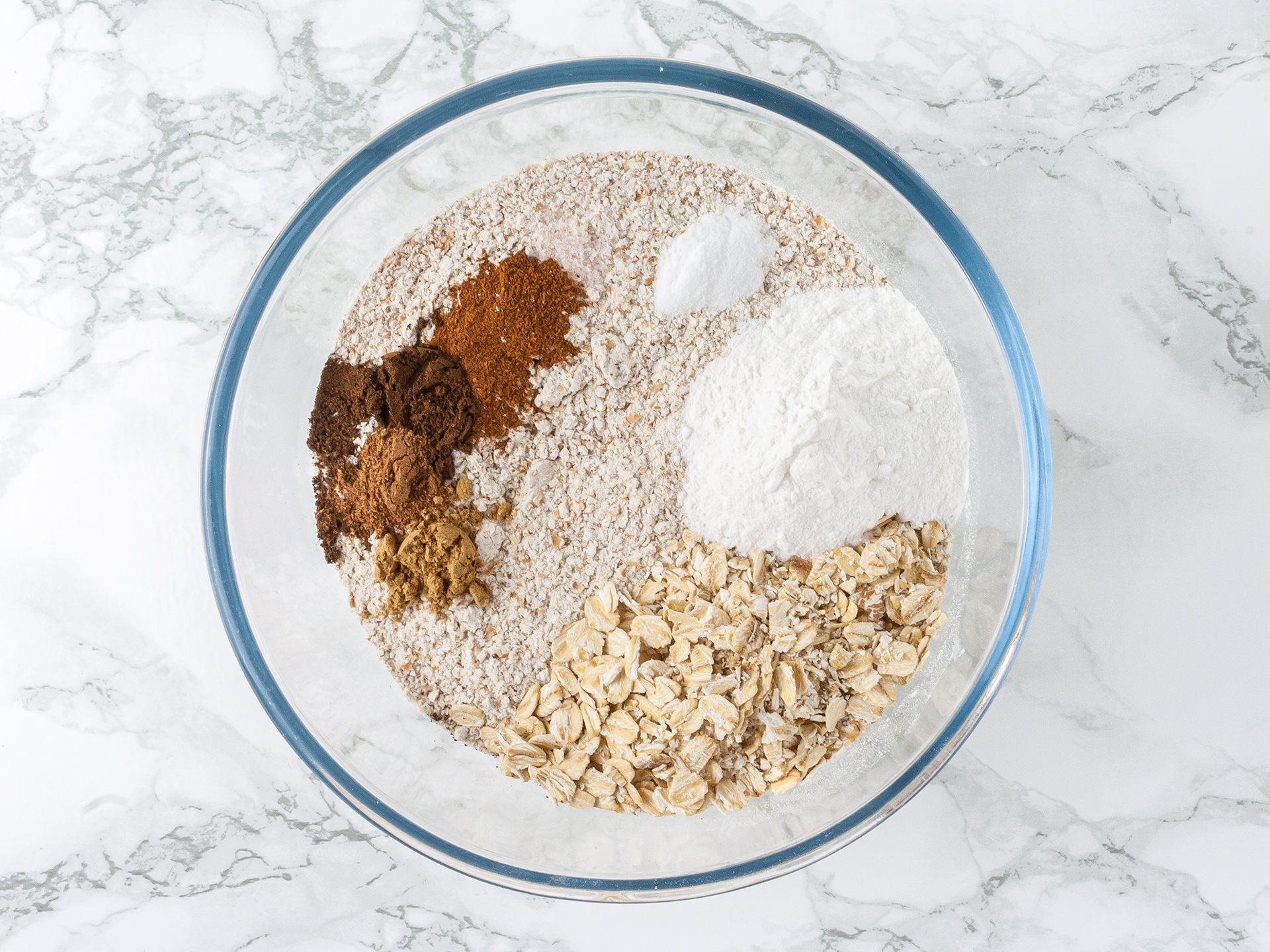 Step 2
In another bowl, mash the pumpkin puree with the banana and add almond milk, vanilla extract, finely chopped dates, and the prepared 'flaxegg'.
Then, incorporate the dry ingredients into the wet ones, a few spoonfuls at a time.
Avoid over-mixing, as this will result in chewy muffins.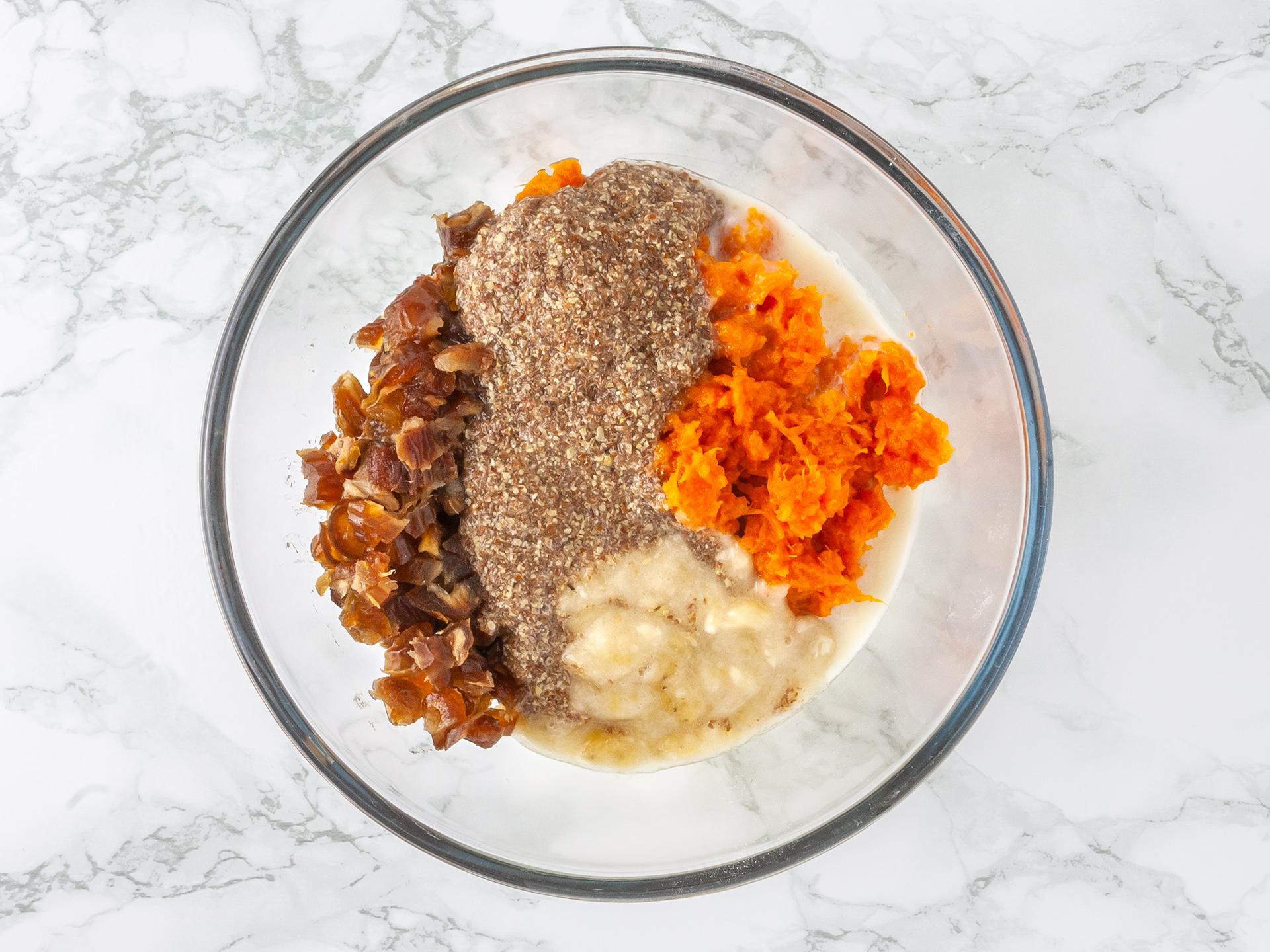 Step 3
Pour the pumpkin batter into a muffin tray lined muffins cases filling them at two-thirds.
If desired, you can sprinkle the top with some extra oat flakes and raw cacao nibs.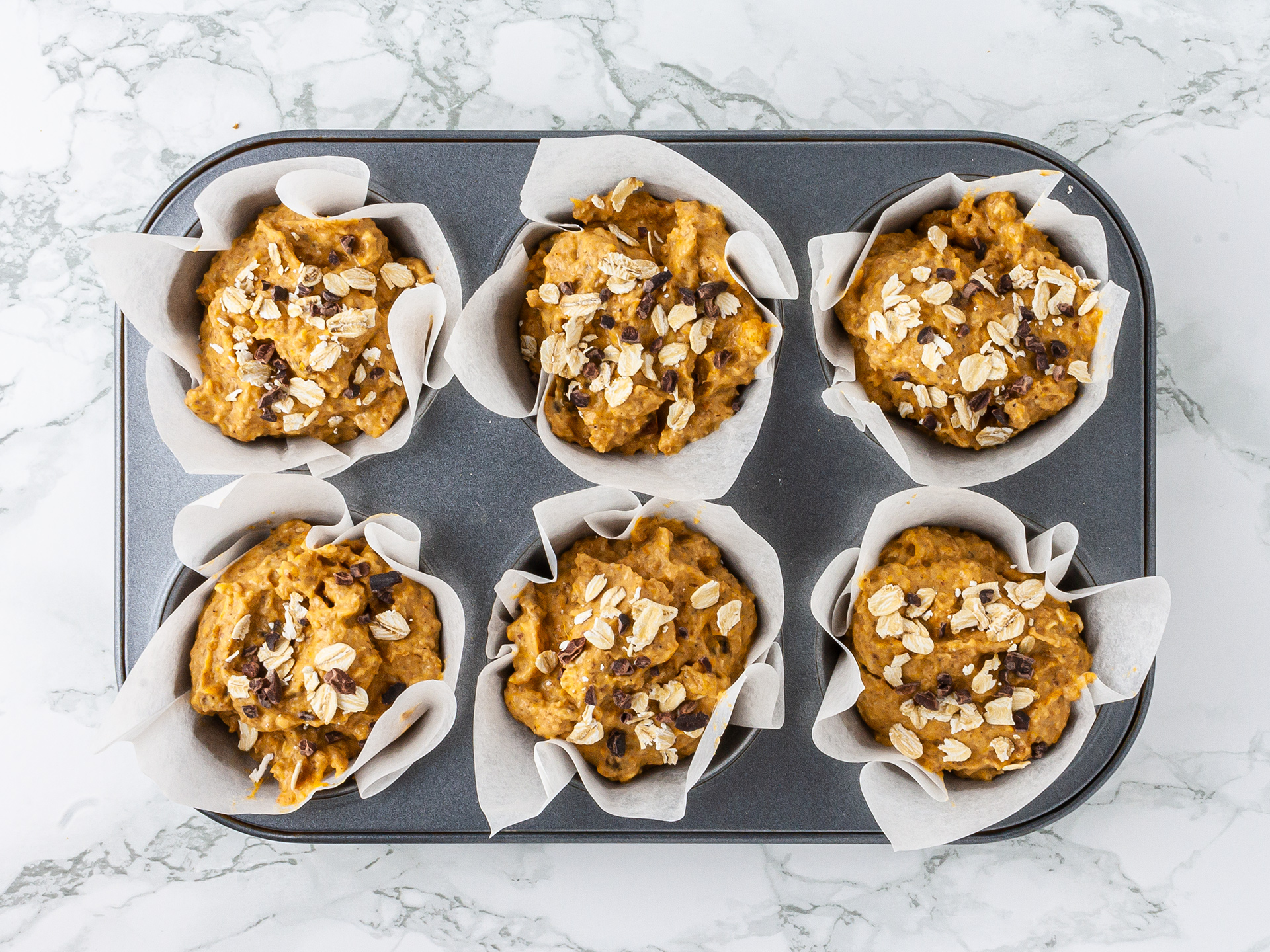 Step 4
Bake the muffins at 200°C (390°F) for 20 minutes or until a skewer inserted in the centre comes out clean.
Transfer the muffins over a wire rack to cool down.
Your healthy low-fat pumpkin muffins are ready, slice them in half and spread with raw honey or nut butter!
Enjoy them with our tasty Goji berry smoothie or warm spirulina latte.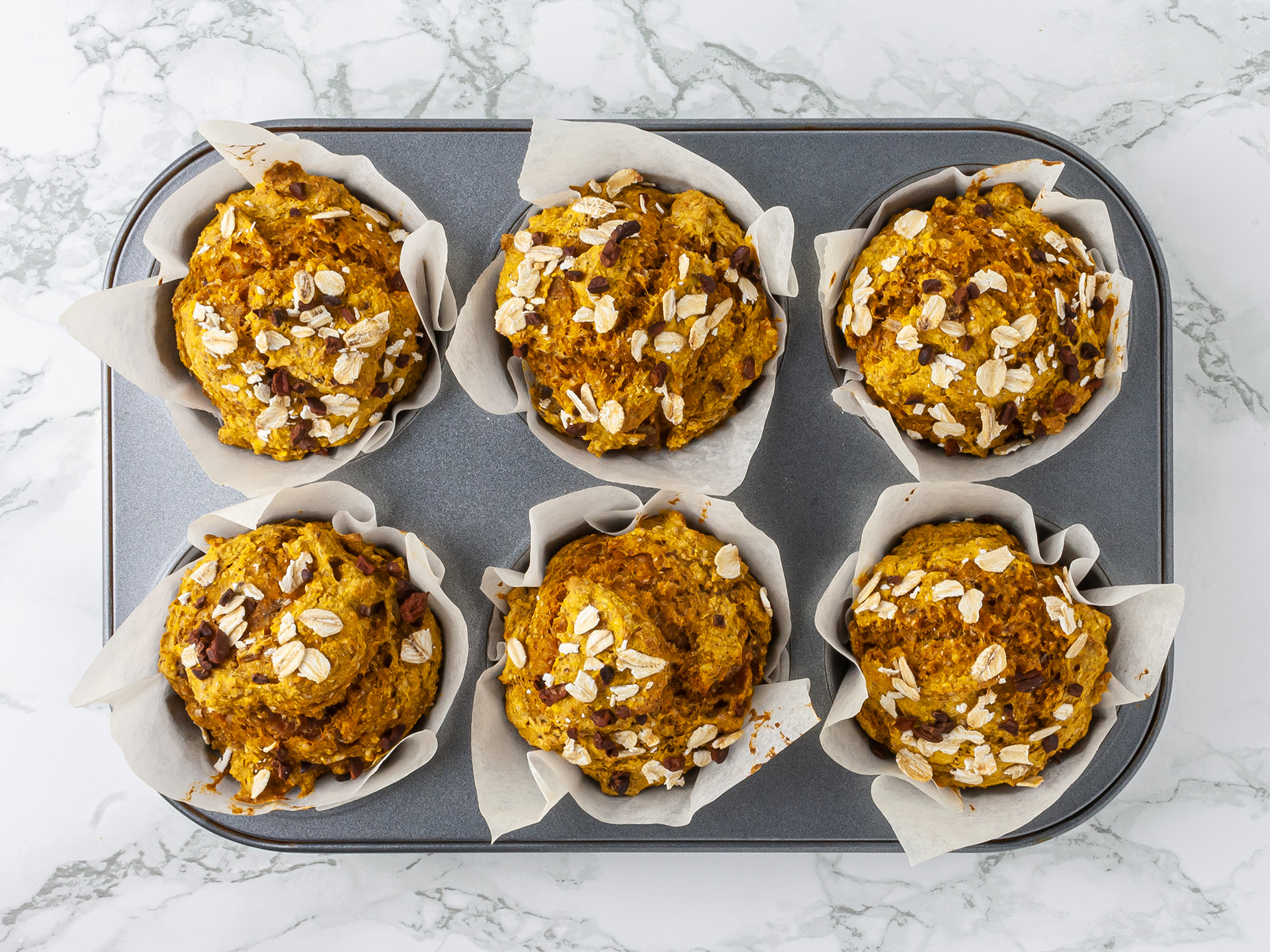 Tips
Soak the pitted dates in water before chopping them as they will be more easily incorporated in the batter and release more flavour.

You can spice up these muffins ever more by adding a pinch of nutmeg and allspice to the batter.