You may know that making mustard at home is extremely simple. What is surprising is just how much of a different outcome you can get by adding a few extra ingredients to the base of mustard seeds, water, and vinegar. And so today, we are going to prepare a pungent and spicy Bengali-style mustard, known as Kasundi mustard.
There are a few different ways to make Kasundi mustard. We will make ours using a mix of brown and yellow mustard seeds, apple cider vinegar, and with added turmeric, green chillies, and mangoes. If you want to try out different spices and fruits, we give you some suggestions in the FAQ section at the bottom of the page.
Kasundi mustard is spicier and stronger than the classic French or British-style sauces. Its unique taste is the result of 7-plus days of fermentation not only of the mustard seeds but also the other ingredients. This process of fermentation vastly enhances the flavour of the single ingredients, creating a pungent chutney-like paste.
If you like your sauces to stand out and enhance the flavours of your dishes, then this recipe is for you. The fruity and spicy tones of this mustard make it an ideal candidate for delicate cheeses, grilled meats, and fish. But don't stop there! Use it in salads, sandwiches, or spread it over vegan/meaty burger patties.
By the way, you don't have to wait seven days before you can enjoy this sauce. You may even have it a few hours after making it. But if you want to have it at the peak of its awesomeness, then the wait will be worth it.
NOTE: The default ingredients yield about 360g (12 oz) of mustard, and each serving consists of one 25g (1 oz) tablespoon of sauce.
Frequently Asked Questions
Which other spices or fruit can I add?

For this mustard sauce, we have used turmeric, mango, ginger, and fresh green chillies, but can surely experiment with more flavours.

Instead of mangoes, you can use plums or even olives for a more savoury taste.

As for the spices, fennel, coriander, cardamom, and cumin seeds are great options. Also, fenugreek, garlic powder, cloves, nutmeg, and cardamom pods are excellent choices to spice up and boost the aroma of this Indian relish.
Which type of mustard seeds should I use?

Mustard seeds come in three varieties: yellow, brown, and black. The first two are used to prepare sauces like mustard, while the black seeds are rather uncommon and mainly used as a spice in Indian cuisine.

Yellow seeds are the mildest and black seeds the most pungent, while the brown ones are somewhat in between.

For this recipe, we opted for a combination of yellow and brown mustard seeds, but you can also use just one of the two. The flavour will be spicer or milder depending on which one you decide to go with.
Can I use dried mangoes?

If you can't find fresh mangoes, then you can still prepare this kasundi paste using dried ones.

Dried fruit has lower water content, and it's higher in sugars, so we recommend you add about half of the amount you would use for fresh mangoes.

You can leave the dried mango to soak along with the mustard seeds and then blitz with the other ingredients. As the relish will be sweeter and denser, you can add more of the liquid ingredients, like vinegar, oil, or water.
How long does this mustard keep?

If you haven't stored the mustard in sterilised and sealed jars, then we recommend you consume this kasundi within one week. Keep it in an air-tight container or bottle in the fridge.

If instead, you want to store it for longer, you have to transfer the mango sauce into a sterilised jars and seal them. In our TIPS below, we explain how to do that in detail.

When properly stored, this homemade mustard can last for from six to eight weeks, but if you notice any off odour or mold then discard it to be one the safe side.
Ingredients
| | |
| --- | --- |
| Brown Mustard Seeds | 30 g |
| Yellow Mustard Seeds | 30 g |
| Cold Water | 50 mL |
| Apple Cider Vinegar | 50 mL |
| Unripe Mango (peeled) | 140 g |
| Turmeric | 1 tsp |
| Fresh Green Chillies | 2 |
| Fresh Ginger Root | 30 g |
| Vegetable Oil | 50 mL |
| Salt | 1/2 tsp |
Step 1
Soak the mustard seeds in water and apple cider vinegar for at least one hour, or even better overnight.
Keep the mixture covered with cling film at room temperature.
The seeds will swell and absorb all the liquids.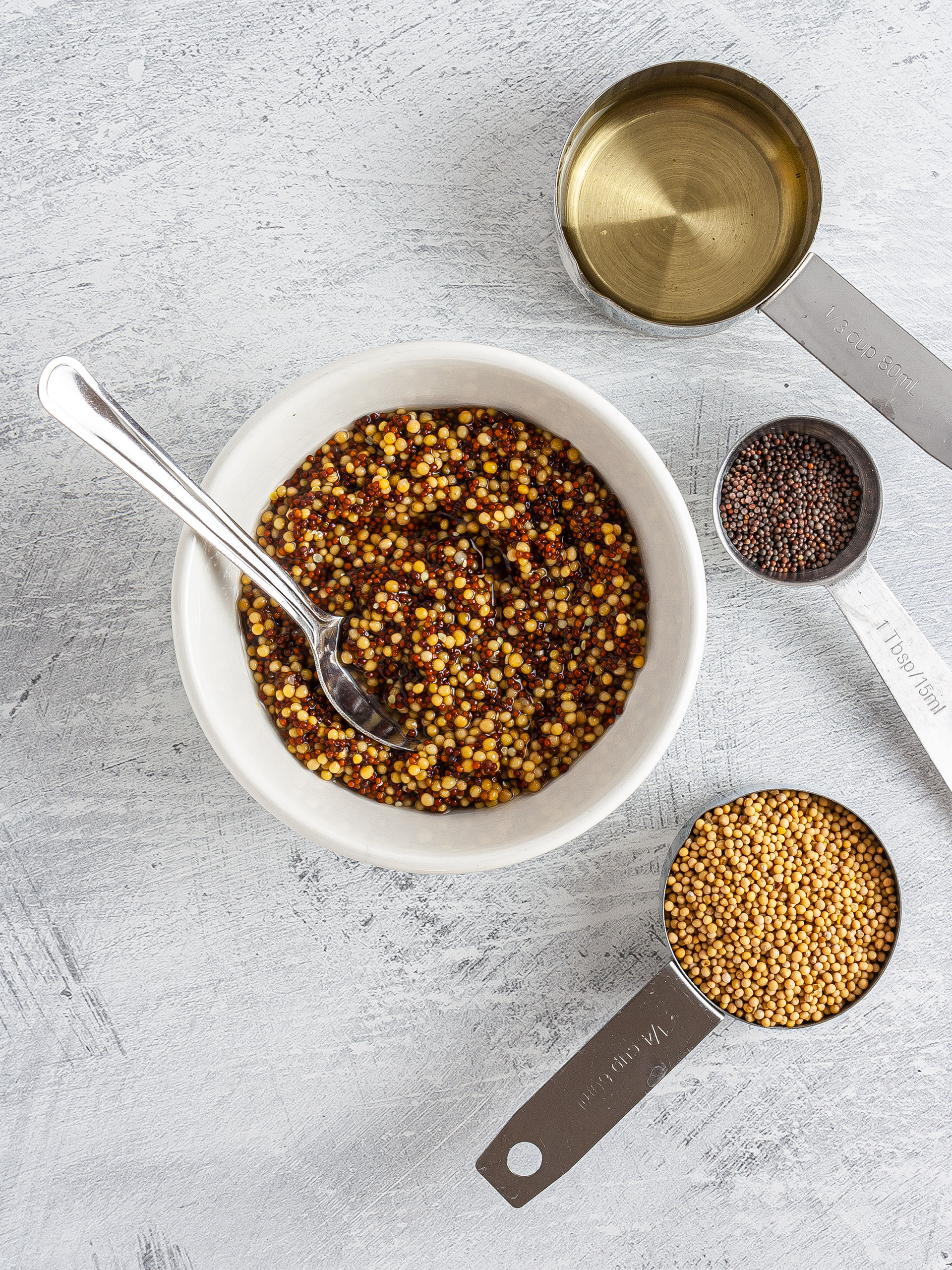 Step 2
In a food processor, blitz the soaked seeds with peeled mango, turmeric, fresh green chillies, grated ginger root, oil, and salt into a smooth paste.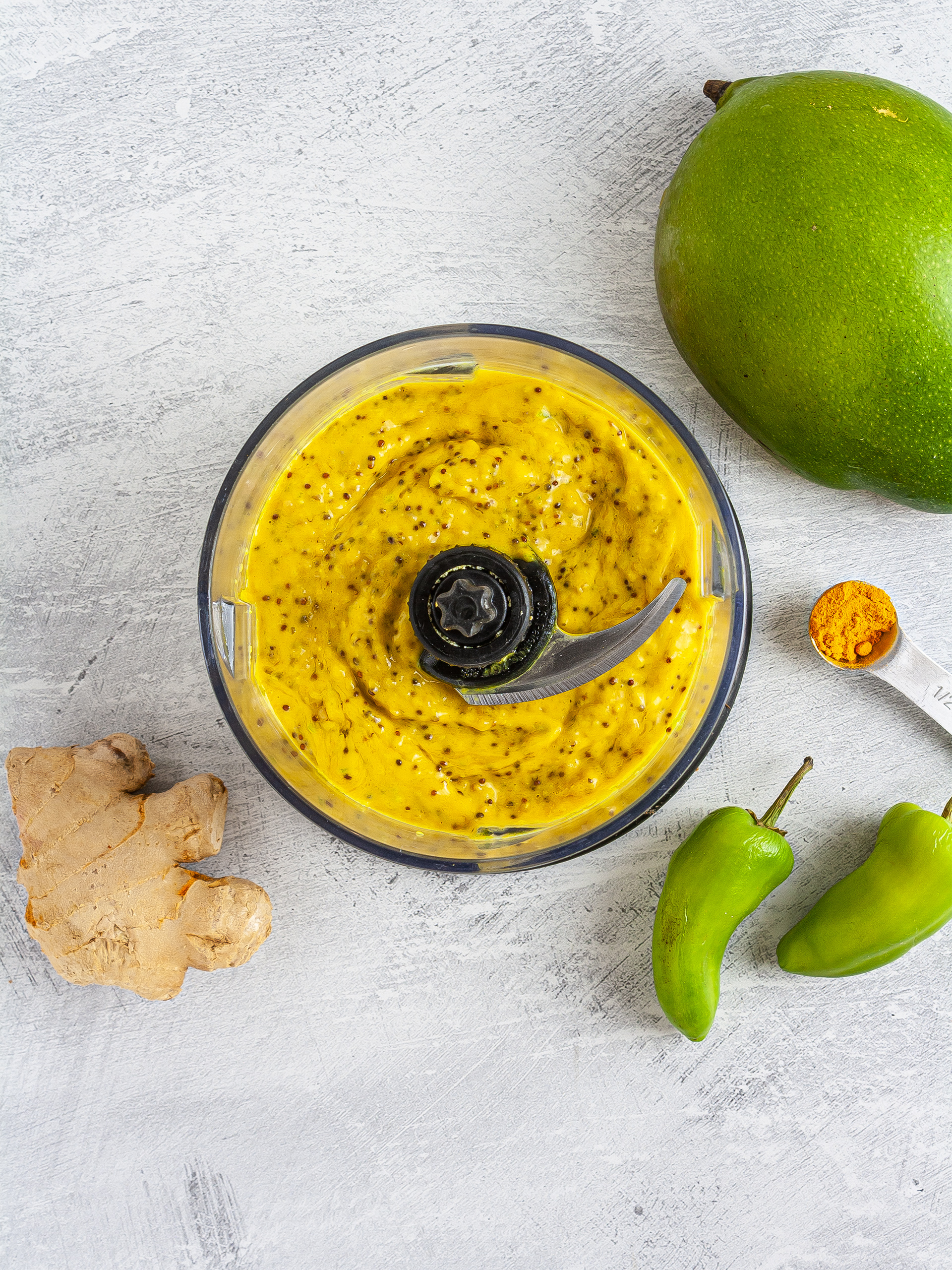 Step 3
Enjoy the mustard right away or transfer it into sterilized jars and leave to ferment for 3 to 7 days in the fridge.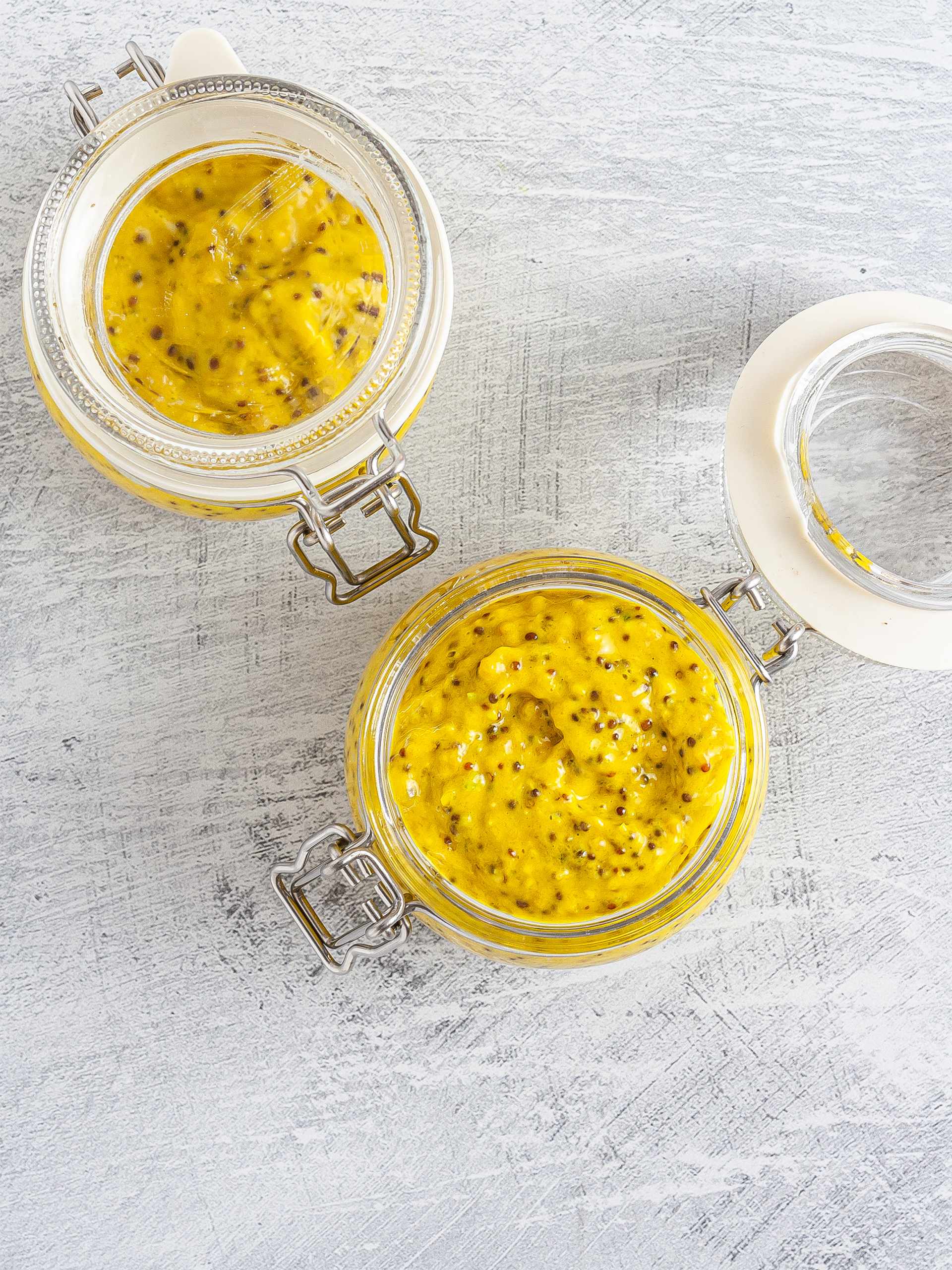 Tips
To sterilize the jars, dip them in boiling water for 15 minutes and leave to dry completely on a clean towel. Keep them in the heated oven until you're ready to fill them. After pouring the sauce, screw the lid, and quickly flip the jar upside down to remove excess air. After about 30 minutes, you can then flip it back up and store the mustard away in the fridge.