Like coleslaw? Then, give our crunchy and creamy Mexican coleslaw recipe a go! It's low in calories but some very flavourful—ready in just 15 minutes!
For this salad, you'll need just a bunch of fresh vegetables: white cabbage, red peppers, carrots, and red onions. Simply shred them into small bits and toss them with cilantro and our lime avocado dressing.
The classic Dutch coleslaw usually contains cabbage, carrots, and a rich dressing with mayonnaise and mustard. To give our recipe a Mexican spin, we added two common ingredients in Mexican cuisine: red peppers and fresh coriander.
Moreover, we swapped mayo with a healthier vegan dressing that combines mashed avocado with lime juice and maple syrup. It's super creamy, with a lovely sweet-and-sour finish! You could also use our vegan mayo with cashews instead of avocado or make a coconut-yogurt-based dressing if you prefer.
What we love about this coleslaw recipe is that it can be made ahead of time. Adding lime juice to the avocado will prevent the dressing from oxidising and browning while stored away. This way, you can make a big batch of this Mexican salad and keep it in the fridge for quite a few days without worries.
And of course, this crunchy coleslaw is the perfect side in a Mexican-themed dinner: you can stuff it in tacos, burritos, and tortilla wraps or serve it as a side with fajitas, jackfruit quesadillas, or shrimps in culichi salsa.
But don't stop here!
This vegan slaw is also fantastic in sandwiches and vegan burgers, or you can turn it into a main dish, adding high-protein toppings like lemon tofu bites and lentil nuggets.
Ingredients
Dressing
Ripe Avocado

1

Limes

2

Maple Syrup

2 tsp

Salad
White Cabbage

200 g

Red Onions

1

Red Peppers

1

Carrots

2

Fresh Cilantro

10 g

Pickled Jalapeños (optional)

to taste
Step 1
Let's start by preparing the vegetables.
Shred the white cabbage, thinly slice the onions and red peppers, and julienne the carrots.
Then, finely chop the coriander.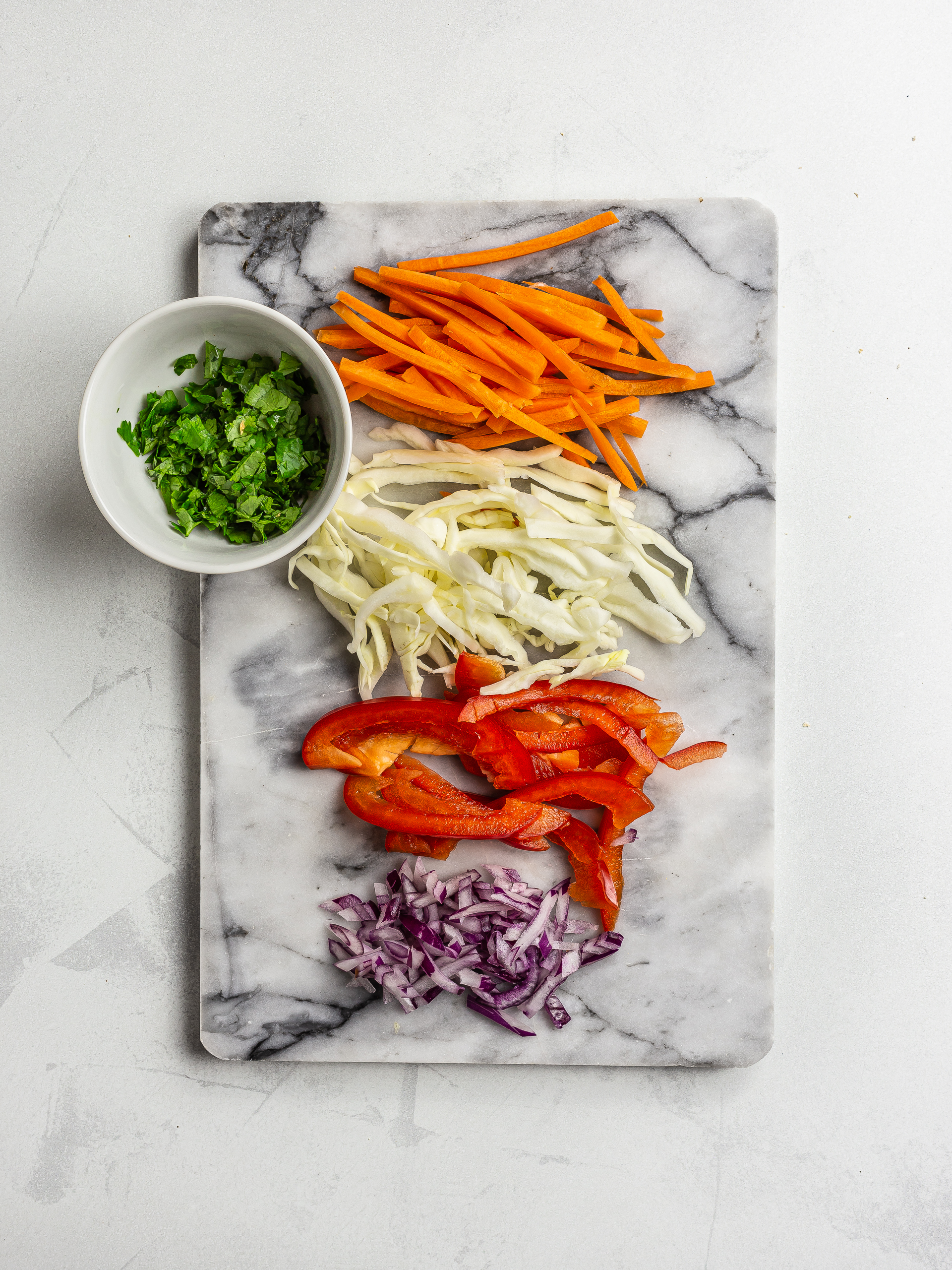 Step 2
Next, add ripe avocado, lime juice, maple syrup, and a pinch of salt to the blender.
Blitz all until smooth and creamy.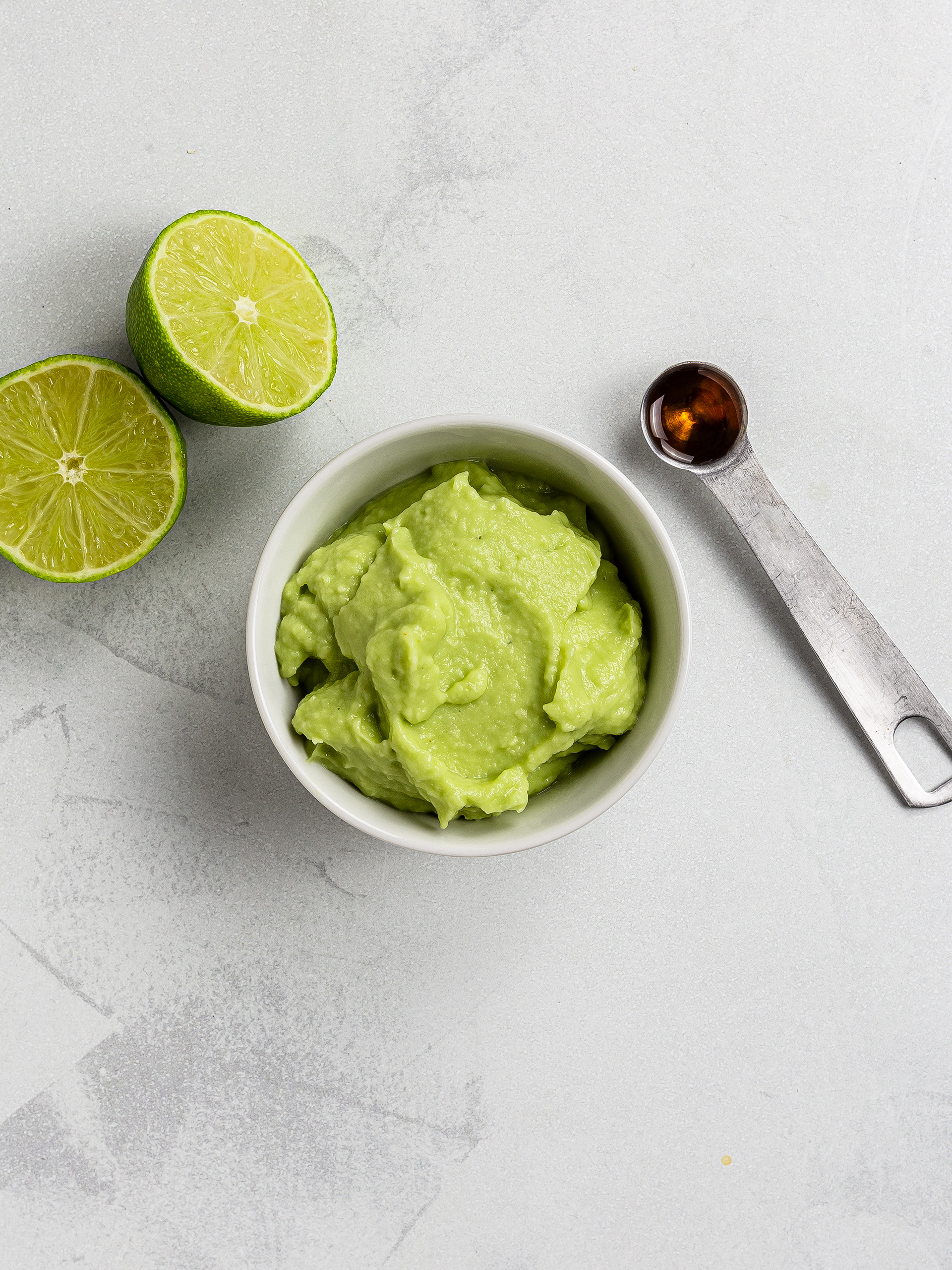 Step 3
Finally, toss the prepared vegetables with the avocado mash in a bowl.
Divide the slaw among plates and top it with sliced jalapeños if you're using them.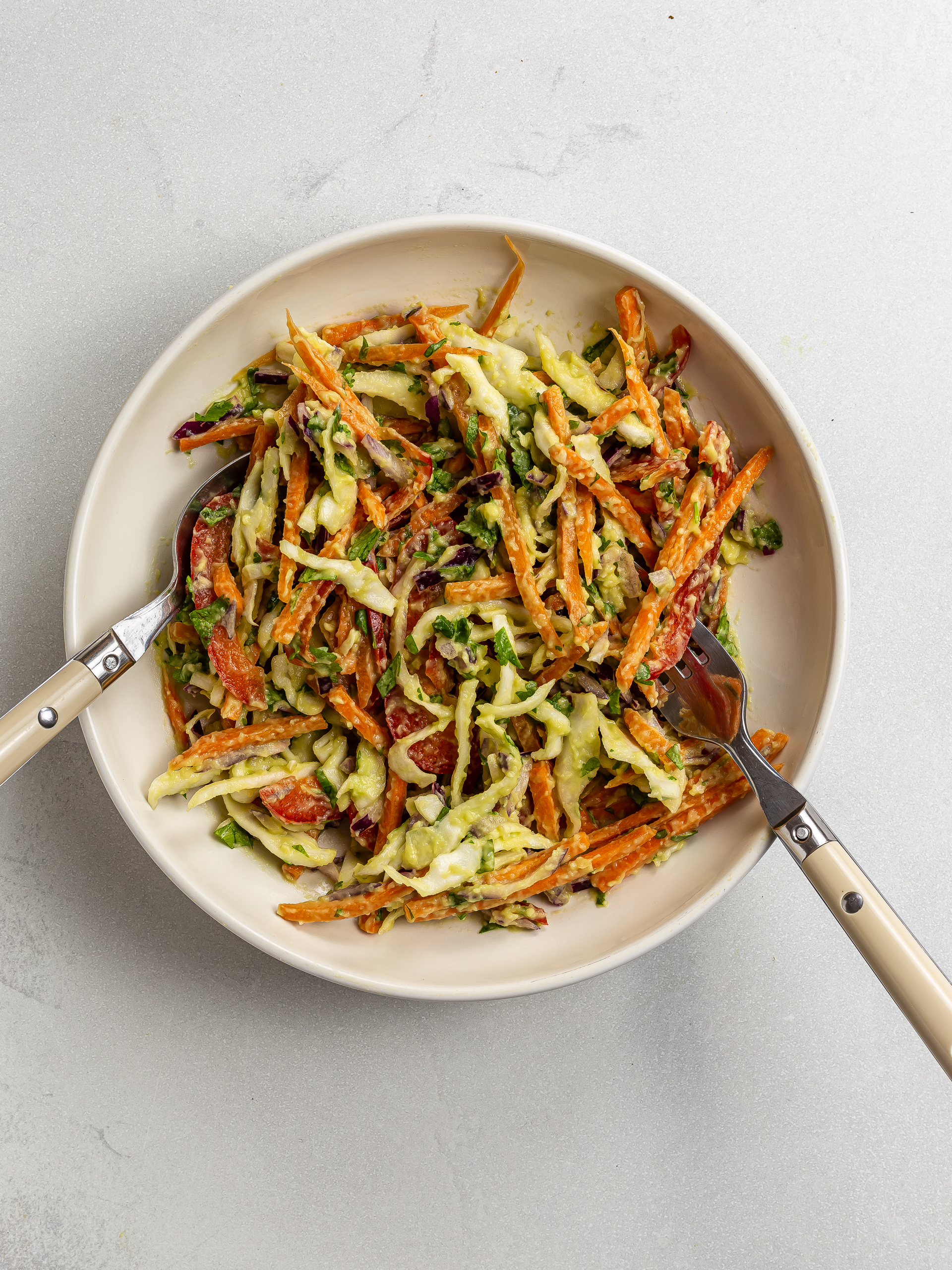 Tips
You can swap white cabbage with red cabbage for extra antioxidants.

You can spice up the avocado mash with 1/2 tsp of garlic powder, chilli powder, and ground cumin.

Store the slaw in an air-tight container in the fridge for up to a week.