Are you looking for a healthy smoothie that helps you lose weight? This raspberry kale smoothie is all you need: it's low in carbs and calories yet filling and bursting with nutrients!
The ingredients we selected for this recipe are the best you could possibly have in a smoothie, both for weight loss and optimal health.
We used a combo of low-sugar raspberries, high-fibre kale and beets, plus soy yogurt and flaxseeds for proteins and healthy fats.
That's all you need to feel satiated for longer and eat less, and at the same time, nourish your body with health-giving vitamins, minerals, and antioxidants.
If you want to lose weight, low-calorie foods like berries, greens, and yogurt are your best friends.
You can eat more of them and feel full while keeping the calories in check.
And don't forget fibres, undigestible carbs that curb hunger, boost metabolism, and prevent cravings. This weight loss smoothie packs a whopping 12 grams of them!
If you want to take this smoothie to the next level goodness, we'll give you the option to add in some mighty superfoods, like spirulina, green tea matcha, and açai berry powder.
So, how do you make this kale smoothie?
We actually prepared two smoothies, one green with raw kale and one pink with raspberries and beets. Then, we layered them in a glass for a pretty finish!
You could blitz all together if you like, but the smoothie will look brownish and not very pretty. A colourful layered smoothie, instead, is much cuter!
Now, it's time to get your trusty blender ready and get this raspberry kale smoothie done!
And for more weight loss kale smoothie ideas, check out this date ginger kale smoothie or watermelon kale smoothie recipe!
Frequently Asked Questions
Can I make raspberry kale smoothie without yogurt?

You can certainly make this smoothie without yogurt. We used yogurt because it's a great low-carb alternative to bananas to make weight-loss smoothies creamy.

You can replace yogurt with:

silken tofu

nut butter

avocado — perfect for the kale green smoothie layer

frozen berries — perfect for the raspberry layer

non-dairy milk — but you'll get a runnier smoothie.

If you're okay with using bananas, you can swap 150 grams of yogurt with a medium banana.
How can I boost this smoothie with extra nutrients?

In our recipe, we suggest adding spirulina, matcha powder, or açai berry powder, two superfoods with heaps of nutrients and antioxidants.

If you need a protein boost, then consider adding a spoonful of peanut butter or a scoop of protein powder, like pea or hemp protein powder.

Chia seeds are another excellent add-on for this kale raspberry smoothie. They provide a good dose of healthy fats, proteins, and fibres.

If you want to learn more about making healthy smoothies, check out our article on how to make a balanced smoothie.
Can I use frozen raspberries to make this smoothie?

If fresh berries are out of season, you can use frozen raspberries to make this smoothie. Simply whizz them with the other ingredients in the blender.

Blended frozen berries are denser and will make your smoothie creamy without using bananas — perfect to keep this weight-loss smoothie low in carbs.

And on top of that, using frozen raspberries in smoothies is an excellent way to make a refreshing drink for summer.
Is this raspberry kale smoothie good for weight loss?

Prepared with low-carb, low-fat, and high-fibre ingredients, this kale smoothie is incredibly healthy and makes an excellent weight-loss recipe.

In just 215 calories, a glass of this kale smoothie covers 40% of your RDI for fibres and 25% for proteins.

Fibres and proteins keep you full for longer and curb hunger, thus making it easier for you to stick to your weight loss goal.
Can I have this kale and raspberry shake if I am diabetic?

Our kale and raspberry smoothie is suitable for people who have diabetes and those on a low-sugar/low-carb diet.

All the ingredients we used are low in carbs and sugars and have a low glycemic index (GI). Moreover, we have not added any sweeteners to the smoothie.
How do you blend raw kale into a smoothie?

Before adding raw kale to a smoothie, you have to trim off the hard stems first, chop the leaves, and then squeeze and massage them to soften them.

By doing so, kale becomes less tough and bitter, and it's also easier to blend into a smoothie and digest.

Both curly kale and black Tuscan kale can be used for green smoothies, but Tuscan kale is more tender, making it a slightly better option.
Ingredients
Optional Add-Ons
Spirulina or Matcha Powder

1 tsp

Açai Berry Powder

1 tsp

Others
Raw Kale (curly kale or Tuscan black kale)

60 g

Grated Ginger Root

1 tsp

Ground Flaxseeds

2 tbsp

Soy Yogurt (vanilla or coconut flavour)

300 g

Soy Milk (or almond milk)

200 mL

Raspberries (fresh or frozen)

160 g

Beets (raw or pre-cooked)

100 g
Step 1
You'll prepare a green kale smoothie first and then a pink raspberry smoothie to layer on top.
Start with the kale: remove the hard stems and chop the leaves.
Then, squeeze and massage the leaves to soften them and add them to a powerful blender or food processor.
Add grated ginger, flaxseeds, 150 g of yogurt and 100 mL of milk, plus spirulina or matcha if using them.
Blitz all for a minute, scraping the ingredients off the edges of the blender a few times between pulses.
Make sure the kale is finely blended and you have a uniform green smoothie.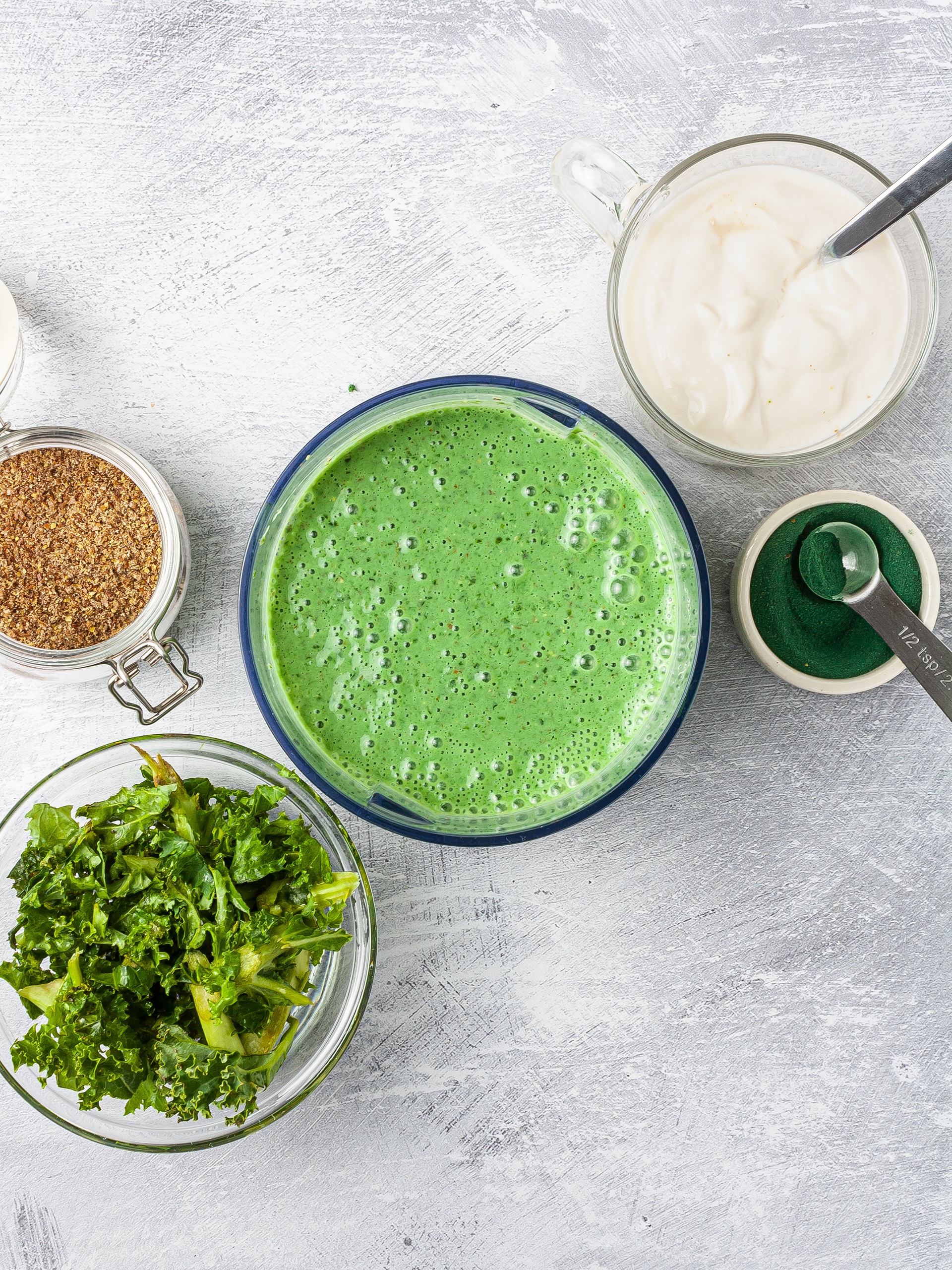 Step 2
Divide the kale smoothie between serving glasses, jars, or tight-seal bottles.
In a clean blender, blitz the raspberries with beets and the remaining 150 g of soy yogurt and 100 mL of milk, plus the acai berry powder if using it.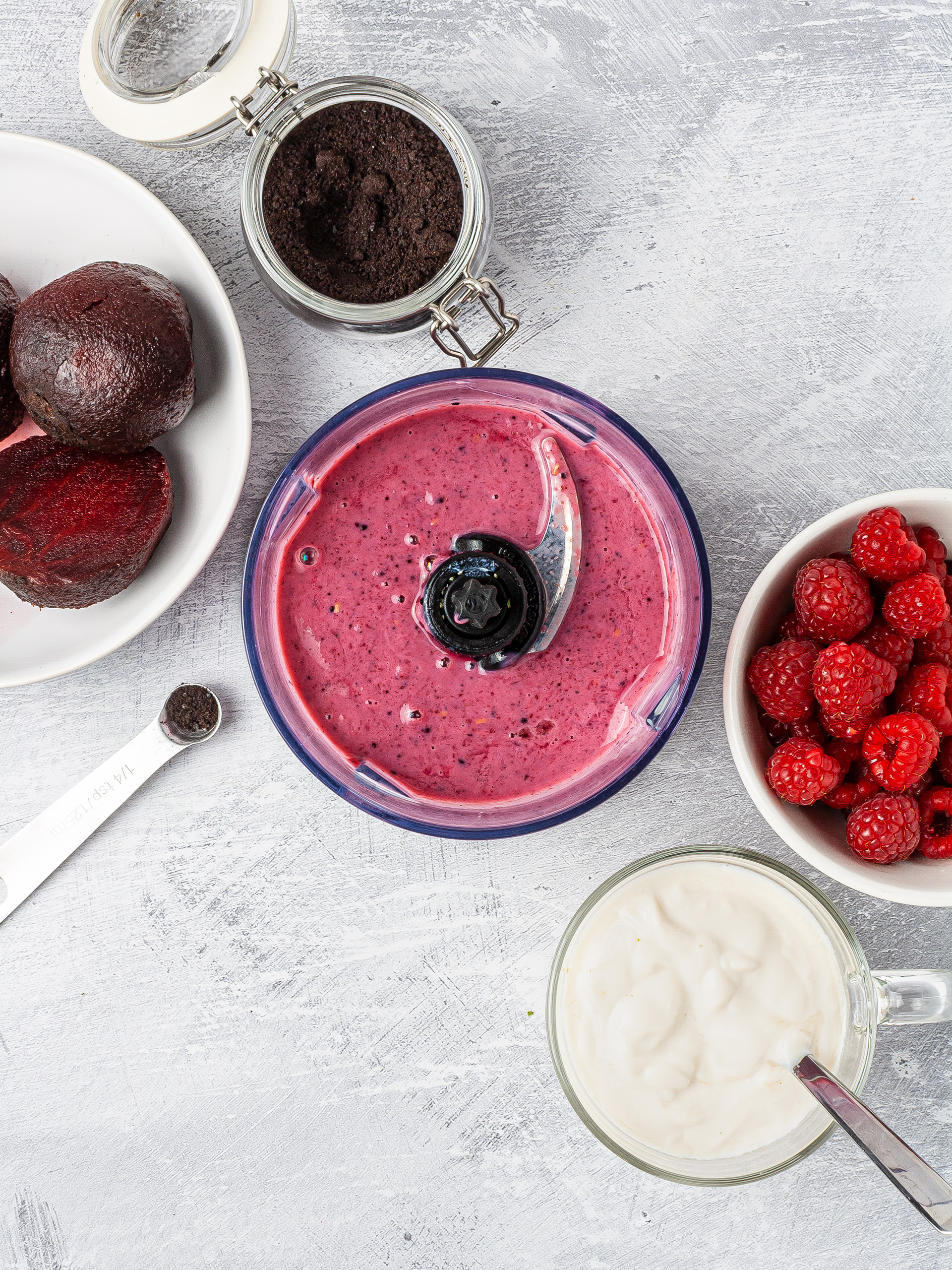 Step 3
Divide the raspberry smoothie between glasses, layering it over the kale smoothie base.
Your healthy, low-carb kale raspberry smoothie is ready!
You can add a sweetener like honey, maple syrup, or zero-sugar erythritol if you find the smoothie too bitter for your taste.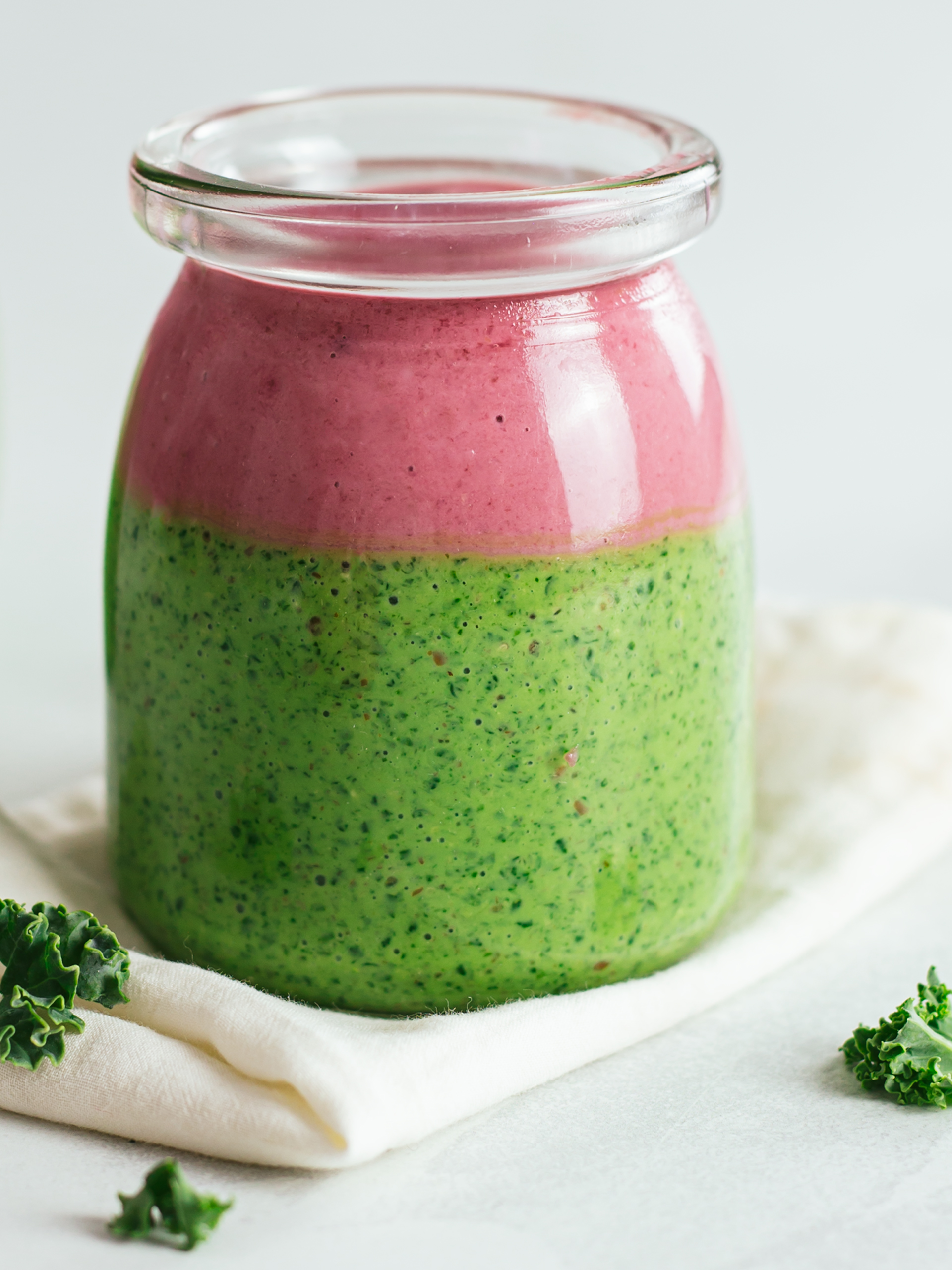 Tips
Ingredient swaps
You can substitute ground flaxseeds with chia seeds which are also rich in fibres, proteins, and omega-3. Alternatively, use a spoonful of nut butter, like almond or peanut butter.

Soy-free option: swap soy milk with almond milk, which is also low-carb, and soy yogurt with coconut milk yogurt or low-fat dairy yogurt.

You can try this green smoothie recipe with fresh spinach: they're easier to blitz and have a milder taste than kale — and they come with awesome health benefits too.
How to store
This kale smoothie is best served on the same day, but you can store it in the fridge for up to 2 days, sealed in a jar or bottle.