This spicy lentil black bean burger bursts with flavour and nutrients and is a mouthwatering vegan alternative to the regular beef burger.
Our delicious lentil fritters are prepared with black beans, brown lentils, carrots, and a blend of tasty spices, including paprika, cumin, and chillies. They are then served in a seeded bun and topped with a crunchy red cabbage slaw seasoned with tahini paste and sesame.
We have added ground oat and flaxseeds in the patty mixture to help the burgers stick together and make them totally gluten-free. Moreover, oat and flaxseeds are high in fibres and, in combination with beans and lentils, load each burger with almost 80% of your recommended daily intake of fibres.
Also, being meat and dairy-free, this recipe has almost ten times less saturated fats than the regular burger, and it's cholesterol-free, making it an excellent choice for those who want to cut on fats and calories or are on a specific diet.
If like us, you enjoy experimenting with new ways to make recipes healthy and allergy-free, subscribe now to our newsletter, and you'll get our tasty weekly recipes plus our free ebook right into your inbox!
Ingredients
Burger
Red Cabbage

65 g

Gluten-Free Bread Rolls

2

Lettuce

20 g

Dressing
Tahini

1/2 tbsp

Lemon

1

Vegan Patties
Onion

45 g

Black Beans (canned/cooked)

75 g

Brown Lentils (canned/cooked)

65 g

Parsley

1 tbsp

Garlic Clove

1

Oat Flour

1 tbsp

Ground Flaxseeds

1 tbsp

Paprika

1/2 tsp

Chillies

1/2 tsp

Cumin

1/4 tsp

Cayenne Pepper

1/4 tsp

Grated Carrots

45 g
Step 1
Drain and rinse the canned black beans and lentils.
In a food processor, add onions, beans, lentils, carrots, and fresh parsley.
Blitz the ingredients until you have a chunky paste.
You can add splash of water if the mixture is too dense and doesn't blend well.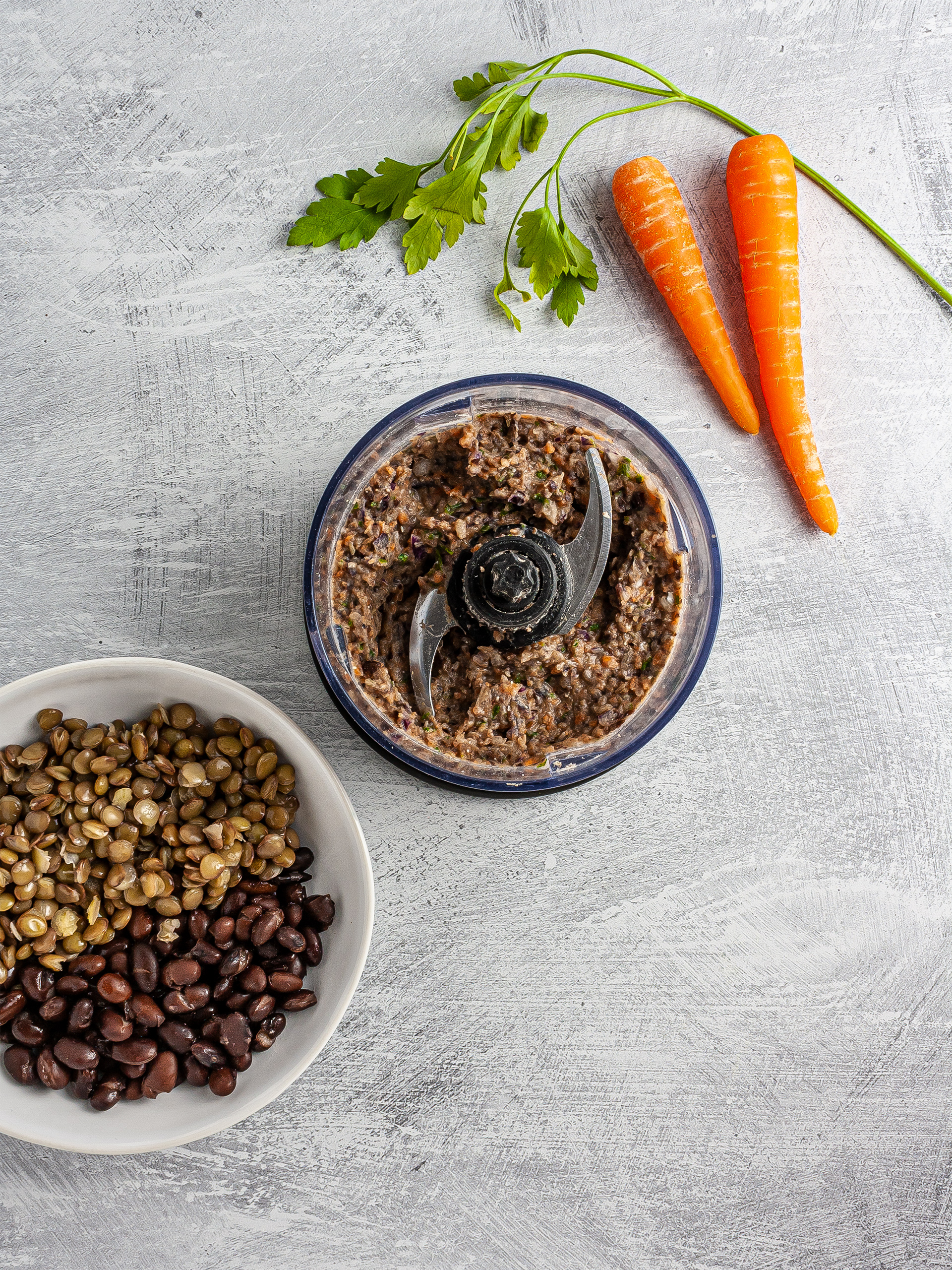 Step 2
You can make your oat flour by blitzing oat flakes for a minute until they're finely ground.
Now, transfer the lentil mixture to a mixing bowl and incorporate oat flour, ground flaxseeds, paprika, chilli flakes, cumin, and cayenne pepper. Then, season with salt and give it all a good stir.
If the burger dough is too loose, add oat flour or if too dry, a bit of water.
If you have time, keep the mixture in the fridge for 10 minutes as, by doing so, it will be easier to shape into patties.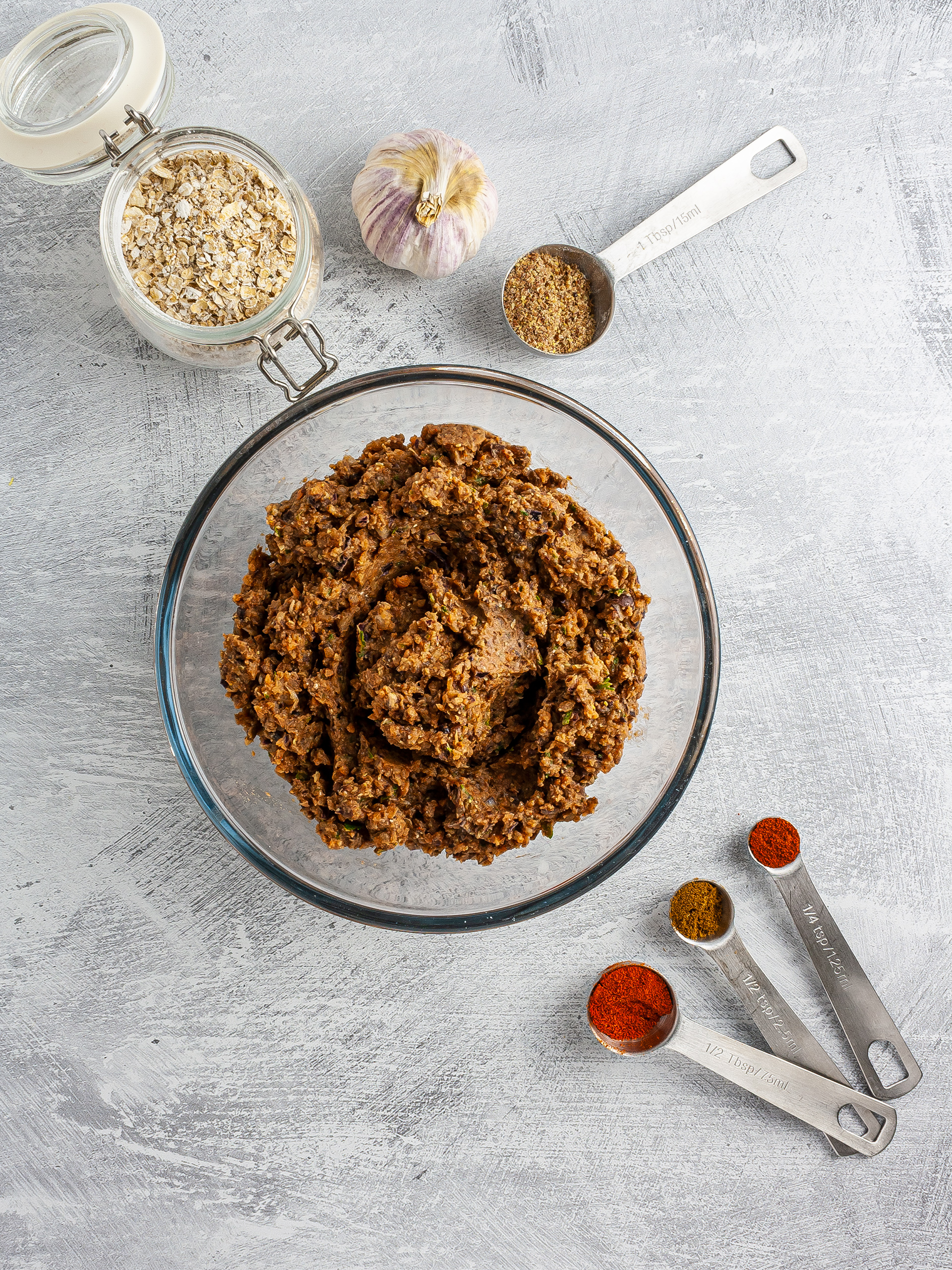 Step 3
Scoop a handful of lentil dough, roll it in the palm of your hands and then flatten it down over a baking tray. Give the patty a nice round shape, and repeat this step until you have used all the mixture.
Now, bake the burgers for 20 minutes at 235°C (455°F) for static ovens or at 215°C (420°F) for fan ovens.
These vegan patties will have a lovely crust, but they will be slightly soft inside so handle them carefully.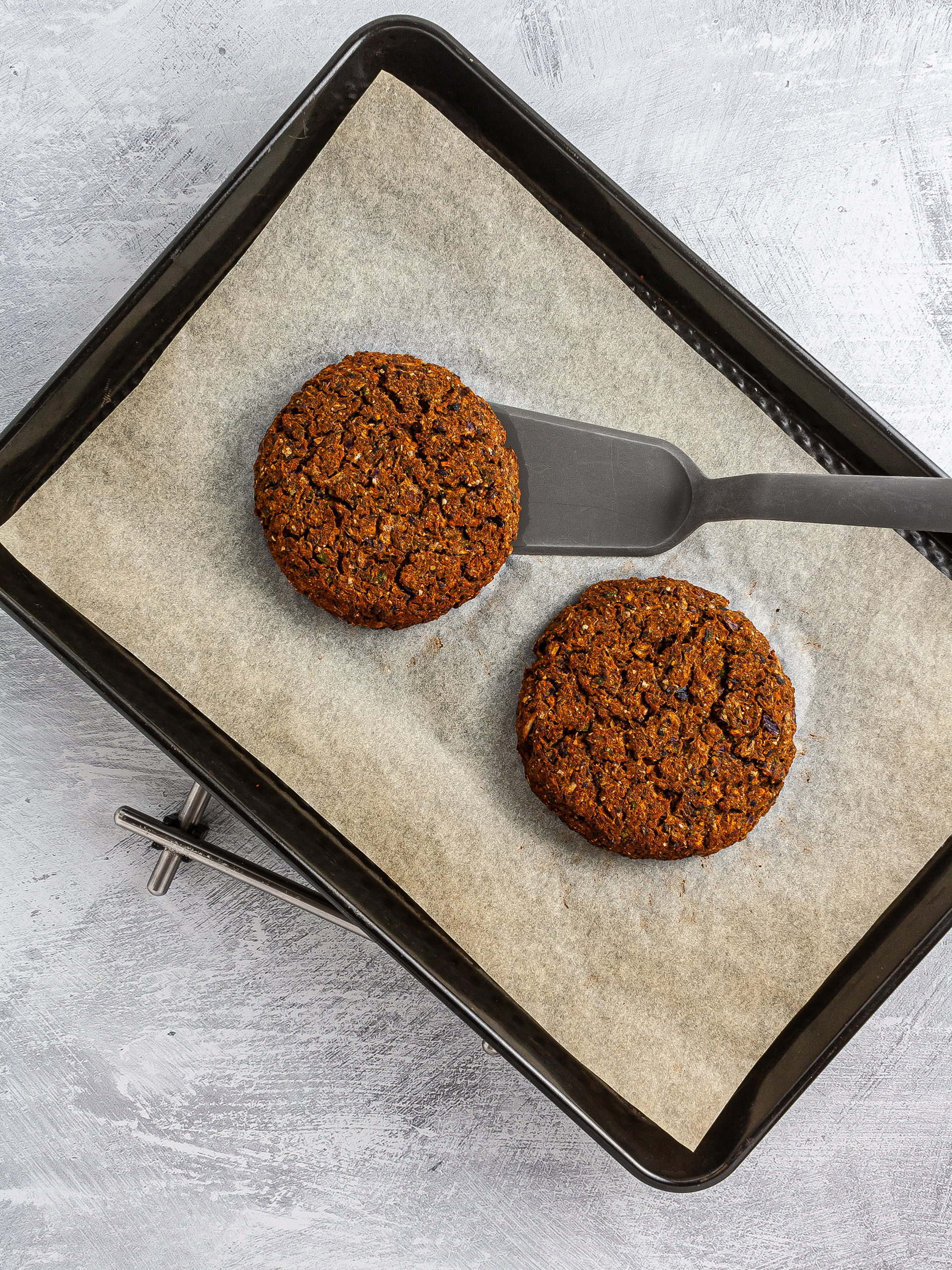 Step 4
Meanwhile, let's prepare the slaw and dressing.
Thinly shred red cabbage and put it aside.
In a mixing bowl, combine tahini paste with lemon juice and stir well until the ingredients form an emulsion.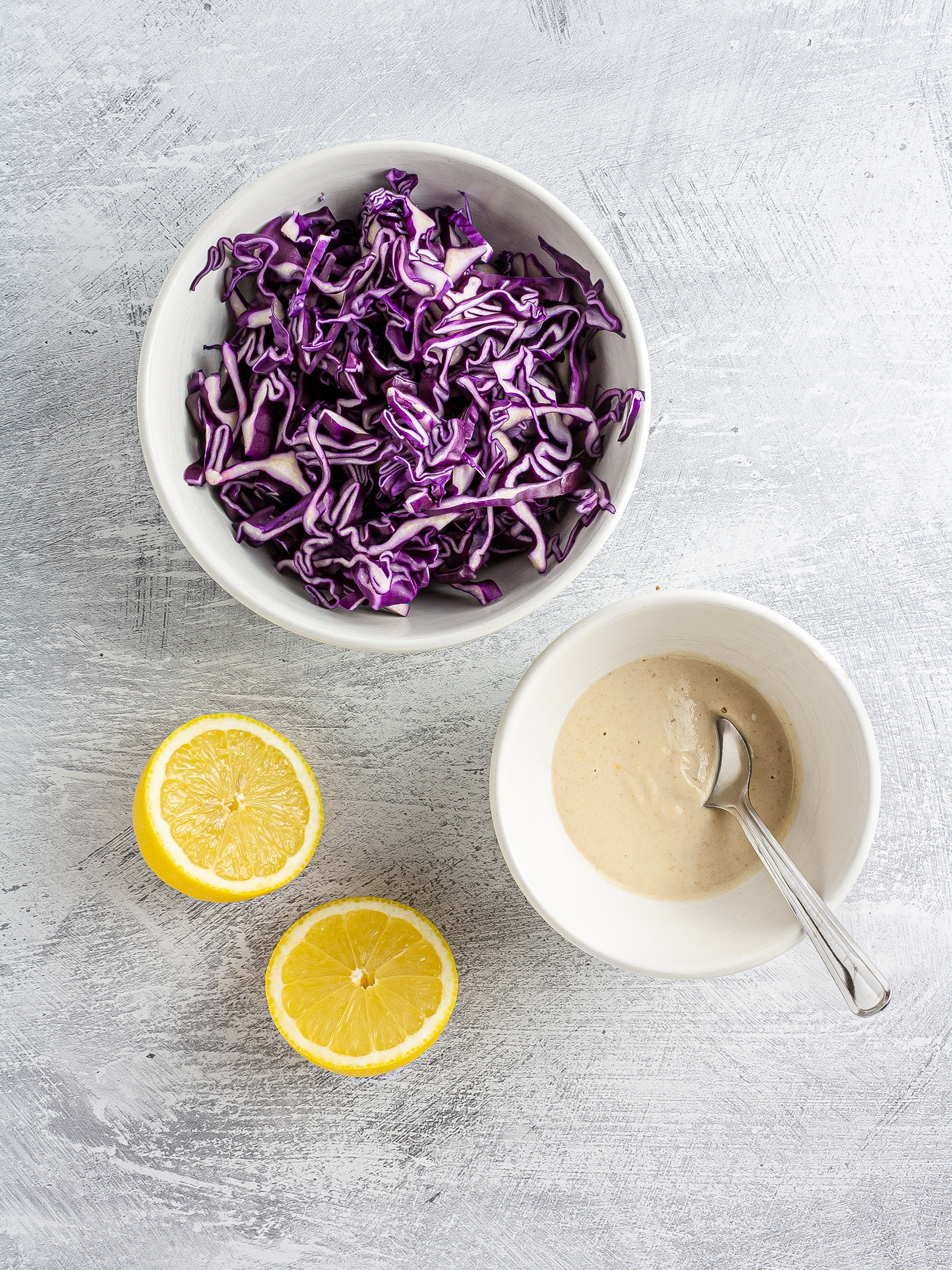 Step 5
Now, it's time to assemble the burgers.
Slice the bread rolls and lay a handful of lettuce over the bottom half of the bun.
Then, place the burger over the salad, top it with the lemon tahini dressing and red cabbage.
Finally, cover the burger with the top half of the bread roll and serve.
These lentil black bean burger pair wonderfully with a cup of sweet potato chips and a fresh glass of lemonade!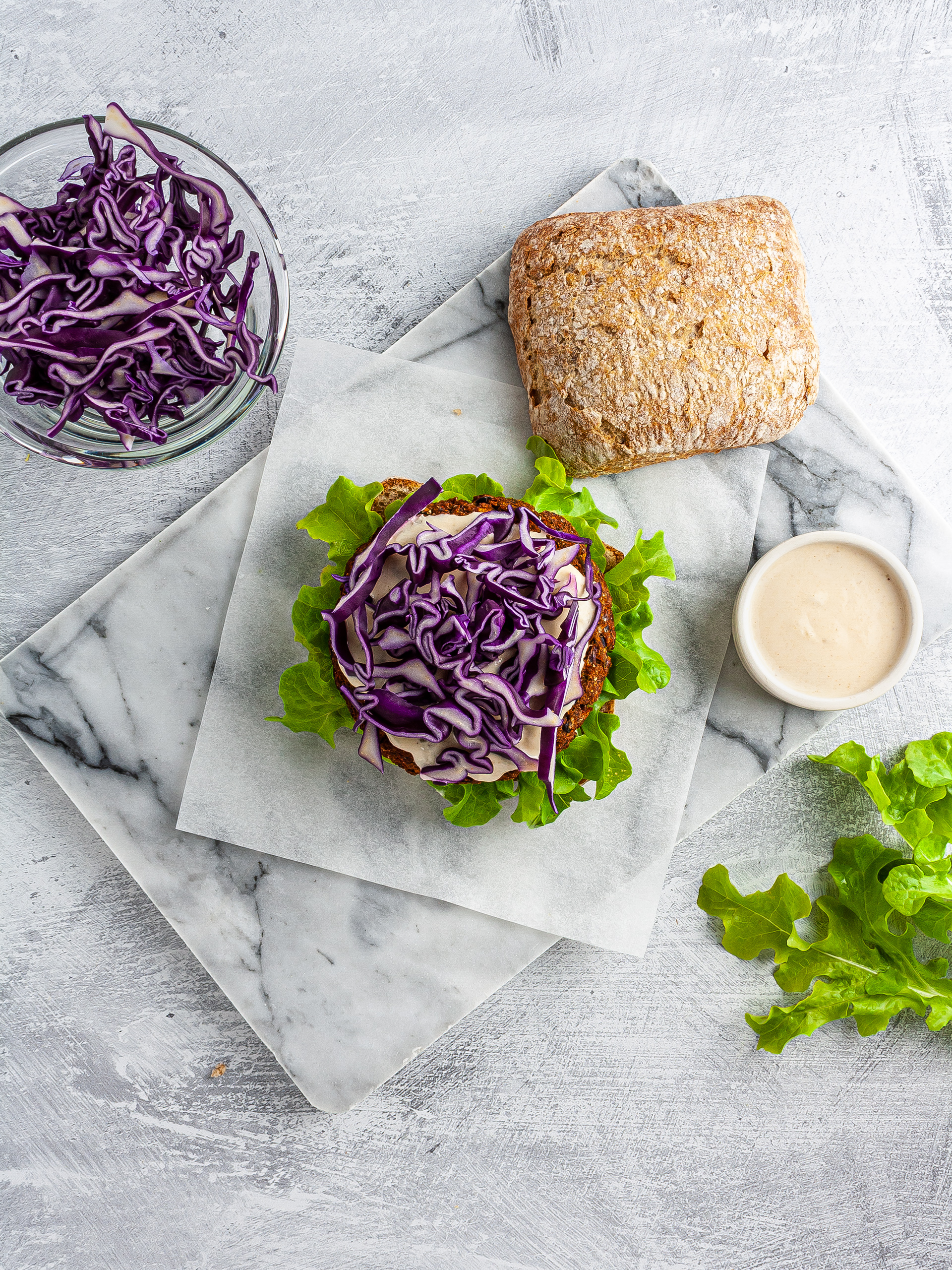 Tips
Make sure the beans and lentils are cold and well drained or the mixture will be too loose and the burger won't hold together.

For a boost of flavour, you can add a spoonful of nutritional yeast to the burger mixture.

You can replace carrots with cooked purple beetroot for a 'meatier' look.