Arancini are a staple rice balls recipe from Italy, Sicily. We both grew up on these delicious snacks, Marta in particular as her family is from Sicily. Today, we show you how to turn the classic bolognese ragù rice balls vegan, with our Vegan Lentil Bolognese Arancini recipe. You are going to love it!
We wanted these rice balls to be as traditional as possible, but much healthier and diet-friendly. So we turned the classic Italian bolognese ragù vegan, and we ditched the eggs and the dairy.
Therefore, our recipe is dairy-free, egg-free and vegan. It's not gluten-free but if you want to make it so, check out our gluten-free seafood rice balls recipe and see how we made the arancini crust gluten-free.
The two secrets to this recipe are the vegan lentil bolognese ragù, and the flavourful saffron risotto cooked al-dente.
Bolognese ragù is prepared with a mix of fatty pork and beef mince, first sautéed with some greens and then slow-cooked in wine and water over many hours. To make it vegan, we used lentils instead of meat and reduced the cooking time accordingly. If you don't know what al-dente risotto means, basically it's a technique to cook Italian risotto properly. We'll show you how to do it in the steps below.
These vegan rice balls are good. Like, so good that we finished a full tray in a day. Luckily for us, they are also darn healthy! A portion has only 168 calories, 4% RDI for fats and 10% RDI for carbs. Have fun making these and enjoy them while they last!
Frequently Asked Questions
Which lentils are best for this vegan bolognese?

You can use green, brown, or red lentils to make this vegan bolognese sauce filling.

While green and brown lentils retain more their shape when cooked, red lentils can turn mushier. So it's up to your personal preference, the ragù sauce will be delicious in any case.

Using tinned lentils is a time-saver as you won't have to pre-soak them and they will cook much faster. We have used canned brown lentils in our recipe, but you can opt for the dry legumes if preferred.

To do so, follow our steps below:

Start with half the amount of dry lentils and place them in a bowl of water.

Leave them to soak at room temperature for at least 4 hours or even better overnight.

Then, drain and rinse them thoroughly and add them to the passata as we did in our recipe above.

Finally, increase the cooking time from 15 to 25 minutes and check that the lentils are soft and cooked through.
What can I use instead of egg wash for breading the arancini?

Many arancini recipes include dipping the rice balls in an eggwash before coating them with the breadcrumbs. In our recipe, we made a vegan alternative using flax seeds. Soaking ground flaxseeds in water yields a thick, gel-like mixture which is perfect as an egg replacement.

If you can't find flaxseeds, you can use chia seeds and water in the same proportions.

Alternatively, you can opt for a batter of plain flour and cold water. Use them in ratio 1:1.5, for example, 100ml (3.5 fl oz) of flour and 65g (2 oz) of flour. Whisk them together in a bowl to make a runny batter. Check out our vegan asparagus arancini recipe to see how we have made it.
How can I make rice balls gluten-free?

Making Italian arancini gluten-free is incredibly easy, all you have to do is replacing plain flour and breadcrumbs with gluten-free options.

You can:

Use store-bought gluten-free flour and breadcrumbs.

Swap flour and water in the breading batter with a flax-egg or chia-egg.

Use ground nuts and seeds to make DIY gluten-free breadcrumbs.

In our asparagus arancini, we have used cashews and black sesame seeds, while in these seafood rice balls, we made a combo of ground almonds, cashews, and pumpkin seeds.
How do you cook arancini balls?

Italian-style rice balls are traditionally deep-fried, but you can also bake them in the oven or air-fryer for a healthier, low-fat option.

Bread the arancini, arrange them on a baking tray lined with parchment paper and bake them for at least 30 minutes at 220°C (430°F). There's no need to brush the rice balls with oil before baking them as the breadcrumbs will crisp up in the oven, giving you perfectly crunchy croquettes.

For the air-fryer option, position the prepared rice balls in the basket, leaving some space between them to allow even airflow. Then, set the air-fryer to the highest temperature (ours goes up to 200°C / 390°F) and cook them for 15 minutes.
Are Italian rice balls vegan?

Nowadays arancini come in countless varieties, but the most traditional filling is with bolognese sauce and peas. Ham and bechamel sauce or seafood stuffings are also very popular in Sicily, where these snacks originated.

Classic Italian rice balls are not vegan as they can include beef, pork, seafood, cheese, and butter.

However, you can easily make tasty vegan fillings for your rice balls with simple ingredients. Aubergines and chickpeas, cashew cream and asparagus, or tomato lentil sauce are all excellent plant-based combos you can try.
Ingredients
Coating
Ground Flaxseeds

20 g

Water

60 mL

Panko Breadcrumbs

100 g

Filling
Brown Onion

25 g

Carrots

25 g

Garlic Cloves

1

Celery

25 g

Brown Lentils (canned/cooked)

180 g

Extra Virgin Olive Oil

1/2 tbsp

Tomato Passata

150 g

Risotto
Extra Virgin Olive Oil

1/2 tbsp

Brown Onions

50 g

Arborio Rice

300 g

Vegetable Stock

1 L

Saffron

1 pinch
Step 1
Let's prepare the lentil bolognese filling first.
In a food processor, blitz the onion, carrots, garlic, and celery into small bits (1).
Alternatively, you can finely chop the vegetables by hand and crush the garlic.
Then, drain and rinse the canned lentils (2). If you want to use dry green lentils for the ragù, you'll need about half the amount, and you'll have to soak them first. You can find more tips in our FAQ section.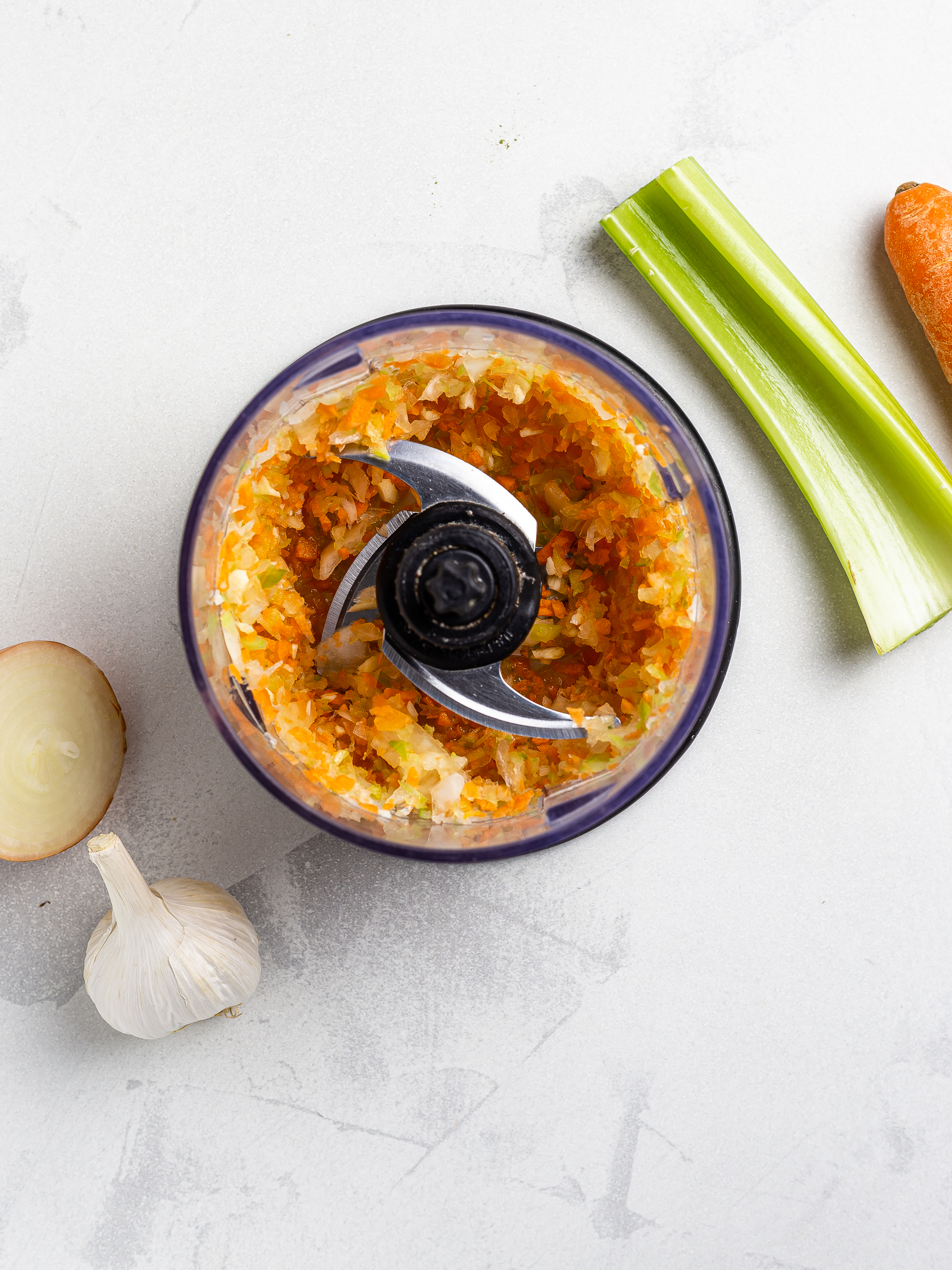 1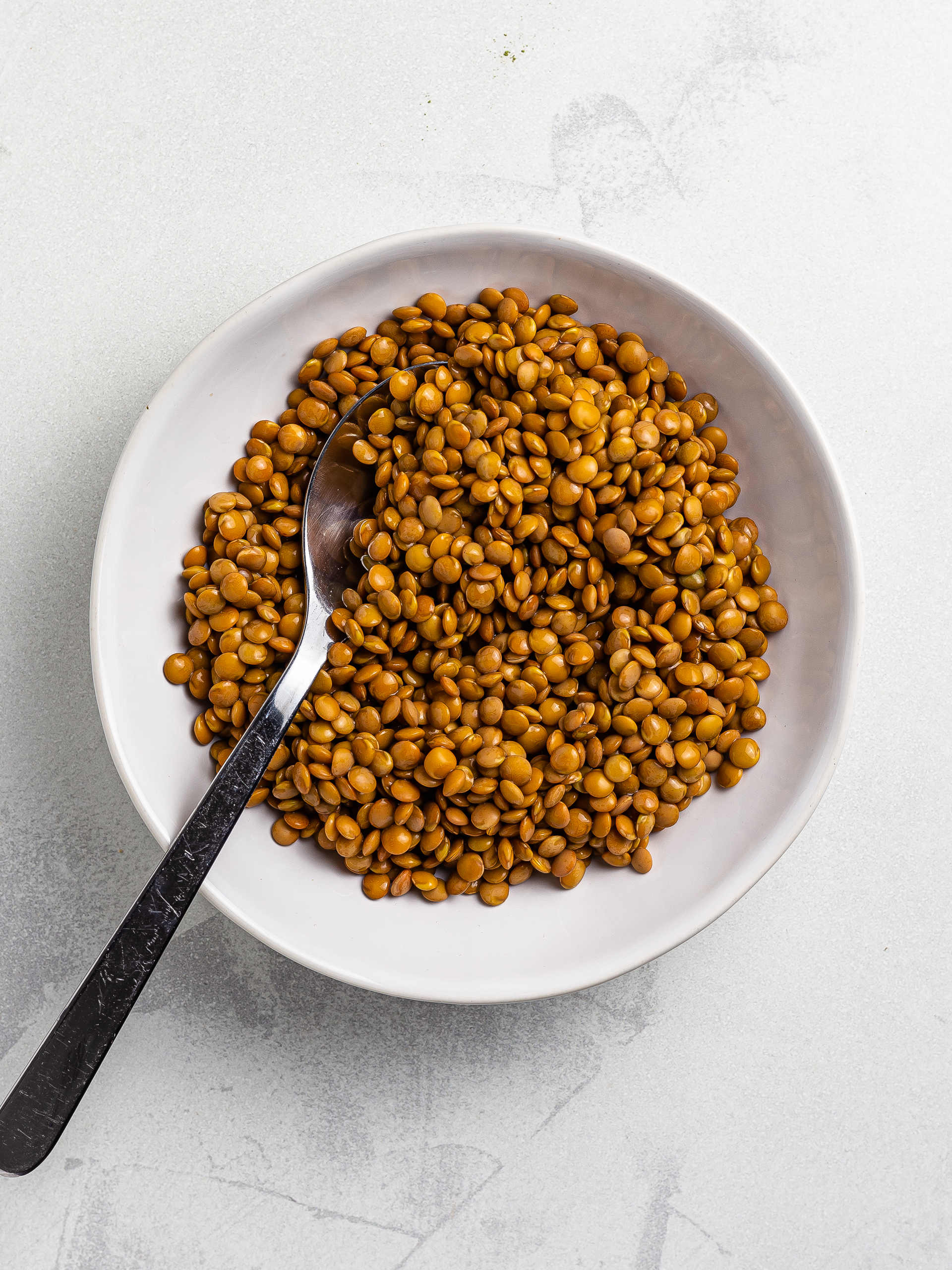 2
Step 2
Now, heat the extra virgin olive oil in a pot, add the prepared veggies, and sizzle them for 5 minutes over medium heat.
Then, add the lentils, tomato passata, and a bit of water, about 50ml (1.7 fl oz).
Cook the bolognese covered for 15 minutes until the lentils are very soft and the sauce has reduced. Then, transfer it into a clean bowl to cool down.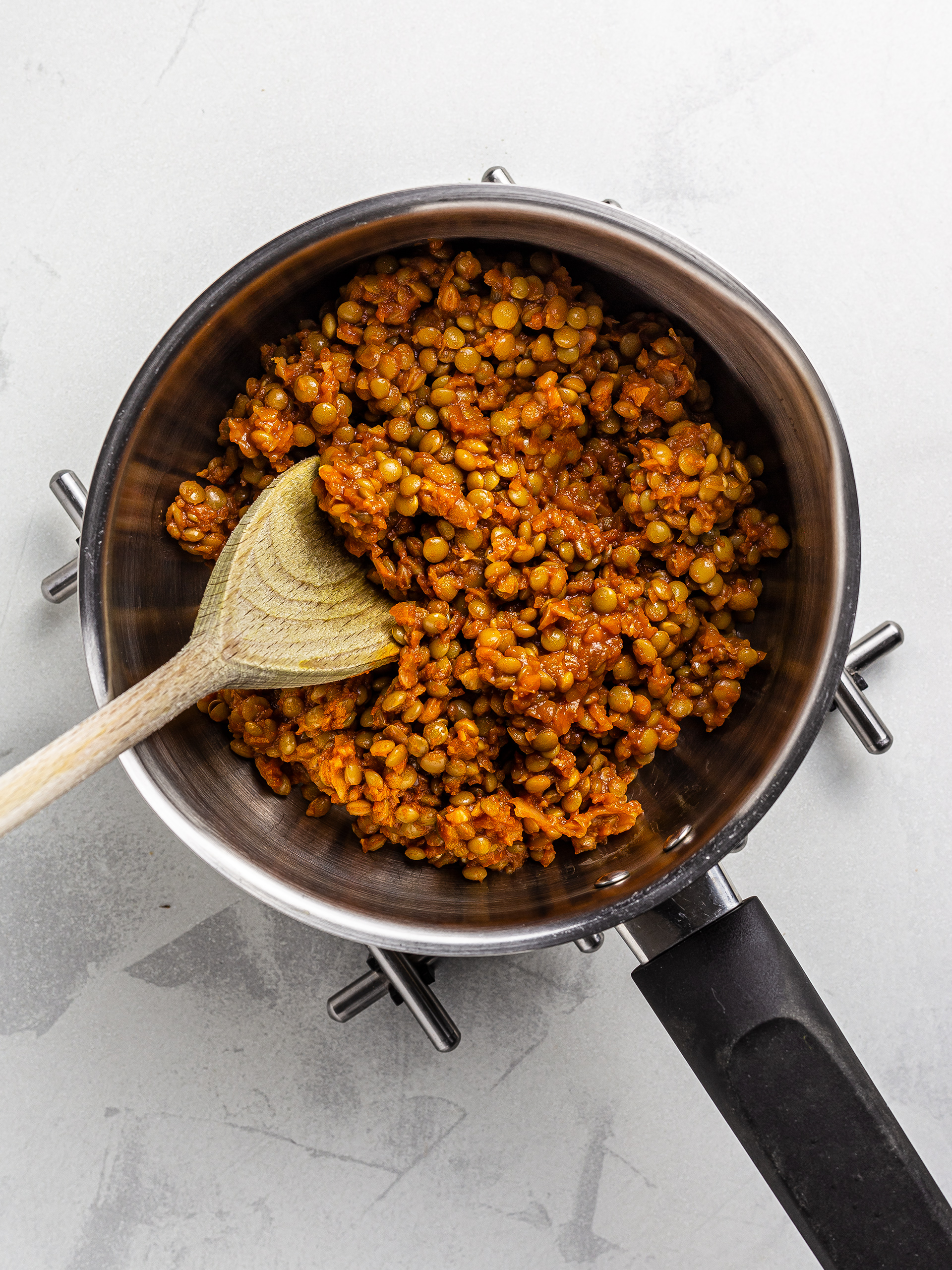 Step 3
Next, let's move onto the saffron risotto.
Bring the vegetable stock to a boil in a pot and keep it simmering over low heat (1).
In a large skillet, heat the olive oil with finely chopped onions and sizzle them for 5 minutes until they turn soft and translucent.
Then, add the arborio rice and dry toast it for 3 minutes (2).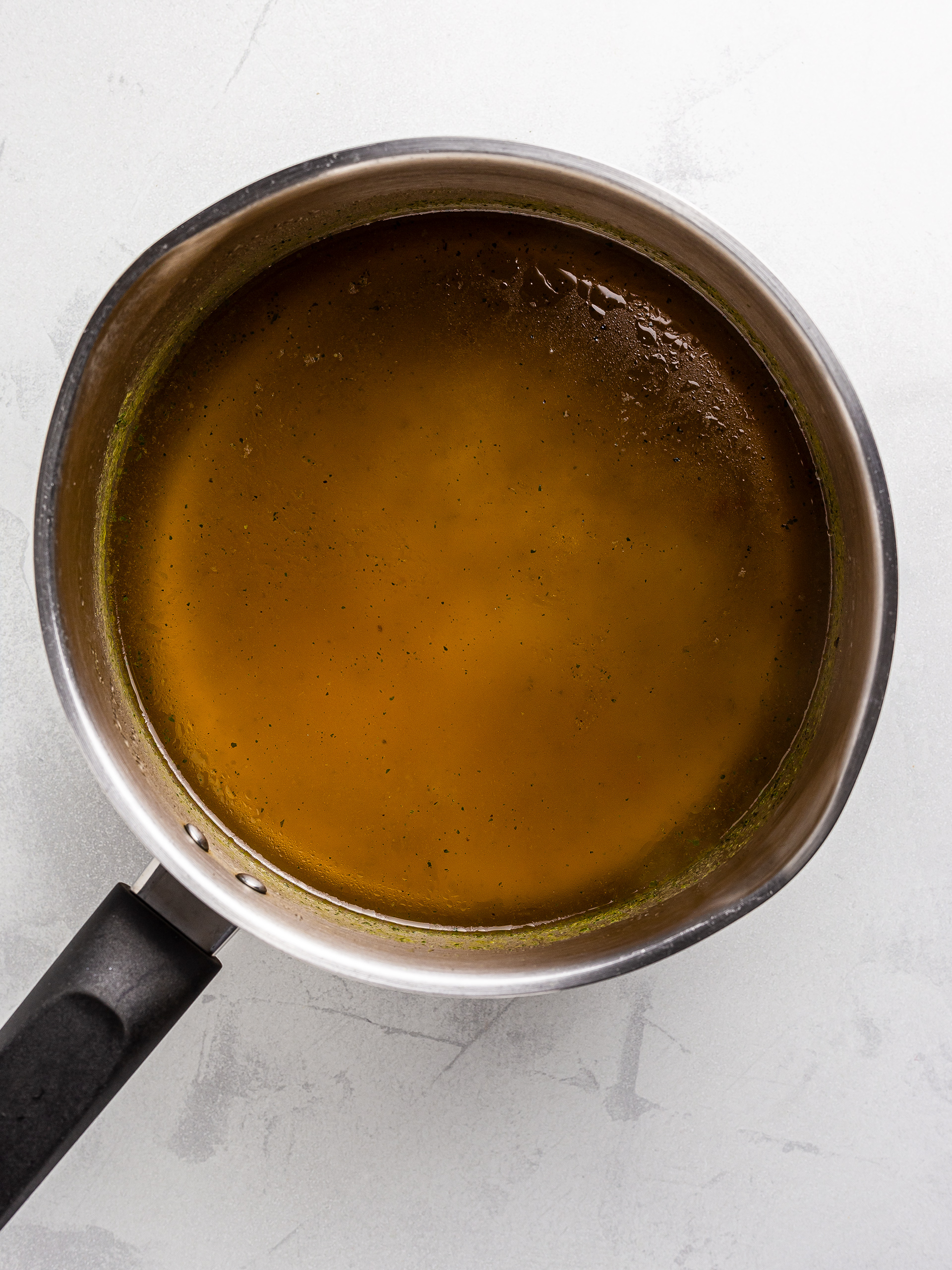 1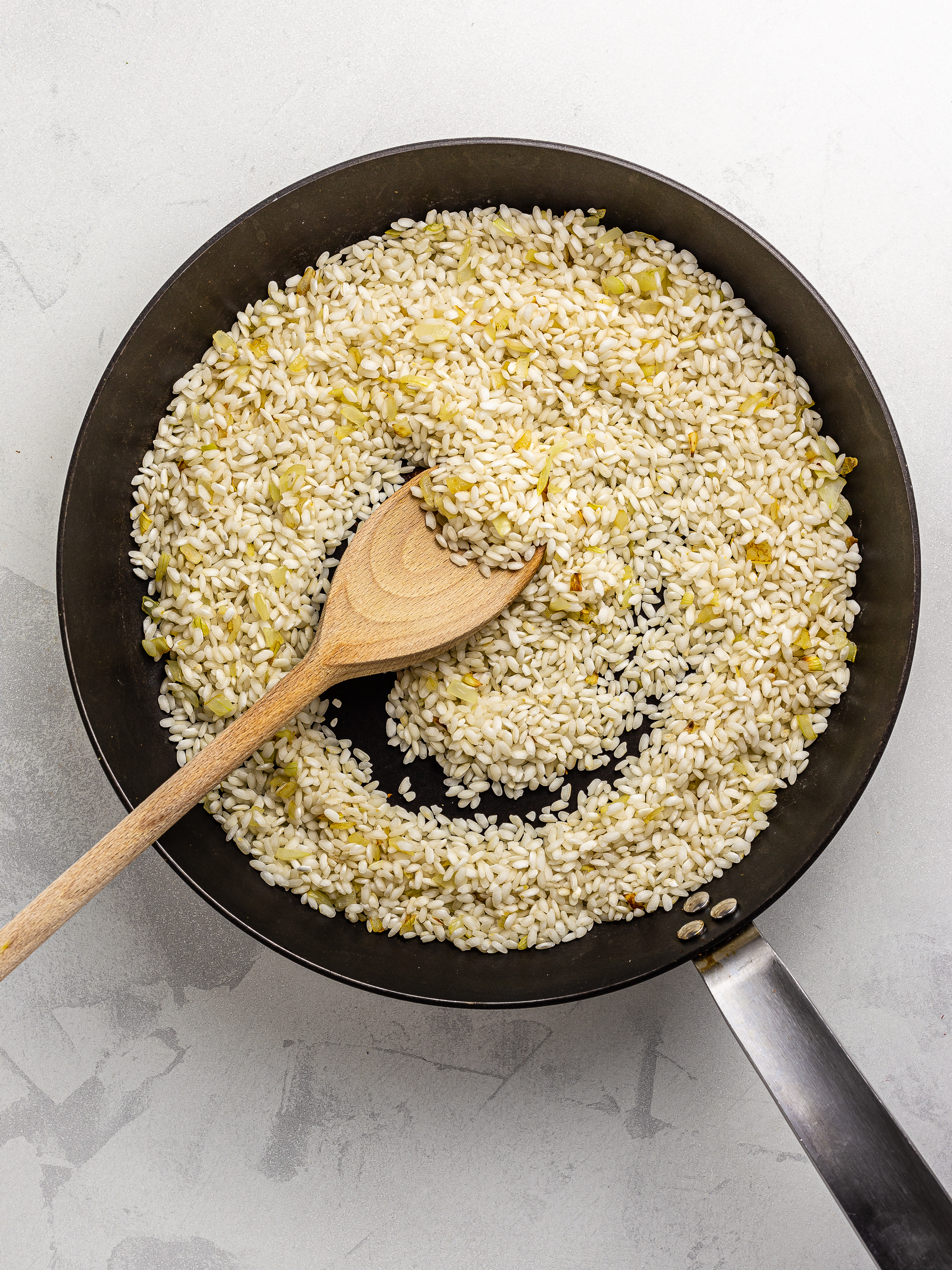 2
Step 4
Pour a few ladles of hot stock over the rice to cover it completely and stir well.
Simmer the risotto over medium heat and allow the broth to become absorbed before adding more.
Cook the rice this way for 10 minutes and then stir in the saffron (1).
Keep adding the vegetable stock and stirring the rice for 8 more minutes until it's cooked through but firm to the bite.
By the end of cooking time, ensure the stock has reduced, and you have a creamy risotto (2).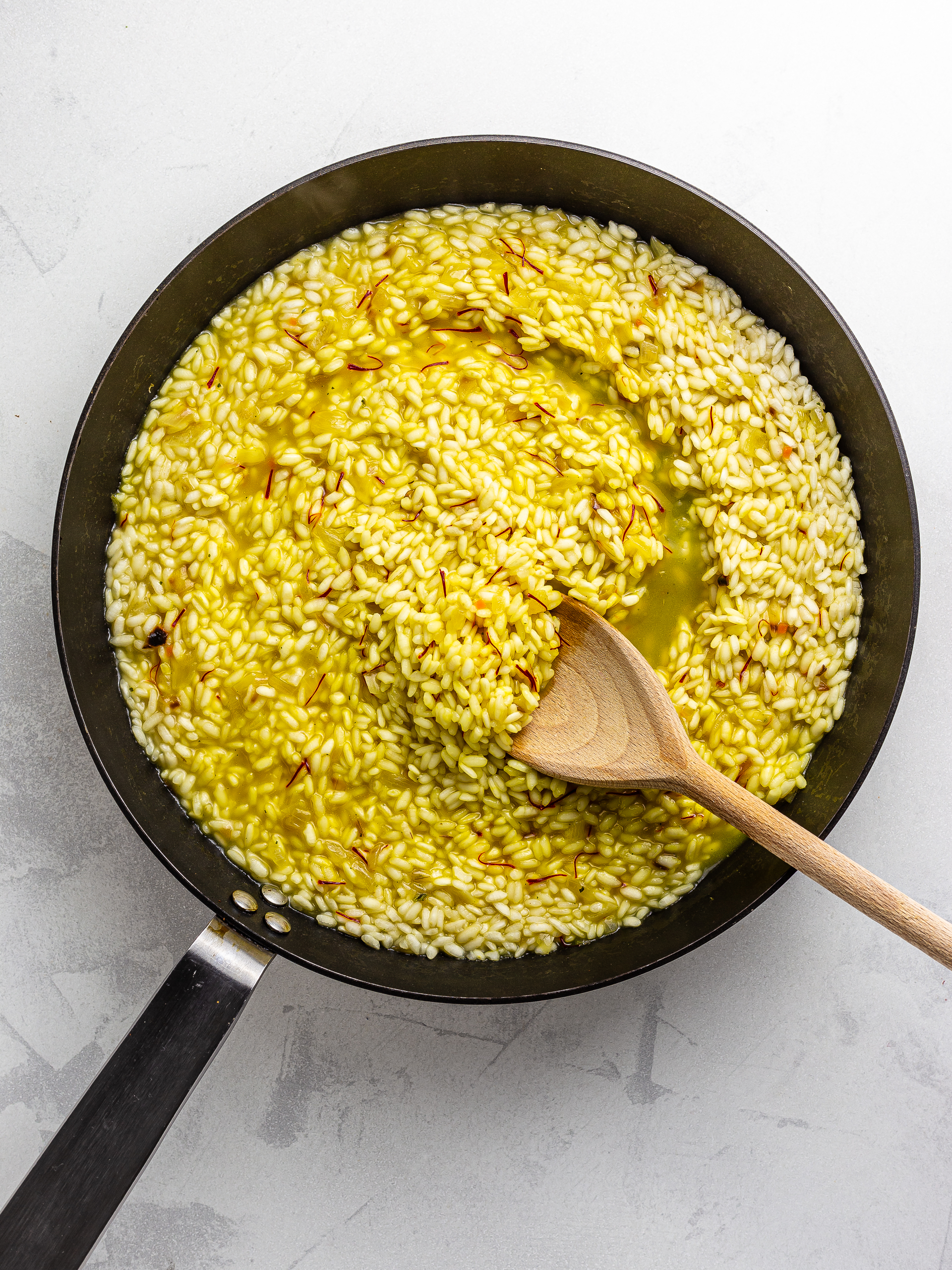 1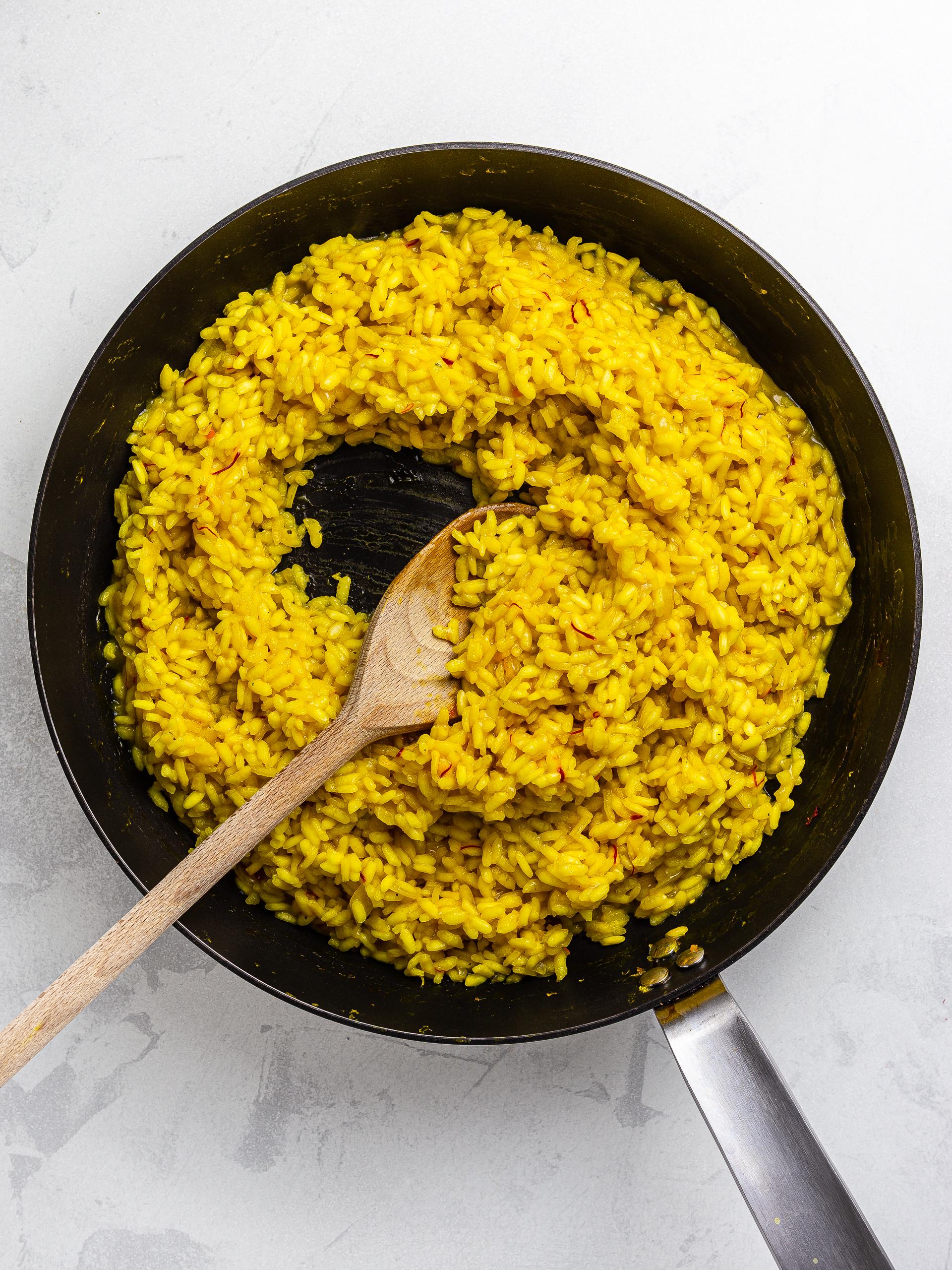 2
Step 5
Now, transfer the saffron risotto onto a tray, spread it flat and wrap it with cling film (1). Leave it cool down in the fridge for 30 minutes.
Meanwhile, let's make the vegan "flax-egg".
Combine ground flaxseeds with the given water in a bowl. Leave the mixture to set and thicken in the fridge for 10 minutes (2).
If you don't have flaxseeds, check out our FAQ section for substitutions.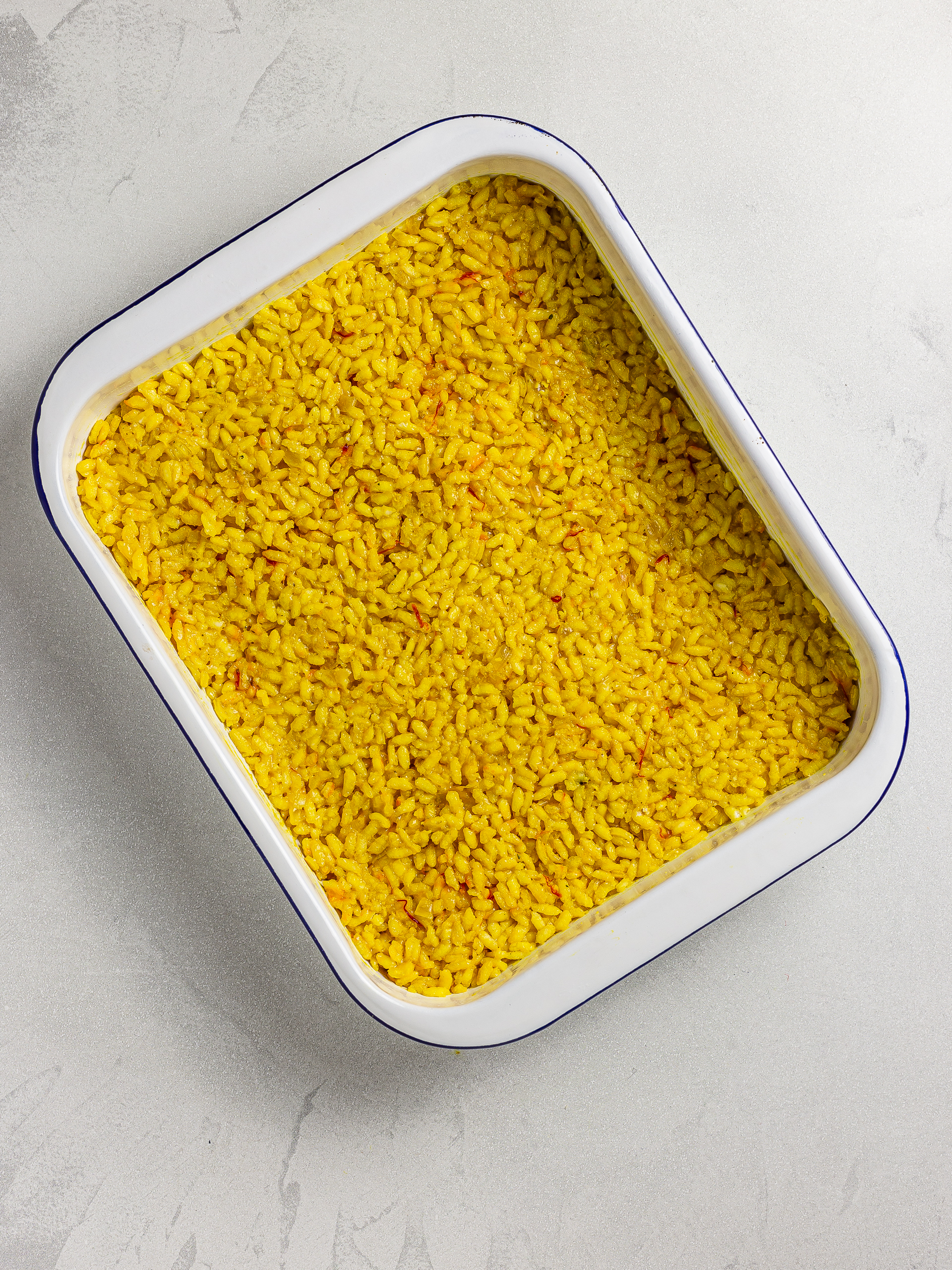 1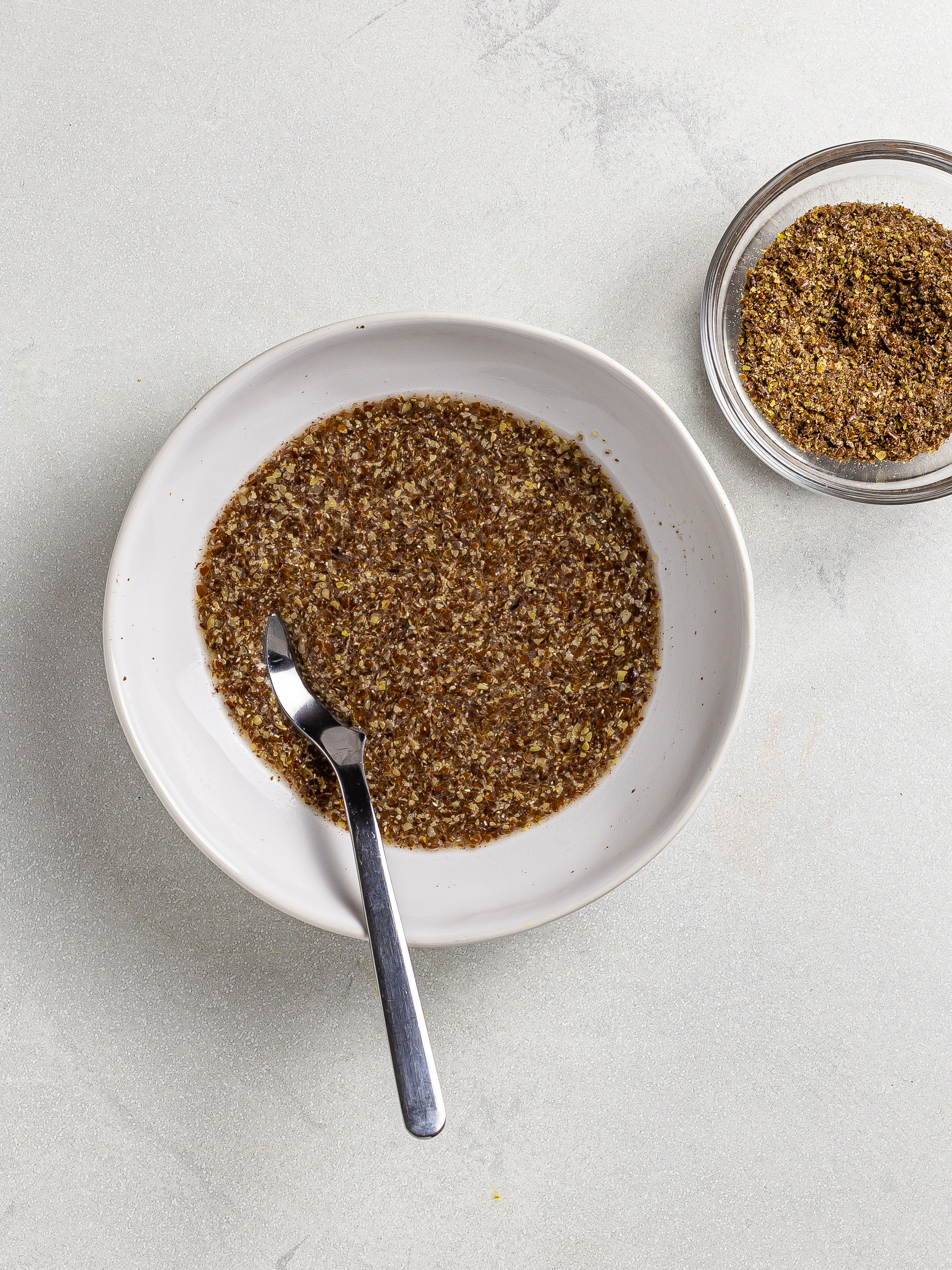 2
Step 6
Divide the rice into as many portions as the number of servings.
To shape each rice ball, grab a portion of cold risotto and spread it flat over your palm. Press it down in the centre and place one heaped teaspoon of lentil bolognese over it (1).
Then, seal the arancino by wrapping the rice around the filling and pressing it until a rice ball comes together.
Next, dip the rice ball in the bowl with the flax-egg and then roll it over the panko breadcrumbs in another bowl (2).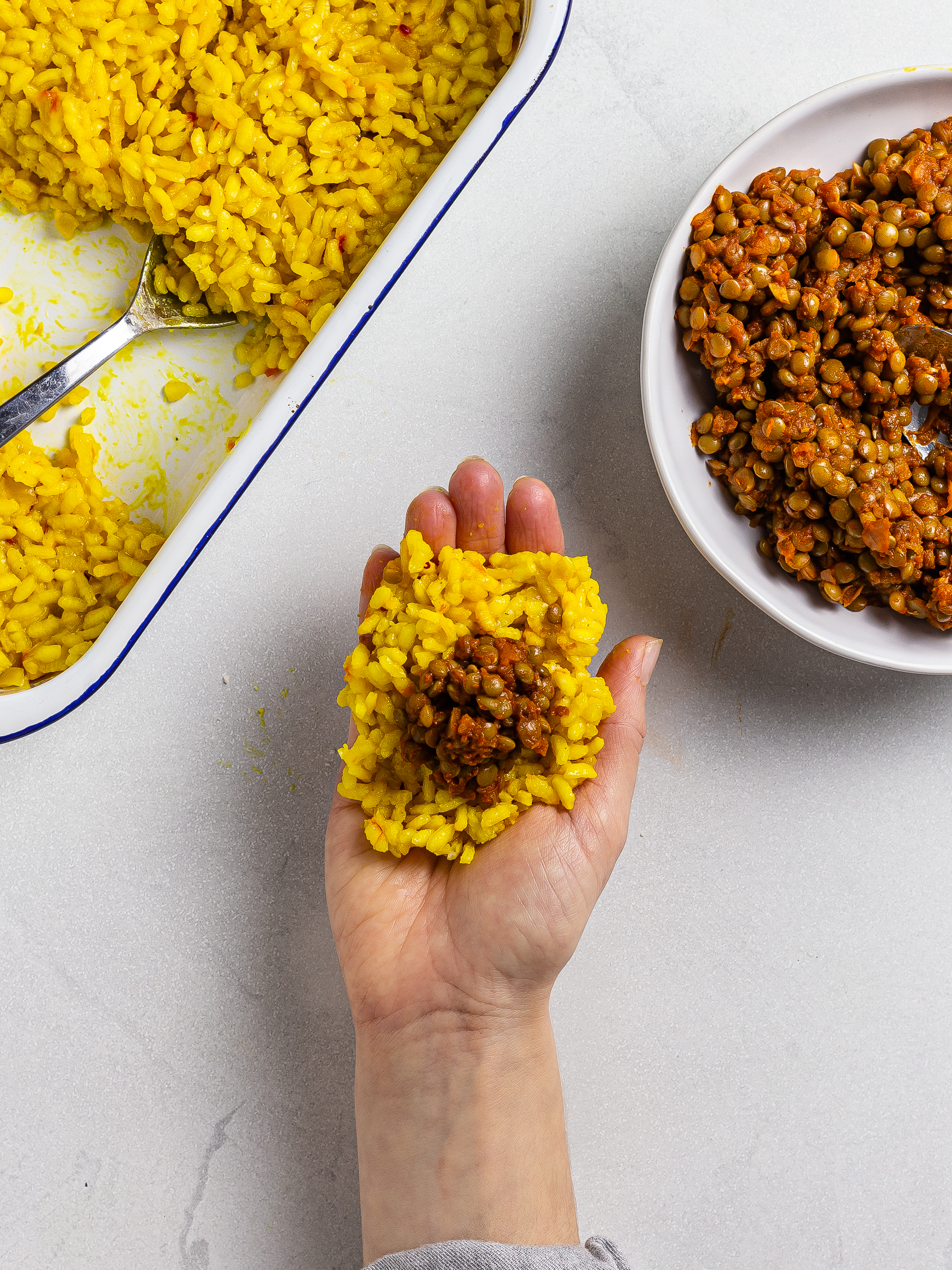 1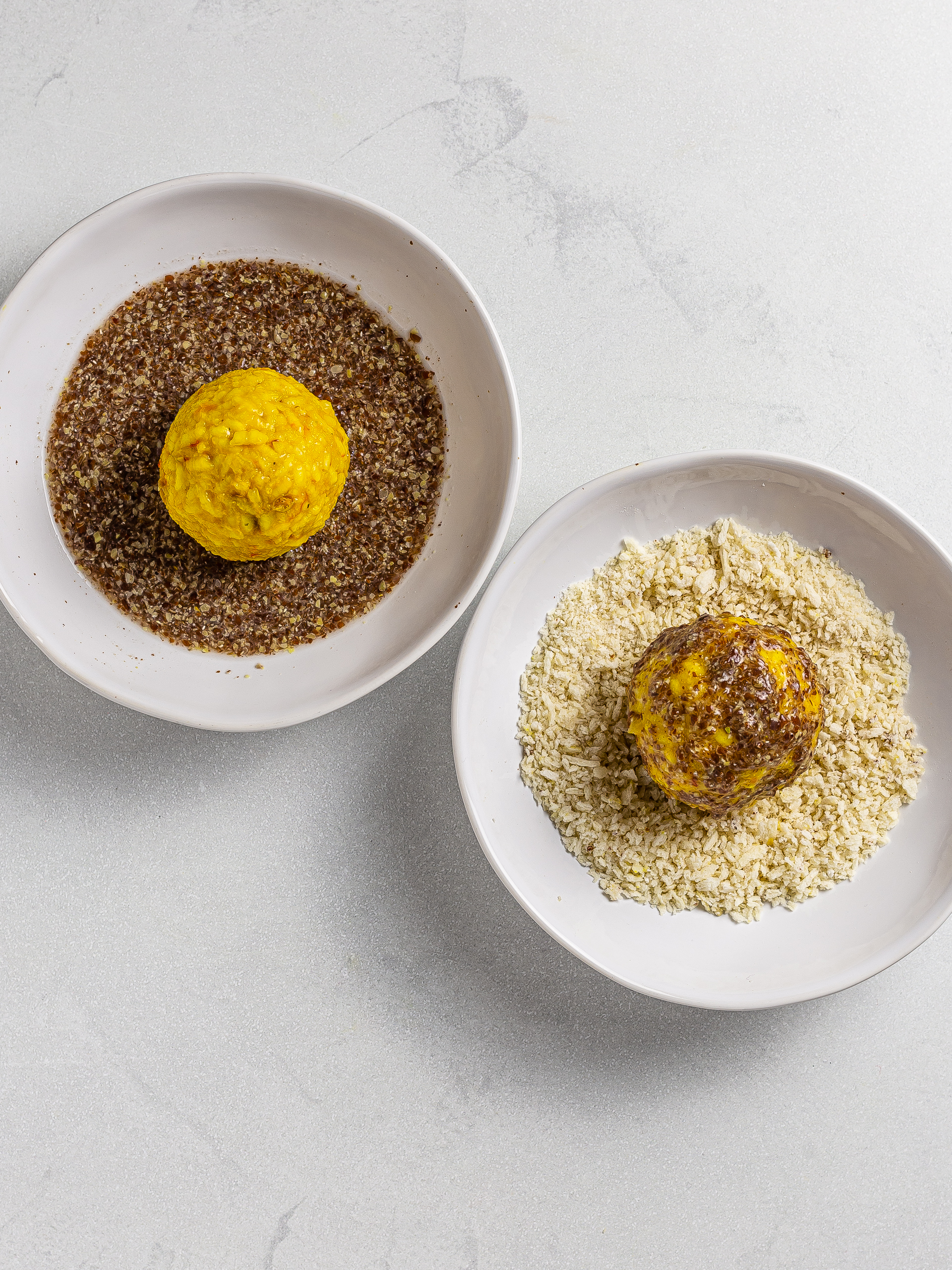 2
Step 7
Repeat step 6 until you have used all the rice and place the prepared arancini onto a baking tray lined with parchment paper (1).
Finally, bake the rice balls for 35 minutes at 220°C (430°F) for static ovens or at 200°C (390°F) for fan ovens.
Once crispy and golden, transfer the lentil bolognese arancini on a rack and serve them warm (2).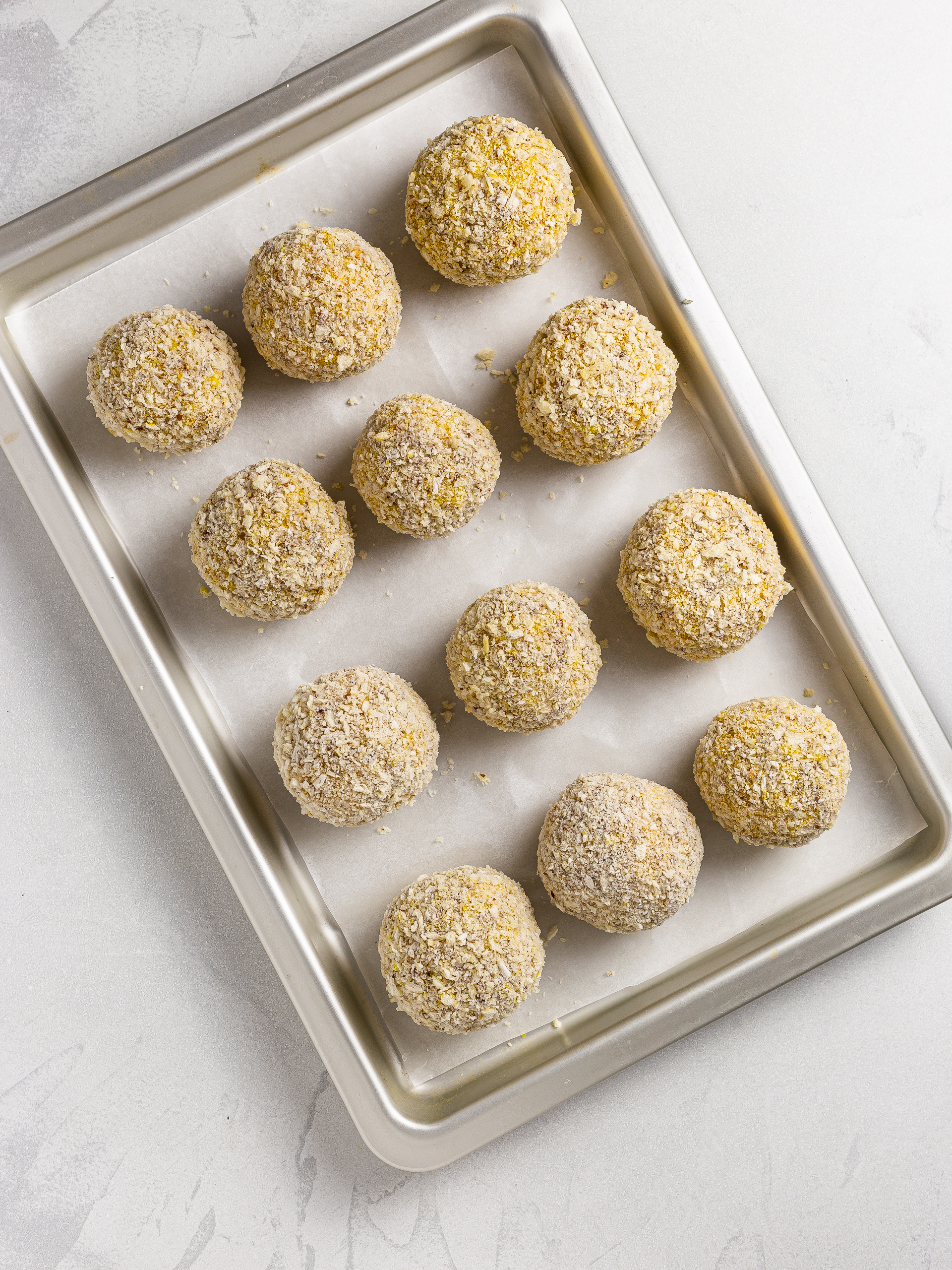 1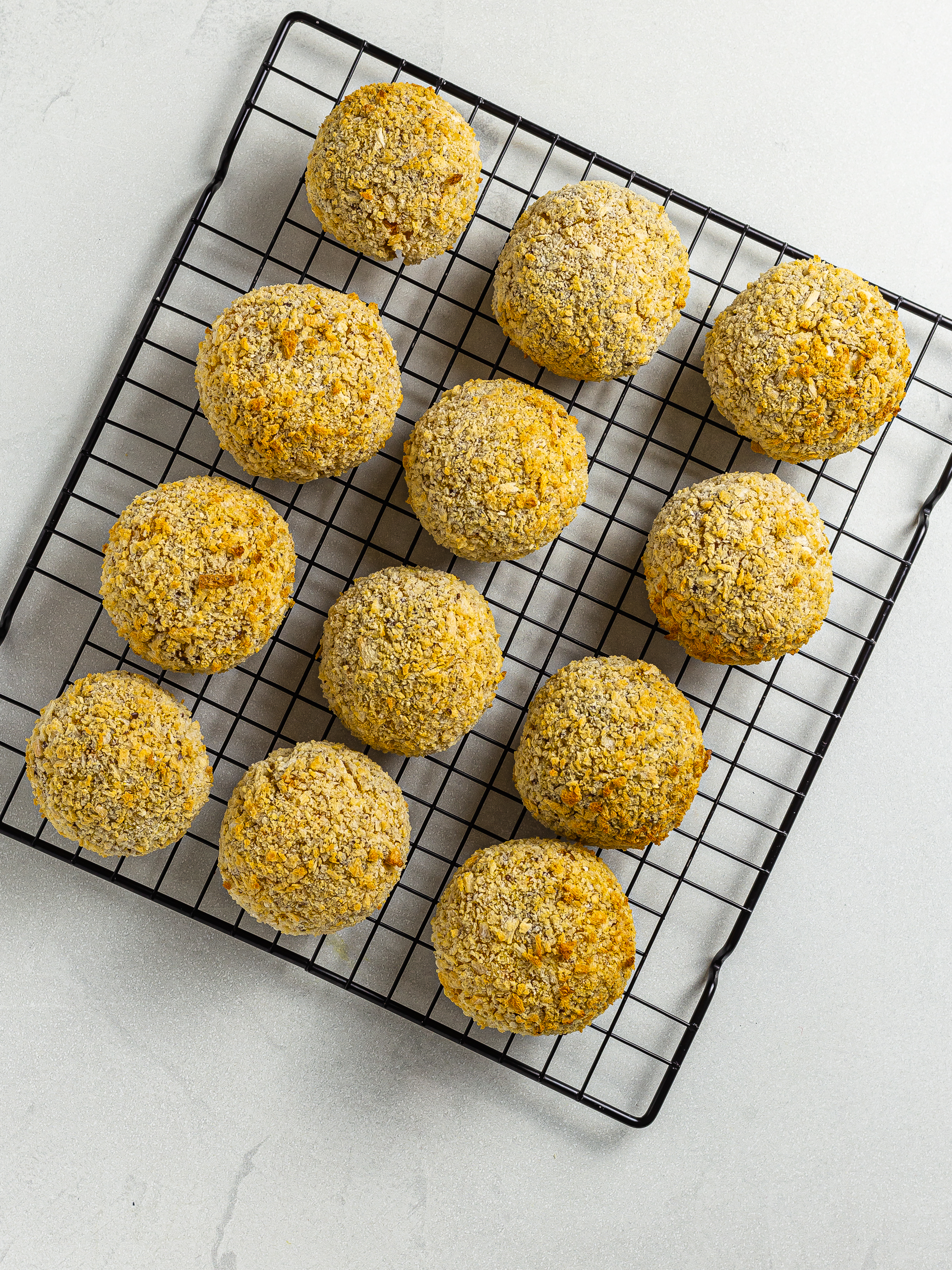 2
Tips
Before adding the tomato passata, you can add a splash of red wine to the lentils and leave it to reduce over medium heat — it will add a lovely flavour.
Watch on Youtube