These vegan chocolate chip mochi muffins might look like your regular muffins, but they are surprisingly soft and gooey inside. That's all thanks to miraculous Japanese glutinous rice flour, aka mochiko. So, if you want to try something new and utterly delicious for your next breakfast, give them a go!
Mochiko flour is made from milled glutinous rice, a type of Japanese sticky rice called mochigome. Mochiko is traditionally used to prepare Japanese sweet rice cakes, called mochi balls, but it's such a versatile ingredient you can use it many others sweets and bakes.
The awesome thing about glutinous rice flour is that it turns incredibly chewy and sticky when cooked with water. It's a whole new feel and texture compared to classic rice flour.
We used mochi flour to make mochi waffles, mochi cookies, and even mochi bread, and we loved the results. So, we decided to revisit the classic choc chip muffins recipe and make delicious gluten-free and vegan mochiko muffins.
You can find mochi flour at your local Asian food store or online. Make sure you're buying glutinous rice flour and not regular rice flour, as the two look identical but yield completely different results.
To make the mochi muffin batter, you'll also need starch, baking powder, vegetable oil, and plant-based milk. And if you use dairy-free dark chocolate chips, you can make 100% vegan and gluten-free rice muffins.
Simply mix the ingredients, divide the batter among muffin cases, and bake the muffins until golden. Your mochi muffins will be slightly crispy outside and deliciously gooey inside — all coupled with the delight of melted chocolate chips. Oh, my!
And because they're ready in just 30 minutes, they can be in your belly in a flash. Sound good? Let's make them together!
Ingredients
| | |
| --- | --- |
| Japanese Glutinous Rice Flour (mochiko) | 160 g |
| Starch (potato, corn, or arrowroot) | 20 g |
| Caster Sugar (or sugar-free erythritol) | 100 g |
| Baking Powder | 11/2 tsp |
| Baking Soda | 1 pinch |
| Plant-based Milk (oat, almond, or coconut) | 150 mL |
| Vegetable Oil | 60 mL |
| Apple Cider Vinegar | 1/2 tsp |
| Dark Chocolate Chips | 60 g |
Step 1
Before you start, make sure you're using Japanese glutinous rice flour, aka mochigomeko or mochiko, and not regular rice flour.
Mochi flour will make the muffins crusty outside, soft and chewy inside.
Ok now, mix glutinous rice flour, starch, sugar (or an equivalent amount of sugar-free erythritol), baking powder, and baking soda in a bowl.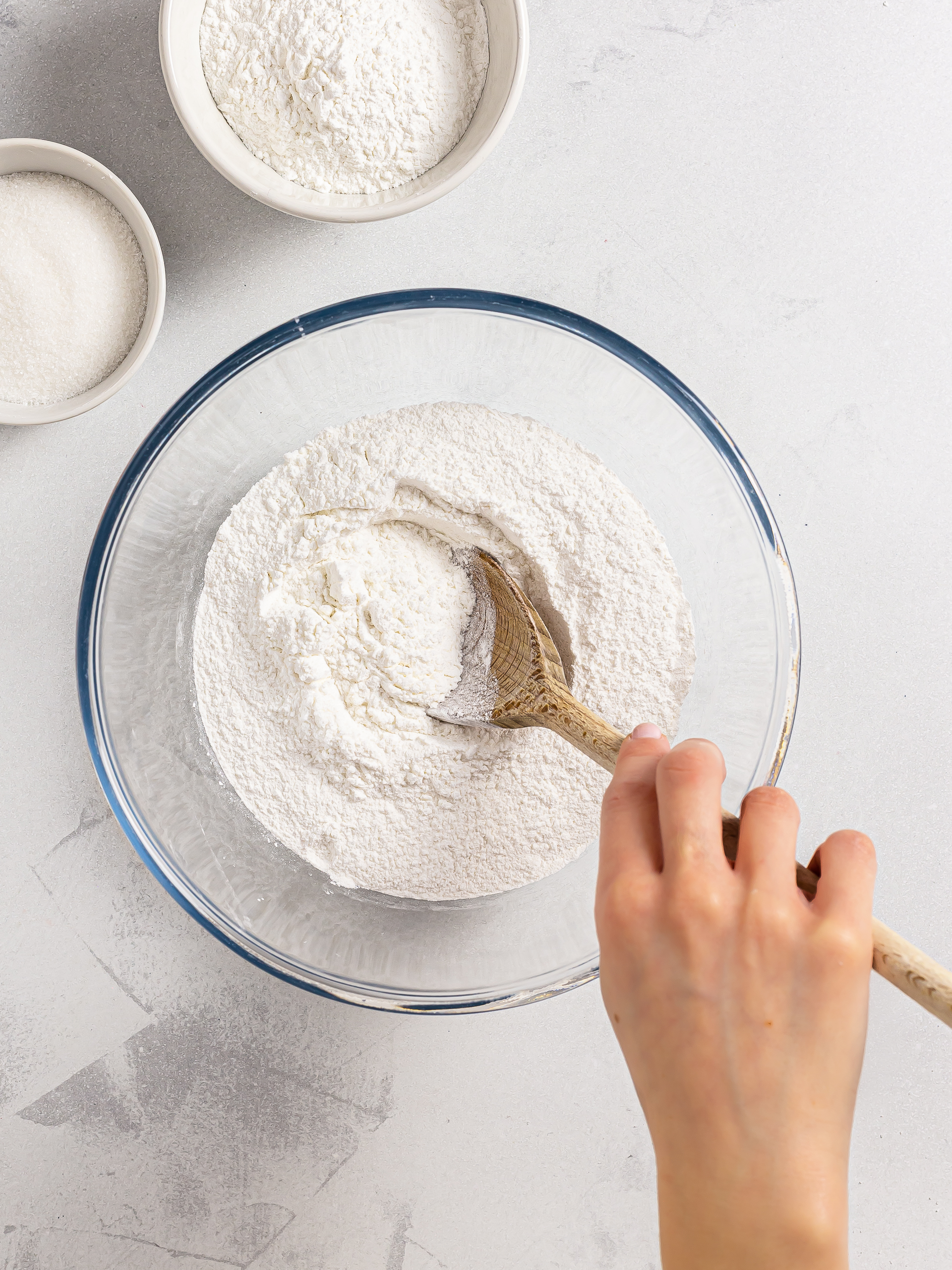 Step 2
Next, incorporate plant-based milk, vegetable oil, and vinegar.
Mix well with a spatula until the ingredients come together into a smooth and scoopable muffin batter.
For the chocolate chips, you can add them now to the batter or save them as a topping for the muffins.
If you prefer perfectly white mochi filling, use the chocolate chips only for topping.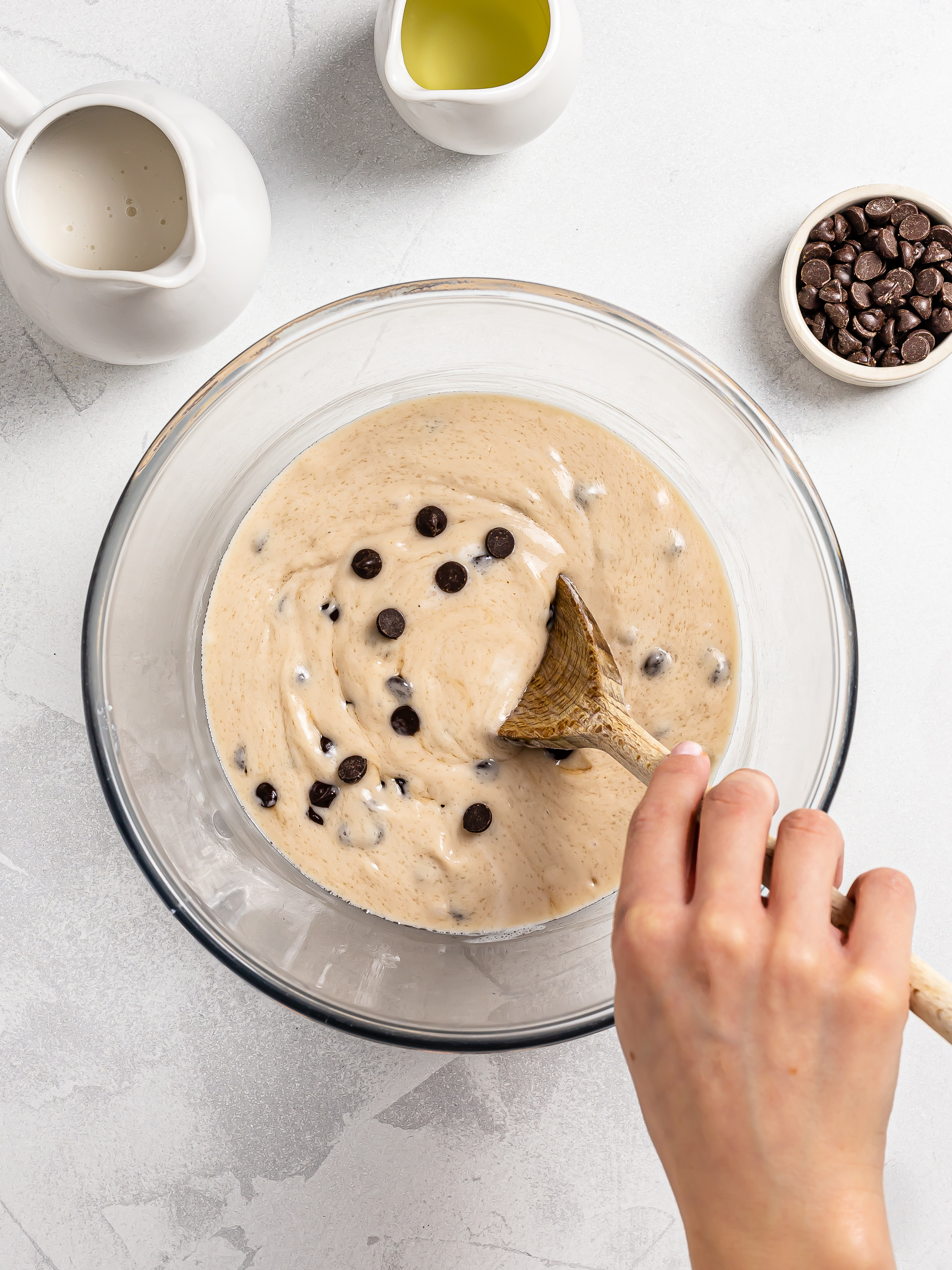 Step 3
Grease a muffin tin with a little oil or line it with muffin cases.
Then, divide the mochi muffin batter among the tin holes or paper cases, filling them almost to the top.
If you saved the chocolate chips from the previous step, sprinkle them now over the muffin batter.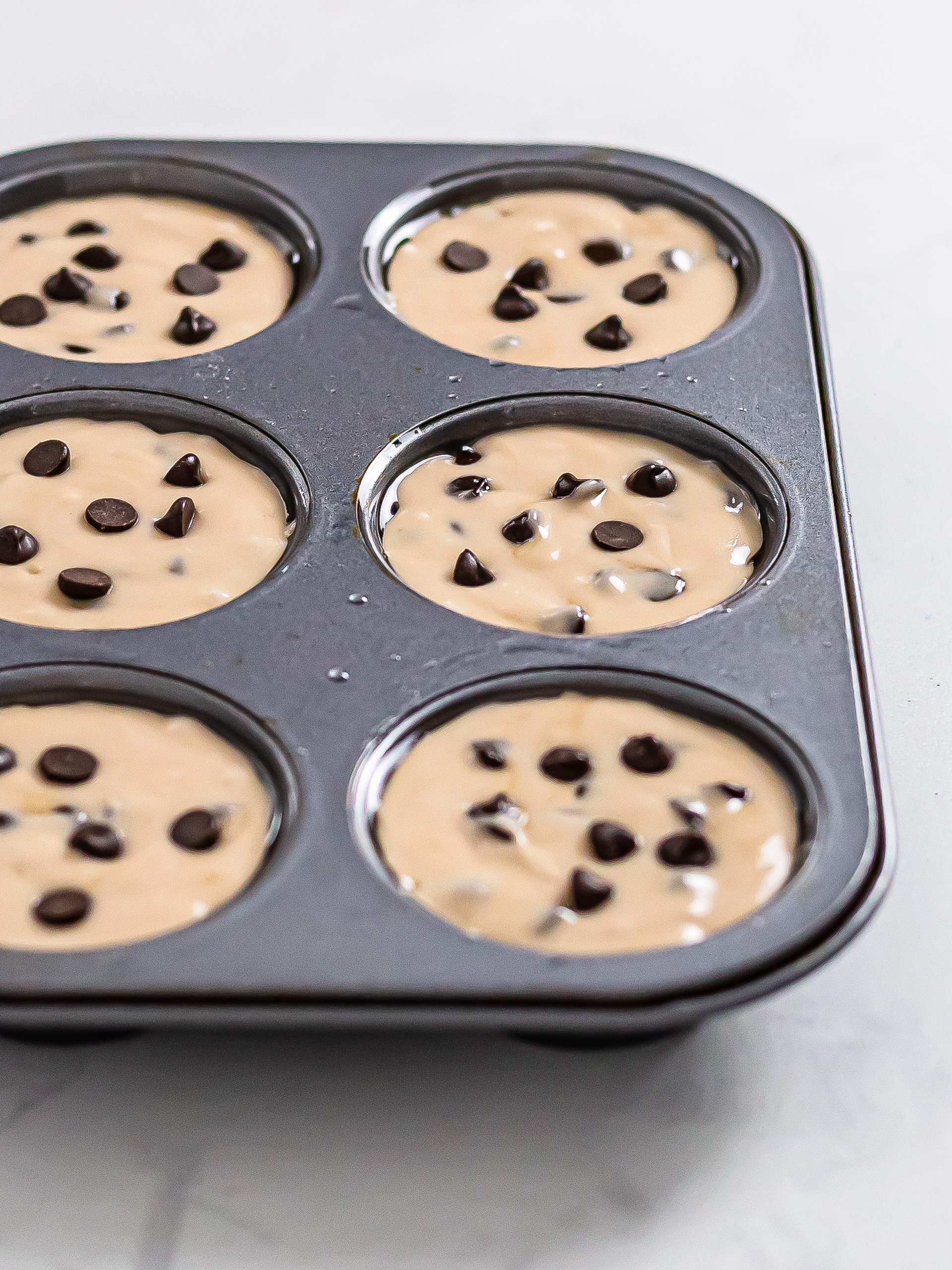 Step 4
Bake the mochi muffins at 200°C (390°F) for 20 minutes and let them cool down slightly on a wire rack before serving.
You'll notice the muffin will rise a lot while baking but deflate slightly when taken out of the oven.
That's because the stretchy mochi dough will recoil back as it cools down, so don't worry if the muffins will look a little sunken in the centre — it's just the way glutinous rice flour behaves.
We recommend enjoying these vegan mochi muffins still warm as the mochi filling will be at its gooiest — so warm them up in the oven if they get cold.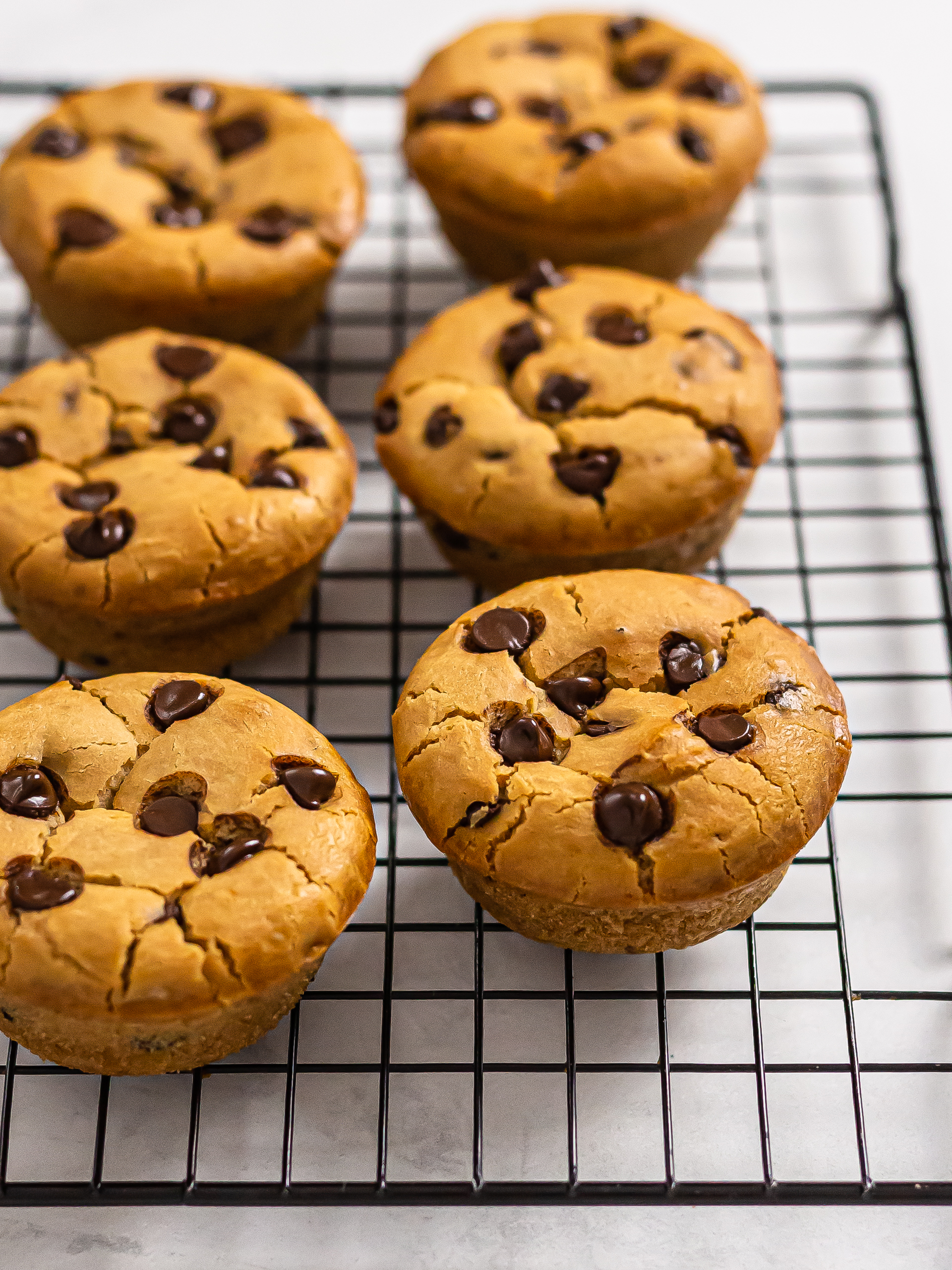 Tips
You can swap dark chocolate chips with berries like blueberries or raspberries or use chopped fruit like apples, plums, or peaches.

You can also replace two spoonfuls of mochi flour with cocoa powder for chocolate mochi muffins, or try making them with our vegan ube butter following our ube cupcake recipe.

Store these vegan mochi muffins in an airtight container and keep them for up to 5 days. Before serving, lightly warm them up in the oven.